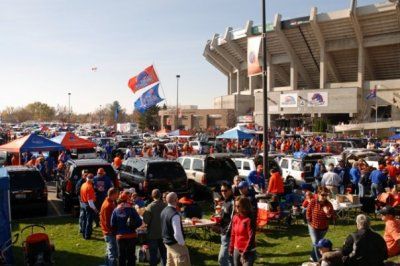 Game week for our first home game is here, Bronco Fans, and unless you have gotten some tailgating practice in this off-season (Blue & Orange game, fall scrimmage) you may have some  pre-tailgate jitters.  Don't worry!  I am here to help, Bronco Nation!  I have all of your answers regarding where to tailgate, what to eat, tailgate etiquette, and even some "guidelines" from Boise State.
Q:  Where do I park?
A:  If you don't know that by now be prepared to get up at 5am and play parallel parking chicken with other cars/trucks/school busses/ 70 foot motor homes on University drive, where parking is first come first serve.  All stadium lots are reserved, as are Bronco Circle, the Denver lot, and the Manitou lot.  You can pay to park on campus at the Administration building, and both the Lincoln and Brady garages.  If you plan on tailgating in a garage you may as well just stay home, however. That's just stupid. Here is the BAA map.  Be careful if you park in the Lincoln garage as it looks like it is either filled with water or blue snakes!
Q:  Ok, I have a parking spot!  How early before the game should I get there?
A: Most tailgating "experts" recommend arriving no later than six hours before game time.  This give you plenty of time to set up, prepare your feast, eat, discuss other intriguing games of the day, such as if LSU can score 100 on Idaho, drink, eat, play games, wander around the parking lot to see what others are eating/drinking, listen to the pre-game show, eat, drink some more, wander around the parking lot to see if you can get free beverages, pack up the tailgate, find your tickets, and OH CRAP I THOUGHT YOU SAID YOU HAD THE TICKETS?!
Q:  What do I eat?
A:  Umm what DON'T you eat?  For afternoon games it is common to prepare a breakfast of eggs, bacon, hash browns etc. and then have a "light lunch" before going in. We like to plan a menu for each week, and many tailgaters like having a theme for their tailgates, such as "every kind of dead animal we can grill" theme.  Whatever you do, DO NOT BRING FAST FOOD to a tailgate party.  You may as well stay home.  Or tailgate in a parking garage.
Q: What do you consider a "light" lunch?
A:  Bratwurst, chili, chips & dip, cheeseburgers, wings, baked potatoes, a cake decorated like a football field (blue frosting, of course!), chorizos, and BBQ sandwiches
Q:  What do I wash all that food down with?
A:  Okay, here's where it gets tricky my friends.  For those of you so inclined, beer is the correct answer here.  However, on Boise State's campus and surrounding areas, you can't, at any time look as if you are drinking beer.  You must find ways to conceal your beer of choice.  If you are lucky enough to tailgate in the reserved areas of Bronco Stadium, a solo cup should be enough to conceal your beverage, as the "authorities" will look the other way.  If you are outside of these areas it's time to get creative.  If you prefer non-alcoholic beverages for your festivities, drink away!  In public!  Right out of the can!  Whatever your choice is, bring plenty of it.  You don't want to be that guy that runs out of beverages at a tailgate party.
Q:  Wait, beer with eggs?
A:  Yes.  These six weeks of fall when we have home games are the only times it is socially acceptable to have beer with breakfast.  Take advantage of it!
Q:  What do I wear?
A:  First, be sure to check the weather.  You don't want to be wearing jeans when it is 95 degrees, or shorts when it's 45.  You also might want to check what color your section is assigned for the particular game you are attending.  Obviously blue or orange is accepted no matter what.  And the same rule that applies to eggs and beer applies to grown men wearing jerseys.  This is the only time of the year it is socially acceptable, so throw on your old #41!  Make sure you have a hat and sunglasses, and whatever you do, unless you are attending a University of Florida game, NO JORTS ALLOWED!
Q:  I have received numerous emails, letters, and pamphlets from Boise State stating "Drinking games involving alcohol are prohibited".  What are they talking about?
A: I am assuming they are referring to the ever popular and soon to be Olympic sport of Beer Pong.
Q:  Is trying to drink as much Natty Light as possible before the game/halftime/when your wife isn't looking considered a "drinking game"?
A:  No.  These fall more in the "personal challenge" category.
Q:  The pamphlet also says, "any activity which promotes alcohol consumption is strictly prohibited".  So, are they cancelling football season?
A: Sigh…
Q: Any other tips?
A:  Have fun, be responsible, pace yourself and stay hydrated.  Welcome anyone and everyone who stops by, regardless of team affiliation, and offer them food and drink.  Tailgating is one of those things that makes college football awesome.  Enjoy it.  Go Broncos!