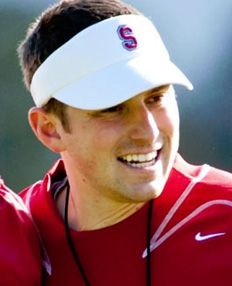 Any hesitations Bronco fans had about what kind of staff Bryan Harsin would put together have been erased with the announcement yesterday of Mike Sanford Jr. as Boise State's new Offensive Coordinator.  After announcing earlier in the day that Marcel Yates would be the Defensive Coordinator one phrase has been used a lot:  home-run hire.
This tweet from @J_Moore_92 sums up how Harsin's coaching hires have gone:
Bryan Harsin hit the ball so far out of the park with these hires, the ball hit Chris Petersen in the face in his office in Seattle.

— Jeremy Moore (@J_Moore_92) December 18, 2013
Sanford was a name many people had talked about when debating who Harsin should hire as OC, but there was some skepticism that he would leave Stanford.  Mike had been very instrumental in helping build the Stanford football program back up under both Jim Harbaugh and David Shaw, and had built a name for himself in recruiting, even being named as the number one West Coast recruiter by both ESPN and 247 Sports.  Getting him back to his Alma Mater is a huge win for Boise State and Bryan Harsin.
Mike Played QB for Boise State for four years, graduating in 2005, and was a part of a team that went 54-9 in his four years, and played in a bowl game every season.  After graduation, Mike stayed with Boise State for Spring practice in 2005 as a special assistant before accepting a Graduate Assistant position at UNLV, where his dad was the head coach.
Mike continued to climb the coaching ladder, being hired as an offensive assistant by Stanford in 2007, before moving on to Yale in 2009, Western Kentucky in 2010, and then back to Stanford in 2011.  With each stop he took on more responsibilities.  In his coaching career Mike has coached Tight Ends, Running Backs, Full Backs, Wide Receivers, and Quarterbacks, as well as being both a recruiting coordinator and pass game coordinator.
I would say he is more than well qualified to take over the Boise State offense.
Welcome back to The Blue, Mike!