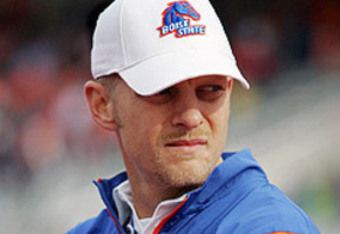 Welcome Home, Bryan.
After a few stressful days for Bronco Nation, Boise State has reached back for the future of the program.  Boise State announced today that Bryan Harsin will replace Chris Petersen at Boise State, and take the reins of the program that he helped build.
Harsin began his career on The Blue in 1995 where he was primarily a backup quarterback.  Bryan certainly learned the pains of coaching changes at Boise State as he played for Pokey Allen, Tom Mason, Houston Nutt, and Dirk Koetter in his five years.  After wrapping up his playing days in 2000, Bryan immediately went in to coaching at Eastern Oregon University where he was the running backs coach.  Following his one year at EOU, Harsin was back coaching on the Blue as a Graduate Assistant under Dan Hawkins.  Harsin quickly moved up the ranks, locking down the tight ends job the next season.  When Hawkins left for Colorado, Harsin was then promoted to offensive coordinator under new coach Chris Petersen.  As we all know, his first year at OC was nothing but success.  Boise State's offense went undefeated, finished 10th in the nation in total offense, and became well-known for its shifts, motion (and trick plays) topped off by a win in what some say was the greatest game in college football history, the 2007 Fiesta Bowl.  Bryan saw plenty of success in his next four years at the helm of the Broncos offense as well, helping the team to seasons of 10-3, 12-1, 14-0, and 12-1, with another BCS Bowl win in the 2009 Fiesta Bowl.  Following the 2010 season Harsin left to gain more experience as co-offensive coordinator with Texas where he stayed for two years before taking the head job at Arkansas State.
Bryan should bring a familiar offense back to Boise State, which will be a welcome sight for Boise State fans.  It will also be interesting to see what assistants he brings with him. His staff at Arkansas State was loaded with former Bronco players and coaches.
We were all heartbroken with the news of Chris Petersen leaving for Washington last week, but maybe Bryan Harsin can bring back hope, energy and excitement to a program that truly needs it right now.
Welcome back to The Blue, Bryan.