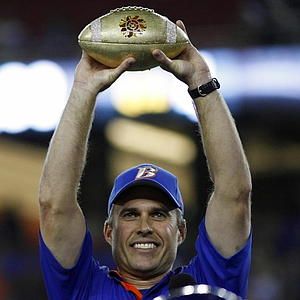 Thursday, 12/5-
The coaching frenzy had just begun hitting full stride and my undivided attention was solely to Twitter and any other form of media able to relay instant information. By now, Broncos fans were well-trained to know that anytime a coaching position opened,  Pete's name would be tossed in, no matter the likelihood. Early in the day, news struck that Coach Pete might have interest in the newly vacant Washington job. UW's opening was due to a chain of events resulting in the former Washington head coach accepting an offer to his dream job at USC (Southern California). Much like any other head coaching job that has had rumors linked to Pete's name, I was confident, but had the lingering fear of "maybe this is the one."
As the day rolled on, more and more rumors surfaced from various outlets stating they had sources confirming Pete was interested, others contradicted it. But one thing was certain, Washington was interested. By late afternoon the rumors were quickly jolted to a higher level—leading to what would become a series of unfortunate events. The speculation was an interview had been scheduled. Coinciding with the rumors, my anxiety was gradually gaining. My biggest fear being a tweet or a sudden Sportscenter clip, stating- BREAKING NEWS: Chris Petersen has accepted a deal to be the next Washington Huskies head football coach.
As evening came, the next rumor brought life into some Bronco fans and took it away from others. It was all but assured at this point Pete was willing to listen to what UW had to offer. Now it was more a question of–was he listening or was he just hearing. Obviously the latter was what we hoped, and hindsight is always 20/20, but I should've known the potential outcome. News broke that Washington had sent a private jet with two members of the university's athletics department hoping to sway Petersen into jumping ship. At first glance of the news, I suddenly became tense, saddened, and filled with irrational thoughts as if I had just been broken up with and didn't know how to bear the news. Slowly I cooled down and managed to 'woosah….woosah' myself until I regained my composure and fully gathered my thoughts. Once again only devoted to Twitter, a few tweets from other Bronco supporters helped me translate the news and spin it into a positive. If Coach Pete isn't going to Washington and is making them come here—why worry? If he was truly interested, he would fly out there and interview on their terms and their campus. Some might definitely call that foolish or even naïve. Maybe, but at that point, any reason to think the unspeakable was NOT going to happen… was surely enough for me to find it valid.
Bronco Nation patiently waited for an update on what had transpired in the interview. Those of us still awake were on pins and needles, hoping to hear a resounding "All clear", similar to what you'd expect from a soldier after clearing out an empty room.
Boise State reporters turned into spies, staking out at the Boise airport as if sudden news broke that Santa Clause was making a surprise visit. The writers, reporters, and columnists were all looking to find any tidbit of information that could indicate whether Pete was gone or was yet, once again, refusing a formidable job offer. While it unfolded rather quickly, the angst made the meeting's length seem more than double. Only two hours after landing in Boise—Washington reps were on their way back home, Coach Pete, not along for the ride. The glimmer of hope suddenly started to shine just a tad bit more.
The last of the news was enough for Bronco fans to sleep with ease.
We had reportedly won; Coach Pete was in fact just hearing what Washington had to say and ultimately decided to stay a Bronco…. Another team had failed. Boise State, ONCE AGAIN managed to retain their phenomenal coach and even better leader for at least one more year. Until of course, the rumors emerge again, next year. As Boise State fans all over the country went to bed that Thursday night, we felt nearly invincible. Teams can pry and pry to get our head coach but—he was a Bronco—not a Husky, a Trojan, or anything else, only a Bronco. It was seemingly impossible to not be more partial to Coach Pete. In an era where loyalty in sports was no longer existent, Chris Petersen was defying the norm year in and year out. We bled blue and so did he.
Oh….
The reason lengthy careers in sports don't usually begin and end in one place is simple, because… it is a business. Easily forgotten and more often chosen not to be remembered. We as fans love the stories where a player or coach refuses to leave their hometown team, first team, or team with a long tenure, etc., just because they couldn't imagine being anywhere else. Unfortunately, that is uncommon and more special than it is customary. Thus, alluding to why those who manage that feat are often remembered as legends and a sports version of a hero.
Friday morning served as the heartbreak Bronco Nation had long dreaded, we lost the legend in the making. And while it was quick and almost painless—truly, it was entirely the opposite. Those who woke up bright and early that morning (such as myself) were greeted, half-awake and squinty eyed with the jarring news. My prior mentioned biggest fear was now a reality—Chris Petersen was gone before I could ever truly soak it in. He had decided to take the next step in his career and depart for the University of Washington.
Bronco fans all over were in utter disbelief. Traumatized of what we all thought could happen someday, yet never truly foresaw, just happened right before our very eyes. The most predictable question came rushing into my head like a freight train, WHY? It's different when players come and go. They already have a predetermined shelf-life when introduced and there is no changing that. Coach Pete didn't, his occupancy was infinite, free of charge. One can almost picture Boise State and the city of Boise saying, "Stay as long as you want, take whatever you need, just stay. Promise us you will. Do you promise?" Guilty of desperation, but no doubt, we all would have said it.
I promise.
The national speculation prior to Pete leaving was that Boise State is on the decline, reached their peak, and will falter to succeed at a high level, ever again. With Pete gone, we might as well go back to being a junior college, set our own time bomb and quickly self-destruct. Thankfully, any time bomb in Boise at the moment would freeze itself dull before any destruction occurs.
Surely, Coach Pete deserves enormous praise for everything he has done as Boise State, and his record speaks for itself (92-12), but now it is time to move on. Change is never easy and is always feared; especially when it's forced upon, therefore, making it twice as difficult. Now, Boise State is faced with another challenge, and certainly should have the 'Boise State chip on our shoulder' we're all accustomed to.
Fiesta Bowls and trick plays may have put Boise State on the national map, but that's not where it began. Prior to Pete's days as head coach, the Boise State foundation was being built from the ground up. Boise State was rising the ranks from a little junior college in Podunk; Boise, Idaho, to a quality D1 program. The groundwork was laid by leaders who saw a bigger picture of excellent people off the field rather than just a product on it. Boise State wanted good people before good players, which in turn, ended up leading to excellent players and frequent wins.
Boise State burst onto the scene in the late 90's and early 2000's. Winning had now started to become a constant. Recognized only by its blue turf, the Broncos were building towards the future and doing so in a time where mid-majors were an afterthought. Boise State was changing the landscape of college football; they just didn't know it yet. Throughout their rise to success, Boise State stayed focused on specific principals that would present the Broncos in the proper manner. Boise State was building the blue-collar image.
Dirk Koetter was the first to get the ball rolling. He was the Broncos Head Coach from 1998-2000, the beginning years of Boise State's evolution to dominance. Koetter went 26-10 during his tenure with Broncos. He was the launch that led to the BOOM that was 2000's for Boise State football.
Next was Dan Hawkins, Hawkins was hired to work under Koetter's staff and then was promoted to head coach after Koetter left for Arizona State University in 2000. Hawkins posted a remarkable record in five years at Boise State. He was 53-11 and led the Broncos to multiple bowl games. Hawkins moved on to Colorado after the 2005 season and left Boise State in a situation of paranoia similar to today. The Broncos and the fan base were rattled. What had been an incredibly successful run for Boise State was possibly about to poof….. Welcome, Coach Pete.
Petersen was the offensive coordinator at the time and filled the "next man up" mantra, perfectly. The greatest of the three by far, but each one equally contributed to the overriding theme, leaving the Broncos in a better state than prior to their arrival.
Flash forward to 2013, the Broncos are still here, pushing to better themselves on and off the field; still standing by the same fundamentals a decade later. Only difference now is the recognition that comes with winning. Boise State has received the shiny equipment, fancy buildings, Nike contracts, and ESPN deals. Certainly, Coach Pete had an enormous impact on making Boise State who it is and why it is as successful as it is today, but the blueprint was already in place, he just put the cherry on top.
The Broncos have been prepared for this moment, as they've experienced it before. Boise State is ready to once again prove their worth, and continue the tradition of success.
Chin up, Bronco Nation, neither plateaued nor peaked is a word used here at Boise State.
Welcome, Coach ________, you're turn.
Bleed blue.