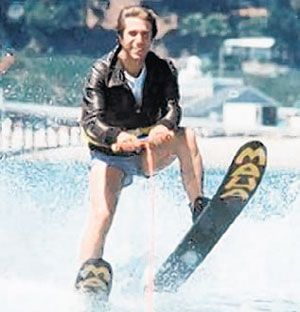 Once again Boise State will have color schemes for every game for the fans this year,  something they have done for about five years now.  Many schools have done color schemes every once in a while for a long time, and some (such as Nebraska) have a tradition of fans wearing the same color to every game.  (I once was cursed out by a 120 year old lady at a Lincoln, Nebraska grocery store for not wearing red on Saturday, even though I obviously am not a Husker fan, and certainly wasn't going to the game).  The fad started with the occasional "Orange Out", "White Out", etc. but eventually grew to some sort of scheme for every game, including alternating the colors for sides of the stadiums, upper/lower decks and even sections.
I think the schemes look great on television, but I feel like doing something "special" for every game doesn't really make it all that special.  I would like to see the color schemes used for "big games" (the Oregon game in 2009 is a good example) and never later than October, especially with our games starting later and night nowadays. Not every fan can afford cold weather gear in all the possible Boise State color schemes.
I think it is important that the school coordinates the fan's colors with what the players are wearing as well.  Last season against Nevada the scheme was tri-color, however during game week we found that the team would be wearing all black.  Many fans, myself included, wanted to wear our black gear we bought for the black-out game the prior year.
One of the arguments I hear often against the color schemes is that the school is only doing it to make money off apparel sales.  This does not bother me at all.  If you are buying from the Bronco Shop you are supporting scholarships, and if you shop at the Blue and Orange store you are supporting a local business whose owners are big time Bronco fans that give back to the school.  We can't all afford to write fat checks to the school each year so buying the gear helps out.
So what do you think Bronco Fans?  Do you like the color schemes for every game?  Are you like me and would rather they were only used on special occasions?  Or are you part of the "don't tell me what to wear" crowd and want to see them go away all together?
Vote in the poll, and let us know what you think in the comments section, or on our Twitter and Facebook.
Loading ...