It might not have been the exact kickstart to the 'nouveau noughties' we'd imagined but there is a hoorah on the horizon, especially when it comes to decorating your home this year. 
You may have those rose-tinted glasses on for some of last year's biggest home decor trends – and many may still be living it up in your space as you read – but they had their time and now it's time to say TTFN to some seemingly classic looks, and hello to the next best home decor trends 2022 instead.
Combining good looks and a healthy dose of positivity, there is lots to look forward to, we promise, and honestly, you'll feel a sense of relief when you learn which styles you can abandon from here on out. It's time to happy house the situation once more with a fresh update to give your sanctuary a new look full of personality.
The only question is, which one has you in the mood for a change?
Dated looks to avoid in 2022
Say goodbye to the outdated home decor trends of 2022, and hello to these new fresh looks to take home instead.
1. Dated trend: Classic farmhouse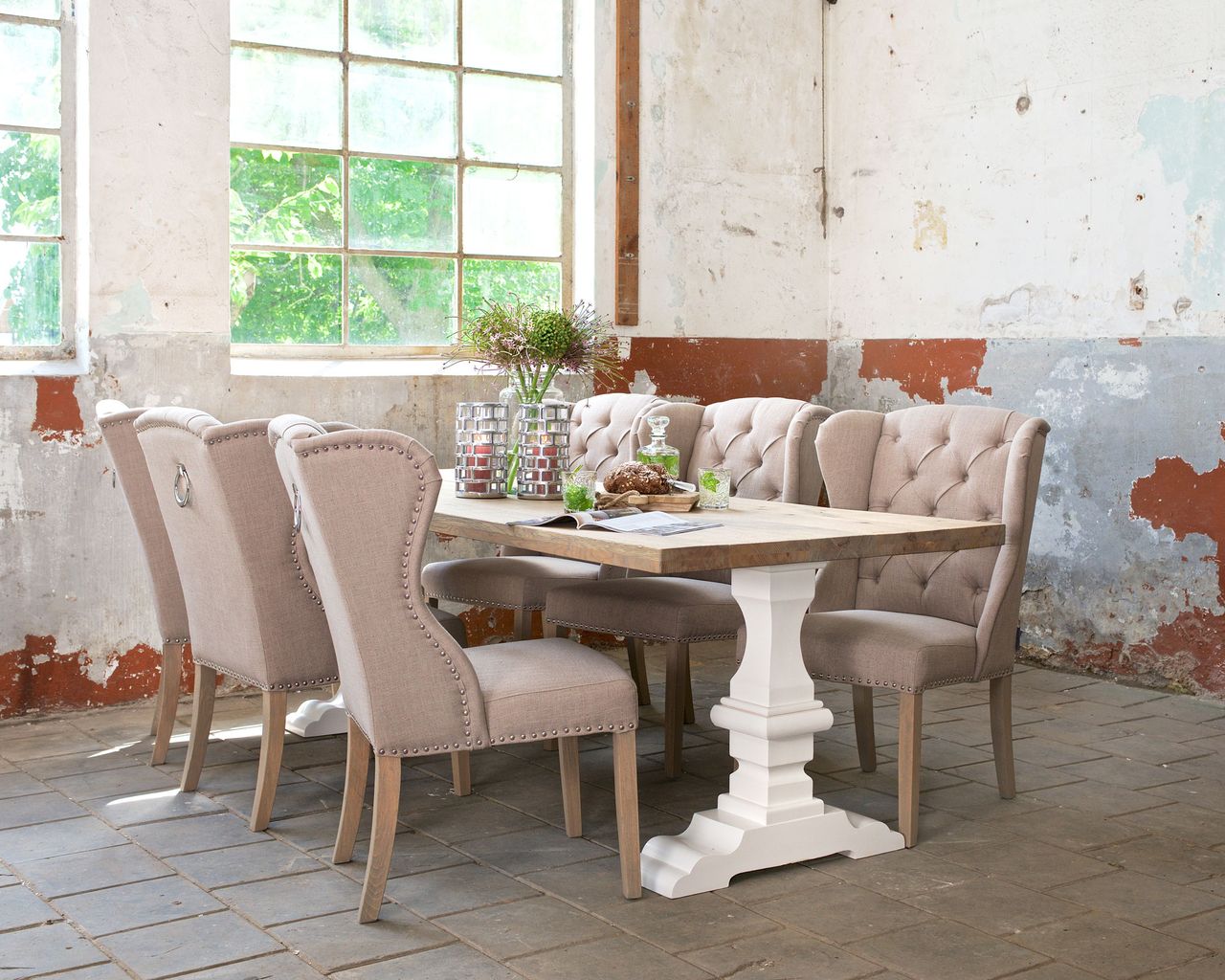 Now we all love feasting in a homely rustic dining room, but in 2022, creating an authentic look that is less distressed, and more streamlined and clean is what it's about. 
Anna Franklin, interior designer and founder of Stone House Collective, comments: 'Farmhouse style is a trend that has dominated for years and will likely continue to do so, but aspects of it are on their way out and should be avoided!
First, get rid of faux-distressed furniture that looks worn, but isn't. Instead, opt for vintage rugs that have actually been well-worn, and authentic farmhouse dining tables. Vintage rugs have already been around for some time, so you know that they will last and that they will continue to look beautiful for years to come – and will likely shed less! A real wood farmhouse table will withstand the test of time, and will wear beautifully over time as well.'
Manuel Munoz, interior designer, Living Spaces, agrees: 'One trend that I see going away in 2022 is the classic farmhouse style. It feels dated so instead, we are seeing more and more every day that farmhouse is morphing to be more modern. For example, white cabinets are going away as people are feeling more inspired to choose bolder colors. More modern, bold colors are coming into play instead.'
Instead: Modern artisan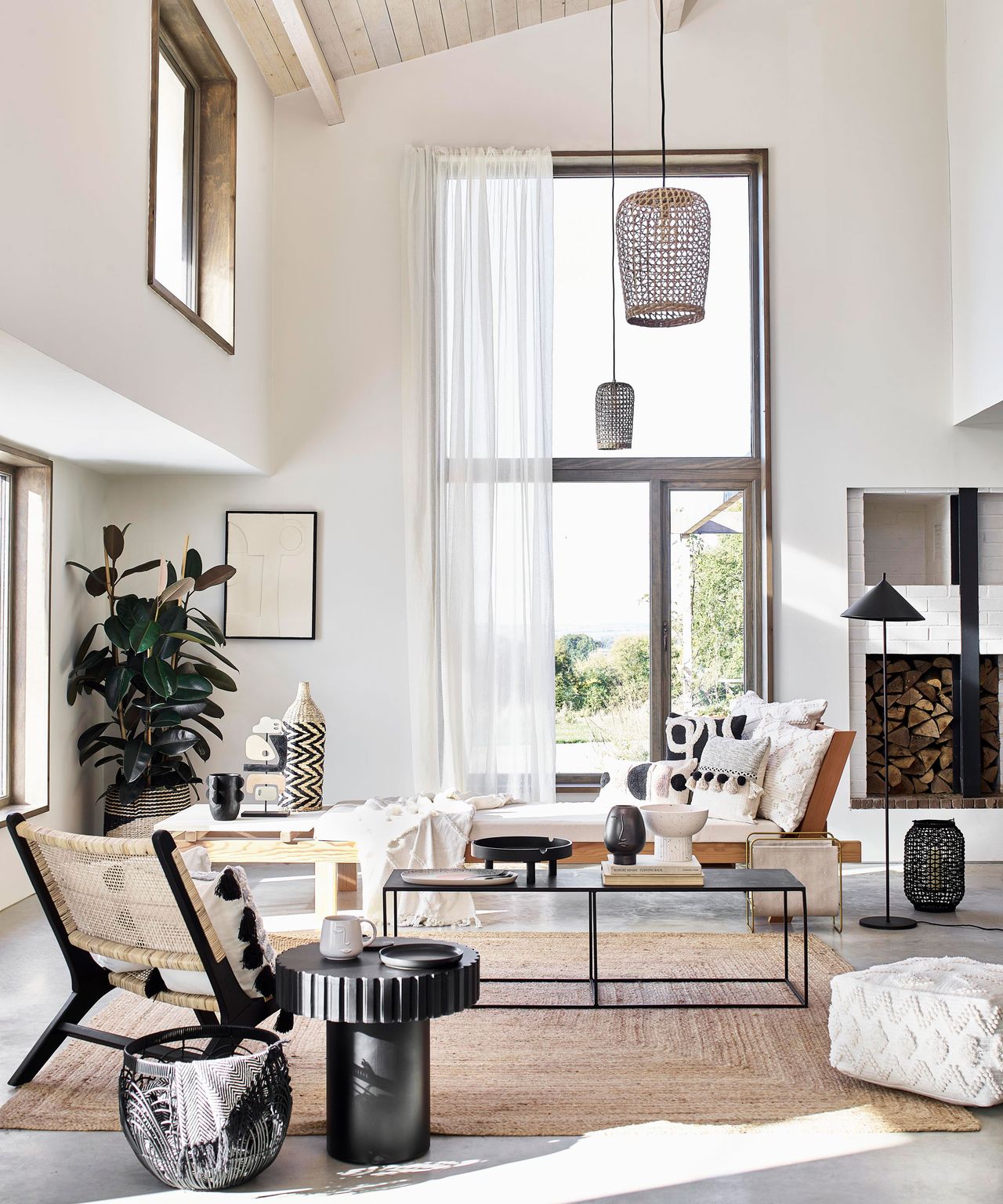 Sharing roots in natural and honest materials, craftsmanship, and authenticity (much as farmhouse style), the modern artisan aesthetic celebrates the hand of the maker and beauty in imperfection through a curated approach to design. The look is streamlined and considered, guided by natural patterns, hues, and organic forms in raw materials, like wood, rattan, and stone, as shown here in this striking modern living room scheme. 
If you're looking for a quick home update, living room trends 2022 are a good place to start, and you never know, might just inspire an entire home makeover. 
Home expert, Richard Petrie at Thomas Sanderson, comments on the natural materials trend: 'Furniture made from natural products like wicker and wood has a vintage quality and the ability to make any space look stylish. Wicker looks great inside and works especially well when paired with indoor plants and bold patterns.' 
Jen + Mar, founders, Interior Fox, comment: '2021 paved the way for softer and more naturalistic interior trends, with an abundance of rattan and cane furniture, ceramics, and linen elements dotted across the home. All sitting against a backdrop of texture wall techniques such as limewash or micro cement. We see this trend continuing into 2022 for a look that adds a sense of stripped-back ease whilst making a strong yet understated design trend.'
2. Dated trend: Velvet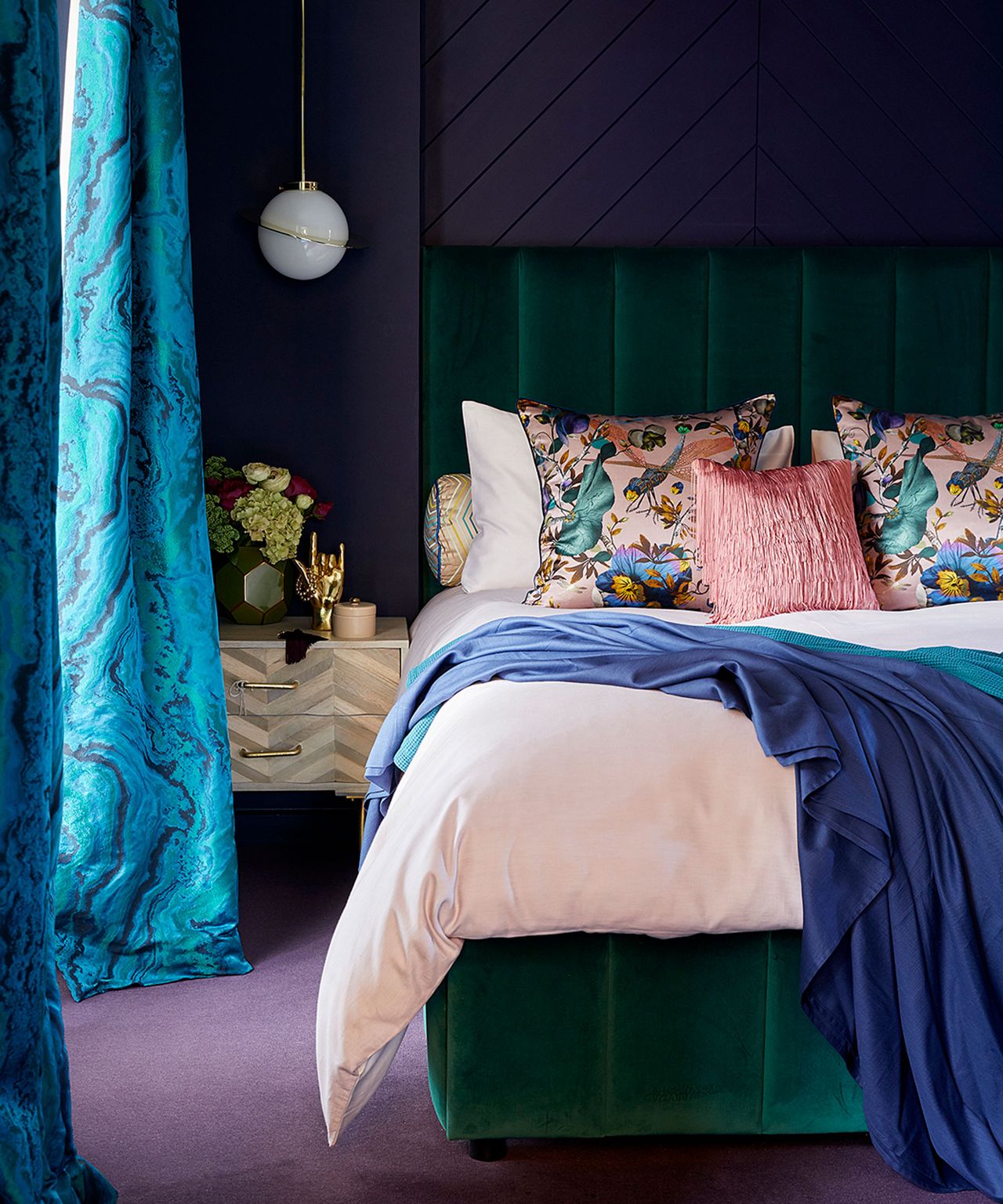 We've indulged in velvet sofa idleness long enough! Sure, velvet's buttery smooth appeal across anything and everything from upholstery to soft furnishings, and even decorative homewares (velvet mirrors and lampshades have been a thing) are hard to resist but come on now, let's drop the bougie act and get authentic with tactile textiles that don't have to be re-plumped and stroked down every time we use them. Modern lives are demanding enough, we don't need our homes to be high maintenance too! 
Instead: Relaxed textures
Think less plumped-up luxe, and cozier lived-in with layers of lounge-loving textures that embrace a slow living aesthetic. Forget the iron (hoorah!), and snuggle into lazy linens and tumbled cotton that loves a crimple or 10 – a cute and cozy small bedroom idea for couples! Elevate your sofa with oversized slubby linen cushions in vegetable-dyed shades and quiet patterns, or nestle into a wonderfully soft waffle bedlinen cocoon… Happy days indeed… 
Jen + Mar, founders of Interior Fox, comment: 'We're seeing less of velvets in favor of much more relaxed natural materials. We're not suggesting velvet is out, we're suggesting to use it as an accent rather than the centerpiece. 
Natural materials such as linens and cotton add texture and comfort to soft furnishings. Waffle blankets draped over beds or sofas adds dimension and a depth that is pleasing to the eye.'
3. Dated trend: Play it safe neutrals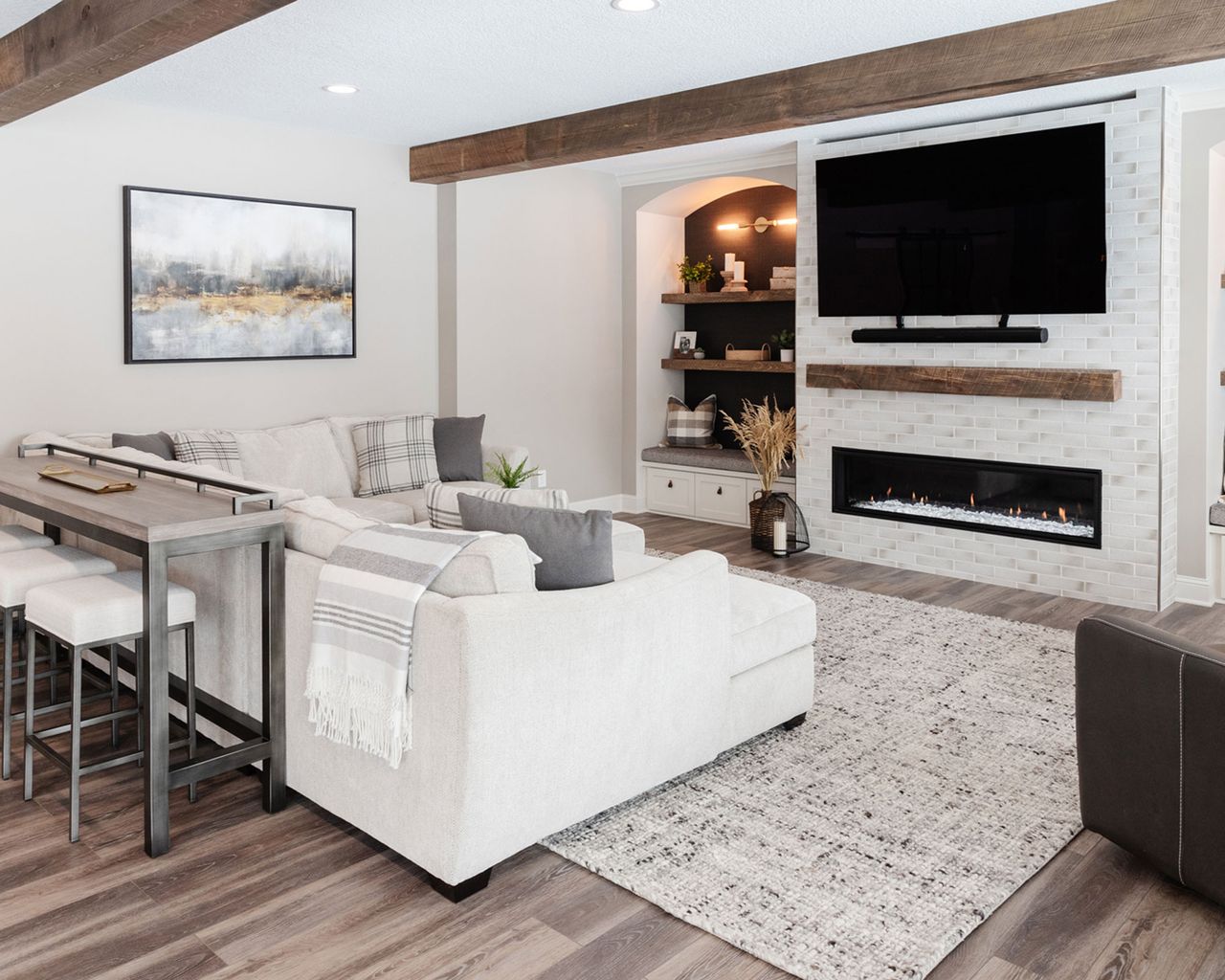 Sure, white and beige are timeless and safe options when it comes to interior decor schemes and gray and brown living room ideas, but come on – let's shake things up with some mood-enhancing color therapy! What's the worst that can happen? You paint it back! Sometimes things are not all right in white. We say out with the vanilla and in with every shade under the sun!
Andra DelMonico, lead interior designer, Trendey, comments: 'The all-white aesthetic is on its way out. Similarly, a light neutral color palette with white, cream, and light gray is also losing favor. These bland and boring interiors are on their way out. You can still have a neutral color palette, but try adding bolder colors, especially ones that mimic colors from nature. These richer colors are still neutral but bring warmth and life into your home.' 
Instead: Green serene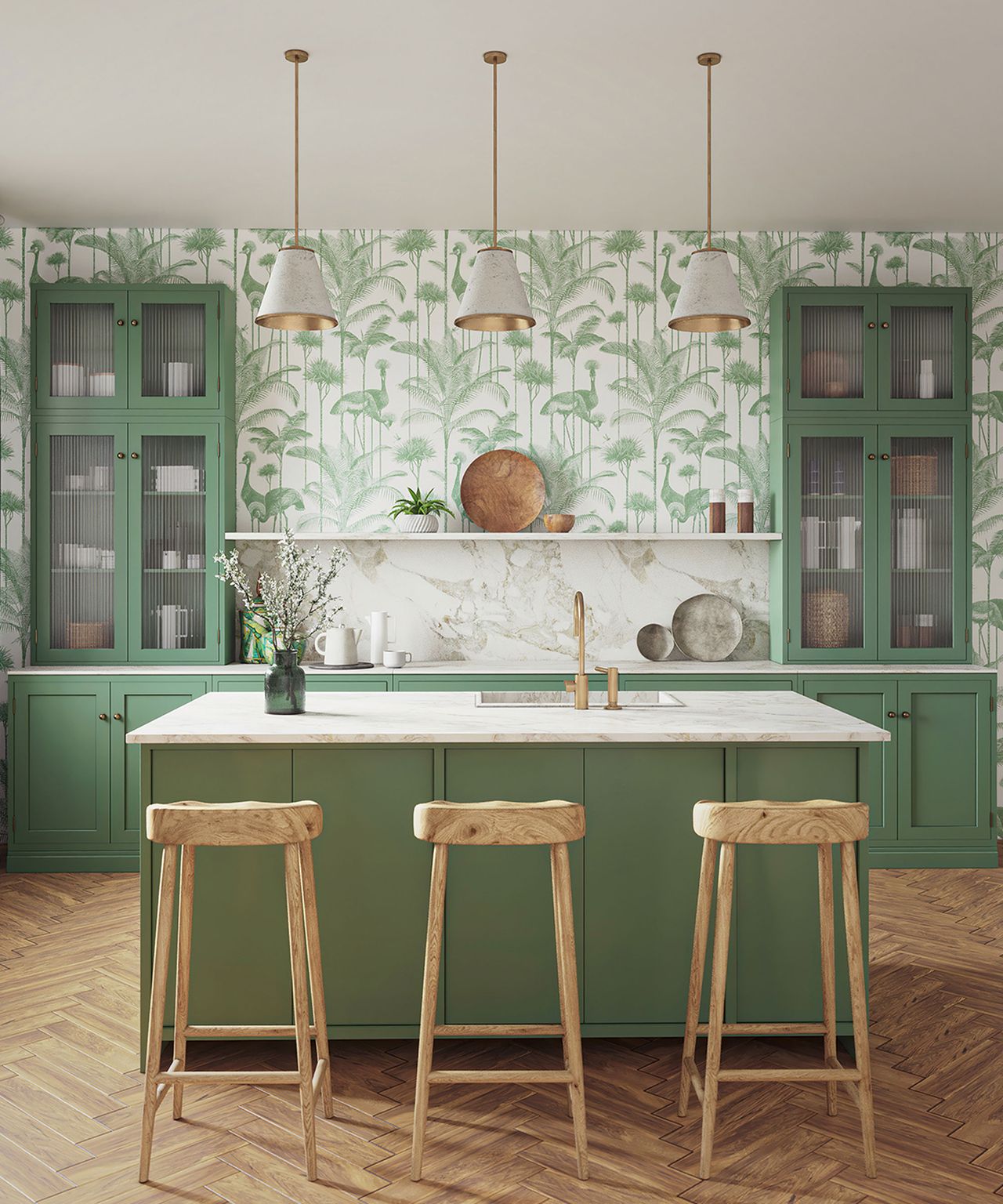 Given its connection with nature, the rise of green follows homeowners' appetite for all things biophilic. Explore a palette of verdant shades ranging from playful mint to fresh fern to refresh every space, especially a green kitchen with a renewed energy.
Rachael Doble, who co-founded Carmine Lake alongside Simon Critchley, comments: 'Green is an extremely versatile hue and I am thrilled homeowners are embracing it. It can be cozy and comforting, vibrant and refreshing, and even dark and dramatic. There truly is a green to suit all tastes and I believe spring 2022 will bring with it a real appetite for green homewares.'
Simon adds: 'The uncertainty of the pandemic has driven a desire to reconnect with the natural, outside world. Houseplants, natural materials, and natural lighting have all been embraced by homeowners, and going green when it comes to color, is the next step.'
4. Dated trend: Wallpaper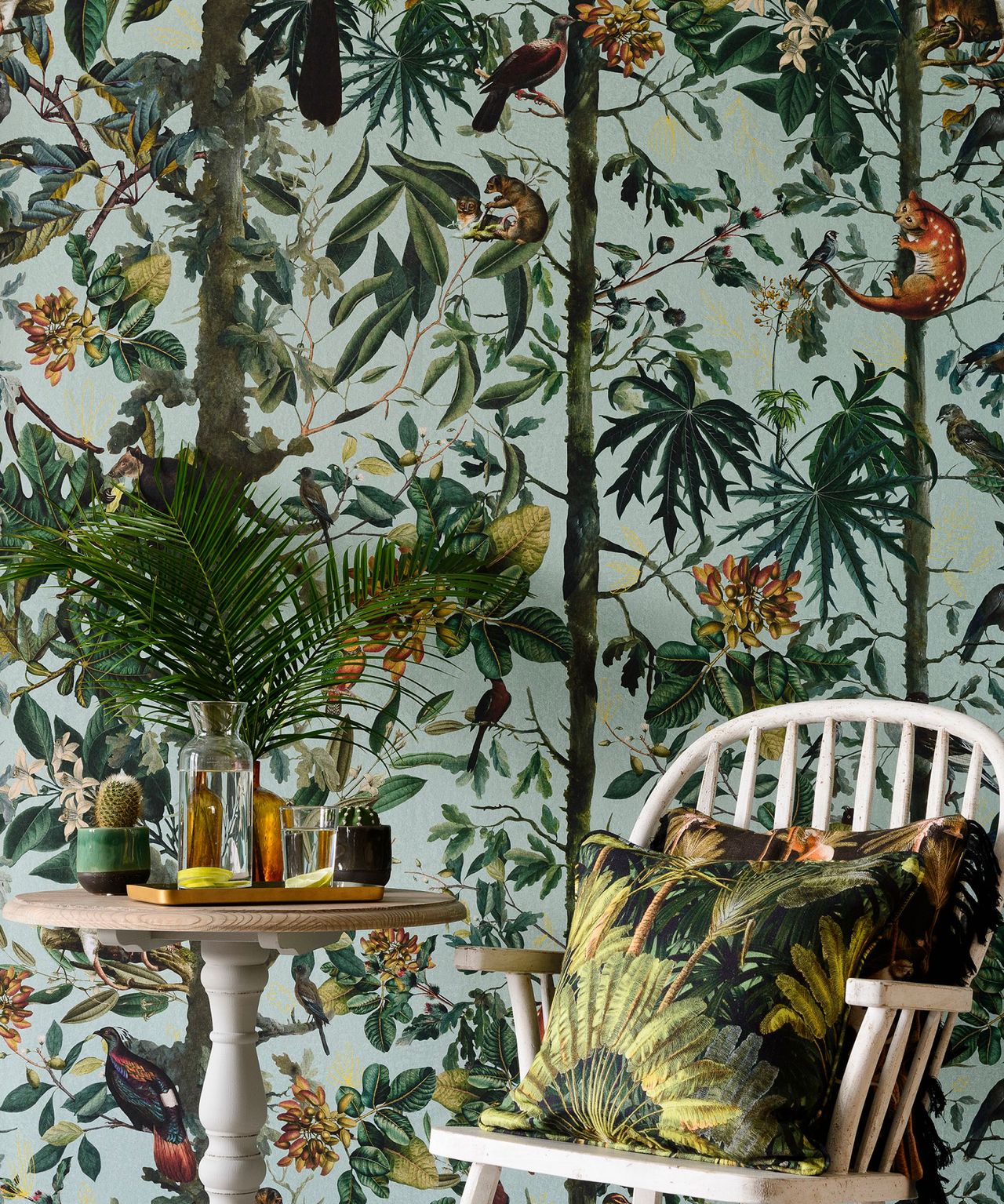 Okay, so we can't deny the transformative effects of a speedy DIY wallpaper project, but, in 2022 it's more about taking busy patterns off the walls, and instead accenting a mixed variation of designs through upholstery, soft furnishings, and wall art, for a layered scheme full of interesting details. Not forgetting, we're generation RENT, so unless you're going for a peel-and-stick wallpaper option, the wallpaper might not be worth the hassle (or loss of deposit!)
Instead: Color blocking and color drenching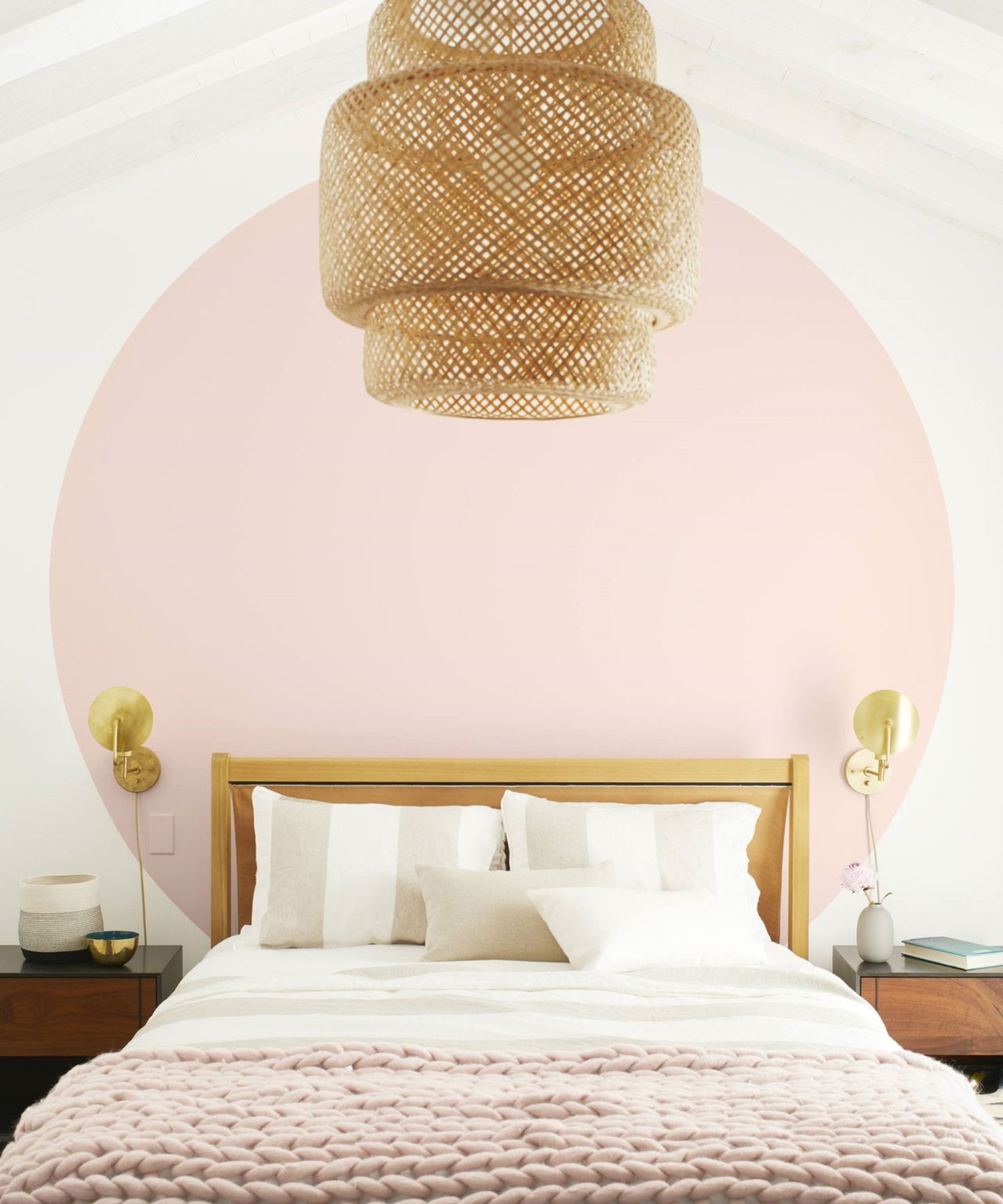 Homemakers are getting confident from the inside out when it comes to decorating in paint color trends 2022. And although our love affair with wallpaper is a romance of a lifetime, there's always room for a little seasonal fling with creative paint ideas. 
It's not just about painting the four walls anymore. Homes are getting expressive with color-blocked wall ideas in contrasting shades, border patrols with two-tone split level walls, and color drenching entire spaces, including the ceiling, in saturated shades that recharge and change up the dynamic. 
Helen Shaw, UK director at Benjamin Moore comments: 'Even refreshing just a small corner of your home with a new color or design effect can bring about the most enormous changes to not only your space but also your mood.'
'Create impact by painting a circle feature above your headboard for a dramatic focal point that symbolizes unity, and to transform a bland space into a welcoming sanctuary.'
5. Dated trend: Dried flowers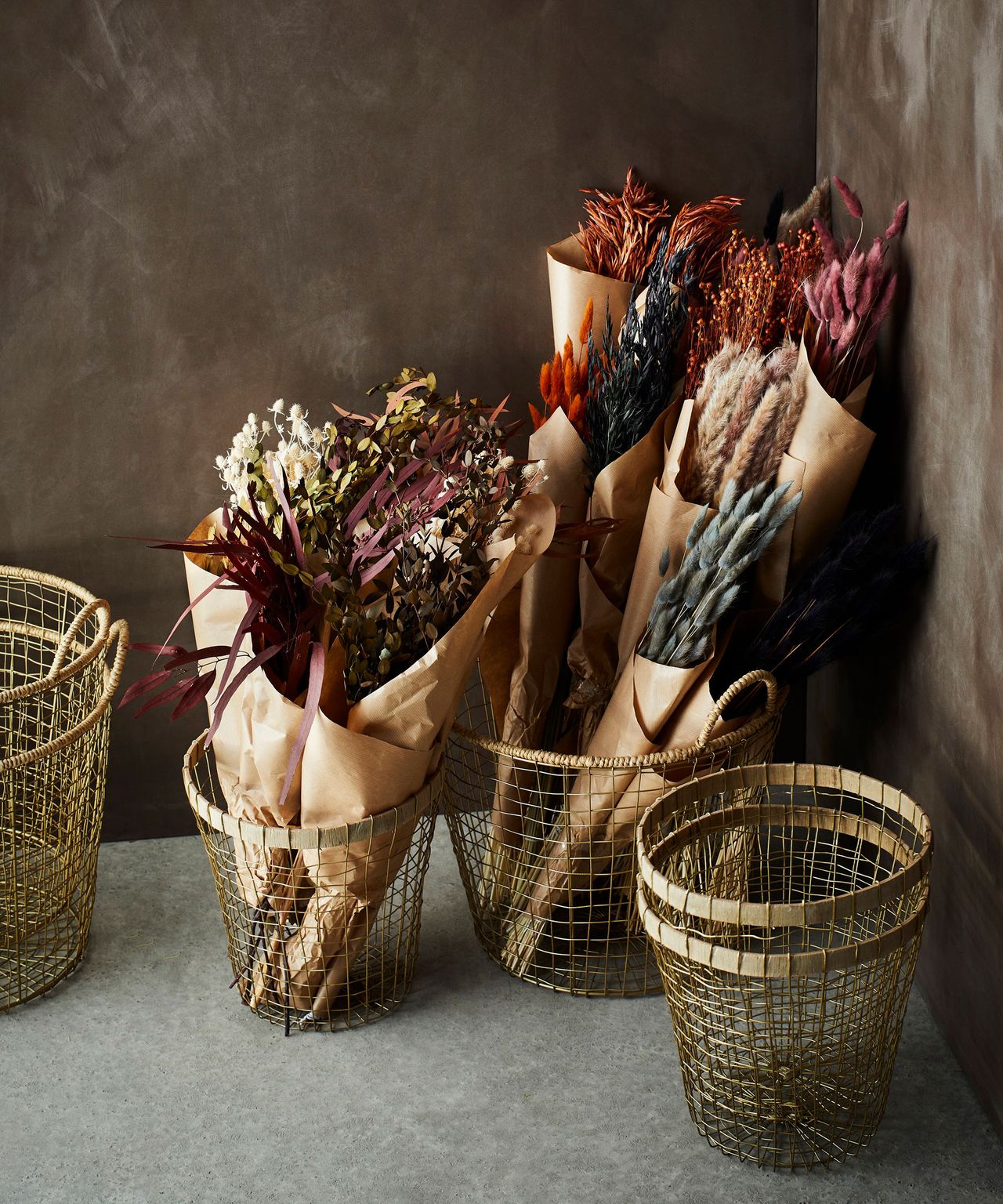 They bought textural bouquets of meadow encapsulated beauty, volume, and sunbaked color to our homes throughout 2020 and 2021, but hello – that was then, and this is now, and there's only so many eternity arrangements of dried grasses we can accommodate (anybody else getting slightly impatient of treading on fallen crunchy petals and rogue wayward seed heads?) 
Whilst the stunning and striking pampas grass 'clouds' will inevitably remain a popular event and wedding decor focal point for now, at homies, it might just be time to say au revoir to the dried stuff and bonjour to the fresh! (We'll miss their low maintenance nature though…)
Instead: Jungalow
House plants are must-haves for the new generation of proud plant parents – fact! 
It's a game of wordplay – jungle meets bungalow – ta-dah! You don't have to actually live in a bungalow to enjoy the benefits of this virtuous style – it works in 'cozy' apartments and palatial spaces alike! (Ironically) a popular style in 'concrete jungles' where it's all about bringing some natural goodness in, create an 'indoor jungle' with an abundance – as in, you literally can't have too many, of easy house plants in different sizes, shapes, and textures. And just so you know, it's absolutely okay to talk to your plants, and even give them names – we're all guilty as charged! 
But don't stop there! Jungalow style has a bohemian spirit, so wanderlust away with travel-inspired brights and patterns woven through natural textures, wood grains, and baskets. Pop your leafy lovelies onto a colorful array of DIY plant stands for a carnival riot of personality in any space. 
Beth Chapman, plant pro and founder of design-led plant brand Leaf Envy, comments: 'The environmental impact of cut flowers is not so rosy. We've seen an increase in searches by those looking for sustainable alternatives to cut flowers. In 2021, 'Forever Flower' plants, including the Peach Flamingo Flower, were one of the most popular giftable products. We expect to see this trend take off in 2022 with people looking for sustainable gifts that will last.' 
As part of this trend, Chapman also expects to see many more botanical tablescaping themes using plants as opposed to traditional cut flowers.
Chapman's prediction for the hottest houseplant trend of 2022: 'Demand for Leaf Envy's rare plants soared in 2021. People were searching for more unusual varieties to add to their collections at home. We predict the houseplant of 2022 will be the Alocasia Silver Dragon, a rare beauty with silver-green leaves and dark green veins.'
Dated trend: Open plan living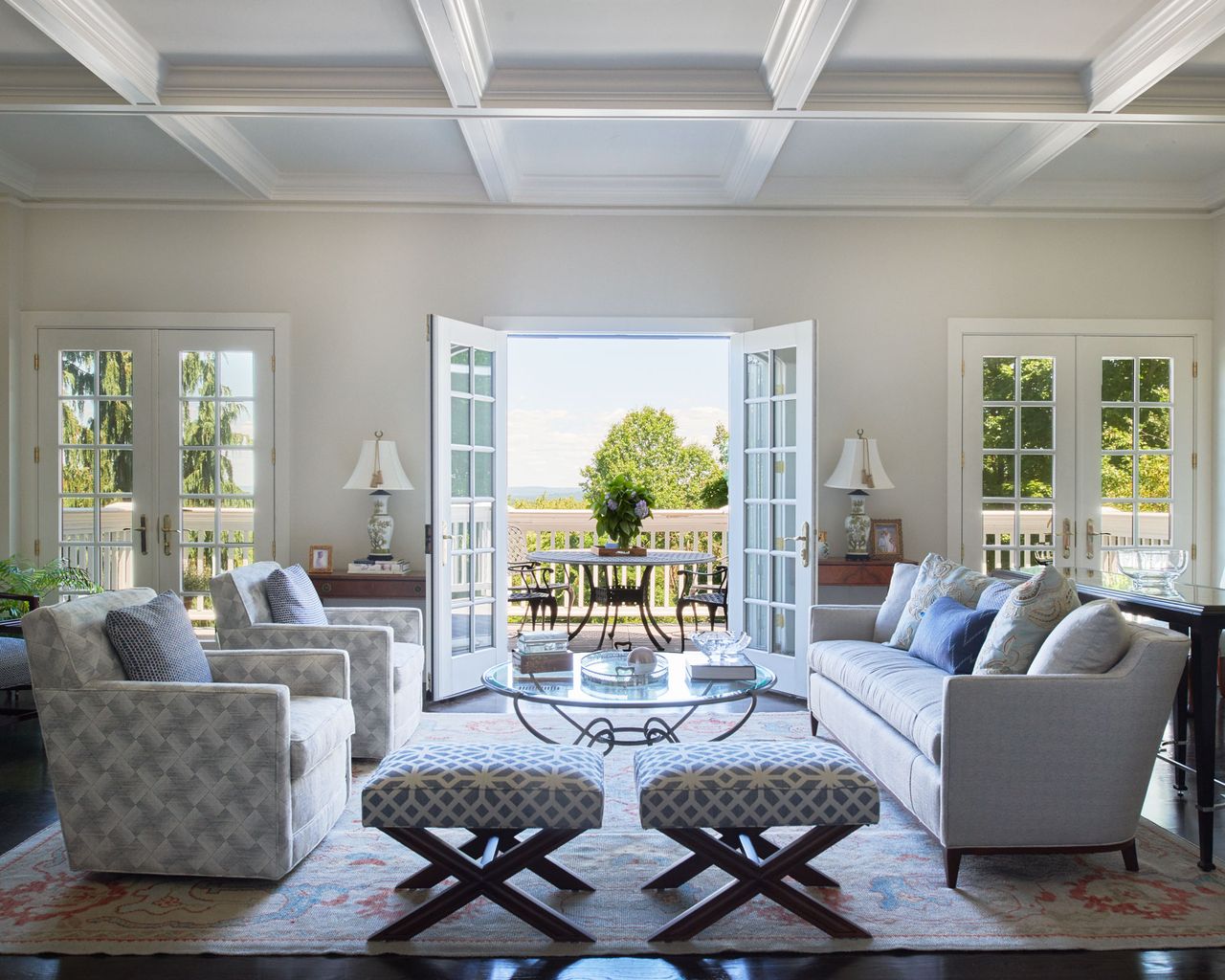 Whilst a light-enhancing, space-enhancing, effortlessly flowing, open plan living room layout ticks a whole lot of boxes, it's fair to say that things became a bit too exposed in the cabin fever height of lockdown when we were all forced to share the 'openness' with whoever we were living with at the time. Whilst turning said space into a multi-functioning everything. Privacy and quiet time, please.
Sarit Marcus, professional interior designer and founder of Minted Space, comments: 'Open floor concept living is on its way out in 2022. The last few years of pandemic life have reshaped how people utilize their homes. Spending so much time at home has created the natural gravitation towards more privacy and designated spaces.'
Alysha Alli, interior designer, Redrow's Group, comments: 'Throughout 2022, it remains a priority to be able to separate specific areas of the home so they can fulfill their intended use effectively. Open-plan living has proven a popular design decision for many new build properties or home renovations over the last few years. While this layout provides ample space, perfect for families, post-pandemic living has meant this communal space is too often being shared for multiple reasons simultaneously.'
Instead: Broken plan living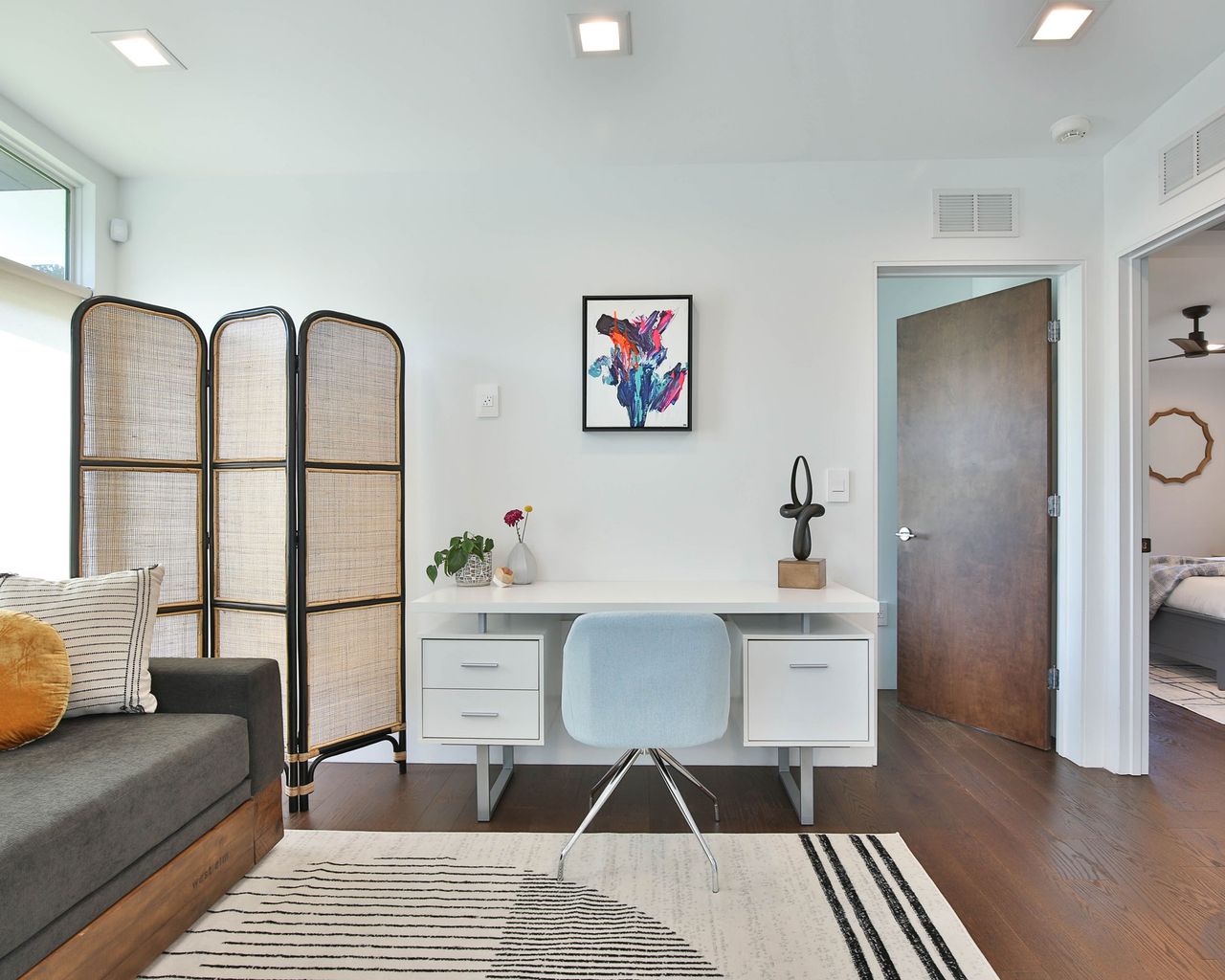 Alli continues: 'As we move through the pandemic, 'broken-plan living' is revolutionizing the open-plan layout by providing simple solutions to divide the space to allow for flexible use throughout the day. Often overlooked is lighting, which provides the greatest asset in helping to create a zoning effect to separate areas through different shades of light that can illuminate or shadow various areas. This technique will cater to each individual member of the family and their needs while creating a relaxing and inviting ambiance for all to enjoy.'
'For homeowners with space to spare, room dividers are also increasing in popularity, with many bookcases and wicker style screens providing a creative solution to regain boundaries between working days and relaxing evenings.'
Jessica Harris, interior designer, Living Spaces, agrees: 'In the past few years, homeowners have preferred big open floor plans, however, I think we will start to move away from that preference in 2022. I have seen more partition walls incorporated into the design because they have multiple functionalities. With people working from home it creates space for an office in an open floor plan. They are functional, beautiful, and a great way to break up a room without changing the structure of the home.'
7. Dated trend: Subway tiles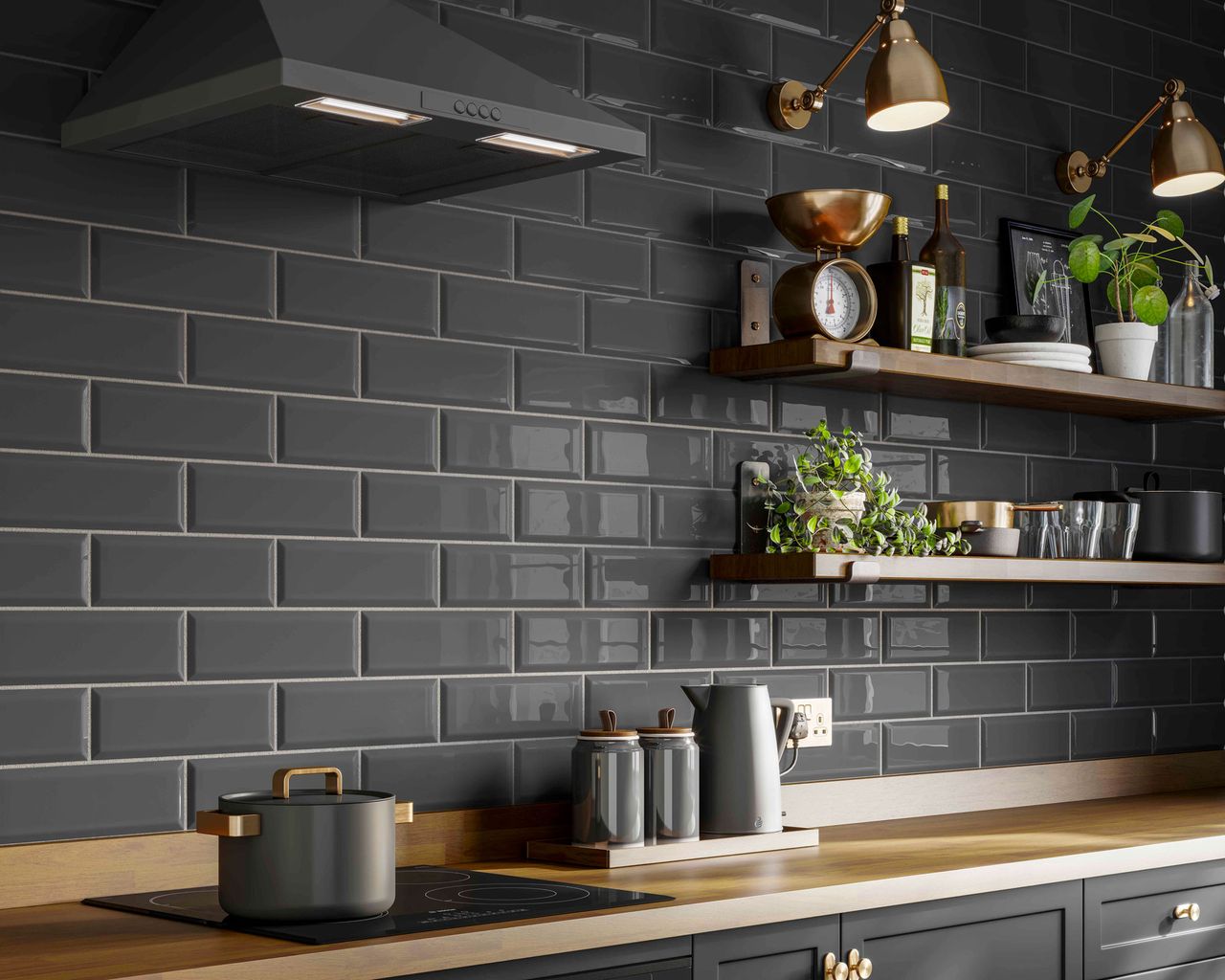 We've spied them in every rental we've viewed… Smart absolutely, but predictable yes, and that makes us yawn… These tiles are getting tired…zzz… 
Sylvia James, interior designer, Home How, comments: 'Subway tiles have been making a comeback in industrial-style homes for the past several years, owing to their fashionable, post-modern appearance. They're not going out style exactly, but they have become so common now, that they are boring. To make things more interesting look to streamlined larger square or even curved tiles to replace them.'
Instead: Pastel geometric tiles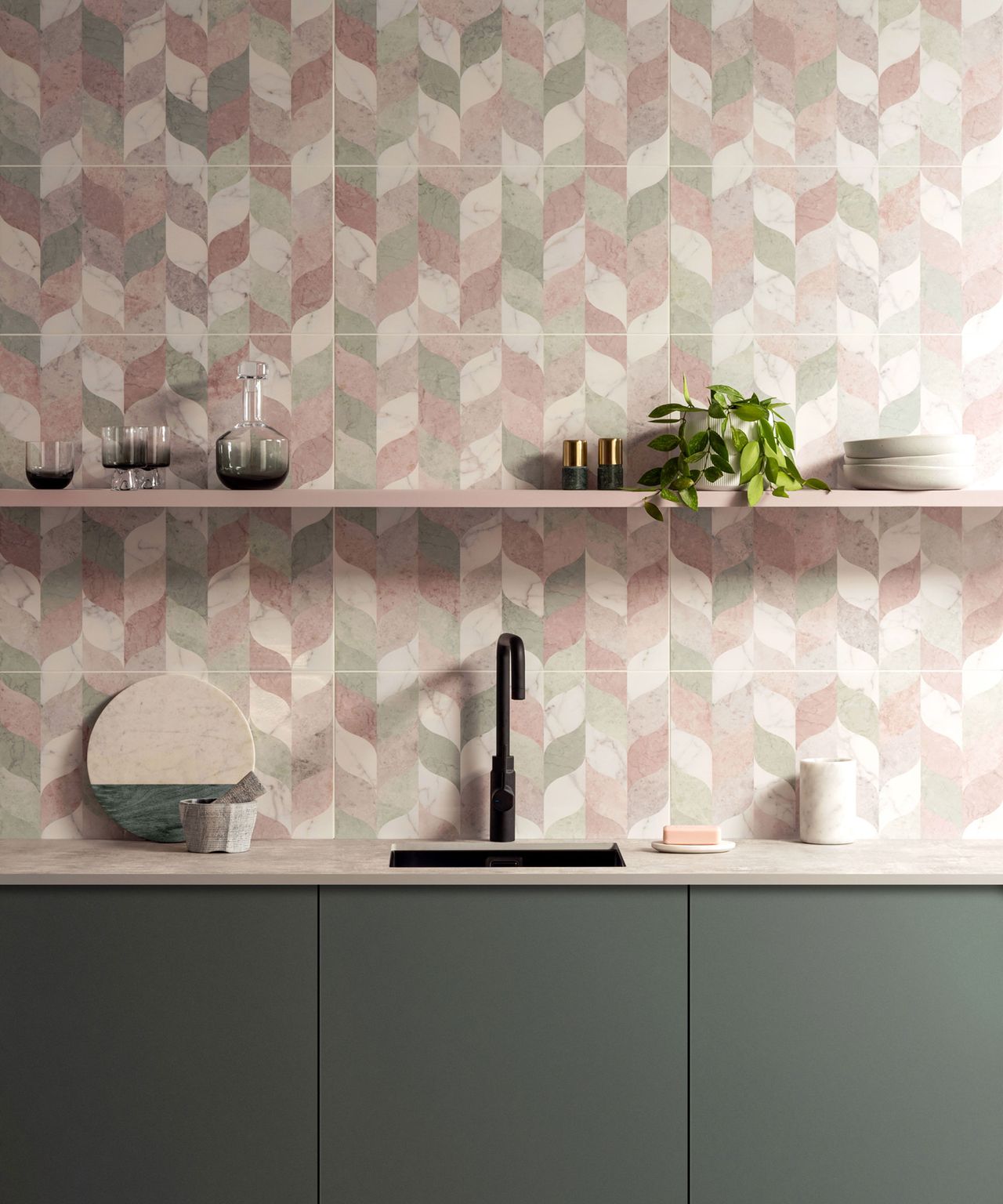 From the catwalk to our homes, geometric influences are putting shapely equations over everything, and we're sold! Far more interesting (and complex might we add) than the safe square, get creative with unique formations in your bathroom, on your kitchen backsplash, or even jazz up your living space with inventive fireplace tile ideas. Exaggerate borders, create dynamic shapes or take tiles sky-high from floor to ceiling – the options and opportunities are endless. Choose tiles in an on-trend 'new pastels' palette and pave your way to a calming, yet personality-packed space. 
Which interior trend is most outdated in 2022?
It's back to the farmyard for farmhouse style as interiors take on a fresher, more streamlined aesthetic for 2022.
Decor experts for Lamps Plus comment: 'The one trend that our tastemakers unanimously agreed is on its way out is the kitschy and hyper-distressed farmhouse we currently know.'
According to Denise Cooper, lifestyle expert and recipient of Better Homes & Gardens Stylemaker 2021: 'Barn doors, shiplap, and the chipped-paint, rustic side of farmhouse are starting to feel dated. In 2022, the focus is going to be on modern, clean lines and crisp spaces.'
What is the best decorating trend for 2022?
Adding texture to walls is a key trend for adding another dimension to living spaces in 2022. 
Design experts at CEWE, comment: 'A trend that came into play towards the end of last year and is taking the design world by storm this year is textured walls, particularly via wall panel molding. This trend is something that can be done yourself and adds a really high-end look and feel to any room. For a simple and quick turnaround, try adding the panels to just the bottom half of a wall – you can find the panels in most DIY stores. This look also creates a stunning background to add wall art through the 2D feeling that it provides.'
https://www.realhomes.com/news/dated-decorating-trends-2022