Moving can be a stressful experience for anyone, having to pack all your belongings, and adapt to a new place, but it can get even worse if your landlord decides to keep your deposit.
A spokesperson for a professional cleaning company, Housekeep, told Newsweek that the most common cleaning charges laid on tenants by their landlords are carpet cleaning, oven cleaning, refrigerator cleaning, bathroom descaling, and rubbish removal.
Shelter, a registered charity that campaigns for tenant rights in Great Britain, says you only need to clean the house to the exact same standards you found, and this should be noted on an inventory or a check-in report.
Newsweek spoke to experts to find out their top tips on how to best clean your house before moving out.
What You Should Clean To Get Your Deposit Back
1. Kitchen
Before cleaning your kitchen, make sure you've emptied all your cupboards, shelves, and clear any crumbs that might have been left there from your groceries.
As highlighted by Housekeep, refrigerator cleaning is one of the most common charges tenants face when opting for DIY end-of-tenancy cleaning. It should be cleaned both inside and out, paying attention to not leaving anything wet to avoid mold.
You should thoroughly clean and degrease all kitchen appliances, including the oven, stovetop, refrigerator (including freezer), microwave, and dishwasher, as well as small ones, like kettle and toaster.
Don't forget to wipe down all kitchen countertops, backsplashes, and cupboard doors, and make sure walls are cleared of grease splatters and other food stains.
2. Living Room
There's a high chance that you will get charged a cleaning fee if your carpet is not cleaned properly, so make sure to vacuum, some people also rent steam vacuums for better results.
Remove dust from all surfaces and furniture, including armchairs and sofas. Shelves, cabinets, tables, and chairs also need to be wiped down.
Housekeep said: "A landlord can only charge you for professionally steam cleaning the carpets if the carpets were professionally steam cleaned before you moved in.
3. Bathroom
Housekeep said that, when it comes to cleaning, the most important areas to focus on are the kitchen and bathrooms.
They added: "Descale the bathroom. Then pay particular attention to scuff marks on walls, dust in hard-to-reach places, carpet stains, and the inside of your windows."
You should make sure to scour all tubs, showers, sinks, and toilets, without neglecting tiles and fixtures, as well as countertops, cupboards, and drawers.
Remove any stains, including in the sink, bath, toilet, tiles, and mirrors, and make sure drains and plug holes are free of hair and water can flow easily.
4. Bedrooms
You should start by emptying all wardrobes and drawers, making sure they're clear of debris, and then wipe them down. Take care of furnishing, upholstery, and flooring beneath along with curtains, shelves, and windows.
5. Hallway and Staircases
Staircases and hallways shouldn't be neglected. It is most likely the first place your landlord/agency will see when checking out the place, so you want to give a good impression!
Make sure to clean the floor and any shelving units or cabinets, and check the walls for marks and fingerprints, don't forget the mirror if you have one!
6. Garden
You should leave your garden the same as the house, in the exact condition you found it when you moved in. So, if needed, sweep up leaves, maintain the flower beds and mow the lawns, and make sure there's no trash around.
How Thorough Should You Be When Cleaning?
Give yourself enough time
It is generally recommended that you start cleaning the house after moving out, as it will be easier to clean without having all of your belongings around.
However, you should give yourself at least a week to clean the entire property, because deep cleaning a house is more complicated than doing daily domestic chores, and cleaning all of it can take up to a week, cleaning three to four hours a day.
Go through inventory
When moving into a new rental home, you should always have an inventory or check-in report, in order to document the exact conditions you found the house, and what was in there, so that when you move out, you can just make a list of chores based on your inventory and tick the boxes as you go.
According to Housekeep, tenants should make sure that the inventory accurately reflects the level of cleanliness when they move in. They said: "If the carpets were only vacuumed, make sure the inventory says that."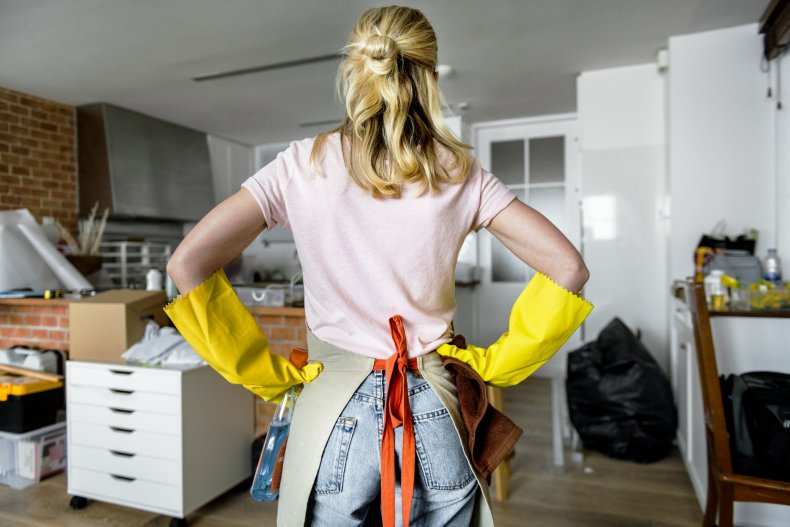 https://www.newsweek.com/rental-property-deposit-cleaning-tips-1738364