Organizing kitchen countertops like a pro allows for more space for prepping ingredients, it will be easier to clean, and an organized space will feel more streamlined and comfortable to be in.  
Kitchen countertops are all too often a magnet for clutter. It can sometimes feel like all your kitchen gadgets and appliances are taking over, while all the things we regularly use for cooking often end up living beside the hob. Cumulatively, they all add up and very quickly, kitchen countertops can become somewhat overwhelming. 
"Having an organized space can be beneficial for our mental health," says Julia Trendell, design expert at Benchmarx Kitchens (opens in new tab). "Clutter can make simple tasks, such as putting the dishes away, take longer and makes it more likely we will get distracted. Seeing mess also causes us stress, especially if we don't have time to tidy it away." 
Decluttering and organizing your kitchen is critical for a space that offers maximum value. So here's how to keep your countertops clear and clean, and your kitchen a calm and happy environment at the heart of the home…
Expert tips for organizing kitchen countertops like a pro
1. Make decluttering a daily habit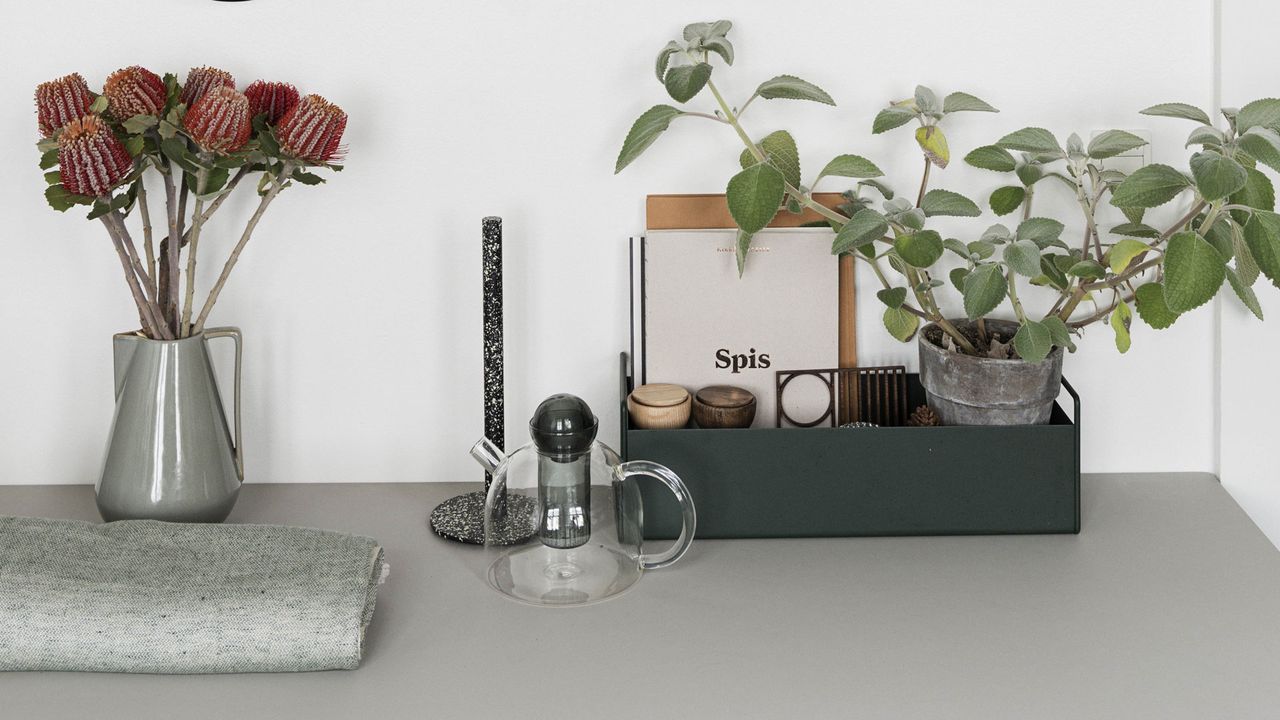 Start as you mean to go on and get into a healthy habit of doing a little decluttering every day. Find just 5 or 10 minutes daily to clear away any items and clutter that's gathering on the kitchen counter. Get into a routine of putting away charging cords, post, or things waiting to go to other rooms on a daily basis.  
Tackling clutter on a daily basis will prevent larger piles from growing over time which will inevitably take longer to sort out, and are more likely to become a lingering problem. Prevention is the best solution when it comes to maintaining clutter-free kitchen countertops.
"Kitchen countertops can easily become a dumping ground – the place to drop keys, post, and receipts," says Julie Stevens, professional development director at APDO (opens in new tab) (Association of Professional Declutterers and Organisers). "Designate a container, a basket or tray to collect these items. Keeping them in sight will help to remind you to sort through the pile on a weekly basis. A basket or small container for keys ensures that all keys are in one place and everyone knows where they are."
2. Be strict about what deserves counter space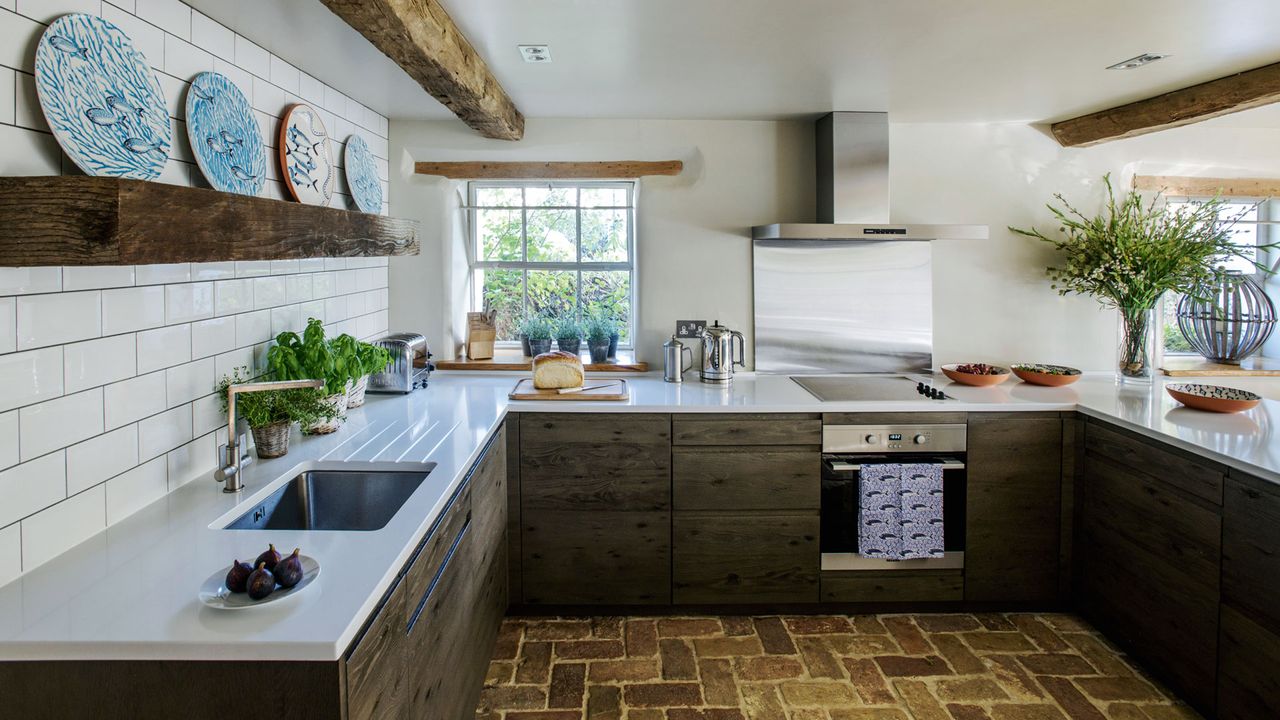 Minimalism is the approach to take when organizing kitchen countertops. There are often things we think we need on the countertop at all times, but many of these could just as happily live in a cupboard or drawer. 
Julia Trendell suggests stepping back and taking stock of items that have become part of the scenery: "If there are appliances that you haven't used for a few months, keep them out of sight by neatly packing them away in a cupboard."
"The same goes for chopping boards, cookbooks, and any other items that have crept their way into view over time." The rule is simple, if you don't use it at least a few times a week you can justify removing it from your newly organized kitchen countertop. Minimalist design is a key kitchen trend for 2022, where we see a focus on decluttered countertops creating a pleasingly restful environment in which to cook, work and entertain.
3. Choose your countertop essentials – and stick to them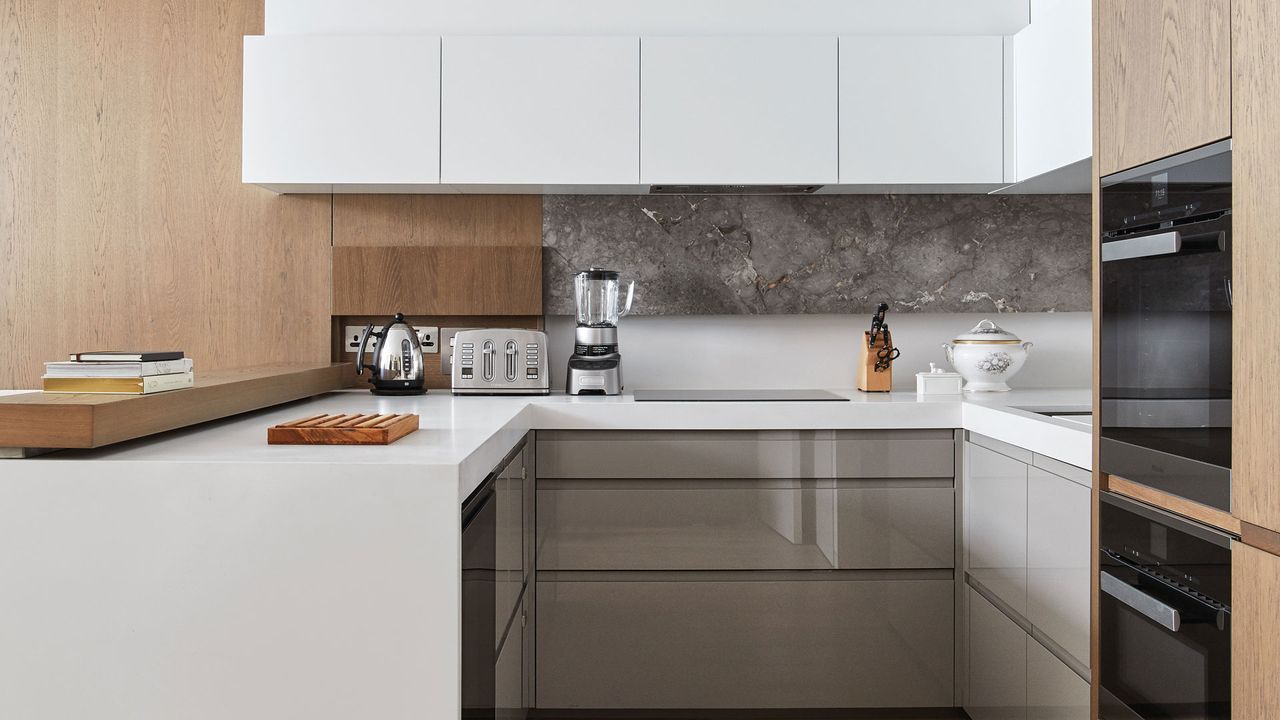 There are, of course, some frequently used items that would be impractical to remove from the countertop. We're thinking along the lines of the kettle and toaster, fruit bowl, and maybe a jar of larger cooking utensils. 
With this in mind, it's a good idea to think about your true countertop kitchen essentials. This will vary by household depending on your space and the things you use every day – but keep the list short and try not to add to it unless strictly necessary. 
"Appliances and indeed everything else needs to earn its place on the surface" agrees Julie Stevens at APDO. "If it is something that is used on a very regular basis then it can be left out. So if your morning breakfast is homemade juice or a shake then whichever appliance you use to make it earns its place. If you use certain utensils every time you cook then a jar for those utensils earns its place. If you cook rice in a rice cooker 4 or more times a week then the rice cooker earns its place."
4. Install under cabinet storage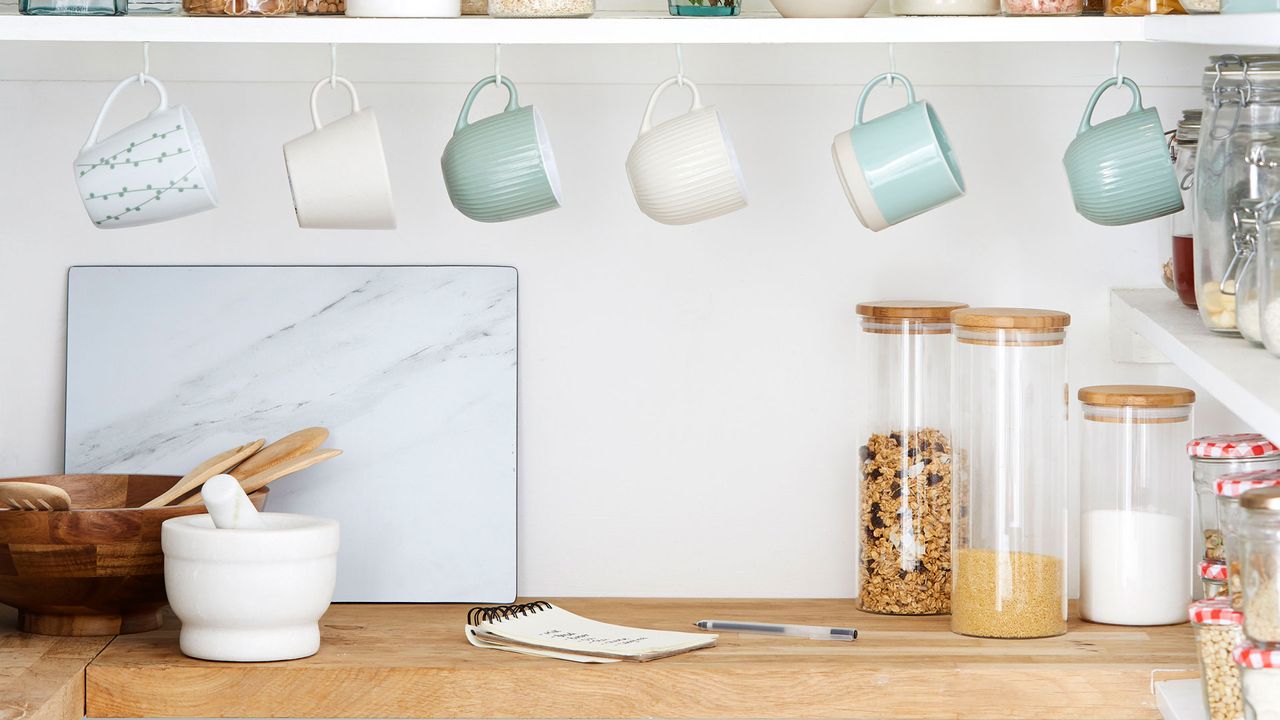 If you're short on cupboard and drawer space, there are clever under cabinet racks and hooks available for storing things like wine glasses or mugs, to remove them from countertops without taking up valuable cupboard space. 
These smart storage solutions screw directly into the bottom of the kitchen cabinet, to utilize space that is otherwise completely devoid of real purpose. So once these are installed your drinkware will be safely suspended, in place ready to reach for when you fire up your best coffee machine each morning.
5. Rethink your kitchen cabinet contents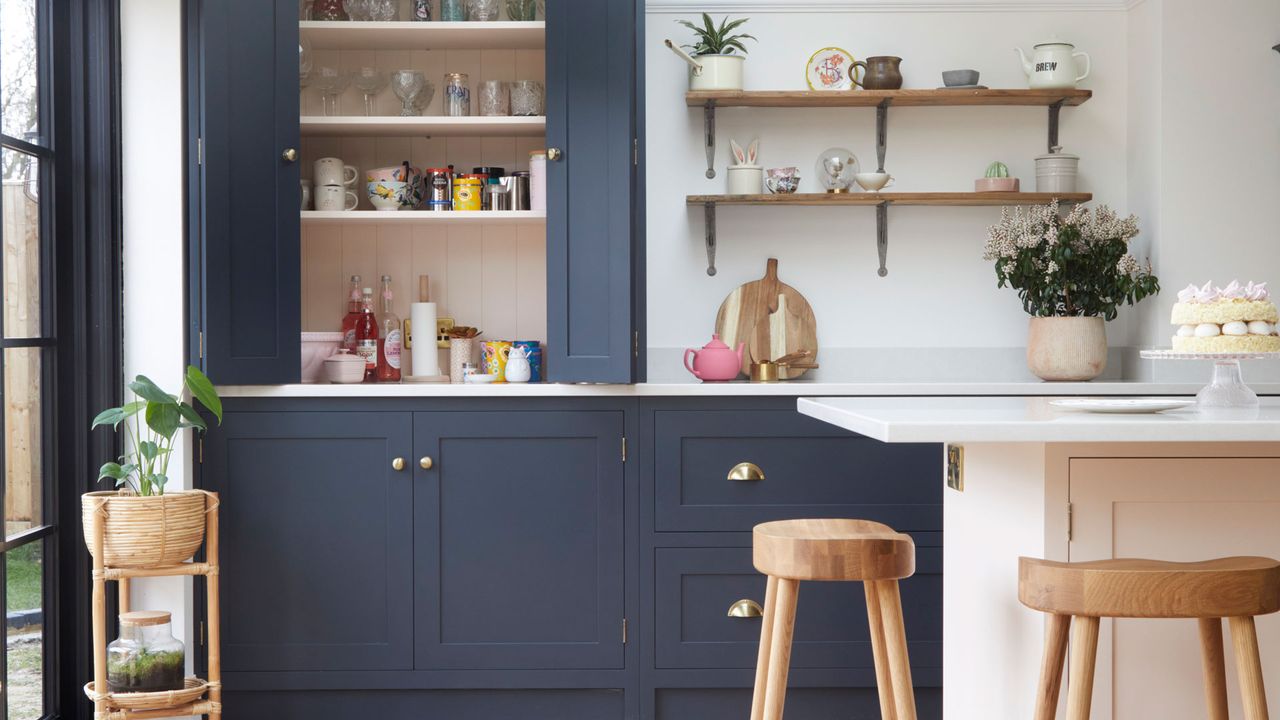 If you haven't done so already, create more space inside your kitchen cabinets by decluttering, reorganizing, and using space-saving storage solutions. This will free up space for items that might be otherwise kept on the countertop. 
Use stackable storage solutions to make the space inside feel more efficient. Most good kitchen retailers offer a wide range of internal storage solutions, from door racks to under-shelf compartments to utilize every inch of available space.
Consider freestanding furniture to provide extra storage. "Bespoke larders and dressers can be fitted with plug sockets, so you can store your kettle, toaster, coffee machine or microwave in them to free up valuable space on the workable surfaces and ensure the overall kitchen space remains clean" suggests Melissa Klink, creative director at Harvey Jones (opens in new tab).
Check out our full guide on how to organize your kitchen cabinets to really utilize this space.
6. Install practical wall storage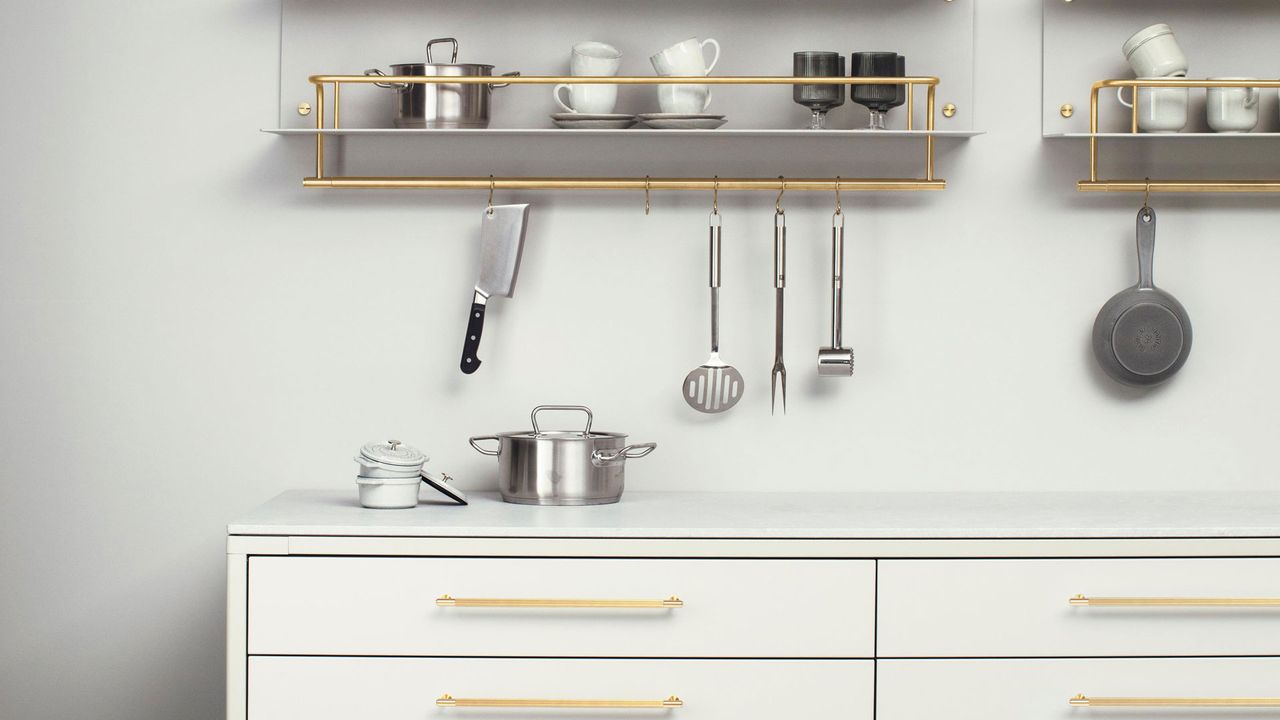 Free up countertops by storing essential items vertically, with the simple addition of practical wall racks and rails. A hanging rail, placed just below the kitchen cabinets, can look especially stylish. Combine it with S-hooks and use it for hanging things like utensils, your trusty Place Always pan, dried herbs, and chopping boards. We adore this ultra stylish design above, the Buster & Punch Hanger Shelf, $812.74 / £650 at Nest.co.uk (opens in new tab).
Along the same lines, a magnetic knife rack is a great way to keep your knives close to hand when cooking and removes the need for a chunky knife block on the countertop.
7. Consider a new kitchen design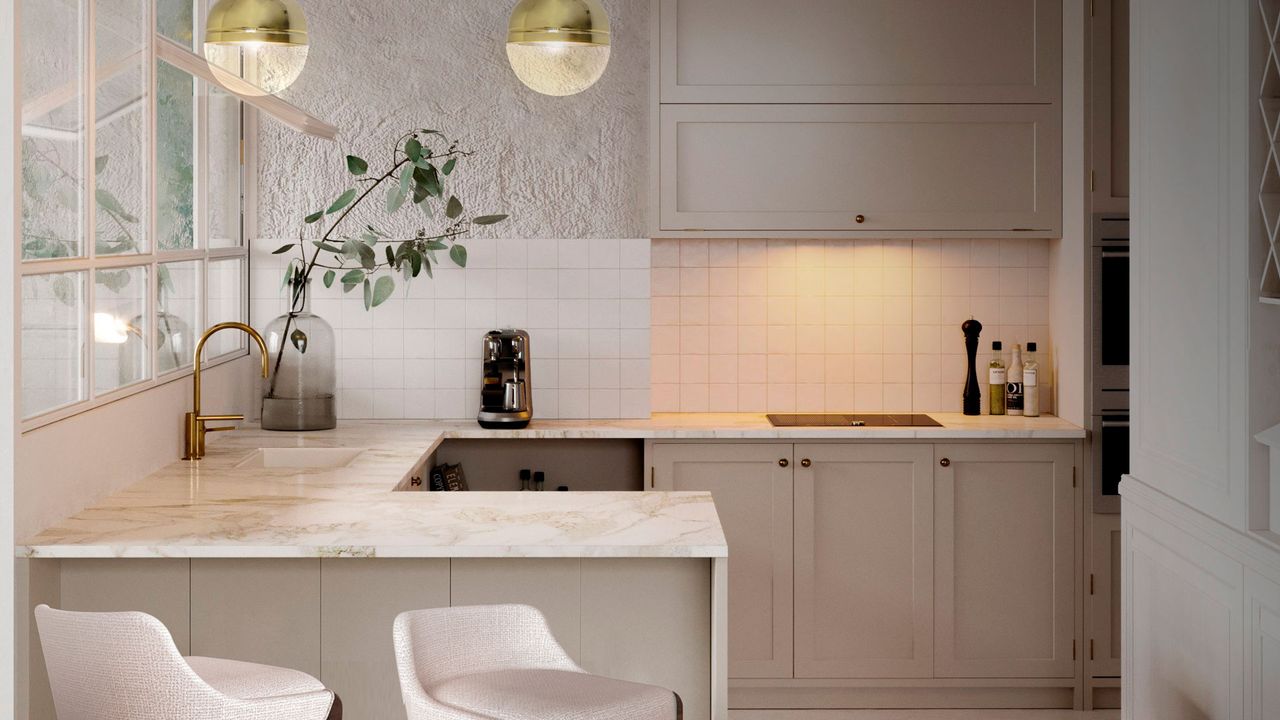 For anyone making bigger changes to a kitchen, consider making design changes to specifically combat potential countertop clutter. "If you're looking to maximize your storage, then solid cupboard fascias are a must, as they will enable you to instantly hide the contents," says Julia. Also consider using space-saving storage solutions within those cabinets. 
However, glass-fronted cabinets are still an option if used wisely. "These should be strategically positioned to show off your most display-worthy belongings," Julia goes on to explain. "Just make sure that you don't overfill this space, and instead keep a minimalist look by rotating glassware and your favorite items for an instant kitchen update."
Julie agrees. "If you are thinking of installing a new kitchen then roller front cupboards may be just what you need," she suggests. "Appliances can be plugged into a socket within the cupboard and the item placed on a roll-out shelf."
8. Put up open shelving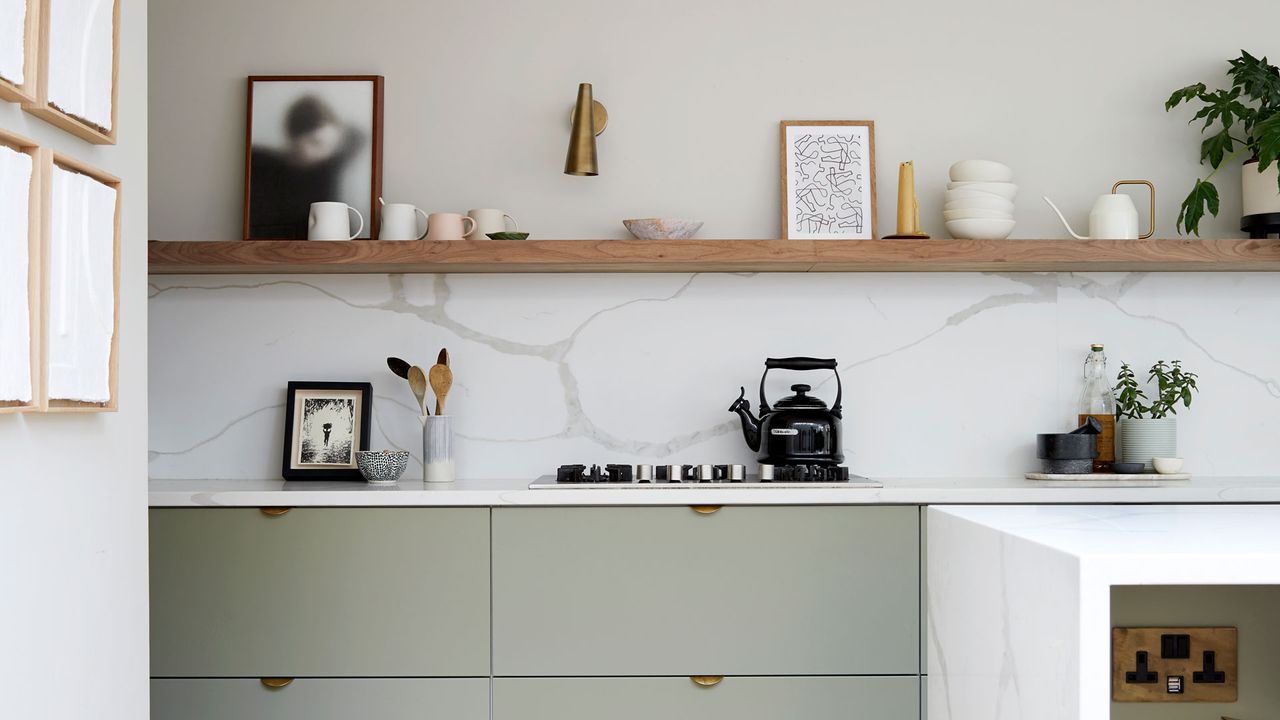 If you have space, one or two open shelves can be a great way to display the pretty things you might otherwise keep on the counter, without cluttering your kitchen prep space. This is a great place to store your wooden chopping boards, spice grinders,  your best cookbooks, or potted herbs. 
Open shelving seems to already be taking priority in the modern kitchen. "We are seeing clients putting away more of the appliances and electronics, for example kettles and toasters, to save space for display of cherished goods and decorative items on open shelving and worktops," Melissa explains.
9. Utilise space with magnetic designs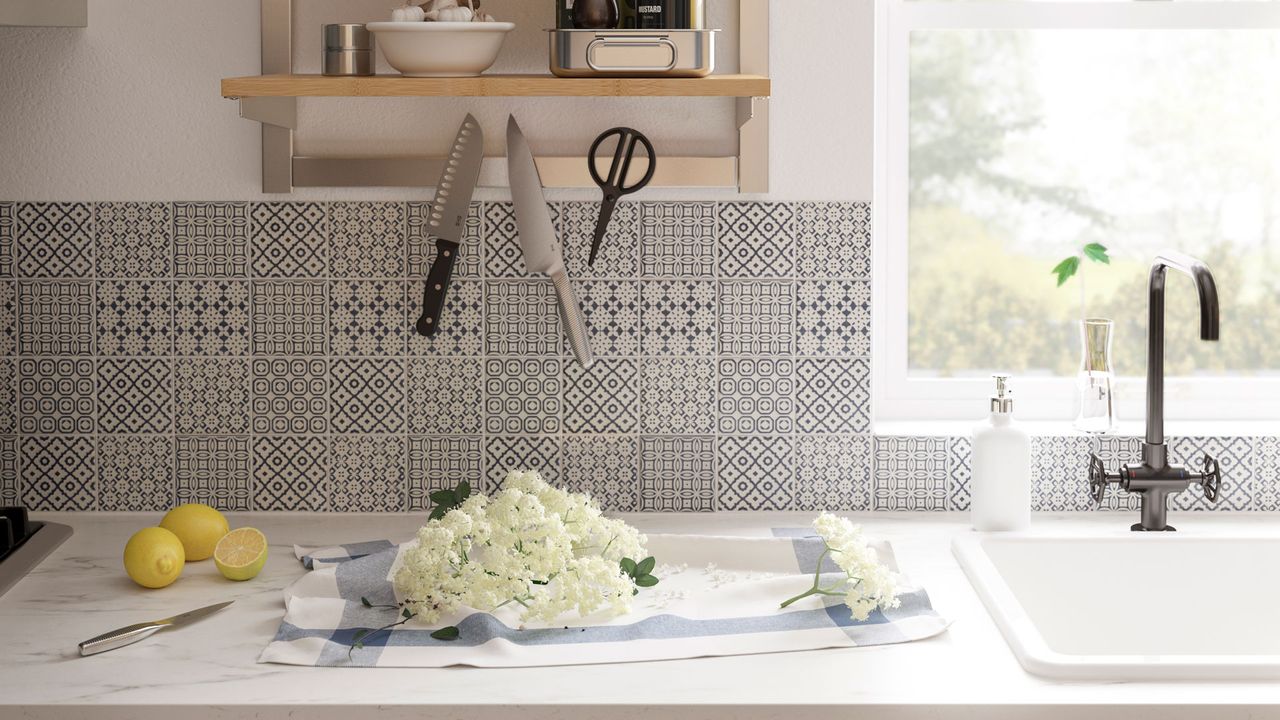 In a room with a lot of stainless steel, it makes perfect sense to use the power of magnets to free up space on the counter. A simple magnetic strip attached to the wall creates the ideal place to keep knives safely out of reach and gives your game-changing utensils elevated status. Or seek smart storage designs, like this example from IKEA (above), where the cabinet itself provides a magnetic element for savvy storage above countertops. Buy your own Kungsfors Suspension Rail with Shelf/Magnetic Knife Rack, $23.76 / £19, IKEA (opens in new tab).
Alternatively, if you have a freestanding or exposed fridge, you could use magnetic spice jars or hooks to create a home on the side for things that might otherwise become clutter on the countertop. There are even multi-tiered magnetic storage solutions available which include multiple shelves and added extras like paper towel holders – perfect for small kitchens that are especially short on storage space. 
10. Invest in organizational tools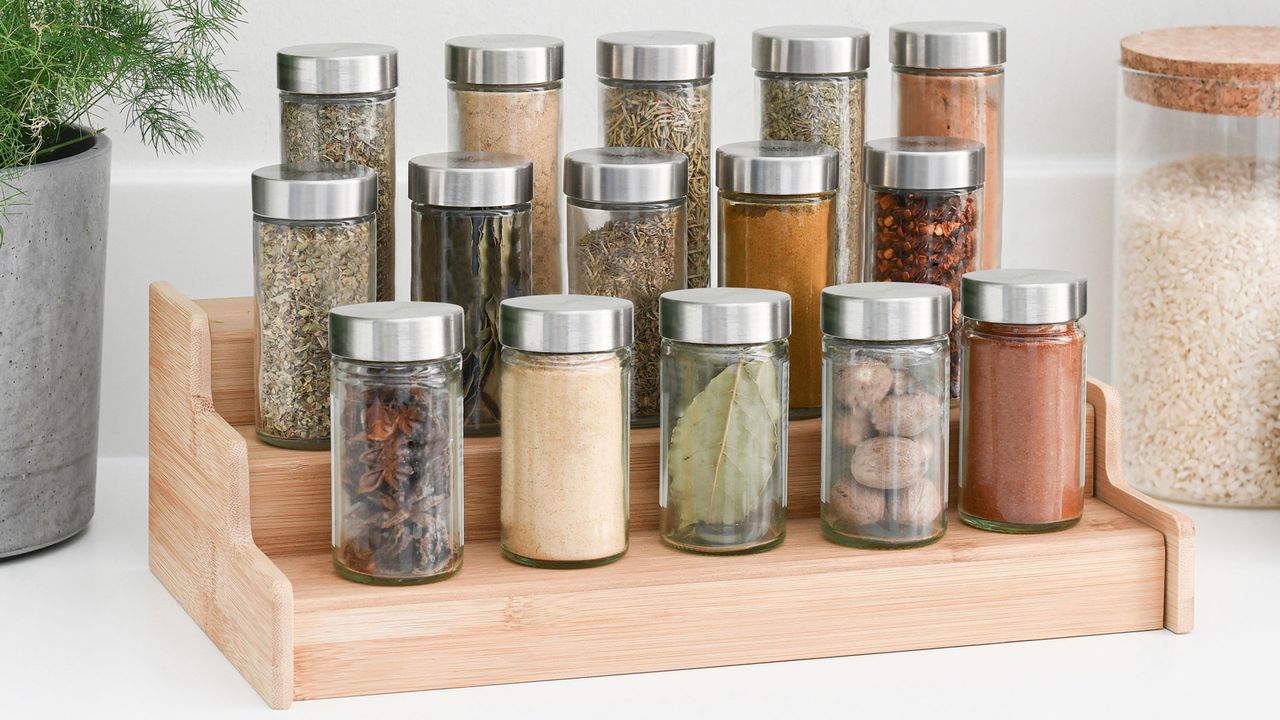 Of course, there are also lots of useful storage solutions available for the countertop. A good storage solution means you can still afford to have your essentials nearby, without them cluttering up the workspace. We are in awe of the simplicity yet effectiveness of this stacked bamboo design (above) by ProCook Extendable Spice Jar Rack, $23.79 / £19 (opens in new tab).
If spices are part of your countertop essentials you'll probably want a good spice rack, and if you decide to keep oils next to the hob you could invest in an attractive dispenser or a basket to keep multiple bottles together. This minimizes their visual impact and makes it easier to move them when cleaning. 
11. Use a hob cover for a streamlined look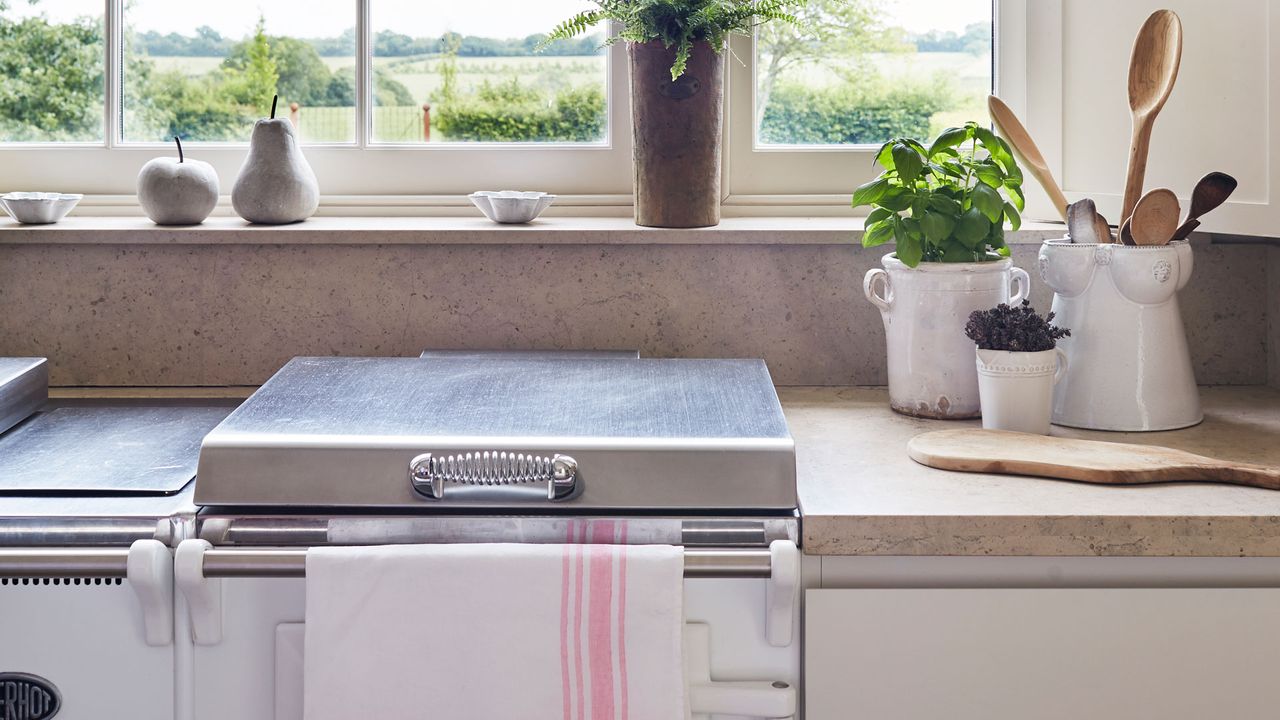 Especially useful in small kitchens, a hob cover will give you more counter space when you're not using the stove. Made out of stainless steel, they're usually sturdy enough to use as an extension to your kitchen counter and give your kitchen a streamlined appearance. They also double as an easy-to-clean kitchen splashback when you're using the hob.
How to organize your kitchen countertops quickly
The most efficient way to organize kitchen countertops is to keep on top of it, with a daily routine of decluttering to avoid a build-up of 'things' that don't need to be out on the workspace. 
Keep only the essentials such as utensils, knives, chopping boards, oils, and spices and tidy away all those little extra bits like unsorted mail, miscellaneous charging cables, and other household detritus.
"Another source of clutter on the countertops is washing up – the things that should go into the dishwasher and those that need to be hand-washed. To prevent this clutter build-up, ensure that tasks such as emptying and filling the dishwasher are assigned daily too. For example, if the dishwasher is run every evening, then the person who makes the tea or coffee in the morning is the one who empties the dishwasher whilst waiting for the kettle to boil," suggests Julie. 
"Equally, the things that are designated for handwashing should be done before bedtime. Going to bed with a clean and tidy kitchen certainly brings a smile to my face in the morning."
"Staying up to date with the available technology is the best way to keep a clean space" advises Melissa. "Try to combine workable functionality wherever possible, with items such as boiling water taps and integrated workstations. You can even have an entire worktop on a rolling slide to expose a service station underneath."
How do I organize my kitchen with a small counter space?
Keeping an organized kitchen counter space is all the more important when your kitchen is on the small side. "If you have a small countertop then it really is about putting things away after each use, regardless of how frequently you use the appliance" advises Julie. 
"It takes some discipline. Think about the vertical use of space.  Could you add a couple of shelves for mugs and books, or hooks or magnets beneath cupboards to attach storage jars to?" Use space that would otherwise be redundant, so look around and access what wall space is free for extra storage.
"People often find it tricky to add storage into a small space. The size of the kitchen does not matter, as long as you get the organization right" says Melissa. "Taking the time to properly organize your kitchen by function and use is key to maintaining a clean look. The right designer will guide you through all the details to ensure the way you use a kitchen is appropriate for the layout."
What do you display on kitchen countertops?
Only display items that add to the aesthetic of your kitchen counters, without overwhelming the surface. "Displaying items on the kitchen countertops is again related to the frequency of use" explains Julie. 
"A fruit bowl creates a lovely fresh display, as does a plant or two on the window sill. Cookery books are a stylish addition if space allows and of course they inspire you to cook a wider variety of meals. Other items to display are stylish containers for tea, coffee, flour, dried fruit and rice."
https://www.womanandhome.com/homes/organizing-kitchen-countertops-how-to-keep-counters-clear/