How to Build a Wood Chevron Barn Door
Build a solid wood DIY chevron barn door with a herringbone pattern. Photo tutorial plus a PDF woodworking plan to make it easy to build your own barn door from reclaimed wood or fresh lumber. 
See more DIY doors and barn doors in our Shut The Front Door DIY series, plus our picks for affordable barn door hardware here. 
Get the chevron barn door plans HERE
How to Build a Chevron Barn Door
by reader Emily Seaton | woodworking plan by Amy of Hertoolbelt
Emily built this gorgeous wood chevron barn door as part of her boys' bathroom renovation. She shares her story below, and Amy has put together a building plan so you can build your own door just like Emily's!
Get the detailed woodworking plan HERE to build your own chevron barn door using new lumber, or using reclaimed hardwood flooring like Emily shows in the photo tutorial below.
The finished barn door measures 39 ½" W x 84 ½" H x 1 ½" D.

Materials and Tools
This post contains affiliate links; learn more and read our full disclosure policy here.
The chevron barn door is built using plywood and luan, with 1x lumber for the design and herringbone details. (Emily shows how she used reclaimed wood flooring below.)
Building A Wood Chevron Barn Door for a Boys' Bathroom Renovation
Hello Remodelaholics!  My name is Emily and I live here.
We moved into this 90 something year old Kansas City house less than a year ago with three boys (including an infant, a 4 year old and a 5 year old), a seventy pound dog and an crazy belief that we could rehab most all of it on our own.  What it lacked in modern necessities (it had no duct work, gutters, insulation, etc.) it made up for in charm and space.
When we walked in for the inspection there was water pouring through the entryway, remnants of termites in the dining room and asbestos in the popcorn ceiling.  To say this was a fixer upper was an understatement but we loved the large corner lot, the layout and the neighborhood.
This is Georgia.
She lived here before me, with her two adult bachelor sons.  From what I can tell through photographs and letters the family left behind, Georgia and her boys seem like lovely people who adored this old house and made many great memories in it.  Though we now own the house, there is still plenty of Georgia to be found everywhere (including this portrait which my husband keeps hanging on our second floor landing for some reason).
Georgia and I share a love for this old beautiful home.  However we part ways when comes to the best way to show off its historic beauty.  Georgia preferred to cover it up with layers of wallpaper, paint, carpet and velvet (yes we removed a truckload of dusty velvet drapes).  Now, I am going room by room in an effort to restore the original wonders of our forever home while weaving in a few modern gems.  Somewhere between making school lunches, naptimes and chasing around my one year old, I am trying to find the time to turn Georgia's home into one that I can call my own.
I am sure that Georgia would not approve.
We have no plans to ever move so I take total comfort in making this home just as we want it.  My husband and I were forced to build sets while in college to fulfill our Theater scholarships.  Little did I know how fruitful those shop lessons would be for us!  We have never rehabbed a house before, but we dove it head first and haven't looked back.  Our most recent project involved turning an outdated bedroom and attached bath into a space for my two oldest boys.  Here is the space before (Yes, that is pink floral wallpaper.  And yes, it is also on the ceiling.  I told you Georgia was everywhere):
And here is the bathroom which we took down to the studs, leaving only the ceiling and the original hexagon mosaic tile floor.
This room needed many things, including a new bathroom door.  I love to find cool things from blogs, like this one, or Pinterest, and recreate them.  As they say, there is nothing new under the sun and I am not above stealing any idea that is a good idea.  I found an awesome version of a barn door on The Accent Piece and knew I wanted to make it, or one like.  Here is the door I ultimately came up with (which Amy created woodworking plans for here):
Why choose a barn door?
I decided on a barn door because in raising three boys under the age of seven the appearance of my house often looks more like a barnyard than a place where civilized people live.
There were also practical reasons that made the barn door a good fit.  The original door swung inward and to the right which is probably why the light switch was on the opposite side of the room above the sink instead of to the right of the door where you would normally find the light switch.  I had visions of my boys stumbling across cold tile in the middle of the night blindly trying to find the switch above the sink.  We solved this problem by moving the light switch to the right of the door but we had to do away with the inward swinging door.  The barn door solved the logistical problem.
Some people suggest barn doors are not good for bathrooms for privacy reasons but considering this is within a bedroom I thought it would be okay.  Besides, how much privacy do 4 and 6 year old boys really need anyway?  They rarely close the door when they are doing their business as it is.
Choosing Wood for the Chevron Barn Door
I had recently been to my local Habitat for Humanity Restore and knew they had a large stock of assorted hardwood flooring for a $1 a foot.  Not really knowing how much wood I needed (I probably went back 3 times for more) I picked through pieces I thought were a good mix.  I started by measuring the outside of the door frame to the bathroom.  In my case, it was 39" wide and 83" tall. (The printable woodworking plans are built to these same measurements, but you can adjust the size if needed.)
I went to Home Depot and had them cut a sheet of ½' plywood and a sheet of luan down to 38" wide, one inch short of the door frame width to allow for framing the outside with trim.  The luan is the back of my door and the plywood makes up the middle of the structure.
Once you have the materials, the door can be constructed in a few basic steps. I'll show the photos here, and you can get a full cut list and assembly diagrams here in the woodworking plan.
Time & Cost
The construction of the chevron barn door took approximately 3 – 2 hour sessions.  Hanging the door is definitely a group effort but I managed the construction myself.
Cost breakdown:
Hardwood floor- $30
Trowel handle- gifted
4, 1×2- 8FT strips- $5
4×8 sheet Luan- $13
4×8 sheet plywood- $23
Door hardware – $98
Leather handle- $3
Tacks for handle- $3
How to Build a DIY Chevron Barn Door
Step 1: Create the Door Base
Glue the luan and plywood together with wood glue.  The luan side should be on the floor.  Set heavy items on top all around to compress the luan to the plywood and let it dry.  I used only wood glue for this step.  I knew this would not be enough strength for the finished product but will go back with short nails to secure.
Step 2: Choose Wood for Herringbone Barn Door Pattern
Start arranging the hardwood floor to find the pattern you like most.  I think it's helpful to draw out a diagram before you start so you know what it will look like. I used 5 horizontal slats at the top of the door before beginning the split herringbone barn door pattern – or call it chevron, whatever you like.
The printable woodworking plans have a full diagram and cut list, including board widths, to make the layout easy. 
I started laying out and building the face of the door from the outside in.   I didn't have pieces long enough to run the length of the door on the edges, so I put the seam on the left where I planned for the handle to go.
Step 3: Attach The Wood Face
Start securing the wood flooring edges with wood glue and 1 1/4" nails. Begin with the top and side frames, then the top horizontal pieces. You can add the bottom face frame piece now like Emily did, or wait to install it after the herringbone barn door detail (like suggested in the woodworking plans).
I used a pneumatic nail gun, which makes this process very fast.  Plus, there is nothing like using a nail gun to vent the frustrations of the day.
Step 4: Cut The Door Stile
Cut a 1×2 to run down the middle.  Wait to secure this piece until all of the diagonals are cut to fit.  This gives you wiggle room to squeeze in the last piece of the herringbone barn door pattern.
Step 5: Cut and Install Herringbone Barn Door Pattern
To start the herringbone diagonals, I started at the corner with a triangle I cut from a wider piece of flooring.  From there it was a matter of marking the length of each cut until I got to the end.  These are all 45 degree angles and a triangle is very helpful. The woodworking plan contains a detailed diagram of lengths and sizes to make this part even easier!
An advantage of working with hardwood flooring is that each piece is manufactured with a tongue and groove edge in order for the pieces to fit into one another.  All you have to do is set it in and gently hammer the pieces together.  Then secure each piece with the pneumatic gun.
Step 6: Add Barn Door Frame
After the front of the door is finished its time to frame the sides.  The thickness of the door equaled 1 ½" (1/4" luan + ½"plywood + 3/4" hardwood floor).  This allowed me to use 1x2s strips of wood (which in reality measure at ¾" x 1 ½") to frame the door.  I cut the 1x2s at a 45 degree angle and attached them to the outside edge with a pneumatic gun.
Step 7: Secure Barn Door Backing
The back of the door is just the sheet of luan.  Hammer short nails around the edge of the luan for added strength.
Step 8: Finish
If your precision with a saw is anything like mine, you may have gaps in the corners of the trim.  Fill any imperfect corners (in my case all) with wood filler.  When dried, sand until smooth.
I had intended to stain the door but after it all came together I really loved the natural look of the hardwood floor.  I gave it three coats of polyurethane using a foam brush.
Reclaimed Wood Barn Door Hardware
I bought the barn door hardware on Ebay.  There are a variety of options but I went with a basic style. (See more affordable barn door hardware here.)
This door is heavy but did not exceed the 200lbs weight limit of most barn door hardware.  Considering how wide our door is we went with the long 6.6 FT option opposed to the 6FT.  Given the thickness of our baseboards, we hung the hardware backwards so the door would be farther away from the wall.
The barn door handle is an old trowel my aunt found at an estate sale.  I took it from her figuring I would use it one day.  I found the perfect place within a month.
We needed a small handle to open the door from the inside of the bathroom.  I decide on a strip of leather that I attached with tacks.
While searching for leather at Hobby Lobby I can across these leather bookmarks.  The size is perfect.  I hammered it on with large nail heads leaving some slack so the handle would be easier to grab.
Finished Barn Door + Boys' Bathroom Renovation
Here is the finished product, with a view into my boys' new bathroom.  The tiling is also my work.  I credit my husband with the plumbing and electrical.
Bedroom and Bathroom Notes:
Bedroom color:  Benjamin Moore's Hale Navy
Bathroom vanity and sinks:  Ikea's Hemnes/ Rattviken with Braviken sink
Faucet: Ikea's Runskar
Mirrors:  Ikea's Savern
Wall Tile: Home Depot's Snow White Brick 12×12" mosaic tile
Floor Tile: original to the house
Light Fixtures: Pottery Barn Outlet, Covington Articulating Single Sconce without the shade (we broke one so decided to go without and use Edison bulbs instead).
This door is the perfect finishing touch to this bed and bath remodel.  I know I love it more than my boys do but I hope they will come to appreciate it one day too.  While I do not have a blog, you can follow me on Instagram.
More DIY barn doors:
plus 35 more DIY barn doors here. 
Please pin this to save and share it with your friends!

First published 30 Mar 2015 // Updated 19 May 2020
Remodelaholic is a participant in the Amazon Services LLC Associates Program, an affiliate advertising program designed to provide a means for sites to earn advertising fees by advertising and linking to amazon.com. Please see our full disclosure here.
Filed Under: $20 to $250, Bathrooms, Beginner, Build, By Cost, By Level, By Location, By Material, By Style, By Tool, Circular Saw, Contributor, Decorate, DIY, DIY Project Plans, Doors, Farmhouse, Furniture Building Projects and Plans, Guest Bloggers, How To, Intermediate, Miter Saw, Nailer, Remodel Inspiration By Room, Rustic, Sketches/Renderings, Table Saw, Tutorials, Wood and Plywoods Etc.Tagged: barn door, barn door hardware, building plans, Chevron, door, Doors, Farmhouse, farmhouse bathroom, farmhouse decor, Farmhouse Style, herringbone, modern farmhouse, reclaimed wood, Shut The Front Door DIYs, sliding barn door, Wood, Wood Flooring, woodworking, woodworking plans
About Amy Baesler
Amy is the tool lover at Hertoolbelt. On Hertoolbelt, Amy shares DIY furniture plans, handyman tutorials, and craft patterns. She has two pint sized 'helpers' that help fix things around the house and build fun projects.
Sours: https://www.remodelaholic.com/diy-chevron-barn-door-building-plan/
Chevron Arrow Double Barn Door (Double Barn Doors)
Description
Chevron Arrow Double Barn Door (Double Barn Doors) by www.doubledw.com
Chevron Arrow Double Barn Door
The Chevron Arrow Double Barn Door is a subtle way to add a unique detail to your home design. Finish your new door with a classic stain or custom paint color.
Distinctive Doors paint grade doors are constructed of solid - NOT engineered - Poplar stile (vertical portion) and rails (horizontal portion) with solid MDF panels. Poplar, for years has been the paint-grade wood of choice for solid hardwood door companies, furniture makers and cabinet shops.
Poplar interior doors are a strong medium-density wood, making them suitable sound and heat insulators.
Stain grade doors ship as raw wood and paint grade doors ship primed with all hardware machining completed and ready for installation.
Need Help Selecting Options? – Click Here for Free Design Assistance or Please Call Us Now to Order by Phone 1-585-653-0444
Shipping Calculator
| | | |
| --- | --- | --- |
| Qty | Continental US Shipping Rate | Alaska & Hawaii Shipping Rate |
| 1 | $125 | $425 |
| 2 | $150 | $450 |
| 3 | $175 | $475 |
| 4 | $200 | $500 |
| 5-10 | $225 | $525 |
| 11-15 | $250 | $550 |
| 16-20 | $275 | $575 |
| 21-24 | $300 | $600 |
| 25+ | FREE | FREE |
Specification
Door Specifications
Series Name
Wood Designer Series Double Sliding Barn Doors
Type
Double/Bipart Barn Door
Panel Type
Flush Chevron Arrow
Material
Wood
Wood Species
Paint Grade is Poplar and Stain Grade is finish option selection
Door Finish
Paint Grade doors ship primed and Stain Grade doors ship as raw wood
Door Surface
Smooth
Common Size (W x H)
Width Selected X Height Selected
Actual Width (Inches)
Width Selected
Actual Height (Inches)
Height Selected
Door Thickness (Inches)
1 1/2" (1.5)
Finish or Rough Opening Width (Inches)
Single Barn Doors should be ordered 2-3" wider and Double Barn Doors should be ordered 3-4" wider than your finished opening for full coverage.
Finish or Rough Opening Height (Inches)
Barn Doors should be ordered 1-2" taller than your finished opening for full coverage.
Warranty
1-Year Limited
Reviews (0)
Sours: https://www.doubledw.com/
Hand Crafted Doors & Home Decor
This Product is Fully Customizable
Standard Black Hardware is Included
Handcrafted in North Kansas City, MO
Made with Solid Wood
Estimated Lead Time 6-10 Weeks Plus 3-5 Days Transit Freight (FREE Local Delivery/Installation is also Available within 25 Miles)
Door Pictured is Painted Tricorn Black
Categories: Barn Doors, Sliding DoorTags: barn door, chevron barn door, painted barn door, sliding barn door
Description
Spaced Chevron Barn Door and Hardware Features:
The hand crafted spaced chevron barn door is fully customizable and built especially for you in our shop in North Kansas City, MO.
Doors will include a matching header board (approximately 1" x 5")

Wood grain and color may vary due to natural wood characteristics

Doors will include a groove on the bottom to accommodate a floor guide that comes with your hardware purchase

We pre-drill doors for all wheels and handles unless otherwise noted
Please contact us for any additional questions.  Check out our reviews on Facebook and Google!
Benefits of the Barn Door:
Space Saver – Sliding doors are most popular for their ability to save space in the home or office setting.  There is no longer a door arc, as a result, it uses less space.  Barn doors simply slide along a track rather than swinging open and closed.
Environmentally Friendly – We use real wood to construct our barn doors; hence, a durable, naturally renewable, and most of all an eco-friendly resource.
Style – In addition to the ability to incorporate barn doors well with most architectural styles, they are also pleasing to the eye and extremely functional.
Only logged in customers who have purchased this product may leave a review.
Related products
Sours: https://www.walstondoorcompany.com/product/spaced-chevron-barn-door/
Chevron barn door build and install
IMPORTANT: Upon purchasing a product with the extra large size you requested you agree to the following shipping terms and conditions. You, the customer, will need to make arrangements to pick up the shipment at the local shipping hub. This shipment will not arrive at your location. It will require you to pick it up. Please contact us for details.
NOTICE: The current lead time for Copper, Brass, and Chrome is 2-4 weeks
NOTICE: Soft Close systems do not come with Anti-Jump Brackets.
NOTICE: Bi Parting systems come with 4 barn door hardware hangers by default.
NOTICE: Bi Parting systems come with 2 doors and 4 barn door hardware hangers by default.
NOTICE: Bypass systems come with 4 barn door hardware hangers by default.
NOTICE: Bypass systems come with 2 doors and 4 barn door hardware hangers by default.
NOTICE: Lightduty Bypass systems come with 4 barn door hardware hangers by default.
NOTICE: Lightduty Bypass systems come with 2 doors and 4 barn door hardware hangers by default.
NOTICE: Triple Bypass systems come with 6 barn door hardware hangers by default.
NOTICE: Triple Bypass systems come with 3 doors and 6 barn door hardware hangers by default.
Sours: https://artisanhardware.com/chevron-sliding-barn-door
Sliding door chevron
All Products
Exterior
Windows & Doors
Doors
Interior Doors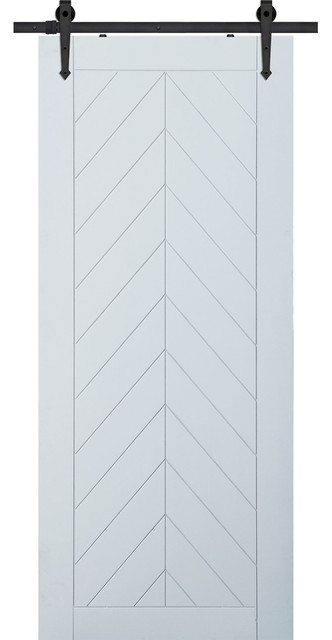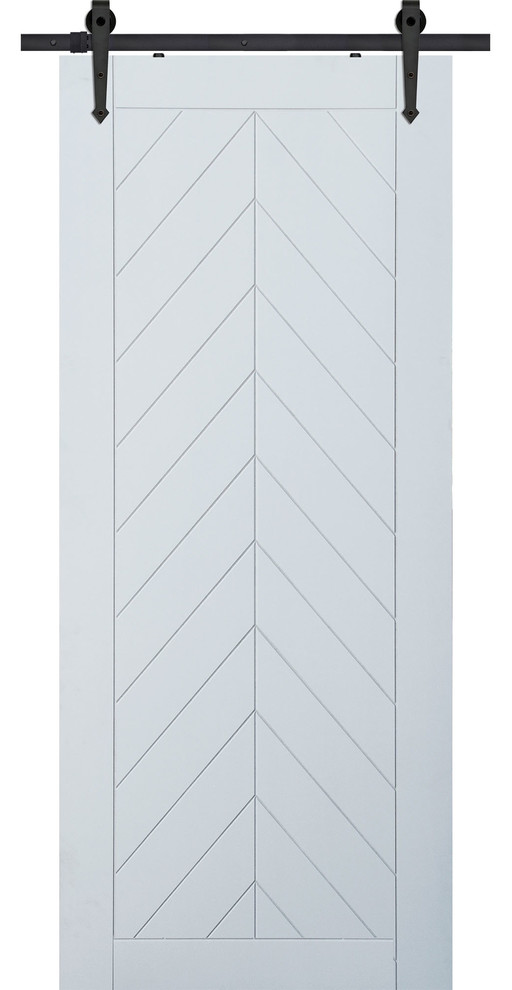 Product Description
Product Specifications
Shipping and Returns
The Chevron MDF Barn Door features 1-1/2 inch thick doors produced using MDF... medium density fiberboard. The MDF BarnCraft Collection features doors with a white -primed coating on both sides, ready for your final paint color application. (No factory-finish colors are available for this door series). The Chevron MDF Door has the design router carved on the front of the door. All barncraft door hardware may be used on these doors.
NOTE: Barn Door Hardware Not Included. Use for interior applications only


This Product Has Been Described As:
barn doors
interior doors
MDF
sliding barn doors
Related Searches
At Houzz we want you to shop for BarnDoorz Chevron Barn Door, 36"x96" with confidence. You can read real customer reviews for this or any other product and even ask questions and get answers from us or straight from the brand. When you buy BarnDoorz Chevron Barn Door, 36"x96" or any product product online from us, you become part of the Houzz family and can expect exceptional customer service every step of the way. If you have questions about BarnDoorz or any other product for sale, our customer service team is eager to help.
Sours: https://www.houzz.com/products/chevron-barn-door-36x96-prvw-vr~117739890
Barn door construction - woodworking
Chevron Barn Door
IMPORTANT: You have ordered an oversized item as defined by the freight carrier. When ordering a door we will ship it in a crate via a freight carrier and it will be delivered curbside. Please be informed that oversized items that can not be lowered off of a lift gate may require that the customer pick up the product at the shipping hub or make arrangements to assist with lifting the crate out of the truck. If you would like alternative delivery options please give us a call at 1-800-891-8312. Please see the Terms & Conditions page for more information (https://rustica.com/terms-conditions/)
The front handle must be larger than 14 in to include a back handle.
NOTICE: Soft Close systems do not come with Anti-Jump Brackets. With the Soft Close system properly installed, Soft Close Activator Tabs will act as the Anti-Jump Brackets.
NOTICE: Bi Parting systems come with 4 barn door hardware hangers by default.
NOTICE: Bi Parting systems come with 2 doors and 4 barn door hardware hangers by default.
NOTICE: Bypass systems come with 4 barn door hardware hangers by default.
NOTICE: Bypass systems come with 2 doors and 4 barn door hardware hangers by default.
NOTICE: Lightduty Bypass systems come with 4 barn door hardware hangers by default.
NOTICE: Lightduty Bypass systems come with 2 doors and 4 barn door hardware hangers by default.
NOTICE: Triple Bypass systems come with 6 barn door hardware hangers by default.
NOTICE: Triple Bypass systems come with 3 doors and 6 barn door hardware hangers by default.
NOTICE: Double Doors come with 2 doors comprising a qty 1 unit of double doors.
NOTICE: Double Doors come with 2 doors comprising a qty 1 unit of double doors.
NOTICE: Exterior Doors with door knob boring automatically get a Double Bore "Deadbolt Bore" Standard is 5-1/2" above door knob boring. The door will be prepared with the double bore hole, latch bore and latch plate mortise for a dead bolt. The Jamb will NOT be prepared with any latch bore or strike plate mortise for the dead bolt.
NOTICE: Metal Exterior Pivot Doors will automatically be manufactured with a double bore hole. The handle box will be approximately 6" x 13" in total size including the stops with the center hole to center hole measurement of 5-1/2".
NOTICE:
Please note when installing Metal Framed Barn Doors with No Show Barn Door Hardware that the top of the wheel will "peek" out over the top of the metal frame and be visible. Also the track will be visible through the glass as shown below.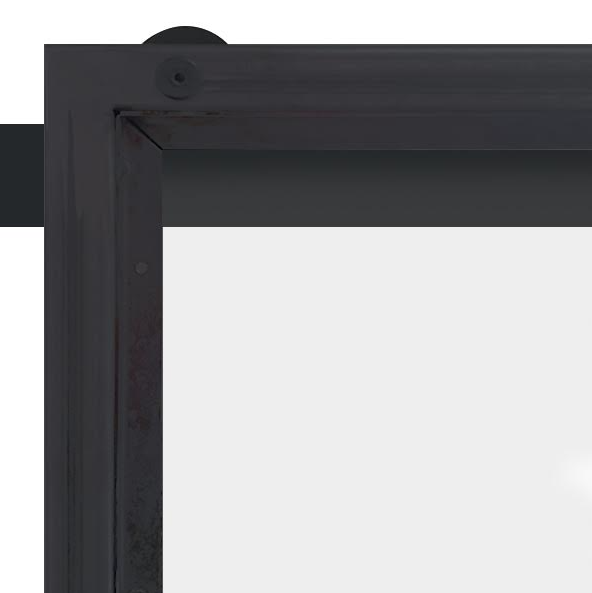 Sours: https://rustica.com/chevron/
You will also like:
.
99
100
101
102
103