The Bad Education Movie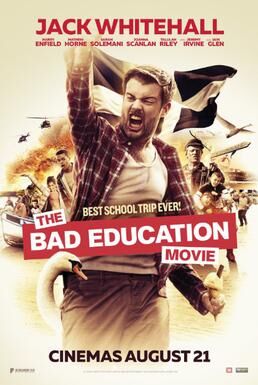 Directed by
Elliot Hegarty
Produced by
Pippa Brown, Ben Cavey
Written by
Freddy Syborn, Jack Whitehall
Starring
Jack Whitehall, Harry Enfield, Mathew Horne, Sarah Solemani, Joanna Scanlan, Talulah Riley, Jeremy Irvine, Iain Glen
Production Company
Cave Bear Productions
Tiger Aspect Productions
Distributed by
Entertainment Film Distributors
Release Date
August 21, 2015
The Bad Education Movie is a 2015 British comedy film directed by Elliot Hegarty and written by Freddy Syborn and Jack Whitehall.
Plot[]
The film opens with Alfie Wickers (Jack Whitehall) having taken Class K on a school trip to Amsterdam. Unbeknownst to him, Mitchell (Charlie Wernham) has spiked his crepe with magic mushrooms, causing Alfie to hallucinate while in the Anne Frank Museum. He believes Jing (Kae Alexander) is a panda and is convinced that the Anne Frank dummy is alive, which leads to him stealing it from the museum (in a parody of E.T.) and ends up in a canal.
One year later, Alfie plans to take his class to Las Vegas, angering the PTA, who doubt the educational value of the trip. They demand that Alfie be sacked. Deputy Head and Alfie's father Martin Wickers (Harry Enfield), headmaster Shaquille Fra$er (Mathew Horne) and teacher and Alfie's girlfriend Rosie Gulliver (Sarah Solemani) insist that Alfie is given another chance and that they conduct a surprise visit to his classroom. Meanwhile, Mitchell has been attempting to tattoo 'Class K Forever' onto Alfie's back, but Alfie passes out from pain before Mitchell can get any further than the letters 'CLA'. The classroom visit ends with the children's parents refusing to pay for the Las Vegas trip. Alfie says he will pay for the trip, but upon realising the cost of this, decides on a trip to Cornwall. Joe (Ethan Lawrence) is concerned his overbearing mother Susan will not let him go on the trip, but Alfie creates a fake trip itinerary to fool the parents into thinking the trip is academical. Alfie also informs his class that his best friend from school, Atticus Hoye (Jeremy Irvine), is hosting a house party in Cornwall.
Susan, concerned about what the trip will involve, comes with the group to Cornwall,and implements Alfie's fake itinerary, starting with a trip to the Eden Project. While at the Eden Project, Mitchell picks a plant known as 'nature's laxative' which Alfie spikes her drink with. The class continue to Penleven Castle where they see John the Baptist's foreskin. Susan, beginning to feel the effects of the laxative, goes to the toilet and leaves the group unattended. While she is away, Mitchell attempts to steal the foreskin, but loses it instead. Alfie retrieves it, but is unable to put it back before Susan returns. Alfie is forced to eat the foreskin to cover his tracks.
The group then arrives at the fishing town of Port Jago, where their hotel is located. Alfie and the children manage to sneak out to the local pub without being caught by Susan. At the pub, the barman (Steve Speirs) and Pasco Trevelyan (Iain Glen) are discussing the Cornish Liberation Army, a terrorist organisation fighting for Cornish independence, which they are both members of. Alfie and the class arrive at the pub, where Alfie is mistaken for a CLA member because of the unfinished tattoo on his back. Pasco has a plan to assassinate the local MP, Michael Hoye, who is also Atticus' father. Overhearing Alfie talking to Joe about going to the party at Atticus' house, Pasco reveals himself to be a smuggler and recruits Alfie to the CLA. Alfie and the class become involved in the frivolities at the pub, which get out of hand and end up with Joe being stabbed in the hand. Susan records the incident from outside through a window, but before she can send the recording to the other parents, Pasco (at Alfie's request) slips her some sleeping pills, packs her in a trunk, and abandons the trunk in Cherbourg, France. Pasco then takes the group to a strip club, where he asks Alfie to deliver some cannabis to Atticus Hoye's party the following evening on his behalf. Unbeknownst to Alfie, the truck he is to deliver the cannabis in is actually packed full of explosives. Meanwhile, Susan hitches a lift back to the UK from France with some illegal immigrants.
Back at school, the other teachers have lost contact with the Cornwall trip since Susan went missing. Martin, Fra$er, and Rosie drive down to Cornwall in an attempt to find them. Alfie and the children arrive at the party, where Alfie is bullied by his so-called friends and made to teabag a swan. Feeling betrayed by everyone, including his class, he decides to call Pasco to be picked up from the party. Pasco takes this as a signal and detonates the truck, which blows up in the grounds of the Hoye house. Pasco drives Alfie and the children in his truck back to Port Jago and decides to make Alfie the leader of the Cornish rebellion. They are joined by many of the people from the pub and Port Jago itself, who all reveal themselves to be members of the CLA. Meanwhile, the other teachers, trying to find Alfie, have involved the police, who believe the situation to be so serious they call in Interpol, who in turn conclude that Alfie has been radicalised. They are joined at the operation's nerve centre by Susan and some other parents.
Pasco informs the group that the CLA is going to seize the means of production, which in Cornwall's case is its most important tourist attraction. The police believe this to be the Eden Project, and send troops there, but it soon transpires that the group are actually heading to Penleven Castle again. Alfie sabotages the rebellion, but expresses sympathy for Pasco's cause. Pasco turns violent and imprisons them. While the children escape thanks to a secret passage Joe finds in the castle which leads down to the beach, Alfie is forced into a swordfight with Pasco. Rosie and Fra$er arrive in a helicopter and pull Alfie to safety, with Pasco being arrested.
The story then jumps to results day when Mitchell again mixes magic mushrooms in some brownies which he gave to Alfie. Alfie once again lost his senses and hallucinated, before posing for a very unusual 'Leavers Photograph'. It is also revealed in this scene that Michael Hoye has resigned as MP of Port Jago.
Cast[]
Jack Whitehall as Alfie Wickers
Ethan Lawrence as Joe Poulter
Charlie Wernham as Mitchell Harper
Kae Alexander as Jing Hua
Layton Williams as Stephen Carmichael
Nikki Runeckles as Chantelle Parsons
Weruche Opia as Cleopatra Ofoedo
Jack Binstead as Leslie "Rem Dogg" Remmington
Harry Enfield as Martin Wickers
Mathew Horne as Shaquille "Simon" Fra$er
Sarah Solemani as Rosie Gulliver
Joanna Scanlan as Susan Poulter
Talulah Riley as Phoebe
Jeremy Irvine as Atticus Hoye
Iain Glen as Pasco Trevelyan
Bruce Mackinnon as Grant Dodd
Steve Speirs as Don the barman
David Gant as Mick
Sheila Reid as Margot
Hilary Gish as Mrs Carmichael
Clarke Peters as Commander Andrews
Marc Wootton as Officer Geoffrey
Steve Oram as Officer Rowe
Tony Maudsley as Yo Ho Ho Barman
Tom Davis as Big Tom
Reception[]
The film received generally mixed to positive reviews from critics, with some praising its silliness and direction whilst others criticised its crude humour and portrayal of Cornwall. It currently holds a 71% critical score on Rotten Tomatoes based on 7 reviews and a 43% audience score based on 916 reviews (as of January 2017), together indicating generally mixed reviews. It is not listed on Metacritic.
Positive reviews came from Chris Tilly of IGN Movies, writing that 'Hegarty directs in a style that transcends the show's small-screen roots, and ultimately there are enough good jokes to make the feature a worthwhile endeavour', awarding it 6.6/10, Henry Fitzherbert of the Daily Express, writing 'there are enough laughs to make this a hit with the target audience' and Fionnuala Halligan of Screen International, who described the film as 'unexpectedly hilarious'.
Negative reviews came from Matthew Turner of The List, writing 'there's very little of any merit here, unless you're a Whitehall completist interested in seeing prosthetic recreations of his balls on multiple occasions' and Mike McCahill of the Guardian, writing 'you sense Whitehall and co-writer Freddy Syborn egging one another on to see who can scrape the bottom of the barrel quickest and loudest'.
British film critic Mark Kermode panned the film, criticising its lack of laughs, overuse of crude humour and offensive portrayal of Cornwall and the Cornish people.
Gallery[]
Trivia[]
Sours: https://bad-education-bbc-three.fandom.com/wiki/The_Bad_Education_Movie
Bad Education – 2019 Finley
You can tell Bad Education is a very good film because as we near the conclusion there is a great interest in the story arcs and resolution for at least three characters: Hugh Jackman's Frank Tassone, Allison Janney's Pam Gluckin, and Geraldine Viswanathan's Rachel Bhargava
Strong opening- a tracking shot behind Jackman's character with Ray Romano's character touting all the achievements. As Jackman's character makes his way to the crowd we're going with him—it's like a boxer going to the ring or a rock star making his way to the stage
Jackman's first meeting with Viswanathan's character is brilliant as well- it's an ironic sliding doors moment- twist of fate for the narrative- but it also shows what a powerful educator and charismatic character he is
He's more than that of course- it's a great character and nice resume-builder for Jackman. His Frank Tassone is a motivator, manipulative (love his "let's tease this out" prodding to the board), a spin-doctor, smooth-operator, intelligent and disciplined.
I get the name- but wish we had a different title – same as the not-so-distant-past Almodovar film
Michael Abels's score (worked with Jordan Peele on Us, Get Out) stirs up anxiety and dread
It's a character study and a true-life crime and investigation story—I see some Fargo here, Shattered Glass– All the President's Men
Recommend but not in the top 10 of 2019
Drake2020-07-03T10:28:14+00:00
Sours: http://thecinemaarchives.com/2020/05/01/bad-education-2019-finley/
Whose ratings should you trust? IMDB, Rotten Tomatoes, Metacritic, or Fandango?
by Alex Olteanu
A data scientist investigates
Should you watch a movie? Well, there are a lot of factors to consider, such as the director, the actors, and the movie's budget. Most of us base our decision off of a review, a short trailer, or just by checking the movie's rating.
There are a few good reasons you would want to avoid reading reviews, or watching a trailer, although they bring much more information than a rating.
First, you may want to completely avoid spoilers, no matter how small. I understand that!
Second, it could be that you want an uninfluenced experience of watching that movie. This usually applies only to reviews, which are sprinkled with frames, like "this is a movie about the complexity of the universe" or "this movie is really not about love". Once these frames get encoded in your short-term memory, it's really hard to stop them from interfering with your own movie experience.
Another good reason is that if you're tired or hurried, you might not want to read a review, let alone watch a 2-minute trailer.
So a numeric movie rating seems to be a good solution in quite a few situations, for quite a few people.
This article aims to recommend a single website to quickly get an accurate movie rating, and offers a robust, data-driven argumentation for it.
Criteria for "the best"
Making such a recommendation is a lot like saying "this is the best place to look for a movie rating," which is an evaluative statement, resting on some criteria used to determine what is better, what is worse or worst, and what is best, in this case. For my recommendation, I will use one single criterion: a normal distribution.
The best place to look for a movie rating is to see whose ratings are distributed in a pattern which resembles the most, or is identical to, the pattern of a normal distribution, which is this: given a set of values lying in a certain interval, most of them are in the middle of it, and the few others at that interval's extremes. Generally, this is how a normal (also called Gaussian) distribution looks like:
What's the rationale behind this criterion? Well, from my own experience consisting of several hundred movies, I can tell that I've seen:
a few outstanding ones that I've watched several times
a couple that were really appalling, and made me regret the time spent watching them
and a whole bunch of average ones, for most of which I can't even remember the plot anymore.
I believe that most people — whether critics, cinephiles, or just regular moviegoers — have had a similar experience.
If movie ratings do indeed express movie quality, then we should see the same pattern for both.
Given that most of us assess the bulk of movies as being of an average quality, we should see the same pattern when we analyze movie ratings. A similar logic applies for bad and good movies.
If you're not yet persuaded that there should be such a correspondence between the patterns, think about the distribution of ratings for a single movie. As many people rate the movie, it's not a leap of faith to assume that most often there will be many of them with similar preferences. They'll generally agree that the movie is either bad, average, or good (I will quantify later these qualitative values). Also, there will be a few others who assess the movie with one of the other two qualitative values.
If we visualized the distribution of all the ratings for an individual movie, we would most likely see that one single cluster forms in one of the areas corresponding to a low, an average, or a high rating.
Provided most movies are considered average, the cluster around the average area has the greatest likelihood of occurring, and the other two clusters have a smaller (but still significant) likelihood. (Note that all these likelihoods can be quantified in principle, but this would require a lot of data, and would have the potential to turn this article into a book.)
The least likely would be a uniform distribution in which there are no clusters, and people's preferences are split almost equally across the three qualitative values.
Given these likelihoods, the distribution of ratings for a large enough sample of movies should be one with a blunt cluster in the average area, bordered by bars of decreasing height (frequency), resembling, thus, a normal distribution.
If you have found all this hard to understand, consider this illustration:
IMDB, Rotten Tomatoes, Fandango, or Metacritic?
Now that we have a criterion to work with, let's dive into the data.
There are a lot of websites out there that come up with their own movie ratings. I have chosen only four, mainly based on their popularity, so that I could get ratings for movies with an acceptable number of votes. The happy winners are IMDB, Fandango, Rotten Tomatoes, and Metacritic.
For the last two, I have focused only on their iconic rating types — namely the tomatometer, and the metascore —mainly because these are more visible to the user on each of the websites (meaning it's quicker to find them). These are also shared on the other two websites (the metascore is shared on IMDB and the tomatometer on Fandango). Besides these iconic ratings, both websites also have a less-featured rating type where only users get to contribute.
I have collected ratings for some of the most voted and reviewed movies in 2016 and 2017. The cleaned dataset has ratings for 214 movies, and can be downloaded from this Github repo.
I haven't collected ratings for movies released before 2016, simply because a slight change has occurred in Fandango's rating system soon after Walt Hickey's analysis, which I will refer to later in this article.
I'm aware that working with a small sample is risky, but at least this is compensated by getting the most recent snapshot of the ratings' distributions.
Before plotting and interpreting the distributions, let me quantify the qualitative values I used earlier: on a 0 to 10 scale, a bad movie is somewhere between 0 and 3, an average one between 3 and 7, and a good one between 7 and 10.
Please take note of the distinction between quality and quantity. To keep it discernible in what follows, I will refer to ratings (quantity) as being low, average, or high. As before, the movie quality is expressed as bad, average, or good. If you worry about the "average" term being the same, don't, because I will take care to avoid any ambiguity.
Now let's take a look at the distributions:
At a simple glance, it can be noticed that the metascore's histogram (that's what this kind of graph is called) most closely resembles a normal distribution. It has a thick cluster in the average area composed of bars of irregular heights, which makes the top neither blunt, neither sharp.
However, they are more numerous and taller than the bars in each of the other two areas, which decrease in height towards extremes, more or less gradually. All these clearly indicate that most of the metascores have an average value, which is pretty much what we're looking for.
In the case of IMDB, the bulk of the distribution is in the average area as well, but there is an obvious skew towards the highest average values. The high ratings area looks similar to what would be expected to be seen for a normal distribution in that part of the histogram. However, the striking feature is that the area representing low movie ratings is completely empty, which raises a big question mark.
Initially, I put the blame on the small sample, thinking that a larger one would do more justice to IMDB. Luckily, I was able to find a ready-made dataset on Kaggle containing IMDB ratings for 4,917 different movies. To my great surprise, the distribution looked like this:
The shape of the distribution looks almost the same as that for the sample with 214 movies, except for the low ratings area, which is in this case feebly populated with 46 movies (out of 4917). The bulk of the values is still in the average area, which makes the IMDB rating worth considering further for a recommendation, although is clearly hard to rival the metascore, with that skew.
Anyway, what's really great about this outcome is that it can be used as a strong argument to support the thesis that the 214-movies sample is fairly representative for the whole population. In other words, there's a greater confidence now that the results of this analysis would be the same — or at least similar — to the results reached if absolutely all the movie ratings from all the four websites were analyzed.
With this increased confidence, let's move on to examining the distribution of Fandango's ratings, which doesn't seem to have changed much since Hickey's analysis. The skew is still visibly towards the higher part of the movie rating spectrum, where most of the ratings reside. The area for the lower half of the average ratings is completely empty, just like the one for low ratings. It can easily be concluded that the distribution is quite far from fitting my criterion. Consequently, I won't consider it further for a possible recommendation.
(I promise that the torment of scrolling up will end soon. It's much easier to compare the distributions if they are placed one near the other, rather than having them scattered across the article.)
Lastly, the tomatometer's distribution is unexpectedly uniform, and would look even flatter under a different binning strategy (a binning strategy is defined by the total number of bars and their ranges; you can play with these two parameters when you're generating a histogram).
This distribution is not easy to interpret in context, because the tomatometer it's not a classical rating, but rather represents the percentage of critics who gave a positive review to a movie. This makes it unfit for the bad-average-good qualitative framework, because it makes movies either good, either bad. Anyway, I guess it should still boil down to the same normal distribution, with most of the movies having a moderate difference between the number of positive reviews and the negative ones (rendering many ratings of 30% — 70% positive reviews), and a few movies having a significantly bigger difference, in one way or the other.
Given the last consideration and the shape of the distribution, the tomatometer doesn't meet my criterion. It could be that a larger sample would do it more justice, but even so, if I were to recommend it, I would do it with some reserves because of the vague positive or negative rating system.
At this point of the analysis, I could say that by looking at the distributions, my recommendation is the metascore.
However, the IMDB's distribution seems to be worth considering as well, especially if you tweak a little the rating intervals for the three qualitative categories (intervals which I defined myself, more or less arbitrarily). From this perspective, recommending the metascore by mostly doing a visual examination is clearly not enough.
So, I will try to delimit between these two by using a quantitative method.
The idea is to use the Fandango variable as a negative reference, and then determine which variable, from the IMDB rating and the metascore, is the least correlated with it (I call these variables because they can take different values — for example, the metascore is a variable because it takes different values, depending on the movie).
I will simply compute some correlation coefficients, and the variable with the smallest value will be my recommendation (I will explain then how these correlation coefficients work). But before that, let me briefly justify choosing the Fandango variable as a negative reference.
Fandango's users love movies too much
One reason for this choice is that the distribution of Fandango's movie ratings is the furthest from that of a normal one, having that obvious skew towards the higher part of the movie ratings spectrum.
The other reason is the cloud of suspicion around Fandango left by Walt Hickey's analysis. On October 2015, he was also puzzled by a similar distribution, and discovered that on Fandango's website the numerical ratings were always rounded to the next highest half-star, not to the nearest one (for example, a 4.1 average rating for a movie would have been rounded to 4.5 stars, instead of 4.0).
The Fandango team fixed the biased rating system, and told Hickey that the rating logic was rather a "software glitch" on their website, pointing towards an unbiased system on their mobile app. (More about this on Hickey's article.) The adjustment did change some statistical parameters for the better, but not enough to convince me not to work with the Fandango variable as a negative reference.
This is what the change looks like:
Now, let's zoom in on Fandango:
Between the metascore and the IMDB rating, which is the least correlated with the Fandango rating?
The least correlated with the Fandango rating is the metascore. It has a Pearson's r value of 0.38 with respect to Fandango, while the IMDB rating has a value of 0.63.
Now let me explain all this.
As two variables change, taking different values, they are correlated if there's a pattern corresponding to both changes. Measuring correlation simply means measuring the extent to which there is such a pattern.
One of the ways to perform this measure is to compute the Pearson's r. If the value is +1.0, it means there's a perfect positive correlation, and if it's -1.0, it means there's a perfect negative correlation.
The extent to which the variables are correlated decrease as the Pearson's r approaches 0, from both the negative and the positive side.
Let's better visualize this:
Now, to put the abstraction above into context, if we compare how the values for two rating types change — say Fandango's and IMDB's — we can determine the degree to which there's a pattern corresponding to both changes.
Given the correlation coefficients just mentioned, there is a pattern between Fandango and IMDB to a greater extent than is for Fandango and the metascore. Both coefficients are positive, and, as such, the correlation is said to be positive, which means that as Fandango's ratings go up, IMDB's ratings tend to go up as well, more than the metascores do.
Put differently, for any given movie rating on Fandango, it is more probable that the metascore is going to be more different from it than the IMDB rating.
The verdict: use Metacritic's metascore
All in all, I recommend checking the metascore whenever you are looking for a movie rating. Here's how it works, and its downsides.
In a nutshell, the metascore is a weighted average of many reviews coming from reputed critics. The Metacritic team reads the reviews and assigns each a 0–100 score, which is then given a weight, mainly based on the review's quality and source. You can find more about their rating system here.
Now, I just want to point out a few downsides of the metascore:
The weighting coefficients are confidential, so you won't get to see the extent to which each review counted in the metascore.
You'll have a rough time finding metascores for less-known movies that appeared before 1999, the year Metacritic was created.
Some recent movies whose main language is not English aren't even listed on Metacritic. For example, the Romanian movies Two Lottery Tickets (2016) and Eastern Business (2016) are not listed on Metacritic, while they are on IMDB, with ratings.
Few more words
To sum up, in this article I made a single recommendation of where to look for a movie rating. I recommended the metascore, based on two arguments: its distribution resembles the most a normal one, and it is the least correlated with the Fandango rating.
All the quantitative and the visual elements of the article are reproducible in Python, as it is shown here.
Thanks for reading! And happy movie-going!
---
If this article was helpful, tweet it.
Learn to code for free. freeCodeCamp's open source curriculum has helped more than 40,000 people get jobs as developers. Get started
Sours: https://www.freecodecamp.org/news/whose-reviews-should-you-trust-imdb-rotten-tomatoes-metacritic-or-fandango-7d1010c6cf19/
Bad Education with Jack Whitehall - Swimming Gala - S02 E01 - All Brit
Films That Made the Top 10 of 2020 for Letterboxd and Metacritic
The following films were on both Letterboxd's and Metacritic's top 10: Boys State, Crip Camp: A Disability Revolution, Dick Johnson is Dead, The Father, First Cow, Never Rarely Sometimes Always, Nomadland, Palm Springs, Soul, Time, Welcome to Chechnya, Wolfwalkers. The other films have which list they entered labeled in the notes section.
Former/current #1s:
• Chunky Shrapnel (Letterboxd)
• Collective (Metacritic)
• Minari (Letterboxd)
• Never Rarely Sometimes Always (Metacritic)
• Nomadland (Letterboxd, Metacritic)
• Quo Vadis, Aida? (Metacritic)
• Rocks (Metacritic)
• The Three Deaths of Marisela Escobedo (Letterboxd)
Note: Hamilton, Black Is King, and David Byrne's American Utopia are not eligible for Letterboxd's top list at this time. If an exception were made, they would have peaked in the top 10. Chunky Shrapnel was deemed ineligible for the Letterboxd list after entry.
Read notesSours: https://letterboxd.com/jack/list/films-that-made-the-top-10-of-2020-for-letterboxd/
Metacritic bad education
100
Rolling StonePeter Travers

A rapturous masterwork.
91
Entertainment WeeklyOwen Gleiberman

It's a film noir that grows more potent as its secrets are revealed.
90
The New YorkerDavid Denby

Complex and devious beyond easy recounting, Bad Education is about the fallout from the ending of a "pure" love between boys, consecrated in an Almodóvaran temple--a movie theatre.
90
VarietyJonathan Holland

Superbly orchestrated, visually impressive.
80
The A.V. ClubScott Tobias

In accounting for Almodóvar's identity as an artist and a man, Bad Education comes together like a bold and far-reaching summation of his career to date.
75
Christian Science MonitorDavid Sterritt

Spain's most important living filmmaker isn't at his very best in this complicated tale, but it raises still-timely questions well worth pondering.
70
New York Magazine (Vulture)Ken Tucker

May be at once too gimmicky and too sincere. But it still exerts an uncanny power: Like the best of Almodóvar's work, it throws you a first-love sucker punch that will stagger your heart, mind, and soul.
63
ReelViewsJames Berardinelli

Ultimately, Bad Education must be considered to be a minor effort from a major director.
60
Village VoiceMichael Atkinson

There's something dull and evasive at the film's center--for one thing, contrary to its festival buzz, Bad Education tiptoes around the issue of priesthood pedophilia; lovelorn gazes are as desperate as it gets.
10
Film ThreatPhil Hall

Such garbage that taking a shower at the Bates Motel is a more appealing alternative.
Sours: https://www.imdb.com/title/tt0275491/criticreviews
BAD EDUCATION Trailer (2020) Hugh Jackman, Comedy Movie
Tone-deaf, offensive and downright dull: The worst movies of the past 20 years, according to Metacritic
The last 20 years have given us cinematic greats like "The Lord of the Rings," "Moonlight" and "Parasite." The past two decades have also given us some real bombs.
To revisit some of those duds, we turn to Metacritic, an entertainment review site that consolidates movie critics' scores from around the internet, gives each score a weight, and calculates a weighted average. Basically, instead of reading lots of movie reviews, Metacritic just gives you one aggregated score from zero to 100.
Ready to take a trip down memory lane? Behold, the worst movies released every year, for the past 20 years, according to Metacritic.
(A quick note on our methodology: We've left off movies that are not rated or rated NC-17. We'd rather not write summaries of those movie plots on our work computers. Also, Metacritic omits movies that received fewer than seven critic reviews, so we've left those off our list, too. )
2020: "Love, Weddings & Other Disasters"
This is one of those rom-coms with an ensemble cast – including Diane Keaton playing a blind woman – and multiple storylines that all converge somehow. In a year where COVID-19 ruined a lot of weddings, maybe this movie just wasn't the right vibe?
Metascore: 11 (based on seven critic reviews)
2019: "The Haunting of Sharon Tate"
Hillary Duff plays Sharon Tate in this dramatized retelling of her murder at the hands of Charles Manson's cult. The Los Angeles Times review called it a "sleazy B-thriller" and The Wrap called it "astoundingly tasteless." The Wrap also predicted it'd be one of the worst – if not the worst – movies of the year. It turns out they were right!
Metascore: 8 (based on 10 critic reviews)
2018: "Death of a Nation"
The movie was made by conservative pundit Dinesh D'Souza and likens Donald Trump to Abraham Lincoln (and Democrats to Nazis) in the opening moments of the trailer, so you probably get the gist. But beyond it's clear political agenda, critics say the movie was just plain bad: "The only thing preventing me from dubbing this one of the dumbest movies of any type that I have ever seen in my life is the fact that I am not entirely certain that something as shabbily constructed and artistically bankrupt as this actually qualifies as a movie in the first place," wrote Peter Sobczynski in his review.
Metascore: 1 (based on eight critic reviews)
2017: "The Emoji Movie"
It's an animated movie about the emojis that live inside your phone. It's an original idea, but critics say writers weren't able to turn the concept into any genuinely funny moments. Apparently, the all-star cast of voice actors – including Maya Rudolph, Jennifer Coolidge, Patrick Stewart, Anna Faris and at least five other very famous people – wasn't able to carry the film, either.
Metascore: 12 (based on 26 critic reviews)
2016: "Hillary's America: The Secret History of the Democratic Party"
Another Dinesh D'Souza production that flopped with critics. "In the past, I've given D'Souza the benefit of the doubt, going out of my way to be extra objective," wrote Arizona Republic critic Bill Goodykoontz. "But this thing is madness."
Metascore: 2 (based on 17 critic reviews)
2015: "Some Kind of Beautiful"
Pierce Brosnan, Salma Hayek and Jessica Alba play out a love triangle in this romantic comedy. But critics seem to think those actors' talents are wasted in this movie full of cliche and misogyny.
Metascore: 11 (based on nine critic reviews)
2014: "Septic Man"
"Septic Man" is a horror movie in which a man gets trapped in a septic tank – which, to be fair, is a horrifying premise. But critics found the movie neither scary nor funny, just dull.
Metascore: 8 (based on seven critic reviews)
2013: "Scary Movie 5"
The fifth installment of the "Scary Movie" series takes aim at the horror movie "Paranormal Activity," but critics say this parody missed the mark. That's putting it mildly. The Washington Post critic called it a "lazy, boring, vile and tragically unfunny attempt at a horror-film spoof that is sure to kill brain cells and may signal the impending apocalypse."
Metascore: 11 (based on 16 critic reviews)
2012: "A Little Bit of Heaven"
Kate Hudson plays a funny, beautiful single woman with a crush on her doctor. Then she gets cancer. You can see where this is going, right? The consensus seems to be movie was too formulaic to be interesting. But Whoopi Goldberg plays God, so at least it has that going for it.
Metascore: 14 (based on 20 critic reviews)
2011: "Bucky Larson: Born to Be a Star"
Bucky Larson was a buck-toothed grocery store worker, his life "going nowhere" (as the trailer says) until he discovers his parents are porn stars. He moves to California to follow in their footsteps. The premise sounds funny enough, but the jokes just didn't seem to land. "It's an ugly movie to look at and a faintly nauseating one to sit through, truth be told," wrote Roger Moore in the Orlando Sentinel.
Metascore: 9 (based on 13 critic reviews)
2010: "Vampires Suck"
Critics weren't a fan of this parody of the popular "Twilight" saga, very much in the "Scary Movie" style of spoof. They said it was filled with bad jokes and dated humor.
Metascore: 18 (based on 17 critic reviews)
2009: "Miss March"
The premise alone is chaotic: a teen falls into a coma on prom night, wakes up four years later and realizes his virginal prom date is now a "Playboy" model. He wants to track her down, hijinks ensue. It's predictably raunchy, but not very funny, critics wrote. The Boston Globe review of the movie is pretty funny, however: "'Miss March' is a sex comedy that appears to have been made by people who've never actually had sex."
Metascore: 7 (based on 15 critic reviews)
2008: "The Hottie & The Nottie"
It's hard to even describe this movie in an inoffensive way. Basically, the protagonist has a crush on Paris Hilton, but her "nottie" roommate with crooked teeth and body hair stands in the way of their relationship. Critics' reviews were universally terrible.
Metascore: 7 (based on 18 critic reviews)
2007: "Daddy Day Camp"
Two dads decide to take over a summer camp to spend more time with their kids. Men? In charge of child care?? They couldn't possibly pull that off! It's a sequel to "Daddy Day Care" that no one asked for.
Metascore: 13 (based on 19 critic reviews)
2006: "Date Movie"
The "Scary Movie" folks land themselves on this list, yet again. This time, they parody the entire romantic comedy genre. A few critics admit it made them laugh once, but if that's the best you can say for a comedy, it's not great.
Metascore: 11 (based on 18 critic reviews)
2005: "Alone in the Dark"
"Alone in the Dark" is (loosely) based on the video game of the same name, and critics suggest fans of the game just play it instead of watching the movie.
Metascore: 9 (based on 25 critic reviews)
2004: "Superbabies: Baby Geniuses 2"
Jon Voight plays an evil German with a plan to control the minds of everyone on the planet… but not if these superhero toddlers have anything to do with it! Cute? Creepy? Both? Critics say the plot was too confusing for kids and too boring for adults.
Metascore: 9 (based on 19 critic reviews)
2003: "From Justin to Kelly"
Two "American Idol" favorites, Kelly Clarkson and Justin Guarini, try to transition from singing to acting… and it doesn't really work out. Reviews make the movie sound really, really boring.
Metascore: 14 (based on 16 critic reviews)
2002: "Vulgar"
The movie centers around a professional clown who gets violently raped and then blackmailed by the rapist. But also it's a comedy? It's impossible to imagine why Lions Gate, the indie distributor that released 'Monster's Ball,' would bother with this garbage," reads the San Francisco Chronicle review.
Metascore: 5 (based on 10 critic reviews)
2001: "Glitter"
Mariah Carey plays a breakout pop star with a troubled childhood in this infamously bad movie. What's so bad exactly? Critics called it joyless, tedious, ridiculous and unintentionally hilarious. Could the movie be so bad it's good? Nope, not even that.
Metascore: 14 (based on 23 critic reviews)
Copyright 2021 Nexstar Media Inc. All rights reserved. This material may not be published, broadcast, rewritten, or redistributed.
Sours: https://www.wkrn.com/news/rankings/tone-deaf-offensive-and-downright-dull-the-worst-movies-of-the-past-20-years-according-to-metacritic/
Now discussing:

The story follows Frank Tassone (Jackman) and Pam Gluckin (Janney) who reign over a popular Long […] Dies geschieht in Ihren Datenschutzeinstellungen. He noted that Jackman "did a very good job playing me. Pam, Jenny, and Phil are arrested; when the authorities threaten to prosecute her family, Pam agrees to testify against Frank and turns over evidence of the scheme.

A man answers the door and Rachel leaves, but she and Frank spot each other when he arrives and enters the same apartment. "[8], In June 2018, Allison Janney joined the cast of the film,[9] with Geraldine Viswanathan and Ray Romano signing on the following month. Daten über Ihr Gerät und Ihre Internetverbindung, darunter Ihre IP-Adresse, Such- und Browsingaktivität bei Ihrer Nutzung der Websites und Apps von Verizon Media. It is based on the true story of the largest public school embezzlement in American history. The screenwriter, Makowsky, briefly met Tassone as a child before the scandal broke and attended Roslyn High School in the late 2000s. [26], David Ehrlich of IndieWire commended Makowsky's script as a "well-calculated masterclass in narrative economy". Ask question + 100. Makowsky bought the rights to Robert Kolker's New York article on the subject and returned to his childhood hometown to compile research for the project. Source(s): intro song tv show bad education called: https://shortly.im/YVOso. Especially at the end, when I walk out of prison and I see what I lost. Bad Education is a 2019 American crime comedy-drama film directed by Cory Finley and written by Mike Makowsky.It is based on the true story of the largest public school embezzlement in American history. Frank and assistant superintendent Pam Gluckin have overseen major improvements in the district, with Roslyn High School becoming the fourth-ranked public school in the country. A decision was made not to involve any of the perpetrators in the development of the film, out of respect for the town of Roslyn. It's not on long enough to Shazam, Alfie tries to attend a book group, a LARPing club and a leaving party at, Down On My Luck (Originally Performed By Vic Mensa) [Karaoke Vocal Version]. [12][13][14] Principal photography began in October 2018. [...] And by the way, it's a battle that most of us face in our everyday life. What is the song that starts playing at 19:20? We currently have no record of an official soundtrack album released for this season. Tassone said: "I have never, ever, in my 36-year career in education, had a relationship with a student or with someone who had graduated. Set in the Long Island village of Roslyn in the early 2000s, the film tells the story of the charismatic and esteemed Dr. Frank Tassone (Jackman) and Pam Gluckin (Janney), who steal millions of dollars from the same public school district that they seek to make the best in the country. Convincing district auditor Phil Metzger to falsify the financial records, Frank appoints him as Pam's temporary replacement. A total of $11 million was embezzled, the largest school theft in American history. "[18], Bad Education had its world premiere at the Toronto International Film Festival on September 8, 2019.

Can someone maybe please find out what that song is called from Netflix. All 11 songs featured in Bad Education season 3 episode 2: After School Clubs, with scene descriptions. [25] Ben Kenigsberg of The New York Times chose the film as the publication's critic's pick and praised Finley's composition, Makowsky's dialogue, the set decoration, Abels' "jarring, percussive score", and Jackman's "darkly charismatic" performance.

Attending a conference in Las Vegas, he begins an affair with his former student Kyle Contreras. Bob and the school board confront Pam, realizing she has embezzled at least $250,000 in taxpayer funds.
"[23] On Metacritic, the film has a weighted average score of 79 out of 100, based on 29 critics, indicating "generally favorable reviews". She finds an annual expense of $803,000 to Wordpower Tech and visits its listed address, which she discovers is a Manhattan apartment. [6], Makowsky, Fred Berger, Brian Kavanaugh-Jones, Julia Lebedev, Edward Vaisman and Oren Moverman produced the film under their Automatik and Sight Unseen banners.

Insisting he acted in the school's best interest, Frank pleads with Bob not to confirm the scandal until the school budget is approved, but Bob and the school board report the cover-up in its entirety.

Jackman noted that, "I haven't done a film without him—except for Australia, of course—for 20 years.

6 years ago.

Funeral 17 Sep 2013. TweetEmail TweetEmailWaterTower Music has announced the release of the soundtrack to the HBO film Bad Education, with music by Michael Abels (Get Out, Us). Dazu gehört der Widerspruch gegen die Verarbeitung Ihrer Daten durch Partner für deren berechtigte Interessen. The school's performance stimulates the local economy, reaping rewards for school board president and real estate broker Bob Spicer. Submit album. It starts off as a teenager when you're trying to get a boyfriend or girlfriend or someone to like you, and you're like, OK, I'm not going to try that part, what's going to work for me?

[1] Adapted from an article in New York magazine by Robert Kolker,[2] it features an ensemble cast including Hugh Jackman, Allison Janney, Geraldine Viswanathan, Alex Wolff, Rafael Casal, Stephen Spinella, Annaleigh Ashford and Ray Romano. Frank resigns, flees to Nevada with tens of thousands of dollars in cash, and moves in with Kyle in a house Frank bought for him. It is revealed that Pam has a fraudulent district expense card, which she encourages her niece Jenny, a district clerk, to use. [21] It was released April 25, 2020 on the HBO premium cable network and HBO's streaming services. The song that is used as the intro and at the end of bad education on bbc 3. That really hit home for me. Alfie tries to attend a book group, a LARPing club and a leaving party at... more. In prison, Frank fantasizes about being back at Roslyn, where he is congratulated for making the school #1 in the country. Beloved by students and parents, Frank claims to have lost his wife several years ago, and rejects advances from some of the local mothers. 0 0?

Für nähere Informationen zur Nutzung Ihrer Daten lesen Sie bitte unsere Datenschutzerklärung und Cookie-Richtlinie. I'm someone who can get to 80 percent of an accent sort of easily, but it's that final 20 percent that really makes a difference. Copyright 2020 Tunefind LLC. An epilogue reveals that Frank was convicted of embezzling $2.2 million and sentenced to 4–12 years in prison. It was well received by film critics, with particular praise for Makowsky's screenplay, Finley's direction, and Jackman's and Janney's performances. He noted, "For Frank, how he was perceived and judged by people on-site was very important, and he justified that as being a part of his job, how he needed to project being upstanding to represent the school district in order for it to get to No. What is the song in episode 2, series 3 of Bad Education about 10 mins in as the kid does a 180 spin on a BMX?
Abbey Grove is rocked by the news that …

Sours: http://www.danhamillperformancecoaching.com/docs/%E2%80%9Dhttps:/995bbe-bad-education-club-song
1067
1068
1069
1070
1071