With a mantra like "the flowers of tomorrow are in the seeds of today," it's no surprise that Bergs Potter is one of our favorite brands -- that promising spirit is at the heart of gardening, after all. From the playful scallop-edged Copenhagen pots to the classic banded Galestro collection, the brand's products are well-designed, durable, and time-tested.
In fact, the Danish pottery dates back to 1942 when Victor Berg inherited a ceramics shop in Copenhagen. In an effort to bring happiness to the Dutch people during the uncertain times of World War II, Berg began selling fresh flowers to accompany the clay pots and the unique mix of bright flowers and aged pots became an instant hit among locals.

And while Bergs has only grown in popularity, the brand remains true to its roots, with each pot handmade from clay sourced from Tuscany. Which means that there are only a handful of spots in the US you can even buy the brand and we count ourselves lucky that terrain is among those few!

Once a beloved family friend and now co-owner of the business, Martin Olinger is our go-to source for all things Bergs. We caught up with him recently to chat about the company's charming history, what makes Bergs so special, and why your clay pot should change colors.

terrain:What makes Bergs clay particularly beneficial to plant growth?
Martin: The clay used for Bergs is certified Italian clay -- Italy's most exclusive and durable clay. It has a very high density which means it's frost resistant. We also never add chemicals to seal the surface. A pot can be tested by putting it in water. If it changes color – it breathes. This means it's able to supply moisture and air the roots, giving it the best possible conditions for growth.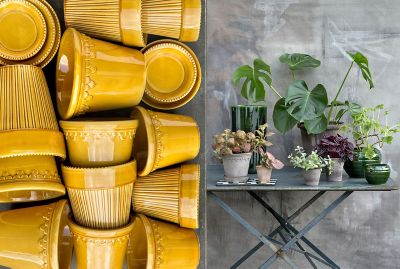 terrain: can you tell us how you choose the colors for your pottery collections?
Martin: We use the Nordic gray clay color as our main color, but stay true to the classic terracotta color as well. Since 2016 we have experimented with glazes and found our first color inspiration from the old green gates, ornate houses and blue sea in the historic Danish fishing village of Dragoer.
terrain: How do you think Copenhagen and Danish style influences Bergs design?
Martin: Bergs Pottery goes as far back as 1860 in Denmark when royal potters made the Copenhagen pot for Danish castles. Our minimalistic pots in gray signal the Nordic vibe, but since the Danes also like a little fairytale romance, the more decorated pots are popular as well.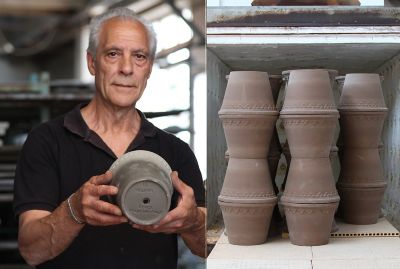 terrain: Can you walk us through the process of making a Bergs pot?
Martin: Our clay pots are produced in one of two ways. Some potters make their pots by turning it on the pottery wheel while others stamp and hand-cut the clay into the desired shapes. Drying the clay can take from one day to one week depending on the type of clay used. Once the clay is dry, it's fired at approximately 1000°C (1830°F). The high temperature strengthens the pots and adds to their beauty. Afterwards, the pots are dipped in water to seal out salt water. The pots are packed carefully into trucks and transported from Tuscany to our warehouse in the North of Sealand. After their journey, our warehouse manager René unpacks the pots and they remain in the warehouse until they are transported to shops or to their new homes.
Martin told us they only use eight potters from a small, family-run Tuscan studio to create their pots - nothing like always keeping it in the family! And if Martin has you interested in a Bergs pot of your own, check out our collection here!
All photos courtesy of Bergs Potter
Sours: https://www.shopterrain.com/blog_entries/bergs-potter
Hoff Pots
Created by Graphic Designer Anne Hoff, for Bergs Potter, these beautiful terracotta pots can be mixed and matched to create a constantly changing aesthetic. Hoff Pots are made from premium quality raw terracotta, which allows the roots to breath and plants to thrive. The saucers come in a raw or beautiful dipped glaze finish. The potential to mix and match means that these pots offer effortless style for any setting.
"When Bergs Potter and I created HOFF together, the very rough surface of the raw clay was something we worked with a great deal. It needed to contrast with the smooth glazed saucer, and combined, it needed to create an expression that was simultaneously harmonious and filled with contrasts in its composition, all while still being interesting to look at.
It is precisely such durable solutions that drive me forward: To create something that one consistently wants to look at and use, even after a long while has passed. To create a product that achieves a sort of timelessness, but which still catches the eye and brings joy to daily life. In my world, that is something that comes about through a combination of a good idea, solid craftsmanship and quality materials." - Anne Hoff
Sours: https://www.wildflowerflorist.co.uk/hoff-pots
Bergs Potter
Bergs Potter - A family business
The story of the danish brand Bergs Potter started in 1942. A young, craft and entrepreneurial man named Victor Berg inherited a ceramics shop full of flower pots, located in northern Copenhagen. Victor decided to start selling these pots along with flowers. The combination of pots and flowers became a real hit, and the shop quickly grew. The company is to this day owned by the Bergs Family.
Which are Bergs Potter's most popular products?
The high quality and genuine craftsmanship of Berg Potters products has made them highly popular. Their wide  assortment of beautiful flower pots and vases includes terracotta pots and glazed pots in different sizes, designs and colours. Here you will find popular pot designs such as Elizabeth, Copenhagen and Daisy.
Top 3 pots by Bergs Potter:
Copenhagen flower pot
Elizabeth flower pot
Helena flower pot
Can pots by Bergs Potter be used outdoors?
All plant pots made by Bergs Potter are safe to use both indoors and outdoors, even in colder climates. The high quality and density of the clay used in the production of Bergs Potter's pots and saucers, along with the high temperatures they are fired at make them them resistant to frost.
Where are Bergs Potter pots made?
In the search for the best pottery in Europe, Bergs Potter finally stumbled upon a ceramics workshop located in Toscana in Italy. Collaborations with this ceramics workshop was initiated, and pots by Bergs Potter are still handmade by skilled potters in Toscana to this day.
Glazed pots by Bergs Potter
Bergs Potter's broad assortment of high-quality plant pots includes a wide range of glazed terracotta pots. The glossy finish along with the beautiful colors inspired by Danish fishing villages accentuates the beautiful decorative elements of the flower pots. Each pot is glazed by hand with precision and skill, for a optimal and elegant result.
Bergs Potter's unglazed pots
Bergs Potters extensive pot assortment includes many pots that have not been glazed. These unglazed pots will with time get a beautiful patina. The raw surface in combination with these natural aesthetic variations gives the material life and character, and makes each handmade pot truly unique.
Sours: https://www.nordicnest.com/brands/bergs-potter/
Where I Buy Plant Pots! - Affordable Planters \u0026 Handmade Plant Pots
.
Online bergs pottery
.
Where I Buy Plant Pots! - Affordable Planters \u0026 Handmade Plant Pots
.
Now discussing:
.
1220
1221
1222
1223
1224