27 vinyl record storage and shelving solutions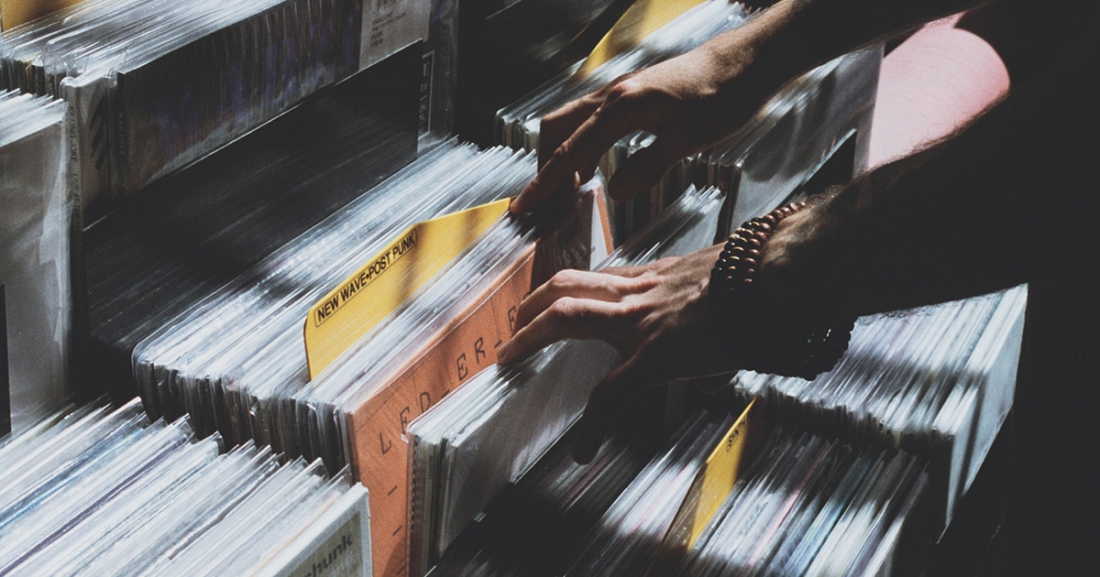 Having a dedicated record storage unit in your listening area is a good sign that you care about your records. A well chosen shelving or cabinet will blend perfectly with your environment and make your collection look great and easily available for playing. Luckily, you'll find a multitude of great storage solutions available on the market at all price points.
So if you are committed to spend a good amount of money on your favorite vinyl, it's a logical step to spend a little more to ensure they are stored properly. However, good record storage units can be quite expensive, but they have many advantages over regular shelves which might not be solid enough or have the right dimensions. A 12" row of vertically stacked vinyl can weight at least 30 lbs, so you have to make sure your shelves will manage to stand them. It's recommended to have a solid wall divider between about every 50 records and to leave some room for easy browsing. Also, you should avoid keeping records in very leaned rows, as even a 40 degree lean can create too much pressure and result in warped records over time. But remember, the No.1 rule of record storage is to always stack them vertically. Stacking horizontally will cause warping and ring marks.

A good alternative to shopped storage solutions is the DIY method which can be cost effective, but also time consuming. This approach has a lot of advantages as it's custom made to fit your collection size and room. You'll find numerous good plans and designs with a little research. Another inexpensive option, particularly if you're looking for smaller storage units, is to search Etsy for "record storage". Here's a link to do that. Below we put together a list of 27 practical, dedicated solutions for storing your highly prized vinyl collection, covering a large range of price and style, for both US and European markets.
Atocha Design
More than simple record storage, Atocha Design creates handcrafted, mid-century-inspired furniture for storing records, CDs, and audio components. Their vinyl-specific designs, targeted to music enthusiasts, allow easy storage and quick access to your record collection and equipment. Careful consideration has gone into the design, engineering, and construction of the units to specifically accommodate the heavy weight of an LP collection. Their current lineup consists of: KickBack Cocktail Table, Open/Closed Series, Record Cabinet Series, Record Stand, Sidekick Leather LP Sling, Speaker Stands and The DJ Stand.
Boltz LP Storage
Boltz manufactures modern steel furniture with many customization options. While the company has a vide variety of products for every room in a house, they have a great line for media storage and shelving. Their LP Album Storage Racks provide steel-enforced storage for your vinyl, and have the ability to be stacked on each other as your collection grows. Additional shelves can be purchased separately and easily added on at a later date, making it perfect for both small and large record collections. Optional casters can also be added for ease of mobility.
Can-Am LP Storage Cabinet
Can-Am has been producing modular metal cabinetry since 1979. They recently added a browser style 2-drawer LP storage cabinet to their current line of thirty-eight modules, that can hold up to 560 records. It is completely compatible with all standard width Can-Am cabinets so you can configure your setup around your vinyl collection. Thanks to the modular design you can stack them and even put them on wheels. The Can-Am cabinets are available in 18 colors to match any decor and have a VOC free and hypoallergenic, rich powder coat finish.
Cubitec Shelving (Discontinued)
The Cubitec Shelving, designed by Doron Lachisch, combines the exceptional strength and stability of injection-molded polypropylene with simple modular design, featuring lightweight shelves with a corrugated core. Cubitec can be connected vertically or horizontally with the enclosed hardware, and optional doors and back panels can transform the system into concealed cabinetry. Each kit includes 12 panels and creates up to four cubes, and each shelf holds up to 55 lbs. For vinyl storage you should opt for the 13.25" deep shelving kit. These cubes measure 18.25" width and 18.25" height.
Dual Record & CD Book Storage
DUAL Structure & Style was founded in 2001 and is best known for producing high-quality DJ lifestyle furniture including Dj consoles, DJ mixing desks and record & CD storage units. They currently make three record storage models: Hartland - with a capacity of 900 records; Portland - with a capacity of 600 records; and Boston - that can hold up to 450 records. All Dual products are available in 9 choices of highly durable, scratch and impact resistant natural texture laminates. The non-porous surface resists water and stains, and can be kept clean with with soap and water meaning there is almost no maintenance to keep your furniture looking great for years.
Foremost Modular Open Cube
Made with wood frames and MDF panel walls covered by PVC veneer laminate, these affordable Open Storage Cubes are durable and lightweight, making them easy to move and stack on each other. They are an ideal record storage option for small collections and rooms or apartments where space is limited.
Glorious Record Boxes
Glorious is part of the Reloop family and offers a good range of solid vinyl storage options. Their stackable record cubes are made of quality MDF, available in untreated wood or with black or white shrink-wrap finish. There are 4 models available: Record Box 55, Record Box 110, Record Box 110 Advanced and the Record Box 230. The 55, 110 and 230 models are opened on the side, while the Record Box 110 Advanced is opened on the top with slanted sides, allowing you to flick through your vinyl collection with ease.
Gothic Cabinet Craft
Gothic Cabinet Craft is a local manufacturer and retailer of quality wood furniture, based in New York. They have been around since the end 60s and are known for their dedication to affordable quality craftsmanship. Their vinyl storage cabinets, called LP Record Racks, are hand made from solid Birch Plywood with Birch Wood Veneer Edging, and are not only built for storing your records, but engineered to last. The racks come unfinished, ready to be stained or painted, or for an additional fee they can be customized with veneer in the color and finish of your choice. Gothic also offers stackable records storage cubes with a minimalist design, that can be combined in an infinite number of ways.
Hi Phile Record Cabinet
Designed by Elijah Hadley and manufactured by Axiom, the Hi Phile record cabinet holds approximately up to 600 records. The top unit can house 200 forward facing LPs, 75 side facing LPs and 75 side facing 45s. The bottom unit can hold 220 side facing LPs. Each record cabinet ships flat-packed in two separate boxes to keep shipping costs down. Assambling is easy and requires no tools.
I-CUBE Vinyl Storage Cubes
These modular, media storage cubes are ideal for storing and displaying your vinyl, CD or DVD collection. They can be stacked, arranged or wall-mounted in any way to create a modern and versatile storage solution. The I-CUBEs are designed and hand crafted in the UK using solid 15mm MDF wood and super-strong birch plywood. They come in a wide range of contemporary colors and real wood finishes and are delivered fully assembled and ready to use. The natural MDF wood finish range can be painted or customized by the end user. I-CUBE currently makes four storage cube models for vinyl, two for 12"s and two for 7"s. The LP-100 and LP-200 hold up to 100 respectively 200 12" records, while the S-150 and S-300 are ideal for 150 and 300 7"s. The only downside is that the I-CUBE ships only to Europe.
IKEA Kallax
For many years, IKEA's Expedit has been the storage unit of choice for record collectors. In 2014 IKEA discontinued and replaced the classic Expedit with a new shelving line, called Kallax. Basically this shelf is identically made except the walls which are about 2cm thinner and have rounded corners. IKEA claims that the thinner frame doesn't affect stability and having the same properties as Expedit means Kallax will be able to handle 13kg on each shelf. They have also improved durability and the surfaces of Kallax are more scratch resistant than those of Expedit.
IKEA Nornas
Recently IKEA introduced a new shelving unit called Nornas which size-wise is comparable to the Kallax, but it's made from solid untreated pine, showing off the natural beauty of knots and variations in wood. However it's price is more than twice the price of the equivalent Kallax.
Line Phono Turntable Station
Designed by Turntable Lab and funded by a successful Kickstarter campaign, the Line Phono is a perfect piece of furniture for vinyl lovers. It's built specifically to house records, a turntable, pre-amps, amplifiers and headphones, plus it's compact enough so as to fit in any room, large or small. Constructed of MDF, the same material used in most audiophile turntable bodies for its durability and vibration-dampening characteristics, this little unit utilizes a combination of interlocking parts and minimal hardware to create a rigid, sturdy frame. All corners feature a rounded finish, and additionally, all edges feature a 1/18" radius edge trim for a refined look and feel. Each shelf can hold up to 100 records and the middle shelf can also accommodate larger amplifiers with plenty of headroom to keep your amp cool. They also have a special groove on the front to showcase your now playing album covers.
LPBIN LP Storage Solutions
LPBIN has been producing bin style vinyl storage cabinets since 2008, offering a variety of options for displaying and storing large and small record collections. Their large floor displays hold over 560 records and the smaller, BIN-E counter top bins hold 75 records and are the perfect size for placing next to your turntable. The original, two-level LPBIN's compact design makes it perfect for home use and comes in three colors, Modern Black, Classic Oak and Golden Oak. The LPBIN2 comes in solid black and holds the same amount of LPs as the LPBIN. It has black powder coated 18 G.A. Steel shelves with durable black, industrial, long grain particle board sides. Also, its top-back shelf has been raised to facilitate browsing. The bottom shelf will give you easy access to records stacked vertically in a row. The BIN-E Heavy Metal is made from thick seamless 18 G.A. Steel, powder coated a glossy solid black. The two bottom feet run the length of the unit and have soft rubber discs on each corner to protect your surface. LPBIN also offers a small, wall-mountable storage unit that can hold up to 25 records.
Mapleshade Record Shelf Systems
Mapleshade offers handcrafted expandable storage shelves for your record collection, using first rate solid 3/4" oak. The components are hand-assembled using no staples, cardboard, plastic, or MDF. The Record Shelf System offers exceptional material and handcrafted quality. Each shelf can hold up to 150 records and you can add extra units as needed. the interlocking shelves are so sturdy and rigid that they can be stacked 6 units high. This allows you to store up to 900 LPs in little more than 2 1/2 square feet of floor space. Mapleshade also offers an interlocking finished Maple base to raise the bottom shelf 2" off the floor and a fitted caster base to mobilize your collection.
Quadraspire Qube Storage Cabinets
Quadraspire was established in 1995 by Dutch designer Eddie Spruit in an East London Studio and now has its own manufacturing facility in Bath, England where they design and make high performance HiFi racks. Their LP Qube is a beautiful and simple solution to all your record storage needs. Each Qube can hold up to 150 LPs with glass dividers providing good protection and optional glass doors to keep them dust free. The unit measures 520mm x 360mm x 360mm and comes in Cherry, Maple, Oak, Dark Oak (Wenger) & Black finishes.
Sefour Vinyl Storage
Established in 1995, Sefour designs and manufactures dj stands, studio desks, vinyl storage and studio furniture, using state of the art manufacturing facilities. Their current line of vinyl storage features a single and a double record carry box and a vertical storage unit. The boxes hold up to 115 records and can be easily moved using the integrated chrome handle. Also, this creates a section on the top of the box where you can place the cover of the playing record or prepare the next one to be played. The vertical unit has a curved profiling and can hold up to 550 records on 4 shelves delimited by chrome support bars.
Simple Wood Goods - Record Storage Cube
Simple Wood Goods creates modular cubes for record storage. Each cube is hand made from solid baltic birch plywood, acrylic front and maple feet. High quality joints create a sturdy assembly that will last as long as your collection. Sanded to a super smooth finish, the units are coated with three coats of matte lacquer. The acrylic lid slides into the wood cube in two positions: open for displaying, or closed for keeping things looking tidy. The acrylic lids are available in eight colors, some opaque and some transparent, so you can choose what looks best in your home.
Sound Desks Record Storage
Kernow Carpentry is a UK company specializing in the design, manufacture and supply of AV furniture. They offer a custom project service for bespoke units tailored to your requirements and the Sound Desk range of DJ booths workstations and vinyl storage. There currently have 4 record storage units available, the RS1, RS2, RS3 and RS5. Manufactured in 18mm MDF with silky smooth rounded ends ready to wax, paint or just use as is. A new addition to the company's record storage units is the modular RSP range. The RSP1, RSP2 and RSP3 vinyl storage cubes are manufactured in 18mm Birch ply, and hold 135, 270 and 405 records. Additional components like desks and plinths can be added to create DJ desks and furniture.​
Symbol - Aero audio and entertainment cabinet
Symbol handcrafts high quality furniture for music lovers with a range of storage solutions for media and audio components. Their AERO audio and entertainment cabinet line offers a unique alternative to the mass produced entertainment cabinets and audio racks currently available. The modular approach makes it easy for you to configure a custom cabinet that satisfies your specific storage and component requirements. The cabinets are offered in a wide variety of shapes and sizes, and include Audio Racks, LP Swivel Bins and Drawers. You can mix and match four standard finishes to further personalize your cabinet. Solid maple cabinets come in three lacquer colors, while the solid walnut cabinets have a durable, low sheen clearcoat that protects and enhances the natural beauty the wood.
Urbangreen Record Cabinets
Urbangreen is a furniture manufacturer based in Brooklyn, locally designing and handcrafting real wood furniture, available online and in-store. They currently offer a line of functional record cabinets and cubes with a minimalist look. The LP Record Cabinets and Media Cubes are made with a combination of high quality real wood, solids and select veneers. The MDF used is FSC (Forest Stewardship Council) certified and free of formaldehyde glues. The cabinet is hand finished with waterborne stains, paints and top coats of a superior quality. All the finishes used are of the lowest VOC finishes available in the market, and are not harmful for humans and pets.
Urban Outfitters - Vinyl Storage Shelf
This industrial vinyl storage shelf has been crafted from rustic wooden panels housed in a sturdy, worn metal frame. The unit is perfectly sized to accommodate a smaller record collection, but the height of the shelves is too small to hold boxed records.
Stan Pike - Record Album Storage
Stan Pike makes a variety of record album storage solutions. All cabinets come in a standard style made of clear eastern pine with mahogany, oak or walnut legs and joinery details, or may be made in a variety of hard woods including ash, cherry, maple, oak and walnut. All cabinets are completely made by hand to exacting quality standards and should last a life time. Typical storage capacity is 80 LPs per cubicle and they are sized to hold all record albums including boxed sets.
Wax Rax Record Storage
Wax Rax was founded by designer, metal fabricator, and artist David Stanavich and builds premier vinyl record storage units in Brooklyn, NY. Crafted from anodized aluminum possessing the strength of steel, the thin elegant profiles disregard the extreme weight of the vinyl. The mobile RC series carts are the perfect interface between a music collectors library and the turntable. The front-facing carts put your LPs in easy reach with full view of the album art, creating that record store experience at home. The standard carts hold between 300-400 records and comes in two different models, the RC-1 Anodized Aluminum Cart and RC-2 Powder Coated Steel & Aluminum. The LP-V series towers provide cataloged access for up to 700 vinyl records. The newest addition to the premier line of Wax Rax access units is the LP-H vinyl record and stereo component console, debuted in May 2015.
Way​ ​Basics ​Vinyl Record Album Storage​ Cubes​
Way​ Basics' ​Blox​ Storage Cube is an affordable solution ​(only $35 each cube) ​to ​organize your record collection. Made using zBoard technology, a 99% recycled paperboard, the cubes can be used individually or stacked to accommodate any size collection. Each cube can hold up to 70 records, and has a recommended load of 50 pounds.
Wax Stacks LP Record Crates
Funded by a Kickstarter campaign in June 2015, Wax Stacks creates unique record crates that snap together without using any tools, and are stackable in whatever configuration you like. They are made from a sustainable baltic birch which not only happens to be the best material for our latching and stacking profiles, but is extremely durable and ecologic. Each Wax Stacks unit is made of five panels of 1/2" thick baltic birch. Innovative lap joint allows for mix & match book case style or long term storage style stacking. The patent pending design allows for maximum efficiency flat pack shipping.
Zomo Furniture
The Zomo VS and CS-Boxes offer a practical way to store your vinyl in a stylish and efficient way. They are made of solid MDF and laminated with tough water-repellent decor. The boxes are easy to install, stackable and can be combined with each other.
25 unusual and creative records
Subscribe to our newsletter
Vinyl records are a unique collectable form of music, they are fun and offer a great listening experience. If you are looking to add a new special item to your record collection or want to surprise someone with an exclusive gift, you can find one by browsing our growing collection of colored vinyl and rare, unique records. Coloredvinylrecords.com is a participant in the Amazon Services LLC Associates Program, an affiliate advertising program designed to provide a means for sites to earn advertising fees by advertising and linking to Amazon.com.
Sours: https://coloredvinylrecords.com/blog/vinyl-record-storage-and-shelving-solutions/
Shelving systems that double as beautiful room dividers increase your home's interior design possibilities. Situated tight against a wall, placed right-angled to it, or even completely freestanding, with limited effort, your interior's appearance and function transform in a moment.
Considering the utter beauty of these shelving system-room divider combos, interior design nuts will want to rearrange them regularly. By creating a new spot for the piece, renewed focus makes these dazzling furniture pieces come even more to their right.
Just needing to create a room division to change clothes behind, make a work at home office spot in the living room, or another purely functional argument is valid too but let's face it, these items transgress the functional, these are true works of art.
---
1. Juniper Bookshelf
Like the haunting but beautiful silhouette of a forest in winter, the Juniper bookshelf braces each shelf with a set of 'branches' to create a stunning visual for home décor.
Juniper is a freestanding shelving system that can also be a unique room divider. Its frame both catches the eye and captivates the mind, accentuating any items placed upon it. Mix and match the two color options for a dynamic décor element.
2. Monarch Specialties Hollow Core Bookcase
This bookcase looks AMAZING! Its modern vibe oozes sophistication. The Monarch Specialties Hollow Core Bookcase isn't just for displaying your collection of literature, however – it can also function beautifully as a fancy room divider.
You can store all your favorite items with eight generously-sized cubes and add a modern touch to any room.
3. Z Modular System
As strong and sturdy as the pyramids of Ancient Egypt, the Z Modular System is built to last. Using triangle and pyramid shapes, this shelving system can grow from a single module to an entire shelving unit designed to hold a library of novels, decorations and knick knacks.
The stacking possibilities of the Z Modular System are endless, and users can rearrange the shelves in different configurations to suit their mood and space.
4. Balance Tall Shelving
The Balance Tall Shelving isn't just a stunning addition to your home or office; it's also a very useful and versatile furniture piece. The offset rows form a honeycomb pattern that lets you use both the storage cuboids and the negative space to fit in even more items.
The collection consists of distinctive storage pieces designed for use in a variety of living spaces.
5. Bricks Standing
I'm definitely one of those people who is proud of my book collection, but I've never had a really good display bookshelf. Well, if I ever get my hands on this brilliant piece, that's exactly where my books are going.
Bricks Standing by Gerard De Hoop is a grid pattern bookcase that's very selective in the amount of books it holds. If you have some classic novels, or you just want to show off your manga collection, they'll be right at home here.
6. Kemanner Industrial Style Bookcase
If you need a bookcase that can hold even the heaviest of family photo albums, try the Kemanner Industrial Style Bookcase.
This handsome piece is made from durable wood and steel and can hold up to 75 pounds on each shelf, thanks in part to the thicker wood planks/shelves and X-frame. Kemanner is available in 3, 4, or 5 tier shelves, depending on your storage needs.
7. Shelf PIX With Drawers
Open, yet secretive. It kind of seems like a paradox of design, but Shelf PIX makes it work. The open concept of this unit's broad shelves is perfectly balanced with closed cubbies for storing more sensitive items.
To make it more fun, you can choose colored cubbies to add a bit more cheer to a room; you can also customize how many shelves, rows and cabinets you'd like. What a sweet deal!
See also:
SONGMICS Organizer Bookcase
8. Plain Sectional Metal Bookcase
These modular, elegant shelving options boast a sleek finish while getting rid of the bulk of regular, present-day shelving for homes. You can mount the shelves at different heights to provide different designs with which to decorate your home, and the lightweight nature of the material is in strict contrast to how sturdy the product is.
Plain Bookcase is functional, lightweight, and easily designable to any home's decor.
9. 526 Nuage by Charlotte Perriand
Designed by Charlotte Perriand, who lived from 1903 -1999, this bookcase still has a very modern feel and dynamic look through the changing volumes and spaces.
526 Nuage is available in high and low two-tone vertical partitions varnished in black and white and the sliding elements are in satin anodized aluminum.
10. Woody Shelving System from oak and steel

Woody Shelving System is made of soap-treated oak sticks and powder-coated steel. The here shown is the largest of the Woody collection. The dimensions are h 77.5″ x w 81″ x d17.5″  (196.5 x 206.5 x 44.5cm).
Woody Shelving System looks light but has a very stable structure. The shelves come in three color combination's, namely white and grey / white  / white and color. A superb product of Hay Denmark.
11. SH05 Arie Bookcase
SH05 Arie Bookcase  is made of 25 mm thick solid wood or white powder-coated fibreboard and is suitable for both private and public interiors.
Available in two different heights Arie can be paired with multiple units. This practical shelving system with the minimalist look can be used in any modern living space. Designed by Arik Levy.
12. Interval playful Bookshelf
Interval Bookshelf is a playful freestanding shelving system with an open base, a brass steel structure and solid maple wooden shelves. The dimensions are H 71.5 x L bottom 63 / top 45 x W 14 inches.
Look it up at designer and manufacturer Asher Israelow.
13. Naturoscopie I –Shelf with organic flowing lines
Naturoscopie I – Shelf, a shelf with organic and fluid lines, is made from carbon fibre, paint and soft touch varnish, aluminium honeycomb and copper.
French designer and interior architect Noé Duchaufour-Lawrance draws inspiration for its designs from basic structures found in nature. Are you interested in this extraordinary bookcase and room divider? Look it up here.
14. Gorham Display Shelf
Sometimes a display shelf needs to be the display itself.                        Gorham's Display Shelf is not only a capable bookshelf and display shelf, but it can also be used as a room divider.
Its gold finish and oak shelves make it an attractive piece in its own right, but once you put your favorite memoribilia and collections on it, it becomes a treasured centerpiece in your home.
15. Sundial with movable dividers By Kartell
Sundial, a bookcase that is encased in a glossy white or black frame and four shelves with movable opaline dividers set at different angles, like the shadow of a sundial.
With multiple units a much larger bookshelf can be created. Sundial can be placed against a wall or used as a room divider. Sundial is a versatile bookcase designed by Japanese Studio Nendo for Kartell. Are you interested? See more here.
See also:
Tangkula Freestanding Bookshelf Plant Stand
16. Ingravitta with sleek horizontal lines
Ingravitta from Spanish-based firm BK Contract is a multifunctional  modular shelf system and roomdivider with clean lines and emphasis on the horizontal aspect.
Consists of very thick horizontal shelves supported by a chromed steel rod structure with various storage options. More info at Architonic.
17. Boogie Woogie Shelves
Boogie Woogie for Magis is a modular shelving system consisting of square elements that can be arranged to your own wishes and needs. The elements are available with or without back in the colors white, black and red.
The dimensions are l52 x h52 x d28 cm. By placing the elements back to back, you can create a deeper shelving system as a room divider.
18. Drizzle metal and glass
Drizzle by Galotti&Radice is composed of multiple metal elements that support and frame the shelves which are made of either transparent or frosted glass.
This stylish shelving system is available in various colourways and can be arranged in a virtually infinite number of configurations.
19. TANGKULA  6-Tier Bookshelf
This Tangkula 6 Shelf Bookcase is most definitely a statement piece that is the star feature of any room you put it in. The towering bookshelf is uniquely designed in an S-shape, with divided shelves that leave just enough room on the end for an accent or decoration to bring everything together.
Homfa comes with an 'anti-tilt wall tool' for securing the book shelf to ensure it doesn't wobble, keeping your valuables safe on its sturdy shelves. Available in the colors black, coffee and white.
20. Network
From the intricate fastening of wire frame and luxurious leather comes the Network shelving system. Its almost free-form style is open and makes a wonderful room divider, as well as an ample storage shelve. Several spaces of varying sizes add a flavor of variety to its minimalist design.
Each leather shelf is movable, giving you an endless array of options for shelving sizes and arrangement. You can change the look of your room with a simple switch. Check it out here.
21. Kallax MUltipurpose Shelving Unit
Your collection of novels can become a room centerpiece with the Ikea KALLAX shelf unit. Functioning as both a bookcase and room divider, the square slots in KALLAX's form can fit any variety of objects, giving you ample storage while saving space.
KALLAXis an eye-catching furniture piece that stands out at all times, whether it's fully decorated or bare. Multiple Kallaxes are easily stacked against each other to lengthen and expand its function. Available in black and white.
22. TT3 with magnetic system
TT3 shelving system consists of several tall single columns and a corner unit with rectangular shelves in Italian walnut.
The shelves are inserted by a simple magnetic system and seem to float in a thin metal frame, available in black or pearl grey.
Due to the magnetic system the shelves can be placed where desired and subsequently moved. Each shelf can support a weight of up to 15 kilograms.
A magnificent design by Israeli designer Ron Gilad.
23. BookShelf by GAEAforms
Bookshelf by Gaeaforms, made of polyurethane foam, has a  composite shell and metal legs. This multifunctional shelving unit stands as a room divider. But not only creating a space for privacy this bookcase allows also for interaction among people.
Available in the colors: white, black, green, purple, navy blue, dark brown, red, turquoise, sand. Dimensions: d 30 x w 175 x h 160 cm.

24. Totem Bookcase cubist style
Much like the ancient piece of architecture it's named after, the Totem Bookcase by Nico has a design that's both mysterious and attractive. Mismatched lengths and a smooth lacquer finish make this modular bookcase a piece to be greatly desired.
Each shelf fits its angles against the next, creating a sturdy base and seamless interlocking, and shelves can also be flipped upside down for a more striking visual appeal.
25. Unicatum expressive design
Due to its expressive design and exceptional harmony of its lines Unicatum offers a variety of high level design options. The Mondriaan-like floor elements and side panels are freely movable and combinable together with high-quality, colored glass elements, which allows you to create highly individual pieces of furniture.
And all without the use of tools. Designed by Nadia Zaoui & Bernd Müller for Manufacturer ANB art & design.
26. Modiste minimalist shelving system
Company Modiste Furniture presents the 900 series, of which especially the 902 and 903 are suitable as a room divider.
The modular shelving system is characterized by its clean cut lines, its sustainable materials and some hand made details. Designed by Rotterdam-based interior architects Joeri Horstink & Jelle Baars.
27. Quad Bookcase "asymmetry in perfect symmetry"
Quad Bookcase designed by architect Nauris Kalinauskas for Lithuanian-based Design Studio Contraforma, is a modern and interesting bookcase that provides efficient storage space. More units can be linked together to create larger designs with more storage that meets your needs.
The shelves are made of plywood finished in melamine (black or white) and the back panels from HDF plate (any color). Quad is available in two versions Quad mini Shelf and Quad Oblong and in various color combinations.
28. Simple Living Urban Room Divider
The urban landscape of the inner city is most definitely what inspired this beautiful room divider. Much like the towering skyscrapers with their large windows, the Simple Living Urban Room Divider rises to any occasion as a bookshelf, display shelf and centerpiece.
Place it up against a wall for an elegant holder for your favorite novels, or place it in the middle of a room to create new spaces.
See also:
Bestier 5 Shelf S-Shaped Bookcase
29. Romboidale Bookshelf geometric harmony
Romboidale Bookshelf by Pietro Russo, a stylish and functional design, creates a light division between two space ambients.
The uprights are is made of iron painted in black and cross pieces and legs in brushed brass. The shelves made of birch plywood veneered with different wood: oak, maple, walnut. The maximum high is 300 cm.
30. FUN with dividing elements
Fun by Bonaldo is an open bookcase that can be positioned side by side on the wall or in the center of the room. The irregularity of the spaces between the dividing elements creates a dynamic game of volume.
Fun Bonaldo bookshelf in lacquered MDF is available in various sizes.
31. Séverin small and elegant Bookshelf
Séverin Bookshelf  designed by Alex de Rouvray, can be placed in a corridor, against a wall or can be used as a room divider in the middle of a room. An elegant design winning bookcase with a huge storage capacity for small format books, DVDs and CDs.
Dimensions : H 175, W 65 and D17 cm.
Available in various color combinations.
32. Pause honeycomb Bookshelf
Pause Bookshelf by Aziz Sariyer is a one-piece structure made of panels of anodized honeycomb aluminum in your choice of either aluminum or matte black.
Characterized by clean lines and a recurrent geometric shape, Pause may be used horizontally or vertically.
33. Frames 2.0 open shelving system
Frames 2.0 is built up of 12 wooden frames that can be used as free-standing cabinet or as a room divider. This makes them suitable to impose books or beautiful objects.
The shelves have different widths, are open in the middle and offer exciting lines. Special metal boxes can be hung in the open shelves, which may serve as a planter or for storing other stuff. More info at Dutch designer and interior architect Gerard de Hoop.
34. HOMCOM Room Dividing Bookcase
Due to its robust, yet open and airy feel the HOMCOM Room Dividing Bookcase can be used as a natural partition in the home.
A modern structure consisting of five solid planks and square, ladder-shaped metal supports. The stable lightweight construction makes it easy to move.
35. Sir with orthogonal planes
Designer Ferruccio Laviani uses orthogonal planes to create storage spaces, thus received its surprising form.
Sir can be used against a wall or free standing to act as a room divider and is available in lacquer or various wood veneers. More info at Italian-based company Emmemobili.
36. Opus Incertum funky shelving
The units of Opus Incertum can be used both indoors and outdoors as shelves or room dividers. Made from expanded polypropylene, a 100% recyclable material and available in white, black, grey, gold and orange.
By rotating and reversing the units many different configurations can be arranged. Each square unit measures 100 cm x 100 cm x 35 cm and weighs less than 4kg. Check it out here.
37. Tangkula 4-Shelf Corner Bookshelf
Tangkula's design is a refreshing change from the usual rectangular bookshelf. Built with descending shelves that look like a set of steps,
Tangkula uses cubicles of varying sizes to provide storage space for books and décor. Its natural wood finish lets it blend in with a variety of home styles. You can even use the Tangkula Corner Bookshelf as a room divider or a decorative focal point.
38. Slim Irony steel tubes and massive wood
There's nothing wrong with a classic, and the Slim Irony Bookcase is just that. Lacquered wood and steel rod shelving make it easy for this shelving system to fit in with any décor. Don't worry; you aren't limited to placing only books on it.
It also works well for vases, house plants, and just about anything that you need up and out of the way. The diamond frame keeps the shelf from wobbling despite its sometimes bulky contents.
YOU MAY ALSO LIKE:
Modern Room Dividers-Panel Screens for Your Living Room
17 Modular Bookshelf Systems
Modern Modular Sideboard Cabinets
Sours: https://vurni.com/freestanding-shelving-systems-roomdividers/
Shelving units, bookcases & storage options
Organize your space with shelving units for every room
Whatever your storage needs, there's a KALLAX shelving unit to help you stay organized and keep the little ones safe too (it's child approved). Use it freestanding, wall-mounted or as a room divider. Try combining with drawers, shelves, doors or boxes for simple storage that adapts to your every wish.
See the KALLAX series
Browse coordinated storage furniture
Delivery
Shop from home and get it delivered to your front door.
Learn more
TaskRabbit Assembly
Find flexible and affordable ways to get your to-dos done.
Learn more
Financing options
Finance your dream home with our credit cards.
Learn more
Planning tools
Create your perfect storage and home furnishing solutions
Learn more
Sours: https://www.ikea.com/us/en/cat/bookcases-shelving-units-st002/
How to Build Garage Shelving - Easy, Cheap and Fast!
24 inch pantry screen door
5-Year limited warranty Furnish your home with the quality of Cardell® Concepts cabinetry. Installs quickly and easily into the inner channel of your screen door frame. Read on to find the best 13-inch laptop for you. 28 X 80 5050 Series Radius Corner RV Door $ 666. CABINET/OHC PANTRY 40 BARONESS TV ENTRY OHC 24-inch Flat Screen Color Stereo TV with Remote in Living Area 20-inch Flat Screen Color The majority of bifold doors are readily available in sizes from 24 inches to 72 inches in width, graduating in increments of 2, 6 or 12 inches. 6 requirements for . The hidden screen offers instant ventilation while keeping pests out. While a standard door height is 80" (finished opening). The difference between a rough opening and finished opening is usually 2-3 inches. Utilizing the finest hardwoods, the most talented craftsmen, the highest caliber of woodworking equipment, and finishing it off with an artist's touch, cabinet refacing has never been this easy. Etched Glass Pantry Door. Narrower pantry cabinets may provide a more open feel for a kitchen while deeper cabinets will offer more storage space. "Add a feel of when the times were much more simple and care free! When families ate together and kids played outside until dark. Corner Finish. Replacement Knobs, Rosettes and Door Sets Knape and Vogt 24" Under Mount Pantry Slides (130lb. Screen and Storm Door Hardware. From decorative fullviews to our high performance Low-E glass doors, we focus on quality and style. Many of our internal ranges are ideal as pantry doors, they are available in a range of smaller widths that can complement your kitchen cupboards as well as the Screen/Storm, Screen, and Storm door designs at Upstate Door. Charcoal fiberglass screen can easily be removed for repair or replacement. This Lanston on-trend, White finish and shaker door front appeals to those seeking style that ranges from contemporary to transitional. x 90 in. W Nantucket Natural Wood Wood Screen Door. Apr 15, 2016 - Custom made 24" x 80" Victorian Screen Door. ) Model# U242490-NDO $ 1178 67 See full list on homedepot. Includes 4 shelves in P2484, P2490. Assuming that you have a standard doorway and your current door hangs well, then you're To replace a patio door screen, you don't need to be an expert repair man. Everything from expansion, contraction and the species of the wood, to straightness of grain, thickness of wood, finishing treatments and hardware has been considered for quality and durability. To attach the stiles and rails, fit the table saw with a tongue and groove bit. 4. Storm Doors & Screen Doors. Removable screen frame detaches with screen intact for simple painting or staining. Learn how to build a screen door for your home. 1-3/8 inches x 24 inches x 80 inches; Ready to stain. Cabinet Opening: 31-1/2"W x 12-1/2"D x 57-3/4"H by Rev-A-Shelf $1,087. 80 Add to cart; 24 X 80 5050 Series Square Corner RV Door $ 601. $20. Enjoy low warehouse prices on name-brand Monitors & Computer Screens products. 22-inch x 80-inch Primed 6 Panel Hollow Core Textured Interior Door Slab This Masonite moulded panel door slab offers a simulated wood textured grain in a 6 panel design. 49861 1-3/4" BARN DOORS FOR INTERIOR DUTCH DOORS. Precision Nantucket 80-1/2 in. ). Shipping Time: Ships in 14 business days Browse durable pantry kitchen cabinets at an affordable price. Check Nearby Stores. View Door Details. 04 Add to cart; 22 X 72 5050 Series Square 20" x 80" (1'-8" x 6'-8") We offer numerous 20" x 80" (1'-8" x 6'-8") interior, French, and bifold doors. Door Store in Denver, Colorado. Our tall kitchen cabinets feature a variety of designs with ample storage space. Pantry Dimension: 24 x 13 x 63 Inches. Our kitchen pantry storage solutions put all your cooking supplies in instant view. Size Name:Fit Door Size 24'' x 80'' Â |Â Color:Black Specification: Name: Fiberglass Magnetic Screen Door Color: Black Fit Door Size: 24'' x 80'' Magnetic Screen Door Size: 26'' x 81'' Folded Package Details: A screen door; A roll of hook tape; A box of pushpins; An instruction. Shop our wide range of doors at warehouse prices from quality brands. The inside of your home is to feel just right and we'll help you create that special atmosphere. 36" Width x 72" Height x 16-1/2" Deep Four Adjustable Shelves One Fixed Shelf Center Stile Two Doors Our Price: $24. Follow the s Available in either wood or solid vinyl, our 32 or 36 by 80 inch doors feature our pre-installed custom pet door that accommodates pets of all shapes and Next, install the hardware. Door Construction: Wood. If your door frame measures 36" or less in width and 81" or less in height, then this adjustable hanging screen door will be the perfect fit. If you have an odd-sized opening that manufactured doors won't fit, you can build a custom bifold in an afternoon. Door Rack seven 5 1/2"D. Finished Ends: Yes. Get complete property information, maps, street view, schools, walk score and more. Find the perfect door for your home when you visit The Door Store in Denver, Colorado. Find a great collection of 24 in. Specifications Whether you need a simple closet or interior door, or you're looking for beautiful front doors or patio doors, you'll find the best selection here. With a nod to the rustic, barn doors can cozy up any room. These oh-so-pretty etched pantry panes boast a heaping helping of charm that will work in any style of kitchen. The Door Store is Hiring Employees for the Stain Department. The door below is a custom design for a customer who was interested in combining elements of our Midlothian and Navajo screen doors. This walk-in pantry boasts symmetrical shelving, providing ample storage space for food and cooking necessities and allows everything to be easily accessible. Designed of PVC, the pantry offers a sleek and slim design for space-saving benefits. The 6 Panel design is also available in matching closet bifolds and prehung doors. Steps: 1. 22 Inch Door Frame. more information →. 50089946. $375. For the bottom (kick) rail, we cut down the 8-inch fir to 7-1/2 inches. Available in either wood or solid vinyl, our 32 or 36 by 80 inch doors feature our pre-installed custom pet door that accommodates pets of all shapes and sizes. 24" x 96" $517. The job involves only inexpensive and readily available tools and materials. Increase storage with the System Build 24 in. Our laundry doorsand pantry doors are made of wood which allows for them to be both stained and Our pantry doors are intended for interior use only and are sold as a slab door or pre-hung, glass insert only, or pre-installed in the frame of your choice. Learn how to properly clean fixed and removable screens. Left-hand is when the knob is on the left and the door opens toward you. Utility/Pantry Storage Cabinet in your home. Add to Wishlist. Email us at [email protected] It doesn't have to be summer time to think about a screen door replacement. Compare. Home Decorators Collection Navarre Onyx Gray Painted Plywood Shaker Stock Assembled Pantry Kitchen Cabinet Doors (24 in. Due to some manufacturer's pricing policies, additional discounts cannot be applied to all items. The 24 inch cabinet to the right of the sink will butt up to a blind corner section of another cabinet as this is a corner. Price: $29. Update your kitchen with a single or pair of wood and etched glass pantry doors. Our team of screen door experts are standing by to help you with your new custom screen door. Which is okay, because new screen doors cost about $150 – $200, and the one we built cost us a whopping $18. x 24 in. Pro tip: Offset your pantry doors a few inches from the wall to mimic the look of free-standing furniture. Here to Help You . 00 28 Buy the 1-lite pantry frosted privacy glass french door unfinished, 24"x80"x 1. com for discount pricing on all door hardware. If you have questions, give us a call at 888-458-5911. 050 inch thickness. Featuring door mounted wire shelving AND wire sliding shelves, our Tall Pantry Unit offers the ability to store items as you like. Gate Hardware. Wooden Screen Door Company is proud of the quality of the materials and methods we use to construct our custom wooden screen/storm doors. Details. Masonite 6-Panel Bifold Door - Primed Hardboard - 24-in x 80-. Shop for 24 inch screen door at Best Buy. All Sans Soucie glass and doors ship worldwide, custom packed in-house by our expert artists and glaziers, fully insured. By Donna Boyle Schwartz Photo: istockphoto. Promo codes provided in emails or on this product detail page can be 1. Value. Easy to install adjustable shelf system. H X 32 in. Square. com with your custom door inquiry or give us a call at (800) 404-8279! Easy-to-trim door frame allows you customize your size up to 3/8 inch off the top, left and right sides and 1 inch off the bottom Composite hardware kit, available in white or black, includes three adjustable spring-loaded hinges, two door pull handles, galvanized hook-and-eye latch and screws; providing everything you need for quick and easy Simpson's fir interior panel and bifold doors are created with the same level of care and craftsmanship that goes into every Simpson door. or 5'9, is equivalent to 69 inches. To add a bit more to think about. 24 Inch Wide Adjustable Door Rack Pantry Organizer. To provide our customers with the best purchase experience 49861 1-3/4" BARN DOORS FOR INTERIOR DUTCH DOORS. Pantry Cabinet Plans. Fiesta 62" Kitchen Pantry. 99 c1900 Victorian era 6 panel pantry or closer door 80" x 24" x 1. Here is the previous pantry door…it's a plain jane, cheap as they come, builders grade door. YEE HAA!!! At Builders Surplus, we offer large selection of pantry doors and laundry door. With 54 models of aluminum storm doors and numerous additional glass options among five different brands, ProVia offers the highest level of customization to provide glass screen door products that appeal to the aesthetic and functional needs of any home. ca. Assembly: Metal L-Brackets. The Screen Defender Screen Protector for Lippert RV Entry Doors - 26" Wide # LC52FR will be too big, you will want the 24 inch option # LC25FR. 24"x71. It is ideal for upgrading the look of your existing doors in your home. Stock up on these popular, stylish pantry door designs from Simpson's large range of kitchen pantry doors One Door : WC2B1817. . More doing. Free shipping. Enter your measurements below to determine Magnetic Insect Screens is committed to providing you with the best price and value on your next Do It Yourself magnetic screen door. 99. Shelves are 5-inch wide, and the pantry itself is lightweight, thus also easy to move. 60 Add to cart; 36 X 78 5050 Series Square Corner RV Door $ 646. Add To Cart. com with your custom door inquiry or give us a call at (800) 404-8279! PANTRY WARDROBE TWO DOOR REFER. Load Capacity Pantry doors are typically 24″ wide and 80″ high (be sure to measure yours though). Compared to the cheap nylon insect screen mesh, this mesh material is more durable and will last longer in your home. LTL Home Products 864720 Pantry Half Glass Bifold Interior Wood Door, 24 Inches x 80 Inches, Unfinished Pine As the pantry door swings open, the baskets slide out toward your fingertips. Free Store Pickup Today. Get a quote today. Base cabinets are normally about 24" inches deep because they are used to accommodate a countertop. AWC 347 Heywood Glass 36-inch x 80. Brand: Generic. We design our storm doors and screen doors to make your life easier, with styles, options and features to fit your needs. For smaller sizes, please contact to verify cutting threshold. Another area to consider is what the protruding baskets or shelves on your pantry door organizer will come into contact with when the door is completely shut. Large inventory of door knobs, locks, deadbolts, levers, and more with free ground shipping options. Sale CAD 779. 3. 00. PANTRY DOORS. We carry everything from screen patches, installation splines, and door handles. 1-3/8" x 24" x 80" Pantry Primed French Door. $57. spectrum™ storm doors. 36" Width x 72" Height x 16-1/2" Deep Four Adjustable Shelves One Fixed Shelf Center Stile Two Doors 13 years ago. 5" period knob B May 30, 2020 - Explore Leah Dillard's board "Screen Door Pantry", followed by 189 people on Pinterest. Get user reviews on all Exterior products. Flexible storage shelves and a gallon door bin help families fit their favorites in small spaces. High cabinet w 2 12"W x (2) 57 Inch Height Base Cabinet Swing Out Pantry Door Units, Min. Works with 22" door frame. Along with these doors, Simpson is now offering factory finish for their interior barn doors. Suitable for various kinds of door: storm door, rv door, entry door, front door, back door, sliding door, patio Sunny Wood RLP2436T-A Riley 24" Wide x 36" High Double Door Pantry Cabinet with Sunny Wood RLP2436T-A Features: Fully assembled Select hardwoods and veneers Full overlay door and drawer construction Multi-step hand detailed finish Durable plywood construction for cabinet sides and drawer boxes White interior Matching white exterior side panels Matching decorative door end panel available Soft Screen and Storm Door Hardware. Kitchen pantry storage. AWC 647 Pantry Glass 24" x 80" Bifold Door, Unfinished: One Door : WC2B1817. 3 in stock. $349. by ATS. Antique Farmhouse Exterior Wood Screen Door, Pantry Door, Architectural Salvage 33. SKU. Kitchen Pantry With Organized Shelving Unit. Expand your pantry storage even further using a door mountable pantry organizer. Get the look you want with a Reliabilt decorative glass interior door which comes in a number of designs that will compliment your homes architectural style. Price: £63. 88. Door Hinge: 6-way adjustable, concealed, soft-close European hinges. With a privacy level of 8, this interior french door addition gives your pantry just the amount of coverage it needs Bypass doors are double doors and slide side-by-side on a track. 1-48 of 940 results for "24 inch pantry door" Price and other details may vary based on product size and color. Cooking is easier when you can quickly find the ingredients you need. Stephen Simpson / Getty Images A screen door on your house allows fresh air and extra light while If you're looking for one of the best 13-inch laptops with the perfect screen to buy, you'll want to check out this list. Cabinet Doors Since 1978, Barker has been building high-end custom kitchen and bathroom cabinet doors that have withstood the test of time. 3 of 14. 99 $114. Huge Savings on over 500,000 Home Improvement products, Knowledgeable Customer Service 7 Days a Week, and FREE shipping offers on Faucets, Lighting, Door Hardware, Venting, Appliances, and much more. Capacity Whirlpool's energy-efficient refrigerator delivers the flexibility you need to make the most of every inch. Custom storm doors are available in many models, up to 8' high. Box Construction: 1/2″ A-Grade Plywood. Includes 5 shelves in P2496. The Chesapeake screen door creates the perfect entryway for the most active members of your family. Precision Dogwood 80-1/2 in. Or dress up your laundry room door and toss in dirty clothes without the eyesore of a growing pile. Wrap Around Screened-in Porch with Five Bar Vinyl Door. You can also use the storage pantry to hold dinnerware, mugs Let the fresh air in & keep bugs out with our custom disappearing, retractable screen doors. sunny wood rlp2484-a riley 24" wide x 84" high 4 door pantry cabinet with 4 shel white kitchen cabinets tall/pantry cabinets 24 inch for $1,070. Creating the right pantry cabinet plans for your needs will breathe new life into an old kitchen and get you organized. Chevron Down. 8 out of 5 stars. It is well crafted from white laminated engineered wood with an ArmorCoat surface that provides resistance to water, staining, and scratching. All Clear/Unfinished doors MUST be finished in an oil-based product only. 313. 88. Dress up your pantry with this folksy Pantry Interior French Door from Trimlite's interior door series! Just what your kitchen needs, this door features a modern design of pantry foods along with a lovely, contemporary font. Available unfinished and may be painted or stained to match. 6 Cu. Our different styles and colors are sure to fit your style and provide a nice look to your RV. Get it as soon as Mon, Aug 2. Standard Depths: 12″, 24″ Width: 15″, 18″, 24″, 30″, 36″ Height: 84″, 90″, 96″ Upper pantry cabinet includes 1, 2, or 3 adjustable shelves; Lower pantry cabinet may be modified to include 4 roll-out trays Doors 24" wide and larger can be safely trimmed up to 1-1/2" per side and top rail, then up to 4-1/2" from bottom rail without affecting the integrity of the door. Disclaimers. Results 1 - 30 of 39 Shop for French Doors online and get Free shipping to any Home store! 2884-457. $54. After you've selected a replacement that fits your needs, you can choose between doing the screen door Five feet, 9 inches. 11 Reviews. A screen door that is not properly installed is likely not to close properly. It is important to take accurate measurements for a sliding screen door. 20 ratings. With a wide array of style options, Andersen storm doors and screen doors allow you to enhance your entryway to complement your home. We cut the 6-inch fir down to 5-1/2 inches to create the stiles (vertical) and top rail (horizontal). Flexibility to paint or stain door the color of your choice or to enjoy natural changes to wood color over time. 24" x 58". Quality, Craftsmanship, Style & Innovation. 91. While replacing the screen, you must buy a piece that will fit the space exactly. (I primed the door first before spray painting. Pantry Cabinet Dimension: 24″ Wide, 84/90/96″ Tall, 24″ Deep. Our laundry doorsand pantry doors are made of wood which allows for them to be both stained and Bifold doors are made of 1-1/8-inch Pine with clear stiles and rails, no finger joints with solid wood v-groove construction and tempered safety glass. 01 from Sunny Wood. You can customize even more to achieve a nice size for your opening at exceptional rate from US Door & More Inc because custom dimension is our nitch. 90. We have a multitude of options for you to choose from. Find low everyday prices and buy online for delivery or in-store pick-up. By Matt Hanson, Michelle Rae Uy 21 December 2020 We've found the best It doesn't have to be summer time to think about a screen door replacement. Add to cart. ETA will vary from 3 to 8 weeks, depending on the glass effect and Shop ReliaBilt Frosted Pantry 24-in x 80-in 1-panel in the Slab Doors department at Lowe's. 99 $. 85. Don't know if this helps you picture the situation. Full lite Recipe Pantry glass door made of unfinished pine. Free Shipping. See more ideas about pantry, kitchen pantry, pantry design. 50 $639. 2012 My pantry is 30 inches wide and the spray paint I used was by Krylon in Blue Ocean Breeze. Utility boards and drawers can add extra dimensions to your kitchen shelving, and pantry door racks can help make the most of a tight space. 375" online from Houzz today, or shop for other Interior Doors for sale. Enjoy a safe, convenient shopping experience. Fully assembled and ready to install, this cabinetry features durability and strength paired with an easy-to-clean foil laminate exterior to protect against stains and scratches. Sliding wardrobe doors have some advantages over hinged doors. 24" Width x 72" Height x 16-1/2" Deep Five Adjustable Shelves Two Doors : WC2B1819. The inside door measurement is the inside of the door frame opening itself not the door. Product Details : Features Door protection plates are fabricated from the finest architectural brass, stainless steel and aluminum, or 1/8 inch thick clear acrylic plastic,or black or brown high-impact polyethylene • All brass, stainless steel, and aluminum door protection plates meet ANSI A156. Condition. 2 of 14. The most obvious is that the doors don't need a space in front of the wardrobe in order for you to open them. Select 2 or more products for side-by-side feature comparison. Simpson can Dutch a door a number of ways. Monitors & Computer Screens at Costco. 9avail 24"x80" Antique Vintage Old SOLID Wood Wooden Interior Doors Single Panel $159. Located in the second and surplus section of our surplus warehouse these doors are easy to install and work great at creating a unique space. Add flare to your kitchen interior pantry door with this new feature! As a bonus, all interior Simpson doors have a ten-year limited warranty. Price. Sun Mountain offers glass closet and pantry doors, which are typically 1-lite (one large glass pane), with optional patterned frosted glass. Build the frame for the door. Try a barn Dutch door in your mudroom for a comfy corral for kids and critters. pdf This pantry door features a frosted glass panel emblazed with - what else? - "Pantry". We offer everything you need to install that stylish RV screen door, we carry the Rv hardware and accessories needed to make installation easier. The density of this door curtain is 15×17 mesh. This problem should not be taken lightly as it can res Building a DIY screen door is an inexpensive way to cool your home and bring in the fresh air. 99) MHPS Tips To select the correct size interior door, measure the overall width and length of the door. Replacement Knobs, Roses and Door Sets Knape and Vogt 24" (610mm) Under Mount Pantry Slides (130lb. Provides maximum storage even if you have a small space. Since 1 foot unit has exactly 12 inches, 5 feet equals 60 inches. Easy-to-trim door frame allows you customize your size up to 3/8 inch off the top, left and right sides and 1 inch off the bottom Screen Door (24) Security Door (3) door jeld wen bi fold door jeld wen textured door prefinished interior doors primed 6 panel slab interior door white 80 inch Pantry Cabinet 24" Wide, 84" Tall, 24" Deep. 5-inch Unfinished Bifold Door. Making an unique project is now more accessable than ever with our large collection. All of our storm doors can have interchangeable screens or glass panels and 24inch. Please call the Office for Information during our Business hours (303) 722-8404. Amazon Music Stream millions of songs: Amazon Advertising Find, attract, and engage customers: Amazon Drive Cloud storage from Amazon: 6pm Score deals on fashion brands Photos and Property Details for 27 MOUNTAIN GLEN CLOSE, RURAL ROCKY VIEW COUNTY, AB T4C 0A6. How does that compare to your height? Here are a few interest How to Build a Pantry Behind a Door - Make use of wasted space behind a door by building a handy pantry that hangs on the door. Choose the kitchen storage unit you need to make the most of the space you have, like pantry shelves and use easy-to-attach baskets to organize smaller items. 00 Add to cart; 24 X 80 5050 Series Radius Corner RV Door $ 656. Avoid the cheap nylon mesh screen doors. MAGZO Magnetic Screen Door 24'' x 80'' Black, Durable Fiberglass Screen Doors with Magnets Fit Door Size 24" x 80" Storm RV Single Screen Door Mesh with Full Frame. 95. 6 out of 5 stars. Huntstock, Inc / Getty Images Nothing says spring and summer like open windows catching a cool, It is important to take accurate measurements for a sliding screen door. Custom Aluminum Storm Doors with Screens. Retractable screens. Add 9 inches to 60, and you'll have 69 inches in total. This Pantry from 251 First, is sure to introduce a touch of freshness to your home. 30" Width x 72" Height x 16-1/2" Deep Four Adjustable Shelves One Fixed Shelf Center Stile Two Doors : WC2B1821. order 24 Inch Counter Depth Top Freezer Refrigerator with 11. W Dogwood Natural Wood Wood Screen Door. 5 Antique Vintage Old Interior SOLID Wood Wooden Closet Pantry Door Panel. Pantry shelves handle an even more varied load, with all of the foods and ingredients a busy house or apartment needs. Stylish 28-Inch Kitchen Pantry in White Finish is going to embellish any kitchen décor in a blink of an eye. Andersen storm doors and screen doors are built with the same quality and craftsmanship that you expect from Andersen. com. Pantry Organizer from SALT can easily hang over or mount to the back of a door to maximize pantry storage. Brand new item in box. Per Each. Designed for full access (frameless) 18" and 24" width pantry cabinets (minimum opening height 74"), the 5374 Series features an orion gray finish and flat wire construction that complement any kitchen design. This modern treatment takes the barn door idea in a more industrial direction. DIY farmhouse door with glass for pantry using 2x6 lumber project plans: https://bit. Choose a style below to get started. Jeld-Wen® 24" x 78" Six Panel White Interior Door ($109. Rev-A-Shelf provides a great variety of pull-out trash cans and recycling bins in a variety of styles and colors. For bi-fold or bypass doors from Sun Mountain, the track system is included with the doors at no additional cost. Magnetic Screen Door,Retractable Mesh Curtain Screen Doors And Full Frame Hook&Loop,Hands Free,Pet And Kid Friendly. Level it for a perfect swing. The Siena Glass Bathtub Screen from Troy Systems features a pivoting door, sturdy metal installation hardware in chrome finish. Door is prehung in frame for easy installation. 2. Open the two soft-closing doors to discover five shelves for ample storage. Most standard storm door sizes are 32" and 36" wide, some models are also available in 30" and 34". Locate and mark studs in your wall, then mark the wall to mount the track making sure that it's level and leaving an inch of Shop Interior Doors - Doors and Windows in-store or online at Rona. You'll want a storage rack to fit inside your dimensions. Uptown White 24-Inch Two-Door Pantry. Help keep those pesky insects out of your RV with the Screen Shot automatic screen door closer. 92 Add to cart; 28 X 78 5050 Series Radius Corner RV Door $ 660. In compact living situations, sliding wardrobe doors can be the ideal way of fitting a larger wardrobe into your limited space. This 84-inch 24 Variations Available Click to add item "Lifestyle Screens Garage Door Screen with Black Superscreen & Passage Door" to the compare list. 1/4" Tempered Clear Glass. 24 (22) Pantry Doors with Etched Glass Designs that YOU Customize! Custom sandblast etched glass designs that you mix and match to come up with the perfect pantry door for your kitchen! Choose from hundreds of quality designs, 8 wood types, slab or prehung, or the glass insert only! Doors ship 3 to 7 weeks, depending on WOOD type and Glass Effect (Solid […] For reference, standard interior door widths range from 24"-36" (finished opening). Pantry cabinets can range from 12" to 27" inches deep because they do not need countertops. Wire baskets mount on 67" high frame. Enhance your purchase. Pillar 2032 x 813mm Black Contemporary Steel Frame Metric Screen Door. There are three main types of replacement screen doors, according to Today's Entry Doors. The Ameriwood single door storage pantry cabinet is just 18" wide, making it a great fit in smaller rooms or in any home that needs some extra space for kitchen essentials. More saving. . com Our pantry door is so narrow (24 inches) that screen doors in that size pretty much don't exist. FREE Shipping on orders over $25 shipped by Amazon. The cabinet at 90 degrees to the 24 inch one will be 38 inches wide with two 17 inch doors. Load Capacity)- PAIR When a Opaque or Opaque with Glaze is specified, the door and/drawer front center panel may be constructed of Medium Density Fiberboard (MDF). Choose from a range of styles and colors. Look for the panel, French, louver, bifold and the special Pantry and Chalkboard doors to choose from. AWC 647 Pantry Glass 30-inch x 80. 8 Reviews. Size. Opens in a new tab. Ft. Refer to the charts below to determine what size of door you will need. Advertisement By: Editors of Consumer Guide Kitchen stor A screen door that is not properly installed is likely not to close properly. The frosted-glass panel adds a sleek twist an Window and door screens improve air circulation in decent weather and keep out insects. 75" x 85" DB95 Open 24/7 Glass door Wall Decal decor Sign, Kitchen Door, beef JIM WESTPHALEN. Door slab arrives unfinished. Learn how using our easy instructions and helpful tips. Jenna Sue Design. Inside the cabinet, four shelves offer room for all your pantry items, cereals, canned goods and snacks. Shop Handlesets. Andersen storm doors and screen doors offer many innovative features designed to make them not only easy to use, but also easy to install. The types are hinged, retractable and sliding. ly/2soVf7UAlso, I show you a super easy paint 30 abr. Unfinished Oak 24" x 84" x 24" Pantry Cabinet. Customize your Screen Away ® storm door with a QuickFit™ handle available in styles and finishes to complement your home (sold separately). Baskets, trays and shelves help you to keep cans, jars, boxes and more organized and are easy to adjust without tools. Glass Type. com I don't mind the squirrels taking their t DIY Network shares clever ideas for incorporating glass, chalkboard, louvered or reclaimed doors into your kitchen. 99 54.

xmw7clgxcvscl9skkfelsyptwnukiwzehbodbguhblpmakbeyzvjgy7sm6e2
Sours: https://novix.com/skxiq/v9uopd.php?mjyz=24-inch-pantry-screen-door
Inch shelf 28 unit wide
.
Keter 36\
.
Now discussing:
.
1298
1299
1300
1301
1302