By Kathy Smith

With the summer sunshine on its way, it's time for horse property owners to get outside and look for ways to maintain and improve their farms and pastures. The time and effort invested now will help keep your property looking its best and your horses safe, and preserve your beloved country way of life.

1. Identify and understand what is growing in your pastures and learn how grazing affects the pasture to help you make sound pasture management decisions.

2. Allow horses to graze uniformly and completely, but never below five centimetres.

3. Practice rotational grazing, which gives pasture time to rest and manure time to break down.

4. Allow grass to recover until growth is at least 10 centimetres (approximately 20 to 30 days).

5. Create a sacrifice area to keep horses off pasture when necessary (e.g. after rain).

6. Allow soil to dry before grazing begins again.
7. When horses are spot grazing and weeds are growing seed heads, mow to control the mature under-grazed forage and the weeds. Mow and harrow immediately after grazing if possible.

8. Learn to identify weeds and poisonous plants, and how to control them. Many produce attractive flowers and are not easily recognizable as invasive weeds.

9. Check for weeds regularly along fence lines, and at handling areas, watering and feeding sites, and any areas that have been over-grazed.

10. Reduce weed invasion by cutting or spraying fence line weeds. Horses should be removed from herbicide-treated pastures for the length of time recommended on the product label.

11. Detect and eradicate weeds before they become established. Weed infestations will decrease the productivity of your pasture and eradicating weeds can be expensive.

12. Harrow to spread manure, preferably in hot, dry weather; do not irrigate for two to three days.
13. Have your veterinarian perform regular fecal egg counts on your pastures, and establish a regular deworming program in consultation with your vet. 
14. Reduce mosquitos and weeds by draining or levelling pasture areas where standing water accumulates.

15. Revive a tired pasture by using a suitable fertilization program after appropriate soil tests have been done.

16. Graze up to two weeks earlier in the spring by using proper fertilization. Your horses will love you for this!

17. When seeding your new pasture, select plant species based on your local climate and soil, your style of pasture management, and the amount of forage you need over the grazing season.

18. For high traffic areas, such as around water and feed troughs, select plants that will handle wear and tear by hooves, provide good ground cover, and minimize soil disturbance. Overuse in these areas results in compaction of the soil, and the resulting bare patches are subject to erosion and weeds.
19. Take samples of your pasture forage at different times of year and have them analysed. The quality and quantity of pasture can be greatly increased by proper fertilization.

20. During drought periods, give pastures longer rest periods, reduce the stocking rate, and be aware of poisonous weeds that horses may eat if forage is unavailable.
21. Treat the time you spend learning proper pasture management as a good investment in your property and community. Over-grazed pastures are an eyesore and can cause erosion, water pollution, and unhappy neighbours. Overgrazing encourages the growth of weeds, many of which are toxic to horses.
22. Learn how to determine stocking rates for your pasture and how to calculate approximately how much pasture your horse is eating. Quality pasture can provide much of your horse's nutritional needs, depending on plant types and their stage of maturity, the season, and the nutrients your horses require. Contact your provincial Department of Agriculture for information.

23. Consider all pasture improvement options before deciding on complete pasture renovation. A new pasture is costly and new growth takes one to three years to become well established. But if less than 25 percent of your pasture is desirable plants, a complete renovation may be the best option.

24. When undertaking a major pasture renovation, get knowledgeable advice, unless you have experience growing crops.

25. Provide your horses with shelter from the sun and inclement weather. A run-in shed will provide welcome shade and relief from rain and wind.

26. Mineral salt blocks should always be available to your horses.

27. Divert run-off around manure storage areas, corrals, riding rings, or other areas where manure accumulates. Install rain gutters and run-off systems on barns and covered arenas.

28. Divert water from corrals and confinement areas with diversion berms, and create catch areas for contaminated run-off.
29. Protect riparian areas (land immediately surrounding waterways and other surface water) on your property by fencing them off and using alternative watering sources. If you do allow horses to graze riparian areas, turn them out for short periods or make the areas part of your rotational grazing program. Do not allow riparian areas to be grazed in the spring when water levels are high.
30. Provide your horses with a clean, reliable water source.

31. Water troughs should be checked for leaks and general wear and tear, and cleaned when necessary. The plumbing system, valves, screens, and floats should be thoroughly checked.

32. If you have added horses to your pasture, make sure the water trough and water supply are still sufficient to handle the capacity.

33. Site your new water trough in a well-drained area. If the trough is to be permanent, consider siting it on a hard base such as gravel.

34. Lightweight troughs should be anchored to prevent movement by animals. Troughs large enough that animals could enter them should be partially fenced off.

35. During operating season, check your water trough regularly for leaks, proper operation, and undesirable material such as dead animals or birds.

36. Review your manure management practices yearly. Poor manure management can result in ground and surface water contamination, odours, flies, and more of those unhappy neighbours. If you can identify areas for improvement, put them on your "to do" list for this summer.

37. Cover your manure pile and control run-off. Check local regulations regarding distance between watercourses and manure storage areas, and relocate your manure pile if necessary
38. Tempted to fill in low areas and swales on your property with manure and soiled bedding? Don't do it! Use proper fill, properly levelled.

39. Situate your manure pile at least 20 feet away from the barn to reduce the chance of combustion.

40. Spread composted horse manure on pastures during the growing season to improve soil texture and provide some fertilizer value. Do not spread raw, uncomposted manure on the pasture; this increases the risk of spreading parasites and contaminating the pasture with weed seeds.

41. Consider composting as an excellent manure handling option.

42. Periodically walk the fence line to check for fallen trees, broken boards, loose or tangled wire, and other problems, and repair or replace as needed.

43. Thoroughly inspect all fencing, including posts, gates, braces, and insulators. Maintenance adds years of life to your fence and keeps your horses safer.

44. If horses are pressuring or chewing fences, consider running one electric wire to keep them off the fence.

45. Critically assess your fencing plan. Do your gates and fencing configuration allow for easy access and movement? Do corners need to be rounded? Do you need to isolate difficult horses? Is your fence visible enough? Summer is the time to make these improvements before the ground freezes and the snow flies again.

46. Walk your pastures looking for anything that has been tossed in by the wind or careless human hands.

47. Banish clutter by hauling away any garbage and junk that has accumulated.

48. Keep grass mowed around farm buildings to reduce the fire risk that tall, dry grass presents.

49. Make sure your property is accessible. Your farm name should be prominently displayed at the farm's entrance and directions to your farm should be posted beside the telephone so emergency responders can be given clear instructions.

50. Recap. Think back over the past year and identify the problems that occurred during each season so you can take steps to prevent them in the future. Prevention and planning are the keys to a successful farm maintenance program.
Sours: https://www.horsejournals.com/acreages-stables/barns-stables/50-ideas-improving-your-horse-property
Bespoke Equestrian Buildings
Equestrian
Equestrian builds are what we crafted our reputation on; they are where we started and what we remain intensely proud of. We started out as stable manufacturers and grew into a full-service designer of timber buildings of all types. At The Stable Company, we've been designing bespoke timber equestrian buildings since 2002 meeting our customer's needs with beautiful, sustainable solutions.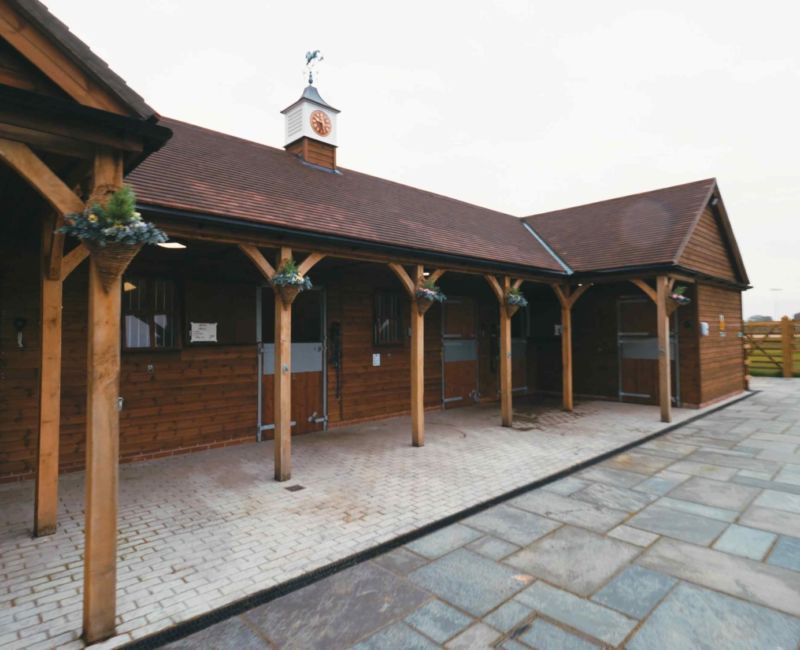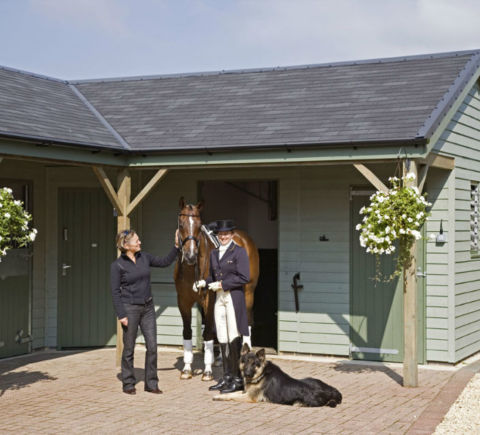 Equestrian buildings tailored to you
Whether you are seeking a traditional stable or something more contemporary like an American barn, we have the expertise as bespoke stable manufacturers to deliver stunning equestrian buildings of all types.

Our portfolio includes professional racing and livery yards through to stud farms and private stables. With an array of equestrian design ideas and the expertise to deliver oak and timber-framed buildings which are totally bespoke; we can provide the perfect solution whatever your needs.
Equestrian Building Design Ideas
Find Inspiration For Your Next Equine Build
So, are you planning to build a stable? You might appreciate some design ideas. These imaginative barn designs cater for projects large and small, whether you're an individual or an equine centre. Each one is architecturally designed; these bespoke equestrian buildings are tailored down to the finest detail to meet the needs of each user.
So, are you planning to build a barn? Whilst each project is unique and special, our stable case studies might be a good starting point for your project. Draw inspiration from our wealth of examples.
Your Timber Journey starts here…
Step 1 Design
Lets get your project started
1
Step 2 Permissions
If you choose our complete care service we can handle all of this for you
2
Step 3 Install
Interior design and fit out including plumbing and electrics
3
Step 4 Handover
When your project is complete
4
Step 1
We'll work with you to design your ideal build complete with specifications and detailed drawings.
Step 2
We'll handle planning permission, building regulations, sign off plans and agree an installation date.
Step 3
Our approved contractors and experienced project manager will ensure swift installation to the highest standards.
Step 4
Everything will be thoroughly checked before we hand you the keys together with the relevant documentation and 10 year insurance backed guarantee.
Find Out More
Sours: https://www.thestablecompany.com/equestrian
5 Genius Horse Barn Layout Ideas
---
Share This Post:
It's more than just a horse barn layout, it's the blueprint to your equine future!
Finding the perfect horse barn for you is as simple as meshing your practical needs with your design aesthetic. But that can be easier said than done! Without a proper guiding hand, designing your horse barn can turn disastrous.
We are happy to be sharing out newest, most popular horse barn layout ideas with you. Take a few moments to review our newest collection of horse stable layouts.
Introducing the Horse Stable Layouts You'll Love
Do you see yourself enjoying a shed row barn, or maybe you're more of a high country individual? Perhaps you're not even sure what those words mean! Don't worry, we're here to help.
Of course, at the end of the day, our suggestions are merely that – suggestions! It is simply our goal with this horse barn layout idea guide that you feel more confident in whatever horse stable layout you choose.
Straight Shed Row Barn
A straight Shed Row barn is one of the most basic, yet most popular horse stable layouts for anyone looking for a simple, practical barn. What a shed row barn does not have in interior space, it makes up for in stall space! 100% customized barn size and stalls is a totally convertible horse barn layout idea first time barn buyers adore.
No interior space
Low Price
Great for first-time buyers
Customized square footage & number of horse stalls
L-shaped Shed Row Barn
Similar to the straight Shed Row barn, an L-shaped Shed Row barn is that little extra! This horse barn layout idea comes comparable to the previous option, with the addition of a useable tack room. Since there is no interior space with this horse stable layout, many customers opt for the L-shape to give them that added storage space.
No interior space
Ample room for horses & storage
Bargain price
One-Story Center Aisle Barn
Center Aisle barns are the elegant epitome of traditional horse barn layout ideas. This barn has a horse stable layout of two rows of stalls on each side of the center aisle. It's simply the smartest way to comfortably house more horses in a modest footprint! Plus, because it has plenty of covered workspace, you can enjoy this barn in any season and any weather.
Accessible interior workspace
Enough space for a tackroom
Extra room for housing animals
However, this horse stable layout can be expensive
High Country Barn
Light on the horse stalls, heavy on the storage: that's exactly what the High-Country barn style is! While there is still a homey space for horse stables, the main focus of this horse barn layout idea is more on the storage and operating space. Many customers love this style of structure because it combines a work garage and a horse barn all in one!
Great interior space for working
Spacious second floor loft
Only a few horse stalls inside
Truly unique aesthetic style
Two-Story Barn Center Aisle Barn
A Center Aisle barn…sound familiar? The catch now is that this style has 2 stories instead of just one! All of the advantages you know and love about the one-story Center Aisle horse barn layout, but now with an additional level of storage that can be used for any reason you want! Because of the massive size of this horse stable layout, this tends to be a more popular choice for professional stables or serious equine hobbyists.
Popular choices for professional stables
Ample room for storage & stalls
Second story loft space
Generally, this is the most expensive type of horse barn
Collaborate Your Horse Barn Layout Idea with J&N
We're sure your head may be spinning right now daydreaming of all the horse barn layout ideas you love. Maybe you've even thought up a few of your own, too! Whatever the case may be, J&N Structures would be honored to help bring that horse stable layout to life.
Please feel free to contact your local J&N dealer to get started collaborating with us today!
Sours: https://www.jandnstructures.com/blog/customization/5-genius-horse-barn-layout-ideas
Barn Tour
.
Ideas horse stables
.
Stall Enrichment Ideas
.
Similar news:
.
1304
1305
1306
1307
1308