Does Sprouts Have Delivery? (Yes, Here's How It Works)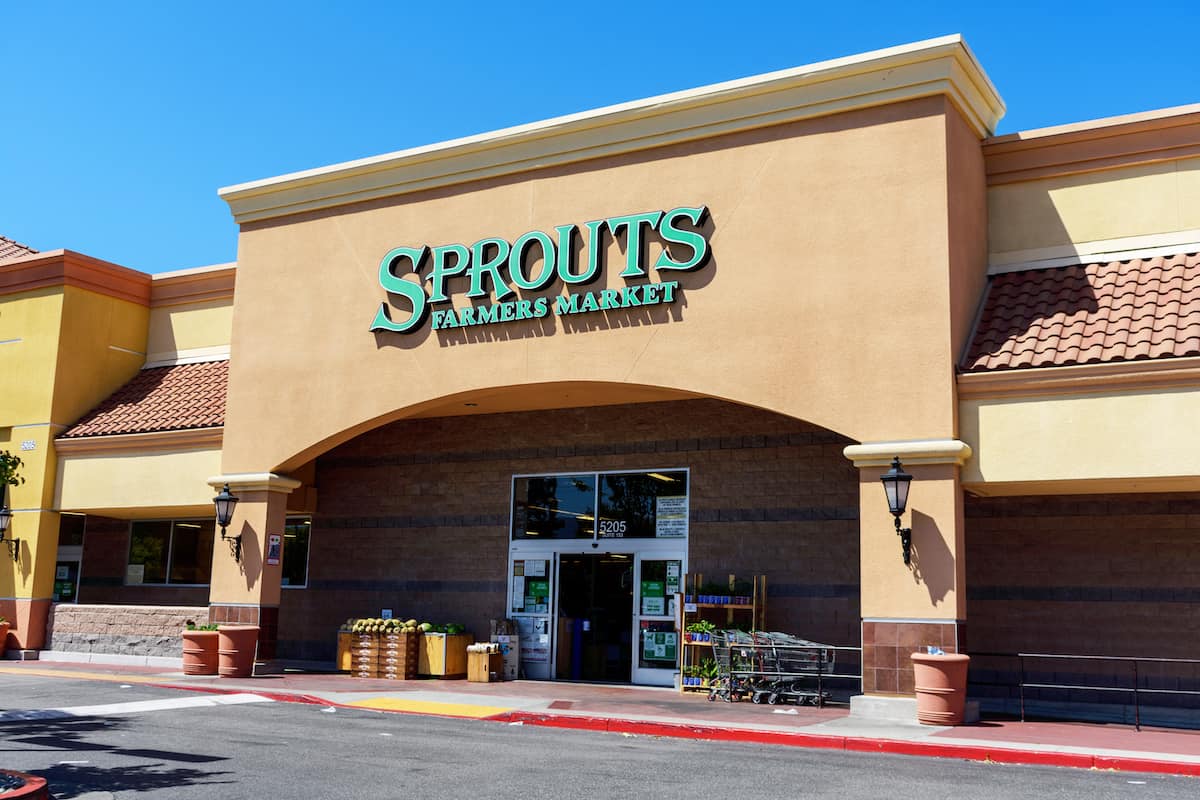 Sprouts Farmer's Market delivery makes it possible to bring the farmers' market to your home without you leaving the comfort of your couch. Their website makes it incredibly easy to create an account and place your delivery order in a matter of minutes.
Sprouts orders are delivered through Instacart. You can place orders online using both Sprouts and Instacart websites or apps. Orders over $35 are charged a $3.99 delivery fee. $7.99 delivery fee applies to orders below $35. There is also a $10 minimum for Sprouts delivery orders.
If you create an Instacart account and sign up for their Express Membership, you will unlock many other benefits, including free delivery!
How Does Sprouts Delivery Work?
Sprouts orders are delivered through Instacart, and you can have your groceries delivered in as little as an hour. But, first, you need to make an account on Sprouts Farmers Market or Instacart.
Then, using either website or the app, you can place your order and simply wait for the delivery to arrive via an Instacart shopper!
The delivery process is simple. Once the order is placed, you have to ensure that you are home for the delivery. Alternatively, you can choose the contactless delivery and ask for your order to be left at your door.
You have the options of one-hour delivery, two-hour delivery, or you can choose a time that works best for you. You can even schedule the delivery days in advance.
If something comes up and you aren't going to be home in time for delivery, Sprouts asks you to try one of two things. First, try asking a neighbor or friend if they will be available. If they are, add a note to your order so that the delivery driver is aware of the situation.
Otherwise, you can add a note to leave the groceries in a particular area. Although, this isn't recommended if you're going to be away from home for a long time and ordering perishable items.
Make sure to also include any other instructions with your order, such as codes if you're living in a gated community!
How Much Does Sprouts Delivery Cost?
All Sprouts delivery orders over $35 are charged a delivery fee of $3.99. Orders below $35 are charged $7.99 for delivery, but the order has to be at least $10 before delivery is even an option. Some are subject to additional fees, like a one-hour delivery fee, but this differs by state, location, and order.
Below is a complete list of all potential fees for delivery orders, courtesy of Instacart:
Service Fee
Alcohol Service Fee
Long-Distance Service Fee
Bottle Deposit and Bag Fee
Heavy Fee
All these fees are subject to change according to location, what you purchased, and how many things you purchased.
However, those with an Instacart Express Membership can reap the benefits of free deliveries with discounted service fees for all orders over $35. You even get the first two months of the membership free with a Mastercard!
How To Order From Sprouts Online
You can order Sprouts online from their website or the app. Click the "Order Now" button underneath "Home Delivery on the website. It will take you to the ordering screen where you place your order. During checking out, you will be asked to sign into or create a Sprouts account. Then, the order is delivered via Instacart.
If you decide to use the Sprouts app, the process is relatively similar. You can also place the order via the Instacart website or the app. When you use the Instacart website, the process takes a few more steps.
Here's how to order Sprouts online via the Instacart website:
Go to the Instacart website
Enter your address in the toolbar at the top of the screen
Click the delivery option
Then, find the Sprouts store in the list of store options
You'll then create your order and add the items to your shopping cart
During checkout, you'll be asked to sign in or create an account
If there are any delivery notes, add those in during checkout
Pick a delivery time
A personal shopper will pick the order
The same or another personal shopper will deliver the order as instructed
Can You Use Coupons With Sprouts Delivery?
Digital coupons are accepted with Sprouts' delivery. However, you can only use digital coupons offered via the Sprouts app. No third-party coupons are accepted. In addition, there are certain restrictions and coupon limits that all customers must follow. Coupons can only be redeemed once unless otherwise stated.
Some Sprouts digital coupons have an "Unlimited" redeemability but will be noticeably marked in the coupon offer image.
Sprouts former employee and Denver, CO native Tyler Bailey states that Sprouts reserves the right to accept, refuse, and limit the use of any coupon. So, it is best if you brush up on the Sprouts coupon policy before ordering.
Here are a few interesting coupon pointers to remember:
You can use coupons found on the Sprouts' Facebook and Sprouts emails
You can use a coupon even on items with Sprouts BOGO promotion
The customer is still responsible for full retail tax on the discounted item
Coupons are never multiplied – meaning you can't double or triple the value
Can You Link Your Instacart Account to Sprouts?
If you have an Instacart Express Membership, you can easily link it to your Sprouts account. You'll just go to your profile page and click "Import Account Info" to link the two accounts together.
Not only will you receive free delivery on orders of $35 or more, but you'll also be given the option to save your address and credit card information for future use.
You can even see your order history to check for mistakes or order similar items on your next delivery.
Instacart Express Membership is $9.99 per month ($99 per year). Instacart also claims that the average shopper saves $7 per order, which essentially pays for the membership itself.
Does Sprouts Take EBT for Delivery?
Sprouts accepts EBT for in-store purchases but does not accept EBT for delivery. They do not accept WIC as a form of payment either. However, they accept credit cards, debit cards, Apple Pay, Google Pay, and Samsung Pay for online orders.
Whether you shop in-store or choose pickup or delivery, Sprouts, unfortunately, will not accept WIC.
Here are a few of the payment methods that Sprouts accepts:
| | |
| --- | --- |
| Payment Method | Accepted |
| Cash | in-store |
| Checks | in-store |
| Debit cards | in-store and online |
| Credit cards | in-store and online |
| EBT cards | in-store |
| Sprouts Gift Cards | in-store |
| Apple Pay | in-store and online |
| Google Pay | in-store and online |
| Samsung Pay | in-store and online |
Do You Tip Sprouts Delivery?
Tipping Sprouts delivery is optional but highly encouraged to show your appreciation. 100% of the tip goes to your Instacart shopper that delivers the order. The recommended tip amount is 15-20% of your order total.
Sprouts shopper and delivery driver Kate Plainfield lives in busy New York City and encourages customers to tip their delivery drivers as much as 25 to 30%. After all, they are at least equivalent to restaurant hospitality, which usually yields a 20% tip.
To tip your delivery driver, you can add the tip during your order checkout before the delivery is completed. You can also choose to add the tip afterward by following the link given via SMS feedback.
Conclusion
Sprouts delivery is not only possible, but it's extremely convenient and comes with many perks when you link your Sprouts account to an Instacart Express account. You can start enjoying the benefits of grocery delivery today with just a few easy steps!
If you're interested in finding out more grocery shopping tips, check out the related articles below.
Related Articles:
Does Trader Joe's Have Delivery? (No, but This Option Works)
Trader Joe's Hours, Flyer, Best Time to Shop, and Payment Methods
H-E-B Delivery: How to Order Online Grocery Delivery Using My HEB
Whole Foods Pickup: Everything You Need to Know Before Ordering
Whole Foods Delivery: How to Order Online With Amazon Prime
Let us know if you liked the article.
Lindsey Blakley is a writer on the Shopfood.com team. She is a content and e-book writer with over 5 years of experience. She has a passion for food and health & wellness. When she's not working, she loves being out in nature with her family.
Disclosure: Shopfood.com is a participant in the Amazon Services LLC Associates Program, an affiliate advertising program designed to provide a means for sites to earn advertising fees by advertising and linking to Amazon. Shopfood.com also participates in other affiliate programs and is compensated for referring traffic and business to these companies, but there is absolutely no additional cost to you if you make a purchase using our links.
Sours: https://www.shopfood.com/grocery-stores/sprouts-delivery/
Sprouts-Instacart partnership off to fast start
BOSTON — It only has been about five months since Sprouts Farmers Market partnered with Instacart in a move designed to expand the Phoenix-based grocer's home delivery service, and only a little more than a month since the grocer's partnership with Amazon Prime Now ended, but already the Instacart business has grown "at a faster pace than we had expected," said Bradley S. Lukow, chief financial officer and treasurer.
"We were very intentional and deliberate around rolling out the home delivery service across well over 100 stores because our core focus was to make sure we weren't going to disappoint the customer," Mr. Lukow told analysts during a June 19 presentation at the Oppenheimer Consumer Conference in Boston. "The first time you order online, and you get a rotten apple or a tomato that you wouldn't have selected yourself, you lose that customer."
Prior to joining up with Instacart, Sprouts partnered with Amazon Prime Now for more than two years for its grocery delivery needs. Despite ending its relationship with Amazon, Mr. Lukow said one of the things Sprouts benefited from during its time with Amazon was learning how to perfect operational execution at the store level.
"The fact that we skew to fresh and 24% of our business being produce, meaning, that we turn that inventory over 2.5 days, we're guaranteed fresh for our customers," he explained. "So we were very intentional to roll that service out across the network slowly to make sure the operational execution was there."
He said Sprouts did not want to begin significant marketing and advertising efforts for the service until the operational execution was in place.
"From the perspective of growth with no promotion, it's exceeded our expectations in terms of how fast the growth of the average weekly sales and baskets have been with the Instacart program," he said.
Taking a look inside the characteristics of Sprouts' Instacart orders versus in-store orders or orders previously placed through Amazon Prime Now, Mr. Lukow said the company is seeing Instacart orders that are about 20% larger than the Amazon Prime Now Orders, which were two times the size of what in-store basket orders were.
"I think part of the reason for that is when someone raises an order for home delivery on Instacart, it's with intentionality," he said. "They're not also building a basket for non-grocery, and they're taking advantage of leveraging their annual fee across the network of retailers that are on Instacart, and so they're consolidating their orders, their more attractive orders. The mix is better. When we look at the department mix, it's a more profitable basket for us relative to the Prime."
Sales ChannelsSprouts Farmers MarketsE-commerce
Fresh ideas. Served daily.
Subscribe to Food Business News' free newsletters to stay up to date about the latest food and beverage news.
Subscribe
Sours: https://www.foodbusinessnews.net/articles/12024-sprouts-instacart-partnership-off-to-fast-start
Sprouts Expands Home Delivery Through Partnership with Instacart
PHOENIX, Jan. 09, 2018 (GLOBE NEWSWIRE) -- Sprouts Farmers Market (NASDAQ:SFM) today announced it will expand home delivery service to its major markets across the country through a new partnership with Instacart. Customers will be able to enjoy quick, convenient delivery of thousands of fresh, natural and organic products from Sprouts by simply visiting delivery.sprouts.com, the Instacart website or mobile app, where they can choose to have their groceries delivered same-day within one or two hours, or schedule a delivery for later in the week.

Sprouts, which currently offers home delivery in eight cities across the country, will roll out the Instacart service to markets in phases, starting with select zip codes in Phoenix and Tucson, Arizona today. Additional markets will be announced at a later date.
"We are excited to respond to customer demand for fast, convenient home delivery of their favorite Sprouts products in all of our major markets across the country," said Sprouts chief executive officer Amin Maredia. "Home delivery is a natural way for Sprouts to engage with our customers on their healthy living journey, and our partnership with Instacart allows us to quickly scale for growth."
"Customers choose Instacart because of our ability to bring the products they want from their favorite neighborhood stores straight to their doorsteps," said Apoorva Mehta, Founder and CEO of Instacart. "Partnering with a value-driven brand like Sprouts Farmers Market allows us to provide customers with same-day delivery of the fresh, natural and organic groceries they depend on to nourish their families."
To download media assets, including B-roll video, please visit sprouts.com/media-resources.
About Instacart 
Instacart helps people cross grocery shopping off their to-do lists with just a few clicks. Customers use the Instacart website or app to fill their virtual shopping cart with items from their favorite, local stores and Instacart connects them with shoppers who hand pick the items and deliver them straight to their door. Founded in San Francisco in 2012, Instacart has quickly scaled to over 190 markets and partnered with retailers across North America, including popular national chains as well as local, regional grocers. By combining a personal touch with cutting-edge technology, Instacart offers customers a simple solution to save time and eat fresh food from the most trusted grocery brands. Instacart is the only grocery service that can meet today's on-demand lifestyle by delivering in as little as one hour. First delivery is free at www.instacart.com.
About Sprouts Farmers Market
Sprouts Farmers Market, Inc. specializes in fresh, natural and organic products at prices that appeal to everyday grocery shoppers. Based on the belief that healthy food should be affordable, Sprouts' welcoming environment and knowledgeable team members continue to drive its growth. Sprouts offers a complete shopping experience that includes an array of fresh produce in the heart of the store, a deli with prepared entrees and side dishes, The Butcher Shop, The Fish Market, an expansive vitamins and supplements department and more. Headquartered in Phoenix, Ariz., Sprouts employs more than 27,000 team members and operates more than 280 stores in 15 states from coast to coast. Visit sprouts.com for more information.
Contact: Donna Egan, [email protected], 602-682-3152
Sours: https://www.globenewswire.com/en/news-release/2018/01/09/1285888/27026/en/Sprouts-Expands-Home-Delivery-Through-Partnership-with-Instacart.html
@yomamasfoods via @sprouts x @instacart
Sprouts Expands Home Delivery With Instacart
Sprouts Farmers Market has partnered with Instacart to expand home grocery delivery service to its major markets across the country. The partnership follows Target's recent announcement of cutting ties with Instacart to pursue same-day deliveries through Shipt.
"We are excited to respond to customer demand for fast, convenient home delivery of their favorite Sprouts products in all of our major markets across the country," said Sprouts CEO Amin Maredia. "Home delivery is a natural way for Sprouts to engage with our customers on their healthy living journey, and our partnership with Instacart allows us to quickly scale for growth."
Sprouts currently offers free two-hour delivery in eight cities through Amazon Prime Now, a partnership under watch for potential conflicts given Amazon's acquisition of Whole Foods Market in June. Sprouts officials have maintained intentions to continue with that partnership. 
The Phoenix-based natural grocer plans to roll out its Instacart service to markets in phases, beginning today with select zip codes in Phoenix and Tuscon, Ariz., and will announce additional markets at a later date, according to a company statement.
"Customers choose Instacart because of our ability to bring the products they want from their favorite neighborhood stores straight to their doorsteps," said Apoorva Mehta, founder and CEO of Instacart. "Partnering with a value-driven brand like Sprouts Farmers Market allows us to provide customers with same-day delivery of the fresh, natural and organic groceries they depend on to nourish their families."
E-commerce
WANT BREAKING NEWS AT YOUR FINGERTIPS?
Get today's need-to-know grocery industry intelligence. Sign up to receive texts from Winsight Grocery Business.
Sours: https://www.winsightgrocerybusiness.com/retailers/sprouts-expands-home-delivery-instacart
Sprouts instacart
Sprouts signs on with Instacart as U.S. grocers experiment with delivery
LOS ANGELES (Reuters) - U.S. healthy food supermarket chain Sprouts Farmers Market SFM.O on Tuesday said it will offer home delivery through Instacart, becoming the latest grocer to partner with the startup since Amazon.com AMZN.O revived its push into food sales.
Amazon, the nation's largest online retailer, shook up the industry with its $13.7 billion acquisition of Whole Foods last year, prompting traditional grocery sellers to look for ways to profitably deliver fresh food and shelf-stable pantry items.
Sprouts, which delivers to homes in eight U.S. cities through a partnership with Amazon Prime Now, said it will add Instacart service to other U.S. markets, beginning with select zip codes in Phoenix and Tucson, Arizona on Tuesday.
Wal-Mart Stores Inc WMT.N, which sells more groceries than any other retailer, bought same-day New York City delivery company Parcel in October. It offers grocery delivery in five markets via Uber [UBER.UL] or Deliv and is testing delivery with its own trucks in Denver.
Kroger Co KR.N, the largest traditional supermarket operator, offers its own HomeShop delivery service in Denver. It also partners with third parties including Instacart, Uber and Roadie.
Amazon has amassed an 18 percent share of the $12.6 billion U.S. online grocery market, mainly through the sale of packaged goods such as pasta and diapers. It is the largest player in a sector that is expected to grow to $41.7 billion by 2022, according to market research firm Packaged Facts.
Wal-Mart comes in at No. 2 with 9 percent, followed by Ahold USA's AD.AS Peapod at 7 percent, FreshDirect with 6 percent and Instacart at 5 percent, Packaged Facts said.
Sours: https://www.reuters.com/article/us-sprouts-farmers-instacart/sprouts-signs-on-with-instacart-as-u-s-grocers-experiment-with-delivery-idUSKBN1EY29C
instacart shopping at sprouts
New Instacart Members Only: Sprouts Farmers Market Orders
Instacartis offering
New Instacart Members Only: $50 Off $75+ on Sprouts Farmers Market Orders
when you apply promo code
SPROUTS50
or when following the instructions listed below. Delivery or pickup option is available if your location offers this.
Thanks to Deal Editor
persian_mafia
for finding this deal
Note, offer valid for new Instacart members only. Must apply the listed promo code to receive promotional offer.
Deal Instructions
Sign up for a free Instacart account
Login to your account
On the top left hand screen, locate the menu option
Under 'Add promo or gift card' apply promo code SPROUTS50
A promotional offer of $50 Off (First Order) $75+ or more at Sprouts Farmers Market will apply on your account
Proceed to purchase $75 or more worth of products at Sprouts Farmers Market
Discount will automatically apply at checkout
Editor's Notes & Price Research
Offer for first time Instacart customers only; exclusive to orders from Sprouts Farmers Market
Must apply the listed promo code to receive promotional offer
Orders must exceed $75 at Sprouts Farmers Market for discount to apply, before taxes, fees & tips
Can't be combined with other promotions
Codes cannot be used retroactively for prior purchases
Additional terms/conditions may apply
Offer valid through November 7, 2021 or on the date indicated in the user's account settings
Additional Note
Please refer to the forum thread for additional details - Discombobulated
Sours: https://slickdeals.net/f/15342937-new-instacart-users-50-off-75-sprouts-farmers-market-order
Now discussing:
Some Instacart shoppers are having their jobs cut during the pandemic
By late April, Instacart said it had hired 300,000 independent contractor "full-service shoppers" to meet the surge in customer demand, and the company said it plans to add another 200,000 over the next couple of months. However, some of its in-store shoppers, who are part-time employees of Instacart, are losing their jobs, CNN Business has learned.
The job cuts are the result of at least two of Instacart's store partners, Aldi and Sprouts, opting to replace Instacart's in-store shoppers, as necessary, with their own employees.
Instacart's service works a few ways: Customers can place orders for delivery and workers for Instacart— either its in-store shoppers or its contract workers — will shop for the items;then, the contract workers will deliver. Or, customers can purchase items for pickup at select locations. In this case, an Instacart in-store shopper, employed by Instacart, or an employee of the retail store will shop for items and package them for pickup.As part-time employees, in-store workers are paid an hourly wage; they're also eligible for benefits such as unemployment, social security and Medicare, and more recentlyaccrued sick pay. It is some of these in-store shoppers that have been impacted by cuts.
"At Instacart, we work closely with more than 400 retail partners to create a seamless grocery delivery and pickup experience for customers across North America. As part of this effort, we regularly explore new solutions with our partners to find the best model for them and their customers," said an Instacart spokesperson in a statement to CNN Business. "Moving forward, employees at some of our retail partner locations will now utilize Instacart technology to fulfill Instacart Pickup orders for customers. As a result, Instacart in-store shoppers will no longer be picking at these stores and we will be winding down our in-store operations at ALDI and Sprouts locations."
The shift comes at a time when more customers are turning to pickup options due to the pandemic. And by using just Instacart's technology, an option Instacart said has been available to retailers since 2014, the grocers are able to assert more control over the workers who are inside their stores.
Since the stores will continue to use Instacart's technology to fulfill orders to be picked up by customers, Instacart customers won't see a difference in their experience. They can still purchase items from Aldi or Sprouts via the app and have it delivered by a full-service shopper, or head to the store to pick up the order.
Instacart's success during the pandemic gave some workers a sense of security. Demand for grocery pickup and deliveries soared and investors poured $325 million into the service, valuing it at nearly $14 billion.
But companies across industries have revisited their strategies as the pandemic rages on and new consumer behaviors take hold, leaving already vulnerable workers exposed to more change and job loss.
Five Instacart in-store shoppers from Aldi and Sprouts grocery stores in California, Illinois and Texas who spoke to CNN Business recalled a similar story: They received an email in late June or early July from the company notifying them that the store locations they work at will no longer be "an in-store shopping partner location moving forward."
Through emails, two of which were reviewed by CNN Business and were largely similar, impacted in-store shoppers were given three options: apply to transfer to another retail partner in the area; apply to be hired directly by the grocery store, which will staff employees to pick orders using Instacart's technology; or accept a separation package (the amount varies by tenure) in exchange for "signing a separation agreement, including a general release of claims."
While workers were given options of how to proceed, the emails indicated that there were no job guarantees when selecting to transfer locations or apply to a grocery store job.
One part-time shopper in the Chicago area, whose job is being eliminated at an Aldi location, questioned how obtainable the options presented really were. The worker told CNN Business they did not apply to transfer given the other locations were inconvenient and said the Aldi location does not currently offer pickup.
The worker told CNN Business that it had been "really tough" to work during the pandemic. "All of us had that fear of getting sick or a family member dying," said the person, who spoke on the condition of anonymity for fear of retribution.
Now, the worker is entering a tough job market. "I feel it should have been done differently," the person said. "Somebody should have talked to us in advance, maybe given us three months advance notice. We're all in a pandemic. It is hard enough."
(Instacart said it provided up to six weeks of notice about the changes.)
According to Instacart, it has offered transfers to the majority of in-store shoppers impacted but does not yet know how many will stay or depart as a result of the changes.
"We've offered transfers to impacted in-store shoppers to nearby retailer locations when possible, and we're also working closely with our retail partners to identify potential hiring opportunities based on open roles," the Instacart spokesperson said in the statement.
According to Instacart, about 120 stores between the two grocers are impacted by the changes, but it would not say how many workers are employed at those stores. The company said it has about 1,000 stores with in-store shopper operations.
Prior to the pandemic, Instacart had roughly 12,000 in-store shoppers who are part-time employees. The company said it now has nearly 10,000 of these shoppers, noting that the number fluctuates due to factors including retailer needs and worker attrition.
A Sprouts spokesperson told CNN Business that it had Instacart's in-store shoppers in about 50 of its stores. At the beginning of summer, it expanded grocery pickup to its remaining locations, about 300, using Sprouts workers to fulfill orders. The change will provide uniformity across its stores. The spokesperson declined to say how many workers it would hire at the stores that will no longer use Instacart workers.
Aldi did not respond to multiple requests for comment.
The severance pay ranges from $250 to $750 depending on tenure, according to Instacart. Three workers CNN Business spoke to were unclear what they would have to agree to in exchange for the money.
"My signature is worth more than that," said Hanniball Hill, an in-store Aldi shopper in Texas who was impacted by the changes and was eligible for $250. Some of his colleagues who are college students have "no choice" but to accept the money, he said. "They have rent to pay."
Sours: https://www.cnn.com/2020/07/30/tech/instacart-aldi-sprouts-in-store-shoppers/index.html
1401
1402
1403
1404
1405