Metal Butterfly Rainbow Wreath
To receive discounted flat-rate shipping, you must meet the applicable minimum dollar purchase requirement and enter the code provided into the Promotion Code box at checkout. Available only on items shipped to a single address within the contiguous United States. Expedited shipping options may be available at an additional cost; select items may incur Extra Shipping charges due to their weight or size. Most orders sent via Standard shipping will arrive within 5 -7 business days.
Limited to stock on hand. Qualifying purchases are based on total order value of items purchased, excluding charitable donations, Gift Cards, postage and handling, taxes, previous orders, cancelled orders, replacement orders, and returns. Offers cannot be combined, are not available on all products, and are subject to restrictions and limitations. While supplies last - items may vary and are subject to availability, delivery rules, and times. Prices and charges are subject to change without notice. Void where prohibited.
Sours: https://www.windandweather.com/en/Metal-Butterfly-Rainbow-Wreath/p/HD9009
Recycled Book Page Butterfly Wreath
How to make a Recycled Book Page Butterfly Wreath out of pages from a damaged book and branches.
If you follow me on Facebook, you saw this Recycled Book Page Butterfly Wreath I found on Pinterest. A few of us were commenting on how to make it and inspired each other to take this project on ourselves (Thank you, Elise, Rose, Katie, Jo, Michelle, and Zach & Lois… you all are the best!). 
The best part?  This wreath cost me NOTHING!  This is my version.
I ended up making two, a large one and a small one.  Here is my tutorial on how to make a Recycled Book Page Butterfly Wreath.
Time: One to two hours
Step One:Make the butterflies
Materials:
Old damaged book, map, magazine, etc.
Scissors
Pencil
I used an old damaged book I had from another recycled book page wreath I made last year.  At first I used a butterfly stencil that I had but after tracing and cutting the first three, I thought it'd be more fun to free hand them instead.  It's easiest to fold the page in half and draw half the butterfly so that you have two identical sides.  Use a pencil so that you can erase any lines if need be.
Step Two:Gather the branches and prep them
Gather your branches.   Remove any leaves from the branches and soak the naked branches in water.  This makes it easier to work with and will cause less breakage.
Step Three: Construct the wreath
Materials:
Wire hanger (one for small wreath, two for large wreath)
Prepped Branches
Water
Sink
Hot glue
Simply unwind the wire and create a circle, twisting the end together. One by one, wrap, twist, and tuck each branch around your wreath until you have the desired width.
Allow your wreath to dry.  (Optional step) Once it is dried, on the BACK of the wreath, use a hot glue gun to secure and loose branches.
Step Four:Assemble the Butterflies
Materials:
Pre-cut butterflies from step one
Plastic Beads, Pearls, Shells (anything you want to use for the bodies)
Hemp string (I found this to work best so that the antennas will stay erect)
Scissors
Hot Glue
You can use whatever your heart desires for the bodies.  I chose to use plastic beads and hemp string.  Using a hot glue gun, glue your beads together and while the glue s still hot, insert your antennas (as shown).  Next, glue the body onto your butterfly.  Make sure the butterfly wings are folded up so that they appear as if they are in flight.
Step Five:Attach the Butterflies to Your Wreath
Materials:
Assembled butterflies from step four
Constructed wreath from step three
I placed the butterflies on the wreath and moved them around to arrange them in the order and position I wanted BEFORE I used the hot glue.
Ta Da!
Here is a photo of the large wreath.
Here is a photo of the small version.
You can make these wreaths for the holidays and embellish them as you wish!  I hope you try it!  Email me a photo if you do… oh and say hi! 🙂 [email protected]
For more repurposing ideas and trash to treasure ideas, check out this fun round-up of garage sale and thrift store transformations! There are over two dozen original projects I have done including housewares and furniture transformations.
Update: I originally wrote this post on August 22, 2012. I had these wreaths for four years! I ended up throwing them away after they were damaged in a move.

24 Comments
Sours: https://diyinspired.com/recycled-book-page-butterfly-wreath/
DIY Butterfly Wreath
This butterfly wreath is an easy and inexpensive craft that will bring some much-needed spring cheer and vibrant color to your front door!
Apparently spring comes in February 'round here in North Georgia.
There's a tree in our neighborhood that has blossomed in a floral explosion of pastel pink. On our daily walks, we see green shoots climbing towards the sky and yellow flowers drinking golden sunlight. And yeah, it's like 80 degrees, so I'm pretty sure spring has sprung.
Which is awesome.
It's why we're here.
We've endured enough snow and wind chill and gray and mittens for several lifetimes. Our middle-aged bones crave sunshine and warmth.
But with spring comes all the cutesy spring crafts – Easter this and pastel that. If I'm being totally honest (which I totally always am), I'm not the biggest fan of spring crafts and spring colors – unless those colors are outside, in nature.
I don't know, I guess when I see too much color all at once, it reminds me of Kindergarten art class. Or maybe it just reminds me of the art class I took senior year in college.
I had satisfied all the requirement of my economics major, so I had some free space in my schedule to fill with whatever my little 21-year-old heart desired. Since I couldn't even draw a stick figure without offending the local tree population, I reasoned an art class might be a fine and fun thing to train the fingers and open the mind.
And it worked. To a degree.
My line drawings with pencil improved tremendously, and I was a natural with charcoal. But then came pastels.
Color.
Apparently, color was my Achilles heel.
I couldn't make heads nor tails of all those colored sticks in my box of pastels. How was I supposed to know which ones to use?
(use 'em all, dipstick!)
It was just one of countless times I've been woefully misled by the idiot residing between my ears. Whereas the month before, my professor had submitted one of my charcoal drawings to the school's art publication, with my first pastel, I had become the class dunce whose knowledge of color theory began and ended with a box of Crayola. Taking the good old American "More is Better" approach, I used every pastel I had to create a still life of two puffy Cheetos on a table.
It was an abomination. I could see the shame in my professor's face.
And in case you're wondering, I didn't get much better. In fact, it took more than 20 years for me to start getting a handle on color and how to use it judiciously. I have this blog and my camera to thank for that.
So what does all this have to do with a butterfly wreath?
Well, as usual, Handan informed me that I'd be making this wreath, and as usual, I nodded and said, "Okay, my babes! Butterfly wreath. Got it!"
She'd already bought the butterflies from Amazon, and we just bought one of those wreath forms made of sticks from Michaels. [LOL, it's called a grapevine wreath form, you silly bugger! -Handan]
When we returned home, she explained her plan, and then I saw the butterflies.
All those multicolored butterflies.
My mind reached back to my senior year art class and dredged up all those hideous pastel memories.
Technicolor Cheetos.
Orange trees.
More pink than 1986.
I pushed the memories aside and got to work.
DIY Butterfly Wreath
SUPPLIES LIST
For this butterfly wreath, I used a 14 inch wreath form, though I think bigger would look good, too.
Any flat white paint will do for this project. I happen to have a lot of Rustoleum Chalked on hand, so I used that.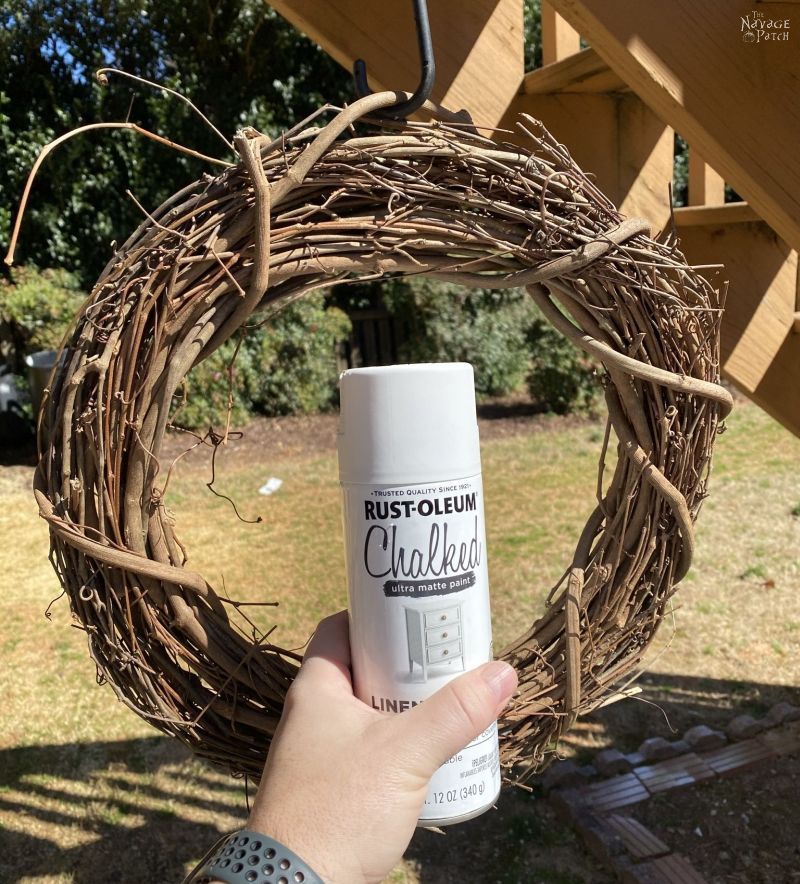 Action shot! Look at that paint fly! I used a bungee cord suspended from the bottom of the deck stairs to hold the wreath while I painted. This was an easy way to paint all around the wreath, and I could pull down on the bungee to paint the top.
All painted and ready for butterflies.
I gotta say, these are a really good deal – $11 for 108 butterflies!
I opened all the packages and sorted my butterflies by color. If I could help it, I intended to avoid the color catastrophes of years past.
So at this point, I started putting butterflies on the wreath form to see how they looked. My first instinct was to stick with colors I liked – namely, blue, green and yellow. I even tried flowing from one color to the next.
But nothing looked good to my eye. Nothing looked natural.
I was overthinking what should be a stone simple craft. I was getting caught up in the colors.
(use 'em all, dipstick!)
Well, that advice didn't work in 1994, but maybe it would work now? What the heck, let's use 'em all!
I shut off my brain and started gluing.
This guy seemed as good a candidate as any to start with.
A little hot glue…
And press him into place.
I carried on grabbing random butterflies and gluing them randomly on the wreath form. I did try to stick with the smaller butterflies, as the big ones took up too much real estate on the wreath.
Eventually, I found myself here, and believe me, the ghosts of college art class were stirring! So. Much. Color.
But it looked good I guess, though something was off. It looked a little, I don't know…flat.
I called Handan over to have a look, and it turns out I was right.
"Oh, it looks awesome! Good job, my babes! But why don't you bend some of the wings to make them look more real?"
bend the wings?
It was face-palmingly obvious, but I didn't know I could bend their wings. What a difference it made to the overall look!
And yes, though this butterfly wreath is a riot of spring-ish color, I actually like it, and I think it suits the beautiful weather we're having down here in the South.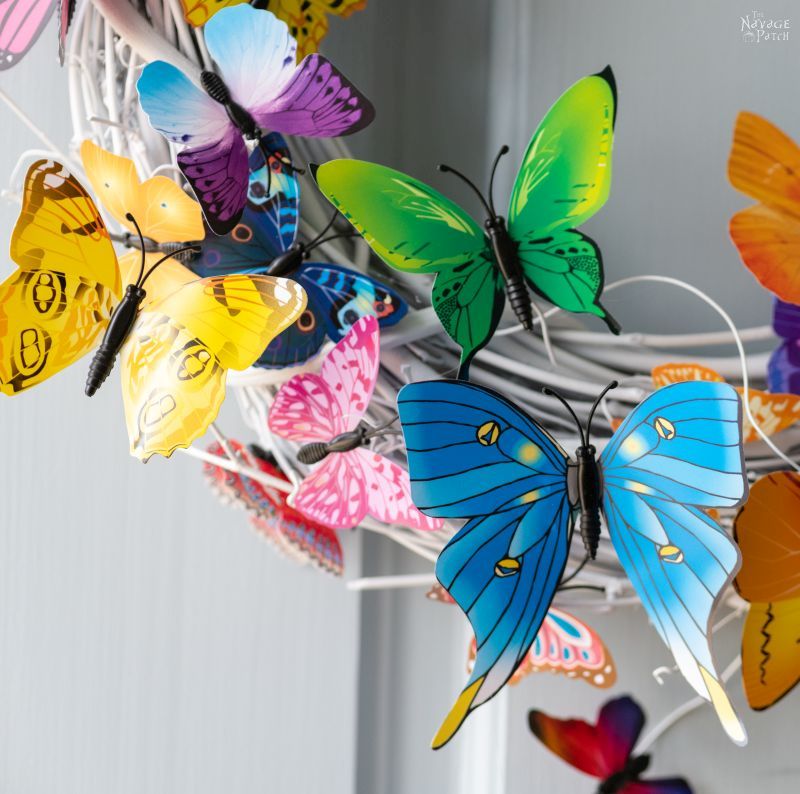 This butterfly wreath is really so simple to make. No skill required!
By the way, unless you make more than one wreath, you're going to have a lot of leftover butterflies. If you have a young daughter or granddaughter, they'd look great swarming on her wall!
We love it when you share our posts on Facebook and Pinterest!

Sours: https://www.thenavagepatch.com/diy-butterfly-wreath/
UITC™ Butterfly Wreath - Easy DIY Wreath - Wing Board - LIVE Replay
This may be the easiest Quick Craft I've ever done, y'all. If you can stick magnets on a fridge, then this is right up your skill set alley, baby. OH YEAH. Plus it only takes about 20 minutes, so it's a nice way to ease back into crafting if you haven't felt motivated in a while.

All you need is this $11 set of butterfly magnets from Amazon:

[UPDATE: If those are sold out, then here's a similar magnetic set for about the same price.]

Which comes packaged like this:

And then a $1 metal wreath form from Dollar Tree:


The most important thing here is to hang your wreath form where you plan to display it FIRST. Don't try to stick the butterflies on and then hang it, because they could slide around and/or fall off. You also don't want to use this on a door, unless you plan to add some hot glue to the magnets. Otherwise one good slam and it could be raining butterflies. :D


Once your wreath form is hung on the wall - or in our case, over a window curtain - start by placing one large butterfly of each color around the wreath to help with your spacing:



There are 84 butterflies total, and they come with the magnets already attached on their plastic bodies.

Now just keep filling in by color:


The magnets are strong enough to handle a little jostling, so you can slide them around or rotate them to help you cram in more butterflies. Bend the wings up at varying angles as you go, and start with the largest sizes first. I didn't use all 84, but it was close!

Ready to see the finished wreath in better light?

BOO to the YAH, y'all.
Booyah
.
Look how pretty. ::whispering::
Look at it.

Every single butterfly in this set is unique, and they're double-sided so they look nice from all angles. My only minor quibble is that they're a little shiny, so in direct sunlight some of the wings reflect a glare. This room stays shrouded in black-out curtains almost 24/7, though, so no biggie.
You can still see the wreath form in a few places, but for the most part the black metal disappears against the black curtain - which almost makes them look like they're floating.
I like the low commitment of the magnets: they let me play with the placement and move things around. You could always go back and add hot glue now to make the stick more permanent, but so far these are holding just fine. When John bumped it pretty hard with his elbow, only one fell off!
Because the wreath form isn't flat, there's a lovely dimension to the butterflies wrapping around it. You can see even more butterflies from the sides:
I actually made this wreath for John, believe it or not, because butterflies are his favorite animal. (Wait. Can we call them animals? ::
Google Google Google
:: Aha! We can! Ok, carry on.) Not because butterflies are pretty - though they are - but because of their metamorphosis. John friggin'
loves
that part, and used to regale our friends with the whole caterpillar-goo-butterfly process and why it's so incredible. I think butterflies represent both the divine and our own potential to be transformed to John, which makes for some pretty cool conversations.
Plus, you know, pretty. And now rainbows!

I hadn't thought much about John's butterfly fandom until a few weeks ago, when I found he'd stuck a couple of Dollar Tree butterflies around the walls of the Fan Cave. They looked... fine... but I immediately thought, "Oh, we can do MUCH better than this."

And I gotta say, I think we did better:

Ahhh. So good.

I originally planned to hang this on the smaller window behind the chairs, but John insisted we hang it here, where he can see it. He even took down his Hufflepuff banner for this! Whaaaaat.

John also asked for phone wallpapers, so here come a couple of options:


And finally, I want to give a shout-out to my inspiration for this wreath, posted by Jill Vaughn in the customer reviews on Amazon:
In fact, while I'm at it let me show you a few more of my favorites from the customer photos; there are so many great ideas here!
Yaaaaas.

The butterflies come with double-sided sticky squares you can stick right over the magnets. Perfect for sticking on walls like this:

I think I'll be making this next wreath for our front door eventually, because I am smitten:

If rainbows aren't your jam, there are plenty of butterflies to only use pastels or warm or cool tones:
This one feels extra Spring-y to me.

Then this lady just stuck them all to her metal front door!

Oooh. If I had a glass screen door I'd totally do this.

Again, all these photos - plus dozens and dozens more - can be found in the customer image gallery on the Amazon listing for the butterflies. Be sure to check over there for more ideas!

This post is not sponsored, but any purchases you make through my Amazon links do give a small percentage back to help support me and the blog. So thank you for supporting us while you shop. ::mwah::

And finally, if you're looking for more craft ideas, be sure to check out my tutorial page! I have over 150 project photos for you to browse, with more on the way, since I just realized we haven't updated that in far too many months, haha. Oops.

Sours: https://www.epbot.com/2021/01/quick-craft-make-this-jaw-dropping.html
Wreaths butterflies for
DIY Spring Butterfly Wreath
Introducing my DIY Spring Butterfly Wreath! I'm guessing you've seen these butterflies before. Once I find a craft supply I love, I become a bit addicted to using it. These pretty feather butterflies from Oriental Trading are my latest obsession! I used them to create this simple boxwood and butterfly wreath perfect for spring, but I've also used them to decorate balloons, fill a bird cage, and make a bouquet. I think you're going to need some of these butterflies in your life too! What would you make with them?
DIY Butterfly Wreath
You only need a few supplies to make this simple butterfly wreath. You can head to Oriental Trading's Fun365.com for the step-by-step tutorial and full list of supplies.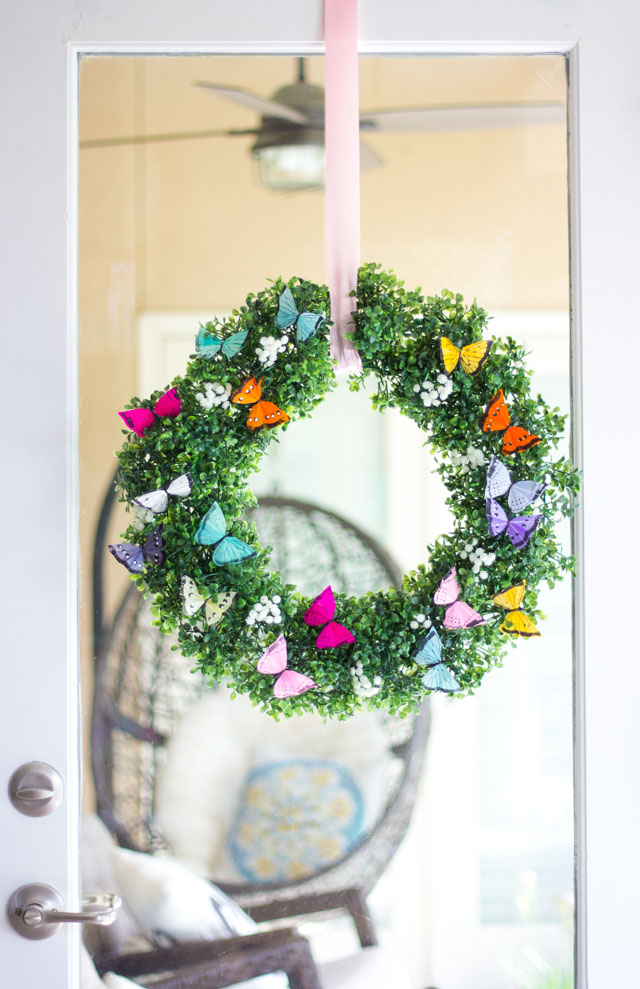 I love to hang a lot of my wreaths indoors, and this one is looking great on the door out to our balcony! The wreath uses a boxwood garland that looks like the real deal! I also dotted the wreath with some faux baby's breath.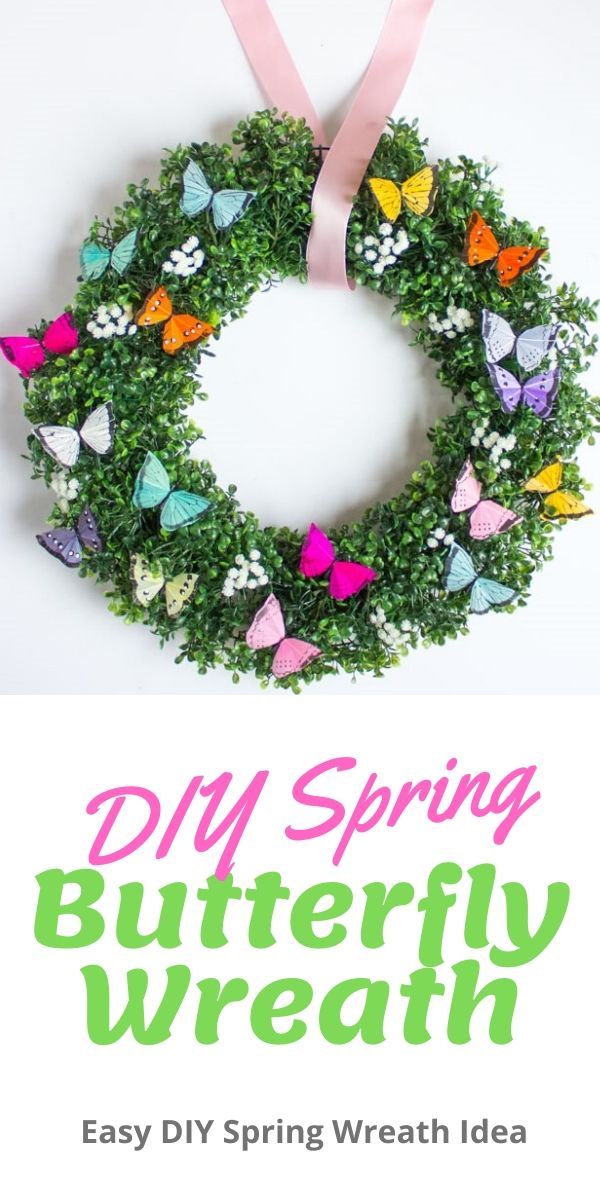 More Butterfly Craft Ideas for Spring
If you want some more inspiration for using these feather butterflies, here are the other projects I've made with them:
1. Butterfly Decorated Bird Cage
Fill the base of a decorative bird cage with moss, add a twig from your yard, and glue several feather butterflies to the twig and around the outside of the cage.

2. Spring Mason Jar Centerpiece
Fill mason jars with faux (or real!) baby's breath. Insert some feather butterflies into the bouquets to make it look like they are perched on the flowers.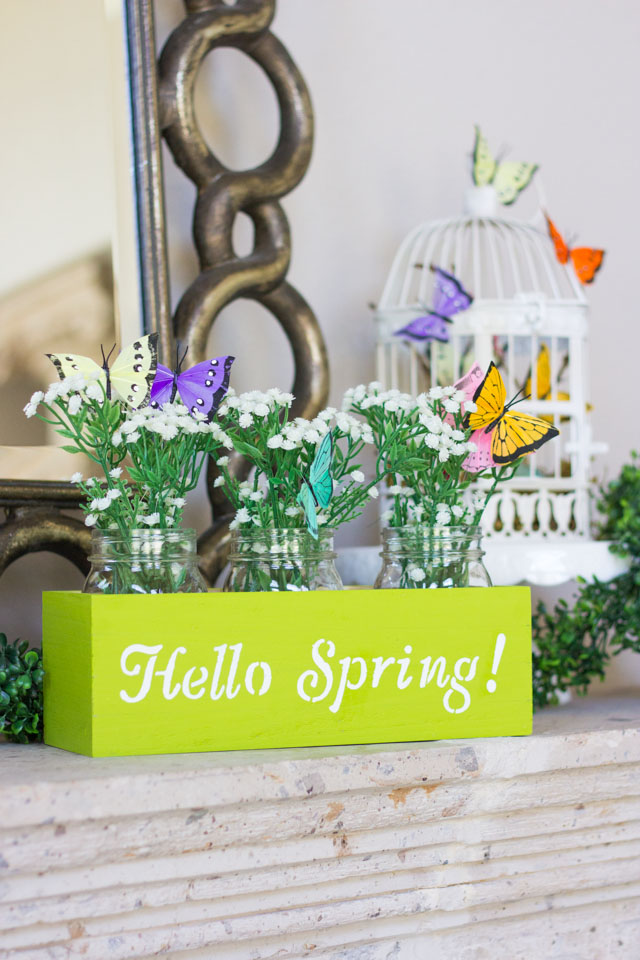 3. Butterfly Balloons
These lightweight feather butterflies make for the pretties DIY balloon decoration! Just add to balloons with a small dab of hot glue on the low temp setting.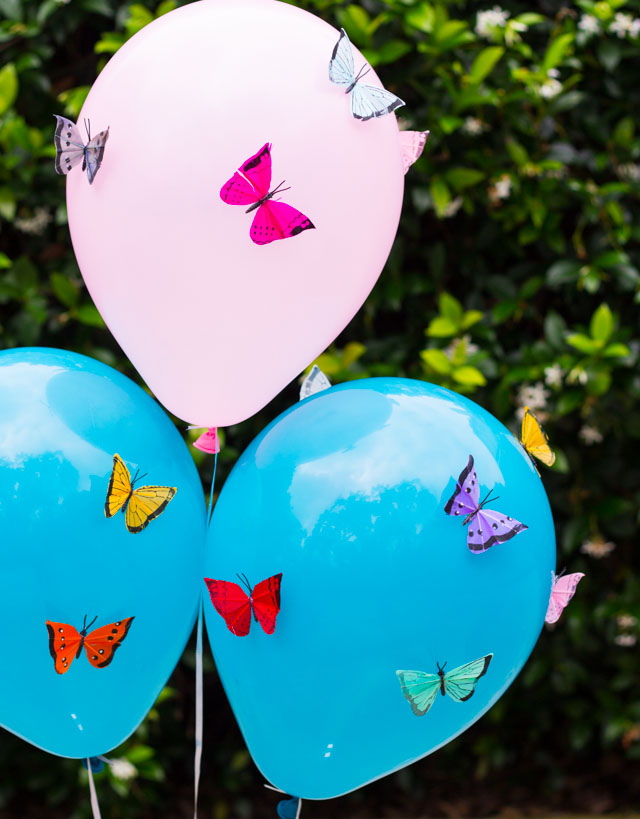 Head to Oriental Trading's blog for a full list of supplies and the step-by-step butterfly wreath tutorial! This post is sponsored by Oriental Trading.
Sours: https://designimprovised.com/2017/05/diy-spring-butterfly-wreath.html
UITC™ How to Make a Butterfly Wreath - Easy DIY OMBRE Wreath - Wing Wreath Board - LIVE Stream
Metal Rainbow Butterfly Wreath
V4608
Our Metal Rainbow Butterfly Wreath is crafted from dozens of individually-formed and painted butterflies to create a truly unique indoor or outdoor decoration. Handcrafted from reclaimed metal by Indonesian artisans, each butterfly is remarkably detailed with naturally-shaped and textured wings. Dozens of these butterflies, in varying sizes are then attached to a ring ornamented with leaf and berry shapes. The whole thing is hand painted in a colorful rainbow pattern and treated with a protective sealer. This makes a vibrant addition to any indoor or outdoor wall.
V4429 Metal Rainbow Butterfly Wreath spring garden yard décor decorating decorations decor decorate accent,
Butterfly wreath handcrafted from reclaimed metal
Dozens of individually-formed butterflies in varying sizes
Arranged on a ring ornamented with leaf and berry shapes
Hand painted in a colorful rainbow pattern
Treated with a protective sealer For indoor or outdoor display
25"Dia x 3"D
25"Dia x 3"D
Sours: https://www.vivaterra.com/en/collections/eligible-for-promotions/metal-rainbow-butterfly-wreath/p/v4608
You will also like:
.
1455
1456
1457
1458
1459