The more tech-savvy and busy we get, the more we feel a need to get away from it all and spend some time in peace and tranquility. An escape to an exotic holiday destination does help in this regard, but you really cannot take a break every week! This is where the calming influence of meditation and yoga comes in. Much more than a fad and a growing trend globally, spending at least a few minutes each day meditating can improve your concentration, posture and mood, along with delivering a slew of other health benefits. But like everything else, a perfect meditative session needs an ideal meditation room or space.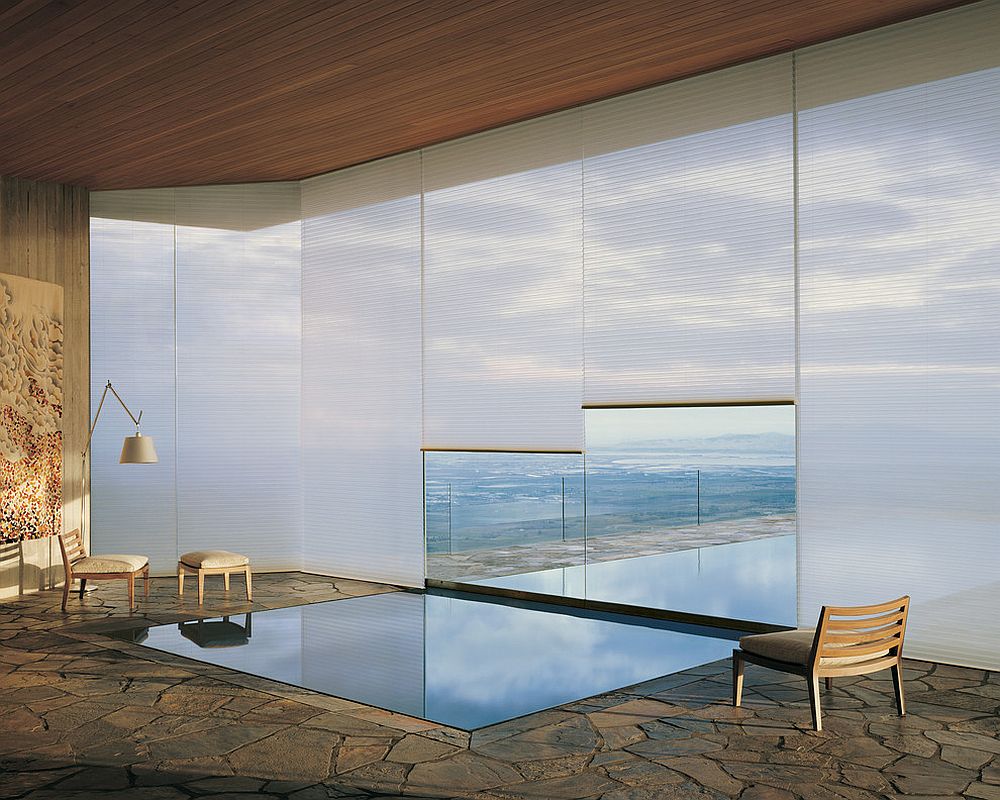 Crafting your own meditation room is far easier than planning for that ideal bedroom or living space. Often, it is the world that surrounds this room that is more important that what lies within. A serene sanctuary that can also be used for yoga or family time, a meditation space can also be pretty versatile. The 25 meditation rooms on display today will definitely tempt you to turn towards this training of mind, body and soul.
Distinctly Modern
Meditation rooms are most often filled with elements of traditional Japanese design (which is not a bad way to go about it, as you will see a bit later), but you can take a different approach by crafting your meditation space with a modern flavor. Essentially meditation rooms are simple and minimal, and hence make sure that you only decorate it with things you absolutely need. Sometimes, an empty room with glass walls and a stunning view is all that's required! In fact, this is the preferred option for many, as it lets in the energy of the elements while creating a calm and sheltered space.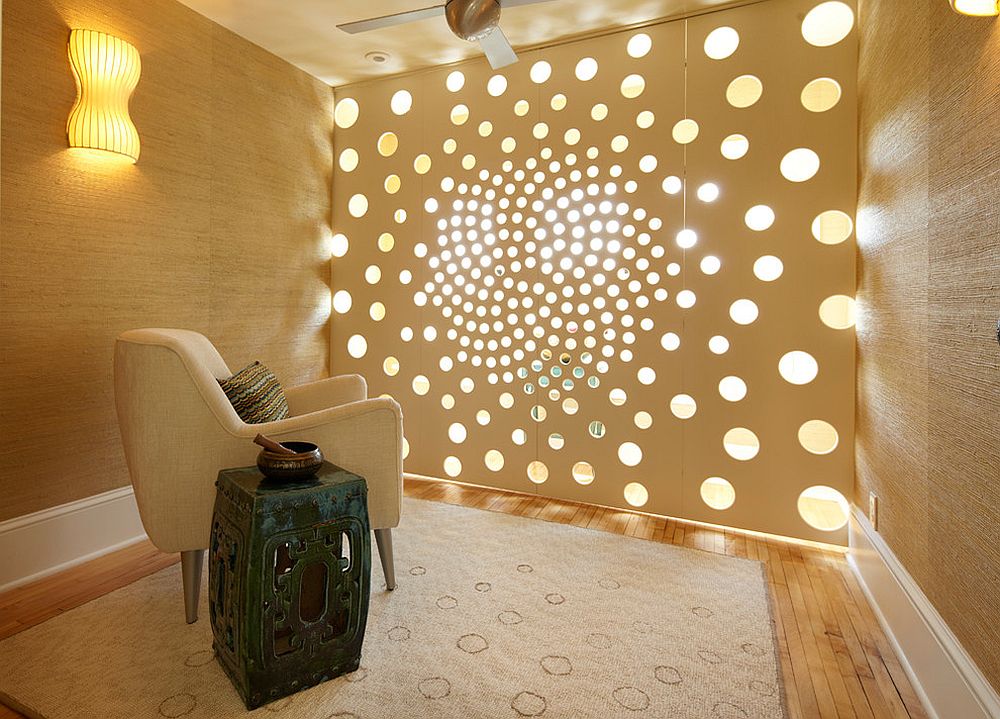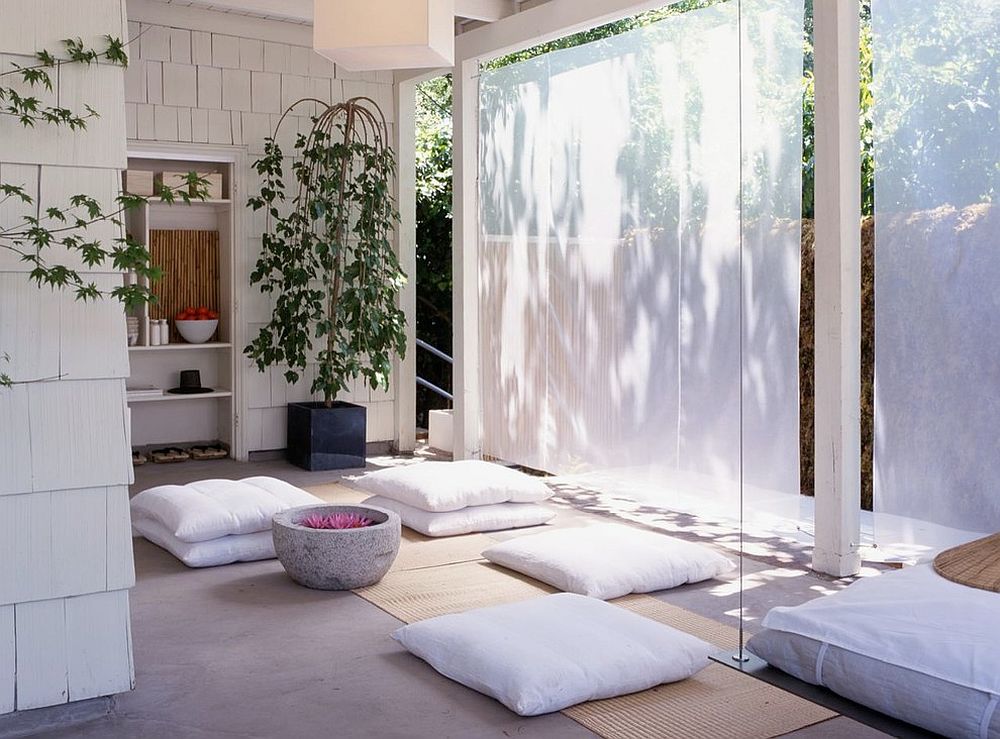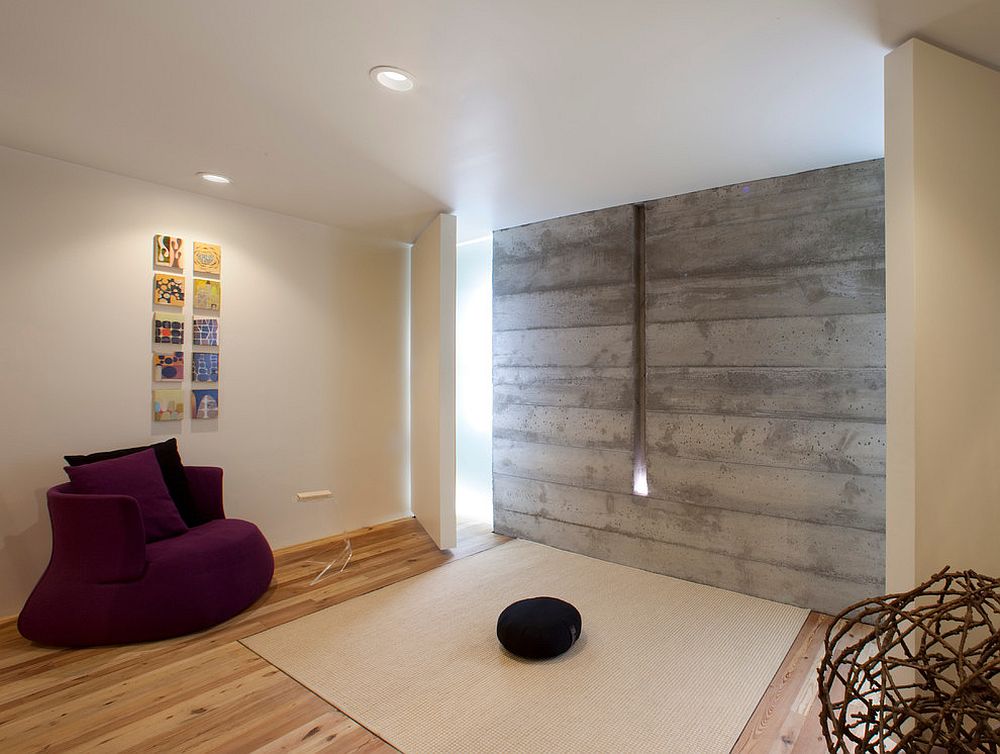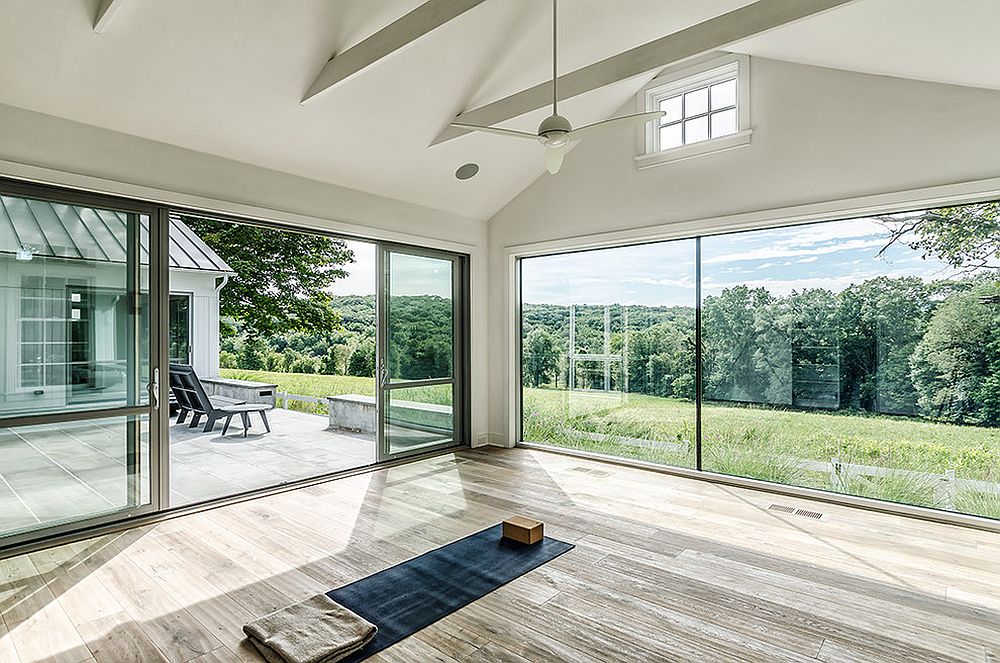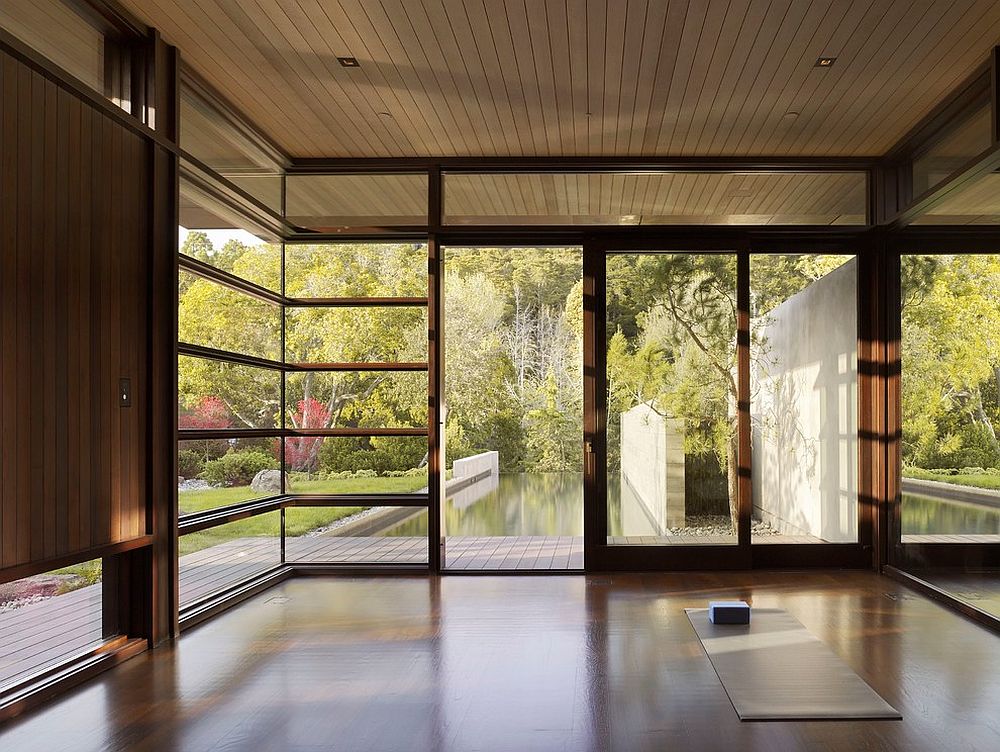 Classic Japanese Elements
Whether you want a meditation room that is inspired by Asian design or would prefer one that is contemporary, having a few smart floor pillows and a couple of mats around is a good choice. If you want to go down the traditional Japanese route, then bamboo mats, shoji screens and lantern-style lighting should do the trick. The color palette needs to be warm and inviting, with earthen hues dominating the visual. A statue of Buddha is optional, but having a focal point of your choice is definitely recommended for beginners.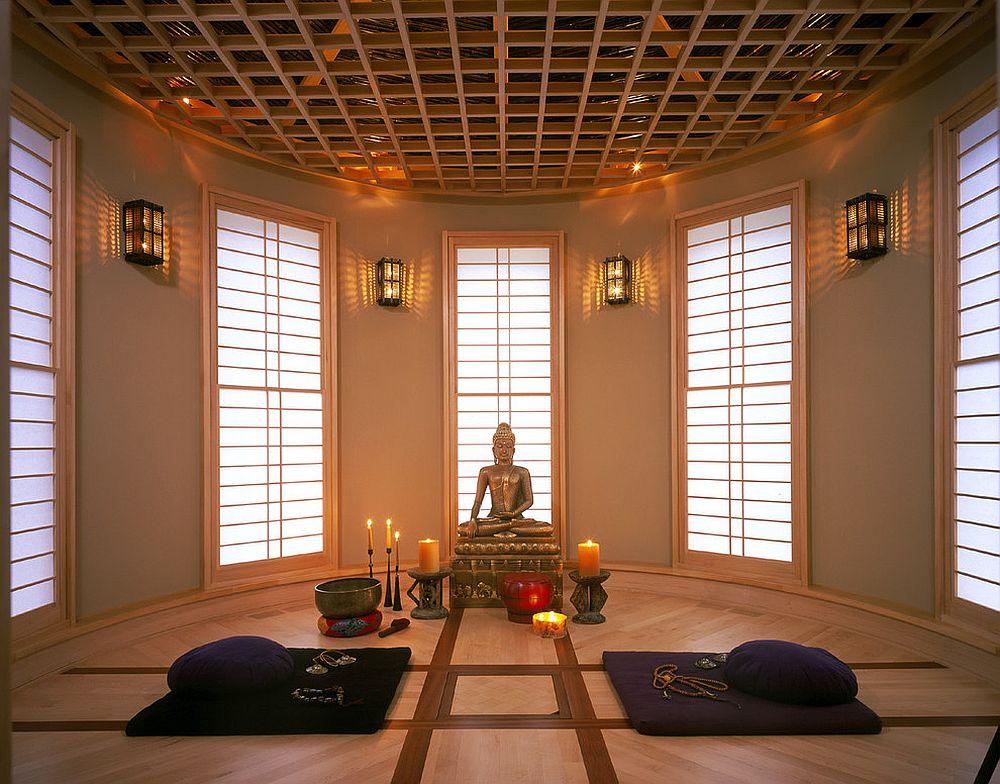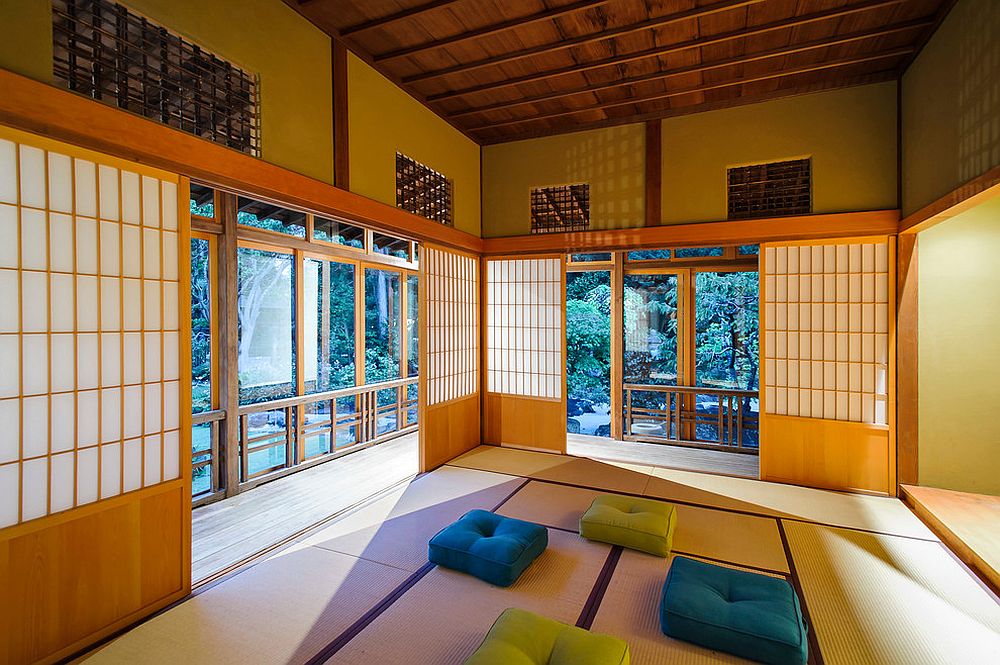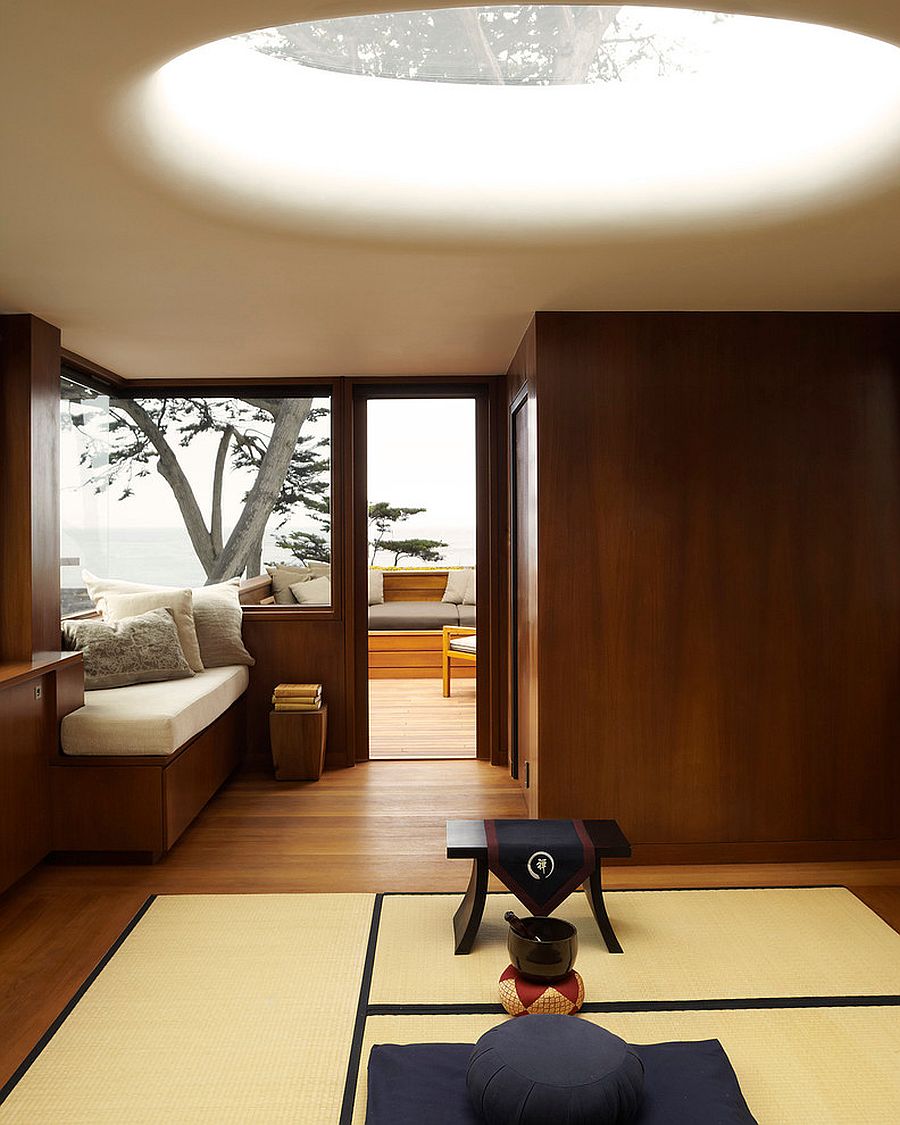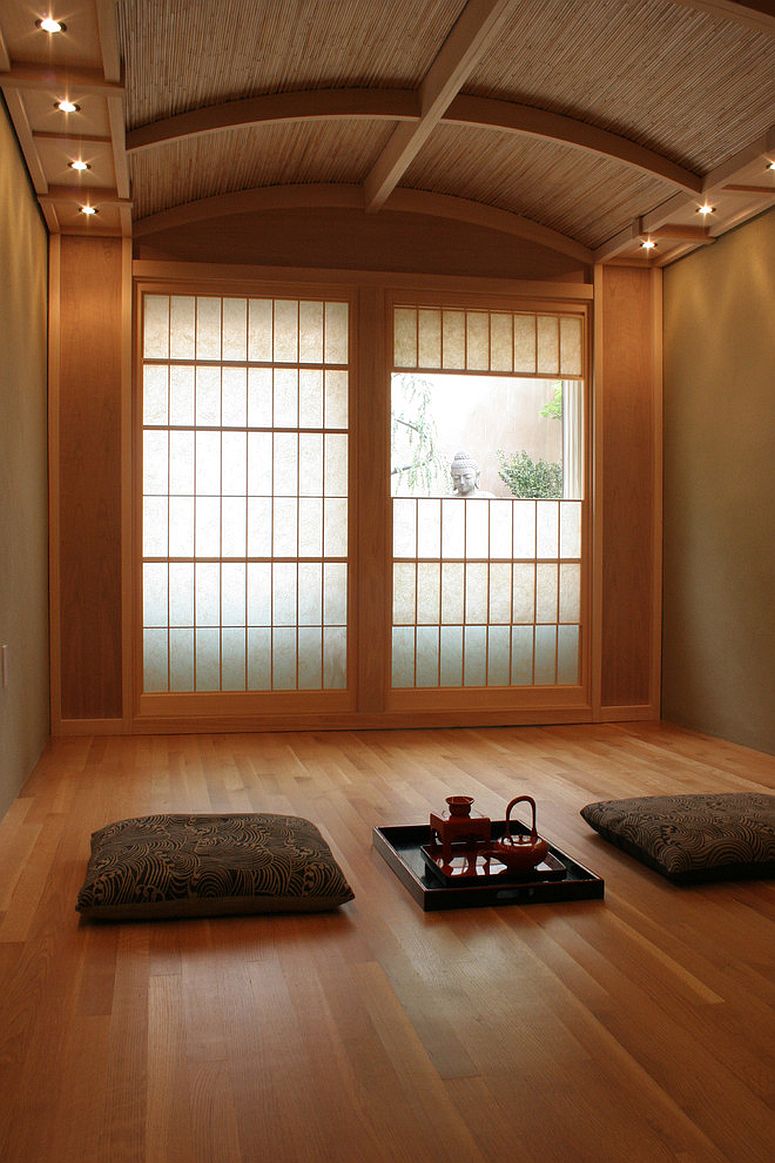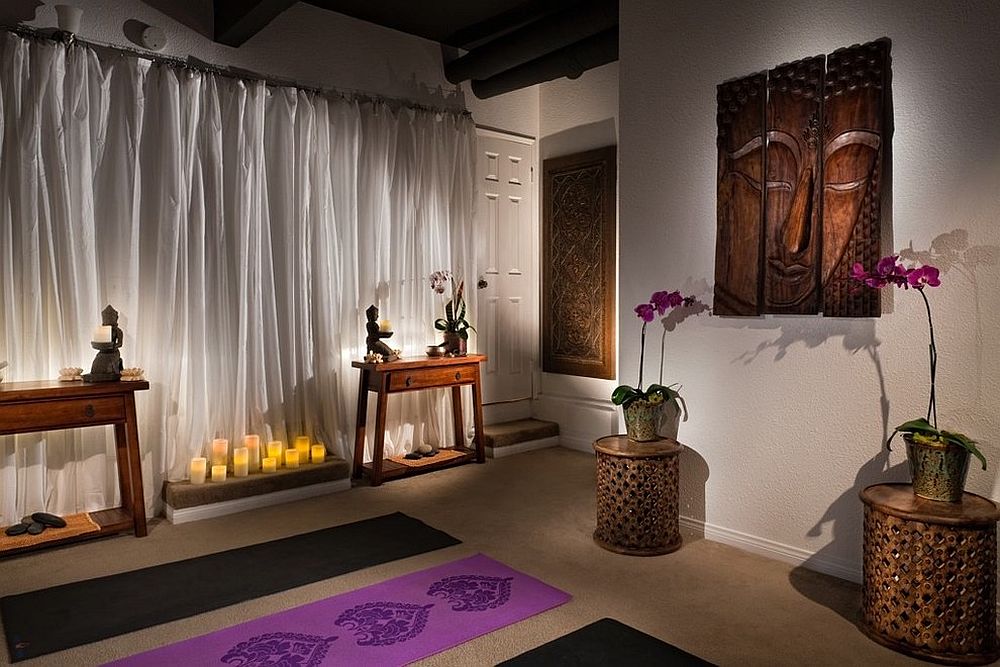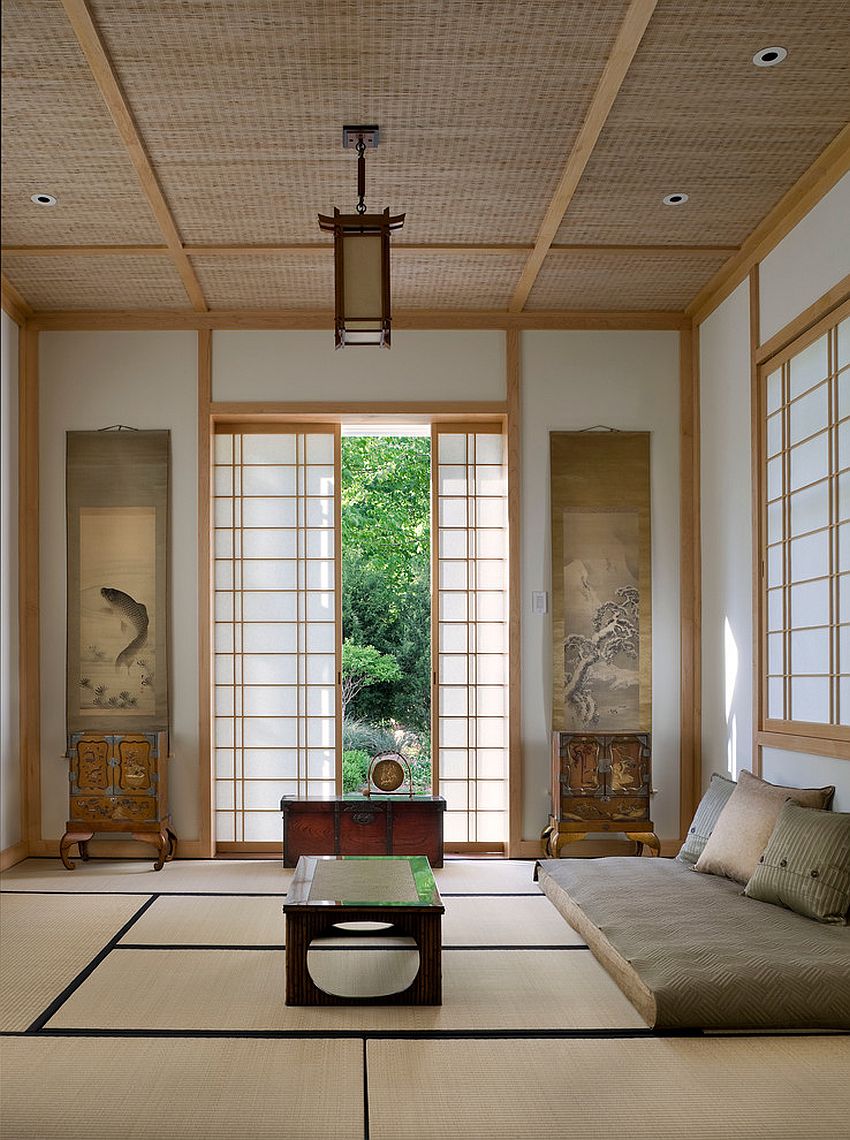 Taking It Outside
Maybe your house is just too noisy for a meditation space even if you can afford to spare an entire room for it. If so, take the meditation room outdoors and create a Zen-style nook that allows you to rest, rejuvenate and meditate. There are many different ways of doing this, from a simple wooden deck or elevated platform in your garden to an exclusive 'meditation shed' that makes the most of the wonderful views outside. Even the smallest backyards and courtyards can accommodate a beautiful and quiet nook perfect for meditation, and all you need are a few floor cushions and maybe a couple of scented candles to get started.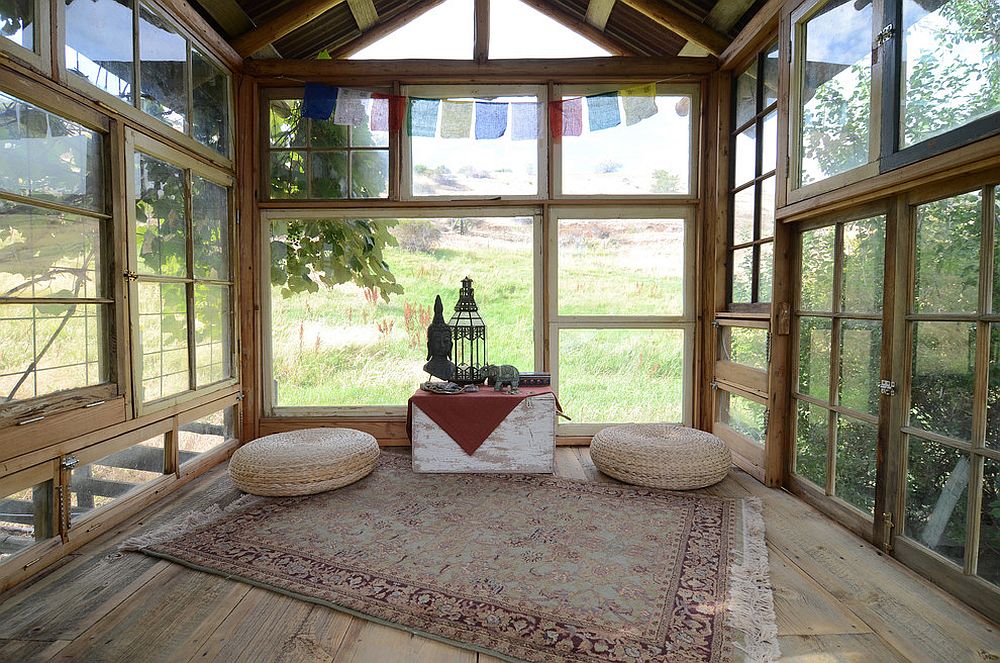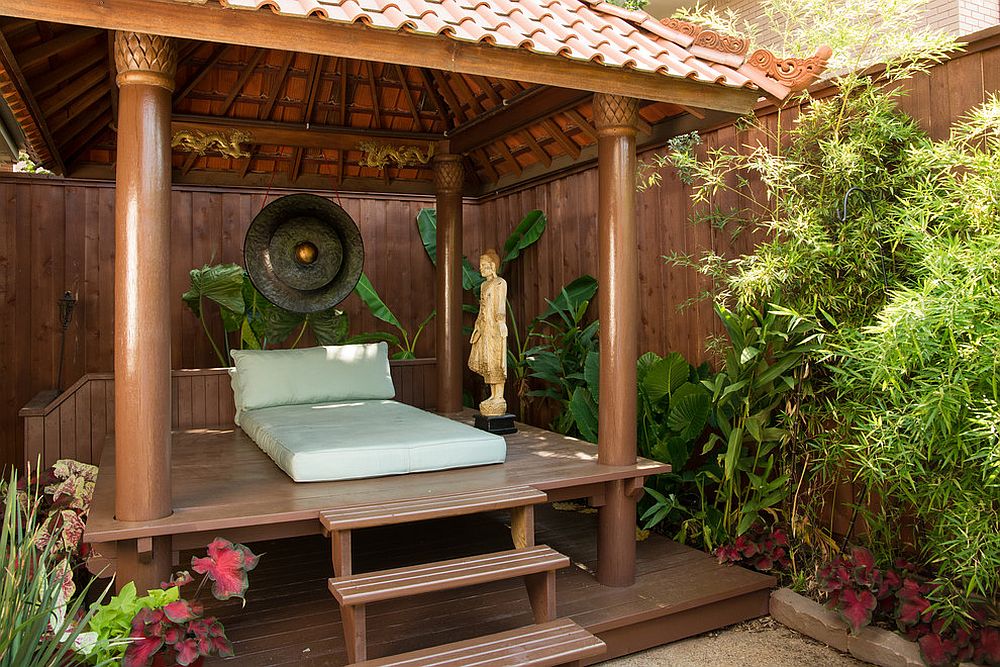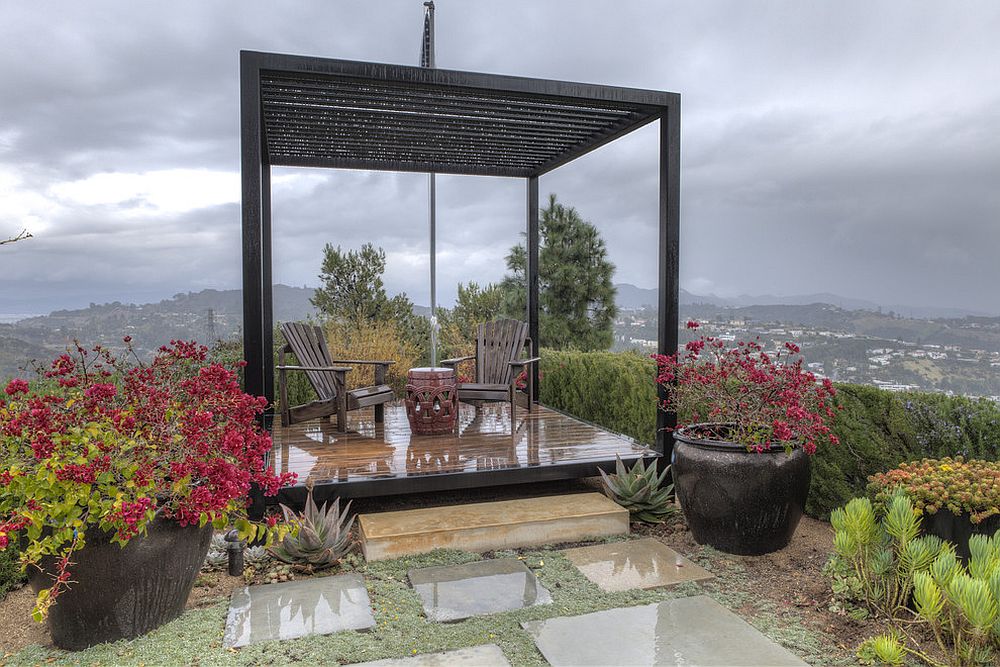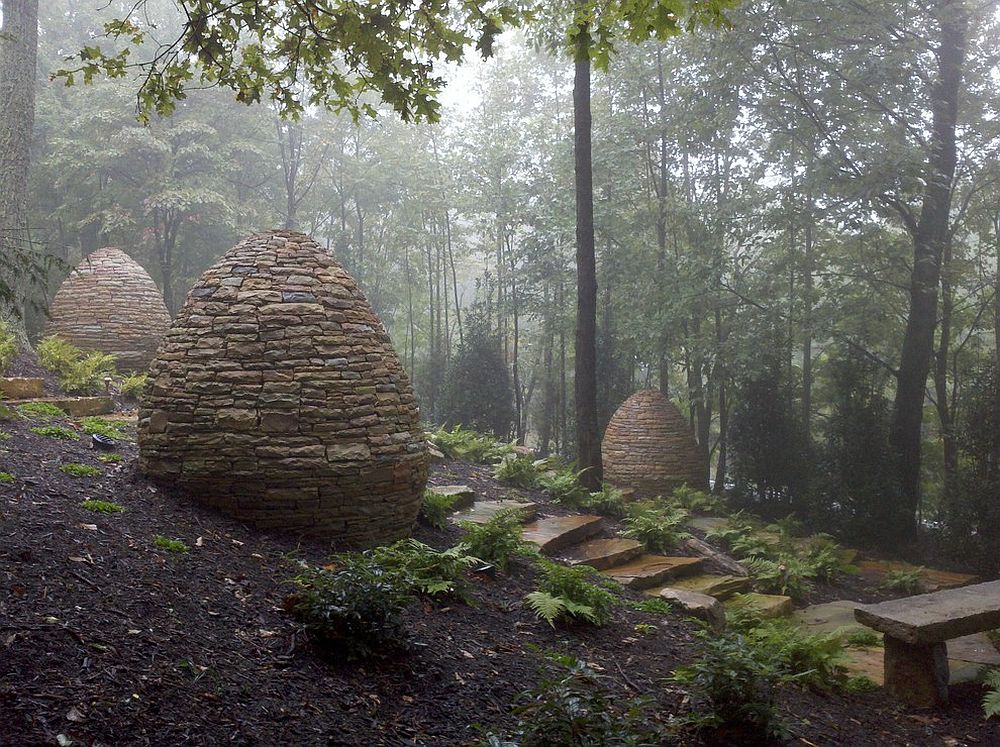 This awesome mountain garden covered in mist features a side meditation garden with rock structures like the ones above, and we assume any little nook in this seemingly magical garden is great for meditating! This definitely is our absolute favorite when it comes to enchanting meditation spots.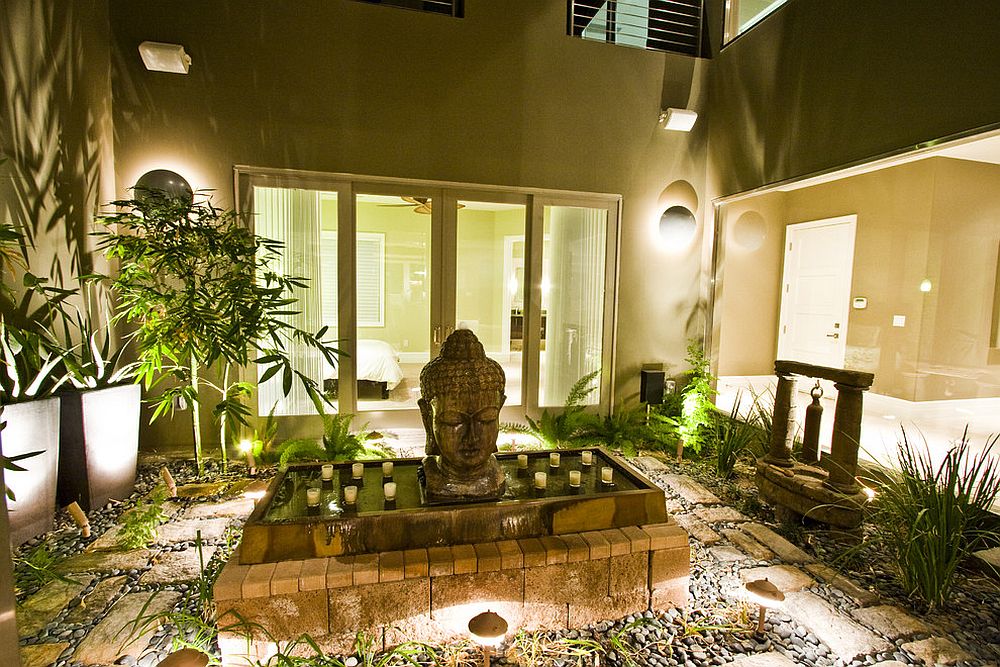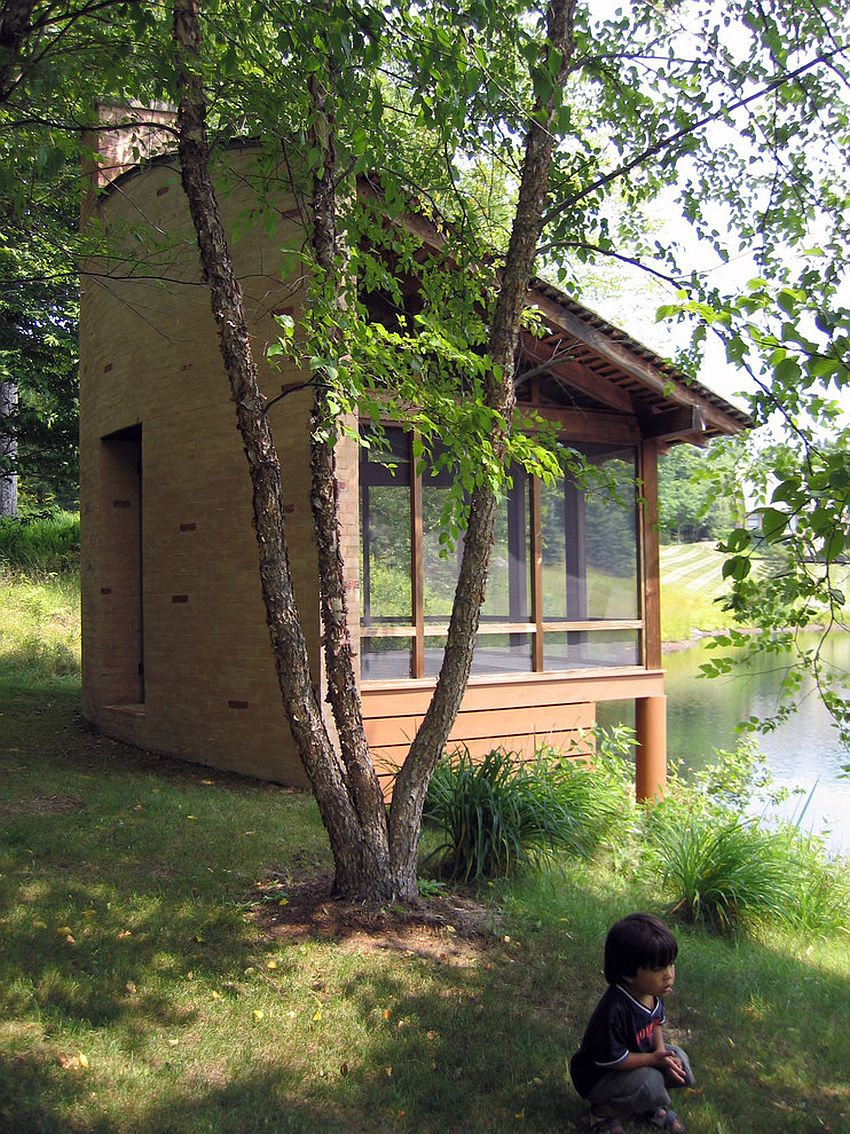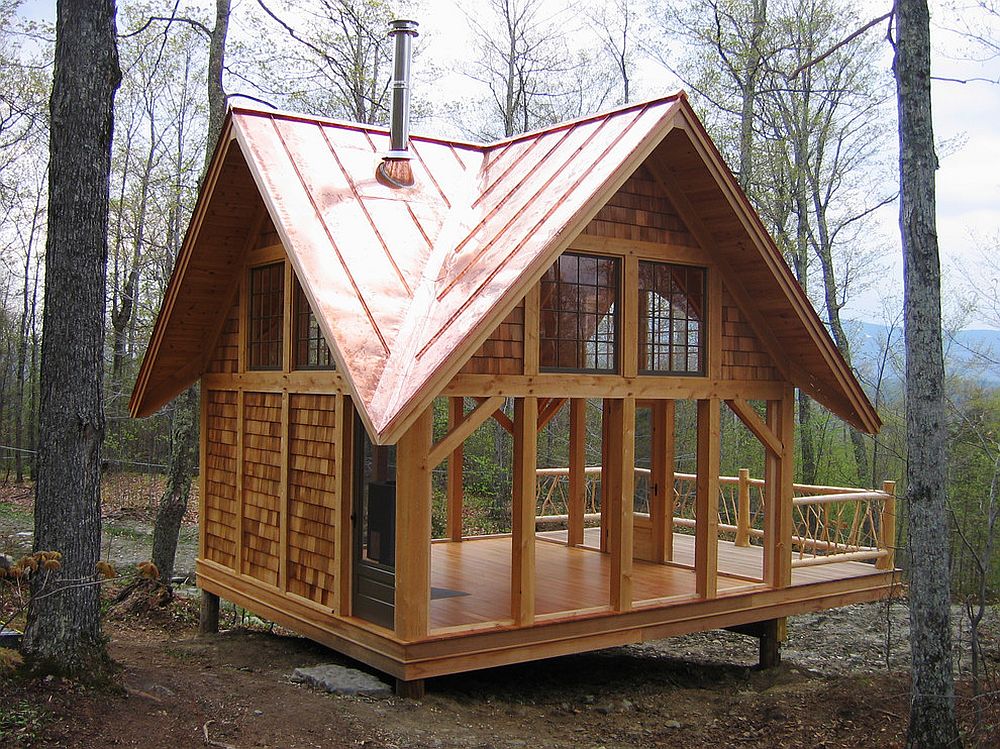 Multipurpose Meditation Rooms
Having a meditation room does not mean it needs to be an exclusive space that is used just for meditation and yoga sessions. It could be something as simple as a corner in the living room with a window that offers a view of the garden, or a part of your home office that is unused. Sometimes you might have to move around furniture a bit, maybe tuck in that Murphy bed in the guest room or just make space in the family room, but as long as the room seems peaceful, uncluttered and makes you happy, this is not an issue at all. Beautiful lighting and a wonderful aroma in the air can complete this transformation.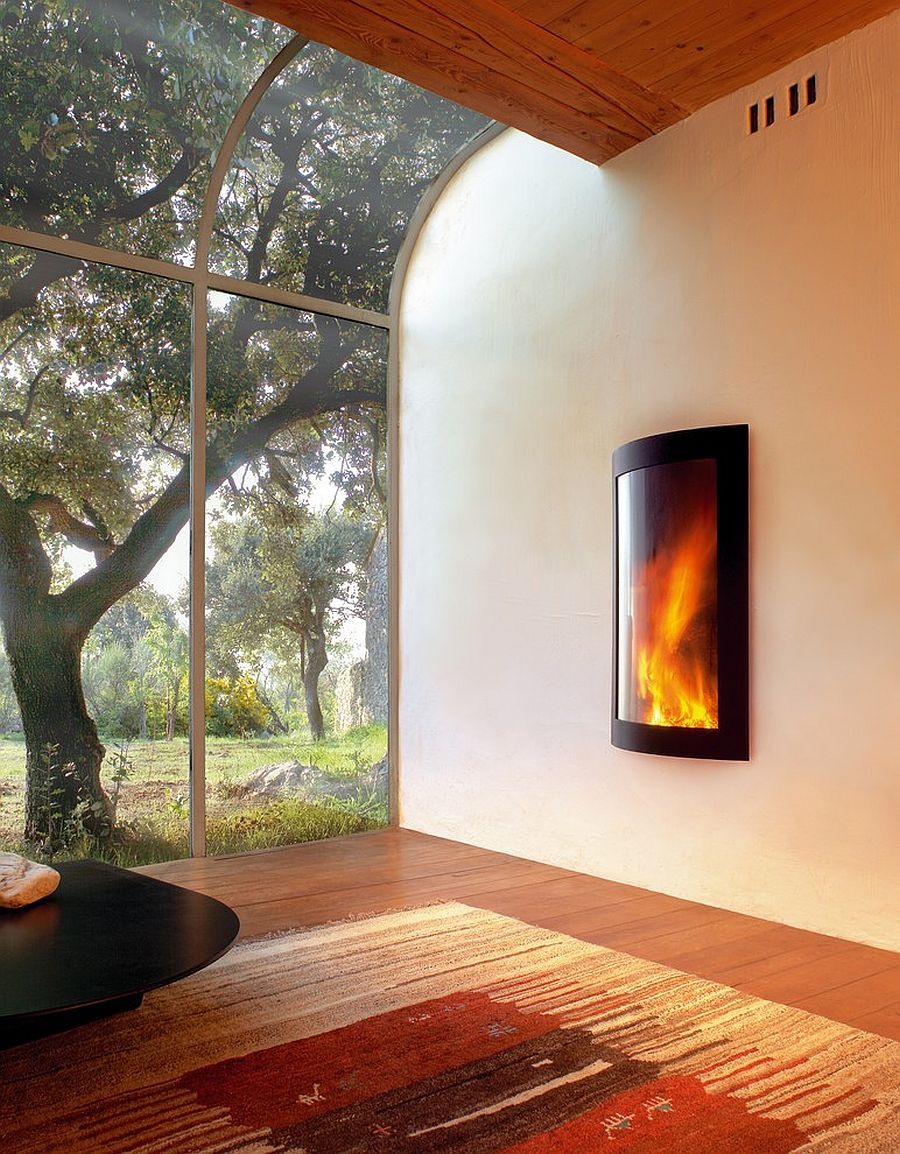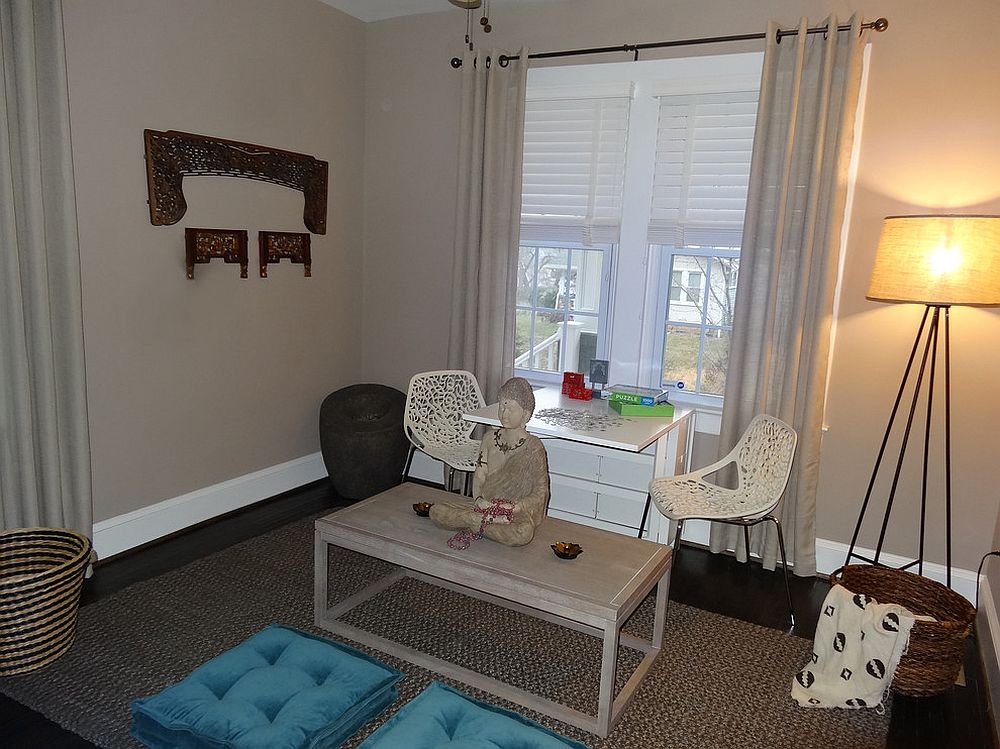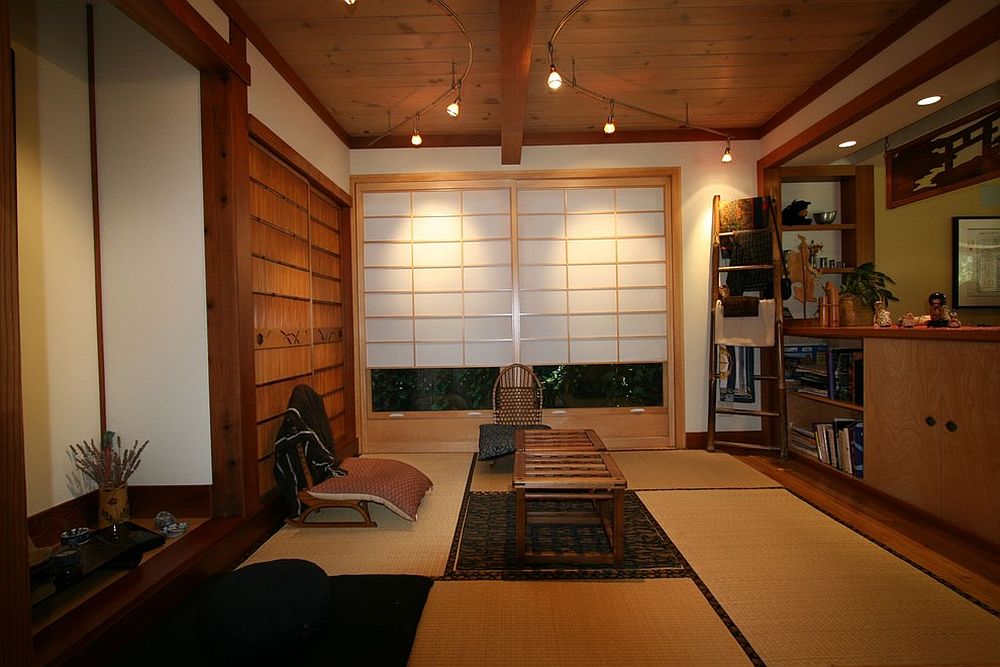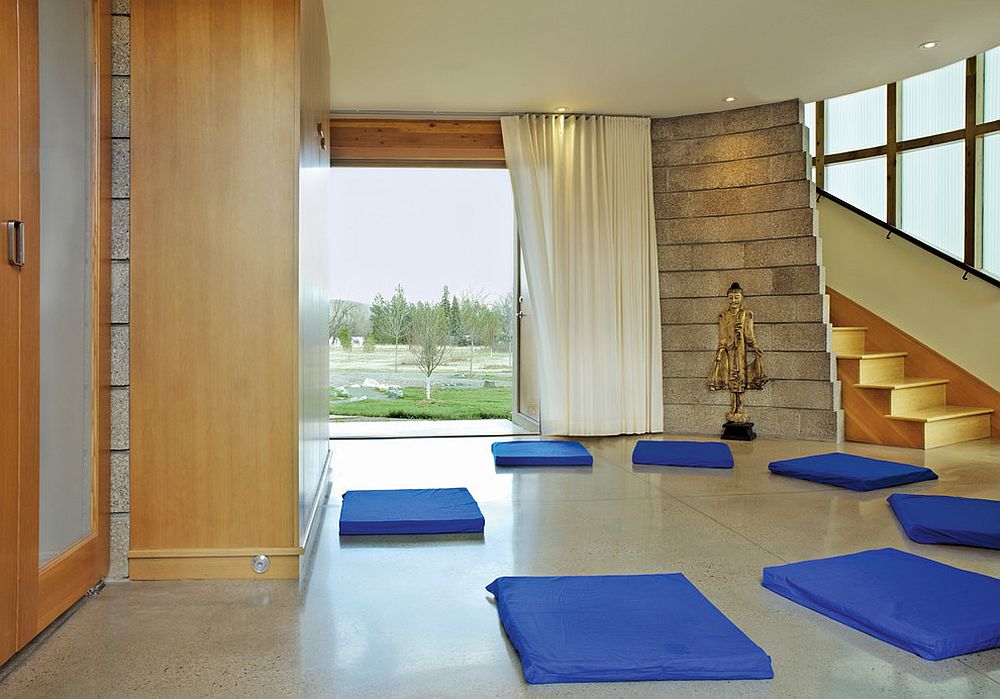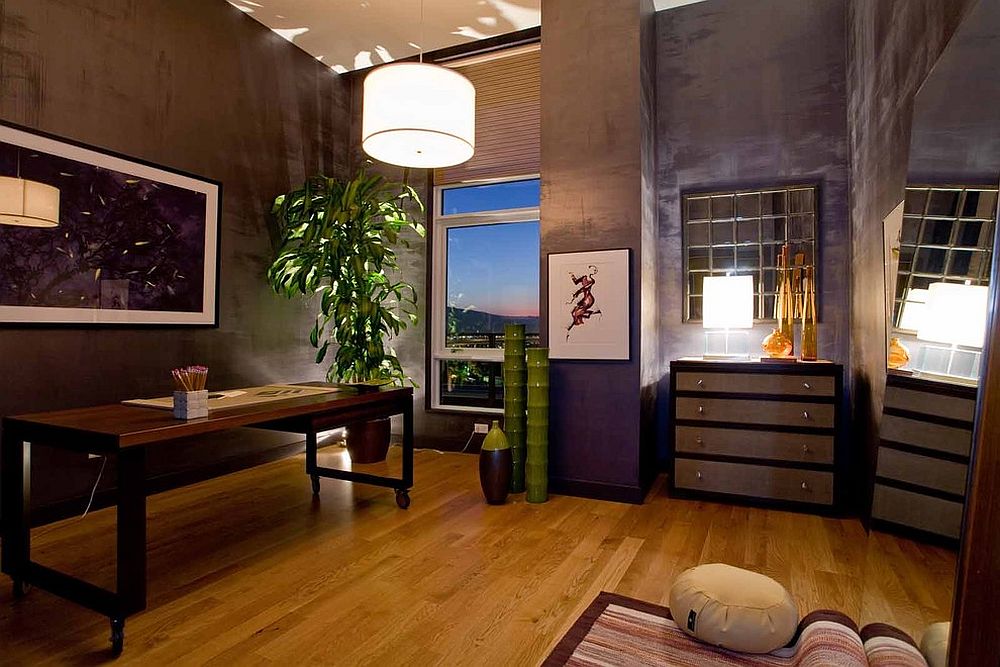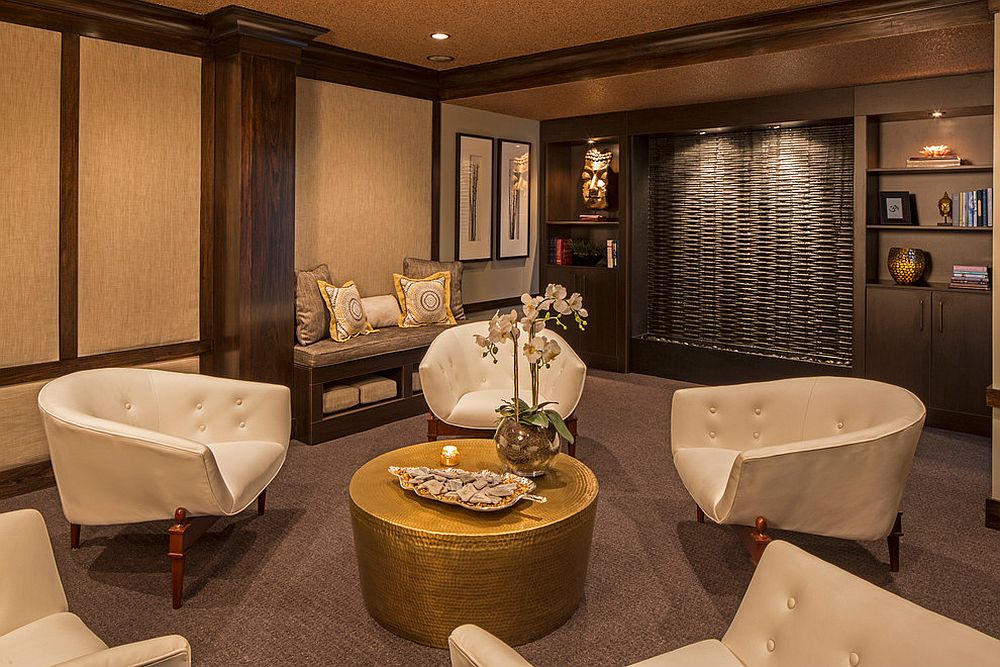 Sours: https://www.decoist.com/meditation-rooms-spaces/
What Bali inspired side yard would be without a meditation bench? A peaceful spot to enjoy the quiet and serenity… Or your bench could be taken over by two over-sized dogs? Either way this DIY bench can serve two purposes.
We scored an antique collapsible cot at the Sacramento Antique fair a few weeks back for $15. It was a bit rusted and the springs were ready to snap. First we cut away the mesh and springs with heavy duty wire cutters. 
We gave it a quick spray of black spray paint, Rustoleum's rust reformer to cover most of the rust. However since we had only a little left, and wanted an antique look we only used one coat. Then we had Home Depot cut 4 of the 12 foot (2 inch x 1/2 inch) sanded redwood boards in half for the bench slats. Also we found two pieces of redwood 2x4s in their scrap bin and had them cut to 29 1/2 inch pieces which we used for the under base to support the middle. Once everything was home we placed all the wood on the cot as a "mock up", then used a sharpie to mark where each hole would be. Using a 1/4 " bit, drilled holes in the wood at each mark. Then we screwed our 1/4″ machine screws into the wood. Each screw was secured to the cot with 1/4″ hex nuts underneath.
(The 6 foot redwood slats are sitting atop the two horizontal 2×4 pieces in the middle) With an early fall shower approaching we moved the project into the garage and stained the wood with Preserva wood redwood stain. (A nice side note, because the cot is collapsible, we can fold and store it away for the winter months.)
Once dried, we placed our new meditation bench in the side yard. Of course, before we could even snap  the perfect 'after' shot, Sierra found herself a new bed.
So what will it be, a meditation bench or outdoor dog bed?
If your dogs are like ours, they may decide for you…
Posted inUncategorized | TaggedBali side yard, Cheap bench idea, DIY bench, How to make a meditation bench, How to make an outdoor dog bed, ideas for antique cot, meditation bench, meditation platform, outdoor dog bedSours: https://littlehousesbigdogs.com/tag/meditation-platform/
Space to Meditate: Building a Meditation Bed or Lounge
Whatever your style, there are so many options you have to build and customize your meditation space, starting with a meditation bed. The platform and materials may differ dependent upon your budget and the size of the space. Here are four examples of meditation beds we've installed in different projects.
---
Custom Bed in Meditation Room
For our Meditation Room in the Greystone Mansion, we had to go full out – this was a custom fabricated bed we made in partnership with our friends at SoCalContractor. The custom gold bed features a platform base, side walls, and a decorative style top. We chose this design style so that it mirrored the mirror style in the room. All in the little details! 
This bed was fabricated with gold leaf with a tufted fabric interior, but the customizable options on this are endless: The bed can be painted, stained wood, wallpaper or upholstered. We used a custom mattress / cushion and upholstered it. This could also could be done with beautiful sheets, blankets, pillows, etc. It's your meditation space – customize for what feels good for you.
For total relaxation and ambiance, we installed a sound system speaker hanging from the middle center and two decorative wall sconces to warm it up. We ordinarily try to keep the tech to a minimum in the meditation rooms we design. 
For more tips on designing your meditation room, give this post a read. 
Custom Built-In Meditation Bed
Similarly, this bed was a custom, but was built into the space. We took out a closet to build the bed into the wall. With the extra room (which you can't see in the photo, unfortunately) we added a built in shelf and storage and covered with drapes that matched the meditation bed.
Step By Step Instructions for the Built-In Bed
Take the doors off and remove the interior.
Build a low platform and side walls.
Select a design for the top shape (all drywall).
Upholster the walls and ceiling.  Again, we tufted to give it texture and softness.
Custom mattress / cushion.
Install wall sconces for lighting.
Add Decorative Pillows.
No Assembly Required Meditation Room
This room doesn't include a meditation bed, persey, but is more of a lounge designing with the same concept in mind. A deep seated U-shaped plush velvet sectional is shrouded on three sides in custom drapery for a comforting, swaddling effect. 
This one is easy and didn't require any construction or custom building. We used the open loft in an upstairs home, draped all three walls, included a decorative valence, finished on both the inside and outside. The modular tables are easy enough to move around the space in different configurations dependent upon what the space is being utilized for – entertaining or meditating, etc. 
In this space we also included tons of cozy pillows, brought the outdoors in with plants on both sides, framing the space, a decorative, cozy rug underfoot, and hid the speaker system behind the drapes. Out of sight, out of mind! 
Outdoor Meditation Lounge
Lastly, this outdoor meditation bed was the easiest of all! It is the Woven Outdoor Platform bed from Wayfair to which we added drapes with durable indoor-outdoor fabric. We added a peek-a-boo valance around the top so it hangs on all four sides. For a customized, designer touch, we added custom decorative pillows, and rolled bolsters. The perfect place to meditate and breathe in fresh air!
Sours: https://socalcontractor.com/build-blog/space-to-meditate-building-a-meditation-bed-or-lounge/
Building a Simple Wood Deck with LED Lights
breaking in my platform with Yulady
For the whole story about how my adoring husband rescued me from self-pity and a weekend of pajamas and chick flicks, read my blog about how I ditch the gym when it's time to get fit FOR REAL.
Today's post is about what came out of that very-wrong-weekend-turned-right.
As much as I value my daily meditation practice which is made up of mostly four-minute meditations that I sneak in here and there and everywhere (including my car and laundry room), sometimes I need some extended periods of quiet that are simply impossible to get with four kids screaming "MOM" from every corner of the house.
We've had a plan to build a yoga/meditation platform in our woods for a while now, but as with many non-work projects, it kept being pushed aside. In last week's blog, I told you how we were suddenly inspired to do the build and to go green by up-cycling old fence lumber into my little piece of heaven in the woods. Totally free, totally DIY, and absolutely perfect for my soul.
my body as a measuring stick
We recorded two days of building and painting the platform, and I included a little sneak peak of my new weekly yoga series "Slim & Strong for Summer" that premiers this Wednesday on YouTube and features my good friend and an amazing yoga teacher, Yulady Saluti. This is yoga for EVERYONE. Yulady guides us (yup, she's leading me, too) through an entire vinyasa flow class with step-by-step instruction and alignment cues. At the end of the series, you'll have an entire class to watch and practice again and again to stay slim and strong all summer long. Be sure to subscribe to my YouTube channel and my Bliss Notes, so you don't miss a thing!
This little pile of scrap lumber and leftover chicken coop paint has me so inspired. I can't wait to start decorating my magical space…
Check out my four-minute meditations on YouTube
Basic Meditation for Beginners
Meditation for Healing
Meditation for Forgiveness
Meditation for Bullies & Self-Esteem
Meditation for Sleep
Meditation for Students
Meditation for Pregnancy
Meditation for Detox
Meditation for the End of the World
Meditation for a Broken Heart
Meditation for Money
Meditation for Weight Loss
Meditation for Beauty
Sours: https://www.bexlife.com/2013/03/if-youre-crazy-inside-build-heaven-in-the-woods/
Platform outdoor meditation
Imagine tree pose in an aspen forest or pigeon on a white-sand beach, and you'll immediately understand how being outside in a stunning setting can elevate your yoga practice. That's why we've rounded up some of the best locales around the world for an open-air yogi vacation, whether you're a lifelong practitioner or someone just getting into the game. And they happen to be near some awesome adventure terrain, too. 
Aspen, Colorado
Five days a week during summer, you can partake in $5 outdoor yoga sessions atop Aspen Mountain, where you'll be treated to views of the Elk Mountain Range and blooming wildflowers. Get there by riding the Silver Queen Gondola (lift-ticket prices apply) or hiking a 3.1-mile trail that climbs 3,200 feet to the top. The Aspen Center for Environmental Studies also offers summertime outdoor yoga for a $10 suggested donation on its 40-acre nature preserve downtown. Or book a suite at Aspen Meadows Resort (from $199), which has yoga classes at the confluence of the Roaring Fork River and Castile Creek.
Santa Fe, New Mexico
YogiHiker leads guided treks into the Santa Fe National Forest, where you'll climb to a mountaintop, then set up a temporary, open-air yoga studio atop a peak for an hourlong guided class. The Santa Fe Botanical Garden also has regular yoga classes on its grounds all summer. Stay in a casita at the Four Seasons Resort Rancho Encantado (from $399), set on a 57-acre property just ten minutes from downtown Santa Fe's historic plaza. Guests can practice yoga and meditation at an on-site yoga tepee and deck built on a spiritual vortex once identified by a shaman. During winter, the hotel offers yoga outside in the snow.
Beech Mountain, North Carolina
In the winter, Beech Mountain Resort has skiing and snowboarding. But the fun doesn't stop when the snow melts. One of the main summer draws? Yoga on a deck atop the mountain's 5,506-foot summit, which takes place every weekend June through September for $12 a person. Stay at the Westglow Resort and Spa (from $300), located 22 miles away near the town of Blowing Rock, and you can take outdoor yoga classes at its wellness center, with panoramic views of the Blue Ridge Mountains.
East Serengeti, Tanzania
Thomson Safaris has access to a private, 10,000-acre swath of Tanzania called the Eastern Serengeti Nature Refuge. Most people come for wildlife-spotting expeditions and guided nature hikes through the savannah. But the camp's new, specially-built yoga platforms might be worth a visit of their own. Do downward dog and warrior's pose in the middle of the grasslands while giraffes and zebras wander in the distance. Teachers lead classes, or you can stretch on your own. From $5,490 for eight days
Homer, Alaska  
From May through September, guests get delivered to Tutka Bay Lodge via a water taxi or chartered flight. Located at the mouth of a fjord nine miles from the seaside town of Homer, the family-owned, 11-acre property has six guest cabins, a sauna, hot tub, and, you guessed it, a spectacular yoga deck where instructors lead morning sessions overlooking Kachemak Bay as bald eagles soar in the distance. Whip up three-course meals at the lodge's cooking school in your downtime, or head out to sea kayak or hike the trails in Kachemak Bay State Wilderness Park. From $5,695 for three nights
Bavarian Alps, Germany
The resort of Schloss Elmau, nestled in a stunning region of the Bavarian Alps just 60 miles south of Munich, is known for its spa and wellness offerings, including yoga retreats. You can enjoy daily classes with mountain views in its spacious studio, or take your child's pose outside, overlooking a neighboring lake and the sky-scraping peaks. The resort is also home to a renowned bookstore and has a concert hall with regular classical-music and jazz performances. From $566
Austin, Texas
You'll find outdoor yoga all over the Texas capital. Wanderlust Austin is a studio with rooftop yoga and free hourlong vinyasa classes in Republic Square Park. Even Whole Foods has rooftop sessions in partnership with Black Swan Yoga. Yoga Hike caps off treks into the surrounding state parks and nature preserves with gentle classes and trailside mindfulness exercises. And the Carpenter Hotel (from $205) hosts a free community yoga series outside in an amphitheater on its grassy lawn.
Oahu, Hawaii
Turtle Bay Resort (from $269) sits on a North Shore peninsula and has five miles of coastline, 12 miles of beachfront hiking trails, several outdoor yoga classes each day, and hosts Wanderlust Oahu, a four-day retreat each spring with top yoga instructors, DJs, and workshops. Or stay at the Four Seasons Resort Oahu at Ko Olina (from $645), on the island's west coast, for white-sand beaches and rolling mountain ranges plus yoga outside at scenic Pohaku Point.
Sours: https://www.outsideonline.com/adventure-travel/destinations/outdoor-yoga/
Outdoor Zen Yoga Workout Deck
If you don't have a secluded spot, you can create one by planting a hedge of tall-growing shrubs or lining up large potted plants to form a living wall, adding a standup screen or trellis, or even hanging curtains. Remember to orient your setting so that you are looking at something pleasant as opposed to a blank wall.
Plants—Fill your outdoor den with scented bloomers such as lavender, jasmine and chamomile, which are said to ease headaches and tension. Gently flowing ornamental grasses or feathery foxtail fern provide a soothing essence, while shade-loving evergreen shrubs, such as gardenia or Japanese boxwood, keep the look simple. For height, there's noninvasive bamboo, a strong but flexible grass, or horsetail reed; both have a Zen quality about them.
Finishing touches—Blue and green hues can relieve stress, so consider this when selecting containers, mats, rugs, pillows and wall paint. The natural shades of rocks and pebbles add an earthy element to the setting, while white-blooming plants, twinkle lights and candles provide a soft glow. Add a little music (you can always bring out your cell phone and earphones), and you're ready to detach from the world and retreat into your garden of serenity.
Note: If you love the idea of practicing yoga or Tai Chi outdoors, but don't have room in your yard, Desert Botanical Garden offers yoga and Tai Chi classes throughout the year in open-air and covered areas, depending on the weather.
Sours: https://www.phgmag.com/work-in-an-outdoor-workout/
Now discussing:
.
1466
1467
1468
1469
1470