Living Art Aquarium
Living Art Aquarium #302, 17th Street, Thiru Vi Ka Nagar 600011 Chennai, Tamil Nadu, India
Category
General Information
Locality: Chennai, India
Phone: +91 87545 54113
Address: Living Art Aquarium #302, 17th Street, Thiru Vi Ka Nagar 600011 Chennai, Tamil Nadu, India
Website:livingartaquarium.in
Likes: 965
Reviews
Facebook Blog
Living Art Aquarium28.09.2021
Have a positive vibe everyday morning! Maintaining an aquarium personally will improve our mentality. Interaction with the fishes will lead to positivity everyday. The fishes comes with the vibrant colours gives the creativity which makes the day start with the enthusiastic moment. Share your opinion in the comment box.... For more details Call us @ +91-99401 56111 Visit us @ www.livingartaquarium.in
Living Art Aquarium28.09.2021
India 2020 population is estimated at 1,380,004,385 people at midyear according to UN data. On an average Indians are living in a house of 600 sqft. Which is merely a small 20' x 30' on size. Ornamental fishes are trending in India, many who has the capacity to buy are got struck up with the space. As traditional aquarium needs floor space.... So we decided to resolves this and started doing research on the space. Our core motto was to manufacture an aquarium without floor space. After getting the inspiration from Split AC Indoor we started working on it. So many errors in the initial stage made this final photo frame aquarium. This aquarium doesn't require frequent water change. This is totally user-friendly aquarium without occupying the floor space with custom size range. This is our recent project in Haryana for an apartment. Like if you like our initiative and comment if you love the design. For more details [email protected] +91- 9940156111 www.livingartaquarium.in
Living Art Aquarium28.09.2021
Can you guess whats this? One who Answers it on the comment, will get a deep love by us for his knowledge and interests in fishes. #plantedtank #angelfish #angelfishtank #chennaiarchitects #chennaicollections #chennaipetlovers #chennaipetsclub #chennaiparties #edapadipalanisamy #architects #interiordesign #india #aquascapes #aquarium #fishtank #loveforfish
Living Art Aquarium27.09.2021
Do you want to increase your learning skills? Does aquarium support it? Absolutely! Yes!! ... Aquarium helps you in embracing lifelong learning process. But How? When you keep an aquarium with the interest in few days you have to spend some time on the internet on learning fish variety to skip the current variety fishes. Later you will spend in searching for new scaping designs. Later you will upgrade the aquarium. All this will be learning and it starts without your knowledge. Have an aquarium stick to lifelong learning... Comment if you are one of the lifelong learners.
Living Art Aquarium27.09.2021
Design that solves a particular problem is highlighted when it comes to the market! . MFT is the new trend in India Market for apartments and offices. . DM or call for orders... . #chennai #india #livingartaquarium #fishtank #aquariums #aquariumlife #fish #tank #chennaipetsclub #architecture #Interior #interiordesigner #architects #millionairemindset See more
Living Art Aquarium26.09.2021
Do you know how to tackle an opposite mentality client? Aquarium helps us to create a great bonding with our clients and relations. Some years before we would have crossed the famous movie "finding the nemo" isn't it?... Yes, in that movie we would have seen the nemo fish which will be playing on the other species called Anemone. Where Bothe are dissimilar species but they go together. Same way we human need to learn those lessons from those creatures to build a relationship with the opposite mentality clients or relations. Watching them will teach us and in few days it will become a habit for easy to go! Let me know your sugggesionts on the comment box. For more details contact us @ www.livingartaquarium.in
Living Art Aquarium25.09.2021
Fish Tank manufacturing in Chennai. We are renowned for aquarium(fish tank) manufacturing since 2000. We have done 100+ aquarium projects in Chennai and some other projects in India. Our experts are proficient in handling large size fish tank. And we have a separate team for fish tank cleaning and maintenance.... Call us at 9940156111
Living Art Aquarium25.09.2021
Do you know why people choose Arowana or dragon fish in their Aquarium tanks. . It is a banned in America . It is a one extinction species... . The real beauty is people in Asia breed these fishes though only some variety of it can be breed. . #customaquarium #customfishtank #arowana #arowanafish #chennaipetlovers #Chennai #architects #chennaiarchitects #chennaiarchitecturefoundation #koipond #koifish #fish See more
Living Art Aquarium25.09.2021
A good aquarium design and size has different meanings for everyone who sees it. . Aquarium installation for an office in coimbatore. . #livingartaquarium #architecture... #design #interiordesign #aquariumdesign #interiors #workspace #workstation #architecturestudio #architect #architecturelover #archilovers #modernarchitecture #nature #aquarium #fish #fishtank #aquascaping #freshwateraquarium #aquariums #aquariumfish #aquariumlife #fishkeeping #cichlids #natureaquarium #cichlid #freshwatertank #chennaiarchitects #chennaiarchitecturefoundation #chennaiinteriors See more
Living Art Aquarium24.09.2021
If you are owning a fish tank or koi pond, I have great news for you. I am looking for just 10 people to share our secrets behind this zero-aquarium maintenance With the Zero aquarium maintenance, you will be able to see your fish tank with crystal clear water and healthy fish without spending on weekly basis, efforts & hard work and without wasting the time behind maintaining the aquarium or pond.... Here's what you are going to receive. 1) Tips on easy maintenance 2) How to retain the fish healthy 3) How to reduce the expenses on fish tank or pond. and, you also get our support team to help you in your emergency needs when you become a part of our family. I am planning to charge Rs.2500/month for this zero-aquarium maintenance. But for the first 10 people, I am making to be Rs.1000/month and for those who love to have a lifetime service 700/month. If you really want to save your time, effort and money become a part of us, all you need to do is book for a meeting in WhatsApp with the link below and make us work for you and get all the things done easy and simple. https://wa.me/918754554113 #chennai #chennaiarchitects #chennaiarchitecturefoundation #madras #madrascentral #chennaimemes #aquariummaintenance #aquascapes #edapadipalanisamy
Living Art Aquarium24.09.2021
Hard.scaped for a hotel aquarium in Chennai, India. We've been blessed to be able to complete this hotel aquarium project during the time of pandemic with partial work and slow process. The brief for this aquarium is to impress the guest who visits the hotel. So the client and we had a discussion on the location of the aquarium. We suggested various locations and finally the client approved reception table to be made with the aquarium.... Interiors were a great subject and offered great opportunities in depth to have a pleasant feeling to see the aquarium. We had a lot of fun while commissioning this aquarium. Give your feedback in the below comment box! #aquarium #tank #fish #Cichlid #malawi #glass #chennai #custom #customfishtank #customaquarium #customhome #fishtanksofinstagram #architecture #architecturephotography #design #interiorsphotography #indianarchitect #architect #architecturelover #archilovers #modernarchitecture #architecturephotos #architecturelife #chennaiarchitecturefoundation
Living Art Aquarium24.09.2021
How we can develop our responsibility? An aquarium makes a great focal point and gathering place in the home or office and provides a fun activity for the whole family & staffs. Aquariums teach us about nature and caring an aquarium helps in learning responsibility. Do you have an aquarium? Let me know in the comment box!!... For more details https://livingartaquarium.in [email protected] https://g.page/Fish-tank-Chennai?share
Living Art Aquarium23.09.2021
Sunset combined with the #rainbow #chennaicollections
Living Art Aquarium23.09.2021
Check out our new planted aquarium designed for a private residence here in Chennai. with over 15 varieties of plants. The special thing about this tank is "Gift to daughter from a lovable father" ... In installation we found the love between the father and her daughter! #livingartaquarium #architecture #architecturephotography #factory #factorydesign #industrial #industrialphotography #campus #landscaping #greenspace #greenery #pergola #pergoladesign #architecture #architecturedose #architecturelife #architecturaldetails #architecturephotos #Chennaiarchitects #indianarchitecturalphotography #instagrid #architecturedaily #architizer. #architecturemodel #classicalarchitecture #architects #architecturalfashion
Living Art Aquarium22.09.2021
Built in wall aquarium designed with a purpose to make your place more perfect balanced to have an aquarium. We believe this will make your dream come true in a limited space with more advantage. #customaquarium #customfishtank #acrylicaquariums #aquascapes #chennaiarchitects #chennaiarchitecturefoundation #architecture #limitededition #India #aquarium #aquariummaintenance #aquariummanufacturer ....... For Free consultation contact us 9940156111 [email protected] www.aquariumindia.com See more
Living Art Aquarium22.09.2021
This is how we save floor space! Wall-Mounted aquarium specifically designed for limited spaces and to.give life to the wall! This wall mounted aquarium or plasma aquarium is designed and customized for a hospital in Thanjavur.... Dean was very keen in calming his patients so he planned to have an aquarium in the waiting hall of the hospital but unfortunately the space was limited. So we proposed wall-mounted aquarium with super nano filtrations technology without occupying floor space. He approved within some couple of days after seeing our testimonials by other clients. We use acrylic for light weight and leak-free aquarium. Wall Mounted aquarium (ultra-space saving aquarium) #livingart #aquarium #aquascapes #architects #architecture #chennaiarchitecturefoundation #chennaiinteriordesigner #chennaiinteriors #modernarchitecture #fishtank #edapadipalanisamy #mercedesbenz #hospital #chennai #india #millionairemindset #tamilnadu #tamilnadu
Living Art Aquarium22.09.2021
Adding Movement and Colors to the residence in Chennai, India. . . Freshwater Cichlid Aquarium made up of Acrylic with custom made ornaments as requested by the client. .... . #aquarium #fishtank #cichlid #aquascaping #chennaiarchitecturefoundation #chennaiarchitects #chennaiinteriirdecorator #chennaiinteriors #architect #architecturelover #chennai #bmw #apple #louisvuitton #yoga #meditation #audi #mercedesbenz #fish #freshwateraquarium #interiors #builder #photooftheday See more
Sours: https://lordlodge.com.au/livingartaquarium.in/
See, that's what the app is perfect for.
Beachgoers and ocean explorers have been greeted by an estimated countless bazillions of salps caught up in current events, including these donut salps, Cyclosalpa affinis, found just offshore of the Aquarium last week!
Salps are prolific and prodigious filter-feeders and key members of the gelata—the myriad different gelatinous, drifting organisms that make up a significant part of the ocean's mass of living creatures. Most salps have a bewildering life history that these cyclosalps illustrate beautifully.
The solitary phase of the salp is known as an oozooid—it will asexually produce long chains of clones known as gonozooids that you can see emerging in the photo above.
Now Cyclosalpa gonozooids aren't just sexy plankton for their enchanting bouquets, oh no no—in this phase, most salps are sequentially hermaphroditic, starting off female with an egg that is fertilized by older, male individuals from other chains.
The embryo develops into an oozooid inside its sexually-reproducing parent—and those developing oozooids may already be growing their new clone chains before they've even flown the gelatinous nest! You can see the next generation developing inside these older gonozooids:
This alternation of generations enables salps to be some of the most productive organisms in the multi-cellular world, exploding in numbers overnight and drastically altering the planktonic landscape by feeding on a wide range of food sizes and starting blizzards of marine snow as sinking fecal pellets and food-stuffed mucous pours into deeper waters from the salpy deluge.
Salps are one of the ocean's most influential biological players, and that's not the only thing we share in common. Salps are invertebrate chordates, along with their tunicate cousins the pyrosomes, doliolids and sea squirts—those colorful reef-dwelling filter-feeders found throughout the world ocean.
These animals all look rather like we do in their early stages, with a notochord in their larval form that is largely lost in transition to adulthood in the tunicates, while being replaced in purpose by a backbone in fishes, birds and us mammals.
So as alien as salps may appear to be in their midwater manner, they're some of our closest invertebrate kin—and a key part of the backbone of our ocean planet's operations.
Sours: https://montereybayaquarium.tumblr.com/post/183899499303/jellies-living-art
Tropical fish store Living Art Aquarium
Tropical fish store Living Art Aquarium, 708 S Gammon Rd, Madison, WI 53719, United States: 220 reviews of users and employees, detailed information about the address, opening hours, location on the map, attendance, photos, menus, phone number and a huge amount of other detailed and useful information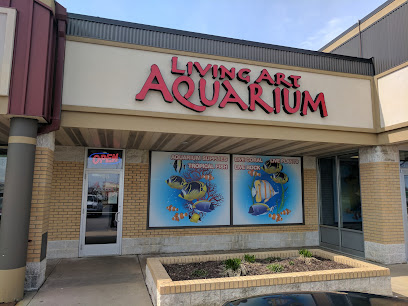 Address: 708 S Gammon Rd, Madison, WI 53719, United States
Website: m.facebook.com
Phone number:+1 608-270-9250
Reviews Dede Eschen
I called on a Thursday, for pickup on the following Saturday. When I called to let them know I would be there in a few minutes, they let me know they already had my new critters all bagged up and ready to go! The corals are adjusting, but beautiful! (My quarantine tank light went out on me, so I had to pull out another backup.) The gobies are exactly what I was looking for! I am very pleased with my purchases and the service that I received at Living Art Aquarium! Thank you for helping me add to my reef tank!
7 months ago Mariana Seda
Called today to inquire if they had aquatic snails- they do! While I was bummed I couldn't go inside to see all their fish, I appreciate Living Art's commitment to keeping everyone safe! I talked with a very friendly employee over the phone and they were able to help me select the species and colors of snails I wanted! They also helped get me some algae wafers for my tank without an issue! I was able to pay over the phone and pick up my new little guys within 10 minutes! My only complaint would be that I would have liked to see the animals I was going to purchase before getting them but I understand that can be rather difficult over the phone. My snails look great and I'll be back!
9 months ago Dena Craghead
GreaT choices of fish. See whaT YoU wanT on line, call to order, theN call wheN you're there. People aRe nice tooo
6 months ago John Krueger
My go-to place for my aquarium. Large selection of fish, plants, and food. Fish are healthy and I've had the best luck with them. Got several plants that are still going six months on. Very helpful and knowledgeable staff - helped me pick compatible fish. Best place for frozen fish food options like rotifers. Highly recommend!
7 months ago Sherri Bethea
Can hardly wait till they can open there doors. Great experience for kid's and family. Best place to get fish of kinds and so much more.
10 months ago Marcus Sherman
Very nice aquarium store. Staff is knowledgeable and carry many aqua-life and items for your aquarium. It's a bummer you cannot go into the store at the moment due to Covid.
10 months ago Dawn Moulton
Great selection and service. They are very knowledgeable and friendly over the phone and their Covid precautions are by far some of the best in Madison. Highly recommend for all your fish needs.
10 months ago Richard Pollack
Sign on door says curb pick up only. How can you look at fish from the curb? Cut back hours according to sign and do not answer the phone.
10 months ago Clarence Lewis
Very helpful and knowledgeable. They picked out my new cichlids for me because of the covid and I couldn't be happier. Can't wait to go back and be able to look around.
3 months ago stacey oudheusden
Have gotten almost all of my fresh and saltwater fish and supplies here. All have done tremendously well. The animals and plants in store are well taken care of and the employees are knowledgeable. They can also order specific fish for you if you don't see what you're looking for. We've done this a few times and it's never taken long. Would highly recommend for new and experienced fish keepers.
8 months ago Jennifer McGinnis
This is the best place to go in Madison for specialty aquatics. You won't find a bunch of dirty tanks and dead fish like you will at some of the other fish retailers in Madison. Their location is a bit small, but the selection is still good. If you're looking for something they don't have, check with the workers, they might be able to get it for you. They'll give you a good deal on trades too! There is one thing you need to be aware of if you haven't been here before. Do not wear a giant coat into this shop, even if it's a blizzard outside. The temperature in the store is very very warm and you will absolutely melt if you're dressed warmly. I don't think there's anything they can do about it, because the store is filled with hundreds of gallons of warm water for the fishes health. Leave your coat in the car, or you'll have to leave in about 5 minutes.
7 months ago Joseph Smeraldi
The selection for aquarium plants is the largest I have seen in town. All the fish and tanks look to be in excellent conditions and the sales staff were quick to greet and offer assistance. As someone that comes from a town without an aquarium hobby store it's nice to be reminded that there are quality stores just a small distance away.
9 months ago False ad
Went there to buy discus fish... they don't guarantee the fish which they are delicate fish so didn't buy any since we drive an hour and 40 minutes to take a look but in the short 30 minutes we were there saw the staff water testing and taking care of the fish the tanks were sparkly clean and fish showed no sign of disease or parasites. Almost all fish captive bred which is a plus. And our trip wasn't for nothing we finally found a healthy peacock eel and took him home with us pretty expensive but seeing the level of care it's totally justifiable..... you can see this shy guys head he is already warming up to us Update, 3 months later and he is an awesome fish
8 months ago Stanley Okpara
I highly recommend this place for anyone that's looking to get lots of different types of coral and aquarium equipment. This place also has lots of different species of fish as well.
8 months ago Zmairan Perry
If aquariums are your thing, this is the meca of fish stores from simple to exotic, fresh and saltwater, the selection is excellent. Extremely knowledgeable and professional staff. Helpful, patient and informative employees. Despite the 40 mile drive one way, I will be happy to do business with them. This is my new saltwater home store. 5 stars for service, knowledge and product.
7 months ago Karen Whitley
I love this place. I love the selection in fish and Mitchell is awesome!
8 months ago mary burr
Curb side only, drove 30 min to sit in the car
8 months ago Humma Khan
A great resource for anyone looking for a better place to buy fish than the local big box pet stores. A visual treat for little kids and adults with numerous tanks full of amazing creatures. Very knowledgeable about all things fish.
9 months ago Leslie Scott
About the only place around that carries quality freshwater plants. They always have a wide variety of critters in.
9 months ago Justin McKenzie
This is an excellent aquarium and fish store and the staff are fabulous!
2 months ago owsla owsla
Always a wide selection of healthy and fascinating fish and plants. Living Arts has what the big box pet stores only wish they had.
7 months ago Andriy Andriiv
We started as saltwater hobbyists a little over a year ago. We love the staff and the selection. They are very knowledgeable and kid friendly. I can't thank them enough for their patience (especially Katie!)
7 months ago Richard Vogen
Love this place and how well they take care of their fish! The first place ever to refuse to sell me fish because the fish I wanted were in with other fish that were sick and they didn't want to risk sending me home with sick fish! I really appreciate what they do for their Bettas and we try and stop in as often as we can :)
8 months ago Brandon Casper
Wonderful selection of fresh and salt water fish. Always happy with health of fish purchased. Very helpful and knowledgeable staff. Willing to trouble shoot ideas with my tanks. Pricing seems average for the area. They do have some shrimp. Also a pretty good selection of live plants. Really love the friendliness of the store!
8 months ago Astriano Castellon
Nice displays, good variety of reef tank livestock, although the owner told me they were particularly low on coral stock that day. He was very helpful and willing to talk coral, show me some pieces. Didn't seem to have a ton of hardware (filters, skimmers, etc), but seen more devoted to livestock. Nice place!
5 months ago Beccah Flynn
Very knowledgeable setting up and operating my fish tank. They have a great supply of fish at reasonable prices. Equipment prices are usually less than the bigger chain stores. Highly recommend.
5 months ago Cierra Williams
Nice place although a bit hard to find from the road. We came here today looking for ideas and info on terraquariums. The outside impression is greatly dwarfed by the inside. They have a good selection of salt and fresh water fish and supplies. They seemed to be growing a lot of coral. They had more live aquatic plants than any other location we had visited to date. Finally found some lucky bamboo! The staff was very friendly and helpful with answering our noob questions. We will definitely be back when we are ready to build our first terraquarium!
7 months ago Kali Phoenix
Great place, love the people, love the fish. I come back all the time. The prices can be a bit higher than elsewhere, but sometimes they have fantastic deals and regardless, it's generally worth the extra you pay.
11 months ago Lina Muriel
Dont go here. Rude old lady sold me a clownfish that was already sick and when I went back they didnt help at all just said check ur water even tho my water is perfect and he was sick when sold to me. Now hes dead. Poor service when I went there wish i could do zero stars.
11 months ago Jake Flowers
This is a really cool little shop. They have a great variety of fish, from your normal guppies and tetras to some rarer stuff ! Things look very healthy as well, and staff let you know to avoid something if necessary. All the staff are so nice and willing to answer any questions you might have. Never had a bad experience here!
9 months ago Natalia Mamita
Excellent staff and very knowledgeable. If they are busy be patient. It is worth it to get their help and guidance over anywhere else.
5 months ago Gace Mendoza
I have a Betta that was in some trouble. I went and talked to a guy there about my baby and he was so helpful. Showed me things to help my Betta and how to use them. Wrote directions for me. The service was great and he help save my Betta! Can't thank those guys enough!!!!
8 months ago Chelsea Love
Best fish store in the area. The staff are very knowledgeable, the fish are in the best shape, and the selection is very good for the size. I won't go anywhere else in Dane County if i can help it. I wish I could remember the service person's name, because she was exemplary.
11 months ago T Vu
Great selection and beautiful looking fish, best in town. It's nice to talk to staff who are knowledgable and hobbyists themselves.
9 months ago Dorin Petrescu
They are scared of covid dont waist your time driving there
3 months ago David Lewis
Helpful staff with everything you need!
3 months ago Matthew Smith
Nice place friendly staff always seem to have new stuff
7 months ago rinna brooke
Great store for high quality fish and supplies. If you are a fish enthusiast I highly recommend it.
8 months ago Alice Torres
A great place to get aquarium supplies. They are pretty friendly and knowledge about the trade and the hobby. If you venture in you can find most supplies you could wish for, although, they are more of a salt water aquarium store than fresh water. At least they have more variety of salt water fishes and a vast collection of anemone. You can get some rare combination of guppies form them occasionally, and pretty much the only place in town you can get pretty colored shrimp.
2 weeks ago Jinee Lee
THE place for expert advice on tropical fish. Very friendly and knowledgeable staff.
5 months ago Volein Hart
By far the best place to fulfill your aquarium needs in the madison area. Their products (fish mainly) are a little more expensive than the big box stores but it is worth it. None of the fish I have bought from then have died (going on almost 2 years now). Highly recommend!
9 months ago christine chase
Fantastic selection of Malaysian driftwood! Very friendly staff also. So happy we stopped here
9 months ago Amber Hall
Love this place, they're really knowledgeable and spend as much time as you need explaining the ins and outs as I am a newbie in this hobby.
7 months ago Robby Cardosi
One of the best fish stores in the area. They had new and used tanks. Accesorries, food, frozen items. Freshwater and saltwater selection of fish. The staff is knowledgeable and friendly every time I go there.
10 months ago Stephanie Reyes
Good selection, tanks always look clean. Staff is very knowlageable about their fish, and always seem to give good advice.
9 months ago Steve Bowden
Always great fish and inverts. Small locally owned store with the healthiest livestock around. Friendly and knowledgeable staff always remember regulars. Gets pretty busy and crowded, but the quality us always worth it!
5 months ago Amandine Languin
If you are at all interested in setting up an aquarium Living Art Aquarium is the place to go. Tim (the tall guy with the reddish beard) is a wealth of information. If you describe your tank to him he will honestly tell you if the plant, fish, or invertebrate you are thinking about adding will work with your current set up; he cares more about the tank and the survival of its inhabitants than selling you an expensive fish. The fish they stock are largely in great condition and they can special order you a fish if they don't have it in stock. They have a fair selection of equipment and tanks, but you might have to order some pieces online or get them from a generic pet store. For a specialty store the prices are very reasonable; especially if you think about the fact that you are not paying for just the fish, but the advice you are given as well.
1 month ago Joy Borchman
I love Living Art Aquarium. They are very knowledgeable. They have saved my fish on numerous occasions when my fish have been sick in the past. They have an awesome selection. I love just looking around also. The aquariums and fish are so beautiful.
3 weeks ago Mike Carpenter
Best place to get fish. Great selection and fish are healthy. Staff are very knowledgeable.
11 months ago Brenda Norris
Wouldn't shop anywhere else in Madison for saltwater fish. Absolutely the best fish store in Madison. Always healthy, great stock of some hard to find species, and they'll special order for you.
8 months ago
Popular places from the category Tropical fish store
Sours: https://findly.pro/place/158469
How to make your own LOST WORLD nano tank - STEP BY STEP TUTORIAL
Custom Aquarium Systems and Cabinetry
Built to Your Specifications
For over 20 years, Living Art Aquatics in Crystal Lake, Illinois has specialized in introducing tranquil and varied underwater life into your surroundings. In fact, we specialize in the construction of Custom Aquariums, Fish Tanks, Filtration Systems and Custom Cabinetry. Our professionals are experts in designing aquariums that go hand-in-hand with your home or office environment. They work closely with you in creating a custom design in the comfort and convenience of your home or office.
We also have a complete Maintenance Department. Whether it's a new system we've installed or one you already own, our maintenance team can make sure that your aquarium provides all the pleasure without any of the hassle. All of our technicians are also hobbyists and have a deep understanding and love for the industry. They have been specifically selected for their positions and have undergone extensive training so you can be sure that under our care, your system will thrive and grow.
Additionally, we maintain a large in-house inventory of fresh and saltwater fish and coral available for purchase. All of our livestock goes through a quarantine period after they arrive from our suppliers. This guarantees that they are disease-free and eating so they can be placed in your system without fear of contamination or loss.
Sours: https://livingartaquatics.com/
Art facebook living aquarium
Living Art Aquarium
Pet Stores
Hours:
Hours
Business operations may be affected due to COVID-19. Please contact the business directly to verify hours.
Most Recent Comments
February 2021

Can hardly wait till they can open there doors. Great experience for kid's and family. Best place to get fish of kinds and so much more.

February 2021

Very nice aquarium store. Staff is knowledgeable and carry many aqua-life and items for your aquarium. It's a bummer you cannot go into the store at the moment due to Covid.

January 2021

Great selection and service. They are very knowledgeable and friendly over the phone and their Covid precautions are by far some of the best in Madison. Highly recommend for all your fish needs.
More Comments(60)
You May Also Like
Sours: https://www.loc8nearme.com/wisconsin/madison/living-art-aquarium/3070779/
FKJ live at Salar de Uyuni in Bolivia for Cercle
Blue Earth Aquariums & Corals is committed to giving our clients a living masterpiece that they can enjoy for years to come.  Like a painter, we create a sea of living art using the awe-inspiring colors and textures found only in the earth's oceans and lakes.  With these natural tools, we can create a truly stunning aquarium that will beautify any room it dwells in.
What other people are saying about us...
Check out our vast selection of WYSIWYG Corals!
Sours: http://blueearthaquariums.com/
Similar news:
.
180
181
182
183
184