Alexandria has some of the best food in the D.C. area, but more importantly, they have some of the best coffee! I lived in the historic heart of Old Town for four years, and it will always hold a piece of my heart. It's one of the most charming, most coveted places to live in the D.C. area, and one of the reasons is the ability to walk to incredible coffee shops! Nothing thrills me more than walking out my door and down the street to pick up my coffee, then continue walking in such a charming place. Here are my favorites!
Misha's Coffee Roasters
Misha's has been serving up coffee to Old Towners since 1991! It has definitely withstood the test of time for the area, and Alexandrians are absolutely loyal to this locally owned and operated favorite. On any given day, at any given moment, you'll find people working on laptops, reading, chatting with friends, people watching, relaxing, and more. Their recent move from South Patrick to King Street has only raised its popularity, yet it has maintained its local charm. Come for the coffee (from all over the world) stay for the vibe!
King & Union Starbucks
What?! A Starbucks? That's not local, it's an international chain! That's true, but the interesting local flair of this Starbucks is its location in the Fitzgerald Warehouse, one of the oldest buildings in Old Town! Colonel Fitzgerald was a close friend of George Washington and served as his secretary and aide-de-camp during the Revolution, and he was also Mayor of Alexandria in 1787! At his day job, he was a merchant, hence the need for a warehouse on the waterfront of the third busiest seaport in the Nation! It's now a Starbucks, which earns it a place on this list!
Caphe Bahn Mi
It's only open for lunch and dinner, so morning coffee drinkers are out of luck. However, if you can handle strong coffee in the middle of the day or later, you definitely need to stop by Caphe Bahn Mi for authentic Vietnamese coffee! You can get it hot or iced (I like it best iced), and it's a mix of strong coffee and sweetened condensed milk. I think my husband said it best when he said it tastes like drinking melted coffee ice cream!
More here: What to Eat in Old Town Alexandria
Cafe du Soliel
This was a pleasant surprise! I used to come here for my ground coffee to make at home; it was called "Old Town Coffee and Tea," and they sold loose-leaf tea and whole bean coffee of every nationality and every flavor. You could mix and match, and it was a delight! But I have to say, if they had to close their doors, I'm glad this one opened up in their place. They have huge crepes full of delightful fillings, pastries, and more. Or if you're not looking for a breakfast option, their coffee is excellent to-go!
Read next: Your Ultimate Guide to Coffee Around the World
Old Town Farmer's Market (Saturdays, Year Round)
I love the Old Town Farmers' Market! It's the oldest farmer's market in continuous operation, and there are several coffee vendors! Be sure to try the Moo Mocha from the Amish vendor, any of the incredible coffee and cream combinations at Guata Java, and many more! While you're at it, get a sweet or savory pastry to go along with it!
Want more? Check out the Best Coffee Shops in Nearby Del Ray, and visit my United States Page for more about Alexandria!
Love this post? Pin it for later!
Published by quickwhittravel
Hey there! I am an avid traveller and adventurer, and you're always welcome to join me! The things I love most are God, my husband Steve, and seeing new places! My favorite places include Sydney, Australia; Ise City, Japan; and Bergen, Norway--but there's always room for more favorite places! View more posts
Sours: https://quickwhittravel.com/2020/10/07/best-coffee-shops-in-alexandria-va/
There are lots of good reasons to start your day in Alexandria—the bustling energy, the very good chance you'll run into an adorable pup or two, and of course the cozy cafés where you can warm up and fuel up with coffee before you hit the streets.
Want to know where the locals go for a delicious espresso, cappuccino or Nutella Latte? Alexandria's top coffee shops have it all—locally roasted artisan coffee, free Wi-Fi, fresh pastries, space to work and hang, and the brews to get you up, out the door and coming back for more.
Alexandria Coffee Roasters
Misha's
Image Credit: Jenny Markley
Misha's iconic orange cup is the true mark of someone in-the-know about Alexandria. Just off King Street, this top neighborhood hangout serves hot chocolate and artisanal coffee roasted and brewed in-house, plus a selection of local pastries and baked goods including tasty gluten-free options. Most days, you can watch staff scoop beans straight into the roaster in small batches, and during the summer, you can sip coffee outside in Misha's "spontaneous fourth room." And if you're looking for inspiration, well, "Misha's elevates coffee to its rightful status as the elixir of poets," according to Washingtonian magazine.
Swing's Coffee Bar
Image Credit: M. Enriquez for Visit Alexandria
Swing's celebrated 100 years in the D.C. area in 2016. It should come as no surprise that a roastery so "steeped" in history would take their coffee seriously. You can order ethically-sourced single-origin pour over coffee, espresso and cold-brewed iced coffee on tap in this wide open Art Deco space, with large windows and a garage door that opens up in the warmer months. Swing's also carries pastries from nearby Junction Bakery & Bistro that will sweeten any morning. You can also watch classic German coffee roasters at work behind the bar and participate in one of the scheduled public coffee cuppings Fridays at 10 a.m. Can you say coffee heaven?
St. Elmo's Coffee Pub
Image Credit: S. Stanton for Visit Alexandria
Located in the heart of Del Ray, St. Elmo's bills itself as "the community gathering place." They're not wrong. With lots of seating and free Wi-Fi, St. Elmo's welcomes early birds and night owls and was renovated in 2016 into an even warmer and brighter space. You can catch live jazz sets from The Not-So-Modern Jazz Quartet every Thursday evening at 7:30 p.m. The "Take a Book, Leave a Book" library lets you trade in your recent reads for books of all genres, and the board game collection is perfect for a rainy Saturday with friends. In warm weather, St. Elmo's outdoor seating is prime people-watching territory.
More Buzz-worthy Cafés in Alexandria
Sugar Shack Donuts: Add a little extra sugar to your coffee at Sugar Shack in north Old Town with a coffee or special drink.
Extra Perks: This hidden gem in North Old Town has been a classic neighborhood breakfast spot for over a decade. It's the perfect spot for classic British and American breakfast staples with a hot cup of coffee.
Junction Bakery & Bistro: Choose from a variety of pastries and breakfast dishes for every palate, with an assortment of coffee and nitro cold brew.
Buzz Bakeshop: Buzz serves fresh coffee and espresso paired perfectly with their breakfast, including brunch cups and sandwiches that are great on the go.
Stomping Ground: For a complete breakfast that hits the spot, don't miss Stomping Ground, which serves locally-roasted Swing's coffee.
Grape + Bean: Sample wine and coffee from small producers around the world.
Java Loco: A favorite coffee spot in Alexandria's West End neighborhood, serving coffee, espresso, bubble tea gelato and baked goods.
Dolci Gelati: Located just next door from the Visitor Center in Old Town, Dolci Gelati has a sweet reputation in Alexandria. They've also got stellar espresso drinks and you can even combine gelato and espresso for an affogato.
Abyssinia Mart: This South Old Town market is the go-to spot for coffee in the neighborhood, offering a small lounge for seating and special events including authentic Ethiopian coffee ceremonies.
For more coffee shop options in Alexandria, click here. 
Header image by James Cullum for Visit Alexandria. Thank you to Kelsey Michael for her contributions to this post.
Sours: https://blog.visitalexandriava.com/alexandria-coffee-shops/
Top 10 Most Visited Coffee Shops in Alexandria
1
Killer E.S.P.
Hours:
Address:1012 King St, Alexandria, VA 22314
Phone:+17038696522
Website:http://killeresp.com
2
Starbucks
Alexandria
Hours:
Address:532 King St, Alexandria, VA 22314
Phone:+17038362236
Website:https://www.starbucks.com
3
St. Elmo's Coffee Pub
Hours:
Address:2300 Mount Vernon Ave, Alexandria, VA 22301
Phone:+17037399268
Website:http://stelmoscoffeepub.com
4
Four Seasons Bakery Cafe
Address:50 S Pickett St, Alexandria, VA 22304
Phone:7032127388
5
Cameron Cafe
Hours:
Address:4911 Brenman Park Dr, Alexandria, VA 22304
Phone:+17032128211
Website:http://www.caboose-cafe.com/
6
WFM Coffee Bar
A full service coffee shop, brewing a variety of roasts and creating drinks made to order.
7
Dunkin'
America's favorite all-day, everyday stop for coffee, espresso, breakfast sandwiches and donuts. Order your Dunkin' faves ahead of time with the Dunkin' mobile app for a fast grab and go experience.
Hours:
Address:2415 Eisenhower Ave, Alexandria, VA 22314
Phone:+17036000342
Website:https://www.dunkindonuts.com
8
Dunkin'
America's favorite all-day, everyday stop for coffee, espresso, breakfast sandwiches and donuts. Order your Dunkin' faves ahead of time with the Dunkin' mobile app for a fast grab and go experience.
Hours:
Address:3325 Jefferson Davis Hwy, Alexandria, VA 22305
Phone:+17035356570
Website:https://www.dunkindonuts.com
9
Uptowner Cafe
Address:1609 King St, Alexandria, VA 22314
Phone:+17038363162
10
Abyssinia Mart
Hours:
Address:720 Jefferson St, Alexandria, VA 22314
Phone:+17035665489
Ready to ride? Get a fare estimate
Sample fares are estimates only and do not reflect variations due to discounts, traffic delays or other factors. Actual fares may vary. You agree to pay the fare shown upon confirming your ride request. If your route or destination changes on trip, your fare may change based on the rates above and other applicable taxes, tolls, charges and adjustments. Subject to Lyft's Terms of Service.
Neighborhood data provided by Zillow. Venue data powered by Foursquare.
Sours: https://www.lyft.com/rider/city-guides/top-coffee-shop-alexandria
3 SYDNEY Cafe for BREAKFAST and INSTAGRAM WORTHY - Grounds of Alexandria
5. Vigilante Coffee (Multiple Locations)
View as Map
| Rey Lopez/Eater D.C.
While the pandemic has pushed many of D.C.'s bars and restaurants to permanently close, many of the area's independent coffee shops have showed remarkable resiliency, continuing to dispense fruit-forward pour-overs, flavored lattes, nitro cold brews, and other specialty items to customers who may not want to camp out inside like they used to. A strong class of newcomers have hit the scene, too. That includes Cameo, which brews beans from Brooklyn roaster Parlor Coffee in a Southeast food hall, and Lost Sock Roasters, a wholesaler that debuted its own plant-filled cafe in Takoma this February. Meanwhile, local favorites Colada Shop will soon expand to Maryland, and gelato shop Dolcezza says has reopened three of the cafes it had previously planned to closed during the pandemic. Here are 23 of must-visit coffee shops from Takoma to Hyattsville to Del Ray.
D.C. allows indoor dining at 25 percent capacity, and alcohol consumption is allowed until midnight. Many restaurants offer outdoor seating, but this should not be taken as endorsement for dining out, as there are still safety concerns. The Washington Post is tracking coronavirus cases and deaths in D.C., Maryland, and Virginia. More information can be found at coronavirus.dc.gov. Studies indicate that there is a lower exposure risk when outdoors, but the level of risk involved with patio dining is contingent on restaurants following strict social distancing and other safety guidelines.
Read More
Note: Restaurants on this map are listed geographically.
The all-day coffee shop and bar from two Northside Social alumsbrought pour-overs, rotating art exhibits, and mixed drinks to downtown Takoma Park in 2017. The popular cafe has since doubled its seat count by growing into the space next door. A custom espresso machine built for the restaurant is fed a strict diet of Counter Culture Coffee, and a front counter with a white quartz top features a display case stocked with pastries and other impulse buys. Place pickup and delivery orders here.
Lost Sock Roasters opened its first retail shop earlier this year. It's narrow, yet comfortable storefront in Takoma serves pour-overs showcasing beans from Ecuador and other South American countries as well as toasts, cheesy pan de yuca, and Argentine-style empanadas. The small-batch coffee company could be found long before opening its first shop, selling brewed coffee at Call Your Mother and A Baked Joint, among other places. Order online here.
Since opening in 2017, this cafe from Veronica Cooper (aka Miss V) has provided its Northeast neighborhood with an open, collaborative space to sip freshly brewed coffee and browse products from local vendors. The small business is deeply invested in local arts, serving as a space for live music and pop-up markets.
The word that immediately comes to mind at La Coop is family. Founder Juan Luis Salazar Cano sources the beans from a collective he organized in his hometown of Union Cantinil, in Guatemala's Huehuetenango region. The coffeeshop operates out of a quaint Manor Park house, surrounded with a white picket fence and complete with a spacious yard and porch to lounge in with a chai latte or an herbal tea. The coffee shop also sells Colombian-style empanadas, burritos, quiche, and New York-style pizza.
Copy Link
The eponymous Prince George's County roastery from Chris Vigilante sells beans from throughout Latin America, Indonesia, and Ethiopia, offering retail bags of Colombian "El Fuego" and "Guatemala Dank." The HQ in Hyattsville and a sibling cafe in College Park both offer preorders for curbside pickup.
Büna Coffeehouse helps customers start their days right with two espresso shots in every cup. The coffee shop, which opened on Georgia Avenue in Petworth in 2019, offers deli favorites, including BLTs and turkey sandwiches, alongside Ethiopian breakfasts like ful or berbere-spiced eggs, as well as beef tibs and a couple of vegan options.
Sign up for the newsletter Eater DC
Sign up for our newsletter.
One of the most respected small-batch roasters in D.C., Qualia operates a tiny storefront in Petworth and an outpost in Eckington, both open for pickup (order here). Beans come from Ethiopia, countries throughout Latin America, and locales such as the Indonesian island of Flores. Qualia also offers local delivery for retail beans within three days of roasting.
Copy Link
Wydown pop-ups bounced around U Street before it settled into its cozy 14th Street space. It serves java from Passenger in Lancaster, Pennsylvania. A second location in the Apollo apartment building on H Street NE thoughtfully offers separate seating areas for residents and visitors. Order online here.
Copy Link
Colada Shop, which already has two bright and colorful locations on 14th Street NW and the Wharf, is set to open another location this spring. The new cafe will be in Potomac, Maryland, and will offer an expanded menu beyond its sweet Cuban espresso, rum cocktails and pressed sandwiches. Expect to find its biggest location yet complete with plantain chip nachos and plantain latkes. 
Sours: https://dc.eater.com/maps/essential-coffee-shops-dc-virginia-best-latte
In shops best alexandria coffee
The Best Coffee Shops in Alexandria
No, we aren't Compass Coffee, but we still love coffee as much as you do! We're always on the hunt for the best coffee shops in Alexandria. Whether you're meeting a friend, looking for a quiet place to work, or just wanting the best java around, there is a spot for you.
In Old Town Alexandria
Misha's Coffeehouse & Roaster
---
King Street
917 King Street
703-548-4089
Alexandria, VA 22314
Visit Website
Prince Street
6 Prince Street
703-548-4089
Alexandria, VA 22314
Visit Website
---
When you think of a "neighborhood coffee shop," Misha's is what comes to mind. Its fabulous location in the heart of Old Town, free Wifi, and fantastic java make Misha's a must for anyone looking for coffee shops in Alexandria Old Town. Misha's sells its four kinds of coffees (Signature Blends, American, African, and Indonesian varietals) either whole or ground by weight. For tea drinkers – they have lots of different options including caffeine-free versions of many yummy black teas as well.
You can also get your sugar fix at Misha's with a cupcake from Buzz Bakeshop. Misha's recently moved to a new location right on King Street, but if you're in a hurry, be sure to get there early since the line often goes to the door!
Firehook Bakery
---
| | |
| --- | --- |
| 430 S. Washington Street | 703-549-0128 |
| Alexandria, VA 22314 | Visit Website |
---
This cozy bakery and coffee shop is located in the Southeast quadrant. While better known for its incredibly fresh and flavorful breads and baked goods, Firehook's coffee is excellent as well. Seating is plentiful so it's the perfect place to meet a friend for coffee. Sandwiches are also available so it's a great option for a quick lunch.
Extra Perks Coffee Shop & Cafe
---
| | |
| --- | --- |
| 822 N. Fairfax Street | 703-706-5886 |
| Alexandria, VA 22314 | Visit Website |
---
In the north end of Old Town, Extra Perks brews Maryland-based Chesapeake Bay Coffee. Try one of its sinful specialty coffee drinks such as the Café Mocha Framboise or Cafe Snickers. Extra Perks offers traditional English breakfasts, such as its Full British Breakfast of two eggs, a banger (English sausage), applewood bacon, sautéed mushrooms, grilled tomatoes, and toast. Or try the Weetabix & Warm Milk option. This shop also sells traditional English foods, candies, biscuits, and other British treats.
Italian Place
---
---
If you love Italian style coffees and flavors, the Italian Place is definitely a spot you should check out. Patrons love the Lavazza coffee straight from Italy which is quickly gaining popularity here in the states, especially if you get it iced on a hot summer day! Often overlooked, the Italian Place also has great breakfast options ranging from bagels to croissant breakfast sandwiches sure to satisfy any appetite.
Buzz Bakeshop
---
---
You can read all about our team member's visit to Buzz here.
Elizabeth's Counter
---
---
Formerly known as Sugar Shack, they rebranded Elizabeth's Counter to offer feature more plant-based and sustainable ingredients in their products and menu. While the name changed, they still offer some delicious coffee and donut options!
Elsewhere in Alexandria City
Swing's Coffee
---
| | |
| --- | --- |
| 501 E. Monroe Avenue | 703-370-5050 |
| Alexandria, VA 22301 | Visit Website |
---
---
Swing's Coffee Roasters has been part of the Washington, DC coffee scene for over 100 years. The coffee doesn't get any fresher than at Swings Del Ray storefront. Located within Swing's roasting facility, this shop features "pour over" coffee and espresso and cold-brewed iced coffee on tap. This open and industrial space has been outfitted reclaimed furniture. Best of all? You can listen to your favorite record on the old-school turntable at Swing's.
St. Elmo's Coffee Pub
---
Del Ray
2300 Mount Vernon Avenue
703-739-9268
Alexandria, VA 22301
Visit Website
Old Town
529 Montgomery St
703-635-3230
Alexandria, VA 22314
Visit Website
---
St. Elmo's Coffee Pub prides itself on being "Del Ray's living room" and it certainly offers that vibe with its comfy couches, chairs, and kids corner. Meet a friend for Stumptown coffee and one their tasty muffins or quiches. St. Elmo's nitro cold brew receives rave reviews. Open seven days a week (starting at 6am weekdays and 7am on weekends), St. Elmo's serves up more than just coffee – you can see weekly jazz performances and children's shows here too
Bagel Uprising
---
| | |
| --- | --- |
| 2307A Mt. Vernon Avenue | 703-566-8459 |
| Alexandria, VA 22301 | Visit Website |
---
If you love a bagel with your coffee, this new popular bagel spot in Del Ray is one you should check out. Bagel Uprising recently opened its first brick and mortar location right in the heart of Del Ray in September of 2019, though its following began when it was at the Four Mile Run Farmers and Artisans Market. They don't have a huge coffee selection, but if you aren't too picky, this is the spot to check out if you want a good breakfast to go along with it!
Stomping Ground
---
| | |
| --- | --- |
| 2309 Mount Vernon Avenue | 703-567-6616 |
| Alexandria, VA 22301 | Visit Website |
---
While best known for its giant, delectable Southern-style buttermilk biscuits, Stomping Ground also offers drip coffee, macchiatos, espresso, cappuccino, lattes and a selection of hot teas. This cozy neighborhood shop is open 7am – 3pm Tuesday through Saturday and from 9am – 3pm on Sundays (closed on Mondays). Beer and wine are also available!
Junction Bakery & Bistro
---
| | |
| --- | --- |
| 1508 Mount Vernon Boulevard | 703-436-0025 |
| Alexandria, VA 22301 | Visit Website |
---
Craving a Nitro Cold Brew? Visit this newer Del Ray hot spot for your java fix. Junction offers a coffeehouse vibe with excellent breakfast and lunch options like egg sandwiches, baked goods, trendy "toasts" and more. Junction is open Monday – Saturday from 7am-5pm and Sundays from 7am-2pm.
Cameron Cafe
---
| | |
| --- | --- |
| 4911 Brenman Park Drive | 703-212-8211 |
| Alexandria, VA 22304 | Visit Website |
---
Located within the Cameron Station community on the West End, this coffee shop in Alexandria is one of the most kid-friendly ones (complete with a play area!) offers great meeting spot. Its baked goods and vanilla and peppermint chai teas get rave reviews! Open seven days a week, from 6am – 5pm, you can also catch live entertainment here at Cameron Cafe.
Alexandria – Fairfax County
Look for the best coffee shops in Alexandria – Fairfax County? Read on!
The Bread and Water Co.
---
| | |
| --- | --- |
| 1512 Belle View Boulevard | 703-768-0100 |
| Alexandria, VA 22307 | Visit Website |
---
Bread and Water, located in the Belle Haven area, serves up far more than the name implies. This newer coffee shop offers coffee, espresso drinks and much more. Enjoy their fabulous European-style fresh breads (baked and sliced onsite) and tantalizing baked goods like the chocolate cream cheese muffin. Bread and Water serves excellent soups and sandwiches, made with local and seasonal ingredients. Catering is also available.
Hollin Hall Pastry Shop
---
---
Perhaps best known for its wedding cakes, this cozy shop is one of the few places in the Fort Hunt corridor to meet a friend for coffee. Open for 17 plus years, the Hollin Hall Pastry Shop is a neighborhood institution! It serves both drip coffees and espresso drinks and amazing baked goods like sweet and savory croissants, muffins, sticky buns, and scones. The baked goods and cookies are works of art!
Grounded Coffee Shop
---
---
Located in the Shops At Telegraph Village, this homey shop offers far more than just java. Weekly live music, a library and board games, train table for the kids, plentiful comfy seating are just a few of the reasons you'll love Grounded. This French country-inspired cafe serves fair trade organic coffees and teas, fruit smoothies, French and American pastries (check out the amazing carrot bread) as well as a limited lunch menu.
Grounded is open Tuesday-Friday from 6am-5pm, Saturdays from 7am-5pm and Sundays 7am-3pm (closed on Mondays).
The Bottom Line
There is truly a spot for every coffee lover in Alexandria. Did we miss any of the other best coffee shops in Alexandria? Please let us know so we can check it out!


Interested in learning more about living in Alexandria? Reach out today for one of our customized neighborhood tours.
Neighborhood Orientation Tour
Whether you're moving to the DC area or between neighborhoods within it, changing neighborhoods is hard work! We understand that making a real estate decision is more than just liking your new house - it's about loving where you live. That's why we provide our unique Neighborhood Orientation tours - to help match you with home and a community you'll truly love.

Alexandria VAcoffeeDel RaylifestyleneighborhoodOld Town Alexandriathings to do in AlexandriaWest Endwine
Sours: https://www.thegoodhartgroup.com/coffee-shops-in-alexandria/
Best Coffee Shops in Medellin Colombia Best cafes in Medellin Best Coffee Shops in the World
There are so many incredible reasons to travel to Alexandria, Virginia (and coffee is one of them)! These are the best coffee shops in Alexandria, VA.
We have included a diverse array of Alexandria cafes and hope that we didn't leave your favorite off of the list! Hitting up the cool local businesses is definitely one of the best things to do in Alexandria!
Let us know your favorite Alexandria coffee shops in the comments! Thanks!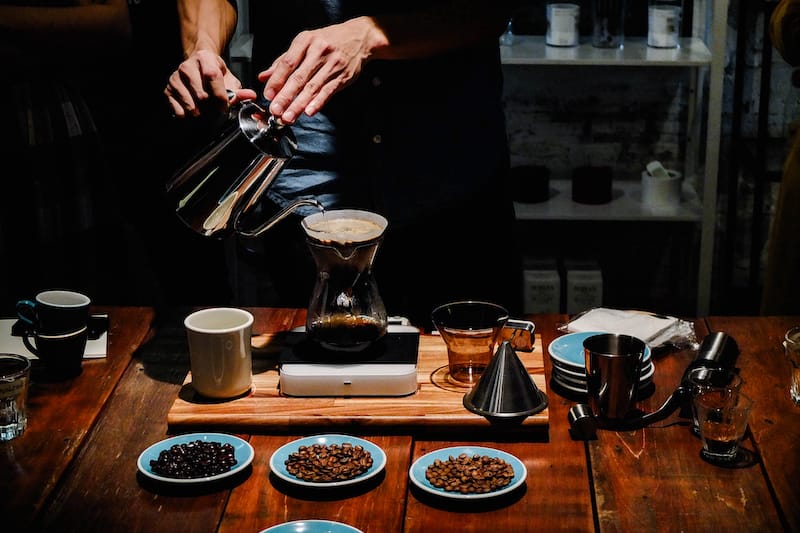 Best Coffee Shops in Alexandria VA
Misha's
One of the premier coffee roasters in Alexandria is Misha's Coffee. The cafe has an open floor plan that gives a feel of spaciousness yet with a cozy vibe. There is a community table inside and the roaster is located on-site.
They also sell bags of roasted coffee to go! You can find everything from a city roast (medium roast) to a French roast (darker). Be sure to take a bag home with you!
Address: 917 King St, Alexandria, VA 22314
Website: https://mishascoffee.com/
Grounded Coffee Shop
Located in the Shops at Telegraph Road, you will find Grounded Coffee Shop, an Alexandria favorite for those that love a cozy atmosphere with the smell (and taste!) of deliciously, freshly-made baked goods.
Address: 6919 Telegraph Road, Alexandria, VA 22310
Facebook: https://www.facebook.com/GroundedCoffeeALX/
Swing's Coffee Roasters
Located since 2013 inside of a building on East Monroe, Swing's has an art-deco design and is one of the best coffee shops in Alexandria, hands-down!
They have a cafe, roastery, wholesale, coffee training, and much more. They aim to provide the entire coffee experience and even have a cupping lab that locals can use as a resource to learn more about the product and its intricacies. On Fridays, they have public coffee cuppings at 10am (please check before going to ensure it is still taking place).
As a result of their success, Swing's has opened up branches in Washington DC (14th Street and G Street NW).
Address: 501 East Monroe Avenue, Alexandria VA 22301
Website: https://swingscoffee.com/
Project Buna
Okay… so this is not perhaps a coffee shop in Alexandria as much as it is a place to purchase delicious coffee… so I definitely still think it earns a spot on this list.
Project Buna was an idea and brand conceived by Mike Madrid and Bonny Brazeal when they were serving together on a US Navy destroyer.
Along with other crew members who were passionate about coffee, they formed a club where they each ordered in beans from their top 2-3 roasters. The social connection was built and eventually, this provided inspiration for Project Buna.
Buna means coffee in Amharic (Ethiopia's official language). Today, you can purchase whole bags of beans from them either online or in person. Check out their website to find out more and get started ordering some beans!
Website: https://www.projectbuna.com/
Via Volcan Coffee
One of the newest additions to the Alexandria VA coffee scene is Via Volcan, a fantastic coffee shop and micro-roastery located on S. West Street in the Old Town.
The most interesting thing about Via Volcan is that they grow their own single-origin coffee on a family farm in Panama… so you are getting the utmost transparency from the source to the end-user.
They are closed on Mondays.
Address: 110 S West St, Alexandria, VA 22314
Website: https://www.viavolcan.com/
St. Elmo's Coffee Pub
Another fantastic Alexandria coffee shop to stop into for a cup of joe is St. Elmo's Coffee Pub. They have two locations – one in Del Ray and the other in Old Town North.
The Del Ray coffee shop was the original and it opened its doors in 1996. They have a spacious outdoor terrace and even heaters for the winter months. You will get delicious coffee or wine, a variety of pastries, breakfast sandwiches, and so much more at the location!
St. Elmo's Old Town North is the newer location and it just recently opened. It also has baked goods, soups and sandwiches, craft beer, and more.
Address: 2300 Mount Vernon Avenue & 529 Montgomery Street
Website: https://www.stelmoscoffeepub.com/
Buzz Bakeshop
Buzz Bakeshop is a fantastic bakery in Alexandria that specializes in tasty treats and delicious coffee. They have locations in Alexandria and Arlington both and even the Washington Post stated that they have 'Downright Outrageous Pastries'. So, basically, this place is a must-visit if you have a sweet tooth!
While they are renowned for their pastries and cakes, they also have a savory menu that is perfect for a lunch date with friends. There are vegan, gluten-free, and vegetarian options available on the menu.
Address: 901 Slaters Ln, Alexandria, VA 22314
Website: https://buzzbakeshop.com/
Abyssinia Market & Coffee House
This coffee shop is a fantastic option for those wanting some deliciously roasted Ethiopian coffee. They serve Yirgacheffe coffee and also have a wide selection of craft beer from around the world.
Another perk of visiting Abyssinia Mart? They have food! You can enjoy an Ethiopian coffee roasted right in front of you after devouring Gomen Wot or Shiro atop homemade injera.
This is a black-owned business in Alexandria and they have some amazing Nitro coffee!  Pop in!
Address: 720 Jefferson St, Alexandria, VA 22314
Facebook
For Five Coffee Roasters
If you're looking for one of the top coffee shops and cafes in Alexandria, definitely don't overlook For Five Coffee Roasters!
They have quite a few locations along the east coast and even one in Chicago and LA and Athens! Founders Stefanos Vouvoudakis and Tom Tsiplakos met in grade school in Queens and opened their first cafe right in Times Square in 2016, and have been serving New Yorkers and others ever since!
The Alexandria cafe opened at the end of 2019 and has a fantastic food program by Scheyla Acosta, the executive chef. There are gluten-free, dairy-free, and vegan options available for patrons.
Address: 1800C Diagonal Rd, Alexandria, VA 22314
Website: https://forfivecoffee.com/
Sisters Thai Alexandria
Okay, so definitely not a cafe but rather a restaurant, but Sisters Thai has tasty coffee and definitely deserves a spot on the list!
While their specialty may be Thai food (and they truly offer everything from Pad Thai to Pik Khing and more), they also have a nice array of coffees and you can order a flat white or opt for one of their specialty lattes, such as a purple potato latte or a rose tea latte.
Address: 503 Montgomery St, Alexandria, VA 22314
Website: https://www.sistersthaialexandria.com/
Stomping Ground
If you love hearty and flavorful biscuits alongside a cup of coffee, be sure to check out Stomping Ground in Alexandria.
The Del Ray coffee shop offers everything from plain buttermilk biscuits to the 'Southern Frenchie' that has salty ham, cultured butter, and cornichons. This place is seriously out of this world.
They have other menu items and also a great coffee menu. You can find cortados, drop coffee, flat whites, and much more at Stomping Ground.
Address: 2309 Mt Vernon Ave, Alexandria, VA 22301
Website: https://www.stompdelray.com/
What are your favorite coffee shops in Alexandria VA?  Let us know your top picks for cafes in Alexandria VA in the comments!
Looking for More than Alexandria Cafes?
This entry was posted in Northern Virginia, Food & Drink. Bookmark the permalink. Sours: https://virginiatraveltips.com/coffee-shops-in-alexandria-cafes/
Now discussing:
.
215
216
217
218
219