The 26 Essential Restaurants in Cincinnati
From loaded breakfast burritos to dalgona coffee pie to drive-thru chili-topped spaghetti, here's what to eat in the Queen City
View as Map
The Queen City of the West was in the midst of a dining boom when the coronavirus pandemic hit. Though COVID-19 remains with us, there are already signs that the dining scene is resuming its upward trajectory. Hope is visible in the city's resilient, stalwart businesses: European-inspired kitchens with deep Germanic roots and shops ladling Cincinnati's hallmark cinnamon-spiced chili over spaghetti and then smothering it with shredded cheddar. But that renewed energy can also be seen in the Korean shop serving bowls of bibimbap, the landlocked yacht club slinging chicken wings, and the intersection in Over-the-Rhine where you can find arepas and cachapas, fresh Hawaiian poke, and primo American smoked meats served au jus. Helping to piece it all together is the city's streetcar, which connects dining hubs in the Banks district and Over-the-Rhine.
The city's dining scene proved tenacious even during the worst of the pandemic, and some of the innovations devised to survive that period have become permanent staples of the industry. Upscale steakhouses no longer scoff at their cuisine being consumed off site; chefs known for pate en croute now offer finish-at-home lasagna; alleyways and entire streets have been transformed into outdoor "streeteries" complete with propane heaters and fire pits; and bars can legally sell to-go cocktails with meals.
The boom has also pushed new food outward. Previously much of the culinary innovation took place in Cincinnati's urban basin, but chefs and restaurateurs are now turning to the suburbs for second or third locations of their popular concepts. You don't have to go to one central district to eat well in Cincinnati; pockets of vibrant eateries have popped up in districts across the city, from Nepali cuisine and poutine in the artsy Northside neighborhood, to carnitas and carne asada in College Hill.
Note: The inclusion of restaurants offering dine-in service should not be taken as an endorsement for dining inside. Studies indicate a lower exposure risk to COVID-19 outdoors, but the level of risk is contingent on social distancing and other safety guidelines. Check with each restaurant for up-to-date information on dining offerings. For updated information on coronavirus cases in your area, please visit the City of Cincinnati.
Andy Brownfield has covered the bar and restaurant scene in Cincinnati for seven years. His work for the Cincinnati Business Courier can be seen here.
Read More
Note: Restaurants on this map are listed geographically.
Before opening a downtown pastry window (which has since closed), pastry chef Ben Arington operated a home bakery in the Cincinnati suburb of Mason, amassing a large Instagram following. Since the pandemic, Arington has leaned back into that business, using his platform as a means to show off his custom cakes, doughnuts, and themed quarantine boxes of baked goods, like a '90s box with "pastry pockets," "dunk-a-boos," cereal cookies, and homemade Zebra Cakes.
Catch-a-Fire Pizza started as a food truck, set up shop inside Oakley's MadTree Brewing, and eventually turned into a standalone brick-and-mortar pizzeria in the Cincinnati suburb of Blue Ash in 2020. The restaurant is best known for its wood-fired pizzas, in both traditional varieties and creative American styles like Buffalo chicken or five-cheese barbecue ranch. It also serves up wood-fired appetizers like wings, potato skins, and peppadew peppers filled with basil and goat cheese. The whole menu is available for carryout.
Omar Garcia grew up in Michoacan, Mexico, watching his mother and grandmother grind corn from the family farm to make masa for tortillas. He continues the practice, making dough without flour or chemical preservatives, at his three Cincinnati-area locations of Tortilleria Garcia. The tortilla is the star, serving as vehicle for carnitas, pollo, carne asada, and al pastor tacos. The menu also includes tamales, burritos, and rotisserie chicken. There are family dinner packs, tortillas, and masa available to purchase as well.
Jacob Trevino is best known for his creative bars, like a Polynesian speakeasy entered through a video store, or a Tokyo-style karaoke bar complete with a robot server and private rooms, among other fantastical venues. His first foray into food was the Lonely Pine Steakhouse, inspired by the Route 66 roadside steakhouses of his native Texas. The steakhouse eschews white tablecloths and waitstaff in waistcoats, but still features a menu of Wagyu and dry-aged beef. The in-house butchery also offers up its selection of steaks, as well as prepared sides, for carryout.
Tickle Pickle was originally supposed to be called Buns N Roses, but the current name of the Northside burger restaurant won out in a staff vote. Nonetheless, it kept the rock 'n' roll theme of the original concept. Burgers have names like Breadzepplin, Meatallica, Slaytar, and yes, even Buns N Roses. All burgers are made with 100 percent Angus beef, topped with everything from jalapeno poppers to bacon, egg, and cheese. Tickle Pickle also has an extensive vegan menu, featuring black bean and Impossible burgers. Food is available for delivery or carryout, and the outdoor patio has propane heaters for the cold months.
Ashak Chipalu came to the U.S. from his native Nepal, where his family owned restaurants, to pursue a career in nursing. But he found that he missed the flavors of home. He started serving Nepali cuisine as a vendor at Findlay Market before opening restaurants in Northside and downtown. Bridges aims to serve "a completely different Nepali cuisine," combining familiar dishes like momos with more creative options like bowls, which consist of basmati or brown rice mixed with lentils or yellow peas and topped with hakku chuala (grilled chicken), pork chili, or aloo jhol (bamboo curry with black eyed peas). The menu is available for dine-in service, and the outdoor courtyard is heated in the colder months. Bridges also offers carryout and delivery.
Sign up for the Sign up for Eater's newsletter
The freshest news from the food world every day
Before opening Mazunte, Josh Wamsley taught English around the world, but a disappointing taco experience during a visit home to Cincinnati inspired him to move to Mexico to learn how to cook. Upon returning, he opened this popular Madisonville taqueria, featuring the street food of Oaxaca. Tacos are the stars here, with chorizo, fish, chicken, pork, steak, or veggies served with avocado salsa, onions, and smoked red salsa atop homemade corn tortillas. The taqueria also serves prepared dishes over rice, like memelitas, tostadas, and chiles rellenos. Mazunte offers carryout and delivery, and just down the road is its Mercado, a larder where you can buy the same ingredients the restaurant uses in its dishes.
Sours: https://www.eater.com/maps/best-restaurants-cincinnati
5 Cincinnati Restaurant Gems With Amazing Multicultural Food To Please Your Palate
We Cincinnatians are a lucky bunch, as we can please our palates with many of the world's offerings without ever leaving the Tri-state. And the menu keeps expanding. Foods that were once unknown to the area have become familiar. A bowl of pad thai is almost as easy to find as a bowl of chicken noodle soup; and you can actually pull a brain muscle trying to decide which Hyde Park sushi bar to go to.

But there is still novelty to be found.
The list below features local restaurants whose styles of cuisine or methods of preparation are still hard to come by. At least, for now.


Dai Trang Bistro
4970 Union Center Pavilion Dr.
West Chester, OH 45069
The menu here is like an encyclopedia of Asian cuisine, featuring dozens of dishes from all over the continent. Filipino food is the star, and Dai Trang is Cincinnati's go-to spot for the rich, tropical flavors of the Philippines.
Favorite Dish: Definitely the adobo. You can order it with chicken or pork. It is served over rice, with a tangy vinegar and garlic sauce. This dish gets marinated for four days — plenty of time for those savory juices to work its magic. Seriously, this sauce is so rich it could buy a sports franchise.

Marrakech Moroccan Cafe & Grill
341 Ludlow Ave.
Cincinnati, OH 45220
This funky Clifton joint is bringing Moroccan food to the Queen City. Our response: It's about (dang) time! You'll find a lot of the classic Mediterranean dishes on the menu: hummus, shawarma, gyros, and falafel. Many of the dishes, though, are strictly Moroccan, and you would be hard-pressed to find them anywhere else in the area.
Favorite Dish: lamb tajine. Tajine is a stewed meat dish, slow-cooked for hours, until it it is succulent and tender. Marrakech serves its lamb tajine on the bone, with onions and prunes. This is the perfect combination of sweet, salty, succulent, and savory.

Arrechissimo
8100 Blue Ash Rd.
Deer Park, OH 45236
A Deer Park takeout joint cranking out ridiculously good Venezuelan food. You order through a window on the street. Out of that window comes meaty sandwiches and flavorful grilled entrees that will have you booking the first flight to Caracas.
Favorite dish: The grilled steak and onion is a sweet and peppery classic: a flat, juicy steak liberally topped with caramelized onions. It's Caracas cafe meets New Jersey diner. As with most of their entrees, it comes with two sides. For an authentic Venezuelan side, try the tostones. These salty slices of fried plantain provide the perfect contrast to the sweet meat.

Tortilleria Garcia
11774 Springfield Pike
Cincinnati, OH 45246

Mexican food may not be hard to find here in the Tri-state, but Tortilleria Garcia offers an amazing addition to this ubiquitous cuisine. Namely, they make their own tortillas. You can buy a package of tortillas to take home, and you can even buy raw masa if you are feeling ambitious enough to make your own tortillas. For our money, the best use of these fresh tortillas is for the delicious tacos they make in house.
Favorite Dish: tacos al pastor. This is a sweet and spicy blend of marinated pork and pineapple. The pork itself has a freshness to match those hot-off-the-press tortillas. We recommend it with onion, cilantro, and their spicy (but not mouth-numbing) house-made red sauce.

Nelly's
79 S. Main St.
Centerville, OH 45458
That's right, you'll have to make the trek up to Centerville for this one. But trust us, it's worth the excursion. This is the area's only spot dedicated to Bolivian food.
Favorite Dish: rotisserie chicken. This is the star of the show at Nelly's. It's smoky, juicy, and packed full of flavor. It can be served American-style on a hoagie bun with a side of french fries, or in a more traditional, Bolivian-style without the bun and with a side of rice and beans.
- - -
Alright, folks... hungry yet? Don't forget to scroll back to the top to visit photo gallery. That'll give you a real sense of these restaurant gems.
Sours: https://cincinnatirefined.com/eat-drink/five-cincinnati-ethnic-restaurants-with-multicultural-food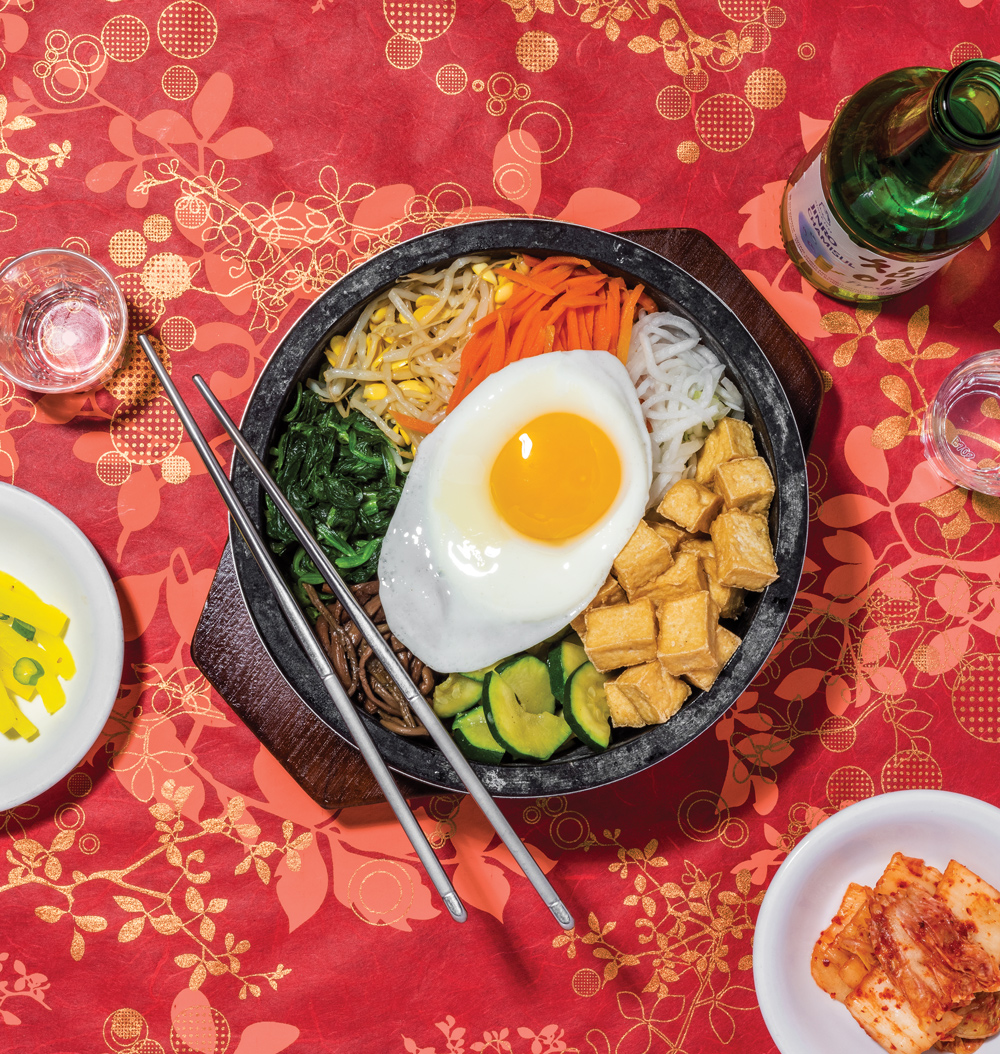 We scoured the city to bring you 25 of our favorite international eateries that bring the authentic cuisine of five continents (sorry Australia and Antarctica!) to the Queen City.
Korean
Riverside Korean
To get the full experience here, come hungry. That's because the enormously portioned rice bowls, like the dolsot bibimbap (which, for the record, you should order), are really only part of the meal. Prior to the main dish arrives six miniature appetizers—or banchan—spanning pickled and fermented vegetables (like über-spicy kimchi); soy-marinated black beans; sweet, steamed potatoes; and others. Save room for the bibimbap: Filled with your choice of protein, bean sprouts, carrots, and other veggies, and topped with a fried egg, its served in a stone bowl heated to approximately hotter than Hades so the rice sizzles and pops its way to a heavenly crunchy crust.
512 Madison Ave., Covington, (859) 291-1484
Nepali
Bridges Nepali Cuisine
Nepal may be tiny, but its flavors are big, influenced by bordering nations China and India. They skew to the latter, but they're not exactly the same. To get an idea, the rice bowls are a smorgasbord of everything you need to try: Impossibly long grains of aromatic basmati rice fill the bottom; a scoop each of yellow peas and yellow lentils are the soupy filling; chicken tikka masala (tomato-cream-curry grilled chicken), hakku chuala (spicy marinated, grilled, and chilled chicken), or marinated pork chili are layered on; and a scoop of curried mixed veggies (potatoes, carrots, peas, broccoli, and cauliflower) is the cherry on top.
4165 Hamilton Ave., Northside, (513) 374-9354
Mexican
Veracruz Mexican Grill
The phrase "best Mexican food in town" often gets thrown around about this place. Pay a visit and you'll see that's no coincidence. The freshness of the ingredients, the authenticity of the menu, and the friendliness of owner Pablo Aulis and his family, who go out of their way to make you feel like a VIP, are a winning combination. If the service doesn't make you feel warm and fuzzy, the ostentatious display of the sizzling, steaming shrimp fajitas—crustaceans jutting from the cast-iron skillet on skewers—will surely do it for you. Modest in stature (but not flavor), the tostadas and enchiladas are equally worth a try.
3108 Price Ave., East Price Hill, (513) 244-1757
Mediterranean
Truva Café
An unassuming storefront in a Kroger shopping center yields a surprisingly warm and cozy family restaurant focused on Turkish-based versions of Mediterranean favorites like kebabs, couscous, hummus, and falafel. Spicy lentil soup and stuffed grape leaves are a great start to dinner, followed by a variety of lamb, beef, and chicken kebabs; a hearty okra stew and other vegetarian options; or a very cheesy and filling shrimp casserole. A basket of warm pita bread is perfect with every dish or by itself, and don't skip the Turkish coffee. Wine is BYOB, so be sure to bring a bottle for the table.
4122 Hunt Rd., Blue Ash, (513) 791-0763  
Thai
Lemon Grass
Featuring a larger menu than most Thai restaurants, Lemon Grass dazzles with creativity inside a modest storefront just down from Rookwood Pavilion. The namesake Lemon Grass soup (a combination of spicy and sweet with mushrooms) is just one of 12 soup starters, followed by almost 20 appetizers (try the Crab Crispies wontons or fried corn cakes) and salads. A wide array of main dishes and specials will make heads spin among meat-eaters (five roasted duck entrées) and vegetarians (tasty curries, loads of rice and egg noodles) alike. Choose your spice level for main dishes, from 1 to 10, and expand your options exponentially.
2666 Madison Rd., Hyde Park, (513) 321-2882
Senegalese
Sene Grill
Whether it's the Senegalese pop music playing or the native Wolof language chatter between servers, Sene Grill is another world. Start by sampling the various house-made juices, from the sweet tea-like kinkeliba to the richly addictive bouye juice (close to a strawberry banana smoothie, and strained right from the West African baobab tree). Skip the burgers and wings and order the yassa, a mound of sautéed onions, chopped tomatoes, and green peppers on steamed rice with a fall-off-the-bone tender marinated tilapia. And yes, we mean that literally. So take your time, sip your kinkeliba slowly, and give thanks Sene Grill calls Cincinnati home.
10120 Princeton Glendale Rd., West Chester, (513) 805-7793
Indian
Indian Spice Train
If Indian restaurants come in tiers, this is among the top: Its menu is expansive, its atmosphere refined, and its service personal—don't be surprised if owner Manbir Dhillon checks on you at your table. If you're not a fan of spice, ease in with the mango dish and its blend of sweet, savory, and slightly spicy curry, alongside a charred and buttered naan. For the more spice-inclined, the king of heat here is the Chicken 65, a boneless dish marinated and deep-fried with a more than 15-spice blend, ensuring you'll break a sweat. Ask for an order of limes and raita (a spiced yogurt with fresh cucumbers) to temper your tongue, and trust that your waiter will refill your water glass a few more times.
7165 Liberty Centre Dr., West Chester, (513) 777-7800
Vietnamese
Pho Lang Thang
Pho Lang Thang's steamy dining room may make your eyes water, but their giant bowls of piping hot pho (rice noodle soup) are totally worth the annoyance. Choose beef (bò), chicken (gà), or vegan (chay) broth and a meat or veggie combination. Our go-to is the pho bò with tái (thinly sliced rare steak). The salty broth is garnished with cilantro, onions, and scallions; and a side of bean sprouts, fresh herbs, jalapeños, and lime wedges lets you add flavor. The sizeable bánh mì (sandwiches) and meaty cha giò (fried spring rolls) don't disappoint, either. This summer, PLT plans to move into a new space on Race Street. Fingers crossed for better ventilation.
114 W. Elder St., Over-the-Rhine, (513) 376-9177
Mediterranean/Lebanese
Andy's Mediterranean Bar and Grille
Imagine Cheers on the Mediterranean coast, and you'll get a good sense of the atmosphere at Andy's. As for the food? Let's just say almost every entrée is hearty enough to pair with a beer (perhaps the Lebanese Almaza?). Case in point: the spanakopita, filled with spinach and feta cheese, is deep-fried instead of baked, but served with enough tzatziki sauce not to weigh you down. The pièce de résistance? A four-hour roasted lamb shank swimming in a house dressing somewhere between a barbecue and hot sauce, paired with steamed rice and ground chunks of lamb. Finish your meal with authentic Lebanese coffee to avoid a post-meal nap.
906 Nassau St., Walnut Hills, (513) 281-9791
Colombian
Zona Vip
Zona Vip's expansive menu of Colombian street food offers everything from hot dogs and hamburgers to traditional soups and rice dishes. The most popular is the bandeja paisa, a large platter of rice, beans, avocado, fried egg, plantain, arepa (a cornmeal-based bread), and various meats. For something a little lighter, we suggest the arepa filled with beef, corn, cheese, and avocado. Picture an English muffin stuffed with meat, veggies, and cheesy goodness. We also enjoyed the chorizo mazorca desgranada, a pile of grilled corn, potato sticks, and chorizo smothered in mozzarella and a mayonnaise-ketchup sauce. Street food never tasted so good.
11512 Springfield Pike, Springdale, (513) 772-2444
Moroccan
Marrakech Moroccan Cafe & Grill
You might wonder if a North African version of Mediterranean staples like falafel, gyros, couscous, and pita bread is different enough from its Greek, Turkish, and Middle Eastern cousins to merit a visit, and the answer is a definite yes. The falafel plate is a perfect vegetarian sampler, while two meat-friendly standouts are Lamb Tajine, steamed inside a clay pot with vegetables until the lamb basically falls off the bone, and Bastilla, a savory chicken pie in a flaky crust topped with cinnamon and sugar. The baklava dessert is served warm and melts in your mouth. Alcohol is no-go for this spot.
341 Ludlow Ave., Clifton, (513) 442-2233
Cambodian
Mahope
Meaning "food" in Cambodian, Mahope is the name of the Northside eatery co-owner and head chef Vy Sok started as a food cart two years ago. Sok, who fled Cambodia with her family during civil unrest in the 1970s, cooks traditional dishes, such as egg rolls, bone broth kathiew (beef noodle soup), and chicken nom pang (sandwiches). We especially enjoyed the curry palay, a rice dish with veggies and a coconut milk–based curry, and the smoky jumbo chicken wings grilled in a slightly sweet beet-based marinade. The cheesecake taco with fresh strawberries was also a standout. For the herbivores among us, Mahope's menu offers an equal number of vegetarian and meat-filled options.
3935 Spring Grove Ave., Northside, (513) 499-7176
Indian
Amol India Carry Out Restaurant
You may drive around the block a second time before finding this classic North Indian eatery. Park on the street and enter through a small, intimate seating area where you can order from a server or, as the name implies, step up to the counter and place your order to-go. Whether on plate or in a takeout container, expect fine execution of various curries such as the lamb and chicken, with a generous nod to the vindaloos (cubed potatoes with a spicy chili powder sauce). But keep an eye out for the Tandoori Chicken, a slow-roasted serving of two thighs and legs with a mildly spicy skin. Between the quick service and reliability, Amol makes the second spin around the block worth taking.
527 York St., Newport, (859) 261-2317
Ethiopian/Eritrean
Habesha Café & Restaurant
This go-to Ethiopian/Eritrean spot delivers a world of its own. Walk into the dive-y strip-mall storefront and take a seat in front of the performance stage. After paging through the large, expansive menu, ask the server for recommendations—beef, chicken, or veggie. We opted for veggie and received the Yetsom Beyaynetu: A colorful circle of varying vegetarian piles on a large round of injera, a sourdough-risen flatbread with a soft and spongy texture used in place of utensils. Each injera-scooped bite presents tomato-y, turmeric-y, or lentil-forward flavors that will leave you curiously excited for a second trip—just wash your hands before digging in.
5070 Crookshank Rd., Westwood, (513) 429-4890
West African
Darou Salem African Halal
Next to Northside Tavern, behind a large outdoor patio in the former Picnic and Pantry spot, sits Darou Salem African Halal. Don't let its obscure exterior fool you—its Senegalese dishes are worth the visit. Order from a menu at the counter or simply point to one of nine enlarged photos on the wall. We enjoyed the dibi (grilled lamb) dinner entrée: A heaping pile of seasoned, tender lamb pieces, topped with sliced onions lightly sautéed in a mustard-base sauce. Although the fried plantains tasted slightly overdone, Darou Salem's generous portions and low prices made up for any dissatisfaction.
4163 Hamilton Ave., Northside, (513) 681-3663
Sichuan
Sichuan Chili
One of the city's most authentic and tasty, yet often overlooked, spots for Sichuan cuisine sits in a seemingly benign strip mall adjacent to CAM International Market. Take a seat at Sichuan Chili, ask for the authentic instead of Americanized menu, and prepare for a treat. Start with the classic scallion pancakes or dumplings with chili oil (some of the best we've had). Then order the Sichuan Bo Bo Chicken and prepare for the heat. As with most Sichuan cuisine, in addition to its chicken, scallions, and pickled cucumber, this dish is filled to the brim with Sichuan peppercorns. Feel free to indulge, but remember: Do not eat the peppercorns.
10400 Reading Rd., Evendale, (513) 376-7223    
Peruvian
Sabor Peruano
Seafood is a major feature of Peruvian cuisine, and Sabor offers almost 30 entrées featuring tilapia, trout, shrimp, mussels, squid, and/or octopus—with multiple variations of ceviche, diced raw (and sometimes cooked) fish marinated and cured in lime juice and served with boiled sweet potatoes. Like their compadres in Argentina and Brazil, Peruvians love their beef, and you'll find a number of bistec (beef steak) dishes here; a filling starter, or meal in itself, is the Papa Rellena, which stuffs seasoned ground beef and a hard-boiled egg inside a pillow of mashed potatoes. Dancing and live bands add to the atmosphere on weekends.
7245 Dixie Hwy. (Route 4), Fairfield, (513) 860-0349  
Mediterranean
Leyla Mediterranean
For nearly two and a half years, Chef/Owner Comert Ardic—previously in the kitchen at the now-closed Haci Grill in West Chester—has delivered Mediterranean specialties in this small outpost on the edge of Anderson Towne Centre. The kebabs and mixed grill plates are hearty, but you can make a meal from the appetizers. The cold appetizer platter for four comes with a silky, garlic-y hummus; gloriously smoky baba ghanoush; creamy-tart lebne; more eggplant in a rich tomato sauce; spicy acili ezme (tomatoes, nuts, onions, and hot peppers); and carrot tarator, shredded carrots mixed with garlic yogurt that reminded us of pimento cheese (really).
7418 Beechmont Ave., Suite 106, Anderson Twp., (513) 231-2888
Venezuelan
Maize Arepas and Bar
The flavors of Venezuela, Puerto Rico, and the Caribbean shine at Maize, where corn plays a central role in most dishes (good news for the gluten-averse). The cachapa, a Venezuelan crumpet, is more akin to a spoonbread pancake, sweet and studded with kernels. We tried the reina pepiada, topped with avocado chicken salad. It's also available as an arepa, but we wanted the pabellón, which gave us a taste of shredded beef, black beans, and plantains (also available in a large plate version). For the empanada, we chose the chicken tossed in sofrito—juicy and meaty inside its extra-crispy shell.
1438 Race St., Over-the-Rhine, (513) 381-1608
Mexican
Taqueria Valle Verde
When we wandered into Valle Verde, we found lengua, tripa, and cabeza tacos; specials listed in Spanish; and a table full of men in work boots chatting over large, emptied plates. The menu is deep, with a slew of seafood options, including a whole fried fish. We tried the Cuban torta, with thin shavings of steak and curls of Mexican sausage along with deli ham, mustard, mayo, and lettuce on a football-sized roll. The real stars? Those specials. Pupusas, cornmeal flatbreads from El Salvador, come stuffed with beans, chicharrones, and chorizo. The gordita—a split, fried tortilla lined with beans and stuffed with tender pork chunks, tomatoes, lettuce, and cheese proved more than a handful.
6711 Vine St., Carthage, no phone
African
Teranga Restaurant
Teranga describes its cuisine as a fusian of African and American, but the African influences are strong. Senegal-born owner Mor Diallo created a diverse lineup with signature dishes from his home country, like thiebou yap, a tender marinated lamb served with rice, and maffe, lamb in a creamy peanut butter and tomato sauce. There's also Jamaican fare (the jerk chicken is delightfully spicy), whole fish dishes, and delicious fried plantains. As for American fare: The chicken wings in garlic, barbecue, hot, or sweet chili sauce are, not surprisingly, a huge hit. Teranga's bright, colorful space has tables, but takeout traffic is steady—either way, you'll finish with leftovers.
8438 Vine St., Hartwell, (513) 821-1300
Mexican
La Canasta
If you're on the hunt for authentic Mexican (not an easy find), turns out it's on the west side at La Canasta. Meander through grocery aisles stocked with Mexican foods to the back, where you'll grab one of a few tables and receive super-friendly service. You can't go wrong with the tacos, small but full of steak, chicken, or a pork marinade made with pineapple. There's also sopes, platillos, and tortas, but we devoured the huarache, a simple handmade tortilla that was delicately crispy on the outside but soft at the center, topped with a thin layer of beans, lettuce, and shredded cheese, which we enjoyed with a cold imported lime soda while the Spanish-speaking TV played in the background.
7812 Colerain Ave., White Oak, (513) 931-1804
Japanese
Ando Japanese Restaurant and Sushi Bar
The dining room at Ando is always busy, even on weeknights, with guests who've discovered Chef Ken Ando's expertly crafted traditional Japanese cuisine—he's been at this for more than 40 years—and the restaurant's welcoming environment. The fish takes center stage in sushi rolls, meticulously presented and bursting with flavor (grab a seat at the sushi bar to watch it all happen). We also enjoyed soba noodles, thick and textured in a homemade broth with scallions and spinach. For $39.50, you can order a nabemono dish, sukiyaki (Wagyu strip loin) or shabu shabu (beef, vegetables, noodles), cooked tableside in a cast iron pot. When you experience Ando's impeccable attention to detail, you'll see why they recently celebrated 20 years in business.
5889 Pfeiffer Rd., Blue Ash, (513) 791-8687
Nepali
Hamro Restaurant
There's a good chance Hamro isn't even on your radar. If you love Indian food, we think it should be. Opened in 2017 in a nondescript strip mall space (home of the Forest Park Restaurant for 51 years), the restaurant prepares solid Indian mainstays such as chicken tikka masala and chicken biryani, a bold combination of aromatic basmati rice, chicken, onions, peppers, and plenty of spice. The Nepali-inspired offerings, however, make this spot worth a trip. We sampled the vegetarian momos, steamed dumplings with cabbage, onions, and a masala spice mix, and the thukpa, a hearty noodle soup with a slight heat. Family-owned with friendly service, Hamro also has a Nepali grocery next door.
677 Northland Blvd., Forest Park, (513) 429-5938    
Guatemalan
Taqueria San Marcos
Entering Taqueria San Marcos is like taking a step back in time. It's a bare-bones, '50s-style diner with classic red booth seating and Formica table tops, where the Zacarias family serves up hard-to-forget Guatemalan fare. The tacos are deliciously simple, with options ranging from pulled pork to beef tongue, all served on small, warmed corn tortillas with cilantro and onion. The crispy tortilla chips pair perfectly with the deep red, thin salsa (it packs a powerfully spicy kick) or the refreshingly creamy guacamole. For a heartier bite, try the chicken tortas, grilled chicken piled high on a large toasted bun with lettuce, tomato, jalapeño, avocado, and—almost certainly—a to-go box.
5201 Carthage Ave., Norwood, (513) 351-1363
Click through our gallery below for more images from the restaurants above:
Sours: https://www.cincinnatimagazine.com/forkopolisblog/25-local-restaurants-serving-authentic-ethnic-eats/
Top 10 best Restaurants in Cincinnati, Ohio
ETHNIC EATS IN OVER THE RHINE FOOD TOUR
AdultAges 11+

$65
ChildAges 6-10

$55
Taste a variety of ethnic dishes in Over the Rhine
Are you a foodie who loves to try new dishes? Over the Rhine, a restored historic neighborhood in downtown Cincinnati, OH, has a huge selection of diverse locally owned eateries. This 3 hour walking tour is the perfect way to explore the neighborhood while enjoying a progressive lunch.
We begin our culinary journey in beautiful Washington Park, where the heart of Over the Rhine congregates. Here at the northern edge of Cincinnati, we'll share a brief history of the German immigrants who built this neighborhood from the ground up. Learn why Music Hall is said to be one of the most haunted places in the country and visit the site of the original Miami Erie Canal and stroll past story high murals depicting famous persons and events in Cincinnati.
With so many places to choose from, our restaurants may vary from tour to tour depending on their availability. So we may begin with Hawaiian-inspired steamed bun filled with a delicious BBQ, a glass of bubble tea, Thai chili spiced noodles, a Japanese savory pancake or a Mexican street taco. Other unique tastings may include an authentic Philly Cheese steak, an Argentinean empanada, or a slice of NY style pizza. We feature French macarons that are out of this world! We conclude our urban adventure at a Lebanese restaurant for a sweet ending and a cocktail.
A Riverside Food and Culture tour is led by a friendly local guide who is a Certified Toursim Ambassador. You'll be entertained with stories about the history, art and architecture of the city.
From centuries-old buildings to new businesses opening every day, this tour will expose you to several modern-day artisans, from designers to shop keepers as we stroll up and down Vine and Main Street. By the end of the tour, you'll have some amazing photos in front of iconic buildings and landmarks, an insider's local knowledge of the food and drinks scene, and the scoop on where to shop to find the most unique handcrafted items. Plus our promise ~ no one leaves hungry after our tours!
Highlights
Dine at unique locally-owned restaurants famous for their international dishes. Enjoy a handcrafted cocktail.
Begin in Washington Park and learn about Music Hall and the history of Over the Rhine.
Learn the history of Vine Street, known as the "Paris of America," the German brewing heritage and the effects of prohibition.
Stroll past dozens of locally-owned boutiques and get advice about our favorite places.
Experience the multi-story murals throughout the neighborhood and learn the history of these public works of art.
See a neighborhood full of beautiful churches and Italianate architecture from the mid-1800s.
Receive a shopping guide with the list of restaurants, plus advice from a local guide who knows the city.
Our promise to leave you full – both mind and body!
Tour Information
Meeting/Ending Point: NW corner of Washington Park. We gather at the corner of 14th and Elm Streets across from Music Hall.  Address: 1390 Elm Street, Cincinnati OH 45202
Parking: The Washington Park Garage is directly east of Music Hall. There is an entrance from Elm Street which runs north and an entrance from Race Street which runs south.
What to Wear: Comfortable shoes and casual, weather-appropriate clothing, an umbrella and a water bottle for hydration
Distance: 1.5 miles total walking
Sours: https://www.riversidefoodtours.com/tours/over-the-rhine-ethnic-foods/
Restaurants cincinnati ethnic
.
Midwesterners Are Obsessed With This Chili Chain
.
You will also like:
.
267
268
269
270
271