R Panel Fence: Durability and Privacy Benefits
What is an R Panel Fence?
R-panels consist of commercial sheet metal of varying gauges, as 24-gauge metal installations are very common in the Oklahoma region. They are affixed to metal posts and come with runners for increased durability. End caps and trim options are available so business owners can have the aesthetic look that they desire. The metal panels come in various sizes, allowing different installation options for property perimeters.
Benefits of a Commercial R Panel Fence
There are many benefits to R Panel fences. Some of the top advantages include privacy, noise reduction, durability, ease-of-maintenance, longevity and aesthetics.
Privacy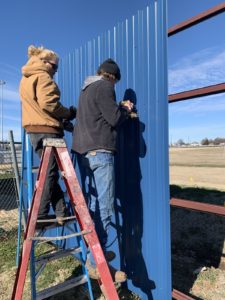 Unlike chain link fences, and to a lesser extent wood panel fences, a commercial R Panel fence cannot be seen through. The sheet metal is a solid panel that attaches securely to the posts without leaving any gaps.
If your commercial business is along a busy street with a lot of pedestrian traffic, you don't have to worry about people glancing onto the property through the holes in the chain link or along the spaces of a wood panel.
In addition, these fences are difficult to cut through with tools unlike a chain link fence. A person cannot place a wire cutter through the panels, or cut the fence either at the top or the bottom without facing some difficulties.
Durability
R Panels are constructed out of the same corrugated metal that's used for metal roofing. So these panels are designed to withstand all the harsh weather that is common in the Oklahoma region. It is a full barrier fence that is further reinforced with the runners to ensure that the panels can withstand strong winds, rain, hail and snow. Also, since the panels are made out of metal, business owners can avoid the common insect infestations and pests that typically damage wood fences.
Noise Reduction
Noise can be an issue for commercial businesses whether they are located in urban, suburban or rural locations. A commercial R panel fence helps to reflect sound back at its source. This feature is ideal for a number of different reasons. If your business has problems with a lot of exterior noise entering the site from highways, pedestrians or other business operations, the fence can help to deaden some of the sound. On the other hand, if your business site creates a lot of noise that could be disturbing to property neighbors, the fence can help reflect the sound so that less noise escapes the property.
Longevity
A commercial R panel fence can almost last forever. You don't have to worry about buying a new fence in about 3 to 5 years. Due to the duality of the metal sheets, the quality of the material that is used, and the professional installation offered by Fence OKC, you also don't have to deal with extensive wear-and-tear.
Ease of Maintenance
Metal fences are very low maintenance. The fence panel color won't experience noticeable fading from the weather or ultraviolet light. They also do not require yearly sanding, painting or finishing that wood fences need to keep their aesthetic appearance. If the fence becomes dirty, a simple rinsing off with soap and water is only required. The panels are also waterproof, so you don't have to worry about the fence rusting away.
Aesthetic Options
A commercial R panel metal fence comes in a variety of panel and trim color options. You can select the colors that match your company brand or commercial building colors. You may also select color and trim options to create a site space tailored to a specific theme or outdoor atmosphere. The color selection is truly unlimited based on the manufacturer, as you can obtain muted neutral tones or bright colors such as red or blue. The added bonus is that the color is sealed into the metal, so it resists fading and will last for decades.
Sours: https://fenceokc.com/r-panel-fence-installation/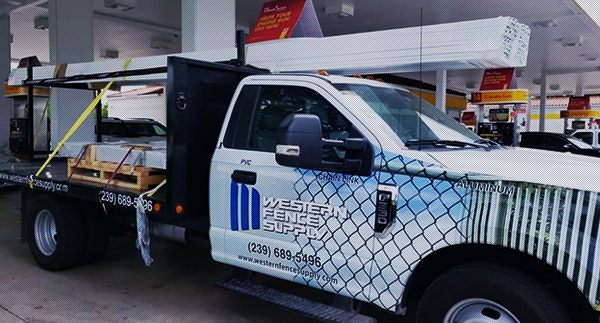 Metal fences, otherwise known as aluminum sheeting fence, is a total privacy metal board fencing system. This is a great alternative to standard vinyl privacy fencing, as it's far more cost-efficient, and is made of aluminum panels with steel rails, making it more durable.
All of our metal fencing products are sourced from supplier that are based in America. We guarantee contractor grade rails and boards, so you can rest assured that you're getting the best metal fencing available in Southwest Florida. Research which style you want to install on your property, then click here to get a free quote on metal fence in Southwest Florida.
Made in the U.S.A
Every metal fencing component that we sell has been made in the United States. Many of our competitors in Southwest Florida use inferior parts, but not us. We refuse to cut corners on the quality of our metal fencing products.
Lifetime Warranty
Our metal fencing sections are warrantied by a limited lifetime warranty. We guarantee that they will not rust, corrode or decay due to natural circumstances, if installed correctly and according to our guidelines.
Customer Service
We truly care about our customers. As a family-owned & operated Southwest Florida fence company, we go the extra mile to ensure that homeowners and fence contractors in our area are happy and fully satisfied with our service. It's one of the biggest differences between us and our competition.
Our metal fencing sections consist of two components, aluminum or steel boards, and steel rails. All boards are powder coated to ensure preservation of colors over an extremely long period of time, preventing fading and chipping. Rails come galvaniozed, but can be powder coated on request. Custom gates can be welded to meet an size requirements, and all gates are welded in-house by our team of master welders, making sure that they last a lifetime, and never bend or sag.
Get a quote on metal privacy fence
Sours: http://westernfencesupply.com/metal-fence/
Metal Privacy Fences & You
When you want a metal privacy fence, there are many things that you will want to consider. This will ensure that you make the best metal fence choice for your home. You want to consider budget, aesthetics, and general maintenance in addition to several other things. Only after you have explored all aspects of a metal privacy fence should you make the move to purchase one.
A metal privacy fence usually means a chain link fence with privacy slats added.
Your Metal Privacy Fence Budget
You likely have a budget in mind in terms of fencing. Chain links are generally the cheapest while PVC vinyl is the most expensive. Regardless of what fencing you decide on, you want to get quotes on the fencing.
The quotes should include materials plus labor. It is also a good idea to get quotes from at least two fencing companies so you can have a point of reference. Otherwise, you could spend more than what's necessary.
Your Metal Privacy Fence Aesthetics
The aesthetics may be a big part of the decision for you. This is going to be a very personal decision based upon what your preferences are as well as what's going to look best against the elements of your home.
Some questions to ask yourself:
How high do I want my metal privacy fence?
What material do I like best?
What color works best for my home?
The height of the metal privacy fence is generally 6 feet, though in some instances, you may be able to get 8 feet.
Once you can answer these, it will make it easier for you to explore a metal privacy fence that's going to work best for you.
You should also look at photos of different metal privacy fences so you know more about what each looks like. It may also be beneficial to take a drive around your neighborhood to see what other homes similar to yours have so you can try to match the general look.
General Maintenance of a Metal Privacy Fence
Every metal privacy fence material is slightly different when it comes to maintenance. This means you will want to weigh some of the pros and cons of each material so you can make an educated decision.
Chain link fences don't require much maintenance at all, but you do want to keep an eye out for rust.
Metal Privacy Fence Gates
You will probably want at least one gate along the property line so that you have the ability to walk in and out. This can be a single door or a double door. Generally, this would measure 4 feet or 8 feet. You may want to have a gate located on either side of your home, towards the front, or in the back. Much of it is going to depend on how your home is situated on the lot and what it is near.
With so many things to consider, this is not a decision you want to make quickly. Take the time to explore your options. Talk with a company about what a metal privacy fence will cost based on the individual aspects you have chosen. Then, you can soon look forward to a metal privacy fence going up around your property, providing you with all of the privacy you could ask for.
Contact Long Fence today to learn more about a metal privacy fence.
About the Author
Sours: https://www.longfence.com/blog/posts/view/358/Metal_Privacy_Fences_You
PostMaster Installation Full Video - 6' Privacy Fence
.
Privacy fence metal
.
PostMaster Installation Full Video - 6' Privacy Fence
.
Now discussing:
.
311
312
313
314
315