Anyone can take a family holiday photo, upload it to a site with pre-formatted holiday cards, and send it off to all their family and friends with a few clicks of a button. And honestly, we do love receiving those cards every year, since it's nice to see everyone's smiling faces and think about how much has changed since the last card. But if you really want to put a personal touch on your holiday note, the handmade route is the way to go. With DIY Christmas cards, no two are exactly alike, and each one shows the extra bit of effort you put into making them.
But what to create? These do-it-yourself Christmas card ideas run the gamut, from simple designs you can make with your kids (fingerprint art works wonders) to more advanced techniques that produce beautiful results (if you haven't already, try your hand at paper quilling). With these ideas in hand, the only thing you'll have to worry about is what to write inside your Christmas card.
Once you have your glue gun and craft supplies out, you might consider DIY'ing everything else for your holiday, from DIY gift wrap to Christmas decorations to other Christmas crafts. Go all-out! (Restraint? That's for January.)
Sours: https://www.goodhousekeeping.com/holidays/christmas-ideas/g4080/clever-diy-christmas-cards/
Easy Watercolor Christmas Cards for Kids to Make
These easy watercolor Christmas cards are just gorgeous! They make a great handmade card idea that kids of all ages (and adults!) will enjoy making. There are three different card designs to choose from and use easy watercolor techniques that will produce wow results!
If you are looking for more Christmas projects to make take a look at our collection of creative Christmas arts and crafts for more fun ideas!
For this project, I created an angel and Christmas tree templates to make this craft even easier for kids to make. Scroll down to the bottom of this post to instantly download your printable PDF.
There are so many fun watercolor techniques for kids to try! Take a look at my collection of watercolor painting for kids for more fun and creative ideas.
Create your own easy watercolor Christmas cards
This post contains affiliate links. As an Amazon Associate I earn from qualifying purchases. If you would like more information please review my privacy & disclosure policy.
Supplies
Instructions to make your handmade Christmas cards
We used precut blank watercolor cards that I got at a local art store for this project, but you can easily cut watercolor paper down to size. A pad of 11×15 inch paper cut in half to 7×11 inches and then folded into cards makes the perfect size!
How to make a snowflake watercolor Christmas card
1. Once you have your paper ready, you will need to tape it down to a wooden board. Taping your paper down helps the paper to keep from sliding around, keeps the paper nice and flat and adds a crisp white border around your image.
I got our wooden board from the scrap pile at our local hardware store. You can also try taping the paper down to a desk, but the paper might not fully dry until you take the tape off.
If you can't tape your paper down your card will still look beautiful!
2. Draw snowflakes and falling snow with white oil pastel on the front of your card. Make sure to press firmly with the pastel, this will produce the best results.
3. Mix two to three shades of blue and purple watercolors. We used liquid watercolors for this card (diluted with water), but you can use any type of watercolor that you have.
Use a scrap piece of paper to test out your colors beforehand, your colors will always dry a bit lighter.
4. Using a flat brush, paint your paper with your blue and purple watercolors to reveal your amazing snowflake design! Let the paint colors mix together on the paper to create different shades and interesting patterns.
Let your paper dry completely before taking the tape off.
How to paint a watercolor Christmas tree card
1. Print out the templates onto white printer paper. Cut out the Christmas tree template and trace the template on your card paper with a pencil.
2. Mix three shades of green watercolor, a light shade, a bright green, and a dark green shade. Make sure to test out your colors on scrap paper first.
3. Paint your tree carefully with clean water. Use a small detail brush for this step. Remind kids to go slowly and stay in the lines of the tree, the paint will go where the paper is wet.  
For another fun Christmas painting idea take a look at this mixed media Christmas tree art project.  
4. Going from lightest to darkest, start to paint inside your tree while the paper is wet. The colors will mix together and create interesting patterns as the paper dries. Each tree will look unique!
This is called a wet on wet technique, for more watercolor techniques to try, take a look at these 5 easy watercolor techniques for kids.
Remind kids to paint carefully and try and stay in the lines of the tree drawing. Let the tree dry before moving on to the star.
5. Draw a star on top of your tree with a pencil.
6. Paint it with bright yellow watercolor. We used liquid watercolor for the star and did not dilute it with water.
Let the star dry.
7. Dilute your yellow color with some water and using a small detail brush, paint lines in an outward direction around your star like in the photo above. This will help make your star look like it's glowing.
You can go over these lines with clean water and a small brush to soften the lines a bit more.
Check out these easy watercolor Valentine cards for another great handmade card idea!
How to paint a simple angel watercolor Christmas card
1. Tape your paper to a wooden board with painter's tape in the same way you did for the snowflake card.
2. Print and cut out the angel template. Trace it onto the front of your card with a pencil.
3. Mix two to three shades of blue. We used two blues from our watercolor pan set for this card. Test out your colors on a scrap piece of paper first, remember that your colors will always dry lighter.
4. Paint around your angel with clean water using a smaller sized brush. Remind kids to go slow and not to paint any water inside the angel. This is the reverse of what we did for the Christmas tree card above.
5. While the paper is still wet, paint around the angel with your blue colors. Remind kids to paint slowly and not to go inside the angel drawing.
6. Sprinkle coarse salt over your painting while the paint is still wet. As the salt dries it will create patterns in the paint.
Let the salt dry completely and then brush it off outside or into a sink. Kids love doing this to reveal their cool designs!
Carefully take the tape off your paper.
I love how colorful and beautiful these easy watercolor Christmas cards turned out! They were simple to make using easy watercolor techniques that kids will enjoy trying out.
They make a special handmade card idea that kids will be proud to give to family and friends. For another handmade Christmas card idea take a look at these fork painted Christmas cards!
We love creating and exploring with different art supplies and techniques. If you are looking for more art projects to try, take a look at our ultimate collection of amazing art projects for kids!
>> Click here to download your Christmas card templates
More Christmas art projects kids will love
The Most Adorable Reindeer Painting for Kids to Make
How to Draw a Beautiful Chalk Pastel Christmas Tree
Follow me on Pinterest for more amazing project ideas.
Pin these DIY Christmas cards for later
Yield: 3 watercolor Christmas cards
These easy watercolor Christmas cards are a fun handmade card idea for kids to make! Use easy watercolor techniques to create these gorgeous cards for family and friends.
Materials
Printable templates
Watercolor paint
Watercolor paper or precut blank watercolor cards
Painter's tape and wooden board (optional)
Pencil and eraser
Coarse salt
Tools
Scissors
Paintbrushes
Paint palette
Water dish
Instructions
For the snowflake card, tape your paper down to a wooden board.
Use white oil pastel to draw snowflakes on your paper. Remind kids to press firmly, this will produce the best results.
Mix two to three shades of blue and purple watercolor paint.
Paint your paper with your blue and purple watercolor paint to reveal your amazing snowflake design!
Let the paint mix together on the paper and as it dries, the paint will create interesting shades and patterns.
Let your paper dry completely before taking the tape off.
For the Christmas tree card, print and cut out the tree template.
Trace the template onto the front of your card with a pencil.
Mix 3 shades of green watercolor paint. A light green, bright green and a dark green shade.
Using a clean small brush, paint the inside of the tree with clean water. Have kids go slowly and carefully so they don't paint outside the tree drawing.
Starting with the lightest shade of green start to paint your tree using a smaller brush. Again, paint slowly and carefully so as not to paint outside the tree.
Let the tree dry before moving on to the star.
Draw a star on the top of your Christmas tree with a pencil. Paint the star a bright yellow.
Mix up a light yellow shade and use a small brush to paint lines in an outward direction around your star.
Soften these lines up a bit by painting over them with a clean wet brush.
For the angel card, tape your paper down to a wooden board.
Cut out the angel template and trace it onto your card paper with a pencil.
Mix two to three shades of blue watercolor paint.
Paint around your angel drawing with clean water.
Paint around the angel with your blue paint. Do this step carefully so no paint goes inside the angel drawing.
While the paint is still wet, sprinkle coarse salt over your painting.
As the salt dries it will create patterns in the paint.
Let the salt dry completely and then brush it off outside or into a sink. Kids love doing this step to reveal their cool designs!
Carefully take the tape off your paper.
Filed Under: Art projects, Christmas/Winter, Holidays/Seasonal, Watercolors
Sours: https://www.projectswithkids.com/easy-watercolor-christmas-cards/
If the idea of mailing out Christmas cards conjures up the image of long, drawn-out photo shoots, we're here to let you in on a little-known secret: It doesn't have to be that way. This year, why not craft creative DIY Christmas cards that are loaded with meaning? A homemade card, after all, is so thoughtful that it negates the need for fancy family photos (though those are always a lovely touch). While you can absolutely head to your local store to pick up a card adorned with festive Christmas quotes and decorations, these DIY Christmas cards are just as charming—and what's more, they're fully customizable.
Here, you'll find dozens of stylish DIY designs to get you started. Whether you prefer classic Christmas colors or pastel palettes, traditional motifs and modern minimalism, there are so many different types of eye candy ahead that'll inspire your crafting. You could even accompany the card with a homemade food gift or DIY Christmas present. (We've even got information on how to wrap a gift!) Grab a paintbrush and scissors, then jot down a few Merry Christmas wishes and get ready to make your loved ones' holiday even more special.
Sours: https://www.thepioneerwoman.com/holidays-celebrations/g34509330/diy-christmas-cards/
the easiest christmas cards i've ever painted! **all levels
'Tis the season to be artsy! Give your Christmas cards a heartfelt homemade touch by making some yourself with these simple watercolor Christmas card ideas! Don't know where to start? These 20 DIY watercolor Christmas card ideas should get your creative juices flowing!
20 DIY Watercolor Christmas Cards for the Artsy
1. Easy Tree Holiday Card
The simplicity of watercolor trees makes for an elegant Christmas card. You can work with any color you like and make it as festive as you want, or you can stick with two or three colors to keep things simple. Check it out @ Tombow USA Blog.
---
2. Snow Globe Holiday Place Cards
The best part about this simple watercolor Christmas cards is that you can get your kids involved and let them make absolutely stunning holiday cards no matter what their skill sets are in drawing! Such a unique low cost idea to add a personal touch to your dinning room table this year. Check out the tutorial @ Make and Takes.
---
3. Watercolor Gift Tags
Attach your sentiments and love by adding a splash of watercolor to your gift tags. I love how they pop on the butchers paper. Ashley says most local paper stores sell butchers paper by the foot, she scored some for $0.35/foot. Check out the gorgeous designs @ Lolly Jane.
---
4. Watercolor Brush Indent Cards
Feel like trying out a new technique? The brush indent uses the back of your brush for an indented look. It's easy, and it adds a fresh and fun little twist to the usual watercolor art. Check it out @ Make and Takes.
---
5. Easy DIY Christmas Card in 10 minutes
Allan makes this stunning designs in no time flat! Watch his tutorial to make your own DIY Christmas cards that'll be sure to impress everyone that you send them too! Allan breaks down how to make 3 cards--gold ornaments, Merry Christmas wreath, and a Christmas tree card.
---
6. Wreath Watercolor Card
If you want to try your hand at a more meticulous and intricate pattern, this cute and charming wreath card is perfect in bringing out the painter in you! Just follow the steps @ Inkstruck Studio.
---
7. Oil Pastel Resist Snowflake Watercolor Card
With oil pastels as your resist, you can watercolor the whole card to reveal a beautiful snowflake! This fun and pretty project is one of the easiest DIY watercolor Christmas cards to make, which makes it a perfect craft to try at any age. Check it out @ Arty Crafty Kids.
---
8. Cut-Out Ornament Card
Useful and beautiful, this cut-out ornament card works both as a thoughtful greeting and a chic Christmas tree decor! Learn how to make one by following the steps @ The Postman's Knock
---
9. 3 Last Minute DIY Christmas Cards
I love the look of these cards! Kristina makes these designs look amazing with limited supplies and in little time. Follow along as she breakdown what supplies you'll need and how to complete.
---
10. Festive Shapes in a Christmas Tree
Beautiful, simple, and geometric, this watercolor card is great for those who're used to following patterns and aren't quite comfortable with freeform watercolor just yet. But, if you're feeling up to it, go ahead and free hand! Check out the tutorial @ Smiling Colors.
---
11. Artistic Ornaments
Artistic and purposefully imperfect, this beautiful watercolor Christmas card is a unique craft that yields different results every time! Try making one and see for yourself the perfection that imperfections can create @ The Postman's Knock.
---
12. DIY Watercolor Christmas Paintings
Want to add a splash of festivity and nostalgia to your cards? Watch as Karinka Oli demonstrates how to recreate all 6 of their designs.
---
13. Christmas Lights on Snowy Pine Trees
Nia makes this beautiful hand crafted water color card look magical! She takes you through each step to replicate this design and breaks everything down even to the colors that she uses to complete. This card does take some time, patience and artistic skills to complete but, have fun and enjoy!
---
14. Watercolor Christmas Tree Cards
These Christmas tree cards look artsy yet, are simple to complete. Customize the color and design as you see fit or follow along as Nell walks you through this design.
---
15. DIY Christmas Card Tutitoral with Watercolors

Karinka Oli Makes 3 Christmas cards (an ornament, a rainbow Christmas tree, and a warm wishes card) in under 10 minutes! Of course it may take you a little longer but, it might be fun to try your hand at a few different designs for your Christmas cards this year. I like how these designs are completely done with watercolors, down to the writing and all.
---
16. Step by Step Tutorial Watercolor Christmas Cards
Follow along as Anthony shows us how to complete these unique watercolor designs. Theses are a little more time commitment and maybe at times a little bit more advanced but, that's what makes them more appealing!
---
17. Snowman Watercolor Christmas Cards
How professional do these look? Theses are more advanced designs and require some watercolor expertise. Wouldn't you love to send them to friends and family and enjoy how they're handmade by you!
---
18. 'Tis the Season Watercolor Christmas Card
So simple and sweet! I love the look of these evergreens with a short and simple message. Again, you can customize your message or add a little more to the trees or background as you see fit. Faber-Castell also has a youtube tutorial for this design too.
---
19. Merry Christmas and Christmas Wishes Card
Both of these cards are simple and sweet. I love how the watercolors are bright yet, soft. Watch as
Karinka Oli shows us how to make these two cards
---
20. Snowflake Watercolor Powder Resist
To complete you'll need more than just watercolors although, this design is worth it! Check the tutorial @splitcoaststampers
---
Turn Your Sentiments into Creative Cards This Christmas!
Now that you've seen the many things we can do with watercolor with these DIY watercolor Christmas card ideas, it's time for you to paint your own masterpiece! Don't be afraid to let your creativity shine through these cards, and remember that there isn't really a "wrong" way of painting your cards; it'll all depend on your sense of style and the person you're giving it too. Just let your imagination take flight, and don't forget to share with us your latest creations in the comments section! Happy painting!
Once you've completed your Christmas cards it's time to finalize or maybe start your Christmas gifts! Check out some DIY Christmas Gift Ideas here to find your next project!
Sara Ty
I'm a stay at home mom with our two kids. I really enjoy doing crafts with my kids however, that is typically a challenge with how limited their attention span can be and how messy it gets. So, I'm always looking for ways to make crafting an enjoyable experience and creating fond memory for all of us.
Categories DIY Festive Holiday IdeasSours: https://justcraftingaround.com/diy-watercolor-christmas-cards/
Ideas card diy christmas watercolor
Easy DIY Watercolor Christmas Cards to Make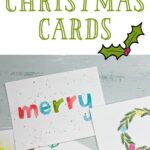 Make these easy DIY watercolor Christmas cards to give to your loved ones. These simple designs are perfect for beginner painters, but still beautiful enough to share with others.
You might also like this post on affordable watercolor gifts for artists.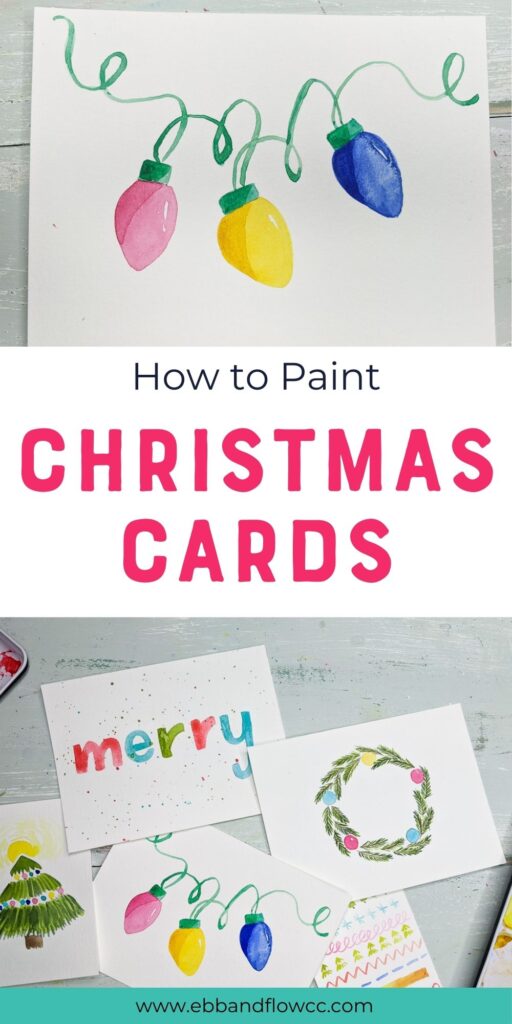 This post contains affiliate links. By purchasing an item through an affiliate link, I earn a small commission at no extra cost to you. As an Amazon Associate I earn from qualifying purchases.
DIY Watercolor Christmas Cards
Supplies Needed:
Directions
If you've never painted with watercolor paint, the most important thing to know is to let each layer dry before the next layer.
The other important thing to know is that watercolor paper is necessary to get the best color pigmentation and to prevent the paper from warping.
Hand-Lettered "Merry"
Hand-lettering sounds much harder than it is. But it's pretty easy.
If you still feel uncomfortable hand-lettering it, you can print the word and trace it with carbon paper. Look for a font that is thick for best results.
Use a ruler to draw light guidelines.
Find the center of the page.
Find the center of your word. In "Merry," it is the 1st R.
Write the word lightly using the guidelines. Start with the center letter to make sure that all of the letters fit properly.
Draw each letter. I find it easier to hand-letter if I break each letter into rectangles. Make sure that each rectangle is about the same thickness.
Erase as much of the drawing as possible, so that you can still see it. Remove any stray lines.
Start filling in each letter. I start by outlining a portion and use the brush to pull the color into other areas. Line as you go.
I used 3 colors, alternating on the letters.
Optional: Add a fun look with paint spatter. Water down the paint and load it onto the brush. Tap it against your hand. Repeat as needed.
Christmas Wreath
This wreath is easier painted with a small paintbrush. I used a #2 and #0 Round.
Lightly draw a circle. (I always find a glass or a roll of tape to trace.)
Lightly erase the circle.
Draw in 5 circles for ornaments that are equally spaced around the circle.
Paint the ornaments, alternating colors.
Use brown paint to start adding in the stems for the pine needles. They're just curved lines, equally spaced around the wreath. (The full tutorial for painting leaves and pine needles can be found here.)
Use a light green to add lines for the pine needles.
Add a 2nd layer of darker green to add depth.
If there are any bare areas, add more pine needles.
Christmas Lights
Sketch out your lights and cords. The lights are ovals with a fatter base. The caps are just rectangles. The cord is a curvy, looped line that connects each light.
Erase as much pencil as possible.
Paint the lights, leaving small white triangles of white paper to show the reflection.
Paint the cord green. (I mixed phthalo green and yellow to get this green.) It's easier to pull the paintbrush towards you than push it away from you. Turn the paper if you need to.
Once the lights are dry, paint in the caps with the same green paint.
Let everything dry and add a layer to each lightbulb to add a shadow.
Christmas Tree
If you don't want to "decorate" the tree, you can leave smaller gaps between the rows of branches on the tree.
Use the tip of the brush to make lines forming a small triangle.
Use this same method for the next 2 rows of branches, leaving white space between them.
Use the same method to paint a brown tree trunk.
Use yellow paint to paint a circle around the top of the tree.
Dilute the paint and add rounded lines around the circle to create the illusion that the tree is lit.
Add colorful circles in the white spaces to represent ornaments.
Optional: Add another layer of branches to the tree in a darker paint color.
Fun Designs for Edges
Optional idea: Add frames to the edges of the card. These ideas are pretty self-explanatory.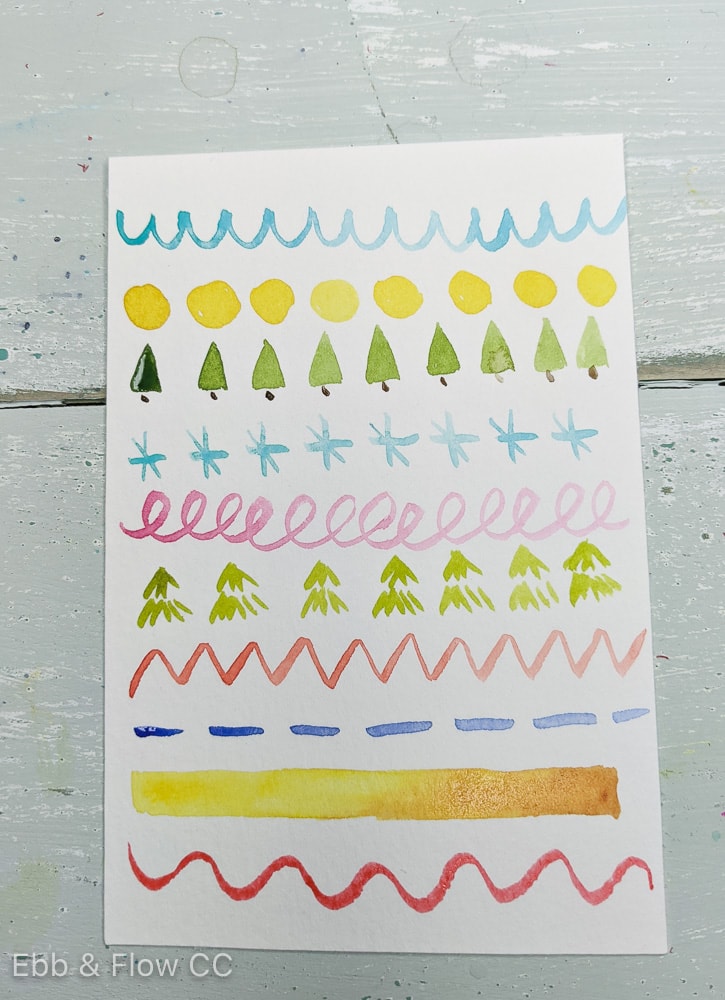 You might also like:
Pin for Later!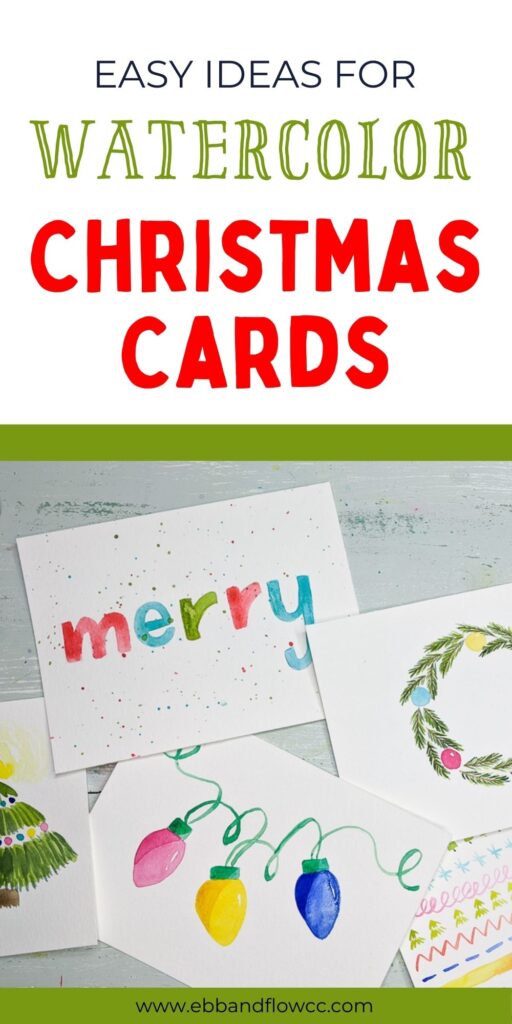 Filed Under: Watercolors
Sours: https://ebbandflowcc.com/diy-watercolor-christmas-cards/
7 Watercolor Christmas Card Ideas for Beginners ♡ Maremi's Small Art ♡
33 DIY Christmas Card Ideas to Show Your Crafty Skills This Year
A sweet alternative to store-bought cards, these greetings put your tree-decorating skills to work — on a small scale.
Send a bright red greeting from Rudolf, everyone's favorite spreader of holiday cheer.

To make:Download our illustration, and print in color onto 8 1/2- by 11-inch card stock. Fold the stock in half lengthwise, creasing with a bone folder.
For the card at top left, attach small bugle beads and paillettes to the tree (use craft glue for all designs).
To replicate the middle version, cut out ornaments (made by tracing a button), a tree base, and a star from patterned fabrics and adhere.
Make the last card by zigzagging a length of ribbon across the tree. Fold the ends under and glue, then try other widths of ribbon to craft a base, star, and gift. Or use your imagination, and whatever supplies you have on hand, to make your own one-of-a-kind cards.
SHOP WHITE CARDSTOCK PAPER

Sours: https://www.countryliving.com/diy-crafts/how-to/g3872/christmas-card-ideas/
You will also like:
​I don't know about you, but I always seem to write my Christmas cards at the last minute!
But this year I really wanted to design and paint some of my own watercolor cards for friends and family. So if you're looking for inspiration and some guidance how to paint your own merry little cards, I hope this tutorial will get you painting !
These easy watercolor christmas cards are simple to do and a whole lot of fun! I'll show you how to create these watercolors step by step. As you progress the paintings become slightly more elaborate and involve some more skills, but I'll explain these great watercolor techniques and color theory along the way. You'll be using methods such as:
​Color mixing
​Wet on wet techniques
​Charging color
​Variegated washes
​Glazing
​Reserving whites and masking
And maybe some other fun stuff that I've missed! Every time you paint you will get better in this beautiful medium. So grab your paints, put on some christmas music, and enjoy...
Simple Watercolor Christmas Cards
Set yourself up with the right materials before you begin. I'm using 140 lb / 300 gsm watercolor paper for these cards. This is thick enough to make decent cards and also won't buckle very much. Anything thinner is probably a bit flimsy. The simplest way to make the cards is to fold a sheet of paper in half, but you can also find watercolor postcards ready to pop in an envelope if you prefer.
A couple of other things you will probably find useful is some low tack masking tape and some masking fluid. I'll explain how to use these later on.
Let's get stuck in!
Watercolor Christmas Tree Card
Christmas trees are a typical hallmark of the festive season. You don't need to paint a realistic looking pine tree for people to understand the significance. So for this first design I painted some simple watercolor patterns which represent Christmas trees.
I'm using repetition as a compositional tool for this design, but adding variation by using different brush strokes and colors for each tree. It's a good idea to think about the composition of your painting before you start. This is basically just nine equally spaced triangles. Although it's a very simple pattern, the composition sets up a rhythm which is pleasing to the eye. The mixed brush strokes and color variation break the monotony. I did nine trees because I didn't want them to become too small so I could still add some detail with a small brush. But feel free to paint a larger number of smaller trees if you like.
This is also an excellent exercise in brush control. I'm using a reasonably small ​round brush. It's a ​number 4 brush from the Silver Brush Company. This mix of natural hair plus synthetic bristles makes an excellent inexpensive brush with good handling qualities and a fine tip. You don't have to paint exactly the same patterns as I used but the idea is to vary the brush strokes and colors for each tree. The repetitive brush strokes force you to apply good brush control.
Trees are green… Right? Well green is an often discussed color in watercolor painting because it can be tricky to mix. Yellow plus blue doesn't always produce the desired green as I'm sure you've already discovered. But if you remember a couple of simple rules then you can mix whatever kind of green you need.
To mix greens and obtain the desired hue you can use a simple color wheel to help you decide which paints to use. The color wheel below uses a warm and cool version of each primary color (yellow, red, and blue). This is known as a split primary color palette. The colors on the wheel naturally progress from warm to cool hues. Warm colors are yellow, orange and red whereas cool colors are purple, blue and green. As a rule of thumb, warm colors tend to contain more red and cool colors tend to contain more blue.
To produce the brightest possible secondary colors (orange, purple, and green), each secondary color must be mixed using the secondary color closest to it on the color wheel.
Take a look at the color wheel then read that again !
Just to be clear, a bright saturated green can be mixed using a cool yellow and a cool blue.
If on the other hand you want a more subdued green color, you should mix using primaries that are further away on the color wheel. For example a warm blue and a warm yellow.
Tip: I recommend you always have a warm and cool version of each primary color to give you the best range of color mixing. Personally I love the smooth handling qualities of Daniel Smith watercolors. They do an excellent essentials set which contains six warm and cool mixing hues.
The paints I used for this card are as follows:
​Phthalo Blue (GS)
​Lemon Yellow
​Sap Green
​Raw Sienna
As you can see I'm using a cool blue and a cool yellow so that I can mix some nice vivid greens. But I'm also using a ready mixed sap green as a slightly toned down green as well.
A side note about Sap green: This paint is what's known as a convenience color. Watercolor artists who do a lot of landscape painting or botanical work like to have this in their palette simply because it saves time mixing and gives artists a consistent color for painting foliage. But from a purest's point of view, sap green is maybe not the best mixing paint because it is not a single pigment paint. (For example the Daniel Smith Sap Green contains three different pigments).
Watercolor artists prefer to use single pigment paints where possible because they're considered to produce brighter more vibrant colors, and that mixing multiple pigment paints tends to produce muddy results.
​Begin by drawing some equally spaced triangles with a pencil. The start painting your first tree with your chosen brush stroke texture. I'm starting with a light green mixed from Lemon Yellow and Phthalo Blue.
Next you're going to create a variegated wash by adding some more color to the first wash that you laid down. I added some more Phthalo Blue by dabbing in some color then moving the pigments around in the wet wash. The paint must still be wet for this to work otherwise the colors don't blend together smoothly and you'll get sharp edges where the paint has dried. Adding more color to a wet layer of paint is often referred to a charging in.

Move onto the next tree shape using a different green and a new type of brush stroke. Charge the wet paint with a second color again so you get a variegated color appearance.
Keep going until you've done all your trees!
Watercolor Snow Storm Card
This next design is another easy one to produce if you have a few basic supplies.
Begin by creating a border for your painting using low tack masking tape. It's a good idea to use low tack stuff so that you don't rip your delicate watercolor paper when it's removed!
Next apply some random dots of masking fluid to represent the flurry of snowflakes. I'm using Pebeo drawing gum which has the advantage of being colored so you can see where you've applied the masking. Masking the white paper in this way is method used for reserving whites. When you remove the masking you'll have nice crisp white dots.
​Tip: Be careful which brushes you use to apply masking fluid. Whatever you do don't use your best brush, and clean your brushes quickly after using the masking. This stuff is difficult to clean off. I use a small synthetic brush for this.
​I only used a couple of blue colors for this painting, a cool Phthalo Blue (GS) and Prussian Blue which is a beautiful rich blue hue.
When the masking fluid is completely dry you can paint a variegated wash of blue across the whole paper surface (you paint a variegated wash simply by mixing two or more colors on the paper while the paint is still wet). Try to work quite quickly so that you paint remains wet, otherwise you risk getting a streaky wash where the edges of the paint has dried.
I want the surrounding edges around the painting to be darker so I'm using a brush to dab stronger paint into the edges of the wet wash (Once again this is what's known as charging in).
When you're happy with your wash leave it to dry before moving on to the next part. Let me repeat that.
Yep… Leave it to dry before the next stage.
You're going to apply some more masking fluid. If you do this before the paint is completely dry you'll have problems removing it and you can damage the layer of paint underneath.

Paint some more snowflake forms with a second layer of masking fluid. I concentrated these at the center of the painting. When the masking fluid is dry again, paint a second variegated wash across the whole of the sheet, charging the corners and sides with more pigment to make it darker around the edges.
Let everything dry one more time, then use a kneaded rubber eraser to remove the masking fluid. Then remove the masking tape around the border.

Ta-da !
Sit back and admire your handiwork...
Floral Watercolor Christmas Card Patterns
This next example stays within the theme of patterns and repetition, but we move on to slightly more complicated shapes.
Rather than just painting triangle trees and snowflakes I've used some more detailed floral shapes. Sticking to the Christmas theme I've gone with berries, holly, pine leaves and pine cones.
The shapes themselves are more complicated to paint which will get you practicing some more advanced brush control techniques. At the same time the colors have some interest because they use variegated washes. One of the characteristics that I love about watercolors is the way you can blend colors together while the paint is wet, and the transparency of successive layers of paint.
The colors used for this painting were as follows:
For the pine cones and stems: Raw Sienna and Transparent Pyrrol Orange.
For the leaves: A mix of Lemon Yellow plus Phthalo Blue (GS) then some Sap Green and Phthalo Green (BS)
For the berries: Transparent Pyrrol Orange and Quinacridone Rose.
Begin by masking your border with low tack tape, then sketch a light pencil outline of the shapes on your card. If you find the drawing part difficult, you can download the template for the card that I created and use this to trace outlines onto your watercolor paper.
For the cones I used Raw Sienna and some curving, circular brush strokes to depict the cone texture. Leave some white paper between your brush marks. Leaving some parts of the shapes white gives a hint of highlights and I think the contrast produces a crisp fresh appearance. While the cone shapes are still wet, use the charging technique you used previously to add some Transparent Pyrrol Orange to parts of the cone. Dab the paint and push it around the wet wash so you get a nice variegated color range. Once the cones were dry I painted some further texture with a glaze of Raw Sienna (painting on top of a dry layer of paint is known as glazing).

The same technique applies to the other shapes in this composition. For the leaves I began with a bright green mixed from Lemon Yellow and Phthalo Blue (GS). Be careful to add just a small amount of blue, this mix is mostly yellow. Again you can leave some white to hint at the leaf veins and charge in some Sap Green or Phthalo Blue and Phthalo Green to variagate the wash color.
For the berries I painted them in Transparent Pyrrol Orange and added a little Quinacridone Rose. Don't forget to leave some white highlights on the berries!
Remove the tape around the border and… Voila !
Floral Watercolor Christmas Card Composition
For the last card I used the same Christmas floral shapes but this time I painted an assembled composition. When you paint a grouped composition like this on white paper, think about where you're going to position it. Don't just paint it bang in the middle, but rather try to set it into a corner of the sheet. This kind of compositional tool is known as the rule of thirds. (If you divide a sheet into thirds vertically and horizontally, the eye is naturally attracted to objects which lie along one of these lines or at the intersection of two lines).
The composition is painted using the same color mixes and the same techniques that were used on the previous cards. Remember to leave some white highlights and paint variegated washes to produce interesting color variations.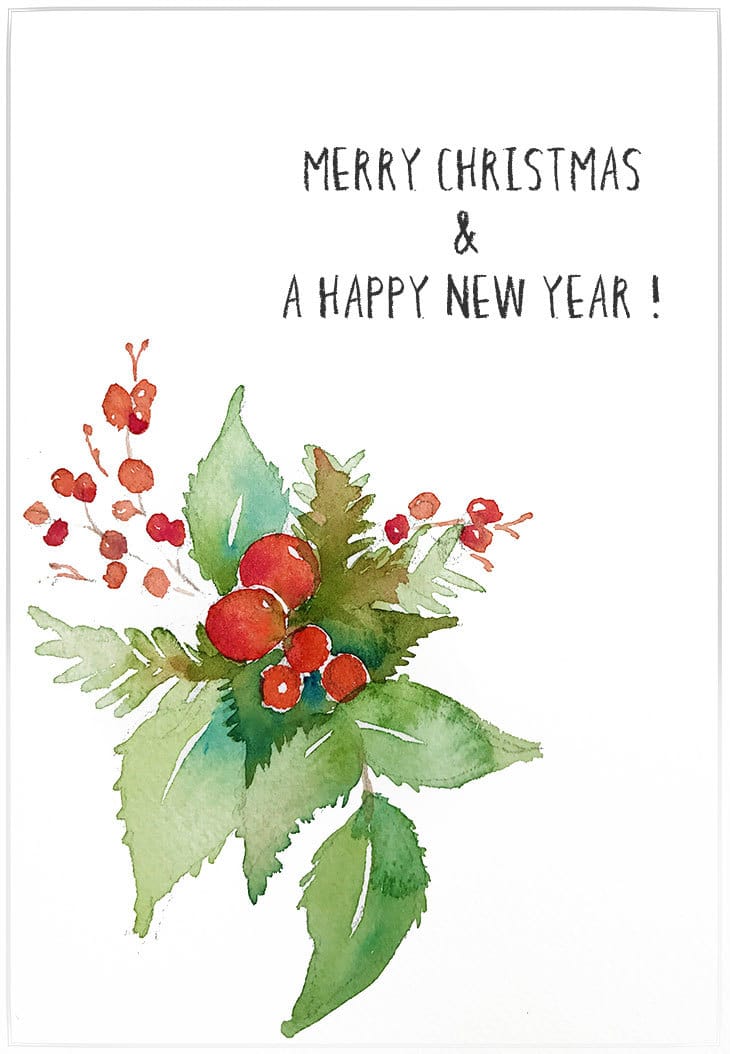 I hope these easy examples inspire you to paint your own watercolor christmas cards this year. Your friends and family will love them!
Merry Christmas everybody!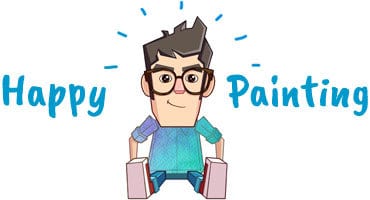 Sours: https://www.watercoloraffair.com/easy-watercolor-christmas-cards-step-by-step-tutorial/
413
414
415
416
417