The neutral tones typical of modern farmhouse style schemes create living rooms that are both calm and cozy. But while they tend to the uncluttered feel of contemporary interiors rather than a busier rustic look, farmhouse living room wall decor remains crucial to bringing individuality and interest to these rooms. 
Artwork, mirrors, wall hangings, ceramics and more introduce color, texture and character to farmhouse style living spaces. Set against understated painted or paneled walls, they make a strong style statement and fabulous focal points. 
If modern farmhouse ideas are what inspire you, and rustic wall decor is on your agenda, this expert advice from interior designers will bring you beautiful rooms.
Farmhouse living room wall decor ideas
Our favorite farmhouse living room wall decor ideas can be used for feature walls, above the fireplace, or to create a vignette on a shelf. Like our farmhouse living room ideas they can boost the character of both rural properties and city homes where the warmth of a rural vibe is desirable.
1. Use wall decor to take the emphasis off tech
The TV screen is often a major feature of a space, but to avoid its drawing the eye, plan farmhouse living room wall decor that captures attention.
'It took a village to implement our design concept for the media wall in this living room,' says Sandy Lucas of Lucas Eilers Design Associates. 
'Sliding panels of reclaimed wood cover the large screen TV when it is not in use; however, we wanted an interesting focal point around the television when the doors were open. We designed trees and plants which were enlarged and then laser cut from iron. These iron panels were backed with speaker cloth to conceal the speakers and storage around the television. The result is a television that is readily available when needed, but beautifully hidden away when entertaining does not center around a sporting event.'
2. Use a wall shelving display to showcase individual style
Shelving with space for display is ideal as rustic wall decor, and the decorative pieces selected will bring personality to a living room.
'We love utilizing things that are meaningful to our clients that add elements of relaxation and joy,' says Nancy Charbonneau of Charbonneau Interiors. 'In our Meadow Brook project, this family loves their horses, so we commissioned a local artist to create art for the home in a variety of mediums – paint, watercolor, line drawings. These pieces became focal points throughout the home, showcased our clients' passions, and supported the incredible artists in our community at the same time.'
3. Hang a mirror to create a fresh view
A mirror over the fireplace is a choice that suits many different interior styles, and it has its place as farmhouse living room wall decor, too. Select the mirror frame to complement the rest of the materials palette: wood is the more rustic, textural option, but sleek metals are an alternative to play up the more contemporary complexion of modern farmhouse style.
Hanging a wall mirror will always multiply the light in a room. However, it can have a further advantage in a living room with exposed beams, reflecting the attractive features and creating a new view of them. 
4. Choose neutral shades for a gallery wall
A gallery of pictures is a fabulous wall decor option, but how to make it a complement to the rest of a modern farmhouse scheme? You could follow the example of this interior from Creative Tonic, and opt for images and frames in the same soothing neutral palette as the rest of the room for the perfect fit.
Creating an arrangement that breaks out from a rectangle suits the relaxed ambience of this room, but pictures should still be hung close to one another, as here, so the group reads as one. 
5. Think about propping as well as hanging wall decor
Wall decor doesn't have to be hung high to be impactful, and the strategy of propping artwork has the contemporary credentials of modern farmhouse style. 
Bear in mind that it's important to choose sizeable pictures if they are going to lean against the wall rather than hang on it, and use the wall opposite the door to make them a focal point.
Images with a natural theme are ideal for farmhouse style, and black and white photographs or simple line drawings can be part of the room's neutral scheme. 
Tapestry and other textiles are a wonderful choice as rustic wall decor. 'We selected a unique mix of furnishings and decor in this living room to reflect the eclectic taste of the homeowners,' says Lauren Ramirez of Lauren Ramirez Interiors. 'They brought the vintage trunk with them from the north east when they moved to Texas as one of their few heirloom pieces and we wanted to incorporate it into the room for a personal layer among mostly new pieces. 
'We commissioned the symbolic handwoven tapestry by Zanny Cox to honor the homeowner's love of the landscape and cultures found in the American south west. Bold carvings on the console and the graphic pattern on the side chairs complement the lines in the weaving and all of these selections are calmed by the soothing paint color in the room.'
7. Anchor artwork above furniture
Artwork can seem to float on tall, white farmhouse walls, so visually anchor wall decor to a piece of furniture below. That means keeping the distance between a sofa, table or other floorstanding piece minimal enough that it and the pictures above are associated. But do bear in mind that wall decor above seating can't be positioned where it will interfere with tall sitters.
Work with the dimensions of the furniture below from side to side, too, keeping the wall decor in the area above it as with this pair of paintings.
8. Ensure architectural elements stand out
Make sure you keep the focus on the room's features when you're picking wall decor. 'I specifically kept the room neutral and simple to really show off the architectural elements of the space – the stairs, the fireplace brick, and the beams were the stars of the show,' explains Elizabeth Krueger of Elizabeth Krueger Design of this living room. 'Adding in decor that doesn't take away from the elements in the room is a great way to enhance specific details of the space.'
9. Work groupings
Layers of subtle detail are important for neutral room schemes, and farmhouse living room wall decor can be part of these. Grouping ceramics on a shelf can be eye-catching without deviating from the subtle palette.
Pick different shapes, textures and heights and opt for the classic stylist's pyramid shape for the arrangement. Opt for vases and bottles and you can add foliage to the arrangement to maximize the room's natural credentials.
10. Plan on harmony between the old and new
Modern farmhouse style celebrates the traditional, but blends it with the modern, and wall decor should reflect this. 
'For the shelf décor in this modern farmhouse living room we wanted a curated feel,' says Michelle Lisac, founder and principal designer of Michelle Lisac Interior Design. 'We included some of the client's own items and mixed in other pieces that had either a nice patina or great texture. We used a lot of ceramics that we purchased new but that had a very timeworn look. We also utilized some antique pieces such as brass candlesticks, pottery, and old trinket boxes that we picked up at Elsie Green in Concord, California.'
How do you decorate a farmhouse style wall?
Farmhouse style walls are generally painted in subtle neutrals such as white, off white and pale neutrals with farmhouse living room wall decor an appealing addition to this backdrop for some of a room's walls.
Hang artwork as either striking single pieces, or perhaps unsymmetrical pairs that reflect the look's drawing on contemporary style. Alternatively, use single images hung in a group that reads as one. 
As in other living spaces, mirrors are a pleasing alternative to a painting or other image and wooden frames can continue the natural materials palette typical of the look. 
Don't forget that open shelving with books or decorative accessories can be an appealing way to decorate a farmhouse style wall, and provides an opportunity to introduce sleeker materials that contrast with more rustic finishes. Shelf displays can also allow you to bring in personal themes that make the space homely and welcoming. 
How do I decorate my farmhouse style living room?
Think both rustic and modern elements for a farmhouse style living room. Natural materials are key, and pieces that show the patina of age can mix with newer ones. Mix fabrics, too, showcasing different textures.  
When it comes to color, layer neutrals for a light-filled room that has a calm ambience, but is rich in interest. And celebrate architectural features such as exposed stone or brick, which look fabulous alongside painted walls.
Sours: https://www.homesandgardens.com/ideas/farmhouse-living-room-wall-decor
Country & Rustic
Country & Rustic Metal Wall Art Makes the Perfect Addition to Any Cabin, Lodge, or Country Home.
This delightful collection helps create a warm and inviting touch for any country-themed home or farmhouse. Crafted by talented metal artisans, this Country & Rustic decor collection features unique metal wall decor pieces in warm, rich colors.
Whether you are looking for a rustic image that has been laser cut out of steel, or a classic piece of wrought iron to accent your farmhouse, we have you covered with an extensive collection of unique and wonderful pieces.
As a family-run small business, Art & Home prides itself on offering exceptional decor treasures that will enhance your home and your lifestyle.
Get ready to show off your style and taste with an amazing piece of Rustic or Country-themed wall decor!
Simply extraordinary, these rustic metal wall decor items will be something you and your family will treasure for years to come!
But don't just take our word for it…
Browse the entire collection of Country & Rustic Metal Wall Art.
Sours: https://artandhome.net/shop/metal-wall-art/country-rustic-metal-wall-art/
37 Rustic Wall Decor Projects For A Charming Home
Lately, we've seen an increase in popularity for rustic wall decor as a general trend, with a focus on decorations and accent pieces made of reclaimed wood. Items such as wall-mounted shelves, framed pictures, hanging signs or anything that has a retro vibe have the wonderful ability to make space appear more warm and welcoming and to create a familiar and comfortable ambiance. Check out our latest finds to get a better idea of what rustic wall decor is all about.
Everything about this living room setup is wonderful including the rustic sign hanging just above the sofa, below the shelf. The two mirrors add depth to the room and make it look bigger and brighter. For more farmhouse inspiration, check out linda-coastalcharm.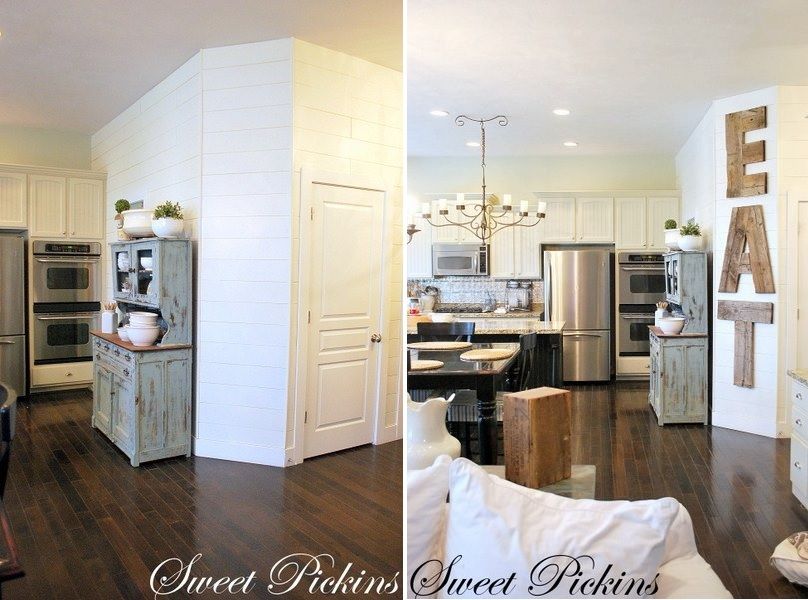 We mentioned at the start that decorations made of reclaimed wood usually give a rustic vibe to the spaces they're in so here's a specific example which proves it. This open kitchen was decorated with large wooden letters which stand out and turn the previously empty wall into a focal point not just for the kitchen itself but the living room as well. For more details about this project, check out sweetpickinsfurniture.
Framed family pictures really scream rustic, especially when displayed like this. These "frames" are actually old windows. They look amazing on the wall of this dining room where they create a very cozy decor. The wooden letters are a nice touch and go well with the rest of the room. The idea comes from cottageinstincts.
Sometimes it's not about each individual decoration that you put up on a wall but about the overall vibe they send together as a group. For example, this is a very charming cluster of decorations and accessories, each with its own unique role and character and all in perfect balance as a group. Check out goldenboysandme for details.
A nice thing about rustic wall decor is that it doesn't need to look perfect or to be complicated. It's not really about the design as much as it is about the materials and finishes used and about the type of atmosphere that they create. A very good example here is this set of wooden arrows featured on little-brick-house.
Finding that perfect piece of wall decor is not always easy, especially when you have a specific idea in mind which is not based on something material but rather on a feeling, a style, an idea. In such cases, DIY projects are often the perfect option. How about these rustic shutters and wreath from littleyellowwheelbarrow. They would look charming in any room.
You can add rustic accents to any space, including the bathroom. We really like these simple shelves and especially this lovely bathroom sign featured on cherishedbliss. The design is a pleasant mix of rustic and industrial and has a lot of character in spite of the simplicity.
You can make a lovely barn door decoration for close to nothing and the cost gets even lower if you're using reclaimed wood. The design is very simple and you can adjust the proportions based on how or where you want to display this piece. You can also add other decorations such as a wreath, planters, etc. Find out more details about this project on gatheredinthekitchen.
This is a really cute idea for a rustic wall decor piece that you can put in the kitchen. It's an herb-drying rack which you can hang on the backsplash or on a wall. It looks cute and it's practical too, making this a great DIY project, whether you plan to offer the rack as a gift or to add it to your own kitchen. You can find instructions along with tips and a list of required materials on magnolia.
This dresser is perfectly capable of adding a rustic twist to the decor by itself but it's definitely nice to have some help. We really like the vase and the candleholders but the real star here is the barn window mirror. It's imperfect, as any rustic design should be, and that helps stand out. Check out ninabendrick if you also want to find out the story of this beautiful dresser.
Empty corners aren't exactly exciting but they do have a lot of potential because they're really great for displaying all sorts of decorations and for creating cozy little nooks like the one featured on lizmarieblog. The corner gallery wall has tons of character. If you decide to make something similar, display items that are meaningful for you and your home.
Although charming, rustic pictures frames are not that easy to come by which shouldn't really be a problem since you can turn this into a wonderful DIY project idea. You can make your own rustic display frames from scratch by following the tutorial offered on jennakateathome.
Old shutters can make lovely decorations and you can display them in all sorts of environments. These ones really capture the farmhouse vibe of this entire dining room and are complemented by a "gather" sign and two oversized vases. Each of these decorations would stand out on its own but here they work harmoniously to make this space extra cozy. Check out the post on Instagram.
Wood pallets are an extraordinary resource for DIY projects, rustic as well as modern. You can use the entire pallet or parts of it to make beautiful decorations such as these plaques. Use these to display pictures on your walls and give them a worn, retro finish for more character. You can find the project tutorial on ohmy-creative.
Wood is not the only material you can use in your rustic wall decor projects. As it turns out, you can do all sorts of cool things with rope. For example, check out this charming wall sign from lovegrowswild. Naturally, you can choose a different design if you want to. Think of something that suits you and your home without being too complicated.
There's something very satisfying about crafting something using reclaimed or recycled materials and the project from followthesprinkles is a wonderful example. This rustic wall decor is made using pallet wood, Mason jars and tin cans. The project is not just inspiring but also very budget-friendly.
We're living in an era where physical calendars have been replaced by an app on our smartphones and while that's definitely practical, a wall calendar does have its charm, especially a really big one like the one featured on thistlewoodfarms. This giant chalkboard calendar basically covers an entire wall. You can put it in your home office, on a hallway or even in the living room.
You can also make a beautiful wall decor piece using an old frame, some chicken wire and a wreath. It's a fairly simple project, one which you can customize in an infinite number of ways. Painting the frame white and then using sandpaper to give it a time-worn look is a cool way of adding a rustic vibe to the design. Check out confessionsofaserialdiyer for more details about this project.
Some projects are a really nice blend of looks and functionality. For instance, this rustic coat rack has a shelf at the top on which you can display framed family pictures, vases, planters and all sorts of other things. If you're interested in crafting something like this for your own entryway, you can find the instructions on lizmarieblog.
The bathroom doesn't usually offer much room for purely decorative elements but you can find ways to blend looks and function. A rustic towel rack made out of reclaimed pallet wood is an interesting option. The rack itself is simple but charming and the towels double as decor pieces. This project can also be an incentive to play with colors and patterns. If you're interested in the details of the project you can check out the full tutorial on 1001pallets.
Mason jars can be repurposed in lots of ingenious ways and one of the easiest options is to turn them into cases. This however is not just any regular jar turned into a vase. It's a beautiful wall hanging piece that adds charm and style to the space around and doesn't take up any space on tables or shelves thus being also being quite space-efficient. Check out the tutorial for it on thehambyhome.
On the subject of larger-scale projects, perhaps you would be interested in crafting your own headboard from scratch. It can be a simple and rewarding project especially if you like the look of wood and its natural and unique beauty. This style of headboard featured on andreasnotebook suits most types of beds and is easy to build.
Finding a good-looking mirror can be quite tricky. A lot of them are expensive even when the design is really simple. That's what makes this DIY framed mirror project so appealing. You can build the frame out of wooden boards which you can either stain or paint. It's even possible to give it a distressed look if you prefer a more vintage-inspired design. Check out thewoodgraincottage for a few tips and ideas.
Something else that's a must-have in any home is an entryway coat rack. It's such a basic thing to have and there are so many different designs and options to choose from. A handmade rack however would always look better and would make the entryway feel welcoming. The design shared on lizmarieblog is simple and convenient. The hooks are perfect for hanging coats, bags and other things and the shelf at the top is perfect for displaying a few items.
Curtain rods are typically something we purchase without even considering alternatives. Of course, there's also the option to craft these yourself which would give you the opportunity to pursue a particular style that you like and to try custom designs that suit your décor. To make basic curtain rods you need a wood dowel, wood brackets, stain, paint, a saw and a drill. You can find the instructions on maisondepax.
Reclaimed wood is a marvelous resource for lots of amazing DIY projects. Most often we're talking about decorative pieces and accessories, like this lovely sign featured on funkyjunkinteriors for instance. It's a coffee-themed sign which you can hang on a wall, in your kitchen for example. You can also add a few S hooks and hang a few things from it like coffee mugs for instance.
Driftwood is also an amazing resource. If you ever find yourself walking on a beach or on the shores of a lake, take the opportunity to collect any driftwood if you can find it. Even the little pieces can be used to make beautiful things, like this mirror for example. All the little driftwood pieces were used to make a starburst frame around the mirror and it looks incredible. Head over to sustainmycrafthabit to find out the details of this project.
Speaking of decorations that you can make out of wood, whatever the kind may be, check out this nice American flag idea from petticoatjunktion. It lacks the bold red and blue which actually works out in its favor, giving it a rustic look. You can make it out of reclaimed wood or leftover pieces from previous projects and you can add your own twist to the design.
These old cheese boxes were turned into a lovely wall display piece which can hold all sorts of things like flowers, little planters, books and so on. Its made using two wooden boxes of different sizes connected with a wood ruler at the back. There's a reclaimed piece of hardware at the top which makes a great hanger and also looks elegant at the same time. This simple project is featured on petticoatjunktion.
These rustic shutters do a nice job of filling up the empty wall in this dining nook. They're quite simple when you look at them individually but when put together like this and with that lovely green wreath at the center they really bring this space to life. If you want to find out more about how they were made and how the idea for this décor came about, head over to littleyellowwheelbarrow.
A great idea if you're looking to craft a new accessory or decoration for your home is to somehow incorporate Mason jars into the design. They're really versatile and excellent for this sort of projects, especially if it's something meant to look rustic. A really simple project would be to attach a glass jar to a piece of wood and turn it into a wall-mounted vase. More details can be found on thehambyhome.
Reclaimed wood is also an excellent resource for rustic DIY projects. A great way to save some money in the process is by using wooden pallets. You can take them apart and reuse the boards. One interesting thing you can use them for is to make an accent wall for your bedroom. You can mix and match boards with different finishes and colors to create a unique display. There's a tutorial for this on charlottehupfieldceramics if you're interested.
Speaking of reclaimed and repurposed materials, did you know you can reuse wooden crates to make custom shelving for your kitchen. It's really easy and a great way to add a rustic or farmhouse-inspired look to this space and to gain more storage space in the process. You can find all the details about this project on funkyjunkinteriors.
Remember doilies? They used to be very popular and they're definitely rustic. That means you can use them to make beautiful and charming decorations, like this wall hanging featured on thediymommy. It's nothing too complicated, just a vintage doily attached to a piece of driftwood. An old tree branch with a cool shape would also look great. You can add some faux flowers if you want to for a bit of color and a boho-chic vibe.
Vintage maps are really cool and not exactly common which is what makes them so special. There are two different ways to go about this. You can either use an actual old map or you can look for one that looks vintage but has updated information. Either way, displaying it on a wall would look really cool. You can make the frame for it yourself. Check out mountainmodernlife for info.
You know what else could look nice up on a wall? A few pages from an old book. Maybe you have a favorite book that you used to like as a kid and you can put a few pages from it on the wall in the nursery room. Or perhaps you can take out a few pictures and display them in the bedroom. Either way, check out build-basic to see how you can build this beautiful wooden frame for them.
Chalkboard paint is a lot of fun to use in DIY crafts and projects. Making a chalkboard is really easy. It can pretty much take any form you want which means you're not restricted to a particular material or size. Even something as plain as a wood slice can become a chalkboard. You could hang it up on a wall or just casually lean it against a wall or display it on a shelf or a table. Check out the tutorial on ablossominglife to find out how to make one.
Sours: https://www.homedit.com/rustic-wall-decor/
16 Fantastic Rustic Wall Art Ideas
Using a few pieces of wood, a few simple natural elements, or even readily available stuff from around the house as the building blocks, you can give those regular plain walls of your home a totally rustic and chic makeover, that too using the most basic of construction tools and a little bit of creativity. And that earthy texture coupled up with a dash of worn out appeal makes these 25 Rustic Wall Decor Ideas a must-try if you love experimenting with your home decor!

1. Mirrors Can be All Rustic
Head to the thrift store and purchase 3 simple, super cheap mirrors that not only look absolutely worn out but also old and rustic, making sure that they are all frame-less. How you can convert them into a gorgeous decoration for the home is by gluing them to plywood and trimming them out. Further, you need to stain them dark walnut and lighten them up a bit with the help of some Rust-Oleum Chalked paint in shades of linen white. Lastly, all you need to do is to sand them down a bunch to make sure everything looks exactly like you dream of. For bringing out a bit extra prettiness, add a gorgeous wreath on the top and hang it on the mirrors with the help of a contrasting ribbon bow.
DIY Details : instagram
2. Combine Small Frames Together
The four different photo frames that have been strategically and cleverly put together, each one occupying a spot on one of the four edges of a single frame prove themselves to be the most elegant and chic accent pieces, making the subtle nature of the installment climb heights of style. And the base frame that is also the largest of all sports a roughly done white paint, playing the role of connecting the individual pictures with each other. And that great pop of color brought by the staining performed on the smaller frames where browns are given more emphasis makes the group look even more adorable with that oil painting in the middle.
DIY Details : pinterest
3. Mis-Matched Picture Frames
Lots of frames that don't just go with each other at all, not only in terms of their sizes, looks, colors and essence when put together on one single wall with a grey or white tone are going to surprise you the core with the kind of appeal they end up bringing out. The secret in fact, is their mis-matched nature and that combination of black and white that makes them look absolutely rustic yet breathtakingly picturesque. What makes them a lot more special is that arrow at the bottom that sports your initials and the year in which you got all the pictures showcased above taken, or simply the most special year of your life – the author here has mentioned the year when she got married. Underneath the decor lies a pretty home-painted desk adorned with a few planters, vases and even more frames!
DIY Details : instagram
4. Hanging Mason Jar Sconces with Hydrangeas
No matter what's the theme or kind of decor you are looking for, mason jars have established themselves as a must-have ingredients to just about any decor lists you will find on the internet. Here's yet another inspiration having mason jars as its building blocks – wall sconces that come with a luxurious glow, brightening up a dark corner at its best. To suspend these versatile sconces on the wall, these have got simple pieces of wood plank attached to the mason jars with the help of some iron hooks. The textures and colors all go hand in hand with each other, wherein white fairy lights look so perfect with those pretty ivory hydrangea, getting the final touches with some twine. Surely, these are going to work as the most amazingly rustic handcrafted accents to your space.
DIY Details : etsy
5. Artistic Gallery Wall
Nothing can incorporate the idea of rustic to your decoration better than a thoughtful expression of words framed in a wooden border, accompanied by a handy shelf placed right in the middle of a wall sporting a stained and distressed appearance. What you put on the shelf is some large glass vases adorned with light shades of flowers, a few handmade rustic baskets, and lastly, a wooden frame with stained imperfections that has got a beautiful wreath in the middle made entirely out of white flora. The worn quality of each of the elements of the decor results in a cohesive, out of the box gallery wall, and it's really not difficult to bring this trendy concept to life on your very own.
DIY Details : instagram
6. DIY Wooden Arrows
It's not always essential that a decor item around the house also needs to serve some function – sometimes all you need is a touch of beauty taking the overall furnishings to new levels of magic all together. And these Wooden Arrows prove themselves to be a perfect example of the statement. Sporting a chevron pattern having the upward peaks of the chevrons draw the eye up and grab all the attention to the point of your desire, these arrows make a sure-shot mark with the interesting texture they come with, highlighted even more with the colors of the piece that blend a variety of wooden shades together, including dark staining, greys, and of course, browns. This is all you need to bid farewell to a eyesoring emptiness of any large room.
DIY Details : little-brick-house
7. EAT Sign – Wooden Letters
Another great something that can introduce an unconventional and truly elegant rustic look to your home walls is a gorgeous done Typography. A few innovative words of love or your favorite phrases can add so much more personalization to your space, and make sure that the whole ambiance seems to be oh so welcoming and warmth-filled. What you need to take care of is the kind of material you are going for the construction, the size of the letters, and lastly, the spot of placement for your DIY job. Some lovely imperfections sported by these letter of natural wood, saying EAT make it the most amazing wall art with a unique rustiness to it, while some creative staining makes them long-lasting as well as even more eye-pleasing.
DIY Details : etsy
Sours: https://cutediyprojects.com/home-decor/must-try-rustic-wall-decor-ideas-featuring-the-most-amazing-intended-imperfections/
Decor rustic wall
.
❤ DIY Rustic Farmhouse Style Wall decor Ideas❤ - Home decor \u0026 Interior design- Flamingo Mango
.
You will also like:
.
467
468
469
470
471