This email has also been verified by Google DKIM 2048-bit RSA key
Re: Malaysia
Adding Jake here too On Jul 9, 2015, at 1:11 PM, Nikki Budzinski <[email protected]> wrote: Hi-I wanted to provide a heads up on the next issue likely coming our way on TPP. Obama just readjusted Malaysia's tier on the human rights list in order to move TPP thru with Malaysia attached. Trumka will likely be putting out a statement today blasting this. I have heard that we will soon be asked to weigh in given the Secretary's role at State and as a Presidential candidate. Wanted to provide this heads up. Let me know if I can help or you have questions. Nikki *Obama To Upgrade Malaysia On Human Rights Despite Mass Graves* The Huffington Post By Zach Carter July 8, 2015 at 10:59pm WASHINGTON -- The Obama administration will remove Malaysia from its official list of the world's worst human trafficking offenders, according to Reuters <http://ca.reuters.com/article/topNews/idCAKCN0PJ00F20150709?pageNumber=1&virtualBrandChannel=0>, a move human rights advocates fear will damage U.S. credibility. The maneuver would allow the administration to continue negotiating a controversial trade agreement with Malaysia and 10 other Pacific nations. Legislation authored by Sen. Robert Menendez (D-N.J.) effectively bars the U.S. from enacting trade deals with countries deemed "Tier 3" violators of human trafficking standards -- the worst of the worst in the State Department's formal reckoning of governments that facilitate modern-day slavery. Malaysia earned its spot on that list, alongside Iran and North Korea, <http://www.state.gov/documents/organization/226844.pdf> from years of human trafficking, including rampant sex slavery <http://www.state.gov/documents/organization/226847.pdf> and forced labor in the agriculture and the textile industries, according to 2014 State Department documents. Malaysia's electronics industry also is rife with forced labor <http://www.huffingtonpost.com/2015/06/02/obama-trade-malaysia_n_7495750.html>. This year, mass graves <http://www.theguardian.com/world/2015/may/25/malaysia-migrant-mass-graves-police-reveal-139-sites-some-with-multiple-corpsesl> for trafficking victims were discovered in Malaysia near its northern border with Thailand. Reuters reports that Malaysia will soon be upgraded to a "Tier 2" country, allowing it to sidestep the ban imposed by the Menendez legislation. The State Department said it does not comment on its human trafficking list before it is formally issued. In a statement to HuffPost, Menendez said the maneuver would undermine the international legitimacy of America's human rights efforts. "If true, this manipulation of Malaysia's ranking in the State Department's 2015 TIP report would be a perversion of the trafficking list and undermine both the integrity of this important report as well as the very difficult task of confronting states about human trafficking," Menendez said in the statement. "The deplorable human trafficking crisis in Malaysia merits a global cry for action and justice -- not an attempt to sweep them under the rug for political expediency." Malaysia passed a law <http://www.huffingtonpost.com/2015/06/18/malaysia-human-trafficking_n_7616702.html> in June amid international controversy over its human trafficking record that would provide additional protections for victims. Human trafficking has long been illegal in Malaysia, however. The country's critics -- including the State Department -- have not focused on its legal standards, but on its willingness to enforce those standards. Human Rights Watch has persistently <http://www.huffingtonpost.com/2015/05/19/human-trafficking-tpp_n_7323044.html> criticized Obama administration efforts to undermine the Menendez language. Malaysia partially controls the Strait of Malacca <http://www.huffingtonpost.com/2015/05/30/malaysia-slavery-trade_n_7472682.html>, a key shipping lane for Middle Eastern oil bound for China. The Obama administration has repeatedly argued that its Trans-Pacific Partnership trade pact is designed to contain China's growing economic clout.
Sours: https://wikileaks.org/podesta-emails/emailid/43593
Hillary Clinton Email Archive
HAITI - CHILD TRAFFICKING
UNCLASSIFIED U.S. Department of State Case No. F-2014-20439 Doc No. C05767608 Date: 08/31/2015RELEASE IN FULLFrom: Muscatine, Lissa <[email protected] > Sent: Monday, January 18, 2010 9:21 AM To: Subject Re: Haiti - child trafficking I will work with her on specifics and get more info to you. She is an expert on Pakistan more than Haiti but obviously knows about the threat of child exploitation in these situations. Will see what we can find out. Original MessageFrom: H <[email protected] > To: Muscatine, Lissa Sent: Sun Jan 17 21:31:26 2010 Subject: Re: Haiti - child trafficking That is important. I will work on it--there's a very long and sobering list. Does Jillian have specific ideas? Original Message ----From: Muscatine, Lissa <[email protected]> To: Mills, Cheryl D <[email protected] >; H Sent: Fri Jan 15 12:28:05 2010 Subject: FW: Haiti - child trafficking This is a good suggestion from Jillian Burns in S/P....to make sure that children (and wonen) don't become targets of traffickers, as happened in Pakistan. From: Burns, Jillian L Sent: Friday, January 15, 2010 12:01 PM To: Gonzalez, Francisco J; Muscatine, Lissa Subject: Haiti - child trafficking http://www.cbsatlanta.com/news/22239047/detail.html Child Trafficking Major Concern After Quake Thousands Of Children Left Without Parents By Mike Paluska, CBS Atlanta Reporter POSTED: 4:58 pm EST January 14, 2010 UPDATED: 5:28 pm EST January 14, 2010 UNCLASSIFIED U.S. Department of State Case No. F-2014-20439 Doc No. C05767608 Date: 08/31/2015 ATLANTA -- UNICEF and international adoption agencies said getting children into safe zones is a top priority after the devastating earthquake in Haiti. The massive magnitude 7.0 earthquake that hit the island of Hispaniola has left thousands of children without parents. Before the quake even hit UNICEF statistics from 2007 show there were 380,000 orphans already in Haiti. "There are so many children that are in desperate need of help that's what we are here to do to keep them alive and get them the nutrients they need and clean water. It becomes the one place of stability for the kids where they have people UNICEF workers they can relate to they have educational material so they can start back with school," said Alissa Silverman, deputy director for UNICEF in the southeast region. "UNICEF is tracing family members and caring for children orphaned by the disaster to protect them from harm or exploitation." The number of children on the island is staggering. Forty-six percent of Haiti's population (nearly 10 million) is under the age of 18, more than half of the population is under 21. Prior to the earthquake, four of every 10 children lived in homes with mud floors or severely overcrowded conditions. "My first concern is who is with the kids how many of our nannies our ok and who is watching the kids and then all the kids on the streets," said Chareyl Moyes, the program manager for Wasatch International Adoption. Moyes works with a number of different agencies and orphanages in Haiti. She said early reports about how much damage they suffered are good. "But, there is going to be a concern about child trafficking so both Haitian and the United States governments are going to be careful about forging ahead with new adoptions. The need is going to be great," Moyes said. A lot of families in the U.S. according to a number of international adoption agencies across the country said some people were at the very end of the process to adopt a child from Haiti. "Now, it will set everyone back," Moyes said. Even though child trafficking is a major concern for Moyes she worries about the immediate help children need trapped in the rubble from a country in ruins. "How long will that child survive without somebody rescuing them," Moyes said. http://www.westportnow.com/index.php?/v2/26294/ Save the Children Emergency Team Reaches Haiti <http://www.westportnow.com/index.php?/v2/comments/26294/ > An emergency response team from Westport's Save the Children successfully reached Haiti today and worked quickly with staff already on the ground to organize the distribution of tents, medicine, and toiletries to children and families in desperate need, the charity said. "Save the Children is extremely concerned about the well-being of children in Haiti at this critical moment and we are doing everything we can to quickly get relief supplies to those who need it most," said Charles MacCormack, president and CEO of Save the Children, in a news release. UNCLASSIFIED U.S. Department of State Case No. F-2014-20439 Doc No. C05767608 Date: 08/31/2015 "Our staff on the ground is pulling out all the stops to overcome hurdles like blocked roads and unreliable access to the airport." "This is just the beginning of what will be a comprehensive five-year effort to build back better in Haiti. We are dedicated to not only addressing the immediate needs of children and families, but to making sure they have a brighter future ahead." http://children.foreignpolicyblogs.com/2010/01/13/haitis-disastrous-earthquake-hits-children-hardest/ As someone in the anti-trafficking news of the disaster in Haiti has my mind rushing to worrying thoughts on how the disaster will increase human trafficking in the country. Such a large scale disaster will undoubtedly leave thousands and thousands of children, and their families, at an increased to be victimized by modern slavery. Haiti's Restavek system still has a tight grip on the community, leaving some 300,000 children in the country enslaved as domestic workers according to the UN. It is these children who will continue to anguish and suffer the most in the shadows of the earthquake.
Sours: https://wikileaks.org/clinton-emails/emailid/3958
The latest round of cables sent by the US Embassy in Guatemala to the State Department was released by Wikileaks on 28 April 2011. 03GUATEMALA1815, sent on 15 July 2003, discusses the issue of human trafficking, the Guatemalan government's past and future strategies to combat it, and the State Department's own plans and opinions.
Following the release of the State Department's 2003 report on Trafficking in Persons (TIP), Program Officer Greg Holliday traveled to Guatemala to meet with Embassy staff, Guatemalan government officials, local NGOs, and international organizations. The cable reports that the Guatemalan government recognized that TIP was an important issue and was attempting to address the problem yet, nevertheless, the US was seeking to "increase GOG understanding of and will to combat trafficking in persons."
At an intergovernmental meeting, hosted by the Vice Minister of Foreign Affairs, Holliday urged the Guatemalan government to take further steps to reduce human trafficking, citing Nicaragua as an example to follow. Police in Nicaragua visit local schools to tell children about human trafficking so they are aware of the dangers. Additionally, Holliday noted that the experience of international and non-governmental organizations can contribute greatly to combatting trafficking.
A central issue that arose at the meeting revolved around distinguishing between undocumented migrants and victims of human trafficking. While Holliday emphasized the difference between these, and called on the Guatemalan government not to treat victims as if they were undocumented migrants, US Embassy staff understood Guatemalan officials' comments to be equating the two. The view of Embassy staff can be seen in their decision to title the section on Guatemalan officials' discussion of the issue as "GOG Presentations: Confusing TIP with Alien Smuggling." Additionally, Embassy staff commented at the end of the cable that Guatemalan officials "appeared to be familiar with the difference between trafficking and alien smuggling. Their responses, however, described efforts to combat the latter more than the former. While there is obviously substantial overlap, we will need to continue to emphasize the need for concrete steps focused on trafficking."
The Director of Immigration, Oscar Contreras Hernandez, focused his comments on undocumented migrants, mostly from El Salvador and Honduras. He spoke of attempts to purge his department of corrupt officials, mentioning that 117 officials were fired and 64 were disciplined for corruption. Additionally, with assistance from the US, Mexico, and Taiwan, Guatemala established "computer networks…where they did not exist." These have been used to verify documents and create immigration databases. Since 9/11, Contreras Hernandez stated that Guatemala has "tightened up immigration procedures across the board."
Contreras did also briefly discuss human trafficking and mentioned his department's cooperation with the US Embassy in the case of the smuggling of 50 Salvadoran children to the US and the arrest of the ringleader of a smuggling ring in Texas. Contreras discussed efforts to assist the victims of smuggling, a proposed police training program and medical center for victims, and Guatemala's commitment to return victims to their countries of origin quickly. He also stated his willingness to work with NGOS, but added that "they sometimes exaggerate and criticize our efforts to protect the human rights of victims."
The Human Rights Advisor in the Ministry of Foreign Affairs, Mario Rene Cifuentes, declared his department's equation of trafficking with slavery and affirmed that it was taken very seriously. He called for greater bilateral dialogue on the topic and cited various efforts the Guatemalan Government had taken to combat it.
The Secretary of Social Welfare, Marilys Barrientos de Estrada, described her department's continued efforts to assist victims, especially child victims, and educate children about human trafficking. She also mentioned legislation that is pending in Congress to address trafficking.
Holliday concluded the meeting by calling on the Guatemalan Government to "implement concrete actions to combat TIP" and suggested that many policies in place to prevent "alien smuggling" could be adopted with modifications to combat human trafficking.
Embassy staff reported back to the State Department that "the Embassy will help focus Congress on ratification of the UN Protocol to Combat TIP" and will "press" the Public Ministry to concentrate more energy on trafficking.
Sours: https://unredacted.com/2011/05/03/wikileaks-guatemala-guatemalan-officials-confuse-undocumented-migration-with-human-trafficking/
Human trafficking at U.S. border and reports of sexual assault
Hillary Clinton Email Archive
3. Remove traces of your submission
If you are a high-risk source and the computer you prepared your submission on, or uploaded it from, could subsequently be audited in an investigation, we recommend that you format and dispose of the computer hard drive and any other storage media you used.
In particular, hard drives retain data after formatting which may be visible to a digital forensics team and flash media (USB sticks, memory cards and SSD drives) retain data even after a secure erasure. If you used flash media to store sensitive data, it is important to destroy the media.
If you do this and are a high-risk source you should make sure there are no traces of the clean-up, since such traces themselves may draw suspicion.
4. If you face legal action
If a legal action is brought against you as a result of your submission, there are organisations that may help you. The Courage Foundation is an international organisation dedicated to the protection of journalistic sources. You can find more details at https://www.couragefound.org.
Sours: https://wikileaks.org/clinton-emails/?q=trafficking&mfrom=&mto=&title=&notitle=&date_from=&date_to=&nofrom=&noto=&count=50&sort=0
Trafficking wikileaks human
Hillary Clinton Email Archive
APPENDIX: HAITI NARRATIVE 2009
UNCLASSIFIED U.S. Department of State Case No. F-2014-20439 Doc No. C05763961 Date: 07/31/2015 RELEASE IN APPENDIX: Haiti Narrative 2009 FULL HAITI (Special Case) Haiti has had a weak government since widespread violence and political instability led to the resignation of the president in 2004. National elections in 2006 elected a president and a Parliament that replaced an appointed interim government, but the effectiveness of state institutions remained severely limited. Civil unrest in April 2008 left the country without a government for five months. The Government of Haiti's ability to provide basic services and security for citizens, and to control rampant crime in the capital, Port-au-Prince, continues to be compromised by limited resources, an untrained and poorly equipped police force, entrenched government corruption, and perennially weak government institutions. The UN Stabilization Mission in Haiti (MINUSTAH) continued to maintain more than 6,950 troops and 1,900 police throughout the country to provide security. Haiti remains a Special Case for the fourth consecutive year as the new government formed in September 2008 has not yet been able to address the significant challenges facing the country, including human trafficking. The U.S. government, however, notes the progress of Haiti's government, and urges the Government of Haiti to take immediate action to address its serious trafficking-in- persons problems. The following background and recommendations are provided to guide government officials. Scope and Magnitude: Haiti is a source, transit, and destination country for men, women, and children trafficked for the purposes of forced labor and sexual exploitation. Haitian women, men, and children are trafficked into the Dominican Republic, The Bahamas, the United States, Europe, Canada, and Jamaica for exploitation in domestic service, agriculture, and construction. Trafficked Dominican women and girls are forced into prostitution. Some may be patronized by UN peacekeepers in Haiti, although MINUSTAH is implementing programs among its personnel to suppress this practice. Several NGOs noted a sharp increase in the number of Haitian children trafficked for sex and labor to the Dominican Republic and The Bahamas during 2008. The majority of trafficking cases are found among the estimated 90,000 to 300,000 restaveks in Haiti, and the 3,000 additional restaveks who are trafficked to the Dominican Republic. Poor, mostly rural families send their children to cities to live with relatively wealthier "host" families, whom they expect to provide the children with food, shelter, and an education in exchange for domestic work. While some restaveks are cared for and sent to school, most of these children are subjected to involuntary domestic servitude. These restaveks, 65 percent of whom are girls between the ages of six and 14, work excessive hours, receive no schooling or payment and are often physically and sexually abused. Haitian labor laws require employers to pay domestic workers over the age of 15, so many host families dismiss restaveks before they reach that age. Dismissed and runaway restaveks make up a significant proportion of the large population of street children, who frequently are forced to work in prostitution or street crime by violent criminal gangs. Women and girls from the Dominican Republic are trafficked into Haiti for commercial sexual exploitation. Some of the Haitians who voluntarily migrate to the Dominican Republic, The Bahamas, the United States, and other Caribbean nations, subsequently face conditions of forced labor on sugar-cane plantations, and in agriculture and construction. Government Efforts: Haitian officials recognize that human trafficking is a serious problem in the country, including the exploitation of restavek children as domestic servants. As a policy matter, however, the national police child protection unit, the Brigade for the Protection of Minors (BPM), does not pursue restavek trafficking cases because there is no statutory penalty against the practice. Haitian law also does not specifically 321 UNCLASSIFIED U.S. Department of State Case No. F-2014-20439 Doc No. C05763961 Date: 07/31/2015 prohibit trafficking in persons, which limits its ability to punish traffickers and protect victims. It did shut down a number of unregistered orphanages whose residents were believed to be vulnerable to trafficking. The Ministry of Social Affairs and Labor (MAST) should make every effort to complete its revision of and resubmit to Parliament its comprehensive anti-trafficking bill; Parliament should consider it, and then pass a law prohibiting all forms of human trafficking. Until then, authorities could begin to enforce existing criminal statutes penalizing slavery, kidnapping, forced prostitution and forced labor to prosecute trafficking offenses. Judges, police, and prosecutors throughout the country need additional anti-trafficking training before they can effectively prosecute and punish trafficking offenders. Lacking its own resources, the government cooperates with numerous NGOs to assist victims and to train officials about trafficking issues. Haitian immigration officers working with MINUSTAH proactively identified potential child trafficking victims at airports and the border with the Dominican Republic. The Office of National Identification, with technical assistance from the Organization of American States and the Government of Canada, began to provide national identity cards to persons who reached the legal voting age since the last election. It continued to provide birth certificates to citizens who had not previously been issued official identity documents. The government does not follow systematic victim identification procedures, though Haitian authorities work closely with NGOs to refer identified victims -- primarily children -- and coordinate protective services as needed. Shelter services for adult trafficking victims do not exist, and the government should make every effort to open or support facilities which could provide men and women with appropriate assistance. From: CdeBaca, Luis Sent: Monday, July 27, 2009 2:50 PM To: Mills, Cheryl D Subject: Cheryl, here is a quick backgrounder on child slavery in Haiti Hi Cheryl, The Secretary asked me to send her, through you, an informal paper that she could share with President Clinton on the restavek problem. I was in Africa and then out of pocket much of last week, but I wanted to make sure that you have it before you go to Haiti. If I don't see you before then, have a great trip! LOU 322
Sours: https://wikileaks.org/clinton-emails/emailid/14662
The Murderous History and Deceitful Function of the CIA - System Update with Glenn Greenwald
X

Help Expand The Public
Library of US Diplomacy

UNCLAS SECTION 01 OF 03 MAPUTO 000617 SIPDIS SENSITIVE AF/S - TREGER, G/TIP - RYOUSEY, AF/RSA - RZUEHLKE, PRETORIA FOR VICTOR VOCKERODT E.O. 12958: N/A TAGS: ELAB, KFRD, KCRM, KWMN, PHUM, PREF, SMIG, MZ, SF, WZ, Trafficking in Persons SUBJECT: ALLEGED CHILD TRAFFICKING FROM MOZAMBIQUE TO SOUTH AFRICA 1. (SBU) SUMMARY: A South African NGO, Amazing Grace Children's Center, based in the town of Malelane near the border with Mozambique, is sheltering half a dozen children that appear to have been trafficked from Mozambique into South Africa. This Center says it has been working with trafficking victims - mainly children - for several years, and seems quite active in a campaign to combat trafficking. Emboff visited the Center on May 4 and gained preliminary information about its work and the dimensions of the child trafficking problem. Police in South Africa, particularly the Child Protection Unit in the nearby provincial capital of Nelspruit, are supportive of the Center and eager to assist. Working in close coordination with Embassy Pretoria, we would like to follow this initial visit with further contact to learn more and see what steps can be taken on both sides of the border to start to address the problem of child trafficking. END SUMMARY. 2. (U) Emboff visited Amazing Grace Children's Center in Malelane, Mpumalanga Province, South Africa on May 4 to investigate reports of child trafficking from Mozambique to South Africa. He met with the Center's director, Grace Mashaba, and toured the few buildings on the premises. In making the visit emboff was following up on some leads provided by Justina Cumbe, the Mozambican director of a local NGO in Maputo, FECIV, active in women's and children's rights issues. This visit was coordinated in advance with Embassy Pretoria. ------------------------------- Amazing Grace Children's Center ------------------------------- 3. (U) Mashaba, a Malawian by birth and formerly a child farm worker in the area, started the Center more than a decade ago as a haven for street children. She told emboff that in the past several years the Center has taken in child trafficking victims, most of them from Mozambique but some from other neighboring countries. The Center staff try to locate their families and arrange their return. In the interim, the children are given shelter, food, and rudimentary schooling (though much of the schooling is provided by the local school system). The Center receives support from the South African government of 22 Rand (roughly three and a half dollars) per child per day. This is welcome but inadequate, and the Center relies on supplementary outside donations to get by. 4. (U) The Center's location is on Factory Street (exact number not given) in the small town of Malelane, telephone 27-13-790-0423, fax 27-13-790-1789. Ms. Grace Mashaba's cell phone is 27-82-494-9709. The email address for the Center is [email protected] There is a Johannesburg branch office, also known as the Amazing Grace Children's Center. The telephone number for this branch is 011-9488-920; its street address was not given. 5. (U) At the time of emboff's visit, Mashaba said, there were seven Mozambican children at the Center, all of them, evidently, the victims of trafficking. Five were away attending school in the town but emboff saw one of the other two. ----------------------- Peace Corps Helping Out ----------------------- 6. (U) While at the Center, emboff met a U.S. Peace Corps volunteer working there. She will be leaving in September. Her predecessor, according to Mashaba, after leaving the Center in 2003 went to work on child trafficking issues in Egypt. ----------------- Children on Farms ----------------- 7. (SBU) Mashaba claimed that "hundreds" of Mozambican children were working in surrounding farms in the area, some of them trafficking victims. (Note: According to Mashaba, under South African law one must be 18 years of age to work as a laborer on a farm. End note.). The odd child, who for some reason was not wanted on a farm, occasionally arrived at her Center, after being found abandoned in the area and brought in by local authorities. Mashaba said that local police were helpful in this regard, mainly because they did not want loose kids wandering the streets. She was not popular with farmers, however. She added that that afternoon she was going to "help bury" a Mozambican woman who had died on a farm earlier, and then would be making arrangements with the farmer for the children. She added that she planned in the near future to approach labor unions working among the farm laborers about the problem of trafficked children there. 8. (SBU) In the midst of talking with Ms. Mashaba, emboff had an opportunity to speak by telephone with Inspector Shabangu of the Nelspruit Child Protection Unit, an ally of Mashaba's working in the nearby provincial capital of Nelspruit. He agreed that many Mozambican children were working for farmers in the area, many of them as "garden boys," and that child trafficking was a serious problem. Asked why local people did not often report incidences of child trafficking, he replied that many were relatively simple and uneducated, and accepted that others were "taking care" of the children. He welcomed contact with the US Embassy in Maputo, noting that there were instances of children from his area who went missing across the border in Mozambique. He hoped the Embassy could facilitate his making contacts with local Mozambican police in such circumstances. Inspector Shabangu can be reached by telephone at 27(0)83-688-1287. ----------------- Raising Awareness ----------------- 9. (U) The Amazing Grace Children's Center has initiated several activities to counter child trafficking in the past year, according to one of its brochures. In March 2004, in coordination with other local NGOs in the area and some from neighboring Mozambique, the Center organized a two-day conference on child trafficking in Hectorspruit, a farming community a dozen miles from Malelane. Emboff was given a copy of an article on the conference carried by the local paper, The Voice of Nkomazi. According to the article, "people are trafficked for a variety of purposes, such as sexual exploitation, forced labour or slavery, forced marriages, adoption or the removal of organs or other body parts." In January 2005 the Center organized a soccer tournament around the trafficking issue at the black township of Naas, near the main Mozambique/South Africa border crossing point of Ressano Garcia/Komatipoort. Inspector Shabangu attended and addressed the crowd. In April 2005 Mashaba organized a radio talk show on the subject of child trafficking. ----------------- Through Swaziland ----------------- 10. (SBU) According to Mashaba, most traffickers brought their victims into South Africa from Mozambique via Swaziland. She said that Swazi border controls were particularly weak. ----------------------- Transiting South Africa ----------------------- 11. (SBU) Mashaba added that many trafficking victims from the region were flown out of Johannesburg and Cape Town airport to other countries. Many immigration and customs officials were corrupt and so allowed this. She told emboff that recently two Zairian girls were brought in to her center when South African border police became suspicious. The girls were to have been sent overseas via Cape Town. They have since been returned to their family in Zaire. ---------------------- On the Mozambican Side ---------------------- 12. (U) Mashaba told emboff that the Center has used its own resources to repatriate seven children to Mozambique over the past several years. On May 17 emboff spoke with Lea Boaventura, regional coordinator of the Campaign Against Child Trafficking and deputy director of the Maputo branch of Terre des Hommes (a German NGO). According to her, in the past several months a Mozambican judge, Marcia Pinto, has taken responsibility for crimes against children and has traveled to meet her counterparts in South Africa on the problem of trafficked children. Ms. Boaventura is hopeful that she will be more attentive to helping reunite trafficked children with their families. She added that recently a woman police superintendent of Maputo's First Squad has begun several training workshops for other police officers on child trafficking, and that this should motivate the police to provide assistance in instances of child trafficking. ------- Comment ------- 13. (SBU) We would like to remain in contact with Amazing Grace Children's Center and Ms. Mashaba to learn more about the scope of the child trafficking problem and what can be done about it. We will coordinate our efforts closely with Embassy Pretoria. We will be meeting with FECIV, Terre des Hommes and other NGOs and officials on this end in our efforts to encourage more action by the GRM. 14. (U) Embassy Pretoria has cleared on this report, but has reservations about whether the Mozambican children mentioned were indeed trafficked. In its opinion, further information is needed in order to reach this conclusion. LA LIME

Sours: https://wikileaks.org/plusd/cables/05MAPUTO617_a.html
You will also like: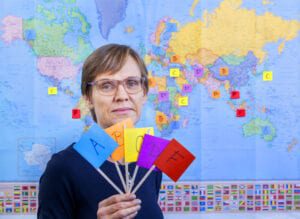 Across the globe more than 20 million people are victimized by human trafficking, the modern form of slavery. Judith Kelley has been digging in to the WikiLeaks documents to see whether ranking countries on how well they are tackling human trafficking issues is having an impact on their efforts. Kelley is the Kevin D. Gorter Professor of Public Policy  at the Sanford School of Public Policy at Duke University. Her new book is Scorecard Diplomacy: Grading States to Influence Their Reputation and Behavior (Cambridge University Press, April 2017.)
Interview Highlights:
Kelly Brownell: As part of your exploration of this topic, you've analyzed a large amount of data from diplomatic cables from around the world and even looked into WikiLeaks material. What are you looking for when you're looking at these things?
Judith Kelley: What I'm interested in as a political scientist is trying to understand what really motivates states to try to make reforms in areas where they don't have an incentive to focus their resources or their time for various reasons. You might say, "Why wouldn't countries want to improve this problem?" It turns out that after sort of the outright mafia, government officials are themselves in something like 57 countries in the last human trafficking report were listed as complicit in human trafficking.
There are a lot of countries in which people are taking cuts and it's not so easy to promote these kinds of reform.
The whole notion here is to try and find out how we can motivate reforms of kinds that countries are not going to undertake by themselves. And as a political scientist, I am interested in finding out what pushes those buttons. Is it sanctioning those countries or threatening to sanction them? Is it giving them assistance? Is it trying to as you say shame them? Or is it a different type of approach?
I would say this approach is different from shaming in several important respects. It's different from shaming because whereas shaming ad-hoc singles out somebody and says you've done bad. This approach praises the ones doing well, incentivizes the ones doing well to keep on doing well and allows you to compare yourself with others which has a different type of stigmatizing effect than just being singled out. And then it has the engagement and assistance and everything along with it.
What I'm looking for in the cables is trying to understand whether the theory I have about how this is working is evidenced in the interactions that are revealed in the cables. It's difficult to know when we are studying any kind of policy that's not sort of randomly distributed across countries to know whether a country is really changing their policies because of this report or is it other pressures on them that are leading them to change or not change. I am looking for evidence that it is driven by concern for these grades, looking for evidence that the United States embassy is really involved in providing practical and real input into the policies on the ground so I can actually trace the footprint of the policy on the outcomes.
Kelly Brownell: Can you give some specific examples of things you found in the WikiLeaks information?
Judith Kelley: From a policy perspective, it was very interesting to say how the interactions revealed that countries were motivated directly by getting a better grade. This was revealed in the cables by the fact that they would say things like "If we get this done by March 20, will it make it into the report?" That's smoking gun evidence that they were really doing this because of the report. Those kinds of things were very interesting.
The level of interaction that was revealed in the reports was [also] very interesting to me. We tend to think of U.S. involvement in other countries as something that is very visible and strong-arming, but in some cables it was shown that the U.S. embassy was having input into how a government might organize its internal agency that might deal with this or even who they might put in charge of that—a kind of level of intrusion we're not really aware of but that shows the influence that this kind policy can have.
From a psychological perspective, there are some comments that I found really precious. One in particular, when the ambassador was briefing the top official in Albania who was dealing with this policy and told him that Albania was going to be dropping to the watch-list, the cable says "His face went pale when told." And I like that because you can fake a lot of things but you can' fake your face going pale, right? That really revealed the shock that it was to this guy.
But there are also other things that show how countries are really comparing themselves. So when an official from Venezuela was interacting [that countries'] ambassador, protesting "We're not as bad as Cuba on this issue." Or Egypt saying, "After all, Egypt is not Thailand!" They really are taking offense to being "lumped together" with countries they don't want to be lumped together with, and I found that really fascinating.
Kelly Brownell: It sounds like you believe the scorecard approach has been effective with respect to human trafficking?
Judith Kelley: I think the scorecard diplomacy approach has been good bang for its buck, meaning that it's not cost us the same as the U.S. military, it's also not rendering us the same impact, but when you think about the subtlety of the method, the relatively inexpensive approach, what we are accomplishing is worth it, it's worth the effort.
It's had success proportional to what's been invested, that's worthwhile. I don't think it will work in all issue areas. I don't think it's going to get North Korea to give up nuclear weapons. I think that it should be thought of as part of our toolkit for how we approach issues.
Filed Under: UncategorizedTagged With: Foreign policy, Social policy
Sours: https://policy360.org/2017/03/14/ep-41-how-ranking-a-countrys-efforts-affects-human-trafficking/
470
471
472
473
474