For your convenience this post may contain affiliate links. If you make a purchase I may earn a small commission, at no additional cost to you. I'll probably blow it on a cheapo pair of flip-flops or bottle of wine :-)
Using any old reclaimed board you can easily create a custom BEACH SIGN in less than an hour. I spent an afternoon to make this batch of signs for a fundraiser event using thin pallet boards. A bit of cleaning, sanding, dry brush painting and lettering of your choice, and you're done.
Cleaning and prepping reclaimed wood
The boards had been piled up and exposed to the elements for a long time. Even though the surface had weathered nicely, they needed a good cleaning and scrubbing before painting.
For this tutorial I used boards that were about 4 inches wide and cut them 18 inches long.
I'm a bit of a germaphobe. Whenever I use reclaimed or found wood it is washed thoroughly with water and a touch of bleach. I do this outside or in the garage and then let the pieces dry out.
Depending on the roughness of the wood I'll scrape the dried surface with a stiff wire brush or high grit sand paper, or both! This prevents splinters too.
Apply the base color
At this time, you can either leave the wood natural or paint it a base color. If you're leaving the wood natural continue to the next step.
Use a cheapo brush or a rag and acrylic paint to paint the board your beachy color of choice. Michael's is the closest craft store to me, but wherever you shop, keep your eye out for the sales and stock up!
Don't worry about being neat or filling in every nook and cranny. Mother Nature weathers off paint and that's the look you want!
Once the paint is dried, use a piece of sandpaper to distress the edges and wherever you like. There's no right way here, totally your preference. You're going to further distress the board after painting the letters so leaving some wood exposed is fine.
Lay out the wording
Next, decide on your wording. Of course the length and width of the wood will determine the lettering that will fit nicely.
I use my computer to set the dimensions of the board and design the layout. You don't need sophisticated software to do this. I'll use Canva, a free program, to do this. PicMonkey is another drawing program too. Microsoft Word will work too.
Once you like the font and layout print out your design.
Then I place a sheet of tracing paper under the print out and press hard into the board. Note: You don't need tracing paper, that's just my preference. If you don't use tracing paper be sure to press down hard as you trace the letters. You'll want to make a depression into the wood so you'll be able to see the letters.
Some day I'll invest in a Cricut® cutting machine that cuts any design into stencils. For now this low-tech method works well for a rustic beach sign.
If you have a confident drawing hand, go for it and paint the letters without bothering to prepare the print out. I'm not that good!
Time to paint the lettering
Paint your lettering a nice contrasting color. Again, don't worry about being overly neat. The end product is suppose to look like a sign that's been outdoors for a while.
For my signs I chose a stencil font on purpose because I liked the primitive look.
You could purchase pre-made letter stencils online or from a craft store. Also if you own a cutting machine (or have a friend with one) create a custom design.
Sand and wax finish
Once the base color and lettering is dried, lightly sand over the letters to give those a work look too. Do as much or little as you want. Sometimes I'll distress some letters more than others.
Wipe any dust with a damp rag or tack cloth.
Optionally, you can rub on some clear wax to protect the paint. I'm still using the 4 jars of clear Americana Decor Creme Wax I bought with a coupon! Get the clear wax or try the deep brown wax to give your sign more of an antique look.
Congratulations! You've just made a totally custom beach sign ready to enjoy.
MATERIALS NEEDED
Wood pieces FREE (or purchase in lumber store)
Sand Paper
Wire or Rope for hanging (optional)
Hanger (for hanging, in place of wire or rope)
Acrylic Paint
Paint Brush
Tracing Paper (optional)
It's pretty easy to take a discarded piece of wood and reclaim it! In about an hour you can create a custom Beach Sign that has the look and feel of a weathered antique sign. Experiment with wood sizes, base colors and fonts. Have fun!
P.S. We want your browsing experience to be a great one. Find an error, missing or broken product link? Contact me here and I'll fix it. Thank you!
WANT TO REMEMBER THIS IDEA? Please PIN THIS POST to your favorite PINTEREST BOARD!
You Might Also Like
Sours: https://seasyourday.com/diy-wood-beach-sign/
DIY Beach Sign with Vintage Effect Wash
Craft Materials
Before starting this project, you'll need the following materials:
Vinyl, Silhouette Cameo
I'm back today sharing a new DIY Beach Sign I made for the house.  I LOVE working on new sign projects, they are always so much fun and look great when you're done. I want to show you a super easy way to create the whitewashed look for these coastal signs using Vintage Effects Wash.
Disclosure:  I am a member of the core blogger program with DecoArt.  I received compensation and product for this post.  All ideas and opinions are 100% my own.
When the opportunity came up to use these new paints, I knew right away what I wanted to make. I have pinned several similar ideas over the years to my Pinterest account for great inspiration.  So Let's get started!!
DIY BEACH SIGN
Step 1 – Paint First Coat
I found this great mini pallet at Joann Fabrics.  I knew it would be perfect for a beachy sign I wanted to make.  Paint on one coat of the Americana Decor Chalky Finish Everlasting.  I only needed to add one coat of this paint.  Let dry 10 minutes.
Step 2 – Paint on Vintage Effects Wash
Now it's time to add the Vintage Effect Wash!!  I found three great colors for the background of my sign. I just fell in LOVE with these colors for this project.
This paint goes on pretty thin so all I needed to do was add one coat and wipe down with a paper towel. It totally gave it a weathered whitewash feel.
I honestly don't know which color is my favorite!
Step 3 – Add White Vintage Effect Wash
Finally I decided I wanted to add the White Vintage Effect Wash on top of the whole sign.  The results were exactly what I was hoping for.
Just make sure you add just a SMALL amount of paint to your paint brush.  You really don't need much.  For this step I didn't go over with a paper towel. I really wanted the strokes from the paintbrush to show up.
Does this not look AWESOME??!!
Step 4 – Stencil Time!
Now it's time to add our stencil.  I used Design ID #139169 for this Beach Sign in the Silhouette Library.
I added my stencil to my board.  For a more detailed description on how I made and added my vinyl stencil check out this post – DIY Wood Sign.
Step 5 – Fill in Stencil
Now let's finish this sign!  I really wanted a POP of color with my wording.  I was planning on using the Everlasting Chalky Finish, but at the last minute I changed my mind and used the Americana Coral. It totally gave it the POP of color I wanted.
For this step I did need to add two coats of paint.
Step 6 – Remove Stencil
Now let's remove that stencil!!  I enlisted my son to help with this step.
Finishing Touches
Now this DIY Beach Sign is a PERFECT addition to my home.  I of course live out in the country, but I love the feel of coastal decor in my home! A girl can dream right, one day (maybe) I could get a house on the beach.
I hope you enjoyed this simple DIY Beach Sign I made.  Honestly I had the whole project done in a little over an hour. These paints gave this sign the exact effect I wanted and I can't wait to do more projects with it.
My next project is a dresser makeover for my sons dinosaur themed room, that post will go live in August so stay tuned!
Looking for more DIY Coastal Wall Art, then check out this roundup I did for Crafts by Amanda!
Sours: https://www.craftsbycourtney.com/how-to-crafts/diy-beach-sign/
Ready for the beach? These inspirational DIY beach signs will help you find the way.
Beach signs are a reminder of the place we all love so much. And all you need to make a beach sign is a piece of wood and paint. This
Beach Sign
is made from a worn-out sign that had washed up on the shore which gives it that extra beachy feel.
Shop Directional Beach Arrow Signs
How cute does this beach sign look, attached on an outside wall. It's the perfect location. Looks like the beach is only a few steps away. Seen on
Houzz
. A painted beach sign can add a great pop of color anywhere. On a porch, by an entry, and anywhere inside.
Shop Wooden Beach Arrow Signs on Etsy

Beach Sign by Picture Favor
Got an old crate? Tear a piece from it to make a
Beach Sign
. The wood was white washes with paint, and beach was written on it freestyle with pencil, followed by painting over the pencil with white acrylic paint. The rustic recycled wood sign sits on a ledge in the bathroom.
This
Wall Hanging,
consisting of several beach wood signs was inspired by a pile of old wood laying outside from a project. It displays the names of beaches and towns.
Beach arrow signs give you the feel that the beach is just around the corner. Who wouldn't want that? After a quick coat of color was applied, the beach letters were painted on with the help of letter printouts from the computer. You can see how a transfer is done on
How to Make a Wood Sign
.
A functional beach sign for the kitchen, seen on Facebook. To turn a board into a wall rack for mugs and wine glasses, add hooks and a wood ledge with slots.
This mini beach sign is made with wood paint sticks. Head over to
Craft Goodies
for all the details.
For this
Beach Sign
words were cut out with a cricut machine, using scrapbook paper, then they were decoupaged to a painted board.
Can you guess what these
Beach Signs
are made from? Fencing found on bulk trash in the neighborhood.
You can sneak in a beach sign anywhere in your home. Original source unknown.
Decor Ideas | Crafts/DIY
Shopping | Sales
Sours: https://www.completely-coastal.com/2012/03/diy-recycled-wood-beach-signs.html
2017 Beach Decorating Ideas - Part 1
Weathered Beach Signs
Bring a little of that beach feeling into your home by making some rustic looking beach signs. We will show you how to turn regular wood into weathered looking beachy signs perfect for your coastal themed home.
Ideal for bathroom decor or any part of your home that boasts that beautiful coastal decor look!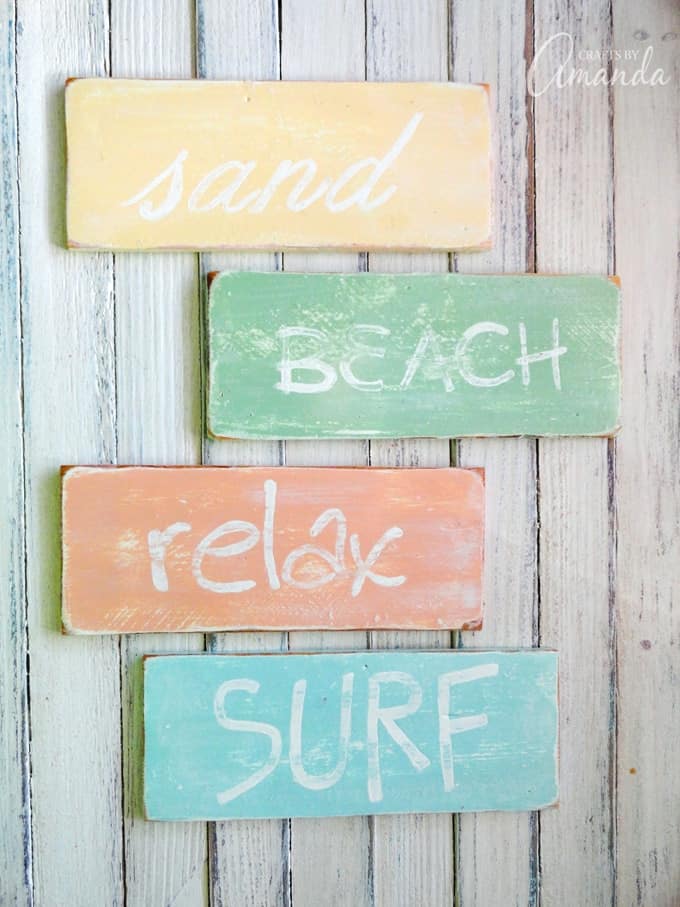 Weathered Beach Signs
Spring break has come and gone and many people hit the beach during this time of year. We come back home with a bag of seashells, a collection of sea glass, the sound of the ocean waves crashing in our ears, and the smell of warm, summery air in our nostrils.
RELATED: See how you can use your collection of sea glass to make this beautiful sea glass planter for your summer flowers or potted plants!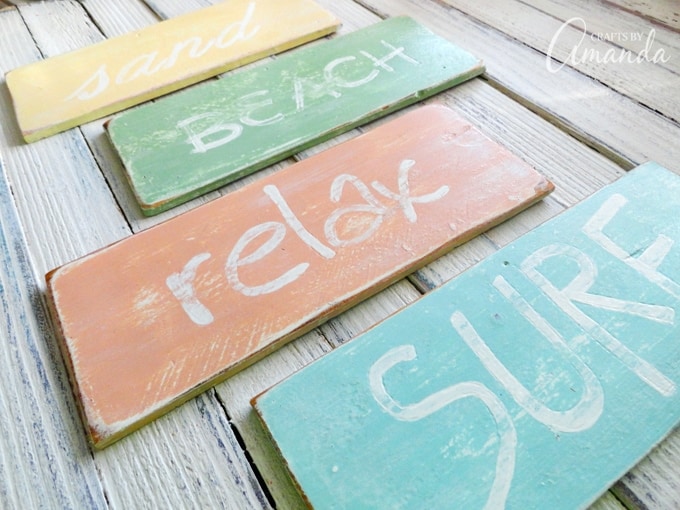 These beach signs are just simple slats of wood you can buy at the craft store. Mine actually started out with the distressed primitive look, I made them when I still had my craft store back in 2003. They definitely needed updating, so I sanded them down as much as I could before getting started.
What You'll Need to Make Weathered Beach Signs
I originally made this beach signs project for JoAnn Fabrics via DecoArt. I used the following supplies:
Supplies:
Americana acrylic paints
Americana actually has quite a few new colors that are very beach-worthy as well, so I'll be using some of those in the future.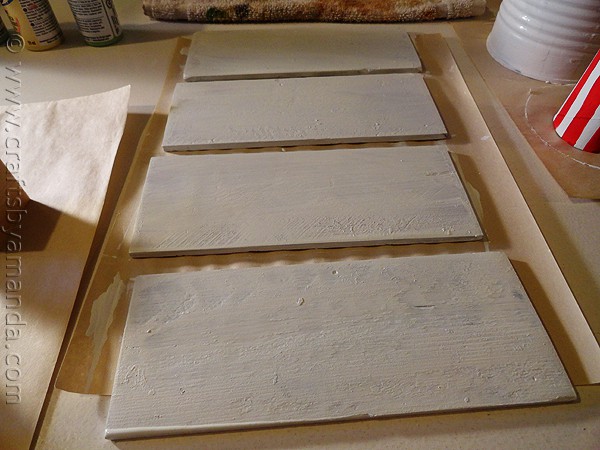 First I gave them all a coat of Cool White and let them dry.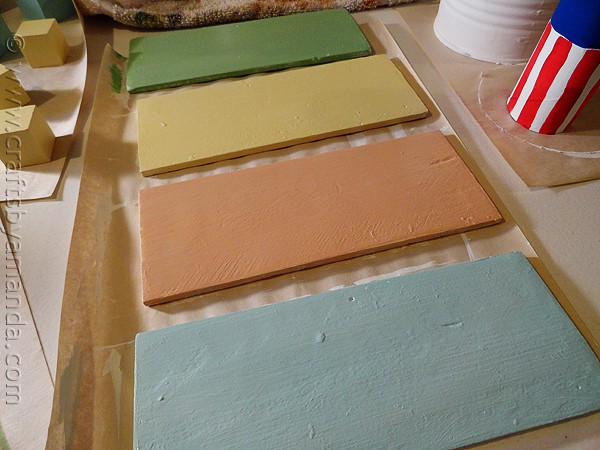 Then I painted each one with the different colors noted above.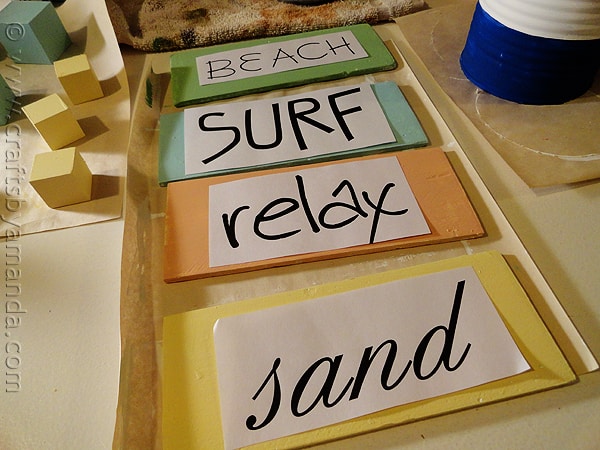 I used Word to create the words surf, relax, beach and sand. If you don't like the fonts that I chose, you can certainly make your own! If you like them, the Word pattern file is in the printable instructions below. Trim the words and place them on the slats.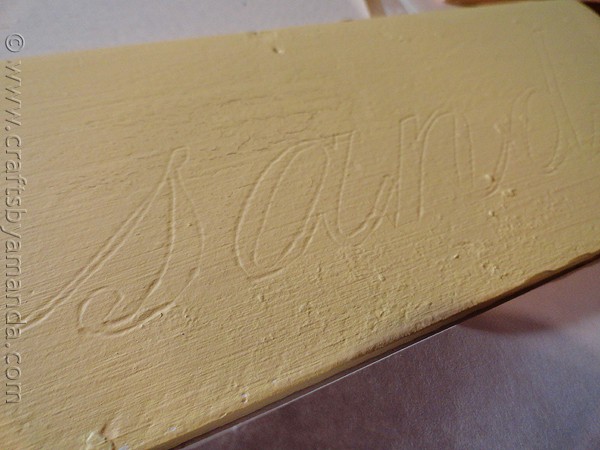 Use a ballpoint pen, or a stylus if you have one, to trace around the words, pressing firmly to create indentations in the wood below.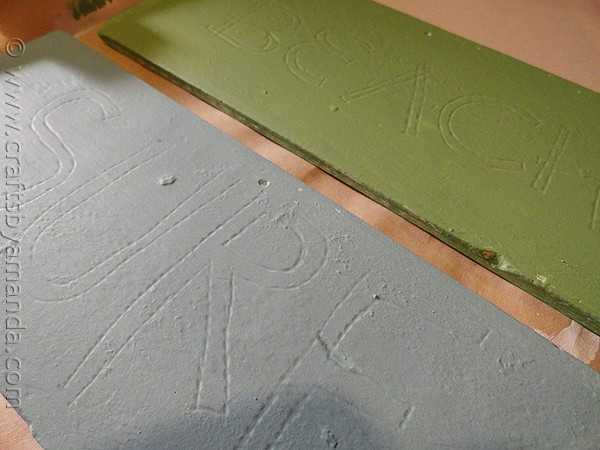 This makes it a lot easier to paint your letters!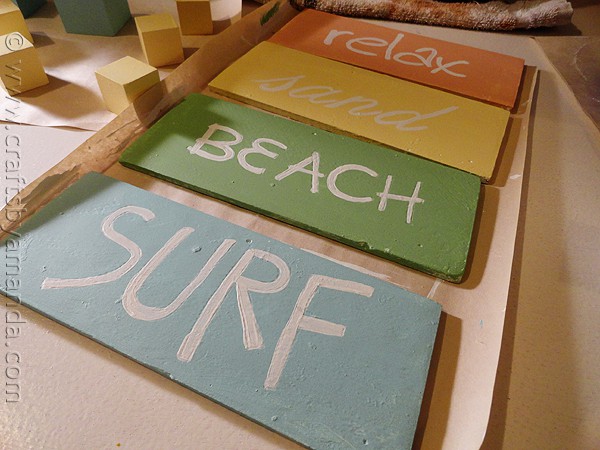 Use a liner brush to fill in the letters with Cool White. Note: You could probably use a white painter's pen to do this too!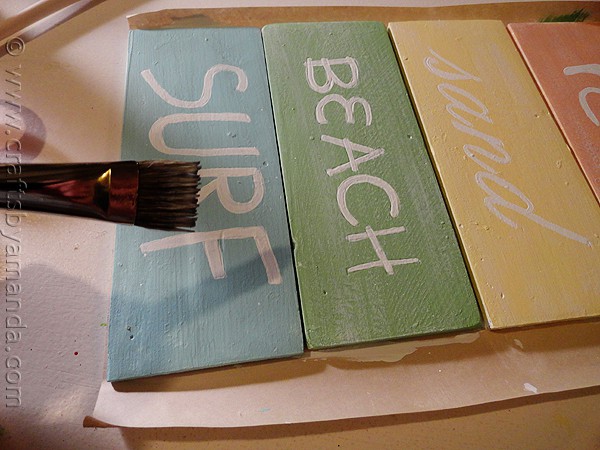 Dry brush some streaks across the surface with a wash brush.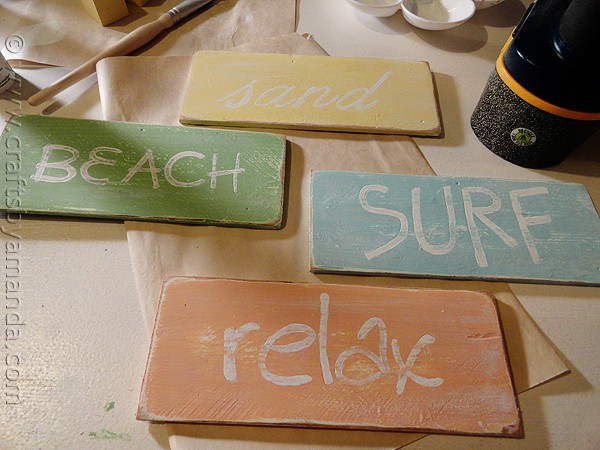 Then do some sanding to create that weathered look. Sand lightly in some areas and harder in others.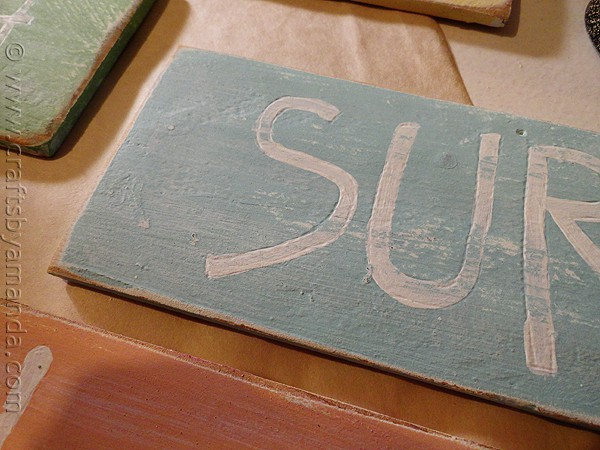 You can see that I have sanded through some of the lettering as well as exposing the wood in the corners and on the edges.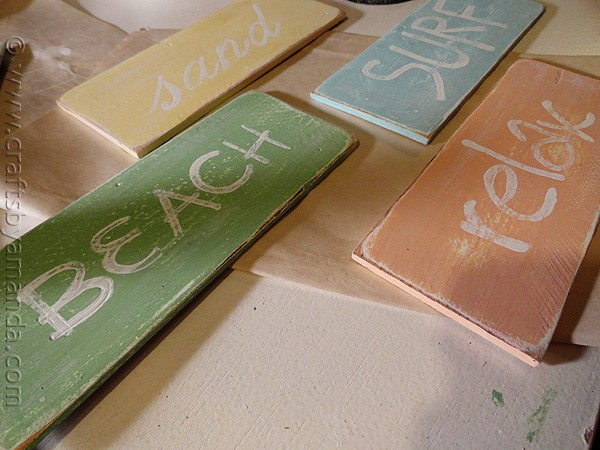 It's totally up to you how much you expose.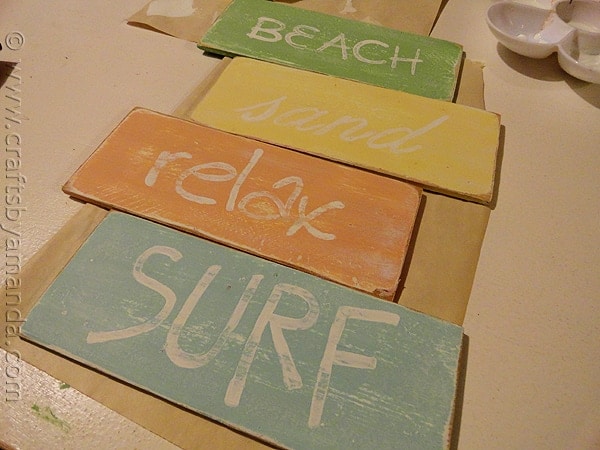 When you're done sanding, brush them off really well so there's no sanding dust left on them. Spray them with acrylic sealer in a matte finish.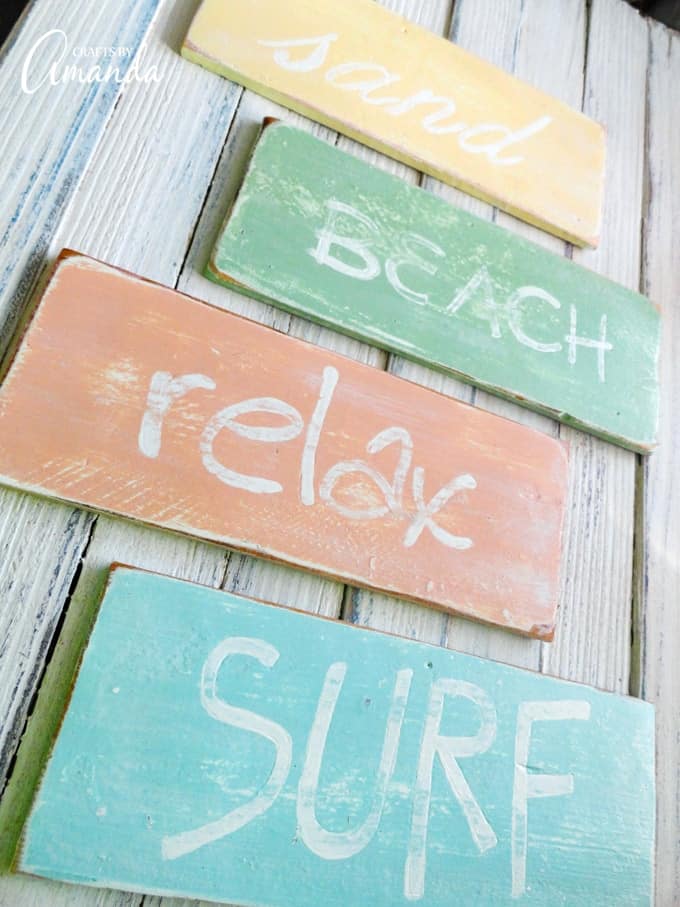 I used wall putty to hang mine, but you could certainly attach a picture hanger to the back.
Here are some close-ups at different angles: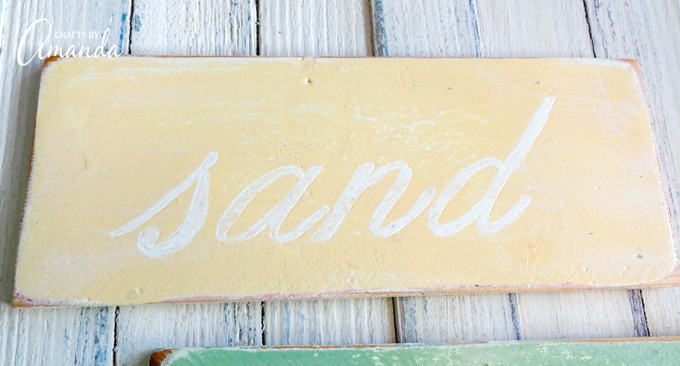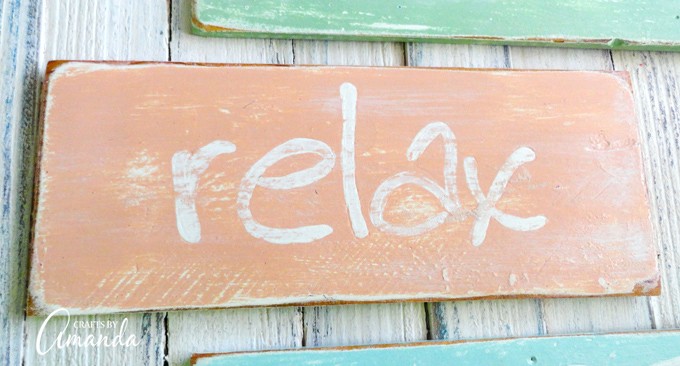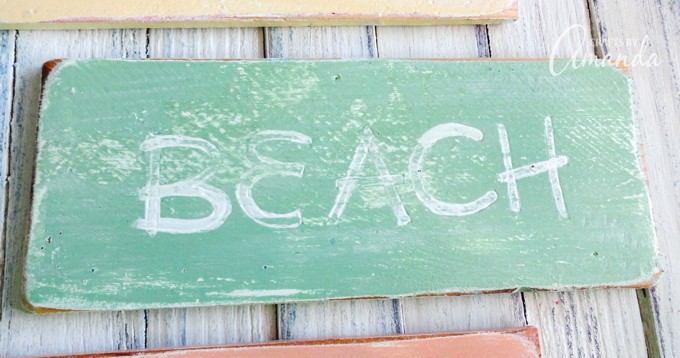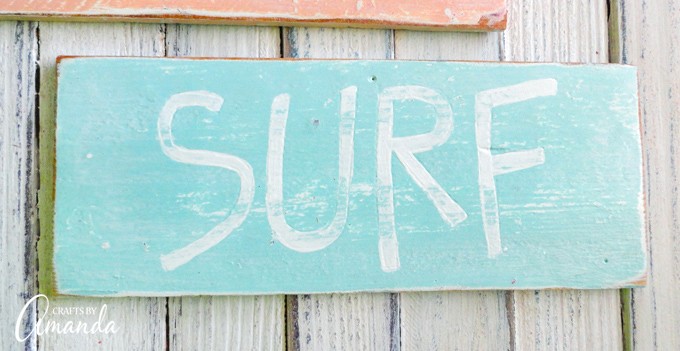 These would also be fun attached to a spike and placed in the yard or on the porch!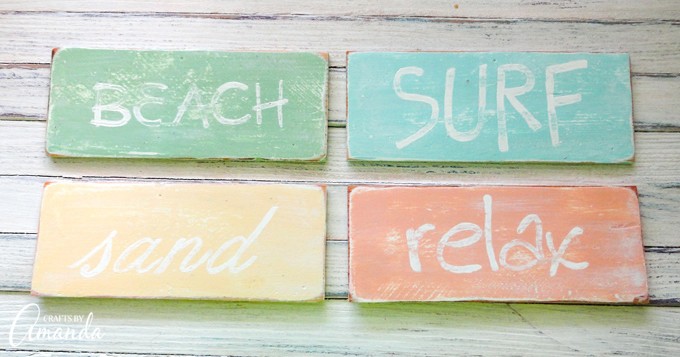 If you like these signs, you will love this coastal themed Clay Pot Lighthouse project, this Twig Coastal Wreath, our DIY Driftwood Signs, or this fun Coastal Striped Fish Decor.
Weathered Beach Signs
Bring a little of that beach feeling into your home by making some rustic looking beach signs.
Supplies
4 – 7" x 3" wood slats
Flat paintbrush
liner paintbrush
Toothpick
Pattern for fonts
Sandpaper preferably a handheld power sander
Americana Paints:
Buttermilk
Warm Beige
Spa Blue
Mint Julep Green
Cool White
font pattern
Instructions
Paint wooden slats with Cool White paint.

Paint each slat with a different color (Flesh Ton, Spa Blue, Mint Julep Green and Buttermilk).

Use Word to create the words beach, surf, relax and sand or print out the pattern.

Place each word onto a slat and trace the words using a ball point pen or a stylus, pressing firmly so as to create indents in the wood slat underneath.

Use Cool White to paint the words.

Dip flat paintbrush into Cool White and wipe off all of the excess paint onto a paper towel. You want to create a dry brushed looked, so lightly paint streaks across the surface of the slat.

Sand the edges and lightly across the top of the slats to create a weathered look.

Spray with an acrylic matte sealer.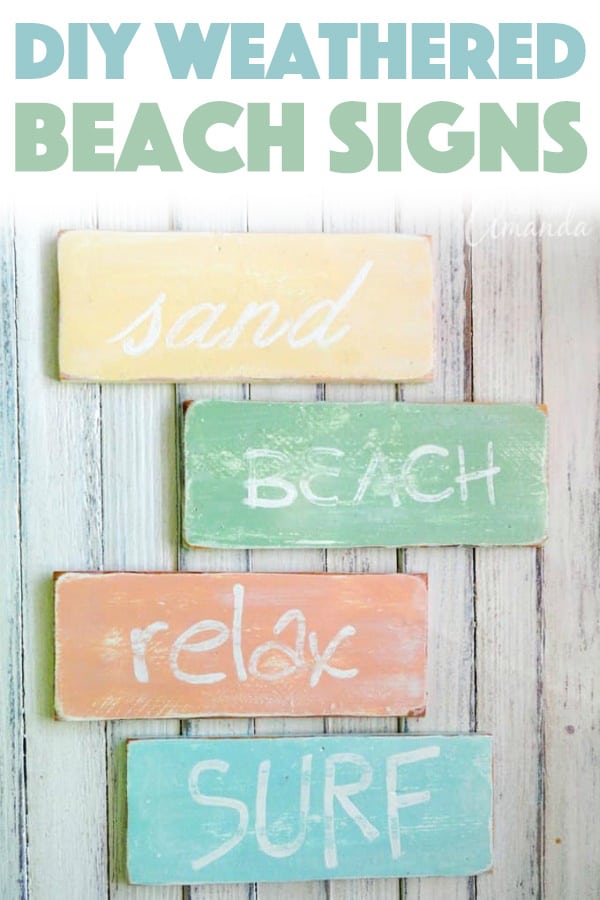 This post was originally published on this blog on May 5, 2012.
Amanda Formaro is the crafty, entrepreneurial mother of four children. She loves to bake, cook, make kid's crafts and create decorative items for her home. She is a crafting expert and guru in the kitchen and has appeared online and in print publications many times over the years. She is also the editor for the Home & Garden channel at Craft Gossip and owner of FunFamilyCrafts.com.
Latest posts by Amanda Formaro (see all)
Filed Under: Beach Crafts, Crafts for Seniors, DIY Gift ideas, Home Decor Projects, Summer CraftsTagged With: adult, adult craft ideas, adult crafts, adults, beach, crafts for adults, distressed, paint, rustic, summer, wall art, weathered
Sours: https://craftsbyamanda.com/weathered-beach-signs/
Signs diy beach
.
16 EASY BEACH SIGN IDEAS -- Coastal Beach Craft Ideas -- DIY
.
You will also be interested:
.
5877
5878
5879
5880
5881