ReddPlanet is a well-designed free reddit client for Windows 10
Reddit is a great resource for learning, sharing your experience about something, discussing various topics, etc. The social network's website though is absolutely awful, especially on mobile.
A lot of users prefer the old design, which you can access by substituting the www in the URL with old, or by using a third-party interface such as Teddit.
On my phone, I use an app called RedReader which is open source, and very fluid in terms of browsing, interacting with posts, etc. Maybe it is because of that, I prefer using an app on my PC too, it's just convenient.
ReddPlanet is a standalone reddit client app for Windows 10. You don't need to login to your account to use the app, but doing so offers the best experience.
The application's interface is kind of unique, the title of posts from your subscribed feeds are listed on the sidebar. The side-panel has the upvote and downvote buttons, which you can use for interacting with the selected thread, and it also tells you how many comments, points, and awards a topic has. The program will load the selected thread the right pane, with the media and the comments. ReddPlanet has a built-in video player and image viewer, which is probably its best feature. It lets you switch to fullscreen, has a seekbar, mute button, aspect ratio, and even lets you cast it to another device.
Hit the menu button in the top left corner to bring up the navigation sidebar, you will find your subreddits here. The search box at the top can be used to go to a specific subreddit.
Right-click on an image or a video to save it to your computer. If a thread links to a webpage, the app will load it directly, without opening it in your external browser. The buttons near the bottom right corner let you comment to a thread, sort the comments, refresh the post. The three dot button opens a pop-up menu with options to share the post, open it in your browser, copy the URL for the post, view the subreddit or the user profile.
The set of buttons below the sidebar are for searching reddit, submitting a new post, refreshing the feed, sorting your subs.
Some subs have useful information, links to a wiki, relevant subs, etc on the website's sidebar, this is often hidden in reddit client apps. ReddPlanet lets you view the sidebar, it can be accessed from the three dot button below the left pane.
The arrow button in the top right corner can also be used to toggle the subreddit sidebar.
The editor for writing comments and submitting threads is pretty neat, it has a preview option, allows you to format the text, add links, images, etc.
The program has a lot of options, you can toggle a live tile, javascript, set the default view for comments, sorting subreddits and comments, set the default start page, etc. Don't like the Dark Theme? Switch to the light one from the Settings. You may choose a different accent color which changes the color of the top bar, some of the text, and a few elements like the selection bar, buttons, etc.
Clicking your username lists your submitted posts and comments, along with some additional account related information. To view your inbox, replies, etc, hit the envelope icon next to your username.
Download ReddPlanet from the Windows Store. If you use reddit a lot, and want a quick way to check your feeds, this application is a fantasic choice. The program is freeware, does not display ads whatsoever, and doesn't have the ugly redesign of the website.
Advertisement
Sours: https://www.ghacks.net/2021/05/07/reddplanet-is-a-well-designed-free-reddit-client-for-windows-10/
Windows licenses are expensive—almost painfully so. Shelling out $139 for Windows 10 Home or $200 for Windows 10 Pro feels rough when Linux is free, since that much cash is easily a third of a budget PC build. Even if you want to run Windows 11, you're best off getting a Windows 10 license on sale first, and then upgrading to Windows 11.
Deal alert: The PCWorld Software Store frequently sells Windows 10 editions at reduced prices. Make sure to check our Home and Pro listings before settling for full price—at the time of publication, we were selling them for $40 and $70, respectively.
But with less developer support for Linux, Windows 10 is an inescapable necessity for most of us. What's not a given is paying full retail.
Yes, it's possible to snag a discount on Windows 10. The amount you'll save depends on how much hassle you can tolerate—as well as your circumstances. If you're lucky, you could technically get Windows 10 for free. Legitimately for free, since installing Windows 10 without ever activating it doesn't count as getting a full, sanctioned copy of Windows.
Here's how, in several different ways.
Packrat's loophole: Try a Windows 7 or 8 key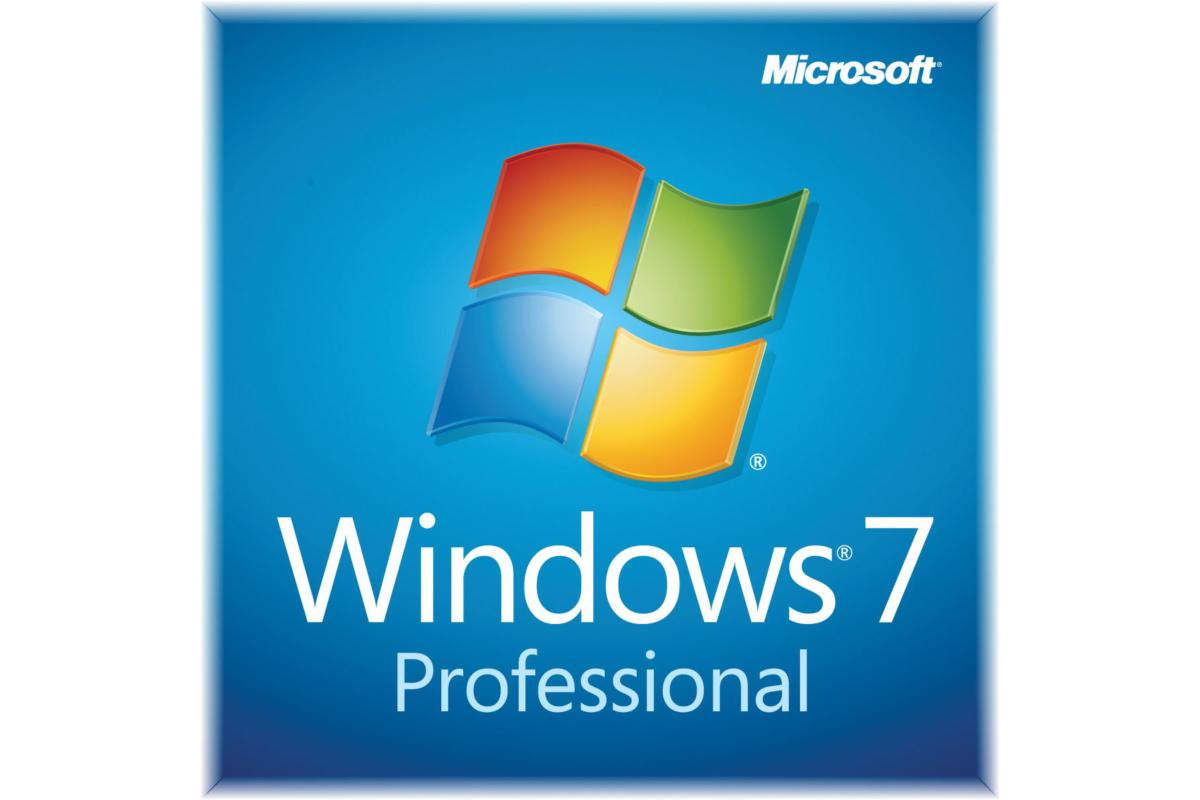 If you have an old Windows 7 or Windows 8 PC lying around, you may still be able to reuse its key to activate Windows 10.
When Microsoft first launched Windows 10 back in 2015, it offered Windows 7 and Windows 8 users a truly free, no-strings upgrade to the new operating system. The promotion was only available for one year—presumably to accelerate Windows 10 adoption rates—and expired in July 2016.
But even though Microsoft officially ended this program three years ago, it still has yet to completely shut everything down. The activation servers have been allowing Windows 7 and 8 keys on some Windows 10 installs.
The Windows 7 or Windows 8 product keys that commonly work for this method are the retail and OEM varieties. Only sporadic success has been reported for volume license keys (i.e., enterprise or educational licenses) working with this loophole.
While there's no exact science for what works, the following guidelines take into account various data points floating around in articles, forums, and Reddit. First off, you're limited to using keys for a specific version of Windows 7 or 8 with the equivalent in Windows 10. If you have a Windows 7 or 8 Home license, that will only work for Windows 10 Home. Windows 7 or 8 Pro only work for Windows 10 Pro.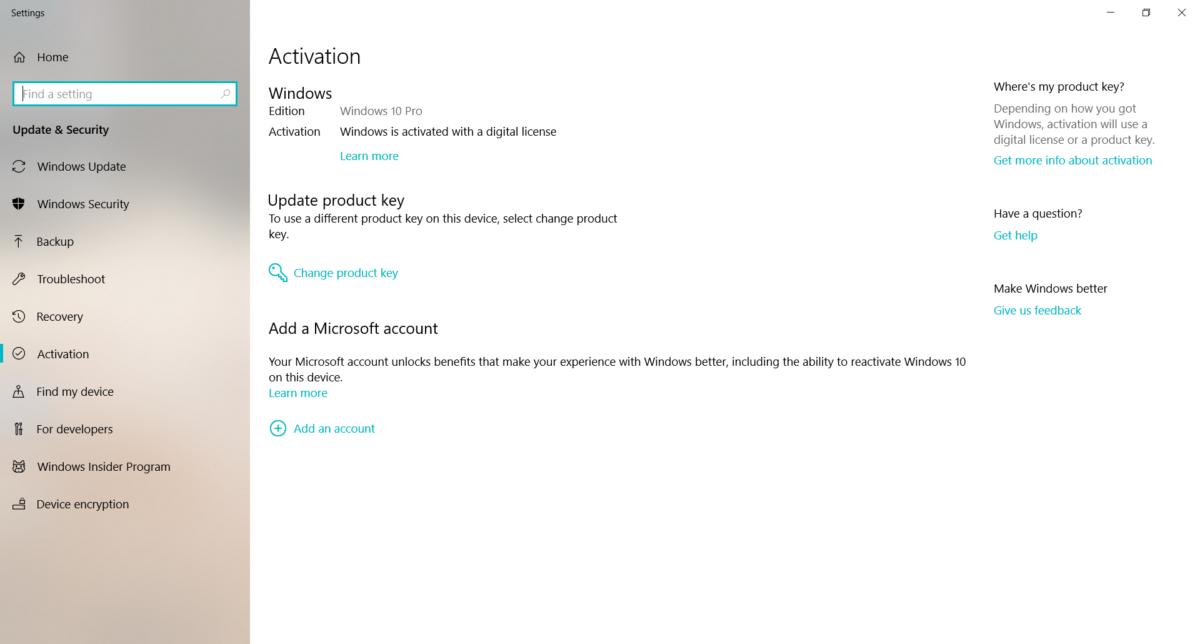 An additional rule of thumb is that you may need a retail product key if you're doing a clean install of Windows 10 on a new computer. OEM product keys should work if you're doing an upgrade or clean install of Windows 10 on the machine the Windows 7 or 8 license is tied to.
If you don't have your license key easily accessible, you can find it by using a program like Magical Jelly Bean Product KeyFinder. (Need help getting it to work? Use our step-by-step guide.)
Once you have that on hand, you'll enter it one of two ways: Either when prompted during the installation process if you're doing a clean install, or through the "Change product key" option in the Activation section of Windows 10's settings.
If the product key is recognized, you'll be issued a digital license that associates your machine with the key, so you should be good to go for the future if this method ever expires, as Microsoft had previously said it would.
Easiest discount: An OEM license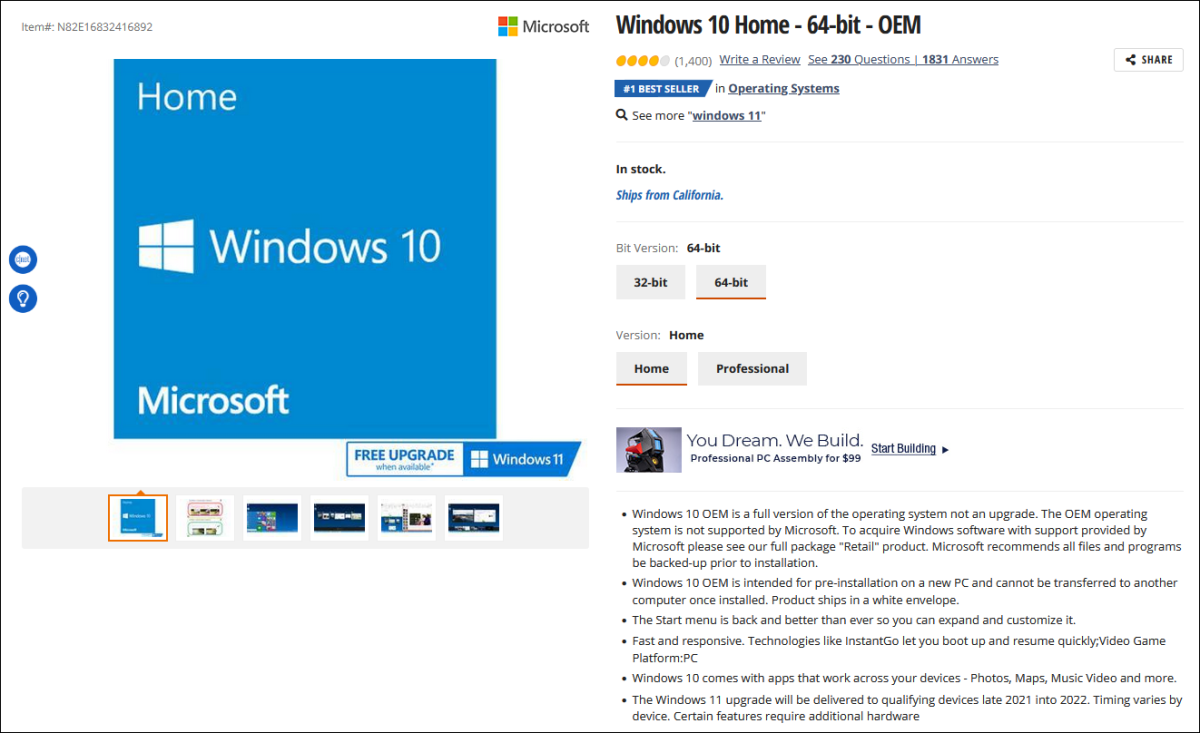 PCWorld
Price: $110 (Windows 10 Home), $150 (Windows 10 Pro)
Our next suggestion is a method that's available to everyone and has the least amount of hassle: purchasing an OEM license.
License types are different than operating system versions. They dictate what you can do with the software, while OS versions are distinguished by the features available. Multiple Windows license types exist, but the two commonly available to a home user are the retail and OEM varieties.
When you walk into a store or pop over to Microsoft's website, handing over that $139 for Windows 10 Home (or $200 for Windows 10 Pro) gets you the retail license. If you visit an online retailer like AmazonRemove non-product link or Newegg, you can find both retail and OEM licenses for sale. You can usually spot an OEM license by its price, which tends to run about $110 for a Windows 10 Home license and $150 for a Windows 10 Pro license.
All the features of the operating system version are the same for both license types. The difference is that with a retail license, you can transfer the license key to a different PC later on.
You can't do that with an OEM license. In exchange for a lower price, you get to use the license key on only one PC, period. If you build a system but roll a new one four years later, you can't transfer the license to the new machine.
Also, if the hardware used to identify your system fails—namely, the motherboard—Microsoft's registration servers won't recognize your license as valid after you replace the dead part. Microsoft has historically been kind about such situations, however; you can usually call to reactivate the license after replacing a fried mobo. But it is an extra hassle.
For further savings, you'll have to wait for the rare sale or Black Friday, when you can get an OEM license in the neighborhood of $85 (Windows 10 Home) to $120 (Windows 10 Pro). Otherwise, if you want to shave down costs further, it's going to take work—or a deep locus of calm when people criticize your life choices. (Skip down to "Low prices with a caveat" for details.)
Deepest savings: The education discount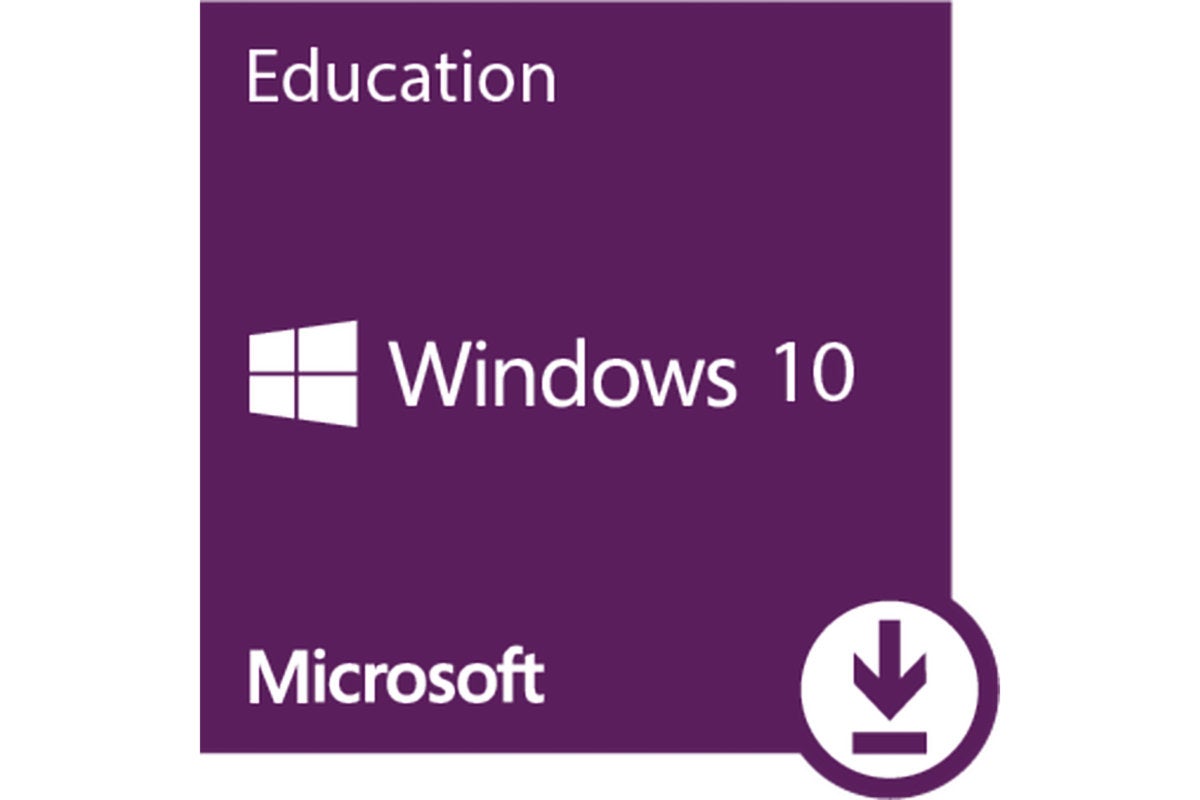 Price: $0 to $15 (Windows 10 Education)
Not all student discounts are reserved for the under-24 set. Your local community college might be a source for a free or extremely discounted copy of Windows 10—and it's nearly the equivalent of Windows 10 Enterprise, to boot. You'll just have to put in some legwork (perhaps literally) to get it.
As mentioned above, license types determine what you can do with Windows—and who can use it, as well. Through the Academic Volume Licensing agreements, schools can purchase access to Windows 10 Education for their students, faculty, and staff. Some make it available only on campus machines. Others will grant a license for use on a home machine.
In that latter camp are a number of community colleges, and they often make the Windows 10 license free or supremely affordable (usually $15). The catch: You have to sign up for at least one course to qualify for campus discounts.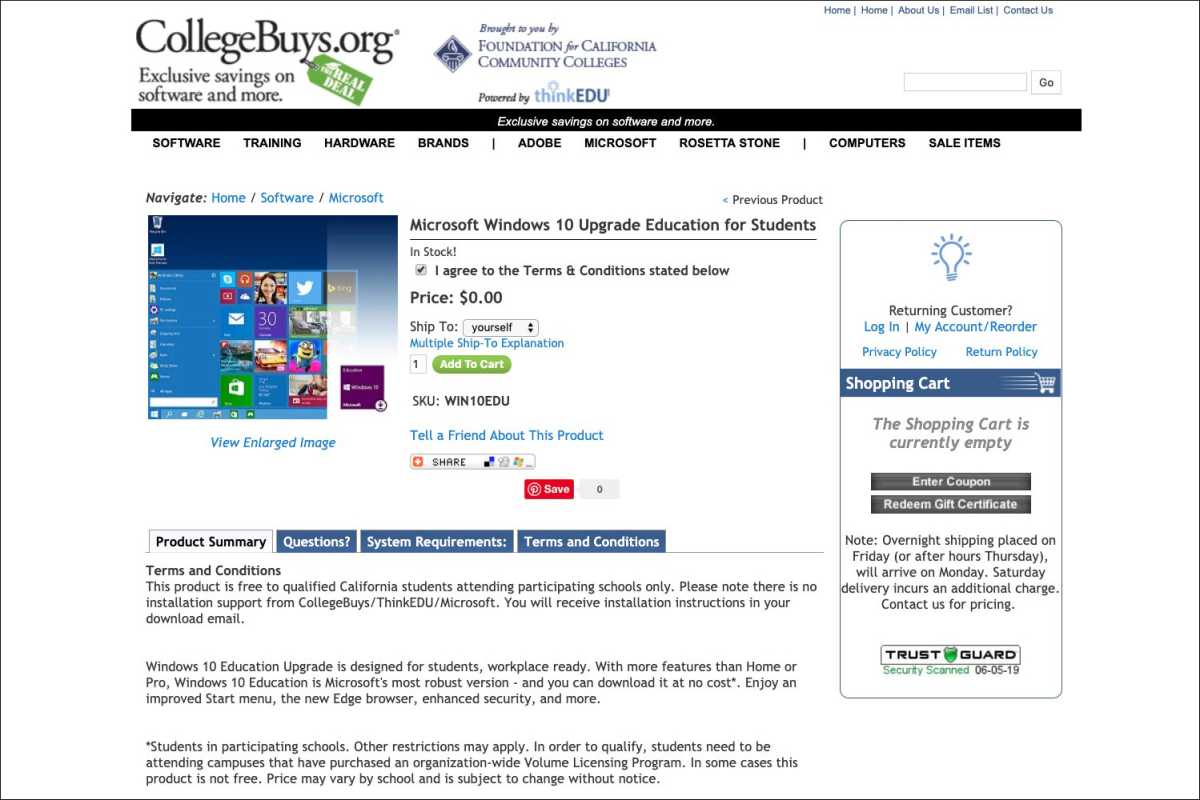 PCWorld
To get access to the software, you'll typically need to register for your class first, then find and register separately at whatever online store your campus uses for software purchases. (Many community colleges use OnTheHub as their distributor, so you can use their lookup tool to begin research about your school's options.) The storefront will require verification of your student status before you can "buy" Windows 10.
A one-unit class usually counts though, and depending on your state, it can cost as little as $76 including administrative fees. Typical options are usually of the physical education or dance variety (swim, ballet, jazz, boot camp workouts, etc.), but you can also find the occasional class on topics like Beginning Drawing, Intro to HTML & CSS, and Video for the Web.
If you were already planning on taking a class in one of these subjects, you're getting an amazing deal. Windows 10 Education, which is similar to the enterprise version of Windows 10, includes popular Windows 10 Pro features like Bitlocker encryption and the Windows 10 May Update's Sandbox feature. You're essentially getting Windows 10 Pro (and then some) for as much as 60 percent off and you get to learn something new.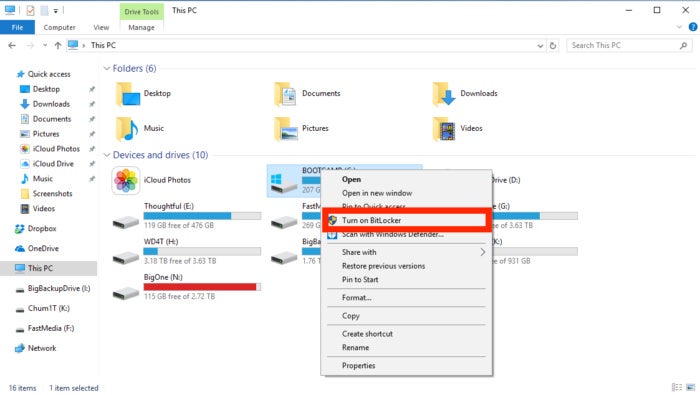 Even if you aren't interested in the classes, you're still paying considerably less than what you would for even a Windows 10 Pro OEM license. We don't encourage truancy, but there's nothing saying you have to show up for class, so long as you're comfortable with a failing grade on your record.
Obviously, if your local community college doesn't have an agreement with Microsoft in place, this strategy won't work. Also, if the total cost of the class, administrative fees, and license fee adds up to more than the retail cost of a Windows 10 Pro license, and you wouldn't have otherwise taken the class, that negates this deal, too. In those cases, your main options are the OEM license (outlined above) or buying through a reseller (detailed below).
Note: If you use this method, also keep an eye out for other software deals through your school. For example, your school might offer a free Microsoft 365 account, or a heavily discounted Adobe Creative Cloud account (usually $20 per month, but we've seen it for as little as $80 per year).
Low prices with a big caveat: Resellers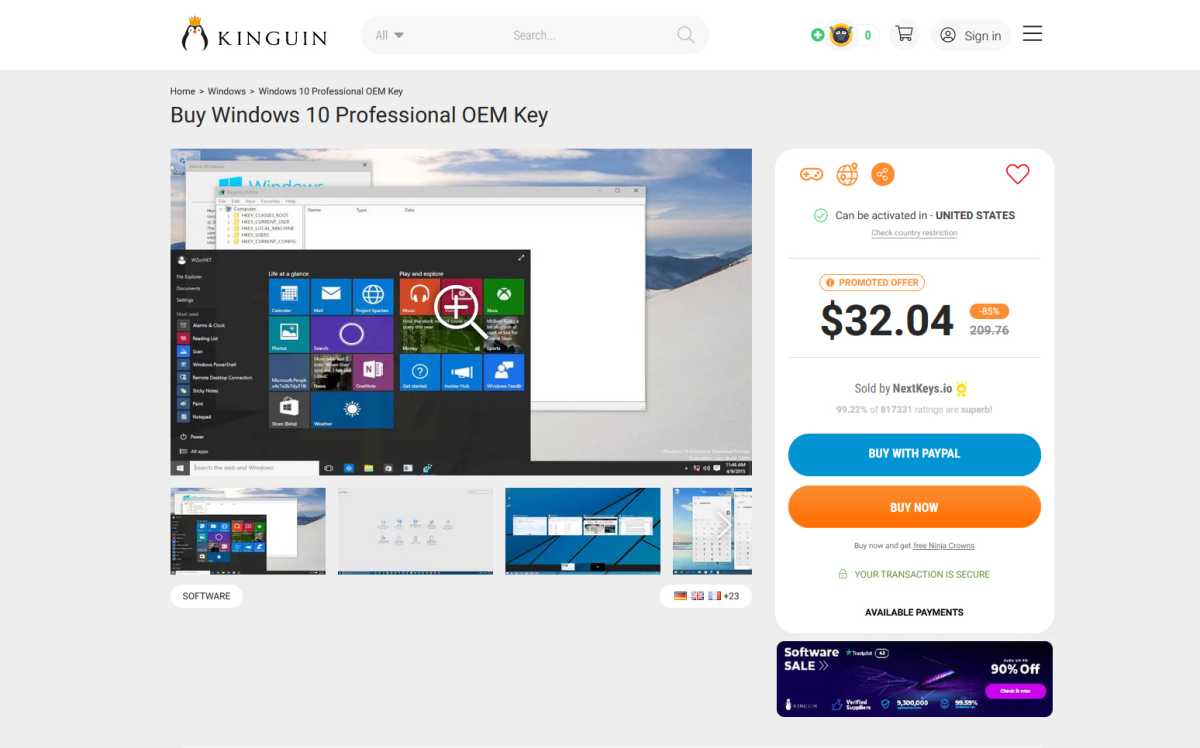 PCWorld
Price: Under $30 (Windows 10 Home and Pro)
Scoring Windows 10 at an 85-percent discount (or more) is possible, and it's not even difficult. But this approach comes with a salt mine of caution.
Platforms like eBay and Kinguin allow buyers to purchase product keys from third-party sellers. Some sites, like Kinguin, specialize in digital software sales—to buy Windows 10, you'll find the Windows 10 Home OEM or Windows 10 Pro OEM listings, pick a seller, then add their product to your cart and check out.
What makes the license keys so cheap is that they're gray market at best. In other words, the keys aren't illegal, but they're likely extras from a volume licensing agreement and not meant to be sold individually to home users. So they come with risk. Critics of this method rightly point out that you can buy keys that don't work, or eventually lose their activation status because of their unknown origins. And that has happened to some people. Customer service is often poor for these kinds of sites too, leaving you high and dry.
Fans of this method say many people never run into issues, and in fact urge you to find the keys as cheap as possible (usually through eBay) to minimize problems. You can also buy with a credit card for some added protection. If you go this route, you should only get Windows 10 Pro keys. The cost difference is often negligible from Home and you get better features like Bitlocker encryption and other Pro features.
But what we actually recommend is to buy through reputable sources of cheaper keys instead. For example, some professional organizations are able to negotiate deals for their members—we suggest starting there. You can also check to see if your favorite media sites have special pricing for readers. PCWorld's own software store is a good place to investigate—it offers retail Windows 10 Home and Pro keys at sizable discounts (sometimes as low as $30 for Home and $40 for Pro!), and those keys are guaranteed to work.
Sours: https://www.pcworld.com/article/397575/how-to-get-windows-cheap-or-even-for-free.html
Windows 10 is currently the latest version of OS from Microsoft and one of the specialties is that it comes with Microsoft store where you can download apps for your PC. There are thousands of apps to download and try on Windows 10 from Microsoft store. Reddit is one of the top social news aggregation, web content rating, and discussion website and used by millions of users worldwide. There are apps for Reddit on different platforms. So here are the 7 best Reddit apps for Windows 10.
1. ReddPlanet:
ReddPlanet is a good Reddit client for Windows 10 with good set of features being offered. You can download the app from the link below.
Download ReddPlanet
2. ReddHub:
ReddHub gives you the full richness of Reddit, within a seamless Windows 10 experience. You can browse and discover new content, engage with other people in the community, find insightful commentary, download pictures and content, and much more on Reddit.
Download ReddHub
3. Infinity for Reddit:
Infinity for reddit is an Universal Windows App for Windows 10 to browse reddit.com on your desktop. You can browse Subreddits, search, view images imgur albums, YouTube videos and web links. You can share images and save it on the device.
Downlod Infinity for Reddit
4. Legere for Reddit:
Legere is a modern, powerful and full-featured Reddit client, built from the ground up as a UWP app and available exclusively on Windows 10. It also provides some unique features, like a complete markdown editor with live preview, an album creation tool and an offline mode.
Download Legere for Reddit
5. Baconit:
Baconit is one of the most popular and highest rated Reddit app for Windows 10. With a dynamic new UI, faster speeds, and features, it is the best app available on Windows 10 to access Reddit. It comes with almost all features available in Reddit.
Download Baconit
6. Readit:
Reddit client for Windows phone is now available on any of your Windows devices. Readit has moderator support and support for many gold features as well. It also comes with features like secondary tiles, a stunning interface, and complete markdown support.
Download Readit
Tags:AppsRedditWindows 10 Apps
Sours: https://www.nirmaltv.com/2020/04/16/best-reddit-apps-for-windows-10/
How to Activate Windows 10 for Free in 2021 - Direct \u0026 CMD Method
mlnevese said:

I would love it if some Android clients were released for Windows, such as Joey. After using Joey, the Reddit page is just a pain to use.

Click to expand...
Just to let you know, I caught the Joey app developer red-handed around 2 years ago. The app was secretly connecting to some google ad domains and some other suspicious domains which was possibly related to users data collection. Google ads and google doubleclick trackers were embedded in the app itself. Back then the app was completely free with no ads. Many users on reddit used to ask the dev, how come such an amazing app like this is totally free? Why doesn't he monetize it? The dev always ignored these questions. He would answer everything else but always avoided those.
I got suspicious and checked all the DNS connection made by the app. The domains included google ad domains, some other ad services and as I said also some other suspicious looking domains. Keep in mind once again that the app was completely free to use with no ads, no limitations.
Then I shared it on the subreddit and the dev became furious and defensive. But he was unable to explain why his app connected to those domains. Many users saw that and stopped using it.
After that later sometime in the future, he changed the model of his app and now it has a free version with ads and a paid version.
So no matter how good the app is, I would stay away from anything created by this dishonest dev.
Sours: https://malwaretips.com/threads/reddplanet-is-a-well-designed-free-reddit-client-for-windows-10.108068/
10 is free reddit windows
Gallery for reddit For PC Windows and MAC – Free Download
How To Install Gallery for reddit App on Windows PC & MacBook
Download Gallery for reddit software for PC with the most potent and most reliable Android Emulator like NOX APK player or BlueStacks. All the Android emulators are completable for using Gallery for reddit on Windows 10, 8, 7, computers, and Mac.
Download Emulators for Windows PC from official pages below to install them.
Best emulators are here: BlueStacks.com; Or as an alternative BigNox.com.
Open Android emulator and login with Google account.
Gallery for reddit app available on Play Store. So search and find it.
Choose install option under the Gallery for reddit logo, and enjoy!
FAQ Of Gallery for reddit- Features and User Guide
Gallery for reddit is an unofficial reddit app to browse 1000+ image & picture related subreddits. It brings the best image viewing experience to Android!!!
* Features
————————————————-
✔ Clean design for fast & easy browsing experience
✔ Swipe between images
✔ Double-tap/pinch zoom
✔ Animated GIF support
✔ Local favorite list
✔ Slideshow
✔ Share (link & image)
✔ Save images (/Pictures/gallery for reddit)
✔ Set as wallpaper
✔ Type in a subreddit name for casual browsing ("Add to favorites" to save)
✔ Open in browser/reddit app
✔ Random subreddit
✔ Imgur album/gallery support
✔ Imgur gifv support
✔ gifycat support
✔ Streamable support
✔ In-app purchase to remove ads
* Features for redditors
————————————————-
✔ Sync subscribed subreddits
✔ Subscribe/Unsubscribe
✔ Upvote/Downvote
✔ Save posts
✔ Multireddits
✔ Filters (domains, subreddits, titles, flairs)
✔ Gray out visited posts(requires Reddit gold)
✔ Deeplink support (ex. gfr://deeplink.mightyfrog.org?subreddit=cats&slideshow=true)
*THIS IS NOT AN OFFICIAL REDDIT APP. NO AFFILIATION TO REDDIT.COM IN ANY WAY
*Wi-Fi is strongly recommended! this app loads high quality images and carrier charges may apply.
*Saved might not work if you're not a reddit gold member.
What's New On New Version Of Gallery for reddit
– bug fixes.
– available in EEA (GDPR consent form pops up)
Disclaimer
This app is the property of its developer/inc. We are not an affiliated partner of Gallery for reddit. Every element about Gallery for reddit apps like images and trademarks etc. are the property of the respective owner of Gallery for reddit.
Also, we do not use our server to download Gallery for reddit apps. Download starts from the authorized website of the Gallery for reddit app.
Sours: https://safeforpc.com/gallery-for-reddit-for-pc-windows-and-mac-free-download
How to activate windows 10 permanently - KMspico - updated 2020.
Best Reddit apps for your Windows 10 device
Madalina has been a Windows fan ever since she got her hands on her first Windows XP computer. She is interested in all things technology, especially emerging technologies -- AI and DNA computing in... Read more
XINSTALL BY CLICKING THE DOWNLOAD FILE
To fix various PC problems, we recommend Restoro PC Repair Tool:
This software will repair common computer errors, protect you from file loss, malware, hardware failure and optimize your PC for maximum performance. Fix PC issues and remove viruses now in 3 easy steps:
Download Restoro PC Repair Tool that comes with Patented Technologies (patent available here).
Click Start Scan to find Windows issues that could be causing PC problems.
Click Repair All to fix issues affecting your computer's security and performance
Restoro has been downloaded by 0 readers this month.
Reddit is undeniably one of the most interesting and most popular websites on the internet.
It's part news, part social media, and the bigger big part – entertainment, which makes it your one-stop shop for finding the latest trends and everything interesting on the Internet.
Additionally, there are plenty of third-party apps available for Windows, Android, and iOS platforms.
And among those apps, here are the ones we, at Windows Report, think are most worthy of your use on your Windows 10 devices.
ReddPlanet is a relatively new third-party Reddit app for Windows 10 PC's, mobile, and tablets.
Similar to other Reddit apps on Windows 10, ReddPlanet also works under the same universal Windows platform, bringing the same intuitive and sleek UI across PCs and mobile devices.
ReddPlanet comes with a ton of features for both novice and advanced Reddit users, further perpetuating the Windows 10 pedigree.
It comes with support for multiple accounts, better ways to view trends, different ways to toggle between subreddits, give users four different views, and a ton of additional features.
Customization is great as you would expect on a top-notch app; users can change colors, text sizes, fonts as well as customize a night theme for night use and more with ease.
For desktop, laptop, and tablet users, ReddPlanet provides support for split-screen modes. If you enjoy Reddit, head over to Microsoft Store to grab the app
It is free to download and gives you a customized experience on your Windows 10 device.
⇒ Get ReddPlanet
Arguably one of the best-designed Reddit clients for Windows platform, Readit for Windows 10 makes things even better.
Readit for Windows 10 uses the universal app SDK, bringing with it a set of premium features that you need to transform your Windows experience.
The most noticeable feature is the customizable columnar interface that allows you to hide and show elements with a simple toggle.
When using it on a smartphone, scrolling is highly responsive as you would expect on a premium app and everything shifts with pleasing animations.
When using it on a laptop or desktop, the app detects where the cursor is hovering thus enabling you to scour through different places without having to select them.
Readit is one of the feature apps that impart optimism for the future of the Windows ecosystem.
It incorporates a vast majority of Reddit's functionality including, but not limited to nested commenting, voting, upvoting, and DLNA/mirror casting that enables users to mirror content straight to X-Box One over the home network.
Additional features include built-in Imgur integration for album viewing and the app also lets you view YouTube videos and GIFs as well. The app is also free, but you have to pay a small fee if you want to get rid of ads.
⇒ Get Readit
Baconit is one of the best and most popular apps for Reddit on Windows phone. The code for Baconit was recently rewritten in a bid to offer users a better experience.
It's now coded using the Universal Windows Platform (UWP) which is good news because the app can now run on your PC, Surface, phone, Xbox, and even HoloLens.
Many users have found the app good enough to present everything that is right about UWP and Windows 10. The app is powerful, dynamic, and beautifully designed with kicky looks.
The app is also loaded with a ton of features that might make you want to give up your browser.
Run a System Scan to discover potential errors
Run a PC Scan with Restoro Repair Tool to find errors causing security problems and slowdowns. After the scan is complete, the repair process will replace damaged files with fresh Windows files and components.
It represents the content in an easy-to-read format complete with upvote and downvote buttons and other multiple sorting options.
There is also a handy search bar that lets you easily find posts and subreddits in seconds. The app also allows you to pin posts and subreddits to the start screen. Baconit is a free and open-source app.
⇒ Get Baconit
Infinity for Reddit one of the most popular Reddit apps for Windows 10 so you might try it even it's on the last spot in our top.
It features an intuitive design and a user-friendly interface that makes it easy to browse your favorite Reddit content whether you are using a phone or a PC.
The app sports a set of unique and premium features that distinguishes it from other Reddit apps.
Just like other Reddit apps, you can vote, save, report, and perform other functions associated with your Reddit account.
Other added features include integrated quoting, the ability to reply to comments and links, the ability to view your messages on a user's profile, and more.
You can even integrate it with Windows search and share and can also launch a link in the browser or copy it to the clipboard.
The Infinity for Reddit app also comes with an integrated viewer for a spectacular viewing experience.
⇒ Get Infinity for Reddit
Best tips to get the most out of Reddit
If you're new to Reddit, it's going to look like an alien world with tons of information and lots of confusion.
The key here is to learn how to find the favorite content easily and faster and that's what we're trying to help you with below.
Understand more about subreddit
A subreddit is just somehow like a category of a website on a certain subject. So, when you open the front page, you will see posts from the default subreddit.
So, all you need to do is to check the subreddits that you're interested in and there you will find lots of talks about the subject you're on to.
Following people helps you
Once you find the topics you're interested in, you can check out which are the most influential and active users who provide the most relevant posts and follow them.
They will be an extremely valuable source of information in the future. Of course, to do that, you will need a Reddit account.
Get to your Subreddits faster
When you're entering a URL for a subreddit, don't bother to enter the slashes. You can enter the subreddit nape at the front of the URL.
If you're looking for Windows, you can type windows.reddit.com instead of reddit.com/r/pics. It's easier and faster.
We hope you found the right Reddit app for your Windows 10 PC. All the above are great but you should test all of them to see which one you like better.
If you're using social platforms intensively, check our selection with the best social media protection software.
If you know of another handy Reddit app for Windows 10 that is not listed here, let us hear your opinions in the comments section below.
Still having issues?Fix them with this tool:
Download this PC Repair Tool rated Great on TrustPilot.com (download starts on this page).
Click Start Scan to find Windows issues that could be causing PC problems.
Click Repair All to fix issues with Patented Technologies (Exclusive Discount for our readers).
Restoro has been downloaded by 0 readers this month.
Sours: https://windowsreport.com/best-windows-10-reddit-apps/
Similar news:
.
633
634
635
636
637