There are times when the default set of emojis is just not enough, and you can't even find the perfect GIF to convey how you are feeling. However, you don't have to worry about all this if you are a Discord user, thanks to custom emojis support. Discord lets you upload and use custom emojis on servers to make interactions more fun. If you are someone looking to spruce up their server, you will learn how to create and add custom emojis to your Discord server in this article.
Create Custom Emojis for Your Discord Server (2021)
Although custom emojis are widely used in Discord servers, you can use them in DMs too, if you have a Discord Nitro subscription. With that out of the way, here's all you need to know about custom emojis support on Discord.
What is a Custom Emoji on Discord?
Discord lets you use custom emojis to express yourself better. These emojis can either be static or animated ones. You can upload up to 50 static and 50 animated emojis to your Discord server for free. However, you and other server members need Discord Nitro to use animated emojis on Discord. Moreover, having a Nitro subscription also makes it possible to send emojis across servers.
As mentioned above, you have 50 free emoji slots in your server by default. If a Discord server unlocks Level 1 perks (2 Nitro boosts), you get an additional 50 emoji slots. That means you will now have a total of 100 available emoji slots. Moreover, Level 2 servers (15 Nitro boosts) have 150 slots, and Level 3 servers (30 Nitro boosts) get a whopping 250 slots, respectively.
Steps to Create Custom Emojis for Discord
You need to keep a couple of things in mind before you go ahead and create custom emojis for your Discord server. Note that the emoji image size should be 128×128 pixels, and the image size shouldn't exceed 256KB. With that said, let's dive in.
1. Pick the image you want to use as a custom emoji and crop it in a 1:1 ratio. I am using FastStone Image Viewer here, but any photo editing software should do the trick.
2. After cropping, resize the image to 128×128 pixels and save it as PNG. Your emote is now ready for use.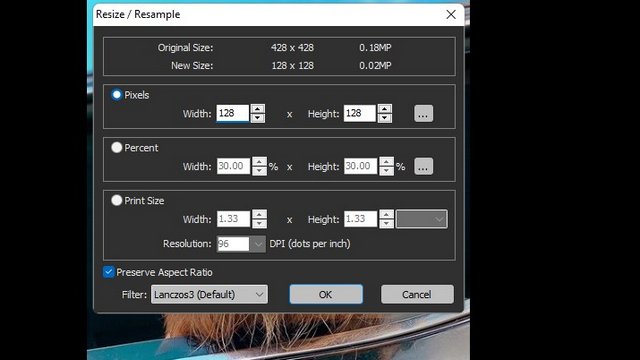 If you prefer your Discord emojis to have a transparent background, you can remove the background using Photoshop or popular websites such as Remove.bg. You can check our guide to remove background from images without Photoshop for detailed instructions.
Easiest Way to Collect Discord Custom Emojis
If all those steps sound too time-consuming, you can just easily cherry-pick good emojis from existing Discord servers. As the saying goes, good artists copy and great artists steal. Here's how you can s̶t̶e̶a̶l get inspired from cool emojis on existing servers. Do note that this method is limited to the Discord Desktop app and web. You can't do this on Discord's mobile app.
1. Now, whenever you see an emoji you like, all you have to do is right-click on an emoji sent to a server.
2. If you are using Discord from a web browser, choose "Save Image as" and save the image to your PC.
3. Those using the official Discord app should choose the "Save Image" option after right-clicking the emote.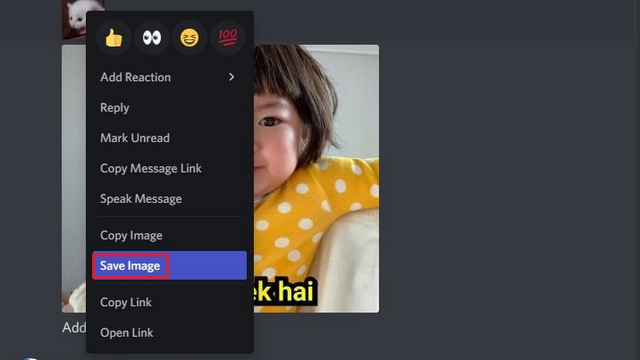 Since someone has already done all the boring resizing work to add emojis to their own server, you can simply head to your server settings to upload these custom emojis you have so carefully selected. To learn how to add custom emojis to your Discord server, check the next section.
Upload Custom Emojis to your Discord Server on Desktop and Web
Once you have created custom emojis, you are all set to add them to your own Discord server. Here's how to add custom emojis to a Discord server on desktop and web.
1. Open your Discord server and click on the down arrow at the top-left corner next to the server's name.
2. From the list of options that appear, choose "Server Settings".
3. From the left sidebar, click on "Emoji" to switch to the Server Emoji section, and hit the "Upload Emoji" button.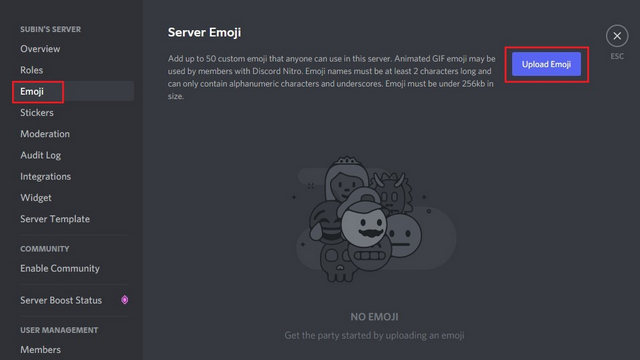 4. After you upload an emoji, set an alias for it. This is important, and do not forget to set the name that represents the emoji because you will be using this shortcut to access it. To quickly send an emoji on Discord, you can type the alias between ':'.
For instance, the keyword to send the emoji in the image below is ':umm_okay:'. Repeat these steps to add all your emojis to the Discord server.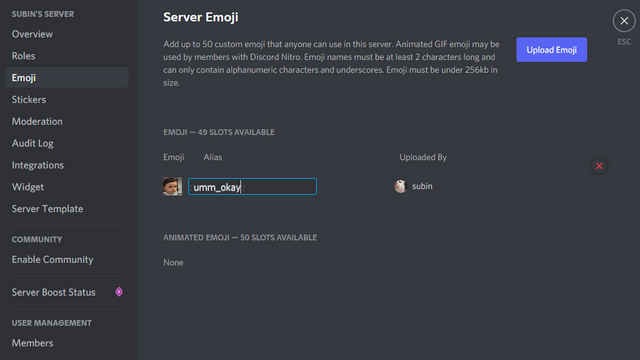 Upload Custom Emojis to your Discord Server on Mobile
The method to add custom emojis on mobile is similar to desktop, but the steps are a bit different. Check out the steps below to add custom emojis to your Discord server via the Android or iOS app.
1. Open your Discord server on mobile and tap on the vertical three dots menu next to the server name. On the next page, tap on "Settings".
2. Once you are in the Server Settings on Discord, tap on "Emoji" and press the "Upload Emoji" button present at the top of the page.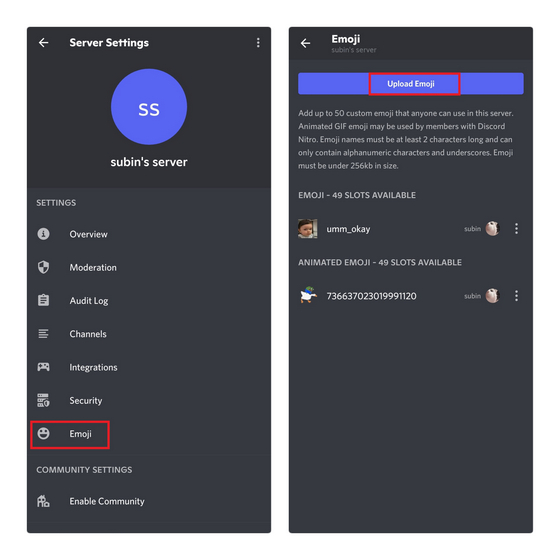 3. Pick the emoji you created from your phone's file manager app and tap "Upload". Set the alias and press the "Save" button at the bottom right corner to save the custom emoji. You and all the server members can now start using the custom emoji you have added.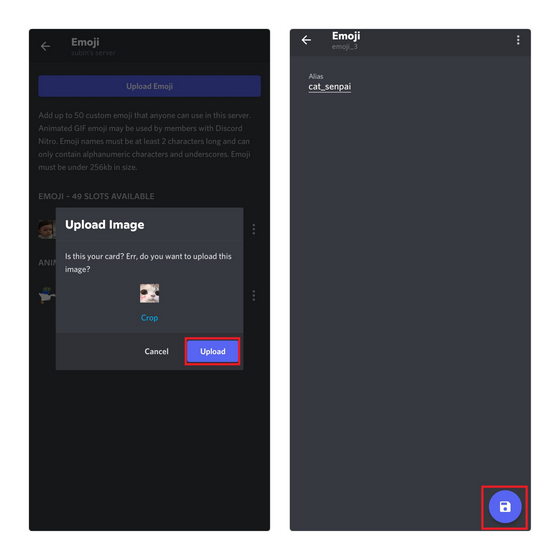 Best Discord Emoji Maker Websites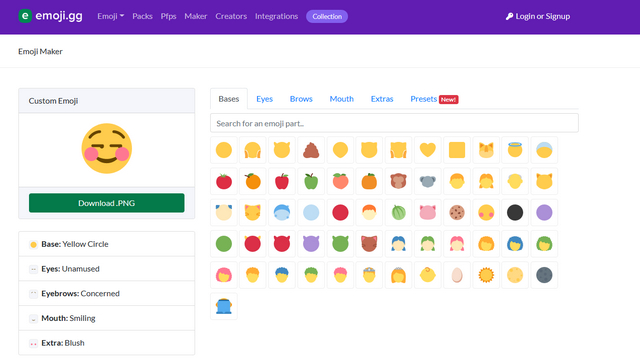 If you prefer creating custom emojis by mixing and matching existing ones, Emoji.gg is a website you should not miss out on. You can download custom emojis from this website or even create one yourself by picking the right combinations. Hitting the "Download.PNG" button will download the custom emoji you just created to your PC. The website is fairly straightforward to use, and you can check it out from the link below.
Try Emoji.gg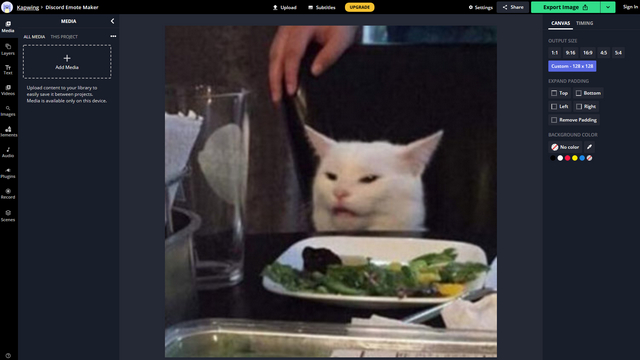 Kapwing is another website you can use to make custom emojis for your Discord server. The website's in-browser editor makes it convenient to add layers, text, and tweak the emote to your preference before exporting them. Once your emoji is ready, click on the "Export Image" button to save the emoji to your PC.
Try Kapwing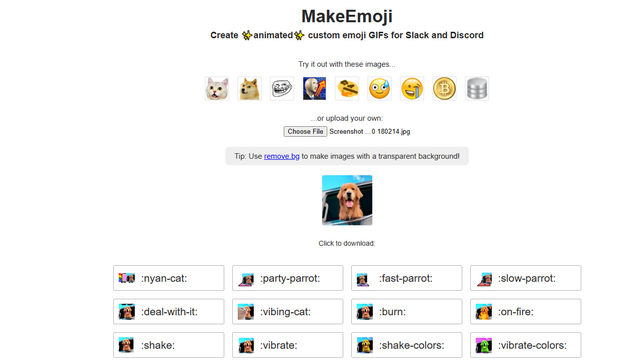 If you are not interested in manually resizing images to make your custom emoji, you can directly upload the image to MakeEmoji. You can then download the emoji from the website in seconds. MakeEmoji also offers ready-to-use animated emojis based on your original image to elevate your custom emoji experience. That makes it one of the best Discord emoji maker websites out there.
Try MakeEmoji
Personalize Discord Server with Custom Emojis
So, that's how you can create and upload custom emojis on Discord. If custom emojis are not enough for you, you can also check out Discord's new Stickers feature. Unlike custom emojis, however, you need Discord Nitro to use these Stickers. While you are at it, check out our list of useful Discord bots and learn how to add bots to your Discord server. They can help manage your server, assign roles, listen to music with a group, and more.
Sours: https://beebom.com/how-create-custom-emojis-discord-server/
10 Best Discord Emote Servers
We are Starting with the definition of Discord. So, discord is basically a proprietary freeware Voice over Internet Protocol application and digital distribution platform which is designed for video gaming communities, that specializes in the text, image, video and audio communication between various users in a chat channel. Discord runs almost on every type of devices like Windows, macOS, Android, iOS, Linux, and in web browsers. As of May 2018, there is a total of 130 million authentic and verified users of the software. Now coming to the second term which is emote. So emote stands for emoticons also called as emojis. So one would surely love using those popular emote while chatting in between video games.
The features of Discord
Discord is an application meant for gamers to chat. Discord Application will let you stay connected to every Discord voice and text chat channels even while AFK. It is absolutely perfect for chatting with the teammates, watching who is playing the games online, and catching up on the amazing text conversations you may have missed due to the hectic schedule.
Some of the salient features are mentioned below:
Voice Chat – You can conveniently join voice channels and chat with your group of people.
Real-time messaging – You can share everything in the chat box.
Push Notifications – This feature won't allow you to miss any message by chance.
Multiple Server Support – Handle your game chat groups under one chat roof.
Discord runs on almost every type of operating system starring from Windows, macOS, Android, iOS, Linux and Web Browsers.
Now let us begin with the best Discord Emote Servers:
1. The Grim Reaper
The first and the foremost emote server in our list is The Grim Reaper. The server has the presence of over 50K members. Not only this, but it has total 100 emotes. The features like generic chatting, social channels, text/bot games, events, and many more features are available. There is a different and interesting feature called as Deathpay. What does it mean? It simply means that players will be paid when they kill a user. You can send any messages as that player when they are killed or have killed themselves. The popular games like Idlerpg, Duckhunt and many more are available within the name The Grim Reaper. It is considered one of the best Discord Emote Server.And lastly, you can easily make certain changes like enabling Deathpay, or changing the payment amount.
2. Blob Emoji
The second chat server is Blob Emoji. You might have heard about this emotes as they were once upon a time famous on our loving application, Google. The Blob Emoji Chat server developers are a group of people with lots of enthusiasm who will help you find huge amounts of squishy blobs to use crosswise over Discord. The server will also provide you with 100% guarantee for the proper functioning. If you are planning to use these emojis in other servers, then you will need  Discord Nitro. There are various emotes whose main attention is only Blob type of emojis. So yes, if you were a lover of Blob Emoji found on google, you will surely love even this in the form of a chat server. Thus, Blob Emoji is the best discord emote list server.
3. Lilium Ent
Coming to the next chat server which is none other than Lilium Ent. Lilium Ent as the name suggests, the chat server is made by few lesbians. It consists of over 50K members. So, yes you guessed it correct, this server is made and dedicated for purely Girls' Love with lesbian-themed animation, games, movies, comics and various types of entertainment. There are emotes available in the server related to the same theme. The users of this server surely fall in love with the server as all the members are related to them and there is thus, maintenance of proper love. The information regarding this server is less but yes it is one of the best.
4. Utopia
The next emote server in the list is Utopia. There are over 30K members in this discord emote server who happily play games and chat everything related to the games. The emote server provides the user with 65 amazing emotes. The presence of various best chats and fun games that allow you to interact with members makes it one of the popularDiscord Emote Server.The one user who trolls now and then get either ignored completely or banned permanently. So yes, the emote server tries its best to maintain a productive environment. You can surely opt for this emote server as the emotes are fully interesting and best.
5. Frog's Winter Wonderland
The fifth emote server is Frog's Winter Wonderland which is now renamed as Frog's Dreamworld. very fun and nice community with over 36 GLOBAL EMOTES, Giveaways, Popular events, Earnable roles, Best staff, and many more features are available. Wanna know the total members available? So, the total members in this discord emote serveris 195,687. And there is total 103 emotes within this chat server. The emotes are absolutely interesting and shows the presence of frog's face in place of that emoji face. You can join this emote server without any difficulties and have a good time while chatting using the interesting emojis. As there is the presence of global emotes, it is also the one which is included in discord global emote serverslist.
6. ChillZone
What does the name suggest you? Gamers while playing games feel a high level of energy within themselves. And when the energy comes to chatting, they feel little relaxed. So ChillZone has a presence of very friendly and enthusiastic members. The total members in this Discord Emote Serverare over 50,000. And the number of total emoticons are 62. It is one of the interactive chat server. The information regarding this chat server was found less but yes due to amazing emotes, it made proper entry into the list of discord emote servers. The ChillZone has a presence of active members who love games like heaven and hell.
7. Melancholy
The seventh server in the list is Melancholy. The application is the best depression fighting and anxiety server on the application known as Discord. It is a very friendly community with supportive staff and also 100 sad egg yolk emotes are available. The number is huge, isn't it? There are over 10,000 members in the server and over 100 interesting emoticons. The emote also have certain words written above their design so to show various feelings. You will surely fall in love with the chat server as the users are too friendly and supportive. They will surely help you fight your depression and enjoy better games. So, you can opt for this application without any concern.
8. Lulurd's Hideout
The actual mission of this chat server is to make new companions and chill in your spare time. The chat server generally chills with new individuals so they can feel a piece of the network. The chat server is not limited to this feature. The worldwide acts out, fun exercises and all these things makes the chat server the best one. There are over 60K members in the chat server. And there are over 73 emotes also available. This server is considered as one of the best Discord Emote Server. And the features are too best with friendly users revolving around the chat server.
9. Gates of Autism
Coming to the ninth application which is Gates of Autism. The gates of autism is a meme server with a lot of amazing and enthusiastic people.  The chat server also shows the presence of 5 global emotes you can use anywhere in the globe on Discord. There are over 50,000 people using this emote server. The number of emote is 108 and the emotes are too interesting to be used. So yes one can surely fall in love with the emote server without facing any error. The users are too interactive and will provide you with a friendly and attractive environment. The users are too fond of playing the games just like you without any complaints.
10. LTT Official
The last Discord Emote Server in the list which is LTT official. It is the official link for various channels known as LinusTechTips, TechQuickie, TechLinked etc. The number of users LTT Official will provide you with is 22,463 members and new ones are getting daily added up. This server will prove to be the best server in the upcoming days. The emotes are too less for now. But still, there is a hope for this Emote Server. The number of emoting is 26 for now. No worries, it will soon reach a high number in future and make it arise on number 1 chat server. So yes, if you want your emotes to be limited and members to be more, then you can surely opt for LTT Official.
As we have seen now, various types of emote servers, it is the time where we should conclude our discussion. Everyone loves gaming. And every gamer even loves interacting with the teammates to create enthusiasm and proper enjoyment. Chatting is the basic thing any discord servers provide. And emotes in today's world are considered as a thing to show various expressions in online chatting. So, thus, one likes to go for such chat servers which provides emotes.
Wrapping it up!!!
In this case, The Grim Reaper is the top choice for every gamer. The Blob Emoji and Utopia are also a sophisticated choice for this purpose. Now, you have to just install the application and start having a look at different emotes the chat server provides you with. The best emote server you find as per your choice, you can conveniently use them without any problem. So what are you waiting for? Start becoming a member of popular Discord Emote Servers.
Sours: https://bestoob.com/best-discord-emote-servers/
+300 Discord Emojis Ready to Use
It is not easy to install any emoji on the system as in Discord with other group messaging apps.  Discord gives users great freedom.  We use emojis as a fun way to express ourselves, and the fact that these symbols are the same symbols used by billions of other users can give us the feeling that we don't have enough space to express ourselves.

However, this is not precisely the case with discord.  You can convert any image you want to emoji format and add it to your Server.  This picture can be a picture of a friend on the server you're in, a famous person you love very much in your community or the image that best expresses the situation you are in.  Whatever image you want to send as an emoji, you can load it into Discord and use it as much as you like. However, you want.  

In the early 2000s, we were using a software called Messenger to communicate.  At that time, since smartphones weren't as smart as they are today, the Messenger application only worked on the computer. 
Just like in discord, you could use any image you want as an emoji in the Messenger application.  At that time, we didn't even call this action sending an emoji.  Because these images were not named yet. 
As a result of the widespread use of the WhatsApp application worldwide, a standard has come to emojis, and a name has been given to this standard.  However, as you can see, free users may not always prefer standards. 

Discord applies a non-standard policy, leaving emoji choices we want to use entirely to users' preference.

Custom discord Emoji usage is widespread among users. That's why I created this collection.  What are the group pieces? If you wish, I will explain this topic in the rest of the article?  

As you know, Discord is a general application among gamers.  Although this situation has started to change gradually in recent years, this chat application's primary use is still composed of gamers at a large percentage. For this reason, there are icons of the products of some game brands in the collection.  

For example, there is a series of items in the Minecraft game. Besides, another cult video game, PUBG, is also included in the collection. When it comes to PUBG, such as a camouflage costume, the images that come to mind are included in our group as icons.  

When a PUBG player invites a friend to play PUBG in Discord, he can usually make this offer with icons without using words.  

This is precisely one of the strengths of Discord emojis.
Another category in this collection is facial expressions. Another saying is reactions. The most significant difference that separates two-dimensional communication from face-to-face communication is the lack of gestures. These reaction emojis are therefore often used when texting.

Users also like to react to each other on Discord. You can find many reaction emojis, including the Halloween concept, in this collection.

All images in the collection come with a transparent background. You don't need to take any extra steps to use these images after downloading.

Like you, we use the Discord app in our daily lives. We know what properties a chosen image should have to make an emoji. I even published an article about icon sizes before.

For this reason, all images in the collection are listed as ready to use. To use these discord emojis, all you have to do is click the download button.

If there are various themes, you would like to include in the collection, please contact me via this e-mail.

It makes me very happy to enrich this collection with feedback from readers.

Users 'feedback is critical to Eggradients' development. In my previous blogs, I have developed products that I generally assume users will love. But assuming it is a considerable risk to create a digital product.

Developing digital products is very laborious and time-consuming. Spending months or even years developing a product that no one wants to use can result in huge losses.

So whatever your idea is, you need to convey your value proposition to users as thoroughly as possible.

That's precisely what I did when I created this collection page.
I created a collection by adding my favorite emojis, but I hope to enrich it with your notifications. If I made the group more significant than it is now, maybe there would emote in it that will never be used. But I made the collection useful and just as simple. I will enrich according to your wishes.

That's all for now.

See you.

Sours: https://www.eggradients.com/tool/discord-emojis
✧・゚:* Aesthetic Discord Servers ✨ Aesthetic Discord Emojis ✧・゚
make your server better or worse
LGBTQ+ Hearts
Lesbian | Gay | Bisexual
Trans | Gay/Queer | Pansexual
Asexual | Aromantic | Nonbinary
please rb if saving :)
requests are open in the comments
SO UM everyone knows the fuckboy emoji right. well I remastered it in the discord emoji style
for all your discord fuckboy emoji purposes. enjoy
chainsaw emoji i made for my server for u folks. i used a transparent free chainsaw icon thing to help me out with it so guess its not entirely custom and i'm only taking credit for knowing how to colour, but it's something until some cooler person wants to make one.
I DID IT. LIMP WRIST EMOJI. feel free to use anywhere, credits appreciated but not necessary :)
anime glasses push for all your friend destroying needs, anon!
Sours: https://discord-emoji.tumblr.com/
Emoji servers discord best
Discord emojis and emotes - All you need to know + collection of the best Discord emojis and emotes‍
Find out all you need to know about them and a collection of the best Discord emojis and emotes. Spice up your Discord server!
Textual conversations can come across as cold and lacking any emotions. To tackle this, all chat apps have easily accessible emoticons, emojis, emotes and gifs. These do add a lot of meaning to the texts and lighten the mood.
Discord, with its amazing customizable experience is no less. Discord emojis, emotes and gifs are very easy to use and customize, and go a long way to make your server more fun. Depending on the membership you have, Discord lets you customize your experience more. But how do you make the most out of it?
In this blog, we've given a complete overview of all you need to know about Discord emojis and emotes. Find out the ways you can use them, how to customize and add emojis and emotes to your server, and also the best ones to use.
Difference between emojis and emotes
To know the difference between emojis and emotes, let's take the example of this image:
The picture on the left is a regular emoji, which you can find in most chat apps. It is only an expression or an image depicting something. Consider showing a smile or your favorite food. This can at times be difficult to figure (no kidding, try this:🕳).
Emotes, though, are more detailed, you can think of them as stickers. Not only the expression, but even the word they're trying to say is often shown on the emote. In a way, these add even more life to the conversation. The term is most used when referring to emotes on Twitch. It's also confused with emoticons, which are letters, numbers and symbols (for example, :)).
Ways to use Discord emojis and emotes
1. Text-box
In the text-box, type a colon (:) and then start typing the name of the emoji you wish to add. The name of the emoji is also known as its alias. Discord will show a list of emojis with the letters in their name, and you can pick the one you want to go ahead with.
2. Emoji Picker
To the right of your text-box, you will be able to see a grayed out emoji picker. Click on this and select the emoji of your choice. You can search for the emoji using the search box.
3. Wumboji
When you send an emoji without any text in the message, the emoji appears to be bigger in size. This is a Wumboji and you can send up to 27 in a single message. More than 27 will diminish their size.
4. Unicode emojis
To get emojis in a smaller size, enter a backslash (\) before the emoji. You can pick an emoji either by using the Emoji Picker or typing it out.
5. Message reactions
To send an emoji as a reaction to a message, you can hover over the message and select an emoji using the emoji picker on it. You can also add a reaction to the latest message by typing '+' followed by the emoji.
Add Custom emojis and emotes to your Discord server
To be able to add emojis to the server, you need to be the owner/ admin or have the necessary permissions. Admins can allow users to add these by going to 'Server Settings' --> 'Roles' --> 'Default permissions'. Here, you'd need to toggle on 'Use External Emoji' and save.
To add a custom emoji,
To the left of the screen, right click on the server name. Go to 'Server Settings' --> 'Emoji'.
Click on 'Upload Emoji' and choose the file you wish to add.
Once done, the emoji and its alias (the file name on your system) will show up in the list. You can change the alias if you wish to.
Points to remember about custom emojis and emotes
Keep in mind these points when adding custom emojis/ emotes to your Discord server:
Emojis added to a server are usable only in that server unless you have Discord Nitro.
You can add up to 50 static and 50 animated emojis in a server.
Any member can use static emojis, but only Discord Nitro members can use animated emojis.
Emoji names/ alias' should have at least 2 characters. The names can only contain alphanumeric characters and underscores.
Emojis can be max 256kb in size.
On adding emojis to the server, they are resized to 32*32 px. When making these emojis, it's a good practise to keep them at a size of 128*128 px.
PNG images are better to make Discord emojis, although JPEG is also accepted. The advantage of PNG is that you can keep a transparent background. Use GIFs for animated emojis.
You can make a custom emoji using any good photo editing app. For example, using Photoshop, pick an image or think of a design. Now transfer this to a 128*128 canvas. If using an image, rasterize the image layer. Use the magic wand tool, select and delete the unwanted parts in the image. Now set the background layer's opacity to 0 and save the file as a PNG. You can also draw on a new layer and hide the background layer instead of using an image.

Best Discord Emojis and Emotes
Now that you know all about Discord emojis, it's time to check out some of the best ones out there. Use these in your servers to have a fun time.

Cute Discord emojis and emotes
Funny Discord emojis and emotes
Discord anime emotes
Discord animated emojis and emotes
FAQs:
Why can't I add emojis/ emotes to the server?
Adding emojis is possible only if you have the 'Use External emojis' permission. Only server admins can give this permission. Also check if your server already has over 50 static and dynamic emojis.
This gif is in my server, why can't I use it?
Only Discord Nitro subscribers can make use of gifs in a server. So if you don't have Nitro, even if the gif is in your server, you can't use it.
Why is the emoji/ emote showing as grey in the Emoji picker?
Emojis from a server are usable only in that server. If you try to access them in another server, they will show in grey in the Emoji picker. You can use these in servers other than the original only if you have Nitro.
How do I add an emoji to my nickname?
To add emojis to your nickname on the server, type in '/nick', press enter. Select an emoji by typing :emojiname: or from the picker and press Enter again.
How do I add an emoji to the channel or server name?
To add an emoji to the channel name, right click and go to 'Edit Channel'. Copy an emoji from this link and paste it in the 'Channel name' text box and save. On Windows, you can also hold 'Wnidows Key' + '.' to enter an emoji. Similarly, you can go to 'Server Settings' --> 'Overview' to change the server's name.
I have some cool emotes on Twitch. Can I add them to Discord?
You can add your emotes from Twitch to Discord with ease. To do so, check out this guide.
Sours: https://www.remote.tools/remote-work/discord-emojis-emotes
✧・゚:* Aesthetic Discord Servers ✨ Aesthetic Discord Emojis ✧・゚
10 Cool Discord Emoji Servers to Check Out: The Ultimate List
Susan is a Discord bot developer by night and a programmer by day.
Looking for Discord Emoji Servers?
If you're on the lookout for some of the coolest Discord emoji servers, then look no further! In this guide, we're going to be taking a look at some of the best servers out there that provide super cool emotes.
If you want to make use of other custom emoji, rather than Discord's default set, then joining dedicated emoji servers can be a great way to discover new ideas and keep up in the channels about the latest ones that were added. We're going to be looking at a lot of various servers that provide different sets, so be sure to take a look and see if there are any which you'd be interested in taking a look at.
Let's get started!
1. Emoji.gg
This server is the official server for the Emoji.gg website which showcases an amazing variety of custom emoji for you to take a look at. If you join the server and have Nitro, of course, you'll then have access to their staggering array of emoji for you to make use of in your other servers. You can also make use of these in your direct message conversations too! They also have a very active community which you can take part in!
To get started, simply join the server, and then take a look at the wide range of emotes available by clicking on the emoji button in the message box and scrolling to the Emojis.gg category.
2. Cute and Aesthetic Emoji
If you're looking for cute and aesthetic emoji, then I'd recommend joining the Tomorrow server, which has an amazing range of super cute emoji. No matter whether you're looking for adorable emoji to express your thoughts or cute emotes to embellish a conversation, you're sure to find a great variety here.
They also have a very friendly community too, so if you're looking for a chill and fun server to join also, then I'd definitely recommend this server for sure!
3. Emote Central
Emote Central is a server which has a stunning selection of custom emotes for you to choose from. If you're on the search for some new emotes to try out, then I'd definitely recommend this one!
The server also has some super fun meme channels to take a look at, plus lots of GIFs too which make for great reactions that you can add in your conversations on other servers!
4. Emoji Server
This server provides a fantastic array of custom emoji for you to choose from, including lots of animated emoji too! I've found so many great emoji that are perfect for reactions and sending to friends. For instance, a lot of the most popular emotes are available here, including some of the most-used custom emoji.
With 200 emoji to make use of, there's a fantastic variety available here! I also love the great number of animated emoji available too, which is always a bonus!
Just a Heads Up!
To make use of custom emoji in other servers and in DMs, you'll need Discord Nitro for this. Unfortunately, it's not possible otherwise, so make sure to keep this in mind just in case you can't make use of custom emoji and were wondering why this was the case.
5. NitroMoji
NitroMoji is a server that provides an expanding collection of custom emoji, the list of which is updated daily. If you're on the lookout for the latest and newest emotes, then this server
Keep in mind that due to the emoji limit that some servers have, there are several servers available. The link above is to the third server, but make sure to check the first and second servers also (you can search for 'nitro emojis' on Disboard to find the others) if you want to check out their other range of emotes!
6. Nine Clouds
Nine Clouds is a chill and friendly community that is great if you want to hang out with others and also gain access to lots of ultra-cute emoji. They have a fantastic range of adorable emoji available, so if you're looking for some aesthetic ideas, this is definitely the server to join!
They also have an amazing range of aesthetic fonts too, so if you're looking for aesthetic font inspiration, then this server also provides that too! I really liked this idea, as it consolidates a lot of necessary items into one server, such as custom emoji as well as aesthetic fonts too.
7. Blue's Community
Blue's Community is a fun-packed server, with over 30 bots as well as more than 200 emotes for you to take a look at. This server is a great community overall, and it's fun to try out the bots too! You may also discover some cool bots you'd be interested in adding to your servers also.
They also have some Nitro giveaways too, and with the active community, I'd definitely recommend trying out this server!
10 Cool Discord Emoji Servers
| Server | Details |
| --- | --- |
| Emoji.gg | This server has an amazing array of custom emoji for you to take a look at, spanning a wide variety of categories. |
| Tomorrow | For cute and aesthetic emoji, I'd definitely recommend this server! They have a fun and chill community also! |
| Emote Central | This server has great meme channels, and a wide selection of custom emotes to choose from! |
| Emoji Server | A great range of animated and fun emotes are available in this server! |
| NitroMoji | Choose from over 200 custom emoji in this server, quite a selection I must say! |
| Nine Clouds | This server provides a cute selection of emotes and aesthetic fonts! |
| Blue's Community | There's a great selection of custom emotes here, plus lots of cool bots to try out too! |
| Animazing | For anime-themed emoji and a fun community, I'd definitely recommend joining the Animazing server! |
| Milk & Mocha Emotes | For adorable and super cute emoji featuring the Milk & Mocha characters, make sure to join this server. |
| Nitro Emojis | This server offers an expanding range of emoji, perfect for if you're looking for new emotes! |
8. Animazing
If you're looking for anime emotes, then I'd definitely recommend this server! With the wide range of anime emoji and emotes available, this server is a go-to for any anime fans out there who wish to include such emoji in their conversations in other servers or in direct messages with others.
A lot of animated emoji are available too, which is always fantastic if you want to add a fun dimension to your conversations.
The server is super aesthetic and is a chill place to hang out with others, so if you're looking to also join an active community, I'd definitely recommend this server!
9. Milk and Mocha Emotes
If you're looking for super cute Milk and Mocha emotes, then be sure to take a look at this server which contains an amazing range of adorable emoji!
These emoji are super wholesome and are just so adorable overall.
If you're a fan of aesthetic emoji or wish to add an aesthetic dimension to your conversations, why not include some Milk and Mocha emotes? They're super adorable and would be such a lovely addition to messages!
10. Nitro Emojis
Nitro Emojis is a server that provides over 200 custom emotes and emoji, so you'll have a fantastic selection to choose from here.
I've found the selection to be quite expansive, with a great variety of emoji overall. If you're on the lookout for some unique emoji, I'd definitely join this server and take a look if you're interested in finding out more!
Hopefully, You've Found Some Great Discord Emoji Servers!
Thanks very much for reading; I hope that you've found some super cool Discord emoji servers to take a look at! Do you have other servers to recommend? I'd love to hear about them in the comments below, as I'm always on the lookout for cool emoji servers!
If you'd like to discover more servers, such as gaming servers, I'd recommend this article I wrote on some of the coolest gaming servers too! Make sure to take a look if you're interested in joining servers for gaming or want to take part in gaming-related events on Discord.
Thanks again, and wishing you all the best in your Discord emoji search!
This content is accurate and true to the best of the author's knowledge and is not meant to substitute for formal and individualized advice from a qualified professional.
© 2021 Susan W
Sours: https://turbofuture.com
Now discussing:
.
71
72
73
74
75