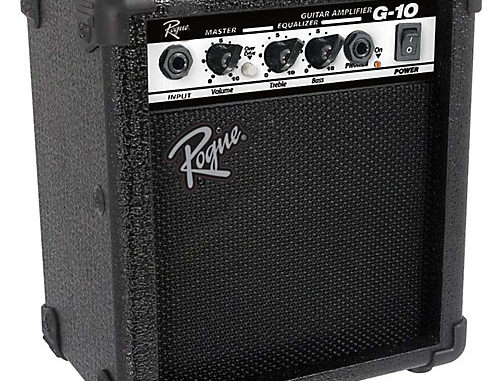 When it comes to a practice amp, you want to get an amp that sounds fairly decent and is the least expensive that you can purchase.
The G10 by Rogue is exactly that, it is very versatile for being so small and sounds great wether you crank it up or keep it at a low volume.
In this Article we'll go over the Pros & Cons of the G10 Rogue Combo Amp, and why it's a great option for the starter guitar player.
Table of Contents:
What makes this Amp different?

Who is this Amp good for?

What are the Specs?

Pros & Cons

Conclusion
What makes this Amp different?
The Rogue G10 is great as a starter amp with such a low price (I literally do not think it is possible to beat this) it's basically the best deal you can find out there.
It sounds incredible as well, the amp is definitely comparable to other amps that are twice the price with about the same sound quality. The only small starter amp that might have a slightly better tone are the small practice Fender amps, but this is up to personal preference. So the main difference between this amp and the other starter amps out there is a huge price cut.
The Rogue starter amp I've found is most of the time 50% less than it's name brand competitors, and still even less than other lesser known amp names.
The great thing about this, is that even though you would expect quality to be really shotty, you'll find when looking this up almost always positive reviews for the combo amp.
Pretty good deal, most of Rogues instruments and equipment are a bargain just like this.
Who is this Amp good for?
The G10 combo amp is good for any player who is either starting out or just needs a small practice amp to jam on.
When you're starting out, you might not know if you're going to pursue music for a long time or not, and so spending a lot of money learning isn't really the best option.
A lot of the kids I've taught to play guitar 0ver the years weren't into it for a long period of time, most liked playing for about a year before they became interested in something else.
I'll never forget one student though, every year or two he became interested again….and each time quit lessons after about two weeks, great student when he was interested.
If you feel like this may be you or maybe you're buying this amp for someone you know that is just starting out, I'd say this is 100% the best option out there.
After you outgrow this amp and want to get an amp that fits in more with your particular style of playing, this will still be a great amp for when you need to be quieter or just need to practice. So you'll always have a use for it.
If you're buying this just to have something fun to practice with, I definitely recommend getting this amp as well. It has surprisingly good tone when it is quiet (noise complaints are no fun) and is easy to carry with you just about anywhere.
Last but not least, one of the things I researched before buying this for my sister (who is just starting out playing guitar after playing Ukulele for years) is how well they stand the test of time.
I've had issues with two starter amps before, one blowing out completely and the other losing tone to where every note was barely distinguishable from the next.
Looking through the reviews on these, this amp seems to outdo a lot of the others. Many people have them for years and they're working perfectly. Awesome.
What are the Specs?
Headphone Jack
Master Volume
Overdrive to clean Switch
10 Watt power out
5″ Speaker
Power Consumption: 12 Watt
10″ Tall 8 1/2″ Wide
Pros & Cons
Most of the Pros & Cons of this amp have a lot to do with personal preference/what you need the amp for.
Pros:
The Amp is small and light so it is easily portable wherever you need it to go.
It's a combo amp so setup is as easy as turning it on and plugging your guitar in
At 10Watts you won't be waking up the neighbors with this, unless you live in an apt and crank it up
Quality is incredible at the price, same quality similar amps can cost you triple this in a guitar store
Perfect amp for a beginner
Perfect amp for practice
Headphone jack makes it even easier to be quiet when needed
Made by Rogue who has great reviews for their products
Very reliable, people don't normally experience issues
Manufacturer warranty in case of issues
Has a lot of different settings between overdrive and clean
Can be used for other instruments (Bass, electric violin, microphone, electric drum set, etc. as well)
Surprisingly clear tone on clean settings
Ridiculously affordable
Cons:
The tone is good on this model, but after playing awhile you'll want to graduate to another amp
At only 10Watts, this won't really be something you can jam with others with easily.
Not a lot of tone changes available on clean channels
Does not come with a cord to the instrument
Some people hear slight buzzing sound at full volume
Can only be used to practice with, not a good amp to record anything with or for any other uses
Conclusion:
So when it comes to the G10, if you're a beginner or just looking to practice by yourself this is definitely your best bet.
At 10 watts, it's basically the perfect size for jamming by yourself. For anyone looking for something to gig with, this wouldn't be your best option……and I wouldn't recommend this for anyone looking for a particular tone.
With the G10 what you see is what you get, it's a surprisingly good small amp that does the job it's supposed to. Well built to last, Rogue did a good job with this one.
When comparing it with other starter type combo amps, this is hands down the least expensive I could find.
Despite the price, the quality is still comparable with other starter amps. Some other comparable options are more than double the price (last checked September 2018).
All in all, a pretty good amp choice. No major flaws or many minor ones either.
Note: For those using this amp for purposes other than Guitar use, this amp will work with anything that has an input jack so microphones, drum sets, electric violins, electric ukuleles, etc.
Thank you so much for reading!!!! Please leave a comment below if there's anything you'd like to see added to this review or if you have any questions.
-Cameron
Sours: https://brokeandtalented.com/rogue-g10-amp-review
Rogue CG-50R Reviews
·More Rogue Reviews
· Reviews By Brand
·Guitar_Amplifiers Forum
·Contribute!
Hands-on review: ZVEX Effects Fuzz Probe
1 / 5based on 2 reviews
Bought this "Amp" for $129.99 from Musicians' Friend. Needed an amp for practice purposes; didn't realize what I'd gotten.

The clean channel is "OK"; can't really mess THAT up. The price initially, but, like they say, "You get what you pay for"...

The 2nd channel w/ distortion is weak. Weak distortion. Sounds more like the early fuzz tone ala the Kinks in the early 60s. When Dave Davies took a razor blade and cut the cone in the speaker to give a "fuzz tone" and recorded "You really got me" and "All day and all of the night". (History lesson I read somewhere from a rock n roll book on the beginnings of distortion). The eq: High Mid Low and Prescence, they ACTUALLY WORK. The reverb is weak. Don't know if it's digital or spring reverb; there is a small box unit in the cab, so maybe spring. But it's weak reverb sound. 12" speaker sucks; it's 4 ohm, and should be 8. All around crappy sounding amp. I'll sell it, and hopefully get $50 for it.

The cab looks to be made of weak ass particle board. If I kick it, it might crumble. I mean, any kid in wood shop class could make a cab of better construction. This is horrible; even for the price, one should expect something a little better.


DO NOT, I repeat, DO NOT BUY THIS HUNK OF SHIT!!!! Weak distortion, reverb, and construction. Don't say, "Oh, this is all I can afford". Save your money, until you can make a purchase that you can be proud of. Seriously. IT ISN'T WORTH IT. Buy a Crate, a Peavey, whatever, at least they are made better and come with a warranty!!!
Jiverrated this unit

on 2003-05-11.
Bought from Musician's Friend online, $119.00. I had hoped it could be a backup amp for my small club gig, just in case my workhorse goes out. 50 watts , 1X 12" speaker, open back cab.

The only thing good about this amp is the price.

Sound is very thin and brittle. 3-band tone controls do very little. The overdrive channel is just ... plain... 'fuzzy' and the sound has no "cohones". IF I could ignoring the poor sound quality, this amp is still nowhere near loud enough to do any gig - no matter how small. I wish I knew more about how amps can be rated - this one is rated at 50 watts, yet my Fender Super Champ (15 watts) is much louder. Considering the amazing price, I approached the Rogue amp with very low expectations. Even with the lowest of expectations I was still disappointed. Yes, even at a hundred twenty bucks, it's not worth it.

It seems physically rugged enough.


At best, only for beginners. I DO NOT recommend this amp at all.
Arbeerated this unit

on 2002-11-26.

More Rogue Guitar_AmplifiersRogue CG-50 Guitar Amplifier | Rogue Rogue Halfstack 100W Tubedrive Head | Rogue Tuberider 100w | Rogue Guitar Amplifier | Rogue CG-50R | Other Reviews & Articles Related to Guitar_Amplifiers
Sours: https://www.musicgearreview.com/reviews.php?man=Rogue&cat=Guitar_Amplifiers&mod=CG-50R
The Rogue G10 is a guitar combo amp aimed at meeting the needs of beginners at a very affordable price.
It's as straightforward as it gets with three knobs that let you adjust volume, treble and bass along with a button for engaging overdrive.
This amp is rated at 10 Watts, and comes with a 5" speaker, both of which fit inside a compact combo profile.
Features:
Power Rating: 10-Watts
Speaker Size: 5"
Effects: Overdrive
Controls: Volume, Treble, Bass
Inputs/Outputs: ¼", AUX-In, Headphone
Weight: 6.95 lbs
Dimensions (Height x Width x Depth): 10.2" x 9" x 6.1"
Pros
Given the price, owners of this amp are pleased with its overall performance. Note that most of the reviews are from beginners or their supportive parents, which means that it may not equally appeal to experienced players, but it is good enough for its intended market. Reliability and portability is also mentioned positively in reviews.
Cons
The controls and features of this amp are a bit limited, which can be good if you just want to plug in and play, or bad if you're looking for sonic versatility.
Overall
The Rogue G10 is one of the cheapest good quality combo amp that you can get, great for testing the waters of guitar playing.
Although this was previously on our recommended list, there are now more highly rated options available which you can see in our guide to Guitar Amps Under $100.
About the Author
Alexander Briones
He's written about and researched music gear for many years, while also serving as a music director at his local church, in addition to teaching guitar, bass and mentoring young musicians.
Sours: https://www.gearank.com/gear/rogue-g10
The 9 BEST Guitar Amplifiers of All Time
.
Amplifiers rogue guitar
.
4 Best Guitar Amplifiers Under $100 - Watch Before You Buy!
.
You will also be interested:
.
731
732
733
734
735