Jay Fisher - Fine Custom Knives
Combat, Military, and Professional Tactical Knives
I am committed to making completely and clearly the best knives in the world.
--Jay Fisher
More
---
When your life depends on it.
Welcome to the best page on Tactical Combat Knives In the World! Prepare to learn.
Primary edged weapons for close quarters battle, close quarters combat, combat search and rescue, or survival, evasion, resistance, and escape.
What you'll see here
I make the very best real combat and tactical knives in the world. How can I say that? It's simple. Read this page and you'll understand. Unlike other knife makers, manufacturers, or boutique shops, I directly consult the professional combat and tactical knife user, work with him, and design what is clearly a superior, complete, professional, dependable, and durable tactical knife. Unlike those others, I clearly, completely, and precisely describe, educate, define, and detail all of the facets of the combat and professional tactical knife on this page. No other text in the world exists like what you will read here. That is why it's copyrighted, recorded, and registered in the Library of Congress of the United States of America. It is my absolute commitment to make the very complete, and absolute best knives in the world.
There is no fluff and folly here; I make the real thing for real soldiers, rescue professionals, law enforcement professionals, and users who demand the best in dependable, serviceable, combat-ready primary edged weapons and tools. This page has topics, photographs, details, descriptions, and answers to the most asked questions about real tactical and combat knives.
Topics: I've made this page in tactical form, which means a problem and solution type procedure to an end. The specific definition of tactical is at this link on the Military and Tactical knife Portal. I use a question and answer format for the large topics, and then a simple problem and solution format for the individual points and topics in the middle of the page. In this frank and honest detailing of the limitations and outright failures of many knives touted as tactical grade, you will easily see the effort, work, labor and value of the handmade custom knife, and clearly understand what you are getting for your money and what you may be forfeiting for the sake of economy.
Photographs: I've inserted meaty and meaningful photographs of my tactical knives in all forms, and have included thumbnail boxes and links to featured knife pages where necessary so you can learn more about these knives. You'll see all types of tactical knives here, and some you might not expect to see. I've included some of the finer collector's versions so you can see what patterns I have available and what a finely made tactical knife looks like. You might think that some of these will never see combat, but you might be surprised to know that a good portion of the finer knives will, indeed, perform in the field. Do not discount the beautiful knife for usefulness and versatility, as the finish, materials, embellishment, and features you see do not limit the knife to a display case. Another reason I've included some of the finely finished pieces is so you can see what a knife pattern looks like completed and you can envision what your tactical version of the knife might look like in your mind's eye. I've also included a handful of some of my older and early works, so that you can see some of the more long-lived versions. I still revisit these patterns with newer tactical and combat knives as they are still great performers.
Details: The details in the text answers are my own, learned from my experience as a professional custom knife maker for decades. If details are available about the individual knives, you'll see those on the alternate photo text (available when you hover over the photo on most browsers) or on the dedicated page linked at the thumbnail photo label.
Descriptions: These can be general or specific. For instance, don't think that because a knife has a tanto blade, it's only suitable for CSAR work and is not useful for CQC or combat. Many of the knives cross fields and applications, and the description is only for that individual knife and not the pattern or design.
Answers: It is my hope that the answers to some of the problems and issues with modern handmade and factory knives are available on this page and the other pages of my web site, but if they are not, please do contact the maker or company of the knives you're interested in and ask them to communicate with you about the knives they sell.
Evolution: This page will continue to evolve, and it is my goal to make this the best Tactical, Combat, Rescue, and professional service duty knife page on the Internet.
Honor: I consider it a great honor to make real knives that are used in lifesaving, defense, and protection of the guys who put their life on the line every day. If you are one of those individuals reading this, please accept my thanks for your service.
"Jay Fisher is the best modern knife maker around, pursuing an ancient tradition but beautifully perfecting the craft by selecting the finest man-made and natural materials. Jay makes every type of edged steel weapon, fitting the blade to it's purpose. The world's elite clandestine rescue and tactical squads seek his weapons. Their lives depend on Jay Fisher Custom Knives- the best quality knives in the world."
--Bernardo M. Perez
Deputy Assistant Director-Ret.
FBI Laboratory
Washington, D.C.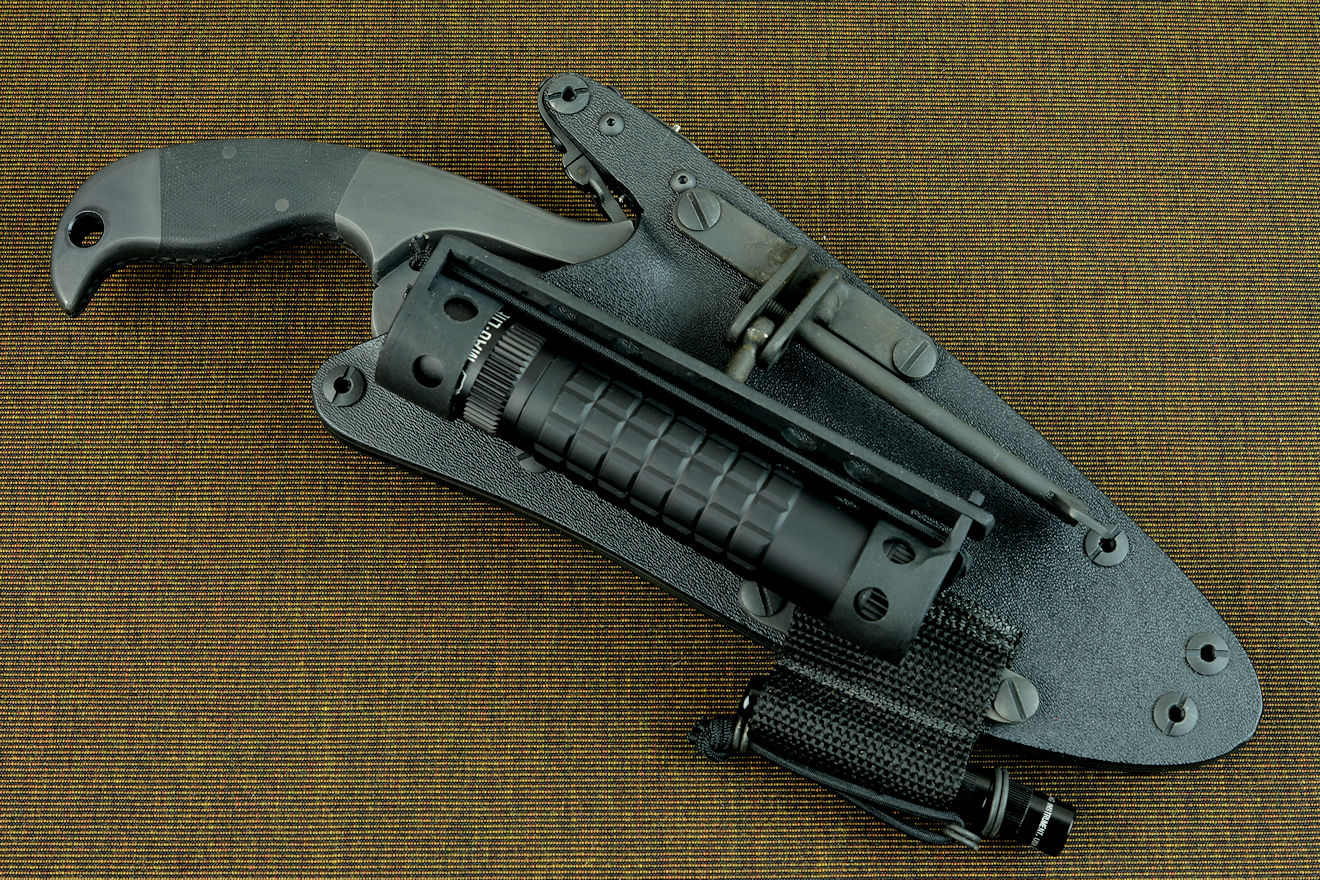 More about this counterterrorism knife: Chronos
---
Our nation's top military rescue service elite, United States Air Force Pararescuemen, "The PJs"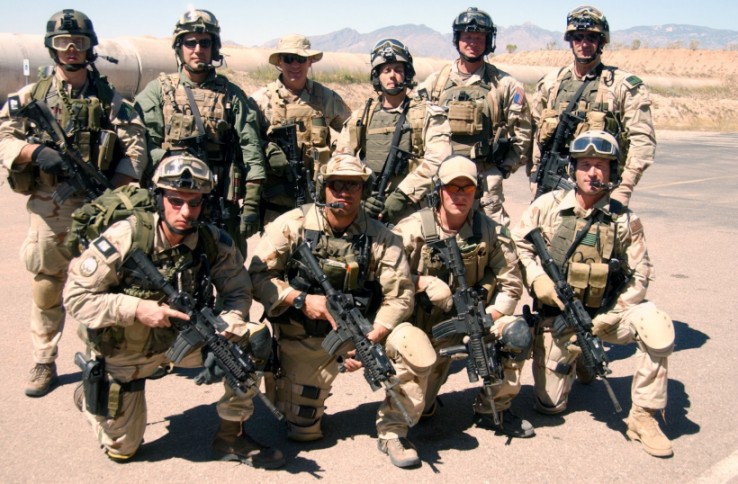 "My sheath held my knife in place at all times... On one mission when rappelling into a hot HLZ with a 70 lbs pack I went upside down and got drug when the Helo decided to split, my knife was there. Jay, I know of no other knife that you made that has seen so much action. From the first ever Jump mission conducted at the PJ School to the 2 OEF deployments 23 Combat missions in all; "not to forget multiple peace time missions". When my life depends on my knife why carry anything but the very best. Thanks for building the best for the best."
--SZ (Super) USAF Pararescue
---
---
---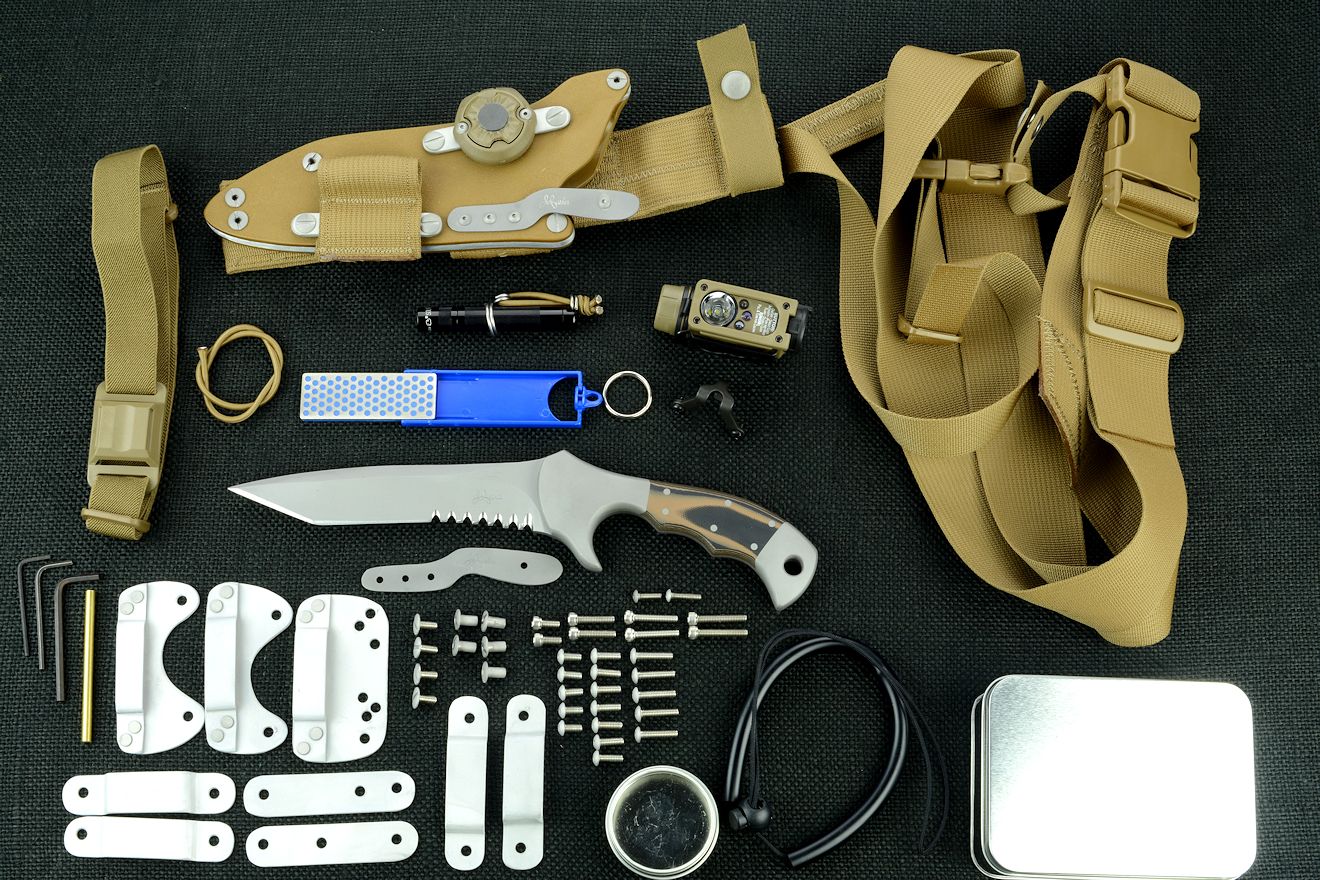 Moreabout this Uvhash Counterterrorism Knife
Jay,
Just walked in a few minutes ago ... knife was waiting for me when I arrived, and I must say at first glance it looked huge; however, once I took it out of the sheath it had that incredible feel that I have come to love with your knives. My PJLT Tac knife has been with me now on three different continents and it is now like and old friend. For my up coming deployment to OEF I wanted something with a little more bulk as well as something that I could carry in a survival/exfil mode...I must say this definitely looks and feels as if it has the perfect combination of length, weight, and balance to take on the most demanding tasks. I like the way you incorporated the webbing into this knife and it has the same secure locking mechanism that I have come to trust. After six months in OEF and another 60 days in Africa, I never once had the locking mechanism open while in motion. I carried it both upright and handle down on my vest and never once had a problem. I can't thank you enough Jay for your quick response and as in the past, having one of your blades close at hand is a very comforting feeling.
... I sing the praises of your knives at every opportunity and I only wish that every soldier, airman, sailor, marine, and civilian serving this great country of ours could have the opportunity to carry one of your knives where ever they might find themselves - most especially if that brings them into harm's way.
All the best Jay to you and yours and as always thank you very much.
--T. A.
---
Are these real combat, tactical, and rescue knives?
Short Answer: Yes.
Long Answer: There are many knives in the world: knives made to prepare food, knives made for utility cutting chores. There are knives made for work, for hunting, for camping, and knives made to cut the soil for farming. There are knives for butter, and knives for boxes. There are knives that cut thousands of miles of textiles, material, and plastics in industry, and there are knives that slice cellular samples for microscopy. There are also knives for rescue and tactical operations, counterterrorism, defense, and knives that are weapons.
Without getting deeply into the sociological and political aspects of knives as weapons, it is probably enough to say that it would be great to live in a word where knives are not used as weapons against humans, ever. We are essentially large bags of tissue, bone, and fluids, so the sharpened edge will always be a tool and sometimes a threat and there is no law, government, decree, or environment where we would be able to live without the simplest of knives.
As long as there is conflict, there will be knives. Knives are our first shaped tool (rock hammers non-withstanding), and consequently, our first weapon. Since they are a simple form, they will not be made safe, will not be disarmed, and will not be made ineffective in any way. There are efforts in some countries currently to remove knives from the populace, and at the very least remove the points from knife blades so they can not pierce. What will they then do with the screwdrivers, ice picks, metal scribes, skewers, long screws, and sharpened sticks? The ridiculous notion that knife safety can be legislated is the same as gun control. Since law abiding peoples will dutifully give up their defense, and criminals will not, the law abiding lambs will be ripe for slaughter. Thank God Almighty that our forefathers had the intelligence and foresight to allow our people the right to keep and bear arms. And knives as weapons are arms.
I do not recommend or promote any knife being used by a non-professional as a weapon. There are much more effective weapons for home and personal defense, and in our country (the USA) I support and encourage protection of the second amendment. Though there are some cases where combat and tactical knives may be carried and used with proper concealed carry certifications within legal jurisdictions, the knives I make for combat, tactical, and defense use are more typically made for professionals in the military, law enforcement, federal and state agencies, and rescue and survival specialists. These are real knives; most of them have been designed with the input of those who carry them in their service. It is an honor to make knives for men and women who put their lives on the line every day in the duty, protection, and support of others. Sometimes, this requires a knife for defensive use, for slicing, cutting, and thrusting engagements, and for a weapon of silence, close range, and limited collateral damage.
While there are many knives available on the Internet and in the world that claim to be tactical, few would stand up to the reality of combat knife engagement. On this page, I'll detail specific limitations, problems, and outright falsehoods about the tactical combat knife, the rescue knife, and the mass marketed so-called tactical knife. When you are finished reading this page, you will know more than most people in the world about knife combat and professional knives, and be able to easily distinguish a well-made weapon and tool from a mass-marketed manufactured novelty that claims to be a reliable adjunct.
The opinions and details given are my own, gleaned from over forty years of making real knives, many for soldiers, counter-terrorism units, rescue workers, police, federal agents, infantrymen, firefighters, and emergency response and survival specialists, as well as my own experience in these related fields. This life's work represents not only my own input, but also the experience of the pros who carry and use the knives every day in their work. Please think about that, and give these people the respect they deserve in our society, nation, and world.
The Critics
Most of what I write about are serious, blatant failings of knives. These are cheap practices, presented as valid values. These failings are common, massive, and corrosive to our industry, and frankly, there is no excuse for them. More
The subjects and topics on this page are blunt in their comparisons to and of other knives. While this is criticism, it comes from a professional. I receive criticism, too, but it is always from anonymous or low information sources, not the professionals who use my knives in their critical operations and missions.
Every successful business and endeavor has critics, and my professional knifemaking career is no exception. Clearly, what you will see on this page is not the average, normal, traditional, typical, or commonly accepted design, concept, and construction of a tactical knife. There are those who publically reject any deviation from their beliefs and practices in what they believe is a real combat, rescue, or professional tactical knife, and that is their prerogative, as this is a free country (the USA) and most people's comments are not restricted. I, too, have the right to say what I believe and to present in clear and concise language why I do what I do. The difference is that I have the experience of actually making what you see here, and my experience in knifemaking is over four decades long, and over 30 years as a full time professional knifemaker. This is my career, my profession, and my experience.
For most people who don't particularly like or accept my type of knife, they simply move on to find a maker or manufacturer who does appeal to them, and I encourage it, because, after all, knives are personal. However, there is a particular type of person who complains, grumbles, and then tries to curry favor with like-minded individuals that almost always post comments anonymously about my (and other's) works, as if they are or have some authority on the matter.
To this I have a clear statement: If you are not in the arena, with skin in the game, professionally, then your comments as critics from the cheap seats are ignored by those of us who are in the arena. If you are this type of person, you may be outraged by this comment, but this is the truth.
The people who are in the arena are the people who commission my works, design them, pay for them, and frequently ask for more. They are professionals, soldiers, Pararescuemen, SEAL Team members, rangers, Combat Rescue Officers, Counterterrorism Unit teams, police and SWAT Team members. They are people who benefit from my designs and see the value of them, or they wouldn't buy them, order more, and keep me in continual orders. They are who I make for, and they clearly let me know what they want, how they want it, how they plan to use it, and the distinctive advantages of the individual works I create. You can read some of their comments on my Letters, Emails and Testimonials page, and get a clear idea of what they think. It's also good to know that every single knife on this page is sold, in the hands of these great people, in use, appreciated, and depended upon.
It's humorous to read (usually on forums) the disguised, insinuated, and outright blatant lies that suggest my knives aren't used in combat. This is sad, because it demonstrates a lack of understanding, familiarity, and knowledge on the part of the person posting the comment. They aren't sure my knives are used in combat. I make all those Pararescue knives, but, after all, who knows if they're used? Have they even read anything on this website? How about this comment by Chief Master Sargent SZ above? I mean, really, 23 Combat Missions? Do they actually think I make this stuff up? These same complainers would be aghast to find out that I actually make knives for some of the top Counterterrorism Units in the world, and they can't even see those knives because they are not shown on this website. Someday, when I make this area of what I do public, what will they say then? That none of the knives are real? That they are carefully constructed in Photoshop? They'll have to think up something because, after all, this can't be real... right?
If you are one of these critics, and think that I just dream up knives, patterns, features, and executions of these in a vacuum, you are wrong. Like all of my knives, I listen to my professional clients to create for them the knives they request. If you are not one of them, frankly, you have no standing in the conversation. None. Sitting in the cheap seats where you have low information, no investment of blood, sweat, effort, or money while barking and complaining to others keeps you out of the arena, out of the game, and unimportant to the rest of us. This is reality. The critics will go on and on (anonymously, because that is what cowards do), yammering away way up in the stands, while the rest of us go on creating, living, and enjoying the successes gained by active and valid conversations, between patron and artist, between craftsman and client, between warrior and weapons maker.
I make knives for my clients, not for critics.
If you are a critic reading this and incensed and outraged, good for you, you have felt something. Now, apply that energy to offering what you think are valid and useful creations to people who are looking for them, and the very best of luck to you! Roll up your sleeves, get in the game, and spill some blood while putting your own future and your family's future on the line. If you are too afraid to do that, then you understand how fear can keep you paralyzed. They can put on your gravestone, "Dead, but not used up yet." That last comment thanks to Earl Nightingale. This one too, should help, "You become what you think about."
"You know, I never believed in decorous weapons until I met Jay Fisher. Where does one draw the line between a fighting knife and a work of art?
Jay Fisher is a throwback to the age when craftsmen were *all* artists, not mere producers of products, when every item that went out the door had a story and a purpose all its own, and when you went to a craftsman not because of what you wanted but because of who he was.
Jay is a guy who knows how to use the modern to serve the past. We really do make better steel today than we did a hundred years ago - the idea of cutting an ancient Samurai sword in two with a modern American knife does have its attractions - and the blend of old and new in his work is totally seamless. A knight Templar would not have hesitated a moment to take Fisher's steel on his Holy Quest. In fact, he would have thought the technological edge a gift from an especially attentive God.
I suppose that says it all. Jay Fisher is one of a kind, a man who knows the riddle of steel, and that the difference between a good weapon and a bad one is the combination of how you make it and to whom you give it."
--Worldwide best selling military historian and author Tom Clancy
---
Topics
Top of Page
Designed with input from and made for a Israeli YAMAM counterterrorism Unit: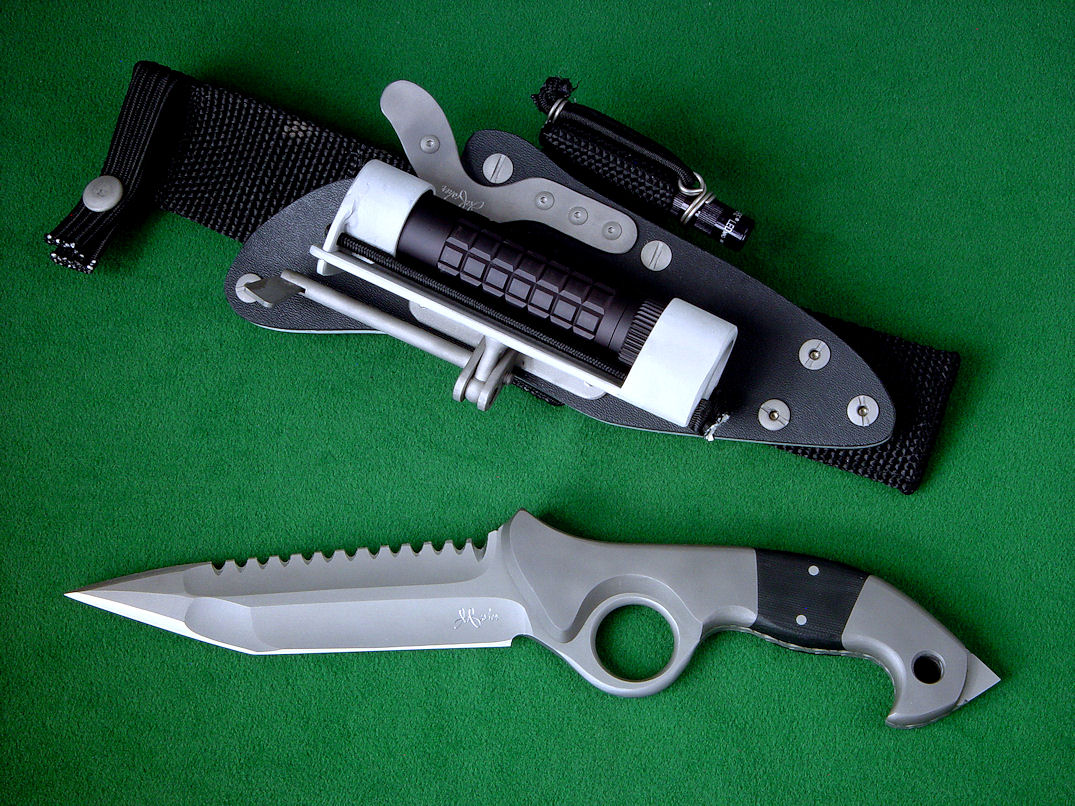 More about this "Ari B'Lilah"
---
---
What is a Primary Edged Weapon?
You'll read a lot about Primary Edged Weapons (PEWs) on this page and other linked pages on this site that discuss combat tactical knives that I (and others) make. It helps to remember that this is what a combat knife is: a Primary Edged Weapon. A folding knife with pliers is not a PEW, nor is a hunting knife with a dropped point. No folding knife can ever be a PEW (more on that below), and what most companies sell for tactical knives would make lousy PEWs.
When everything goes to hell, go to your PEW and pray. But you'd better have a Primary Edged Weapon you can depend on, not some thick, painted, half-ground, blocky spade of a knife blade and a lousy weak, screw mounted handle with a flimsy nylon sheath. More details about real PEWs on this very page; read on, brother, these are things you need to know!
When everything goes to hell, go to your PEW and pray.
Topics
Top of Page
Hello Jay –
I cannot add to what compliments already appear on your website– therefore I am parroting……….
You have the best artist's/craftsman's website compared to all I have seen in my many years and your writing is superb.
I am 67, a dual citizen, and at one time posted to the 18th Airborne Corps at Ft. Bragg back in the 60's and 70's, so I know how pleased ANY soldier would be to carry and trust your final pieces.
Very fine, very fine.
All the best to you.
--Bryce O.
Edmonton, Alberta
---
---
What are professional combat and tactical knives?
Short answer: They are stronger, tougher, and more durable than other knives with more secure handles, robust sheaths, and reliable, extensive, and multiple stout wear options.
Long answer: I hope and pray that you'll never have to use a knife in the field of combat, other than for cutting some cord or opening a can. What I'm hearing from my military clients though, is quite a different story. The unspeakable actually does happen. Knives are used in combat.
If you've never needed a knife in combat, then hoo ya; may God shine his mercies upon you. If you are a military or service professional, you deserve some straight talk, so I'm not going to sugar coat it here. When the enemy jumps you in a back alley in Kandahar, or leaps for your firearm in a tight room, or a cargo line snares your foot on its way out of an aircraft that is not on the ground, you need a knife that you can get to quickly and easily, one that will cut what you need to cut, one that will pierce through seven layers of clothing that the enemy wears to protect himself to deliver a decisive and fatal wound. If you're pulling out your knife in combat, things have already gone to hell and your shank of steel better be up to the task of saving your life.
Combat knives (Primary Edged Weapons) are used for a variety of purposes, including disabling or killing your enemy. Rescue and survival knives are also made for a wide range of uses including severing or sawing tough materials, piercing, and withstanding marine and even arctic exposures. So how are my combat or Close Quarters Battle (CQB) or Close Quarters Combat (CQC) knives different? How are my rescue knives different or better made than what you will find in a hardware store, knife shop in a shopping mall, or on the vast brochure-based offerings of this very Internet?
They're extremely strong, very sharp and capable of being re-sharpened; they are durable and solid. They're balanced and designed to deliver great force at the point and cutting edge, and may be used in multiple grip styles. They're designed to pierce, stab, slice and chop while protecting the user's hands. They may have serrations for ripping, sawing, or tearing tough materials and hardwoods. The handles are made to be stout, strong, and rigid, and be gripped with certainty with bedded materials of high durability. The knives often have stout, thick rear bolsters for strength and rigidity in a reverse blow, and heavy, multi-pinned front bolsters to strengthen the handle-to-blade junction and guard the user's hand. The materials are corrosion-resistant and properly hardened and tempered for the alloy composition and blade geometry. The surfaces are never hidden with coatings or paints. The sheaths are made as tough as any military gear, with metal frames, bolted together, and are quite frankly, the best made military grade knife sheaths in the world. The accessories are far-reaching and variable, interfacing with multiple missions and tactical gear.
For decades, my goal and experience is and has been to work with clients to design and make the finest military grade combat, tactical, and rescue knives and sheaths available. Many of the knives you see here have been created with the direct input from the military, tactical, or rescue professional.
What you will see on these pages are the real thing.
Topics
Top of Page
Any serious knife combatant or collector who hasn't experienced Jay's quality really doesn't know how good a knife can be. It's beyond precision, the finest materials, or even art. Jay has a quality that is unique in the world: a sense for perfection in application, as well as beauty. When you feel the balance, you'll never want to go back to any other, but when you see the look, you'll want to put it in a jewel case! What a great conundrum.
--Tom and Joe, your Blade Combat team.
---
---
What's wrong with factory knives sold for combat?
Short Answer: Most of them are junk.
Long Answer: Don't trust your life, your squad's life, or your charge's life to a piece of junk.
There are a lot of decent professional knife makers out there; I encourage you to look around and perform a serious comparison of them. Most successful makers will offer great details, descriptions, photographs, and testimonials about the knives they make and should offer serious comparisons with factory or boutique shop knives. Please don't settle for a cheap factory knife when it comes to buying a weapon or tool that may be the instrument that saves your life or your charge's life.
Knives touted and sold as tactical knives or combat knives by knife factories, boutique shops, and importers is a huge business, netting over a billion dollars a year. The market is directed somewhat toward military and professional knife users, but mostly toward civilian knife buyers that just want a tactical-looking knife. One would think that because of this extremely large market, there would be vast, credible information on these types of knives, there would be a quality product at every outlet, and the competition would hone the quality to a high degree. Unfortunately, this is not so. Most of the knives sold as tactical, for combat or professional use by factories (and some knife makers) are simply junk.
A screwdriver or ice pick can easily be shoved through a car door, but you wouldn't carry either one into combat.
Factories, manufacturers, and boutique shops are in the business of making the most money for the lowest cost of product and labor they can, pure and simple. This fact limits any knife you buy produced in just about any factory, large or small. Some knifemakers have gone the factory route, and started their own small factories, and these are called boutique shops, pre-production facilities, or semi-production shops in this field. They, too, fall to the demands of bean counting, profit margins, and lowering their quality at the benefit of selling more volume. Factories cut corners, buy cheap materials, get cheap labor often from foreign countries, pay their workers less than they deserve, or they wouldn't make any profit.
Guys like me are working for profit also, but we're not getting rich like the big factory and boutique shop owners are because we don't deal in volume, we focus on quality. Factories are limited by their process, and artists are limited by their vision. On this page, I'll detail point by point why fine handmade custom tactical, combat, and professional knives are worth the investment of your hard-earned money. You will learn more from this page than any other source you can find about what comprises the very best professional tactical combat knives.
My words might seem strict, and they represent my opinion and you deserve to know where that comes from. My opinions are derived from my own experience as a professional knife maker, directly making and selling combat and tactical knives to military and professional service knife users for decades. This is my only business; it is my full time profession; it is how I derive all of my income, and has been since 1988. I've been making knives for about 40 years, and I've seen a lot of knives in that time. The truth is that I've made more knives than the average man has seen in his lifetime: thousands. I'm not boasting; it's just a fact of life in this tradecraft, profession, and art.
Along the way I've seen lots and lots of bad knives. I've had exposure to literally thousands of professional knife users, and they run a wide range of types: Infantry, Pararescuemen, Counterterrorism Units, Special Ops, Marines, SEAL Team members, SERE Specialists, Pilots, Policemen, SWAT Team Members, MERGE Units, Emergency Response Teams, Disaster Response Teams, Federal Officers, Sheriffs, Principal Security Details, and DEA agents. I have been very lucky to have the benefit of a tremendous amount of input from them, and the experience of making hundreds and hundreds of combat, tactical, and rescue knives. Those knives are used in the active duty field of combat and rescue, and I use the feedback from these professional clients to tune in and refine my work on all my knives.
There is a lot of hyperbole on the internet. Forums about knives, tactical usage of knives, and knife-related subjects are heavily slanted towards factory knives, and this is due to several reasons. As much as we'd all like to believe that we're independent thinkers, we are subject to the same advertising onslaught from knife companies and purveyors as the next guy, and we're influenced by words, presentation, associations, and appearance. Advertising campaigns work, and a great deal of the knife industry's dollar is spent on advertising. We are influenced into buying a particular knife, just as we are influenced to purchase a particular soap, automobile, or toilet paper. Most people do not research the knife they buy with a discriminating eye, they are simply sold by the hype.
Another reason the slant in internet discussions about knives is heavily weighted toward factory knives is that factory knives are common, accessible, and cheap to buy. So everyone can have access to them. I compare many of these discussions about factory knives to boys laying out their glassy marbles in the sun, evaluating them, admiring their appearance, and discounting or diminishing the marbles of other boys. Like marbles, among factory knives, there aren't enough features or quality to make any clear distinction of performance or value. And since most of these knives will only encounter some stubborn tape on a shipping box, it doesn't really matter which factory knife you choose.
For professionals, though, men and women that actually use a tactical knife in the field of combat, rescue, searches, or defense, there are options. These professionals will sooner or later educate themselves, and realize that an inferior tool can be a crippling sore, rather than a useful, reliable adjunct. It is to those pros that I write, so you can benefit from the hundreds of professionals that went before you, and helped me solidify my tradecraft of making fine custom tactical knives. Please think hard about the knife you want to carry into combat, the knife you are going to trust your life, your squad's life, your victim's life to.
In the next sections are some concrete distinctions between so-called tactical knives and Primary Edged Weapons you can see for yourself. The sections are broken down into their components. You can easily follow the outline by referring to the Topics link at the end of each section. The Topics box near the top of the page lists each section by subject. Please enjoy my effort to clear up some of the misconceptions about knives in general, tactical combat knives in particular, and thanks for letting me share my experience, knowledge, and knives!
Topics
Top of Page
Jay,
Just wanted to drop you a quick line. I picked up the knife from fed ex last night and everything is there. Your work is superb! This thing is very light and fast in the hand I cant wait to get it into action. Some people think I am crazy for spending so much on a blade, but in the end knives are worth every penny! Especially if you carry one as your back up weapon and your primary cutting tool into an environment where it must work. Thanks again for your superb work again! Great job!
Vic, US Navy
---
Tactical, Combat Knife Blades
Blades: Issues and Worthwhile Solutions
With most knives, the word "tactical" defines a pop style.
In real combat knives, the word "tactical" means an ordered procedure to an end.
Real tactical knives are not about looks; they are about results.
When I started this section, I thought it would be a quick and simple grouping of issues with solutions, and would only take a bit of detailing. But as I wrote, I realized that there are many differences between a well made knife suitable for combat, tactical operations, rescue, and professional use, and the type of knife that is frequently sold to appear tactical in style only. The hype and advertising that is prevalent with the tactically styled knife is sometimes shameful, and I realized there was a need for a guy like me who makes knives for real tactical users to share what he has learned doing so over the last 40 years. So I continued to write, add topics, and detail them to make a straightforward comparison, without any hype or fluff about how a knife is styled, but pertinent facts about how knives are used, carried, and what makes the well-made knife worth the money.
Like other areas on this site, I'm sure to get some email over the comments. 99% of the senders will be positive and thankful for my efforts, and 1% will disagree. That's okay. We live in a free country, and I'm entitled to share what I know. I would be remiss if I didn't elaborate, and only gave out meager generalities about why I make knives the way I do, but weak and vague suggestions will be all you'll see on most other sites that sell this kind of knife.
Thank you for spending the time you are reading this. As promised, by the time you finish reading the content and examining the photographs on this page, I'm certain you will know more than the average man about real tactical and combat knives.
Topics
Top of Page
Jay,
...I opened the box and went for the knife immediately.
AHHHHHH!  Just freakin' perfect size for me and my particular needs. The sheath needs a better call-out than 'Wow! Nice!' but that will have to come later in a follow-up.
Fits my hand like it was crafted just for me. Balance is perfect. A couple of careful swipes towards some of the packing paper, and more Joy!  The proprioception and kinesthesia feedback was Just! Freakin'! Perfect!
That not-so-little item was a lottery. I am astounded that the fit is so good. I didn't expect it, but I'm so happy with the fit I could just do a Snoopy Happy Dance. That great big slug of serendipity will save me many hours of work. Dialing in a new handheld impact weapon isn't like the Aegean stables, but it's not nothing, either.
Thank you so very much, sir! This is a magnificent knife!
With my most sincere thanks, and deep regards,
R. N.
---
Hey Jay,
Long time no talk. I thought it was long overdue to give you some feedback on the Anzu knife you were kind enough to sell me 7-8 months ago.
First off, wow. What an unbelievable weapon. From its razor's edge to the perfectly formed handle, it's the most impressive and useful tool I have ever bought...because before the Anzu I didn't even know what a real combat knife was. But now I can guarantee, it will be on my gear anytime I go overseas.
Second, I got some serious use out of it in the field just recently and that edge just keeps on cutting. It's still as keen as the day I unopened it. Every time I take it out of its sheath, there are always a few who look at it and ask where in the hell I got a knife like that. Actually seeing the difference between a real combat knife and those bendy POS knives from cold steel puts it into perspective.
Anyway, I am extremely happy with the knife and I apologize for not writing sooner. Take care Jay, and the best to you and yours.
Respectfully,
-Chris
P.S. I will be contacting you in the near future with a custom knife order if you are accepting them right now.
---
---
A Primary Edged Weapon is not an axe, machete, or spade.
---
Tactical, Combat Knife Blades
Blade Thickness
Problem: The blades on most factory tactical knives and many handmade knives are too thick at the cutting edge. This is because it costs a lot of money and requires skilled hand-grinding to produce a thin blade at the cutting edge. Sure, a thick-edged blade with a point can be used as a weapon (just as a screwdriver can be), but after two to three sharpenings the cutting edge has the thick geometry of a cold chisel. If you have a knife like this, you know exactly what I'm talking about. You may not see a thick grind on the picture; you might not even notice it when you hold the knife at a store or outlet. You will notice it when you try to stone up a keen edge in the field, and you work, and work, and work, to no avail. Why do factories, shops, and manufacturers do this? It's because it's cheaper to make a thick knife than a thin, properly ground edge, and by the time you need to sharpen the knife, the factory hopes you'll just buy another knife.
Solution: Finely made handmade custom knives are ground thin and even at the cutting edge, based on the required need of the knife user, the purpose of the knife, the steel type, the temper chosen for the blade, and the geometry of the knife in profile balanced with the cross- sectional thickness. Read more about blade geometry on my Blades page.
Topics
Top of Page
---
Tactical, Combat Knife Blades
Blade Grind Geometry and Sharpenability
Problem: The blade grinds on inferior knives are flat, convex, too shallow, or too deep. These distinctions are very important because they set the weight, mass, balance, and most importantly, the longevity of the knife.
Flat and Convex Grinds: While it's tempting to call a flat grind or convex grind bevel a sturdier grind due to the thickness behind the cutting edge, it is an immensely impractical grind for a knife that is to be used for cutting or slicing year after year, and maintain the correct geometry for sharpenability. Sharpenability is a seldom discussed factor of knives, yet it is the most important service that the knife owner will perform himself. The straight wedge of a flat grind prohibits sharpening at the same angles as the knife is initially furnished with without regrinding the entire bevel on both sides of the blade. This is not in the scope, skill set, or machinery requirements of the knife user. A convex grind is even worse, as many of these grinds are polish-finished by machine initially, and that process and technique simply can not be duplicated in the field. Therefore, both of these types of grinds are unserviceable in the field. They may be sharp when you purchase them, but they will eventually dull, and you will have to sharpen them. Read more about blade grind geometry with illustrations and comparisons at this link on the Blades page.
Grind Depth: Underground or Overground: Another failing is an underground (shallow) grind. It doesn't matter how this grind is made, hollow, convex, or flat; if it doesn't extend beyond the midline of the knife axis, it is too shallow. I discuss this subject in great depth with illustrations on my Blades page at this bookmark. It's worth looking at, because you will clearly see the distinctions between a severely underground knife, a severely overground knife, and a normal knife or a knife that deserves as strong spine (all combat and tactical knives do). With an underground knife blade, the knife will never be as sharp as when you first purchased it unless you get a knife maker to regrind it for you. The reason factories and makers sell knives like this is because of economy, speed, and lack of skill. It's fast, cheap and easy to do a tiny grind on the knife and quickly get it out the door. I've also, sadly, seen severely overground knife blades offered for sale for combat use by well-known makers, and this is a horrible error. Since combat knives must have a substantial and supportive spine, overgrinding a combat knife will yield a weak, unbalanced, and overly thin blade that will eventually break (or bend) at the grind lead-off. This would be like you going into battle without your spine!
Solution: A knife that is designed to cut, slice, and pierce must be thin enough at the cutting edge to be sharp, and must remain thin as the knife is repeatedly sharpened and the metal worn away. This means that the grind must be thin, and the thinnest, most serviceable knife grind is the hollow grind. When properly ground with the right steel, the correct geometry, and the proper hardness and temper, a stable, strong geometry is established all along the cutting edge throughout the life of the knife. This does not mean that the knife is overly thin with a weak edge and grind area. A good balance must be maintained between strength of the blade and thinness of the grind.
Topics
Top of Page
Jay,
This is Jared Lay; my family has bought several knives from you. I bought my brother, Jeremiah Lay, a PJLT Shank knife for him when he graduated the fire academy. Well, long story short, my brother uses the knife all the time and just had it with him in the Philippines, after the destruction. He went into some areas for rescue that were the first rescue people in. Just wanted you to know we love the knives you have made and that they are doing great work across the world.
--Jared Lay
---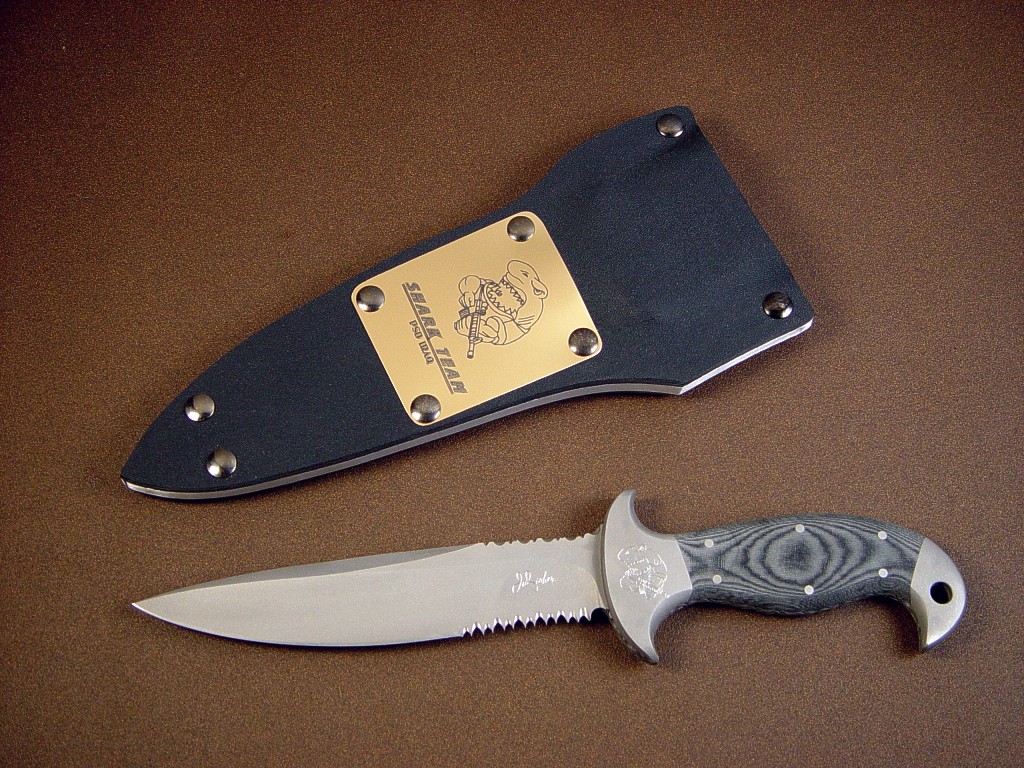 More about this knife: Macha
---
Tactical, Combat Knife Blades
Sharp Enough or Razor Sharp?
Problem: Most factory and many handmade knives are not sharp, and can not be made sharp. This is related to the previous topic. If the blade is too thick at the cutting edge, it can not be sharpened at a low angle. The lower the angle on the stone, the sharper the blade. Most knives are not sharp, and many people have never even experienced a sharp knife blade. Though they may shave with a sharp blade, they seldom think that their knife not only could be, but also should be as sharp as that razor.
Solution: All knives, and especially tactical combat knives should be as sharp as a brand new razor. They should be as sharp as a fresh box cutter blade, as sharp as any fillet knife, as sharp as the thinnest, most keen and smooth sushi knife. A truly sharp knife is not only a pleasure to use in all cutting tasks, it is absolutely essential for the tactical combat primary edged weapon. The key word here is edged. Otherwise, you might as well go into battle carrying a shovel or screwdriver. That edge should slick-slice through a single sheet of newspaper with just the weight of the blade. It should be so sharp that you wince if you touch it with your thumb. It should be sharp enough to slice through layers of cotton and deliver a cut without the application of immense pressure.
To give you an idea of how sharp finely made knives are, I'll give you a simple personal example. When I finish a knife, the last thing I do is sharpen the blade. This is the most important part of the entire knifemaking process. After sharpening, I rinse in clear water to remove any grit, and then apply a very light coat of wax on mirror polished blades, or light oil on media blasted blades. When I wipe them down with an old tee shirt, it is common that just the act of wiping slices through several layers of the cloth and keenly into my thumb or fingers, without me even knowing until I see blood. I've had slices of skin shaved completely off with these knives, so smooth that I don't discover them until I wash with soap and water. These knives, like all fine knives are scary-sharp, and handling them is not casual or relaxed, but becomes like handling a loaded firearm. You become aware of where they are pointed, what they may contact, and very careful in your steps and movement. You don't want to trip, stumble, or bump into something that could move that edge in the wrong direction because you know that whatever the knife touches, it will cut. This is how sharp your combat knife should be.
If you carry a knife in combat, you should know that your knife is this sharp, you should be confident that it can be sharpened this sharp, and you should be able to maintain this sharp of a cutting edge. To do this, you must:
have a knife that has the correct geometry for sharpening
have a knife that is correctly hardened to maintain the edge as long as possible
have a knife that is made of highly wear-resistant steel to withstand cutting abrasion
have a knife that is tough enough to prevent chipping of the cutting edge
have a knife with significant corrosion resistance to withstand the elements
have a knife that is initially supplied with an extremely sharp cutting edge
have a substantially effective, tough, and durable sheath to protect you from the edge
be able to sharpen and maintain the cutting edge
In all but the last bulleted point above, it is the knife maker who establishes the factors that will allow you to own, carry, and effectively use your tactical combat and CSAR knife. For the last point, there is the best resource on the cutting edge made, written by a man who had 45 years maintaining cutting edges for industry. It's called the Razor Edge Book of Sharpening. Read more about sharpening on by Blades page.
Topics
Top of Page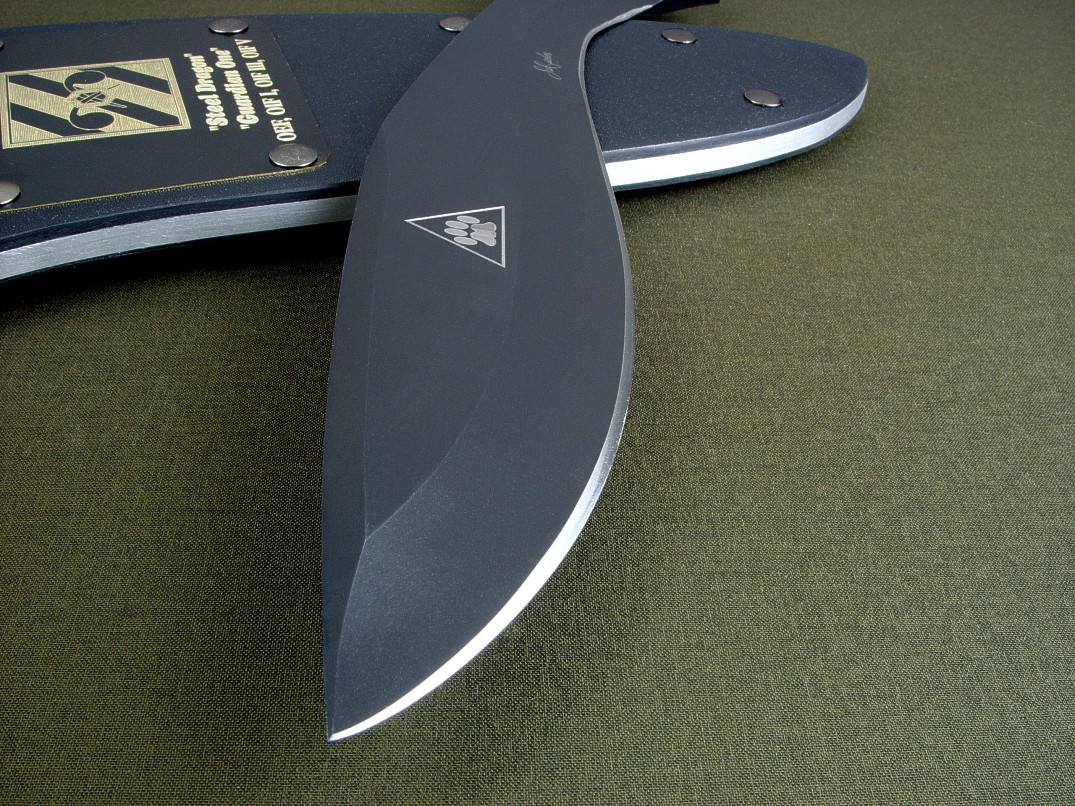 Moreabout this Phlegra
---
Tactical, Combat Knife Blades
Thick Grinds and Durability
Problem: A thick grind is mistakenly referred to as being more durable, but the durability of a knife blade is only partly the factor of the thickness behind the cutting edge. It is the materials, the geometry of the grind, the skill of the maker, and the hardening and tempering process that determines the durability of the blade at the cutting edge. I've read where guys who make knives that have convex, flat, or thick grind bevels claim that their knives are more durable than a hollow ground knife. This may be the case if the knife is used to chop down a tree, but what kind of combat knife is that? If you are a tactical combat knife user, it is unlikely that you are felling trees with your weapon. Remember, the knives I make for combat are Primary Edged Weapons, not axes, machetes, or spades. You wouldn't use your firearm to fell a tree, so why would you expect a Primary Edged Weapon to build your shelter? If the axiom that thicker is better were true, you'd see guys carrying hatchets, shovels, axes, and log splitting wedges into battle. Try shoving those through seven layers of heavy clothing or using them to cleanly and quickly slice a tendon with smooth and effortless accuracy.
Solution: The grind geometry of the knife blade must be suited to it's purpose, not simply left to manufacturing economy. This means a careful balance of the steel type, hardness and temper, intended use of the knife, size of the blade, blade shape, blade thickness, weight, and balance of the blade to knife handle. This is a lot to consider when the knife grind is left to CNC machines or unskilled labor's hands. The best solution is to employ a maker with the skill, practice, and track record of good blades in the knife building process. Read more about blade geometry on my Blades page.
Topics
Top of Page
---
Tactical, Combat Knife Blades
Proper Hardening and Tempering
Problem: The blade steels on factory knives and some handmade knives may not be properly hardened and tempered. This fault is harder for the knife owner to determine. You might have the edge roll over while cutting something hard, the edge might seem to dull far too often when you've only done mild cutting. The knife might actually bend. With a factory knife, unless you have access to a Rockwell penetration tester, you have no way of knowing what the hardness is, and many factories won't even tell you. Perhaps because the blades are farmed out overseas (often in Pakistan, India, and China) and the factories don't even know. Years ago, a group of Pararescuemen brought me some factory knives they had been given. They were neat looking folding knives from a well known American knife company. The guys didn't expect these knives to actually be PEWs, but hoped to use them for simple cutting chores in their CSAR operations. Their complaint was that these tactical-looking knives suffered continuous edge roll. If you know about knives, edge rolling should never occur on any knife, so I offered to test the blades on my hardness testing equipment. Imagine my surprise when I learned they were only 35HRC when they should have been 58HRC to 61HRC. This is not a slight discrepancy, this is a major blunder, as the knives had obviously never been heat treated! Any cheap drill bit could be drilled right through the blade. This is a huge factory that makes thousands of knives a year, but evidently has poor quality assurance. The guys tossed the knives in the trash can on their way out.
Solution: I've seen this a lot, and there is no solution except to get a better knife. You might insist that you are told what the hardness of the blade is before it's purchased, but this information should already have been given, and if it is not, don't buy the knife. Get an overview about hardness and temper on my on my Blades page. For even more detail, take some time and learn about Heat Treating and Cryogenic Processing of Knife Blade Steels.
Topics
Top of Page
---
---
Tactical, Combat Knife Blades
Differential Hardening and Tempering
Problem: Some knives offered and supposedly dedicated to combat are differentially hardened or differentially tempered. The makers are proud to exhibit their temper lines, or hamon. This should be an immediate red flag, and here's why: The very best modern high alloy tool steels do not need, and do not benefit from variable hardness and temper, as they are hard, wear resistant, and tough, through and through. A differential temper is applied to a knife blade steel that can not be both hard and tough, and by very definition is an inferior low alloy steel. Typically seen is a plain carbon steel that is hand-forged (1025, 1095, 5160, and others); these steels do not have the benefits of high alloy content, such as high chromium, molybdenum, vanadium, or tungsten. These include ALL HAND-FORGED BLADES! None of the high alloy steels can be hand-forged, so it's an easy distinction. I've even seen a high alloy cold work tool steel (O1) that was differentially tempered, and this should not be done, as O1 is capable of very high wear resistance without this treatment which can introduce variations and unpredictability in the makeup of the steel, not to mention brittleness at the edge. The maker who does this claims a highly flexible blade with a very hard cutting edge, but the tempers that he claims will yield a blade that will easily flex, cracking the harder cutting edge. High alloy steels should be treated with uniformity, accuracy, and strict process control that does not alter the uniform structure of the steel like a low alloy blade that is forged in an open fire. Much more on this specific subject on my Blades page at this bookmark. If you see a hand-forged knife, step away; these are not good steels, but fashionable steels only.
Solution: Work with a maker who uses accurate and uniform process control for the most modern high alloy tool steels made. Any hand-forged knife can not be (by very definition of the steel) as wear resistant, tough, corrosion resistant, and dependable and predictable as a high alloy tool steel processed correctly in a clean and accurate environment. A combat knife is not a piece of primitive art, where the attractive nature of the hamon line will intimidate your enemy into surrender. The enemy won't be impressed by the pastoral mental image of a burly smith pounding away, or be frightened by the shower of sparks from the trip hammer. Your other combat metals are not hand-forged either, and that should be a big hint. The combat knife must be of uniform and extremely durable high alloy modern tool steel, correctly processed to the manufacturer's requirements for the steel alloy. Don't be sold by claims of superior hardness with increased toughness, as if this were possible, the manufacturer of the steel would regularly recommend this treatment for metal shears, ball bearings, and metal forming dies made of these steels in industry. Guess what? They don't differentially harden and temper! Nor do any of them hand-forge. There is a reason for this, and it is because when properly processed, superior blades are possible, predictable, and ultimately superior without this added and unpredictable treatment. Need more info on this? Dive into the subject on my Blades page at this bookmark.
Topics
Top of Page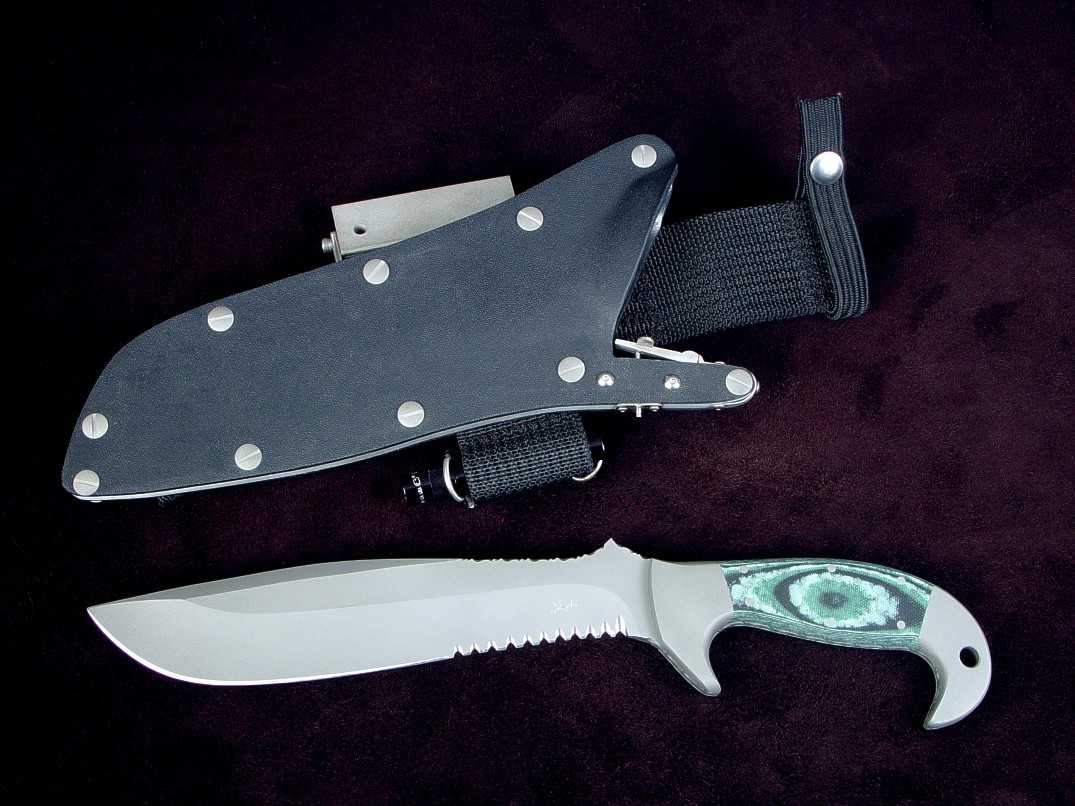 More about this knife: Imamu
---
Tactical, Combat Knife Blades
Blade Steels and Misidentification
Problem: The blade steels of some factory knives are misidentified. This happens a lot more than you might think. As blades are farmed out (mostly overseas), and as automated machinery is used to construct the blade, seldom does anyone verify, confirm, and assure exactly what the steel is. Factories might just trust the contractor they farmed the blades out to (often foreign) and rely on only what was written on their purchase order. I've had blades tested from big stateside factories, and they flat out lie about what the steel is! Is there is a difference in calling a blade S30V and using the proper name CPMS30V? Though we may have taken the shorter version of the designation as quick slang, I know that some factories will refuse to use the CPM designation which makes you wonder since Crucible Particle Technology tool steels are the guys who make CPMS30V. Could S30V be some other type of steel or even just a similar trade number? I've had blades tested that are stamped right on the ricasso "ATS-34" and are not, and easily and readily rust. If you complain, they'll just give you another cheap factory knife or at best your money back.
Solution: Purchase your knives from a reputable maker who actually makes his own blades from start to finish. If he does this, he chooses reliable suppliers, and will catch any potential problems with the steel in the process of making the blade, particularly if he does all his own work, including heat treating. This is another reason for makers to heat treat their own knives, followed by hardness testing of each one. If a wrong steel is accidently substituted, it simply won't heat treat and finish the same, and the maker will catch it.
Topics
Top of Page
Hi Jay, the Macha Knife is Awesome!!
Mate the knife you sent me is totally wild! It has a great feel in my hand and well balanced too. This knife is already fitted to my Tac Vest and it will serve me well over here in Baghdad. I have shown only a few and some of them are very excited and one who wants an exact replica of my knife. Thanks again Jay for this truly remarkable weapon! I will be in touch,

Your Aussie Mate in Iraq! --T.M.
If you cant Stand Behind our Troops...Then Stand in front of them
---
---
Tactical, Combat Knife Blades
Coated or Plated Blades
Problem: The factory or badly manufactured blades are often coated. This is a cheap, terrible way to finish a knife. Some coatings are purchased often from gunsmith supply companies, and are either sprayed on or dipped, and may be baked for hardness. They are only slightly more durable than paint. Painting a knife is like painting a ladder. You don't do it, because if there is a flaw, crack, imperfection, or fault, you won't know it until it's too late and you have a broken blade in your hand (in the case of a ladder, a fall). Factories do it to give the knife a so-called tactical look and to cut corners on finishing the blade, purely and simply.
Another technique used on knives is plating. Called electroplating, plating, hard chrome, fused coatings, or other descriptive terms, it is simply the process of electroplating a different metal on the base metal using a metal salt bath, an anode, and electricity. This same process is how a bumper is chrome plated. The reason for chrome plating (on a bumper) is to inhibit corrosion on the steel beneath the plating, because without it, the low alloy carbon steel would rust away. We all know that this is fine until one tiny scratch allows moisture to contact the steel, and then the plating blisters and peels away, as the rust underneath the steel flares up like uncontrolled teenage acne. On a knife blade, chrome plating is generally accepted as existing on the cheapest, most poorly made blades available from foreign sweat shops. This is due to another reason, the reason that knife blades would be chrome plated in the first place. Chromium plating has a great affinity to fill in voids, irregularities, pockets, scratches, inclusions and scars in the base metal. This means that the knife blade does not need to be finished, just roughly sanded, and the chrome will fill in the rest with its reflective and even beauty. Instant beauty, right? Sounds good, no?
No, is not good, and here is why. First, if a knife blade needs chrome plating to protect it (or paints or other coatings) then it is the wrong material for the job. Rather than purchase a more expensive steel that is naturally resistant to corrosion, the plating is supposed to protect the lesser steel from the environment and exposures. Where on the blade must the chrome plating not exist? Why, on the cutting edge, that's where. So the instant the knife is sharpened (before it ever leaves the maker's or factory shop floor) the chrome plating is abraded away, leaving the bare steel cutting edge and relief open to all of the corrosive exposure it can bear. The blade may look chromed and shiny for a while, but the cutting edge will be rusty and dull. And by dull, I don't mean just the surface finish. I mean that the cutting edge will dull as it corrodes away because the steel choice was not suitable for use in the first place, and that is why it is chrome plated!
You might read that a special chrome plating is used, typically called "hard chrome" in the machine tool trade. This is not quite the same as chrome plating of a bumper, as it's an industrial process made to increase the wear resistance of the surface of a metal. The plating is very, very thin, on the order of less than a thousandth, perhaps a ten-thousandth or hundred thousandth of an inch thick. While it is extremely hard, one might question why you would want this kind of hardness plated on a knife blade. Since the cutting edge is worn away immediately and continually, this chrome plating does not protect or harden the very edge, where hardness is critical, only the surface coating of the blade. So, I suppose the blade would be resistant to the rubbing of the knife sheath against the sides... but it is of no help to the actual cutting edge. Meanwhile, just as with other coatings, any infiltration of moisture or contaminants is a serious problem.
A painted or coated blade may actually accelerate corrosion, because eventually there will be a hole in the coating, and moisture, salts, and corrosives will eventually be able to get underneath the coating to attack the blade, without you even knowing about it.
In combat knives, hard chrome (or any chrome) plating can introduce another serious concern, and that is one of glare reduction. If you are in the school of thought that a flat, non-glare knife is what you need to keep your position muted, that bright chrome plating will give you away just as quick as a mirror polished blade. To some, this doesn't matter, but the corrosion resistance limitation at the cutting edge, the hiding of the blade steel beneath, and the extra added expense of hard chrome plating a blade means that this is a very bad idea.
Factories and makers have got a bucket of hype, though, about why blades are coated. There is no disputing that the coating does not and can not protect the cutting edge or relief, because the instant the knife is sharpened, the coating is gone. Since this is the very spot that suffers the highest exposures and wear, this would be the area that could use some help, but gets none. Learn more about blade coatings on my Blades Page.
Solution: Purchase knives with blades that are not coated in any way. This will allow you to see the surfaces of the steel blade, and be aware of anything that is going on with your knife. Corrosion, fractures, pits, or any indicators of future issues will be obvious, and in the case of a PEW, this may save your life
Topics
Top of Page
---
Tactical, Combat Knife Blades
Straight Blades or Curves
Problem: The blades on most factory tactical knives are straight. This may be applicable and even useful in some circumstances, and some knife users specifically require a straight blade. I sometimes make them myself at a client's request. But in factories, that is all you'll see. The reason is because steel is purchased as a straight, thin bar, and therefore the wider the bar, the more expensive the knife. So, it's in their best interest to make all of their knives straight-bladed, in contradiction of the human hand and mechanics of human body motion. The swing and curvature of a moving arm, slicing, cutting, or thrusting motion: all these are curved arcs. So, in true combat situations, curves are usually advantageous. This translates to a knife blade that is curved to accentuate motion and amplify power of the human hand. You won't see any curves in large factory combat knives, only in little Kerambit blades that are too small to do anything with. And the straight handle should be downright outlawed in combat knives, as it is the easiest to lose a grip on. More on handles below.
Solution: Purchase your knife from a source that has a high degree of relationship to your specific needs. This means having a large inventory of pattern styles and customization options. If the knife source has a great deal of experience working directly with military, tactical, emergency response and rescue professionals, chances are he has the models, patterns and designs that will suit your needs.
Topics
Top of Page
---
Tactical, Combat Knife Blades
Blade Grind Quality
Problem: The blade grinds (bevels) on most factory knife blades, boutique shop knife blades, and poorly made knife blades are abrupt, mismatched, and misaligned. This is a huge issue and I can't believe how often it is simply ignored even by knife aficionados. The grinds (bevels that distinguish a knife from a flat bar of steel) should be even, well-rounded, and carefully matched side to side. If they are abrupt and sharply cornered at the grind termination, the knife will break at that very location. Grind terminations should be sweeping and curved, to distribute the forces between the blade and the handle over a larger area, not forming a corner at the plunge. The grinds should be evenly and well-matched, so that uniform thinness exists at the cutting edge and continually along the edge even as the knife is re-sharpened and used up during its life.
Solution: Look carefully at the blade grind, even if you have only a photograph from a web site. There should be a sweeping curve in the grind termination, not an abrupt, squared-off geometry. If you can inspect the knife by hand, aim (carefully) the blade point right between your eyes and compare both sides of the blade grinds with each other. They should closely match. Look at the lead-off, where the grinds exit the blade at the spine. They should be matched and balanced. If any of these areas are mismatched, abrupt, or out of alignment, the knife is an inferior knife and you can expect other problems, problems you may not see. The overall quality of the blade grind speaks to the entire knife construction process and you can learn a lot about a knife and the maker or manufacturer by knowing how to examine a blade grind. My Knife Anatomy page has loads of information about knife and blade areas, definitions, and details.
Topics
Top of Page
Jay,
The knife arrived today safe and sound. It is far more amazing in person than I could have imagined. My challenge now is to actually deploy such a work of art in the field (the first scuffs will be the hardest, after that it should get easier). I have never owned anything like this, thank you. I know it will be a great companion for many, many years.
Thank you again for all your help and patience with my questions.
Cheers, E. C.
---
---
Tactical, Combat Knife Blades
Overall Blade Design
Problem: The PEW knife blade should have a design suited to the primary purpose of the knife and often they are just a facsimile of an older, well recognized shape. If a knife is to be used for combat and defense, the point should be as aggressive as possible, which means that often a swage is formed on top of the spine to reduce point profile without sacrificing spine strength. This allows more pounds per square inch to be applied to the tip, and greater thrusting force to penetrate. If the blade is for CSAR or working with textiles, tough materials, and light prying, the point should be wider, thicker, and have more metal to increase point strength. If a knife's primary function is slicing, it should have a broad, thin, and extremely sharp belly. Since the direction of most factories and knife manufacturers is one based solely on appearances, these tangible properties of action that the knife needs are seldom addressed.
Solution: Get your knife from someone who can address your specific needs and concerns for the knife's use. This means having a knife maker or supplier who is someone you can talk to, someone who can answer your questions with reason and certainty. There are many makers in the world who you can talk to; I'm not the only one. With the direct connection of the internet and modern technology, there is simply no reason you can not find the knife you need or have it made. Do not settle for a certain type only because you've seen it repeated over and over in print, advertisements, and media. As a tactical professional, you may have ideas that the world is waiting for, useful modifications, designs, or features that can save not only your life, but the lives of your fellow professional.
Topics
Top of Page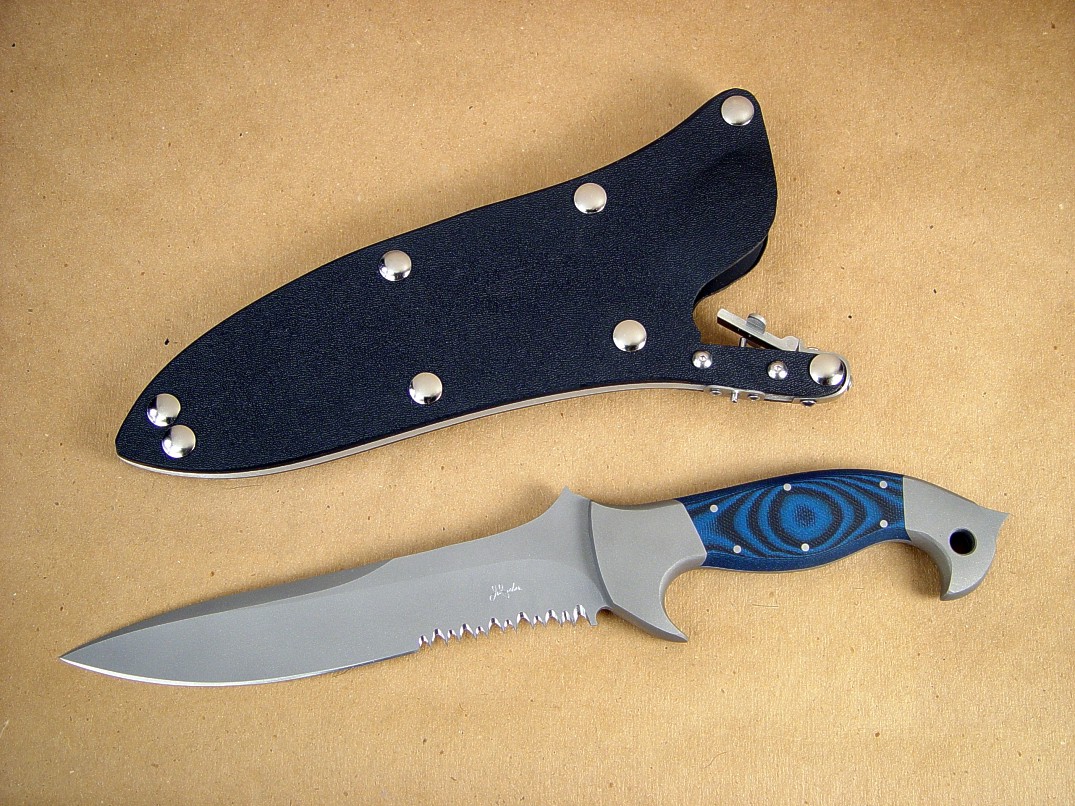 More about this knife: Anzu
---
Tactical, Combat Knife Blades
Choice of Steel Type
Problem: Knife blade steels are frequently offered that are not suitable for the combat, tactical, CSAR, SERE, law enforcement, or professional knife. There are a lot of steels out there, and just about any of them can be fashioned into a knife blade. But the really good, high quality modern tool steels are expensive, difficult to work with, and are more valuable as a top flight tool and weapon. Some makers and suppliers will claim that plain carbon steels or 420 grade stainless steels are best, and this is just wrong. The reason these lower class, lower alloy steels are used is one of economy of manufacture, not of any benefit to the tactical combat knife user. It is because they are saving a buck that they only offer these steels. They've done their research, and the bean counters have determined that it is not cost effective to purchase finer alloys and pay the added expense of working with them as they are harder on abrasives, can not be forged, require high temperature or elaborate atmosphere controlled hardening processes, and are much harder to finish than cheaper steels. Since their lower quality knives do not justify the higher cost required to use them, the finer steels are simply not offered.
Solution: Go to a maker, supplier or knife company that uses the finest, most suitable knives for your combat and tactical needs. Yes, you will pay more but the knife becomes a once-in-a-lifetime investment, it's made to your specs and needs, and has the highest quality modern tool steel available. The professional combat, CSAR, or SERE knife is no place to cut corners for the sake of economy. Here's a simple illustration. Do you think that the military specifications or professional medical machine interests and manufacturers are using the same steels in their devices that are used in the leaf springs of an old truck? How about this exercise? Do some research right here on the internet on stainless steel ball bearings. You'll find that 440C is listed as having the highest dimensional stability, the highest hardness, the maximum toughness, and highest wear resistance of all the stainless bearings. 440C has substantial corrosion resistance to steam, oils, acids, and caustics. When you study 420 series stainless steels (typically offered in cheaper factory blades) you'll find that they are only slightly more corrosion resistant, but are notably softer, less wear resistant, with limited toughness, and lower durability overall than 440C. Their selling point? They are listed as a more economical alternative... 'nuf said?
Topics
Top of Page
---
Tactical, Combat Knife Blades
Blade Finish
Problem: Blades of manufactured knives are poorly finished or not finished at all. While a fine finish on a tactical combat knife blade is not a requirement, it's interesting to note that no options, variety, or selections of finish are offered on any manufactured knife. Simply put, you get what they offer and nothing else. This means a blade that is finished to 180 grit at the most, maybe gone over with coarse Scotch-Brite®, or maybe painted with a bake on coating. Poor blade finish can accelerate corrosion, hide imperfections, and be harder to clean.
Solution: A custom maker can properly finish the knife as you require it. If high corrosion resistance and easy cleaning is needed, he can bring the blade to a mirror polish if the steel type supports it. If a subdued finish is needed, he can media-blast the surface of the steel so that it will uniformly grip wax sealants, which allow it to be easy to clean yet uniformly subdued. If a black blade is needed, he can professionally hot blue the blade, so that the appearance is black or non-reflective, yet the steel is not hidden (such as in coatings and paints) and corrosion is inhibited. Will a factory do this for you? No.
Topics
Top of Page
---
Tactical, Combat Knife Blades
Blade Features, Options
Problem: Most knives sold for tactical or combat use do not have the features needed like cutters, swages, serrations, filework, or other options that the user might require. Years ago, when I started working with the military, one of their absolute requirements was serrations that work, and continue to work, even if they were broken and damaged. They simply needed to have serrations that were not cosmetic but useful, teeth that would rip through hardwoods, tough textiles, bone, and even aluminum if needed. I worked hard to develop serrations that work, and discovered that nearly all serrations on factory or poorly made knives are there for show and of little or very limited use in the field. Factories didn't include line cutters, useful swages, cutters, teeth, shapes, profiles or any type of useful adjunct that the soldier might need. Their scope of their blade work is limited by the machines they use to make the knife blade and the economy of what they can sell it for.
Solution: A custom maker should be able to add features to the blade that the client requires. Serrations that work, rip teeth that rip, line cutters that catch and sever line, filework that offers some tooth without abrading the skin, thumb rises to help improve grip, lanyard holes through the tang and bolsters, swages to reduce point profile, multiple grinds at varying angles and depths to increase point strength, chisel edges, deep choils to aid in sharpening, reverse blade angles for wrist protection. These and many more options are offered only by custom makers; you simply won't find any of these on any factory, boutique shop, or imported knives. Learn more about serrations than you'll ever need to know on a special serrations page on my site here.
Topics
Top of Page
---
Tactical, Combat Knife Handles and Fittings
Handles and Fittings: Issues and Worthwhile Solutions
After the previous sections, you probably thought I'd covered it all, but there are more issues associated with factory, inferior, boutique shop, and imported knife blades. I may add more as I can, but from just these you can see some of the issues my professional clients express and solutions I try to implement. Please remember that this page is about tactical, combat, and military knives, though the specifics generally apply to most of the knives I make. What about handles, fittings, sheaths and accessories of tactical knives? Read on, brother, read on.
The knife handle is your link to your Primary Edged Weapon and tool.
Losing your link may cost more than your knife.
Topics
Top of Page
Jay, the knife is fantastic. The knife fits perfectly into the sheath, the function is flawless. There aren't any improvements that could be made to this blade. I thank you for making me such a fine knife! It will have many years of hard service in its future.
Thanks Jay,
--C.J., US Army
---
Hi Jay,
Thanks for checking in; I received the Arctica today.

Sours: https://www.jayfisher.com/Tactical_Military_Combat_Police_Fighting_Knives.htm
Tactical knives
Tactical combat knives as the name states were designed for military application. Such blades were used by members of special units who conducted tactical, maneuvering actions in combat operations.  A good knife is needed for many activities such as rapid offensive, battle reconnaissance, carrying off a sentry, destruction of sniper position or an enemy sniper. This tool is useful for minefield clearance, cutting parachute lines, equipping shooting positions, equipping a camp, equipment fixing and even if you need just to open canned food.
Tactical knife for non-military application
Functionality of these blades is valued even in civil suits. Tactical knife is a reliable helper and a faithful companion for those who prefer active lifestyle.  Tactical knives combine the best qualities of combat, rescue and EDC knives.  It meets the needs of most users.
The best tactical knife for tourists, hunters and fishermen meets the following requirements:
Reliability;
compact design;
Convenience in carrying;
Reliable when put to hard use;
The best tactical knife will cope with most tasks.  This knife is made from high carbon steel and designed for daily work that takes place at a campsite, during hiking, hunting, fishing or rafting. It is always at hand and particulary designed for active use.
The term "tactical knife for tourism" is unusual for our country, but the sport world of Western countries (to which refer anglers, hunters and survivors) has already evaluated it as the most practical version of the oldest tool of humanity.  The tactical combat knife helps to survive and arrange life in the wilderness.
There is another positive point:  tactical knives created by the Ukrainian brand Blade Brothers Knives are not so large as army knives.  The average length is 240 mm. (if a blade is 140 mm.), it allows carrying a tactical knife even in the city.
Note: all models of knives are provided with non-edged weapon official certificate.
The advantages of the best combat tactical knives made of high carbon steel
Blades from BBKnives are designed by expert knife fighters who have participated in many tournaments.  These models were also designed for ATO fighters and they proved to be reliable companions of soldiers.  Unlike cutters that have never been in combat our products are field-tested and reviews on its performance are very positive.
Handmade tactical knives from high carbon steel feature a number of advantages over the products of eastern and western brands:
Ukrainian hand-crafted knives surpass Chinese stuff. Even in workshop they are inspected at all stages of manufacturing process, that greatly reduces the possibility of quality defects.
High-carbon steel is tempered to 55 HRC, which is considered the best indicator. Technical process of metal treatment and hardening is strictly controlled. The blade retains effectively edge, nevertheless, if needed, it can be resharpened even in the field.
A series of combat tactical knives Premium is made of Austrian alloyed steel K110 hardened to 60 HRC, hard and durable.
Due to the fact that we work in Ukraine, the cost of the blades is much lower in comparison to well-advertised Western companies. Featuring permanent high quality these knives however are affordable to every resident of our country.
We work for people and we know that the tool should fit perfectly the hand, so we developed convenient handles with grooves on pads that prevent from slippage.
The plastic sheath is fastened with lacing providing a reliable fixation.
We provide warranty and post-warranty service.  If you need to fix the blade, change the angle of sharpening or replace pads – we are always in touch, we work all over Ukraine and even outside it.  We have good service and process will not take long.
Overview of the best tactical knives from high carbon steel
On our site you can buy the best tactical knives, which design feature different cultural traditions:
Vendetta is mainly designed for stabbing, which is enabled by a sharp blade and a diamond section of the blade.  It combines properties of the Middle Ages stiletto and a Fairbairn`s knife.
Navahero is a knife inspired by the classic Spanish Navajo.  It cuts and chops perfectly and a perfect edge geometry enables effective stabbing.
Fenrir is a "Scandi", a highly functional all-purpose blade, which copes equally well with all tasks.
Yamato is created on the basis of Japanese Tanto knives, of course, with a comfortable European grip. It allows applying of strong cutting strokes and wide frontal slashing.
Tactical knives with a fixed blade
FIxed blade knives have several undeniable advantages over folding:
design is void of unreliable rivets and joints;
blade is securely fixed;
unable to jam when closing and opening;
do not break even under heavy loads;
a fixed knife can be used even in mittens.
If you prefer hunting, fishing and an active hiking or rafting, you should consider a "serious" kind of a knife, that can withstand serious loads.  For example, tactical all-metal knives with a full tang construction made from high carbon steel
On BB Knives website you can easily buy a quality and inexpensive tactical hand made knife manufactured in Ukraine. Our ordering process is user-friendly, place an order or contact a manager and in a couple of days you can receive a parcel in any city of Ukraine.  Call without delay.
Sours: https://bbknives.com/en/catalog/tactical-knives
MENU
---
RELENTLESS KNIVES
When Failure is NOT an option
You'll need a knife made to endure Brutally Extreme conditions. and keep on going. Most fixed blade knives won't help you pry open doors of a burning vehicle or building or break thick glass without destroying the knife.

Relentless knives are designed and built to give you advantages
in situations beyond every day use.


---
Welcome to Relentless Knives Website

---
---
When failure is not an option, equipment that won't fail is your onlyoption.
---
---
RELENTLESS KNIVES
Handmade, Tactical, Survival, Combat Utility knives, built to withstand extreme conditions.
Handmade by Daniel M. Certo. Custom Tactical knives made from the toughest steels coupled with specialized heat treatment and grind
creates a knife with durability far beyond your expectations. Knives tested and used by individual Military, Law enforcement, Adventurers, Outdoors men, Farmers, Hikers, Campers etc. worldwide
---
STOCK on every Relentless Knife
~
Highly durable steels
~
Exotic heat treatment
~
Trade marked tri a symmetrical grind
~
Extreme
break resistance
~
Exceptional edge retention
~
Strong sharp point.
~
Giving you unequaled functional reliability.
---
---
S.W.A.T.
Law Enforcement and Military
~
Descreet, Compact, Rapid Deployment , Entry Capability
---
---
Large or small, reliable tactical knives can be the key difference in daily unpredictable situations.
---
---
Include a Relentless Knife in your gear. Walk in the park, day hike or climbing Mt Everest. Your Relentless knife will not let you down.
---
Browse my catalog and place your order, or check out the available knives page for
ready to ship knives.
---
---
Custom Shop
Your design or mine, your special knife can be a reality.
You can Customize existing models, or we can work together to build the knife of your dreams.

---
---
Want MORE!
Check out the link, forHOT Enhancement which is the ultimate combination of hand forging, thermo cycling and cryogenics
rendering an already industrial strength knife into a super knife.
Reserved for the most demanding.
~
Build cities in the jungle with their knife as their only tool.
---
Relentless Knives in HOLLYWOOD
---
---
Proud to say the Relentless M4X was chosen out of 30 knives
to be the Official knife of the Punisher
and appeared in the 2008 Lions gate
movie "Punisher War Zone"
The first 5 minutes of the film
deticated to the knife.
---
About the Knife Maker

---
---
All of my Relentless models are Zone Tempered, a process used by Japanese Samurai sword makers for thousands of years, results in a super strong blade, with spring temper in the core and 58rc hardness on the cutting edge. This gives you a knife that resists breakage even with the application of great lateral forces,that will hold an edge well, and resharpen easily. You get, superior strength and durability and heavy last ditch personal protection in a handy all around utility knife that you will love.
---
---
Copyright 2016 by Daniel M. Certo Additionally, no material from this site may be copied, reproduced, republished, uploaded, posted, transmitted, resold, or distributed in any way without Daniel M. Certo's written permission. All rights reserves, and all Copyright,Trade mark and Patent laws strictly enforced

__________________________________
Privacy Policy
GDPR

_______________________________
Sours: https://www.relentlessknives.com/
Making A Fighting Knife / Combat knife // Knifemaking // My Cellar Workshop
CUstom Knives designed for real life
Home of the Nickle Boron Battleworn® plated blade. NiB is one of the most durable substances on earth. We design our knives around what a knife is supposed to feel like, what it's supposed to move like, what it's supposed to stand up to. A Knife that you can afford on a common budget that stands up to uncommon abuse. Because life doesn't always give you the easy road, things get hard, some-days the work is tougher, combatants unrelenting, the woods unforgiving and you need a blade that conquers it all at a price that doesn't hurt. As soon as you pickup a T.Kell Knife you'll get it instantly. You'll know why we're known for our shockingly comfortable grip, our perfectly balanced blades, and our indestructible Nickle Boron coated knives. Built for generations of abuse and backed by our unconditional "Life Of The Knife" warranty. We take this very seriously, and are honoured to know that our knives are used the world over in combat, policing, hunting, camping, survival, and in situations where dependability counts.
Sours: https://tkellknives.com/
Tactical knives handmade
.
Making a custom knife for an Infantryman
.
You will also be interested:
.
733
734
735
736
737