Creating and publishing a Greasy Fork script
January 29th 2021 GreasyForkJavaScript
I've been using a couple of GreasyFork scripts with Tampermonkey Firefox extension for a while. Only recently has a missing feature on a web page bothered me enough to consider creating a user script myself.
The community-maintained documentation is rather brief and not updated too often. But since user scripts are mostly just additional JavaScript running in the context of the web page, there isn't much to learn that's specific to user scripts. The most important part is the script header with meta keys describing the script and specifying when it's going to be activated:
In my case, most of the code was inspecting the DOM using the and methods:
I used unobtrusive JavaScript principles to add interaction to the page, i.e. I handle events using the method:
A basic development environment is provided by the Tampermonkey extension. You can open it via the Add a new script... menu command: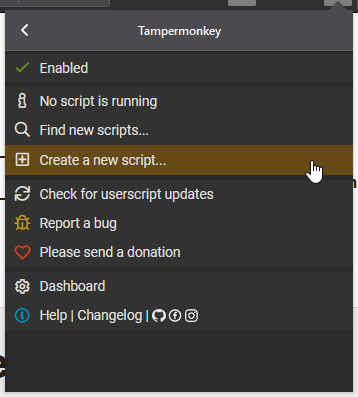 When you save the script for the first time, it appears in its Installed userscripts list. You can open it in the built-in editor from there to modify it at a later time:

Although the editor is decent, I prefer Visual Studio Code for writing JavaScript. Even without TypeScript types, it can provide great code completion and help for methods used. This makes writing code a lot easier. And it even helped me notice a couple of mistakes in my code without running it.
Admittedly, this approach adds some overhead to testing the script. Instead of simply saving it, I have to copy and paste it to the Tampermonkey editor and save it there. I found a Stackoverflow answer with instructions for loading the script in Tampermonkey directly from the file system but I couldn't get it to work. Despite that, for me the benefits of using Visual Studio Code overweigh the inconvenience of having to copy the script to test it.
Publishing a script on GreasyFork is just a matter of filling out a simple form. If you host your script on GitHub (or another Git host), the process is even simpler as you can import it from there. To automate updates, you can even set up a web hook.
You can check the script I've written in my GitHub repository. Of course, the code is very specific to the problem I was solving. Still, the general approach will be useful in other scenarios as well.
The key takeaway is that it isn't difficult to write a user script if you have some basic knowledge of writing JavaScript for the browser. It's much simpler to do than writing a standalone browser extension.
If you're looking for online one-on-one mentorship on a related topic, you can find me on Codementor.
If you need a team of experienced software engineers to help you with a project, contact us at Razum.
Share on Social Media
Copyright
Sours: https://www.damirscorner.com/blog/posts/20210129-CreatingAndPublishingAGreasyForkScript.html
Userscript
Program usually written in JavaScript for modifying web pages
For use of userscripts on Wikipedia, see Wikipedia:User scripts.
A userscript (or user script) is a program, usually written in JavaScript, for modifying web pages[1] to augment browsing. Uses include adding shortcut buttons and keyboard shortcuts, controlling playback speeds, adding features to sites, and enhancing the browsing history.[2]
On desktop browsers such as Firefox, userscripts are enabled by use of a userscript managerbrowser extension such as Greasemonkey. The Presto-based Opera-supported userscripts (referred to as User JavaScript[3]) are placed in a designated directory. Userscripts are often referred to as Greasemonkey scripts, named after the original userscript manager for Firefox.
On Wikipedia, a user scripts feature is enabled for registered users that allows them to install userscripts to augment editing and viewing of the encyclopedia's pages.[4]
Userscript managers[edit]
Main article: Userscript manager
A userscript manager is a type of browser extension and augmented browsing technology that provides a user interface to manage scripts. The main purpose of a userscript manager is to execute scripts on webpages as they are loaded. The most common operations performed by a userscript manager include downloading, creating, installing, organizing, deleting and editing scripts, as well as modifying script permissions (e.g. website exceptions).
Userscript repositories[edit]
One aspect of userscripts is that they can be shared. They can be uploaded to a userscript repository where they become available to other users for downloading.
Historically (circa 2005–2011) userscripts.org, created by American programmer Jesse Andrews, was the largest such repository for userscripts. Over time, the site was transitioned between various maintainers before it went offline completely in May 2014.[5] All that remains is a mirror, which is useful for archival purposes.[6][non-primary source needed]
A handful of the most active contributors in the userscripts.org community[7] created OpenUserJS,[8][non-primary source needed] which is actively in use today. Also available is Greasy Fork, a repository largely developed and maintained by Canadian programmer Jason Barnabe.[9][non-primary source needed]
Users of the Greasemonkey[10] and Tampermonkey[11] extensions may choose to install .user.js scripts from any location.
See also[edit]
References[edit]
External links[edit]
Sours: https://en.wikipedia.org/wiki/Userscript
Name
Author
URL
Description
DH3 Chat Overhaul
Shtos
greasyfork
Adds a ton of features to the game chat, including friend and ignore lists, side chat, emojis, dark mode, chat commands, and more.
Functional Market
Shtos
greasyfork
Vastly improves the market experience.
DH3 Fixed
Kape142
greasyfork
An extension for Diamond Hunt 3, meant to improve the user experience. It includes an activity log, various fixes, additional shortcuts, customizable notifications, and some useful tools.
DH3 Audio Alerts
Anwinity
greasyfork
Trigger audible alerts based on DH3 variables.
DH3 FP Notification
Anwinity
greasyfork
Adds a notification which shows you how many times you can fight at a given Combat Area with your current Fight Points as well as a timer for when that number will increment.
DH3 Super Duper Preset Switcher
Anwinity
greasyfork
Let's you switch between your preset-sets in combat and select any of your 25 presets with a click. You can also use the 6-0 keys to switch the preset-sets.
DH3 Var Viewer
Anwinity
greasyfork
Easily view and filter in-game variables.
DH3 Slap Chop
Anwinity
greasyfork
Allows you to cook/eat a stack of food by right-clicking. Also allows you to right-click fish bones to send the maximum number to the bonemeal bin (without wasting any).
DH3 Tools One-Click
Anwinity
greasyfork
Adds a link on the top of the page which sends your character data to https://anwinity.com/dh3/ so that you don't have to enter it manually.
Heat & Fish Bar
Shtos
greasyfork
Adds a heat requirement indicator and energy info to the fishing tab.
DH3 HUD
Anwinity
greasyfork
Allows you to create a custom HUD full of whatever information you want, which updates in real time based on variables received from the server. Note: This script requires you to be able to either copy/paste HUD scripts or write your own using a simple syntax. The default HUD script is just an example and not intended to be super useful.
HitChance In Combat
Shtos
greasyfork
Displays both your hero's and the monster'shit chance while in combat.
Notification Timers
Shtos
greasyfork
Changes percentages and kilometers to timestamps in notifications.
DH3 Oil Fix
Shtos
greasyfork
Adds a timer to show when your oil will be empty or full based on oil income.
DH3 Tick Pulse
Anwinity
greasyfork
Pulses each tick in combat to aid in counting various things (e.g. shark bite).
DH3 Friend/Ignore List Upsidedownifier
Anwinity
greasyfork
Puts the add/cancel buttons in friends and ignore list at the top so you don't have to scroll so much.
DH3 Helper
Level
github
An extension script to allow desktop notifications.
Continue Leveling
Nightcorex
greasyfork
Allows you to continue leveling past level 100
Sours: https://diamondhunt3.fandom.com/wiki/Scripts
Making a Userscript - Setup and JavaScript Tutorial
Greasy Fork
Welcome to Greasy Fork, a site for user scripts.
What are user scripts?
User scripts put you in control of your browsing experience. Once installed, they automatically make the sites you visit better by adding features, making them easier to use, or taking out the annoying bits. The user scripts on Greasy Fork were written by other users and posted to share with the world. They're free to install and easy to use.
Step 1: install a user script manager
To use user scripts you need to first install a user script manager. Which user script manager you can use depends on which browser you use.
Step 2: install a user script
Browse this site to find a user script you want to try. Here is a sample of the most popular scripts:
Once you've found a user script, click the green install button on the user script's page, and your user script manager will ask you to confirm the install.
Step 3: use the user script
Go to the site the user script affects. It should automatically do its thing. After trying out the user script for a while, go back to where you installed the user script and leave some feedback for the user script's author.
Sours: https://greasyfork.org/en
Fork scripts greasy
The Top 14 Greasemonkey and Tampermonkey User Scripts
Amazon Smile Redirect
What We Like
Easy to support charities.

No learning curve.

Can hide it in the toolbar.
What We Don't Like
Doesn't detect Amazon links.

Some lagging.

Only runs when you go to Amazon.com.
When you shop on Amazon Smile instead of the main site, a portion of your eligible purchase price goes to your favorite nonprofit charity. This script ensures that you always go to smile.amazon.com each time you shop on Amazon.
Get the Amazon Smile Redirect Script
Anti-Adblock Killer
What We Like
Fast and light.

No ads.

Easy installation.
What We Don't Like
Buggy for some users.

Can slow the browser.

May block non-ad pop-ups.
Many websites either recommend or force you to disable ad-blocking software such as Adblock Plus. This script overrides that restriction in some cases and allows your ad blocker to function as expected. It's not perfect, but it's better than nothing.
Get the Anti-Adblock Killer Script
AntiAdware
What We Like
Removes unwanted items.

Works with popular sites.

Responsive upstream.
What We Don't Like
No recent updates.

Sometimes buggy.

Lack of modifications.
Many free downloads are coupled with additional applications, extensions, or settings modifications that you may not want. Some downloads include harmless additions such as a branded browser toolbar or a change to your home page. However, some free downloads may install adware and other less-than-reputable software. This script does a good job of removing these unwanted items on some of the most popular websites.
Get the AntiAdware Script
Auto Close YouTube Ads
What We Like
Customizable settings.

Support YouTubers with shorter ads.

Three menu options.
What We Don't Like
Doesn't have auto skip for banner ads.

Some users report bugs.

Only works on YouTube.
This configurable script automatically closes YouTube video ads after a time delay that you choose. It also offers an option to mute these advertisements as soon as the ad launches.
Get the Auto Close YouTube Ads Script
Direct Links Out
What We Like
Frequent updates.

Works on popular sites.

Supports subdomains.
What We Don't Like
Doesn't work on all sites.

Some buggy subdomains.

No customization options.
Many websites display a warning and require user interaction when you click a link that redirects to another site. This script disables that functionality on many popular domains, including Google, YouTube, Facebook, and Twitter.
Get the Direct Links Out Script
Feedly Filtering and Sorting
What We Like
Enhances the Feedly website.

Advanced filtering.

Custom sorting.
What We Don't Like
No recent updates.

Buggy in Firefox.

Can be slow to load.
The Feedly Filtering and Sorting script adds some useful features such as advanced keyword matching, auto-load, filtering, and restricting to the popular news-aggregation site.
Get the Feedly Filtering and Sorting Script
Google Hit Hider by Domain
What We Like
Supports multiple search engines.

Filters spam.

Blocks offensive content.
What We Don't Like
Not functional with some browsers.

Some results aren't filtered.

Buttons can be buggy.
Block certain websites or entire domains from appearing in search engine results with this script. The title is a bit misleading, as it supports Bing, DuckDuckGo, Yahoo, and other search engines in addition to Google.
It works best with Chrome or Firefox.
Get the Google Hit Hider by Domain Script
What We Like
Customized search.

Improved search time.

Option to revert to the old theme.
What We Don't Like
Can't change button locations.

Doesn't work with all browsers.

Only works with Google search.
This script adds useful buttons to Google's engine. These buttons include tools to search for PDF documents and search for results from user-specified time intervals, including days, weeks, months, years, and hours.
Get the Google Search Extra Buttons Script
Instagram Reloaded
What We Like
View full-size content.

Uses keyboard shortcuts.

Direct image downloads.
What We Don't Like
Some features only work with Chrome.

Videos download without audio.

Can't download Stories.
View and download full-size images and videos from Instagram by pressing a keyboard shortcut with this script.
This script works with all browsers, but the direct-download feature only works with Chrome.
Get the Instagram Reloaded Script
Linkify Plus Plus
What We Like
Supports dynamic content.

Custom allowlist and blocklist.

Embeds images.
What We Don't Like
Only works with Chrome or Firefox.

Incompatible with some scripts.

Can be buggy.
This script converts text URLs and IP addresses into links to the respective destinations. It makes almost any text link a clickable link.
Get the Linkify Plus Plus Script
Manga Loader
What We Like
Support for over 70 sites.

Long strip format.

Works on mobile through a bookmarklet.
What We Don't Like
Doesn't work on all sites.

Some images don't load.

Mobile can be buggy.
If you're a fan of the Japanese comic genre, this script displays complete chapters on one page in an easy-to-read long-strip format on many of the web's most popular Manga sites.
Get the Manga Loader Script
Pinterest Without Registration
What We Like
Browse Pinterest without a login or registration.

Removes modal pop-ups.

Unlocks scrolling.
What We Don't Like
Login may be required after some scrolling.

Only works in the U.S.

No recent updates.
This script lets you browse image collections on Pinterest without creating an account on the site. However, it doesn't work as expected on all pages.
Get the Pinterest Without Registration Script
Translate.google Tooltip
What We Like
Translates selected text into a tooltip.

Works with Google Translate.

Responds instantly.
What We Don't Like
May not work with Firefox.

Doesn't work on all sites.

No recent updates.
Use this script to translate selected text on a web page to the language of your choice with the Alt key and the cursor.
Get the Translate Google Tooltip Script
Wide GitHub
What We Like
Read lines of code without scrolling.

See more documentation simultaneously.

Easy to toggle.
What We Don't Like
No GitHub Enterprise support.

Only works with Chrome.

Limited functionality.
Programmers find this script useful. It resizes all GitHub repository pages for a better look and feel.
Get the Wide GitHub Script
Find More Greasemonkey and Tampermonkey User Scripts
When you're ready to search for scripts, the following sites are the best starting points. Not every script works across all browsers, so verify the corresponding description and notes before installation. 
Greasy Fork: Greasy Fork is a terrific source for user scripts. It offers a rapidly growing compendium of over 10,000 scripts, a well-maintained and easy-to-use interface, and an active forum. The Greasy Fork Bull**** Filter script makes searching the site effortless. It hides scripts for games, social networks, and those with non-English characters in the Greasy Fork description.
OpenUserJS: OpenUserJS offers a wide range of scripts. It provides a user-friendly repository with a continually expanding selection.
Userscripts.org (mirror): At one time, Userscripts.org was the only place to find the best scripts. It went offline and is now available as a mirrored site on a different domain. You'll find thousands of scripts on this mirror site, and many of these are not safe. Use discretion when downloading from the Userscripts.org mirror.
Thanks for letting us know!
Sours: https://www.lifewire.com/top-greasemonkey-tampermonkey-user-scripts-4134335
Tweak Your Web Browsing - Useful Downloadable User Scripts
.
You will also like:
.
841
842
843
844
845