It seems everyone has their own take on what it means to have some Southern design in a space, but one thing's for sure: a Southern kitchen is one that's filled with food, love and family.
This famous quote hits the nail right on the head,
A Southern kitchen. The place where…bacon's sizzlin', grits are simmerin', fried chicken's poppin', green beans are boilin', corbread's bakin', okra's steamin', collards are stewin', banana pudding's settin', and pecan pie's coolin' on the windowsill.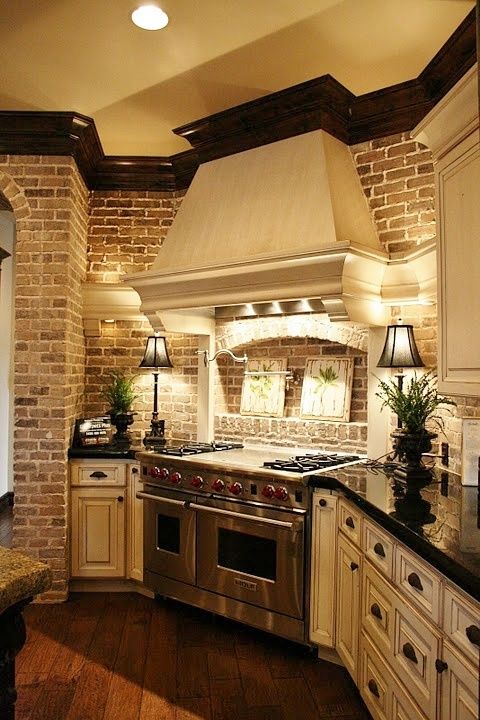 Photo from Pinterest.com
When you search the web for different kitchen styles however, you might notice that some styles use interchangeable adjectives. Southern style kitchens is no different. For example, several words you might come across include rustic, homey, vintage, farmhouse, etc.
From one image to the next, you notice how similar features and elements cross over. No matter which words you use, one thing's for sure: a Southern kitchen is one that's filled with food, love and family. Instead of worrying about taxonomy, we're going to focus on three different ways to bring warmth and comfort to your Southern style kitchen.
1. Vintage and distressed elements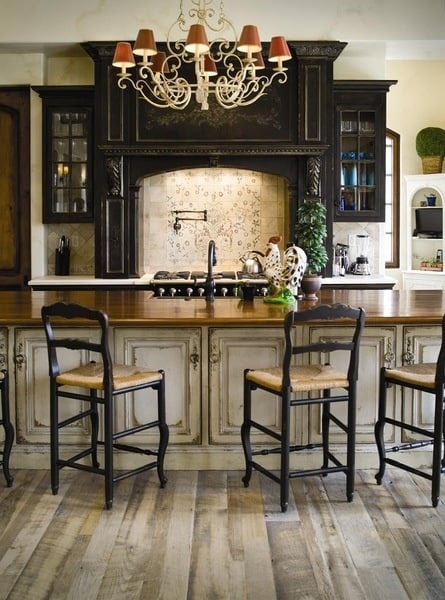 Photo from Pinterest.com
If you like to follow interior design trends, then you already know how popular colorful distressed furniture has become over this past year. While it's only become popular in the rest of the home recently, Southern kitchens have always had a bit of vintage style.
Whether it's a large, distressed kitchen table that you found and restored from an antique shop or some distressed white cabinets and flooring in the kitchen you see here, distressed pieces bring a country feel to any space.
Another easy way to bring some Southern feel to your kitchen is to install some decorative accessories like crown molding in warm light colors like Antique White with a Walnut Glaze. This will help give your kitchen a more traditional style and bring some vintage features into the space.
2. Farmhouse sink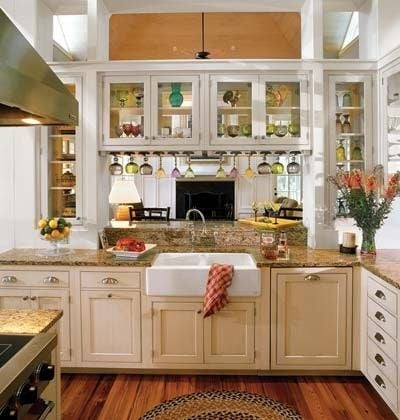 Photo from Pinterest.com
One of my favorite elements of many Southern kitchens is the farmhouse sink. Its oversized design with the overhanging lip just has a welcoming feel to it. In modern and even classic designs we see sinks that are integrated right into the countertop for a more streamlined style. But a farmhouse sink instantly becomes the focal point of any kitchen, drawing attention to something that can be both functional and beautiful.
3. Room for entertaining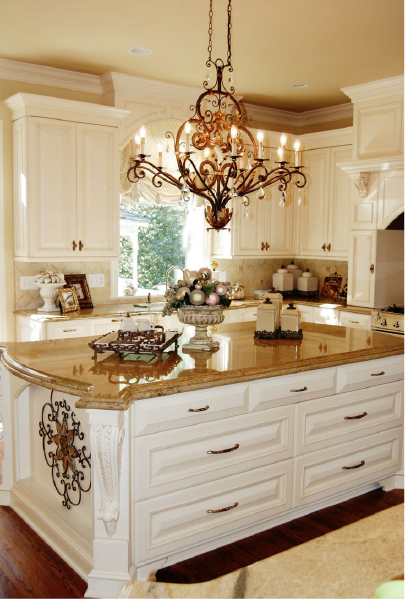 Photo from Pinterest.com
As I've already stated, the two main elements of a Southern kitchen are the family and the food. And when it comes to designing a Southern kitchen, plenty of space for the family to gather and adequate storage for the many meals to be cooked are very important considerations.
The kitchen is the meeting place for most families, and while some modern designs seem to have forgotten that this is the kitchen's main purpose, Southern styles have always kept ample room for full tummies. Think storage accessories that make room for all of your cooking materials and pantry items and a large island or peninsula where you can seat a crowd for dinner.
Sours: https://blog.kitchenmagic.com/blog/3-southern-kitchen-designs-made-for-any-kitchen-style
Beautiful Southern Kitchen Designs
In need of a little kitchen inspiration? We've gathered some of our favorite southern kitchen designs for you! Whether you are just sprucing up or doing a complete renovation, this article is sure to make you think, "Oooh I want that" at least a few times!
From clean lines to rustic finishes, family-style to a chef's dream...there is much to consider (and much to love) when designing your ideal kitchen. If you are going for a southern-inspired style, we have lots of examples for you below.
Southern Kitchen Designs: Big Islands
The kitchen is often the center of your home, and that goes without saying in the south. Now more than ever, kitchens are designed to include enough room for the whole family.
This means you see a lot of designs utilizing space for a large center island with seating vs. a breakfast nook and table. For galley-style kitchens, you often see an L-shape bar top off one side to create that added seating. These designs help everyone gather comfortably around the kitchen!
Photo: Coastal Signature Homes | https://www.coastalsignaturehomes.com/
Southern Kitchen Designs: Rustic Touches
We have all seen the barn door over the pantry upgrade, but there are many other ways to bring southern rustic finishes into a fresh kitchen design.
Consider opting for a unique cabinet finish and/or color if you really want to include wow factor! For those of you who love natural wood cabinet hues, consider incorporating rustic decor like handcrafted bowls and worn leather barstools to achieve the look.
If you love the classic white cabinet and want to marry modern with southern, you can try wrapping your range hood in reclaimed wood or even going with a live edge butcher block island countertop.
Photo: Randy Jeffcoat Builders | https://www.randyjeffcoatbuilders.com/
Southern Kitchen Designs: Trim Detail
If there is one thing every gorgeous southern kitchen has, it's custom trim work. The style can vary widely, but it's the finishing touch we just cannot live without.
From shiplap to cabinet crown moulding, corner trim and baseboard, there will not be a plain sheet of drywall to be found. The best part about trim is that you can customize it for any kitchen design.
The assumption is that trim in a southern kitchen equates to the classic barn door X or the whitewash shiplap and that's not true at all. You can work with a carpenter to preview a wide variety of custom trim designs and go with what you like.
The best part is: trim is more affordable than swapping out counters or backsplash (and don't get us started on cabinets), so it is a great choice if you are only interested in refreshing your kitchen.
Photo: H2 Builders | https://www.h2builders.com/
Conclusion
Achieve the look you want with these tips for southern kitchen designs! Choose one, two or all three, and we are sure you'll love the outcome!
Create space for the whole family with a large island.

Pop in a few rustic touches to warm up the space.

Update or add trim in your own style to elevate the overall design.
What features would you include on a list of ideal southern kitchen designs?
Share your ideas with us in the comments below!
Want to see more beautiful kitchens? Click here to see new listings in the Lowcountry with beautiful kitchens.
Sours: https://www.charteronerealty.com/blog/southern-kitchen-designs.html
Updating your kitchen can be as simple as a refresh (think: a quick one-day project like swapping out lighting or cabinet hardware) or as complicated as a full remodel (think: you're calling the contractor, and the next thing you know it's demo day). But there are plenty of projects in between that will make your kitchen feel more fun, more functional, and in many cases, brand new. Just imagine what giving your cabinets a fresh coat of paint would do for your space. (If that's sounding like a good idea, check out our guide on how to paint kitchen cabinets.)
If you know the heart of your home needs an update, this comprehensive photo gallery of 100 kitchen ideas is sure to stir up some ideas. Need additional seating and more prep space? We have tons of kitchen island ideas to check both boxes. Not sure where to start? Browse pretty all-white kitchens, farmhouse decor ideas, and kitchen trends for 2021 to cook up gorgeous design looks to suit your space and taste.
No matter if you're penny-pinching or splurging on a full renovation, there are kitchen design ideas here for any and every budget. Even if you're just curious for some creative tips, check out this list of the best kitchen decor ideas for some instant inspiration.
Sours: https://www.countryliving.com/home-design/decorating-ideas/g1213/kitchen-designs/
Kitchen And Bath Trends For 2021
.
Designs southern kitchen
.
32 Beautiful Country Kitchen Designs and Ideas
.
Similar news:
.
857
858
859
860
861