My video Review:
Disclaimer: Topping D50S was sent to us as a review unit in exchange for our honest opinion. We thank teamApos Audiofor this opportunity!
This year was such a busy year for Topping and I'm sure it was their best one yet. Topping released two incredible DACs that can fight in the heavy weight category with bigger boys, D70 and DX7 Pro were such eye openers that they made me wonder if much higher priced digital to analog converters made any sense. They are still tuning their top-of-the-line AK4499 based D90 DAC, but in the meantime an update to their smaller and more affordable DAC category just happened with the release of the newest D50S DAC/Preamp and Bluetooth receiver. I'm told there is also a A50 headphone amplifier in the works that should pair nicely with D50S and the dedicated P50 power supply should solve any background noise issues you might have.
We will be testing today their super cute (you will see this word dozens of times in today's article) and adorable D50S that is actually the successor to the D50 that looks basically the same except for one little trick.
So, what exactly was changed or maybe improved? Let's take a closer look:
The biggest change is the added Bluetooth receiver on D50S, Topping implement best Bluetooth chip currently available on the market, CSR8675 from Qualcomm – this one is capable of receiving AAC, SBC, aptX, aptX-LL, aptX-HD and LDAC for up to 990 Kb/sec wireless transmissions. This is a Bluetooth 5.0 capable chip plus the included antenna will surely help a lot in maintaining a stable and clean wireless signal that should withstand few concrete walls or just cover a much larger area.
Instead of going for 3 x OPA1612 like they did on D50, newest one has only two of them and a DIP8 socketed LME49720 op-amp – I know this chip pretty well, this is basically an updated LM4562 that everybody hailed as among the most detailed op-amp on the market. It seems that this change impacted the channel cross-talk quite a lot, it sits now at an impressive -130 db compared to just -116 on D50. Topping used the same op-amp in their flagship series, D70 and DX7 PRO are also using them, so this is very good sign in my book
D50s comes with a much-needed remote control, especially for us speaker-philes this is a very welcomed addition.
D50S is a bit heavier since the Bluetooth PCB, socket and BT antenna on the back added a bit of weight. Apart from that, both use the same DAC chips, USB input chips, have the same size and shape.
Unboxing & Package Contents
Unboxing experience is really positive. Double boxed obviously, the product box is thick and hard like a piece of wood, there is lots of foam inside for extra protection. What I liked about this box is that it is really small, looks mostly like a smartphone box and everything was squeezed inside really clever. Every single square inch of space was used to the maximum.
Inside it you will find the D50S unit, a screw type Bluetooth antenna, a much-needed remote control, a USB type-A to USB type-B connection cable and a DC cable that powers the unit, this cable has a USB type-A connector on the other side.
What is kind of missing from the package is the external power supply where the USB type-A cable should be plugged in. However, do note that any headphone charger will work just fine with it if it can provide at least 5V and 1A, it even worked connected directly to an USB port of my PC and of my TV.
Of course, it also comes with a warranty card and in typical Topping fashion with super technical User Manual – the type that I like the most. Topping published their actual measurements they performed on D50S using the best Audio Precision analyzers on the planet. If you are really into measurements look no further, the included manual has them all: FFT Spectrum on coaxial and on USB, RMS Level, THD+Noise ratio and the FFT spectrum of all 7 digital filters.
Design & Build Quality
It is super cute, super small but in the same time seems really heavy in the hand, it weighs 510 grams (1.13 pounds) so it gives impression of a really well build and solid device. Its body was made from a single solid aluminum brick, milled on a CNC machine, it is a uni-body design without any visible screws (it has 4 of them underneath) so the fit and finish is excellent. Since it is so small with a dimmable display, the WAF is really high in this one!
Seriously, this is the best looking single ended only DAC I put my hands on. It looks like a tiny version of Mac Mini with a tiny display in the middle. For laughs here is a banana for scale.
Controls & Connectivity & LCD Setting
Front panel looks clean and simple, on the left there is a double function button: a long press will turn it On or Off and an a short press will enter the menu. In the middle there is a small but clear LCD screen that will show your selected input (4 of them), the volume level, media type (PCM or DSD) and the sample rate. On the right there is a 4-direction joystick that helps navigating thought the menu. A short press on it will mute or unmute D50s, left and right will change the digital input and up and down will change the volume level. For a full 2Vrms please set it 0 dB or you can go lower than that, if needed it can work as a digital preamp.
On the back you have your DC 5V input, a BT antenna socket, 3 digital inputs – USB, Optical and Coaxial and the standard RCA Line-Out.
Menu Options
Short pressing the On/Off button enters the menu where you can select:
7 digital filters programed on the hardware level directly in the DAC chip, the user manual will show the exact changes those will apply to the frequency response, most of them will be altering the top octave
You can change the brightness of the LCD with 3 positions and an Auto position (probably with an ambient light sensor)
"Auto" setting at On or Off, if engaged D50s will automatically turn on when it detects a digital signal incoming and will turn itself Off if no signal is detected, leave it on On position
Bluetooth: On or Off. If you don't plan on using its Bluetooth receiver then I recommend turning it off so the case would be cooler. Once you engage it search for it with your smart device, connect to it and stream some music wirelessly, it's that simple
Factory Reset – self explanatory
What I really like on D50S and disliked on D70 and DX7 Pro is that you can control its every feature only by accessing the menu. With D70 and DX7 PRO you needed the remote control to dim the display, and change filter settings. Normally, every setting on D50S can be controlled by its remote and that is super convenient once you move it into a speaker-based setup.
Tech Specs & Detailed Information
Tell me this, how on earth Topping were able to squeeze inside not one top-of-the-line ES9038Q2M but TWO of them for the best SNR this chip can offer? Its much bigger brother DX7S has also those, but it's also three times its size and double the price.
USB connection duties are handled by a XU208 from XMOS that assures a stable and worry-free USB connection, if you install the custom drivers by Thesycon it should perform even better. Take note that only the USB input can decode PCM up to 32bit/768 kHz and natively decode DSD512 files, coaxial and optical are limited to DSD64 via DoP and to 24bit/192kHz PCM files.
Bluetooth is handled by the best received chip, combined with a detachable antenna D50S should cover a big open area or even an apartment pretty easily. D50s supports all major Bluetooth codecs, including the best ones as aptX-HD and LDAC, plus it supports Bluetooth 5.0 so the receiving quality should be top notch.
If you have an OTG capable smartphone, it will work nicely with D50S and if you have an iOS device then a CCK cable will do the trick.
We researched and we got some tips!
Before going deep into its performance, in typical Soundnews fashion we have some tips. First of all, as you might recall I hold my Benchmark HPA4 at highest ranks as I know it is not only very good at playing music but it is also an extraordinary tool that is putting any digital source at its magnifying glass and any imperfection will not hide from its gaze. The noise-floor of HPA4 sits somewhere between -150 and -160 dB, you will never hear it. However, if the source that is feeding it has some noise, HPA4 will show that to you.
I first powered the D50S by the frontal USB port of my desktop PC and there it was: the noise floor was very obvious as a low intensity hum covered all my songs. I double checked all my cables, everything was fine, the hiss was coming from D50S. I then decided to power it by a USB port from the rear, surprisingly the noise floor dropped considerably! Still, I was able to hear it even at normal listening levels and I was not very pleased with that.
I then decided by power it by an external power brick of a smartphone. Finally, the noise floor was super low, almost indistinguishable, yet, again I was able to hear it, but I needed to raise the volume up for that. Much better results, but I was still not very happy.
I then powered it by an external power bank, that is capable of outputting 5V and 2.1A and boy! What a change! Clouds disappeared, windows opened to my music and there were angels singing to me… joking of course. The noise floor dropped to a point where I can't detect it anymore. If you have a D50 or a D50S I strongly recommend at least trying an external power bank.
Obviously, the power adapters of our smartphones are different, one will better filter the mains noise, other one might not filter it at all.
I see that Topping even developed an external power supply for it called P50 that should provide clean power, without bothering with external power banks.
OK fellas It's time to carefully listen to some music.
Sound Performance
After solving all issues, I want to point out that D50s has a clear and transparent presentation with lots of details on the macro and on the micro-scale, it sounds expensive and definitely not like a $250 device.
Listening to David Bowie - Starman (2012 Remaster) it revealed the shortcomings of the older recording, yet the musical and catchy nature of the track remained the same. The guitar plucks sounded real and very pleasing; David's voice was like whispering to my ears at the start of the song. The chorus throws his voice deeper into background and I liked that D50s was capable of showing depth information and layering even on this track. At 03:08 mark the midrange kicked in heavily and all instruments including David's voice were chanting together in a crowded moment and yet the final result was not crowded at all, I've heard void spaces between each note.
Paranoid Android by Radiohead has so much information that it plays a lot with my imagination, this is the perfect song for the dynamic range tests, frequency response and detail retrieval. The bells on the left side hidden deep into the mix are so easy to spot, the guitars are sounding alive and not metallic at all. Vibration of the voice has a longer decay and vocal cords are like scratching my eardrums a bit. This song has some deep sounding moments and D50s was able to put every instrument on its shelf where it belongs.
When everything exploded at 02:54 mark, dynamics exploded as well carrying slam in the bass and fast transients in the treble, it was an engaging moment and without noticing it I started tapping me feet – a sign that I am enjoying its overall performance and everything clicked into place for me.
If you listen to Leonard Cohen – Never Mind between the 0:07 and 0:09 mark, basically for just two seconds if you have a revealing source you will feel the increase in the background noise, like a rise in distortion before Leonard opens his mouth. This small defect was easily heard on D50s and of course his voice sounded so intimate it was almost bothering at times, especially listening on headphones, I felt like he blows a lot air directly into my ears. D50S easily moves that air and since it has a faster pace, it didn't have issues with a rise in dynamics. Mid-bass in the background was clear, was always there borrowed deep but never stepped into the light.
The much higher energy of Rage Against The Machine (RATM for short) – Take the Power Back even at the 0:04 mark, it already started showing me crazy fast executed drums that carried lots of air and slam. The chorus carries so much energy, I couldn't help myself and obviously some head-banging followed and I started air-guitaring like I was THE air guitar World Champion.
I listened to another song by RATM – Bulls On Parade and again there is a hidden hum between the 03:00 and 03:03 mark, that is the noise when the guitar amplifier is engaged, with the right DAC this noise become so obvious you hear it from afar without closing your eyes, I'm actually pretty shocked how detailed, snappy and fast D50S sounds with every tune I thrown at it.
Calming myself I decided to listen to some Rachmaninov – Rhapsody on a Theme of Paganini, Op.43 (Master version) it is a masterpiece performed on piano and again there were multiple times when I felt the fingers touching the keys or the feet touching the pedals, incredible detailed performance. The soundstage level expanded tremendously as the track itself was recorded in a much bigger and wider space. I felt how musical notes flew farther away without decaying too fast, every note was born from thin air and disappearing much later out of thin air as well. This track is a very good example of how enveloping this song can sound in a speaker-based setup, as notes were delivered from different angles, it was like some magic trick happened with my speakers.
Topping D50S can be gentle if needed, it can be hard kicking, mean and loud, it can be intimate like Leonard Cohen showed me and wide open with tons of layers like Rachmaninoff sounded. The more I listen to it the more I started feeling a bigger pressure on myself, there should be some nasty ugly cons in it, it should fail with some music and yet it didn't.
The frequency response is super linear and straight as a line as most ESS Sabre designs nowadays are sounding (there are just few exceptions that sounded not so great).
Sub-bass was always fast, light on its feet, struck hard and gone deeper into the mix. Sub-bass performance is actually very good, Head of Nasa by Infected Mushroom and The Fat Of The Land by The Prodigy sounded like tremendously good. Tracks like Diesel Power and Guitarmass shown every single bass layer there is to hear. Everything down to 30 Hz notes was felt with my entire body, it's deep reaching, layered and detailed but also controlled without any flabbiness.
Mid-bass performance is not elevated, like how some other units are doing in this price range. It is super linear but defined and clear sounding. There were multiple times when I spotted bass layers that hit me like waves on a shore, nothing to complain here.
As for midrange, I'm glad that Topping didn't go for a V-shaped sound signature like SMSL did with their M500, D50S by comparison is not shy in showing off all those mid frequencies at their best. When the tracks asked for a smooth and musical midrange, D50s delivered plenty of those. When tracks demanded a technical and deep reaching midrange, D50s was able to be technical without being clinical.
Treble is extended to the sub-sonic area; everything is outlined and revealing. The usual suspects like cymbal crashes and double drums carried a lot of energy, sounded clear with a sharp outline. Treble wasn't clinical or bright or something like that, just extended yet never harsh on the ears.
Wireless Performance
Connecting a smartphone to D50s is much easier than you might think. Just enable BT from the menu, then select it as its main input, search for "D50s" with your smartphone, connect to it and voila! Just press play on your phone and hear your music in the living room on some nice speakers. My phone is connected via LDAC codec – the best BT codec so far, it is also BT 5.0 enabled for a larger Bluetooth coverage.
I left it in my office and I walked with my phone around the flat, with 2 thick concrete walls and about a 5 meter distance the signal was still going strong, at 10 meter distance again with 2 concrete walls it was still good and stable, only in my last room, about 15 meters away and 3 concrete walls the music started losing some beats. I do think with some thinner walls or just in an open space it should deliver a much wider BT coverage.
With all that said, it still performed much better than the FiiO BTR3, BTR1 and Q5S, the included antenna is actually a small booster/amplifier for the Bluetooth signal so it all makes sense.
Streaming simple 16 bit FLAC files from Tidal Hi-Fi it sounded basically the same as wired, blindfolded I would not feel a difference. There was just a faint difference with 96 kHz and 192 kHz files, I felt it sounding smoother somehow on Bluetooth and losing just a bit in terms of dynamics and impact. However, again it sounded clear, expanded, alive, I liked its wireless performance.
This is not a true-streamer mind you, since it doesn't have any Wi-Fi or Roon capabilities, but at $250 that's not possible, D50S already shook-up all my preconceptions about affordable gear.
A comparison with extra Topping on top
Topping D50S ($250) VS Topping DX7 PRO ($600)
Both are made by Topping, as usual the build quality of both is really top notch, both are CNC milled and beautifully crafted. Both are actually having the same Bluetooth capabilities so another plus for D50s.
DX7 PRO uses the best in class ES9038 PRO DAC chip of the moment, but it is only one chip, D50S uses the mobile version of that: ES9038Q2M but has two of them. DX7 PRO has all digital inputs you might want including AES and II2 and of course adds balanced XLR outputs at 4 Vrms, D50S is lacking balanced outs and all those extra digital inputs.
The biggest change is obviously the internal balanced headphone amplifier that DX7 PRO is having, at 1700 mW of power it can drive basically any headphone, including ortho-dynamic ones.
When it comes to pure DAC performance, I redid my tests multiple times, including few blind-tests that somebody helped me changing sources. Both were connected to Benchmark HPA4 so I could squeeze the last bit of performance from both.
D50S had a noisier background, just a little bit at maximum volume, but as I said the power brick of my phone and the external power bank are good but probably not as good as the toroidal transformer and multiple power filtering DX7 PRO has inside. D50S didn't have the blackest background, it can be spotted mostly when music is paused or when there is extreme silence like classical music is having.
Due to (much) better channel cross-talk, DX7 PRO on the balanced out to HPA4 sounded more expansive and the left to right soundstage was wider and deeper, I had more space between my ears and more air between the notes so I could hear them better and appreciate them to their fullest.
Going past that, they both are sounding mostly indistinguishable. Seriously, I would pick one in a song and then I would pick another one in the next song. They both sounded extremely close to each other, to a point that I couldn't distinguish them on some tracks. Frequency response, detail retrieval and transient response is basically the same on both units if DX7 PRO worked in single ended mode (RCA out).
Conclusion
The jump from Topping D50 to D50S seems like a massive one: better SNR, better cross-talk numbers, dual DAC configuration and the best Bluetooth receiver with widest codec support is the cherry on top.
Performance wise it sounded like a mature, serious and very expensive device. In terms of technicalities it has everything I'd want: it sounds detailed, extended in the sub-bass and upper-treble, sounds linear without any drops in the FR, sounds extra fast and kicks hard when needed, can be also smooth and gentle with older recordings. Lacks brightness and it's not clinical even with a THX AAA amp.
This is an amazing achievement for Topping, if you really don't need an internal headphone amp, some additional digital inputs or the balanced XLR output then D50S at $250 is without a doubt an amazing value!
Topping D50S can be purchased by following this link (they offer 30-day returns in case you don't like it, an extra 1 year of warranty and lowest price guarantee)
PROS:
Cute, small, sleek looking device, solid build quality
Easy integration into tiny spaces, highest WAF known to me
Sounds linear and super extended on both ends (sub-bass and top octave), lacks any sound coloration
Resolution and transparency are at high levels
Precise pin-point imaging
Extended soundstage, deep sounding as well
Excellent pace, rhythm and timing with fast kicking dynamics
Very good control especially in the bass with a low distortion
Excellent Bluetooth capacities
The Best Value I know of
CONS:
Not the blackest background, there is still a bit of hum (Topping P50 power supply should solve this issue)
Lacks few digital inputs and a balanced output
ASSOCIATED EQUIPMENT:
Sources: Xiaomi Mi Mix 2S, Corsair One i160
DACs: Topping D50s, Topping DX7 PRO, Matrix Audio Element X, KECES S3
Headphone amps: Benchmark HPA4, Erzetich Bacillus
IEMs: FiiO FA7, Simgot EN700 PRO
Full-sized headphones: Quad ERA-1, Hifiman Arya, Sennheiser HD660S
Wireless headphones: Master&Dynamic MW65, Sennheiser Momentum 3 Wireless
Loudspeakers: KEF LS50W
Interconnects: QED Reference XLR (x2), Aune AL3 XLR
Power Cables: Isotek EVO3 Premier (x2)
Balanced Isolation Power Conditioner: PLiXiR Elite BAC400, KECES BP-600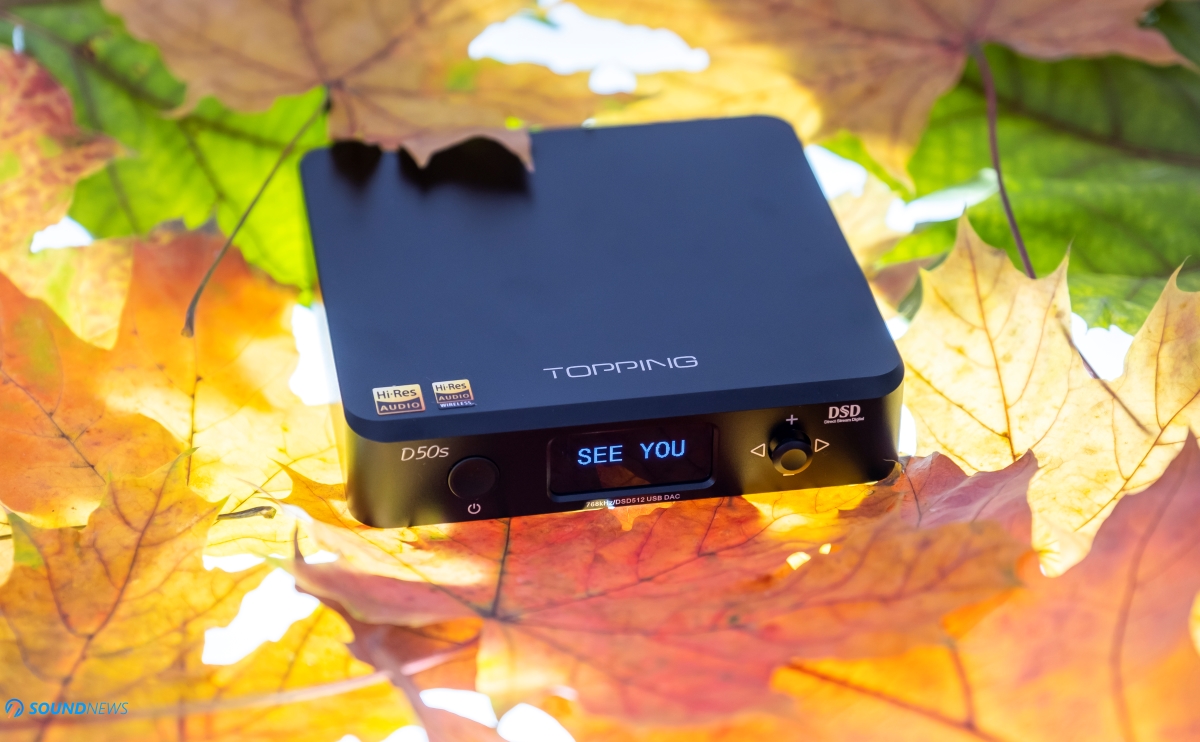 Overall score 84/100
Value 92/100
Features & Menu Settings 87/100
Background Noise 76/100
Resolution 85/100
Dynamics 84/100
Frequency Response 86/100
Stage Size 78/100
Build Quality 85/100
Sours: https://soundnews.net/sources/dacs/topping-d50s-review-strong-essences-are-kept-in-small-bottles/
Review and Measurements of New Topping D50s DAC
This is a review and detailed measurements of the brand new, Topping D50
s
. Yes, this is a new revision of one of our favorite DACs, the D50. The new version brings Bluetooth, remote control and better performance (see measurements below). It was kindly sent to me by Topping. I don't see an announcement on it but Topping has shared with me that it will cost US $250. The unit I have is production version but lacks manual, stickers and such.
From the outside, the D50s looks pretty much the same as D50:
You can see the antenna in the back for Bluetooth. The remote control is the same as recently Topping offerings. Indeed I used the one from Topping DX3 Pro to control it. It uses two AAA batteries so there should not be any issue with coin cells.
The back panel is what you expect:
For my testing, I just used the round 5 volt cable to USB that Topping provided. I simply plugged that into one of my USB 2.0 on my desktop workstation.
I did not test the Bluetooth but seems like this is becoming a standard feature on DACs which is nice.
All the testing was with Windows 10 USB UAC2 class driver (i.e. I did NOT install anything).
DAC Audio Measurements
Let's fire up the dashboard to see what we have here:
Nice! Highest level distortion in the "bad" channel (FFT top right) is at -120 dB which is a few dB better than the best our hearing can do. Clock accuracy is right on the money with that 1.00000 kHz reading.
THD+N and hence SINAD (signal over noise and distortion) have improved by a few dB over D50. Given the small difference in SINAD between our top DACs, this moves the D50s good few notches towards the top of the class:
The D50s like D50 uses an ESS DAC where with some exceptions, we have been suffering from an "IMD ESS hum" where at mid-levels, intermodulation distortion suddenly rises. Guess what? Topping has fixed this!
Hurray!
I know what they fixed but I am not at liberty to say what. I will say that they had to fix this themselves and did not get help from other sources.
While we are on this graph, a trend seems to be merging between DACs based on AKM and ESS chips. AKM DACs seem to be more quiet as you can see from performance of DX3 Pro in red. But at max level though, ESS DACs seem to have less distortion by a few dB. Interesting trade off.
Dynamic range reflects the above:
This is about 7 dB worse than Topping D70with is based on AKM chip. Yet, the D50s beats the SINAD of the D70 by 3 or 4 dBs.
Frequency response depends on filter setting. Here it is using the default (mode 2) filter:
Nothing really eventful. Here are the filter differences:
You have the classic choices here of wider bandwidth but less attenuation of out of band aliasing and vice versa.
Jitter visually looks clutter because of low noise floor revealing smallest aberrations but not remotely an audible concern:
Linearity is nailed as one would expect from a well engineered product:
Testing with 32 tones rather than one or two, we see exceedingly low intermodulation distortion:
As noted, the difference between our tone peaks and the distortion floor is better than 120 dB. This is transparency in play.
EDIT: Here is the THD+N versus frequency as requested later in the thread:
Conclusions
One of our favorite DACs has grown up and become even better. The D50s solidly eliminates the ESS IMD hump, adds the much needed remote control and Bluetooth without a premium in pricing. It makes great pairing with such headphone amplifiers at JDS Labs Atombeing roughly equal in size and looks.
It is a pleasure to see Topping continue to deliver well-engineered audio products without exception. Using proper measurements allows them to verify and refine the design before we get our hands on.
Needless to say, I am happy to recommend the Topping D50s.
------
Questions, comments, critique, etc. are welcome.
Avid readers of the forum may have noticed that the left ear on this pink panther no longer looks chipped. Sadly, that is repaired in photoshop. The poor little panther has been pleading with me for an ear transplant but I just can't afford it. Please donate some money toward that cause so I don't have to keep putting injured animals to work using:
Patreon
: https://www.patreon.com/audiosciencereview), or
upgrading your membership here though Paypal
(https://audiosciencereview.com/foru...eview-and-measurements.2164/page-3#post-59054).
Sours: https://audiosciencereview.com/forum/index.php?threads/review-and-measurements-of-new-topping-d50s-dac.7914/
Just a quick a dirty review of the very popular Topping D50s DAC. Known to measure very well, some of you have asked for my subjective opinion of this much-hyped DAC. Heck, you could even see measurements in the manual.
As you know, I'm all about the subjective. I believe measurements are great for repeatability and finding problem areas. But I've realized the important attributes that translate into the better enjoyment of music simply can't be measured. However, if better measurements give you better peace of mind, all the power to you.
I haven't read any of the reviews or even bothered to look at the charts before listening. The only thing that matters is how it sounds. So, let's cut to the chase.
Build & Setup
As far as setup, nothing fancy here. I have a PS Audio Sprout100, a pair of LSA-10 Statements loudspeakers, Furutech DPS-4 speaker cables, a stock power cord, Mapleshade optical cable, Chromecast Audio, and Iconoclast UPOCC RCA cable. Listening was done through Spotify. You'll get far better fidelity via Tidal or Qobuz – but I figured Spotify is more ubiquitous.
As far as the build quality, this DAC feels top-notch and looks sleek. It's also weightier than I expected. I love how you could power it via a USB on your monitor or via a battery pack (more on this later). The auto-on feature and intuitive interface are also much appreciated. Overall, this seems like a very high-quality product.
Power
The Topping D50s DAC could be powered by any USB port (5V). However, if you want to maximize its performance, use a battery. I use the Krisdonia for a lot of my gear, including the Chord Electronics Qutest. To me, the gains are well worth the price tag and any inconveniences.
Battery Benefits:
Much more solidity
Smoother. Much less grain and roughness
More weight and dimension
Better focus
More tonal colors
Quieter
Lyrics are more intelligible
Personally, I would power the Topping D50s via a battery 100% of the time. It's tough to go back to anything else. For the listening tests, I've powered both the D50s and Chromecast Audio with the battery pack.
Filters
With seven different filters, there's one for everyone. I spent some time going through the various filters. I ended up sticking to either Filter #3 (min. phase fast roll-off filter) or Filter #5 (linear phase fast roll-off filter). The other modes sound a bit cold and tilted towards the top-end. I just felt these two modes had more soul to them.
FIL 1 (Apodizing fast roll-off filter) – Clean, crisp, quiet. Fantastic separation, layering, and soundstage. A bit cold though.
FIL 2 (Min. phase slow roll-off filter) – Super quiet but not as dynamic. It has more of a crystalline sound. Perhaps tighter than FIL 1?
FIL 3 (Min. phase fast roll-off filter) – Has more weight than #1 and #2. Not as clear and quiet as the previous two filters but has more warmth and rhymic drive. There's a little bit of grain but dynamic and presents more accurate timbre
FIL 4 (Linear phase slow roll-off filter) – Piano is smooth but voices have some edge to them. Voices aren't as focused. Mids are carved out a bit. A little patchy.
FIL 5 (Linear phase fast roll-off filter) – A "fatter sound" vs #3. It's a clearer version of FIL 3. It's not as warm but presents more depth and defogs more of the music.
FIL 6 (Brick wall filter) – A little layer of coarseness over the entire spectrum. There's something off about this filter. There's a sense of hollowness and gaps. The lows and mids are bent and shaped in a weird way. A really confused sound.
FIL 7 (Corrected min. phase fast roll-off filter) – This sounds like FIL 6 with more smoothness and a more nose-pinched sound.
Sound
Pros:
The Topping D50s is impressive on many fronts:
Incredibly quiet. Musical elements just float.
This is a very insightful DAC. It digs into the mix. You'll hear every detail, the timing of decays, and how the recording was structured.
Bass is very well controlled with fantastic sub-bass definition.
The soundstage is enormous. It just wraps multiple layers of music around you. This is one of its most stand out qualities.
Plenty of air and life around performers and instruments. This especially applies to the top end.
There's no overemphasis of any particular region.
There's a "crispness" to the sound. Transients are super speedy and precise.
Very dynamic. It's able to go loud without inciting confusion.
Outstanding separation, outlining, and separation.
A very natural sounding top end.
Sounds great with acoustic. Stringed instruments sound particularly tactile and brilliant.
Cons:
At this price point, it doesn't matter if it measures well. Tradeoffs are a given.
It's a very clean sound that borders on sterile. It is not a sweet or warm sounding DAC.
Tonally muted. There aren't a lot of tonal colors in its palette. Sometimes male and female vocals have the same shades.
Although very detailed, I feel it's presented in a way that is more superficial.
It's more piecewise than it is cohesive. It almost sounds contrived and more "computer than human" in the way it articulates.
Rougher in the mids. Although high in resolution, voices have this really irritating coarseness and grittiness I can't get myself to ignore. This was the deal-breaker for me.
Lacks cohesion. The individual pieces of the recordings sound great – but the connective tissue doesn't sound natural.
Over time, I just couldn't get myself to fully engage with the Topping D50s DAC. Although impressive in its resolving and spatial abilities, it just wasn't musically involving for me. For example, close-miked performances don't have that intimacy I'd expect. I never felt like "they're there."
Aside from inaccuracy in tone, the D50s comes off a tad too lean and icy for my tastes. I prefer a richer more fleshed-out sound. There's still a bit of "digital haze," especially in the midrange, that just doesn't sit well for my ears. There's a balance between purity and realism – and the D50s tilts more towards the former.
All is not lost. The Topping D50s will surely benefit more when paired with tube amplifiers and darker speakers. Also, if you're willing to trade tonal quality for transparency – this DAC will be well-suited. It does a superb job of revealing the various layers and inner-details of your favorite recordings.
vs. Chord Electronics Mojo
I have no clue how the Mojo measures vs. the D50s – but I would save up for the Mojo any day. It's much more organic and natural sounding. It's grainless, silky smooth, and simply more analog sounding. Although not as black backgrounded or top-end brilliant as the D50s, it has a far greater presence and gravity in all the acoustic elements. Timbre is also much more realistic- especially when it comes down to piano, double bass, and voices.
That said, the D50s has a more sparkly top end. It dissects and outlays the details very well. It has more shine and energy versus the Mojo's more grounded and intimate presentation. It's also quieter and does a more obvious job of pulling apart the music. You're able to hear the individual nuances – and even more details in the low-end. The Topping D50s is precisely outlined, speedy, clean-shaven, and atmospheric. For what it's worth, I do enjoy the D50s for large orchestral and live acoustic performances. So if you value transparency and clarity over warmth – the D50s may work well for you.
In the end, I found the Mojo to just have a better sensual flow, a fuller sound, and tonally closer to what the artist intended. Although not as revealing or treble-present as the D50s, there's just more soul to the music.
vs. Chord Electronics Qutest
I powered the Qutest with the battery mentioned above with the red filter.
The Chord Electronics Qutest could be the end-game DAC for me 99% of audiophiles. If I hadn't heard the Chord Electronics TT 2, I would be pretty happy with the Qutest. 🙂
The Qutest has the best of all worlds, especially when powered via a battery. Although not as warm and thick as the Mojo, it has better tonal balance while not sacrificing much in the realm of musicality. It has the quietness, clarity, speed, and resolution of the D50s and the weight, timbre, and density of the Mojo. You also don't hear the music "in pieces" but as a silky yet textured stream of music. It also articulates with far more ease than the other two DACs. It just shapes and molds the music in ways the Mojo and D50s cannot.
In comparison to the D50s, the Topping has a slightly wider soundstage but is more anemic, metallic, and flat in comparison. But yes, the Chord Electronics Qutest comes at a much steeper price of $1,700. It's not meant to be a fair comparison, but it's here for the curious.
Final Thoughts
Although not a good fit for me, the Topping D50s DAC does offer a ton of value at only $250. If you're looking to upgrade the sound from the built-in DACs in your laptops or integrated devices, the D50s is definitely worth a listen. In particular, it presents a very wide soundstage with imaging and layering capabilities to match. It also has a knack for clarity and transparency. Just make sure to power it with a battery.
For the money, I have no complaints. However, if you prefer a warmer, smoother, and more euphonic presentation (as I do) – you may want to look elsewhere. The lesson? Measurements won't tell you whether you'll enjoy a piece of HiFi equipment. The only thing that makes sense is to trust your own ears.
Purchase Topping D50s DAC ($250)
Merry Christmas ya'll!
Sours: https://audiobacon.net/2019/12/24/topping-d50s-dac-review/
Topping D50s _(Z Reviews)_ 🌀 Stealth Dac 🌀
This is an unscheduled follow up to a recent review I did on the desktop DAC from Topping, the D50s
You can see the full Topping D50s review in all its glory here via this link. In short though I liked the DAC a lot during that initial review. The build quality was good with a rather luxurious feel. It had a solid, CNC kinda feel in the hand. Especially for the price which is around £250. It was also fully featured with coax and optical ports sitting next to USB. Bluetooth was also added.
In sound terms I liked the performance a lot. Again, for the overall price and for the amount of facilities on offer.
The only technical issue – well, at that time I didn't even see it as a real issue – was that the sound sound cut out on one occasion during play. This was while I was connected to the coax socket.
At that time, I assumed that the problem was me. During the review, I was swopping cables in and out of the hifi chain, changing DACs to do A-B comparisons, moving and shoving things around and the like. I assumed that the cut out occurred because I hadn't pushed in my coax cable sufficiently onto the D50s socket  This has happened to me before, in a past review of another product,  so there was a precedent.
It was after the video review was published that two YouTube channel members contacted me on separate occasions to report a possible issue with that coax socket. One channel member stated that he'd heard of issues occurring from Topping D50s users posting on social media. Another actually owned a D50s and also reported the same problems. A third reported no problems at all but I subsequently found the reason was that he never used the coax port. This third channel member did a quick sound test and, sure enough, triggered sound drop outs via the coax port.
The reported sonic issue included repeated and regular sound drops during play while in coax mode.
I then looked around the Internet and found other users reporting similar issues on a host of other forums.
I hadn't experienced such persistent behaviour but I did wonder about the coax sound cut out that I had experienced.
So I hooked the D50s to my hi-fi again and sat down for an extended session. It didn't take long for the sound drops to occur. I was using a CD from Alison Moyet, her Greatest Hits. A CD I had used within the original review.
More disturbingly, as time progressed, a pattern started to form where each sound drop would occur every few minutes. Once per track. The sound would cut out into silence for a second or two and then the music would continue as normal. The next track would start, two or three minutes would pass and the drop out would occur again. Same thing. A second or two of silence and then the music would continue.
Obviously, this was a problem.
To try to get the the bottom of this issue, rather than approach Topping directly in their HQ within China and possibly hit a brick wall of silence or PR speak, I tried an alternative method. One that I hoped would bring better results.
In the UK, Topping is distributed by a respected company called Electromod. Electromod has been distributing top brands like Schiit, Dan Clark headphones and more for many years.
Their Topping account was a fairly recent one.
To be honest, in cases such as this, the protocol is that you approach your localdistributor first anyway. It's polite, shall we say.
Nevertheless, I also hoped that talking to Electromod would prove useful. Firstly, Electromod would have contacts on the inside of the company. Contacts I'm not aware of. Electromod would also have an open channel of communication. Finally and more critically, both Electromod and Topping have a financial connection and commitment. Hence, any queries from this distributor will probably hold more sway and influence in a company like Topping. Far more than liddle ol'me, at any rate.
So I reported the issue to Electromod and it was very concerned indeed. As you might expect. This is a company that's trying to sell Topping's D50s DACs, in the UK market, don't forget.
Electromod said that it would get on the case, contact Topping and promised to get back to me in a few days with more information and any news of a possible solution.
After a raft of email exchanges with Topping, Electromod has issued this statement based upon information issued to it via Topping itself,
"As the UK distributor of many brands, we take product issues very seriously. Since Paul alerted us to the Topping DAC issue, we emailed Topping Audio to try and find out more. Unfortunately, Topping has said that that it cannot resolve the issue. Reportedly, the audio problems heard with the D50s DAC are caused by the Cirrus Logic receiver chip. According to Topping, this chip will struggle to work efficiently if faced with an unstable or irregular signals also called Jitter. This audio issue effects all Topping DACS featuring the Cirrus Logic receiver chip which including the D50s, DX7pro, D30Pro and the new batch of the E30 DACs.According to our tests, this audio drop out issue does not affect other inputs, only the coaxial input.If you have purchased a Topping DAC through Electromod and are having any issues, please call/email us to discuss it further."
Before I go any further, I want to thank Electromod for their efforts in contacting Topping and being so proactive when faced with my queries. They did everything they could to help and I applaud them for being so co-operative.
The fact that Topping "cannot" sort the problem is interesting. Note the term "cannot". Not "will not" but "cannot". So maybe Toping has been forced into a corner here? The company didn't elaborate so we can only speculate.
It's possible that the Cirrus Logic chip purchase is a major financial commitment so maybe there is no budget for a replacement.
Topping has used AKM receiver chips in the past but, since the 2020 fire which partly destroyed and wholly disabled the AKM factory, that option is a no longer available. AKM products are rare right now because they are currently only being produced in limited numbers by licensed third parties and, because of that, can only be had at inflated prices. Inflated due to demand. The sort of prices that car companies, for example, can afford but hifi manufacturers cannot. And car companies are – so I hear – making sure that they get their AKM chip supplies. Which doesn't leave many left for hi-fi outfits.
That situation will remain so for some time while AKM rebuilds. So maybe the choices to replace the Cirrus Logic with an alternative chip are few and far between. I don't know. Again, I'm speculating.
So, to remind you, the reported issue is with the Cirrus Logic Receiver chip. In this case, the CS8416 which is a sort of digital management chip that does various bits of housekeeping around the DAC, shall we say.
To find out more and to try to find an alternative viewpoint, I called Cirrus Logic itself. I wanted them to make the case for this chip in the sake of balance.
But I failed to find the right people. I called two of the company's HQ sites in an effort to find the experts I needed. As I say, I wanted the company to offer their side of the story. But that didn't happen.
It's possible that staff are not available right now because of the current world situation. Maybe they're unavailable because they people I needed to contact are working off site. I wish I could provide a detailed explanation on that.
I'm sure, if I persisted over the weeks and months, I'd eventually find the people I needed to talk to but time defeated me and I felt that my priority here was to let as many owners and prospective owners of the D50s DAC know the technical issues before the story itself grew stale and more people bought this seemingly faulty design.
What I did obtain was a design document for the Cirrus Logic CS8416 chip which had a date on it: August 2007. This is not a rare document and can be accessed by anyone who seeks it out. As far as I'm aware – and I'm happy to be corrected here – there may have been tweaks but no major or fundamental redesigns of this chip since this time so it represents a mature technology.
That being the case, I'm not sure why such a mature chip should suddenly decide to fail and become a problem. During my– admittedly – relatively brief time researching the chip, I couldn't find other examples where the Cirrus Logic CS8416 chip was causing similar sonic issues within other hi-fi components. Again, I'd be very happy to be corrected on that point if you can provide evidence to the contrary.
So that part of the statement confuses me.
Still confused, I went back to the Topping DAC, which was still connected to my hi-fi and decided to do a range of additional tests to try to see if I could find any other answers of my own.
So I changed other variables around my digital chain to see if that caused problems.
I shut down my hi-fi. I wondered if there was an initial coax locking issue and if powering up each component at different times might have an affect on obtaining a coax lock. So I powered on the DAC first, then my CD transport. But the drop outs still occurred. So I switched it around. I switched on the CD transport first, then the DAC. No change.
I then swopped around the filters in the DAC itself without any affect. I switched the Bluetooth on and off to see if that was causing interference but no, it wasn't.
I even swopped the direction of the digital cable I was using but that didn't alter anything.
I then changed the cable itself From Cable No.1 to Cable No.2. And you know what? This time there were no sound issues at all. None. Everything worked fine. There were no issues. The DAC worked perfectly.
So was the cable change the answer then? I played more Alison Moyet tracks using Cable No.2 and everything sounded great. Again, no issues. No drop outs. I then played a much older CD from Ryuichi Sakamoto. Again, no issues, no drop outs. Everything was fine.
So I changed the cable again to a third reference example, Cable No.3. I played my selected CDs again and had another listen.
Everything was fine. No drop outs and no issues.
So I went back to the original cable, Cable No.1 – the problem child. The cable that had started all of the problems and possibly triggered all of the drop outs in the first place and you know what? It worked fine! It ran perfectly! There were no drop outs. No cut outs. No problems in any way and I played track after track and swopped CDs and everything was just hunky dory!
So, maybe the cables were not the issue after all, then.
My last test related to time. Maybe the was a warm up issue? Maybe the reason that the DAC was working fine all of the sudden was because it had warmed up? Maybe the problem occurred when the DAC ran cold?
So I disconnected everything. I switched everything off. I walked away and came back the next day. I came back to a system which, the last time I used it, was working perfectly. I started it up once more and ran it, stone cold.
I turned everything back on, played the same music with the same set of cables and…everything worked fine.
So – obviously confused – I tried to 'break' the DAC signal. I disconnected the coax cable and reattached it again to break the 'lock'. Everything worked fine. So I moved to USB, then optical, then Bluetooth and back to coax to break that lock again. When I arrived back at the coax connection. Everything worked fine. So I disconnected and connected the RCA sockets, no change. Everything worked fine.
Once more, I changed the coax, this time back to another cable. Again, everything was fine. I changed CD players, I changed more CDs and then I ran out of ideas.
Does the error work itself out after several hours of constant use? Possibly At a very rough case, 24 hours of constant use in my case.
That doesn't mean, of course, that if you have a Topping D50s running it in for 24 hours or more will cure the problem. It also doesn't rule out the problem springing up again later. I'm not saying that this is a cure, let me emphasise that.
Maybe my so-called solution was a fluke, a quirk and nothing more than that. Having said that, it's worth a try if you'd like to keep hold of this DAC.
Its also worth changing your coax cable, of course. Try that too.
CONCLUSION
So what do I conclude from this series of tests?
Well I find the whole operation deeply unsatisfactory. I find it wholly frustrating that I have not managed to find a solid solution.
Based on the listening tests I have run through and gamut of tweaking and switching around I've done here, the DAC appears to work fine after running in for a time. Lets say 24 hours as a rough guesstimate, in my case.
I say "appears", because I have absolutely no faith at all that the problem has been solved. None. The issue may very well come back again tomorrow, next week or next month. That's because the issue appeared to correct itself. I nor anyone else did anything to fix – if that's even the right word – this thing. If the DAC can correct itself then it can also break itself again.
Of course, I will keep my eyes and ears open to future developments from Topping and will update you if I hear more but let me say this. If you own a D50s and wish to use the coax socket – and not everyone does let me remind you some users don't touch the coax – I hope that these tests at least helped to dispel a few theories and even offer a measure of optimism that your troublesome D50s can and possibly will be fully functional.
If you don't own a Topping D50s but were thinking about buying one, would I recommend you hand over your cash for this DAC? No, absolutely not. Not while the underlying issue with the coax socket remains in the air. There are plenty of other options out there. Choose one of those. That, final thought has been reflected in the rating below.
---
TOPPING D50S DAC
Price: £250
Website: www.electromod.co.uk
---
GOOD: insightful mids, organic bass, easy to use, build, Bluetooth play
BAD: filters, USB sound output, coax port techie issue
RATING: 5
---
REFERENCE
Apple MacBook
Apple iPhone
Astell&Kern AK120 (Red Wine Modded) DAP
Audiolab 6000CDT
iFi Zen DAC
Audiolab 6000A amplifier
Spendor A1 speakers
Tellurium Q & QED cabling
Blue Horizon Professional Rack System
Harmonic Resolution Systems Noise Reduction Components
Related
Topping
Paul Rigby
I've been a journalist and editor for 35 years and still retain my good humour. Who'd have thought? I have worked within a range of industries, writing for hundreds of national magazines and newspapers in the UK, Europe and the USA covering: aviation, music, computer technology, computer gaming, hi-fi, mobile technology, home automation, lady's lifestyle, plastic model making, antiques and more.   I currently write for national magazines in the subjects of business, music, hi-fi and general technology.
Sours: https://theaudiophileman.com/d50s-dac-review-topping-pt-2/
D50s topping
.
TOPPING D50S DAC REVIEW. INCLUDES COMPARISONS WITH THE TOPPING E30, SONCOZ LA-QXD1 AND IFI ZEN DAC
.
Similar news:
.
924
925
926
927
928