February Bullet Journal Ideas
2020 is in full swing which means I'm already part of the way into my February bullet journal! February is one of my favorite months of the year because it includes my birthday! There's just something special about your birthday month! Add in Valentine's Day and it's a fun month!
This year there's a little extra fun in February too! It's a leap year! So don't forget to add that extra day to your journal spread!
This post may contain affiliate links. Please see my Disclosure for more information.
FEBRUARY BULLET JOURNAL
Because February includes Valentine's Day and I love the colors pink and purple, it only made sense for my theme to be a heart theme featuring those colors! You could call it a Valentine's Day bullet journal theme but it could also be used any time you want a heart-themed layout!
You can watch my Plan With Me video at the bottom of the post, but I'm going to walk you through the supplies I used and all of my February bullet journal ideas I put into this month's spreads!
RELATED POSTS:February Sticker Pack, Printable February Cover Page, Free Cover Page Printables
IMPORTANT FEBRUARY DATES
February 2nd – Groundhog's Day (and my birthday!)
February 14th – Valentine's Day
February 17th – President's Day
February 29th – Leap Day
There are some other fun days you might want to mark in your February bullet journal too!
February 2nd – Super Bowl Sunday
February 6th – National Frozen Yogurt Day
February 11th – International Day of Women and Girls in Science
February 13th – Galentine's Day
February 17th – National Random Acts of Kindness Day
February 20th – National Love Your Pets Day
February 27th – International Polar Bear Day
February 28th – National Floral Design Day (do some doodling!)
FEBRUARY 2020 IS A LEAP YEAR
Just another reminder! One of the biggest mistakes you could make that could bother you this month would be missing that extra day on your monthly and weekly spreads!
FEBRUARY PLAN WITH ME
I've had a lot of bujo newbies reach out over the past few weeks and I want everyone to know that they can bullet journal! It doesn't matter if you're brand new or if you've been doing it for years!
We can do it!
This month I focused on doing some minimalist spreads that anyone can get started with while using some of my most basic bullet journal supplies!
If you're concerned about being able to set up your journal and don't want to try these easy layouts. You can always snag our February Printable Pack and print it to use in your bullet journal!
BUY THE FEBRUARY PRINTABLE PACK NOW!
There are so many pens and markers out there. But if you're just getting started, I highly recommend getting a big pack of Crayola Washable Broad Line Markers because they're very affordable and you get a lot of color options. This month, I only used the Crayola Markers for the color in my bujo!
Here are the supplies I used for my February bullet journal:
FEBRUARY BULLET JOURNAL COVER PAGE & QUOTE PAGE
If you look through quote pages for inspiration, you might feel like you have to be an expert at hand lettering to create a page.
You don't have to! I promise!
I create this month's quote page by browsing fonts until I found one I liked! Then you can either draw it or trace it. I used my iPad and a light table app to trace it onto the page. A lot of you have asked me for that tutorial and it's on its way!
So don't let the lettering worry you! Don't be afraid to use something you see online and don't be afraid to trace! It's one of the best ways to learn!
ONE PAGE WEEKLY SPREAD & HAPPY BIRTHDAY BULLET JOURNAL PAGE
This is my birthday month so I wanted to do a little something special for myself! Since the first few days of February landed on the weekend, it worked well to do the birthday page opposite a one-page weekly spread since most of my journaling is still on my January pages for the last week of the month.
Even if you're going for a minimalist vibe because you like the look or because you're new to things, you can still get your cute factor!
I've been in a more minimal mood recently but I still crave color and a cute factor. I feel like my hearts really helped me get that feeling this month!
ANXIETY AND DEPRESSION MOOD TRACKER
This year I've changed up my monthly mood tracker and have started using one to specifically track my anxiety and depression.
I rate both symptoms each day and color in one half of each heart with the color that corresponds with my rating. I like seeing the correlation between the two. I'm hoping after a few more months I'll be able to look back and see if there are any monthly patterns.
PLAN WITH ME VIDEO
MORE FEBRUARY BULLET JOURNAL IDEAS
Here are some more fun ideas that you can try in your bullet journal this month!
2019 February Cover Page from The Petite Planner
Image by @jess_journals. I love the use of color and the simple lines she uses to create this monthly spread. Putting a gratitude log on the monthly layout is a wonderful idea! That will make it easier to keep up with!
Image by @_by_el_. This is a beautiful and minimal cover page that shows how simple you can keep it. So elegant!
Image by @egg_letters. This is another fun use of color paired with an easy doodle we can all do! This is my favorite style of monthly spread because it's so easy to draw. If you can draw squares and rectangles, you can set up your monthly spread, I promise!
Image by @lilaboxx_creative. This layout is completely different than most! I love the huge space for notes if you're more of a brain dump type of bullet journaler. Also, check out the use of washi tape and photos!
Image by @nera_bujo. This spread is proof that you don't always have to use bright colors. Going darker works well too! Pairing a darker shade with blacks and grays is a simple way to add some color to your journal!
Image by @calaimatbujo. I love how this layout uses less traditional colors! Even though I'm always pulled to use pinks and purples in February (because they're my favorite colors too), you don't have to do that at all! The floral paired with a beautiful quote gives this a very romantic feel.
Image by @barbarahaegerart. CUTE factor alert! I'm all about the cute factor! One of my favorite thing about this weekly spread is the use of borders. They're simple but add such dimension!
Image by @carlinginink. While you don't have to do intense art and drawing in your bullet journal, if that's your thing — please do it! This is a gorgeous February cover page. I love the simplicity in the use of black and white. And proof that you don't have to do all things hearts in the month of February!
If you have a February bullet journal you'd love to share, I'd love to see it! You can also comment to share what theme or colors you chose this month! I love hearing about them all!
PIN THIS POST
Sours: https://thepetiteplanner.com/february-bullet-journal-2020/
25+ Best February Bullet Journal Valentines Ideas
25+ Best February Bullet Journal Valentines Ideas
Looking for February bullet journal ideas?
It is the month of LOVE. 🙂
Here is a beautiful collection of bullet journal ideas in hearts theme by the talented @bujoandcookies.
From cover pages, habit trackers, monthly spreads, weekly layouts to teaching you how to draw doodles!
You can also find more different themes and ideas for February and Valentines Day here!
Feel free to repin the ones you like for easy reference and remember to subscribe to us to receive your monthly FREE bullet journal inspiration email 1 week before every new month!
TOOLS:
Before diving in, I would like to share with you the materials that I wish someone had shared with me when I first started my bullet journal journey(tongue twister haha) instead of the overpriced books and markers that the pros always recommend.
Getting these good basics tools will allow you to explore and find out if you like bullet journalling without spending a bomb. Plus, they can last you for quite awhile.
I use this notebook now, which is a good but cheaper(less than half the price) alternative to the popular favourite Leuchtturm1917.
These colorful markers have a broad tip and fine tip that you can use for most of your decorations. My favourite!
These stencils are less than $10 and there are 20pcs of all kinds of shapes that you can play around with. Super fun.
Yup, that's all you need for a start!
WHAT IS BULLET JOURNAL
If you are a beginner, you can start here.
p.s. Don't say we didn't share- NOW WILL BE A GREAT TIME to stock up on you bullet journal supplies as Amazon is having a great sale!
Related: 20 Best Minimalist Weekly Spread Ideas
February Bullet Journal Valentines Heart Cover Page Ideas
It's really easy to create this beautiful february cover page. You can use these 3 pink shades to achieve this design.
February Bullet Journal Valentines Heart Habit Tracker
February Bullet Journal Valentines Heart Mood Tracker
Super cute yet pretty mood tracker! Use this easy-to-use pink markers to decorate them 🙂
Cutest Love and Couple Quotes for February and Valentine's Day
Ahhhh. Super adorable and cute couple doodles and quotes! You definitely have to try at least one of them!
Bullet Journal Monthly Spread Ideas for February and Valentines day
Bullet Journal Things to do List
February Bullet Journal Valentines Day Weekly Spread Ideas
We love these minimalist pink weekly spreads for February. Try them out today and tag us on Pinterest! We would love to see yours. 🙂
February Bullet Journal Valentines Day Doodles
Learn how to draw these super cute valentines day doodles!
More Bullet Journal Ideas for February and Valentine's Day that you may like
Here are more trackers or ideas that you may like to add in your feb bujo.
There you have it. We hope you like this entire collection of february bullet journal valentine's day ideas that you can use today!
Feel free to repin the ones you like for easy reference and remember to subscribe to us to receive your monthly FREE bullet journal inspiration email 1 week before every new month!
Related: 20 Beautiful Bullet Journal Monthly Spread Ideas You'll Love
p.s. Don't say we didn't share- NOW WILL BE A GREAT TIME to stock up on you bullet journal supplies as Amazon is having a great sale!
Thank you for stopping by! 🙂
Sours: https://thesmartwander.com/25-best-february-bullet-journal-valentines-ideas/
Are you ready for February? It can be hard to get excited for a new month, but these incredible February bullet journal themes will inspire you!
You May Also Like: 120+ BULLET JOURNAL MONTHLY SPREAD IDEAS FOR EACH MONTH
Inspo for Your February Bullet Journal
After January is over, February can feel kinda… blah. With all the hype and energy in January, it's no surprise that February can kinda get looked over on the sprint for spring. But even if you already fell off your resolution, that doesn't mean February can't be a kickass month for you!
You have to take full advantage of this month to pick up any new habits you want to start, check off your to-do list, and hustle toward your goals. So get ready to crush it this month with some gorgeous bullet journal inspiration!
Get My Free February Bullet Journal Printable
If it's looking like you won't have time to create your own beautiful bullet journal spread, then you aren't out of luck! You can still have a productive February with my gorgeous and totally free calendar printable. I offer three versions: A5, full size, and JPEG (for your digital planner). You just need to sign up for my Fox Den Resource Library here and it's all yours!
25 February Bullet Journal Theme Ideas
Add some subtle colors
Photo Credit: @little_coffee_fox
I had a ton of fun creating this spread using a simple watercolor splatter technique!
Embrace the love in the air
Photo Credit: @blackandwhitebullet
Valentine's Day is upon us, so lean into it with your February bullet journal. Bold colors and dramatic flowers can really make your spread pop!
Make this month a gem
Photo Credit: @kenna.creates
Gems and pastels can really make your February bullet journal something unique that is delightful to look at.
Go crazy with colors
Photo Credit: @little_coffee_fox
To this day, this may be my favorite bullet journal monthly layout that I've ever made!
Create a cute scene
Photo Credit: @shaynechan
The hedgehogs in this February bullet journal are adorable and show the love that's in the air this month.
Sours: https://littlecoffeefox.com/february-bullet-journal-themes/
Valentine's Day Bullet Journal Spreads
January is just about over, which means that Valentine's Day is right around the corner! I've drawn up a bunch of Valentine's Day bullet journal spreads to help you stay productive for February.
*This post may contain affiliate links. Please see my privacy policy & disclaimer for more information.
If you're just starting a bullet journal, check out my set up guide here. It'll give you lots of different page ideas and inspiration to get started!
Sometimes Valentine's Day gets backlash for being a "Hallmark Holiday". I personally love Valentine's Day. It's a great excuse to go out of your way to show someone that you care, whether that's a friend, family member, or partner.
I also LOVE baking things around Valentine's Day to give out. Last year I made thesedelicious cake ballsto give out to friends and family.
Bullet Journal Supplies
Here's what I used to for these Valentine's Day bullet journal spreads:
Amazon's my favorite place to get bullet journal supplies, and I've found it's much cheaper than buying supplies in store. Amazon also has a bigger selection of bullet journal supplies than stores do.

Valentine's Day Bullet Journal Spreads
These hearts were super easy to draw! More Valentine's Day doodle inspo HERE!
If you're looking for more monthly cover ideas, check out my cover page post for inspiration!
This weekly spread ended up becoming one of my favorites! You can't even tell that I originally messed it up! I accidentally wrote the wrong day in one of the columns, but easily covered it up with washi tape.

I hope you guys have an amazing Valentine's Day! What did you come up with for your own Valentine's Day Bullet Journal spreads? Comment below! 🙂
Like this:
Filed Under: Bullet JournalTagged With: bullet journal, bullet journal ideas, bullet journal spreads, valentines day
Sours: https://sidereallife.com/valentines-day-bullet-journal-spreads/
Ideas journal day valentines bullet
80+ Stunning Valentines Day Themes and Layouts for your Bullet Journal
Some people celebrate valentine's day, some people do not. For those that do, this post is for you! Today we are going to look at some gorgeous Valentine's day themed bullet journal and planner layouts to create a fun and romantic feel!
If you are looking for February specific themes, that are not related to valentine's day?
Are you wanting more themes? Check out our 200+ themes here!
Why should make Valentines day layouts?
If you are a hopeless romantic like me, you will want to remind yourself that love is absolutely possible at some stage!
Fun facts about Valentines day:
After the Roman Emperor Claudius II outlawed marriage, Saint Valentine continued to marry men and women in secret. Even back then, it was traditional for men and women to exchange flowers on their wedding day, as a sign of good luck and the start of a "blooming" relationship.
Today, we continue to celebrate love on February 14th, the day Saint Valentine died, by exchanging flowers.
Every year, around 9 million people buy their pets a Valentine's Day gift.
February 14th is the second largest card giving day of the year, just after Christmas.
Hallmark was one of the first to mass produce a Valentine's Day card, all the way back in 1913.
Who says you can't be your own Valentine? In 2015, 18% of women sent themselves flowers.
What is "Galentines Day" and how can I add this to my BuJo?
he best thing about Galentine's Day is that it was created by a fictional character: Leslie Knope of Parks and Recreation. In 2010, the second season of Parks and Rec included an episode called "Galentine's Day," in which Leslie gathers a group of her closest gal pals for a brunch of waffles and love.
So this doesn't have to be a loved up holiday for those in a couple – it could also be for us single people – looking to share some love with friends and show how appreciated they are!
How can you add a valentines theme to your bullet journal?
There are many many ways you can add some romance to your journal! Just think about all the typical pinks and reds that come along with gorgeous valentines days themes, red roses and the likes!
It also doesn't have to be all romantic and pretty in pink! It can also be some lovely spring feeling covers too! Like picnics and more!
Valentines Bullet Journal themes
Valentines Day themed Cover Spreads
@ elbujodefran
@green.tea.studies
@andantestudies
@northernplanner
@erika.ru
@emmilywith2m
@calligraphy.fama
@serendipity.bujo
@designed.to.create
@selmajackson
@journalbullet2019
@hayleys.bujo
@merakumi
@calligraphy.fama
@xkayanyeung2
@hendridillust
@wiscobujo
@makeupbycherylh
@artsbykrys
Valentines Day themed Trackers for February
@lovelybujo
@studyingstatues
@bumblebujo
Valentines Day themed weekly spreads
@elbujodefran
@bujo.becca
@simply.empty.space
@glitteronmypages
@liniandherbulletjournal
@the_one_minute_bujo
@bex.with.a.bullet
@sarilikha_ph
@saraas_blog
@planningmindfully
@my_creative_life_nl
@brilliant.little.bujo
@brilliant.little.bujo
@vagabondbujo
@northernplanner
@erinflotodesigns
@blackandwhitebullet
@juiank.art
@studyingmood
@marj.bujo
@keletters
@thediyday
@journalingsiri
@studyjams_
@angelabujo
@sleepy.bujo
@mint.and.mont⠀
@creative_desaster
@marybubele
@angelabujo
@laura.journal
@momdotlove
@rachelmaybujo
@studywithinspo
@lacqueredworld
@clobujo
@brushstrokesandbujo
@feebujo
@dearlilydesigns
@bujo.memories
@studywithkwin
@nu.who
@journalbyfelia
@asma__yong
@jeannestudies
Valentines day quotes and extra pages for Valentines Day
If you have some spare pages in your bullet journal you don't need to fill it with anything else other than quotes or images that could resonate with you, and these are perfect examples of just that! Using quotes to fill pages in you bullet journal.
@bujotrulla
@letteringwithleni
@julia.pezowicz
@instaliddy
Valentines Planner themes
What I love about planner layouts is the flexibility to add a gorgeous selections of stickers or die cuts, this allows the creater to really go all out for the themes! And these themes below are no different, they are stunning and pink and red and full of inspiration for valentines day layouts. It is so easy to coordinate the themes to the colors in your planner.
@maitevictoriaplans
@thehappiestlittleplanner
@jennystar21
Sours: https://myinnercreative.com/valentines-day-theme-bullet-journal-layout/
We may earn money or products from the companies mentioned in this post.
February, no doubt, is one of the best times to start Valentine's Day bullet journal. Who doesn't love to create bullet journal spreads full of love and hearts?!
Whether or not you are hopelessly romantic, a BuJo decorated with love will motivate you to stick to a healthy daily routine, and accomplish your personal and professional goals in no time!
Below are some Valentine's day bullet journal designs that can bring that romantic, fun feel to your pages.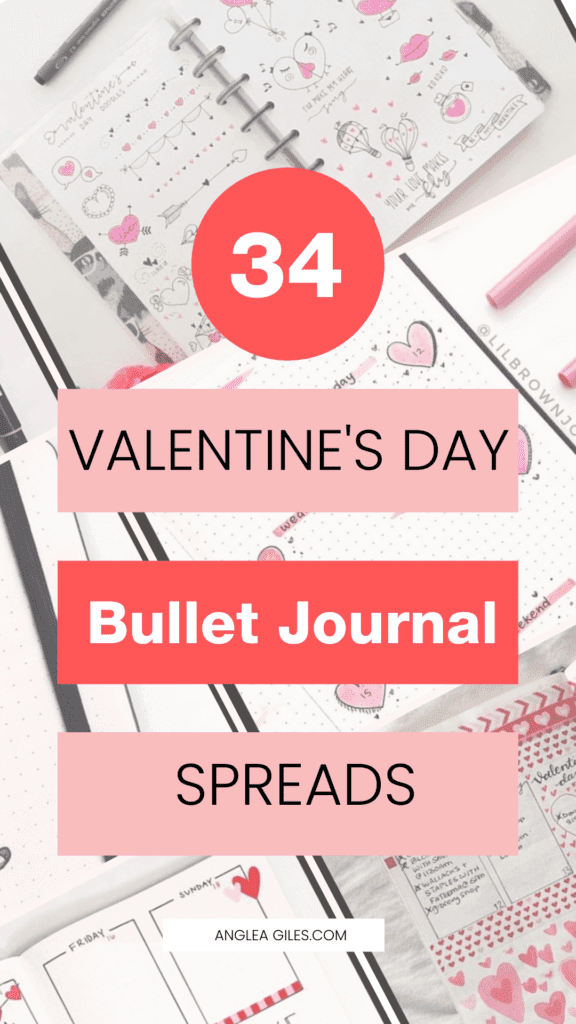 Fun Valentine's Day Facts
Valentine's day is a huge industry. Around 55% of Americans spend an estimated $19.6 billion each year to celebrate Valentine's day. Over $1.8 billion of that are spent on candies alone. Millions worth of sweetness! And yes I have a sweet tooth – I adore chocolate…I always buy chocolate when I go to the grocery store 😉 xo
Almost 6 million loving couples get engaged on this special day. Valentine's day is indeed the most special, popular day to pop the big question. As per this survey, hearts' day was voted as the best time of the year to propose compared to any other day. 40% of those who voted were men.
One of the first companies to mass-produce Valentine's day cards is Hallmark, all the way back in 1913. Wow!!! Love love love is all I can say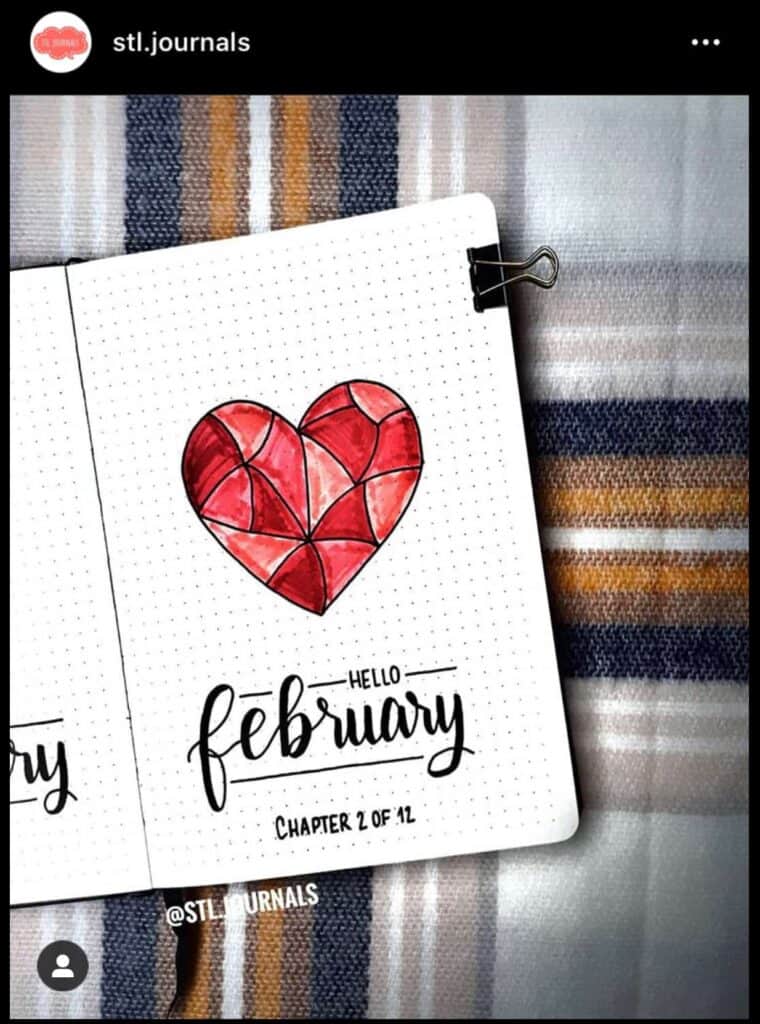 Source
Start your bullet journaling routine with these supplies!
✅ This journal stencil planner set that you can use not just for your bullet journal, but also for handmade family holiday cards, greeting cards and letters.
✅ This bullet journal notebook that is 24% heavier compared to other journal brands.
✅ This card ink pen setcan help you make beautiful letterings and line widths.
✅ These fine tip pens will change the way you approach drawing in your bullet journal. I adore them and I can't live without them.
✅ These ball pens are loved by many bullet journalist friends because of its great for creating flowy strokes.
✅ This highlighter pen set is a top choice for those who love bullet journaling.
✅ These washable markers are perfect for writing, coloring and drawing.
✅ These washi tapes have wonderful, unique patterns.
✅These set of pens are designed for every person who loves calligraphy, drawing, and art therapy.
✅ This graphite paper will save you tons of time by capturing each detail in your original design smoothly.
✅ These bullet journal stickers will look beautiful for almost every kind of spread imaginable.
✅ These watercolor brush pens offer good colors for blending and shading bigger areas.
✅ This set of sticky notes offer are incredible reminders to not forget important items.
Valentine's Day Bullet Journal Spreads
1. Welcome February with a romantic vibe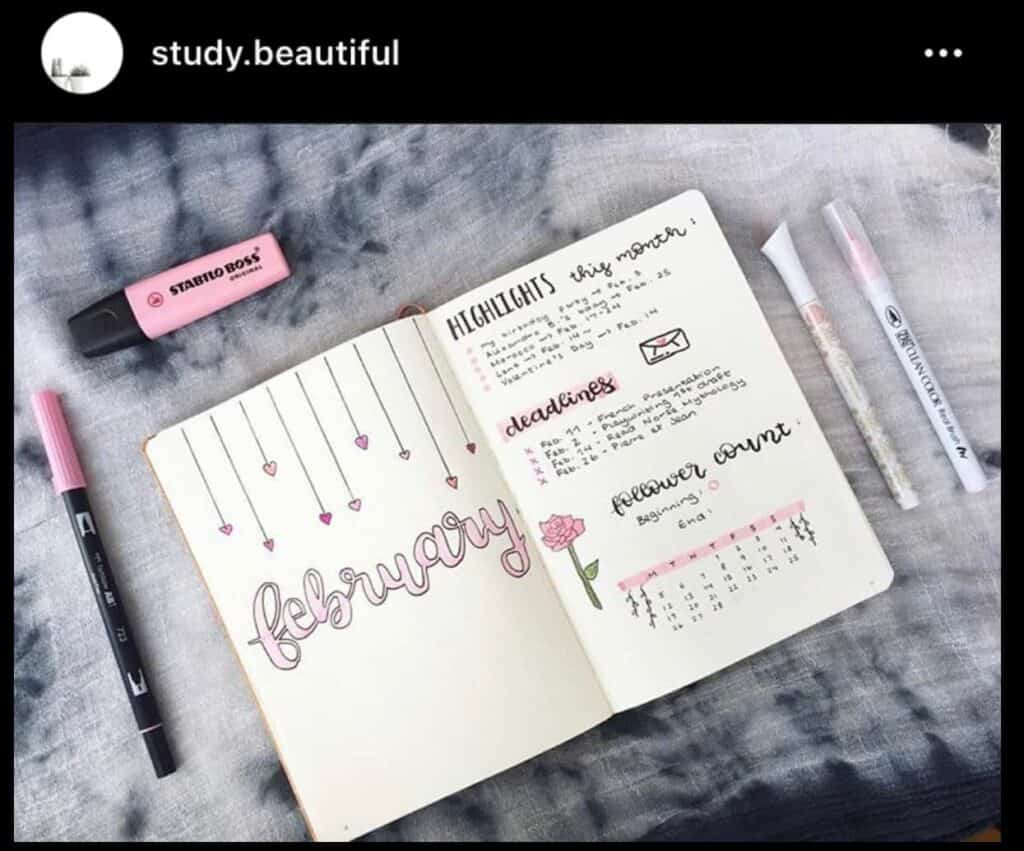 The Source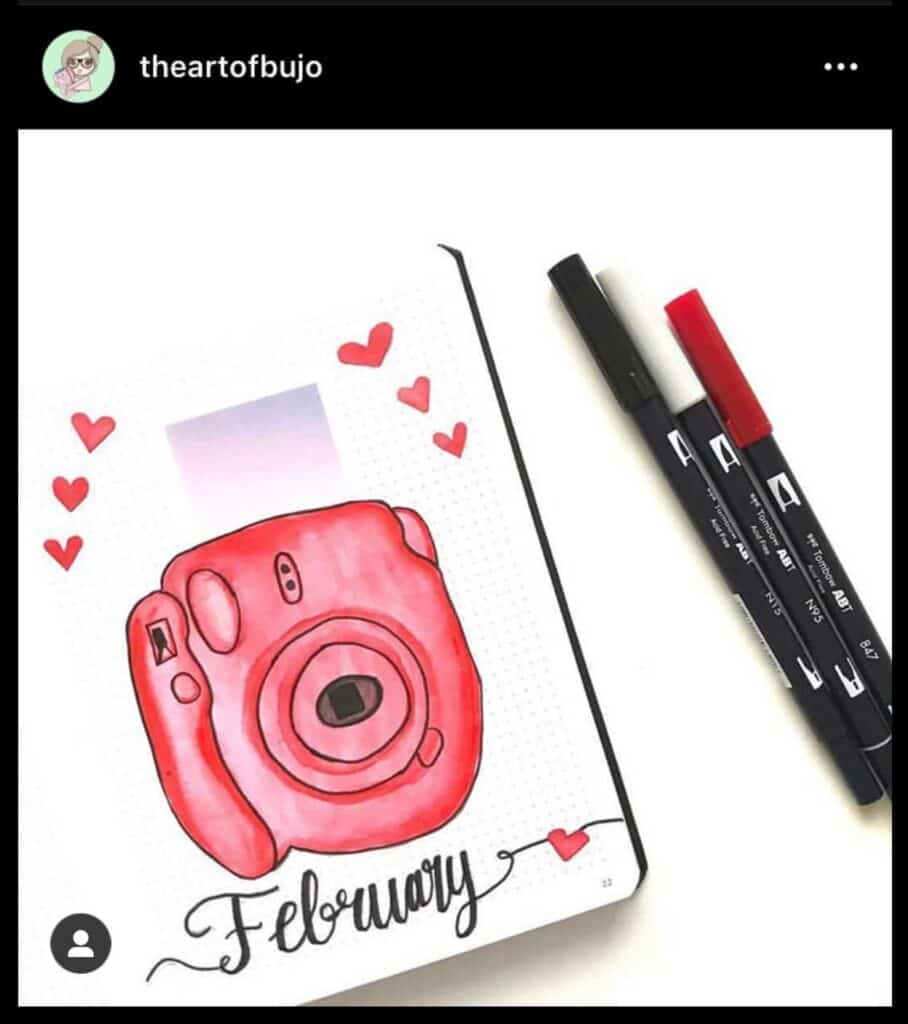 Our Source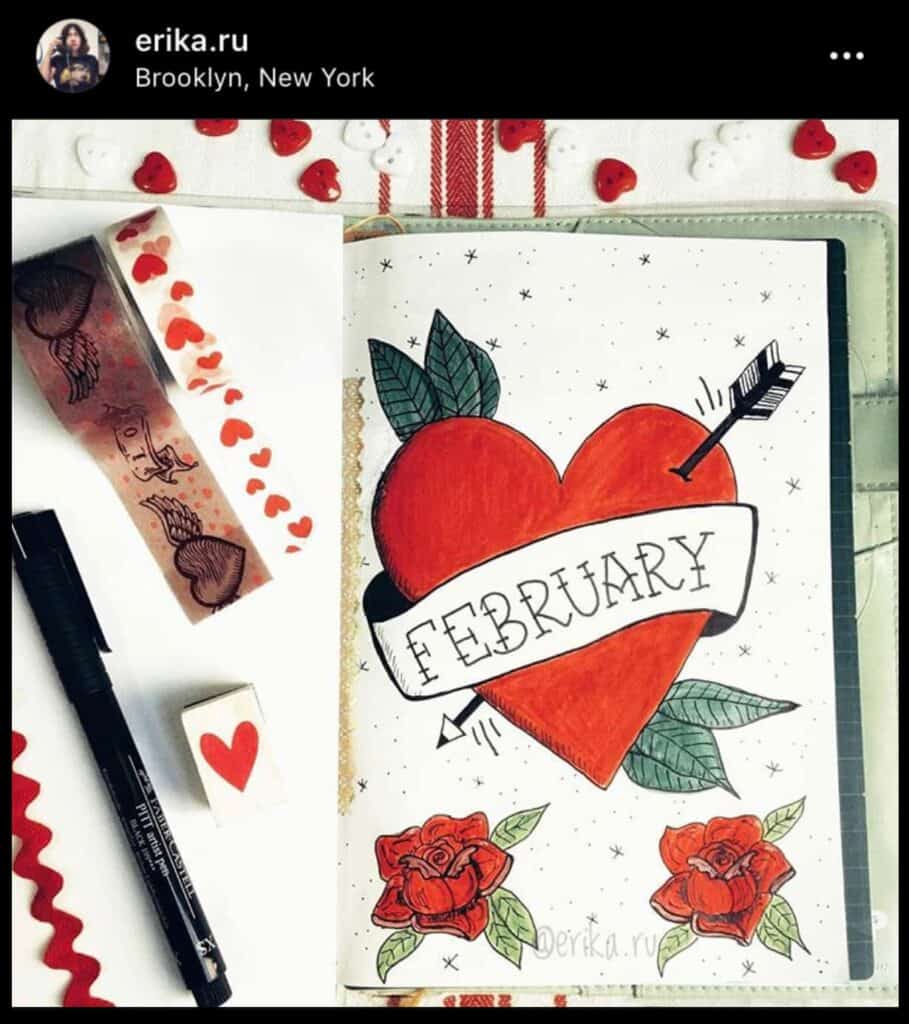 The Source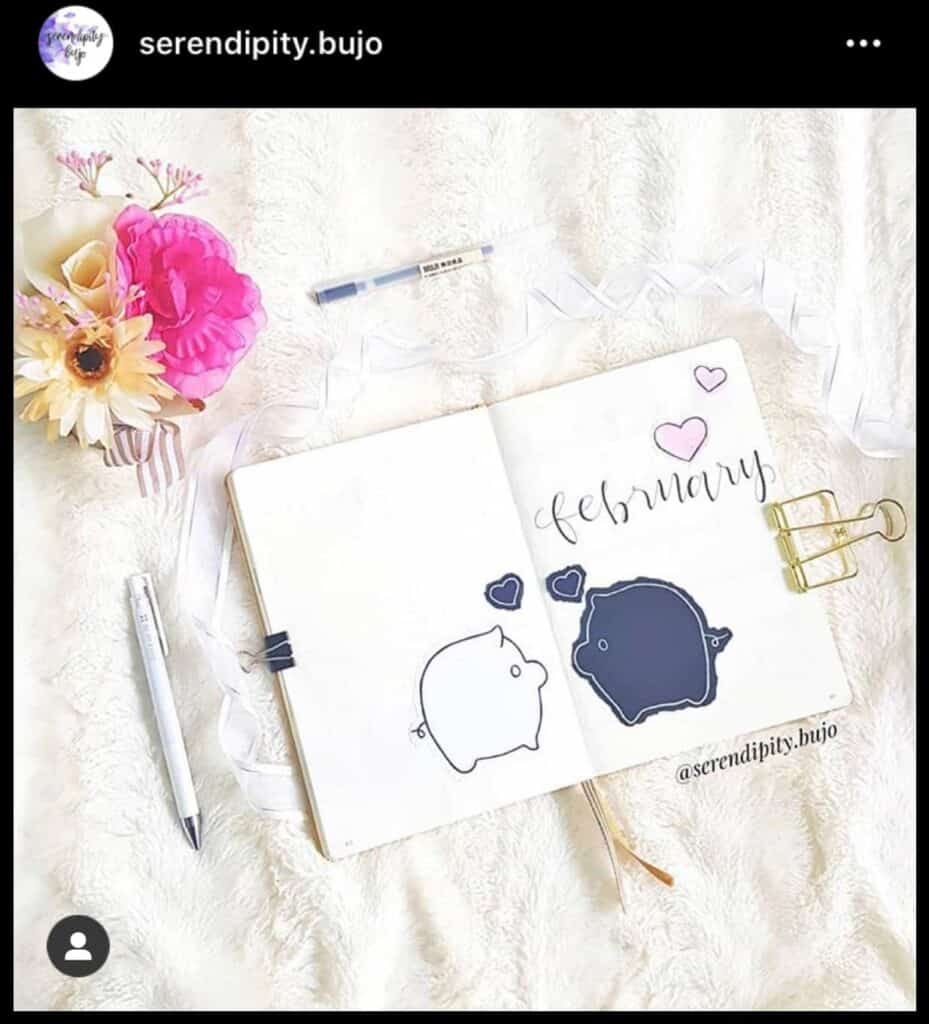 Our Source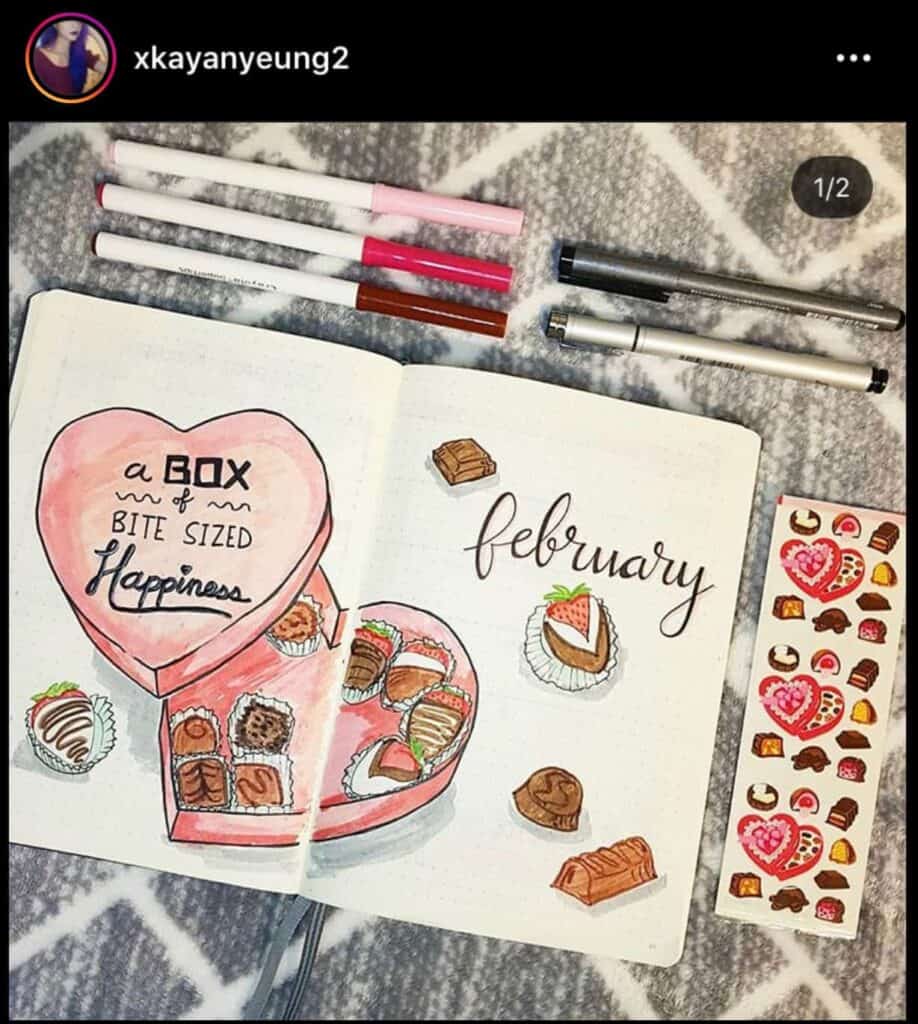 The Source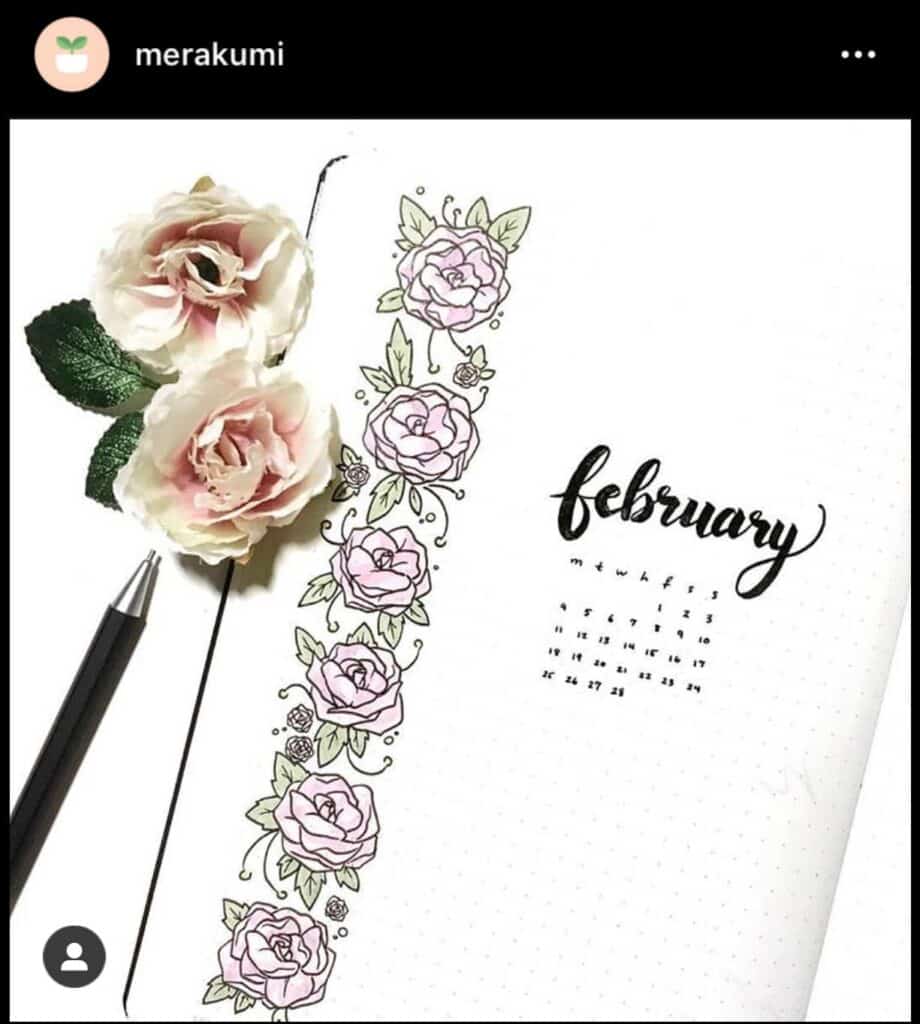 Our Source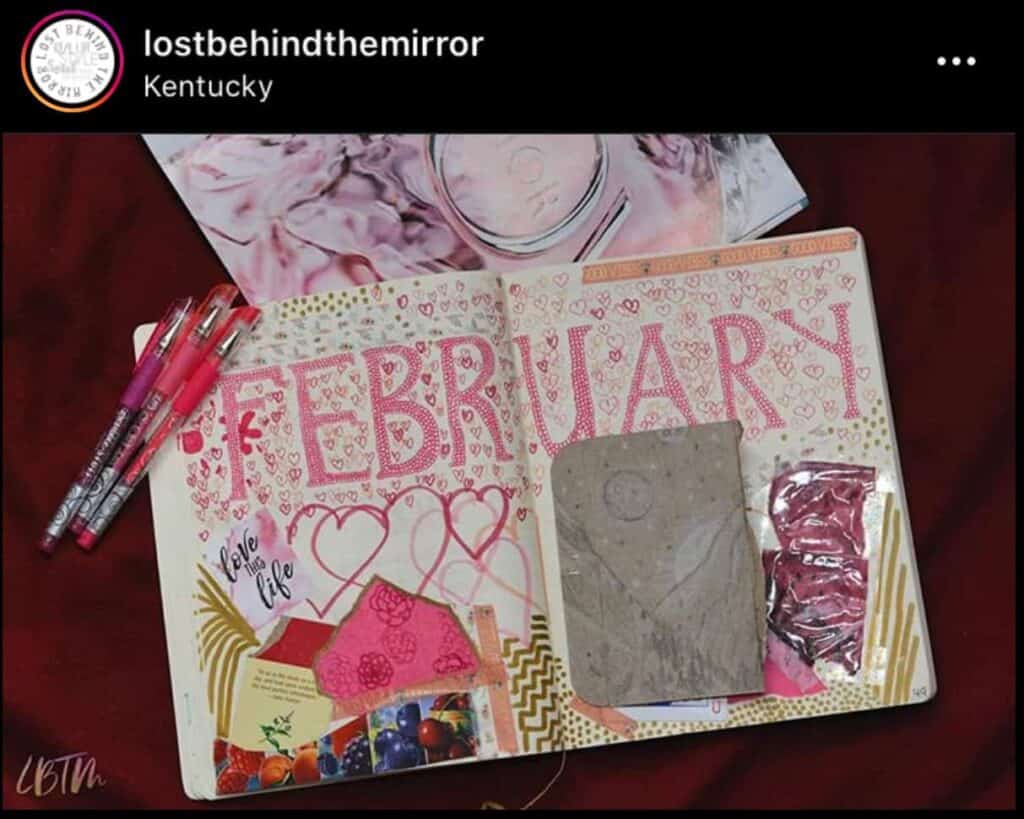 The Source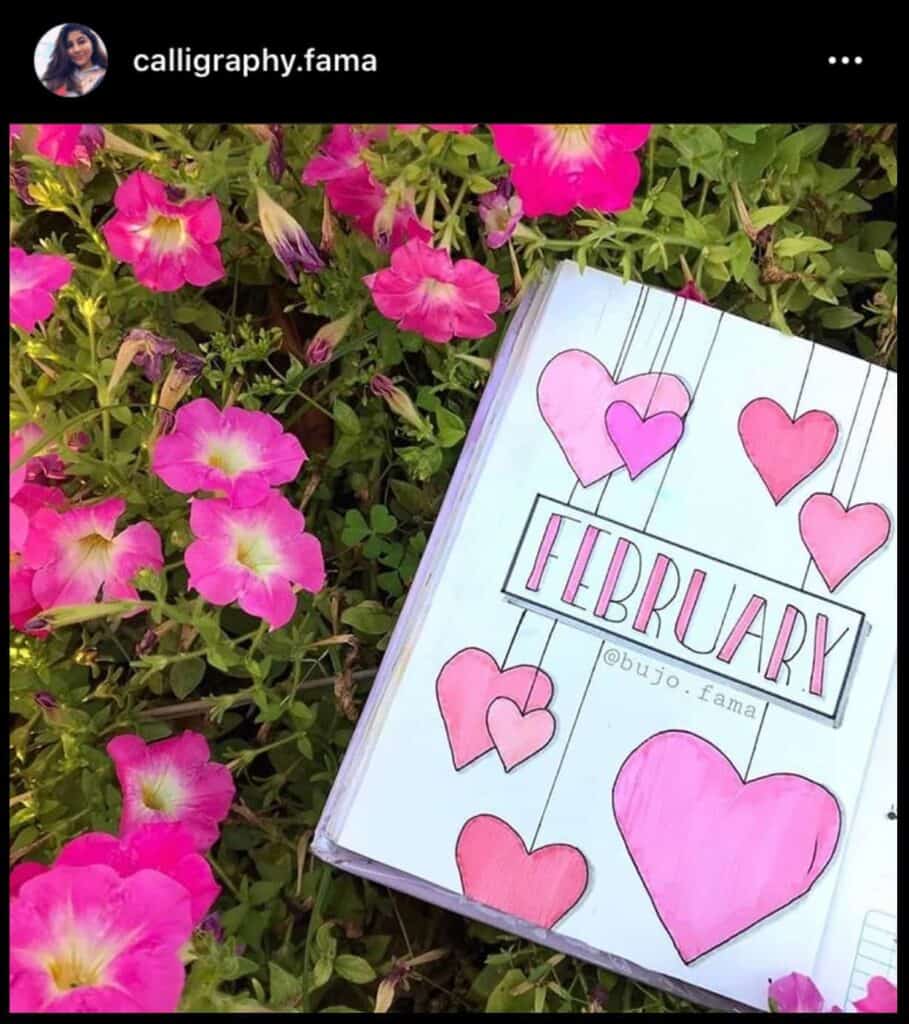 Our Source
2. Sweet Monthly Spreads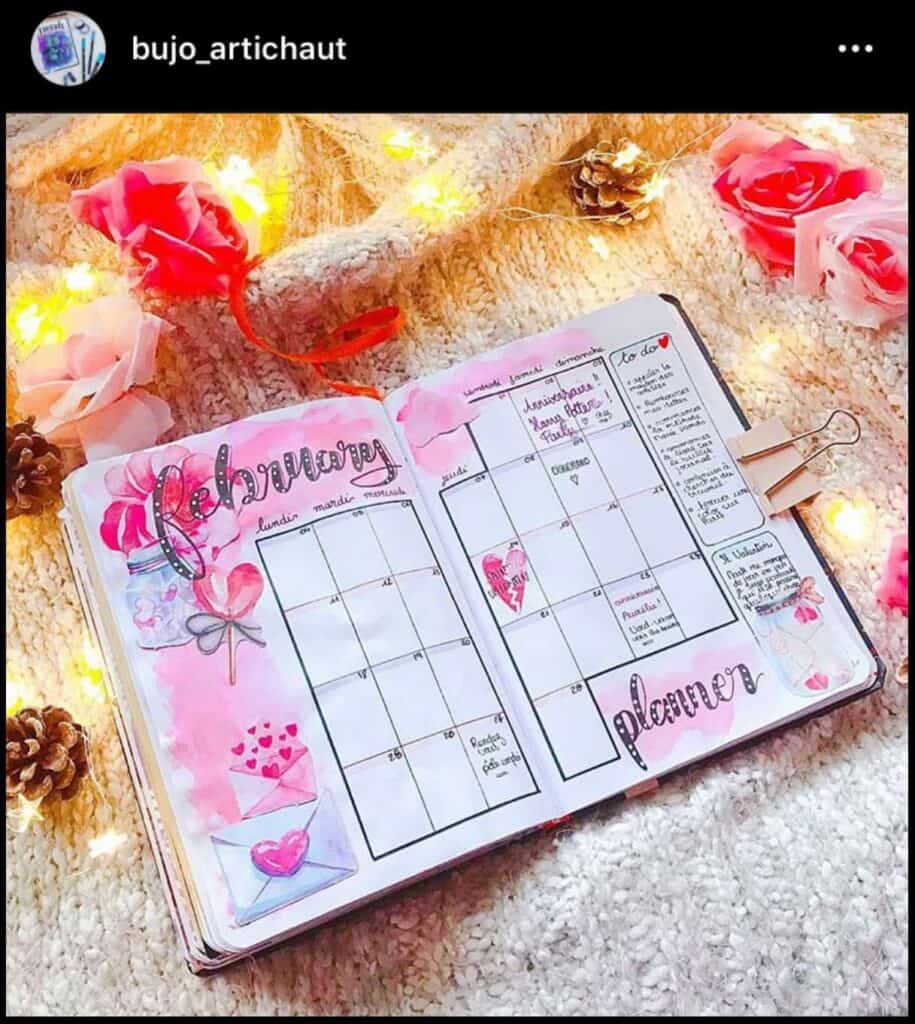 The Source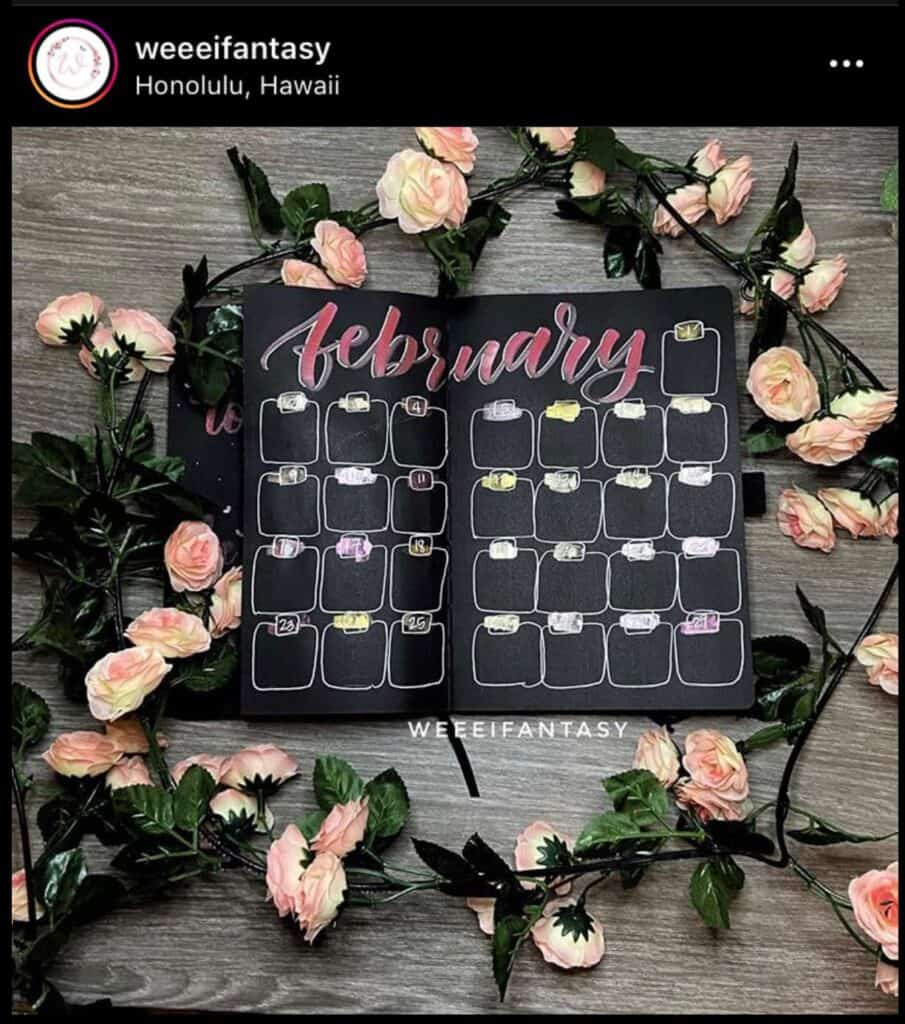 Our Source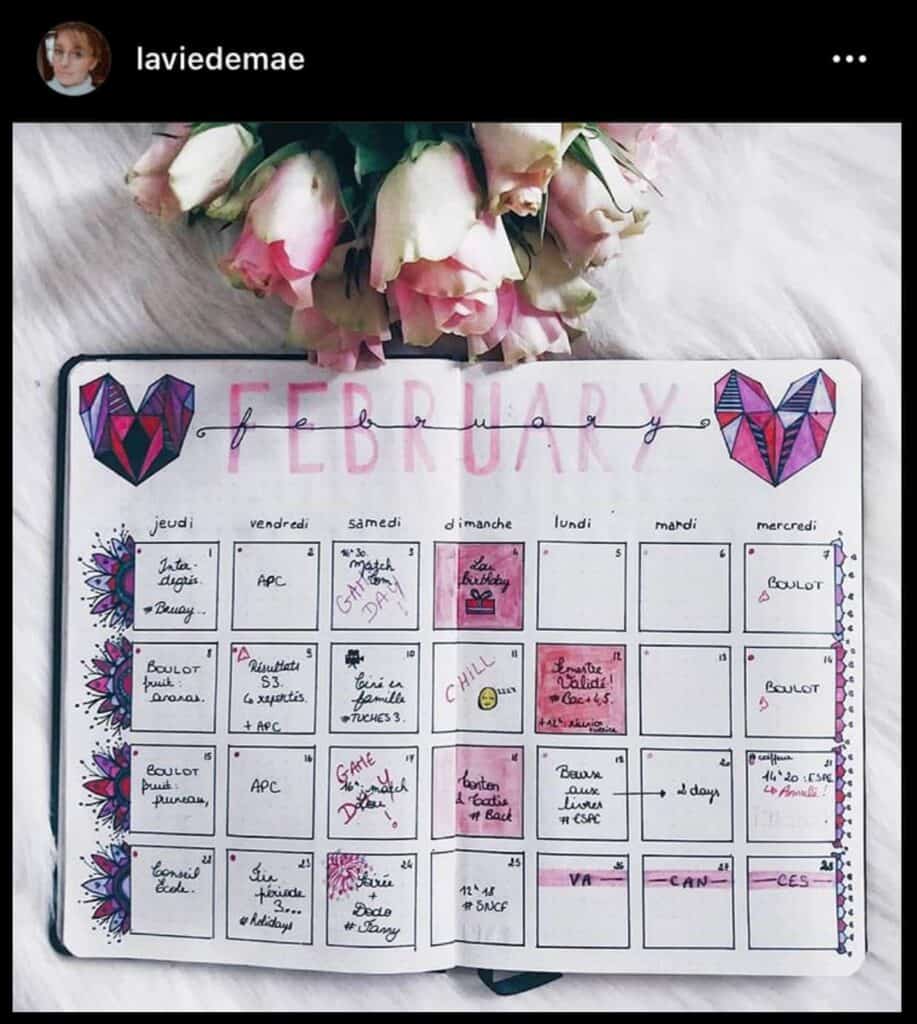 The Source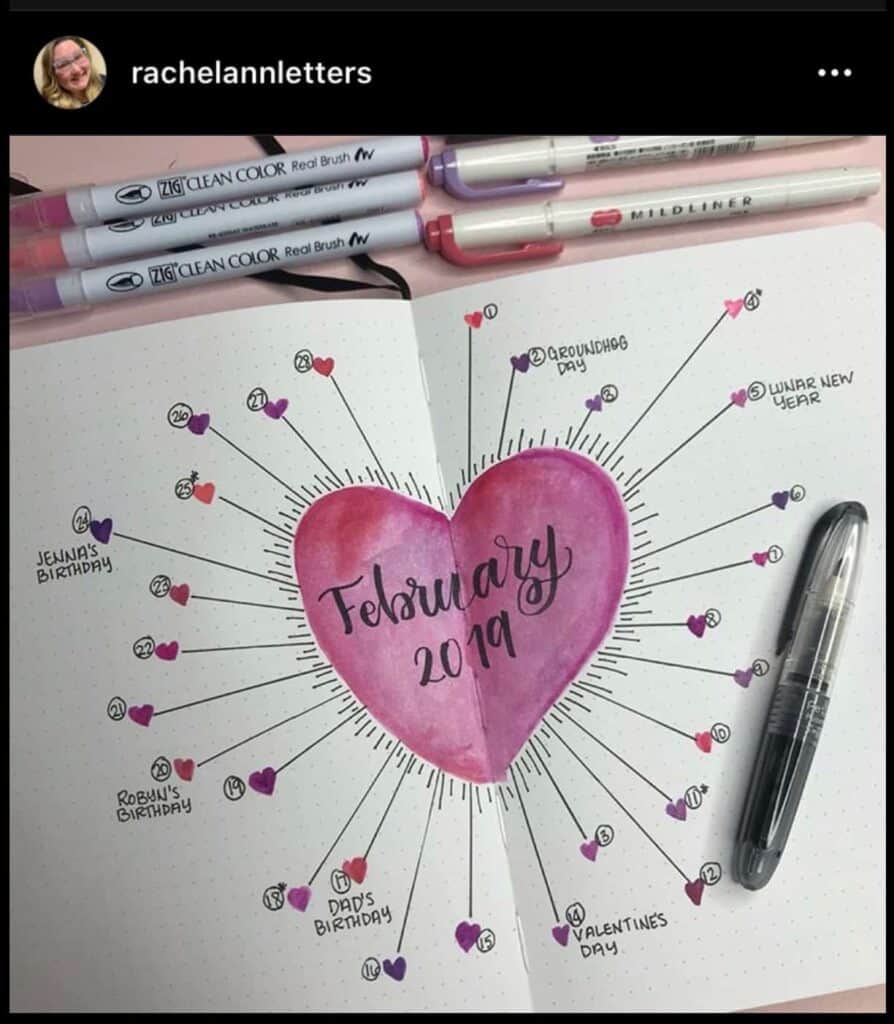 Our Source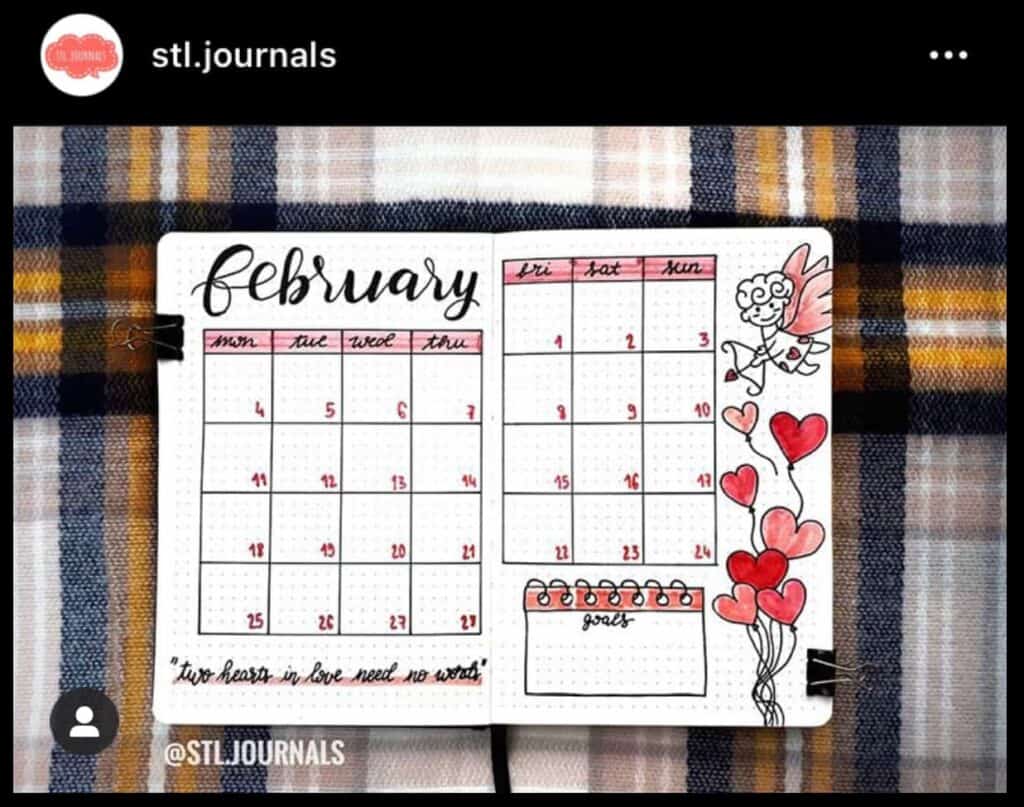 The Source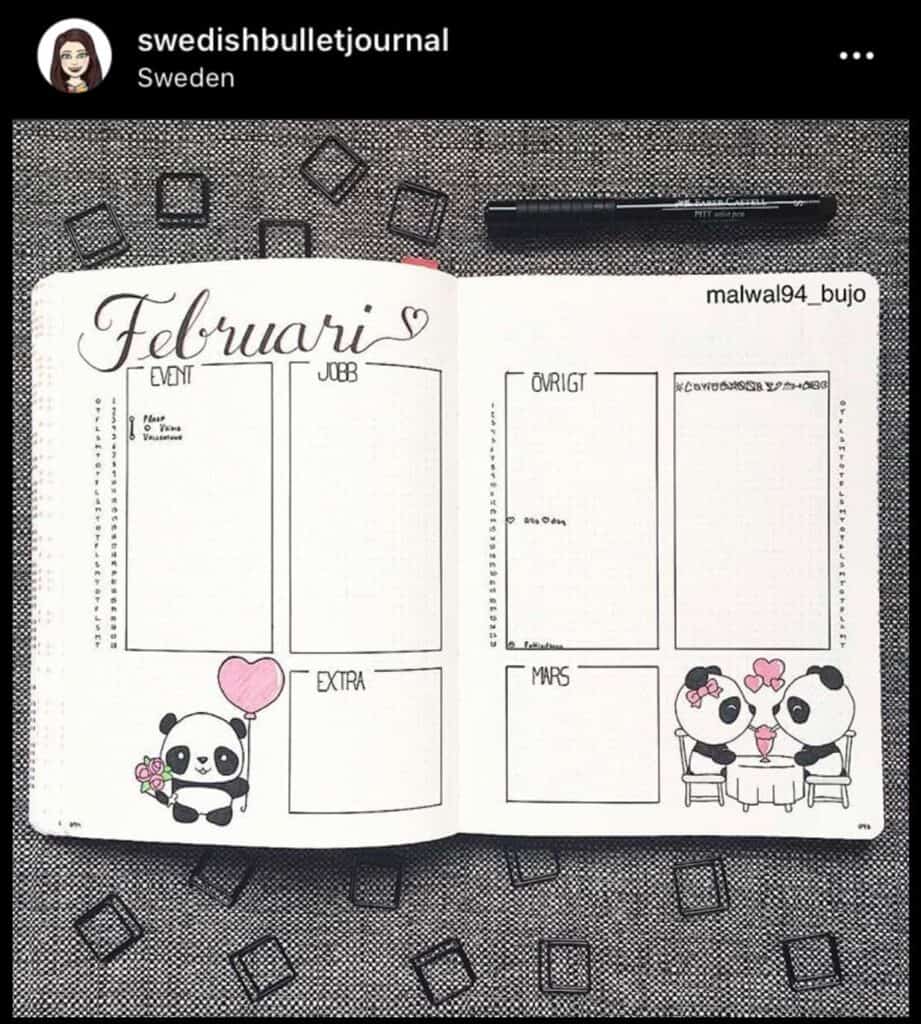 Our Source
3. Lovely Trackers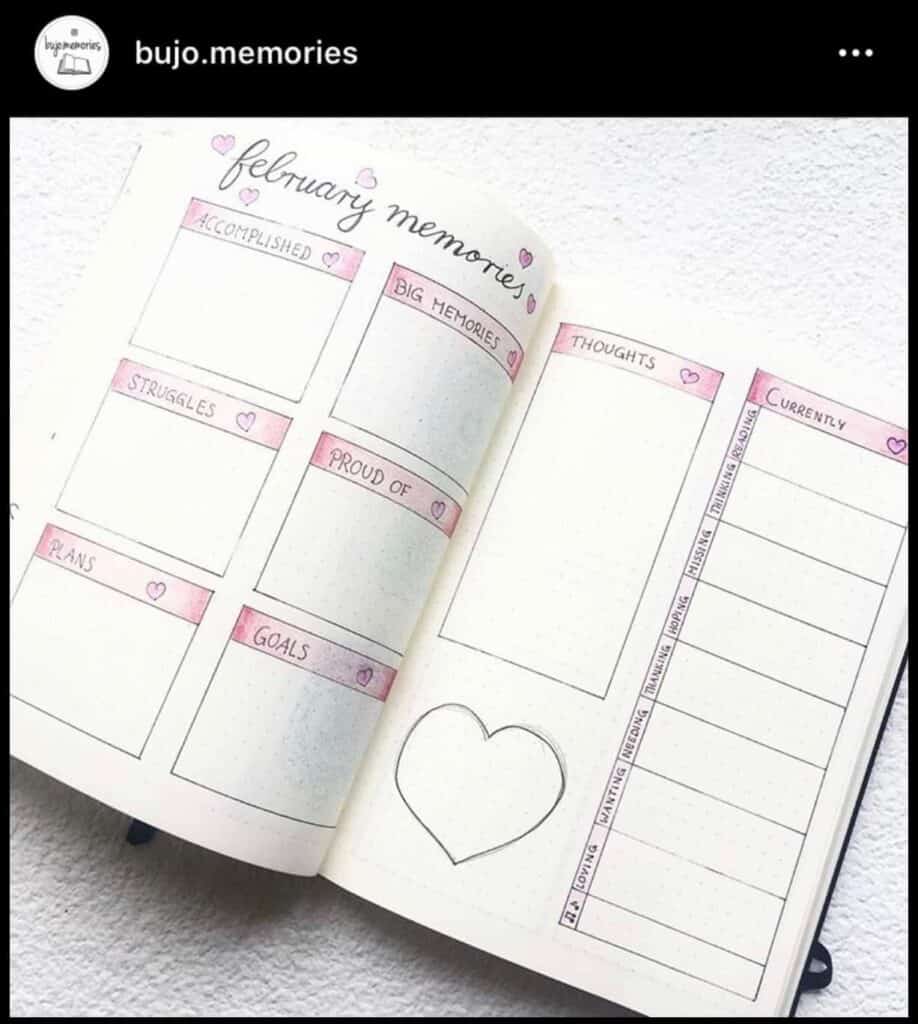 The Source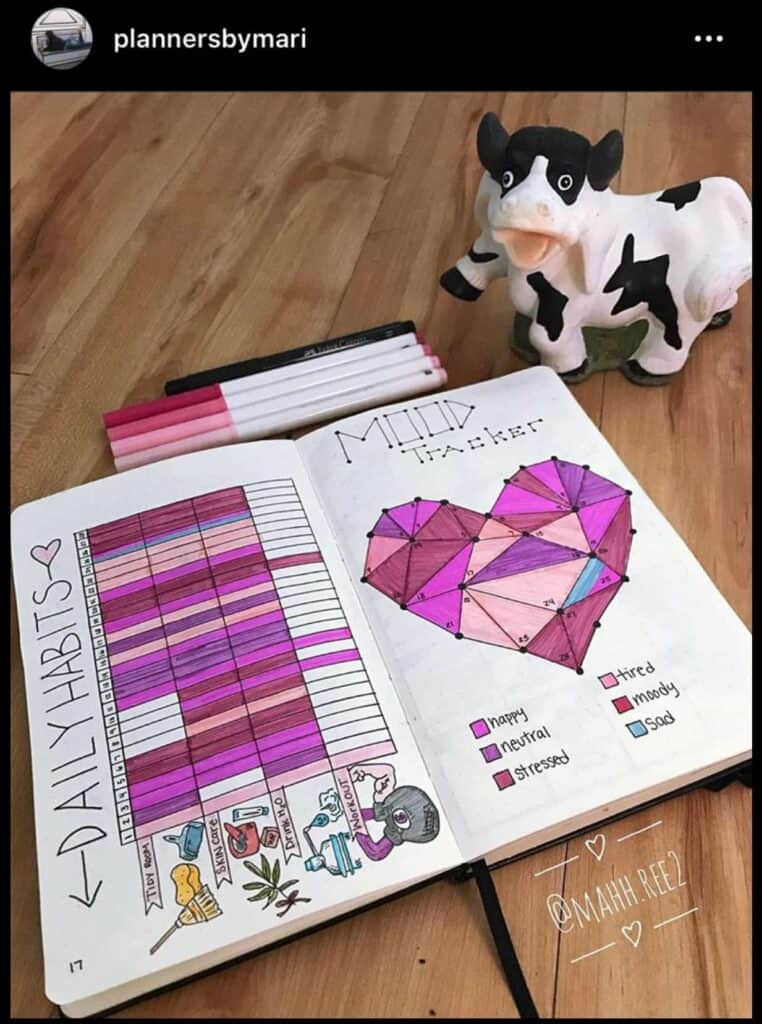 Our Source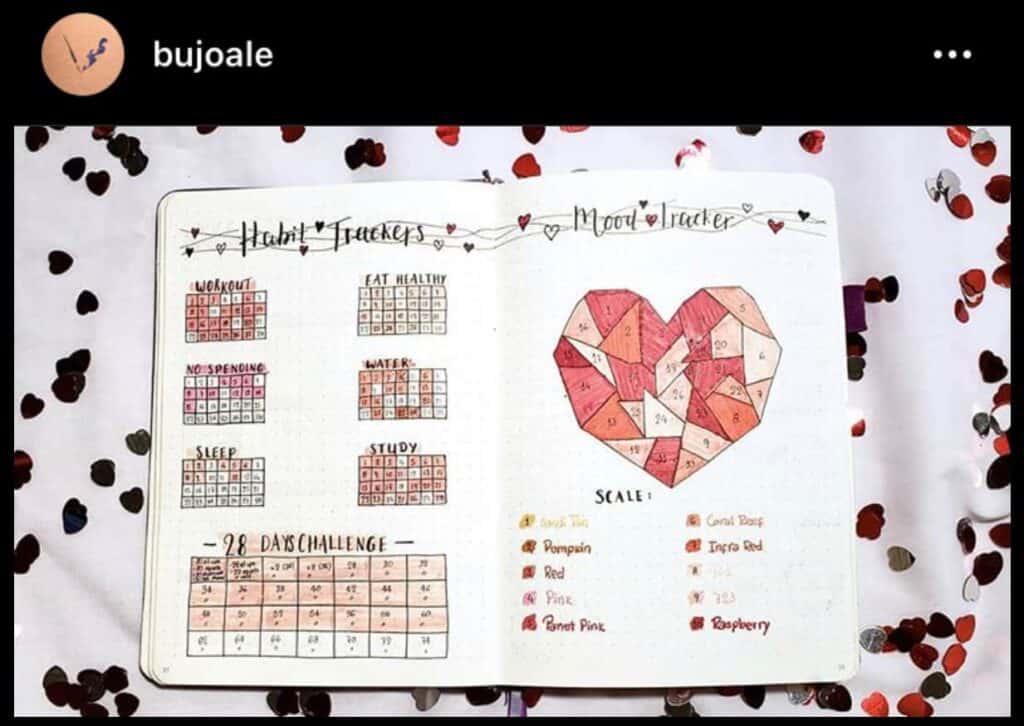 The Source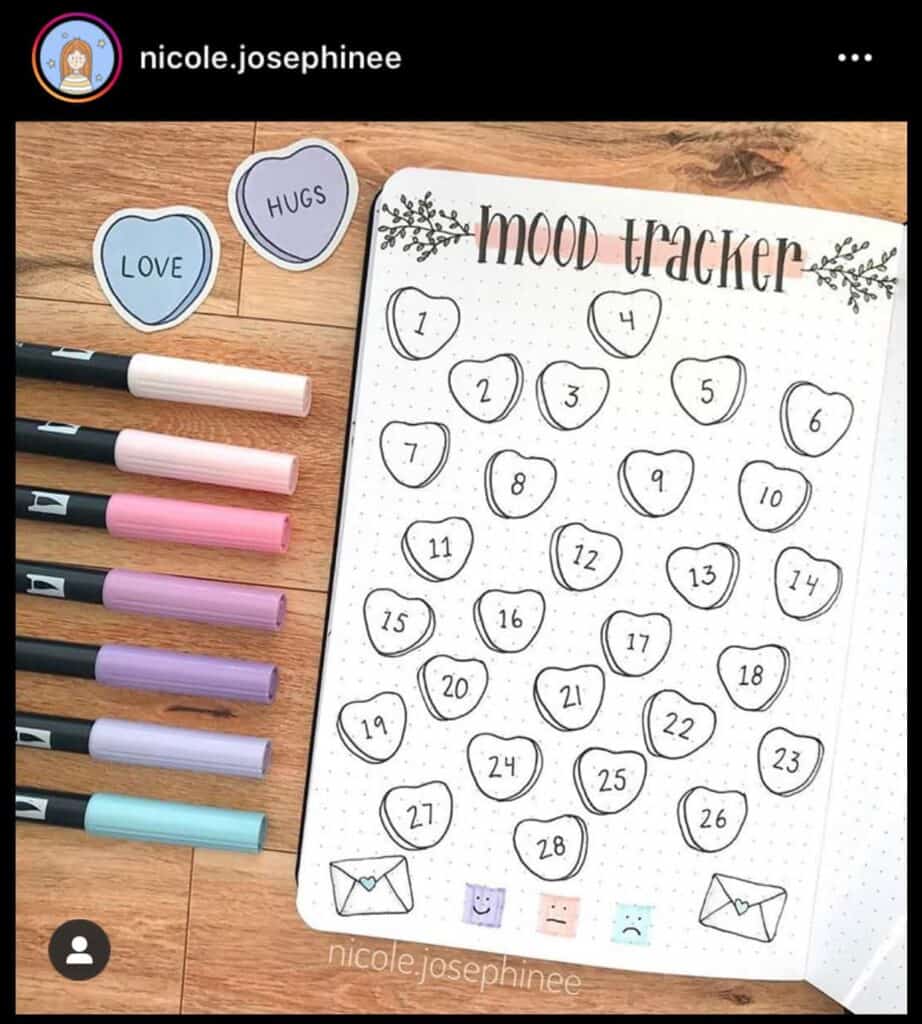 Our Source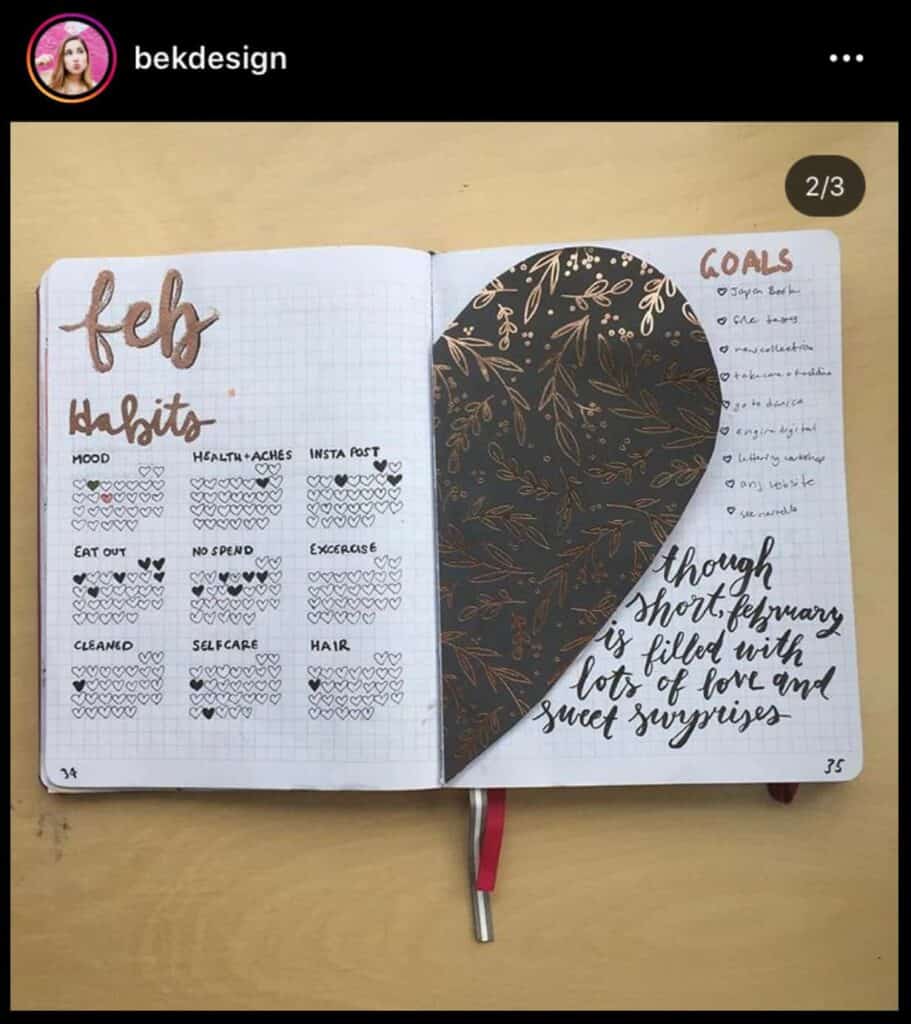 The Source
4. Weekly Spreads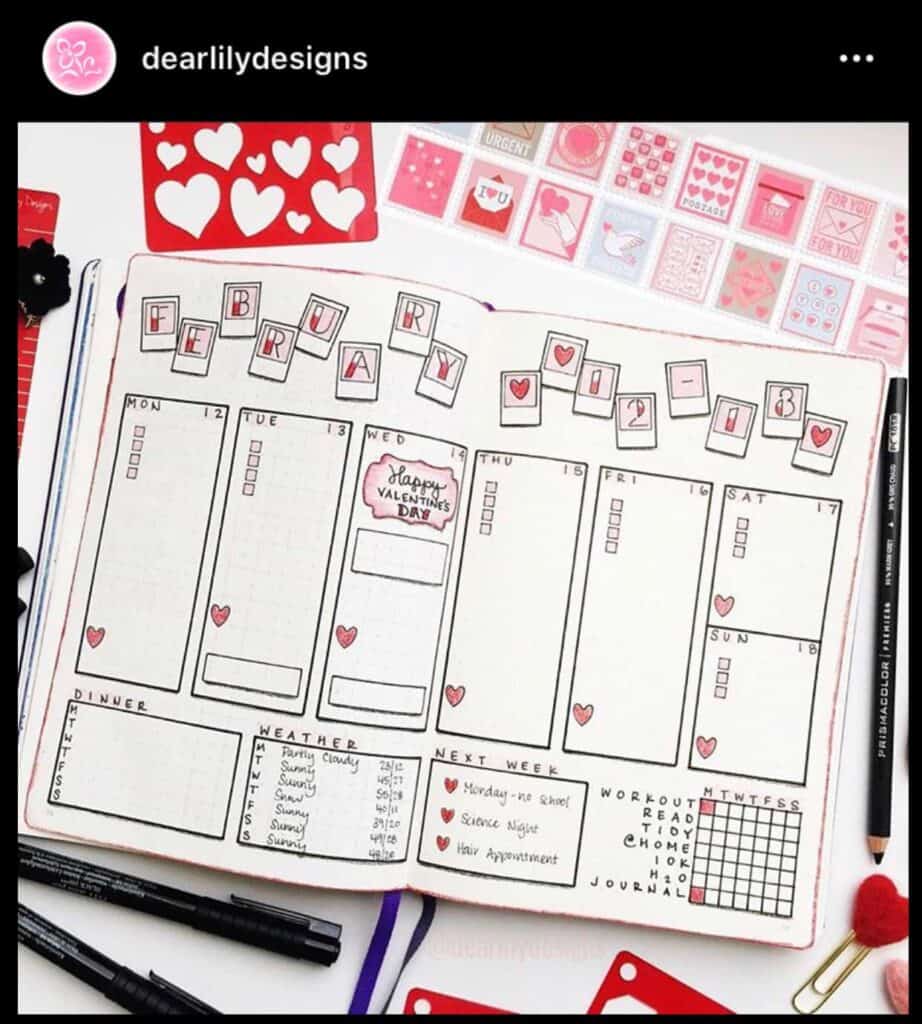 Our Source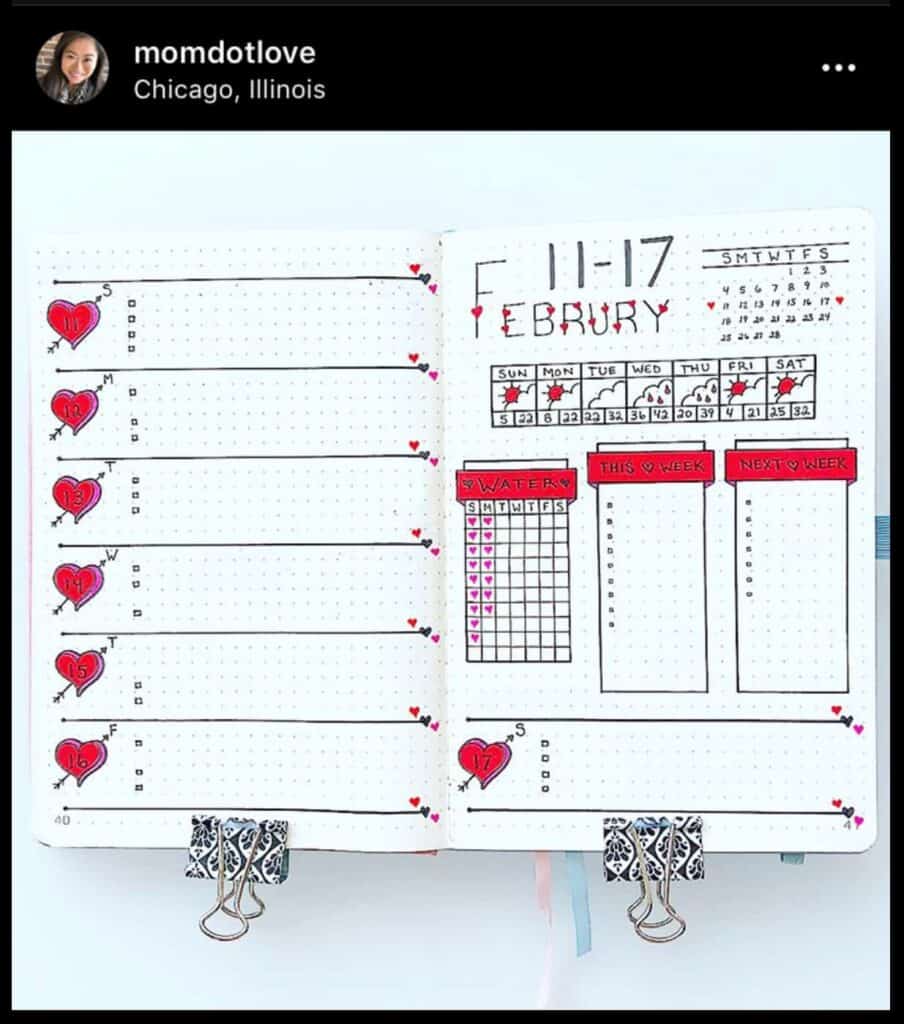 The Source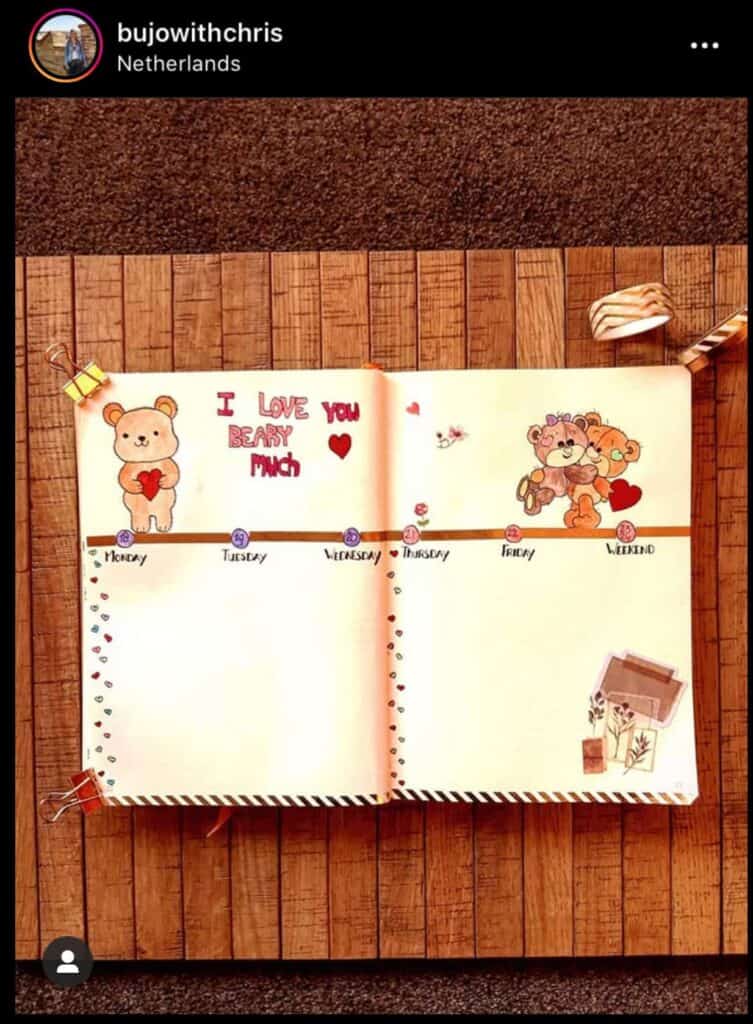 Our Source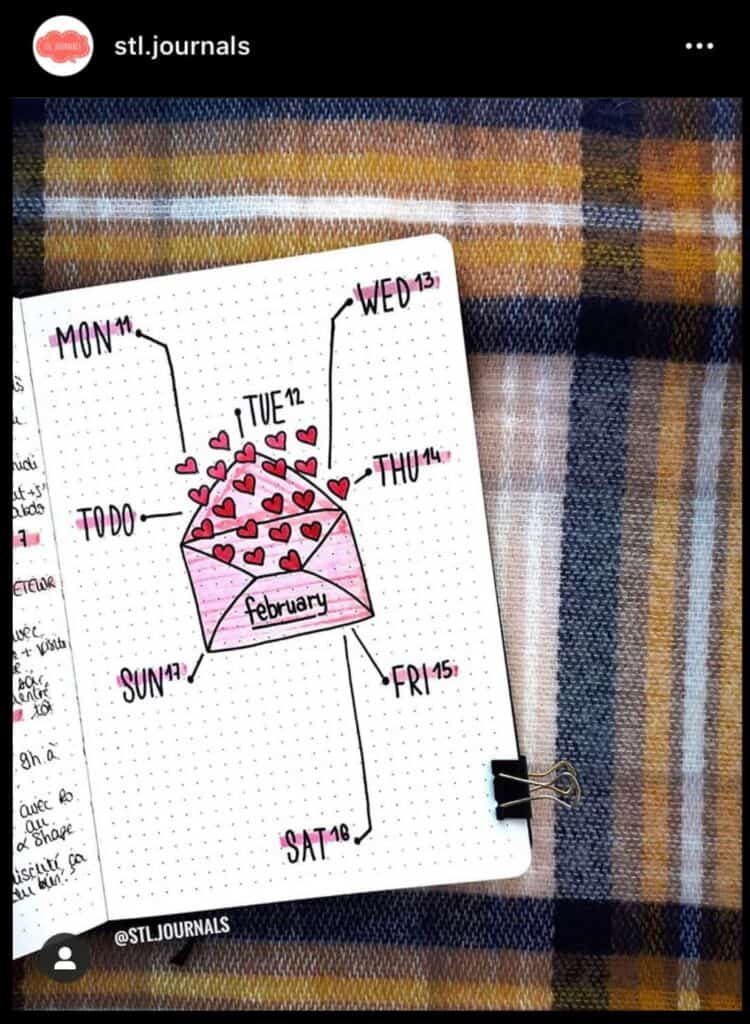 The Source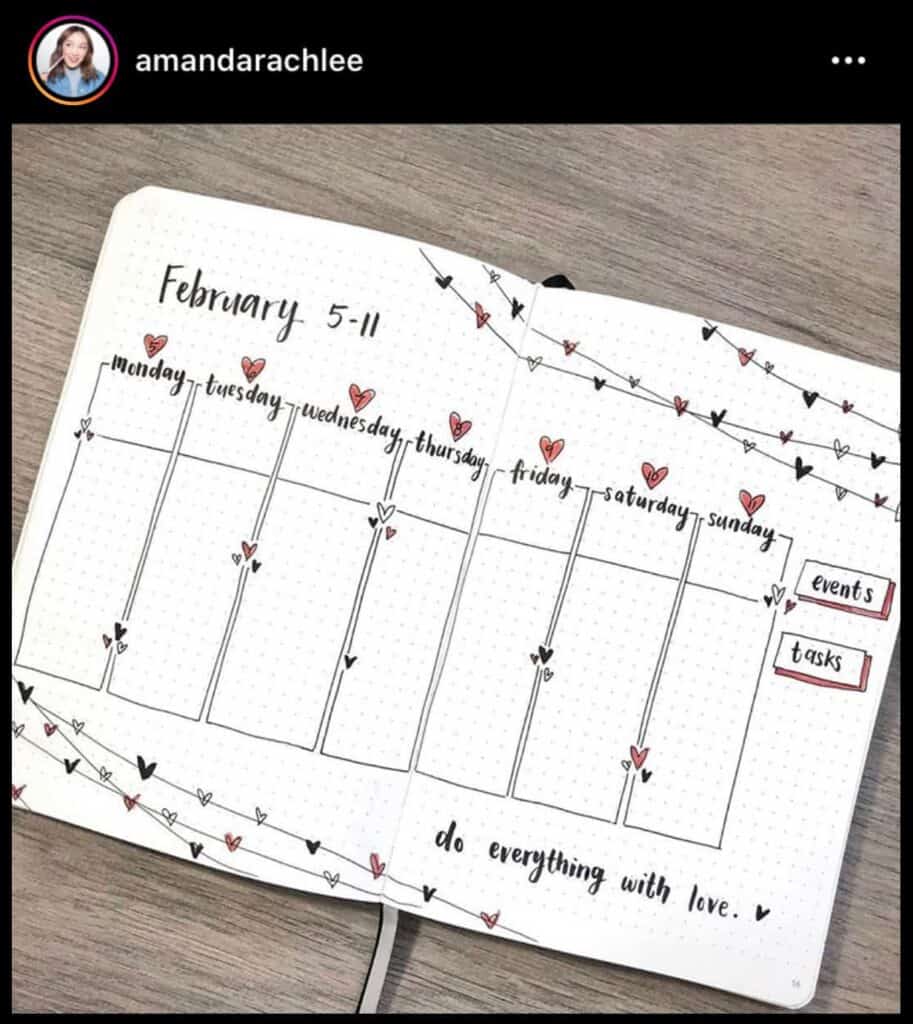 Our Source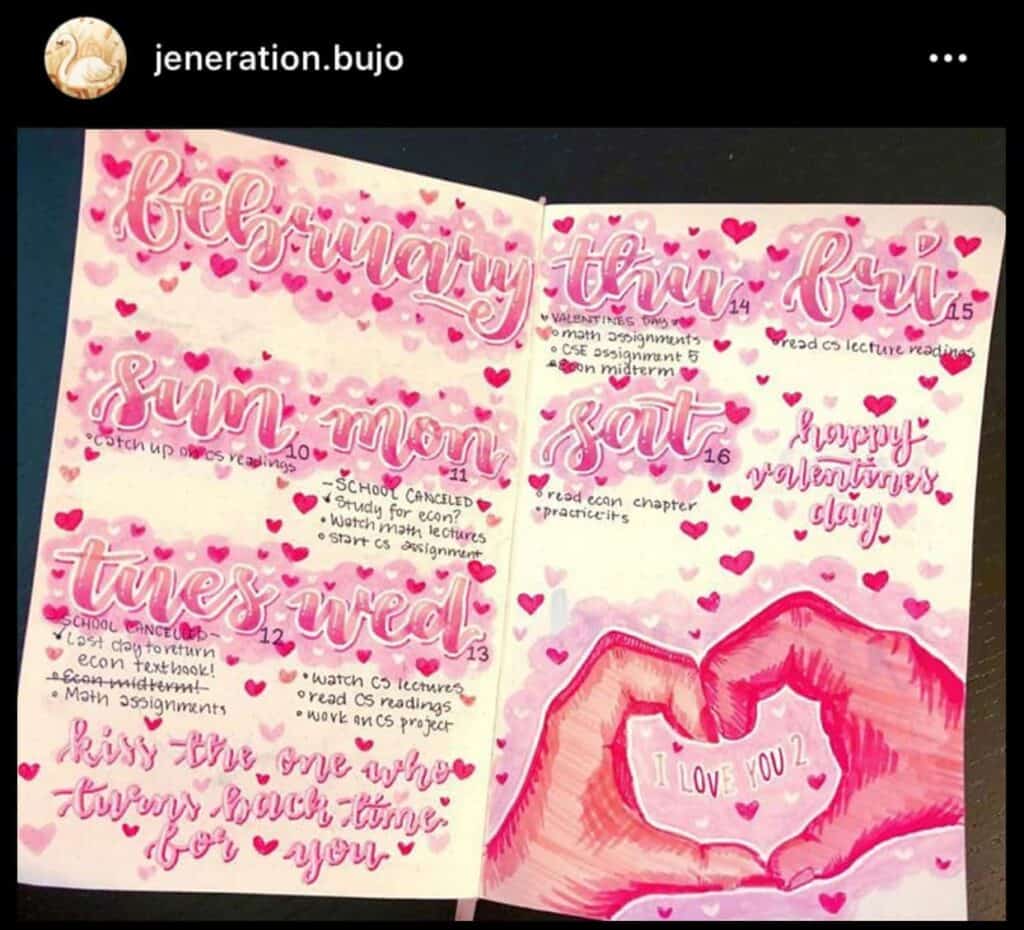 The Source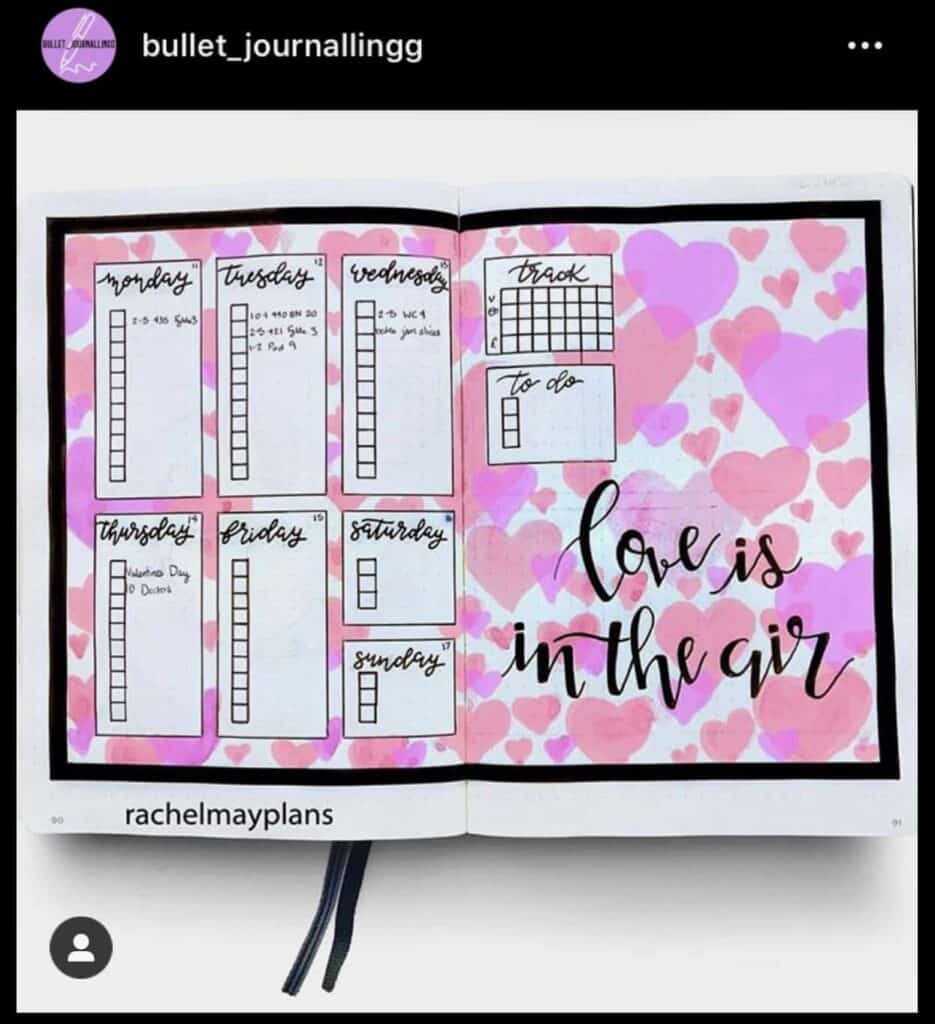 Our Source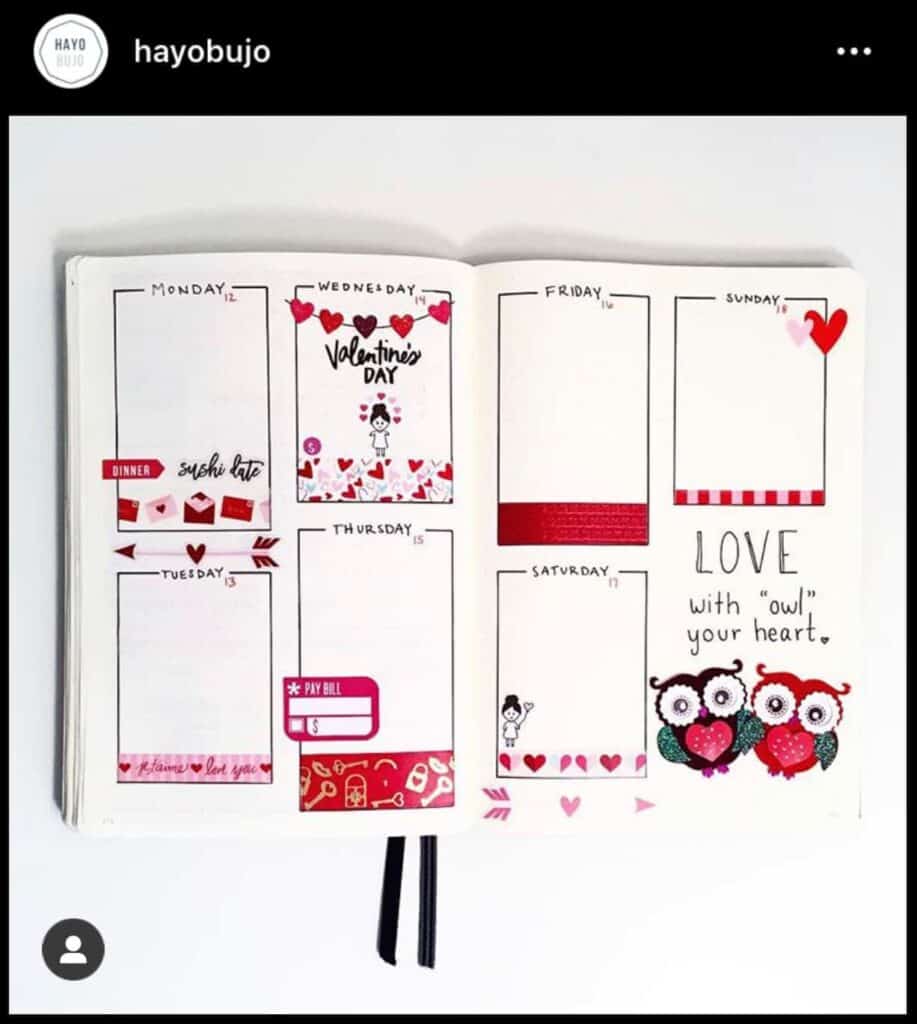 The Source
Our Source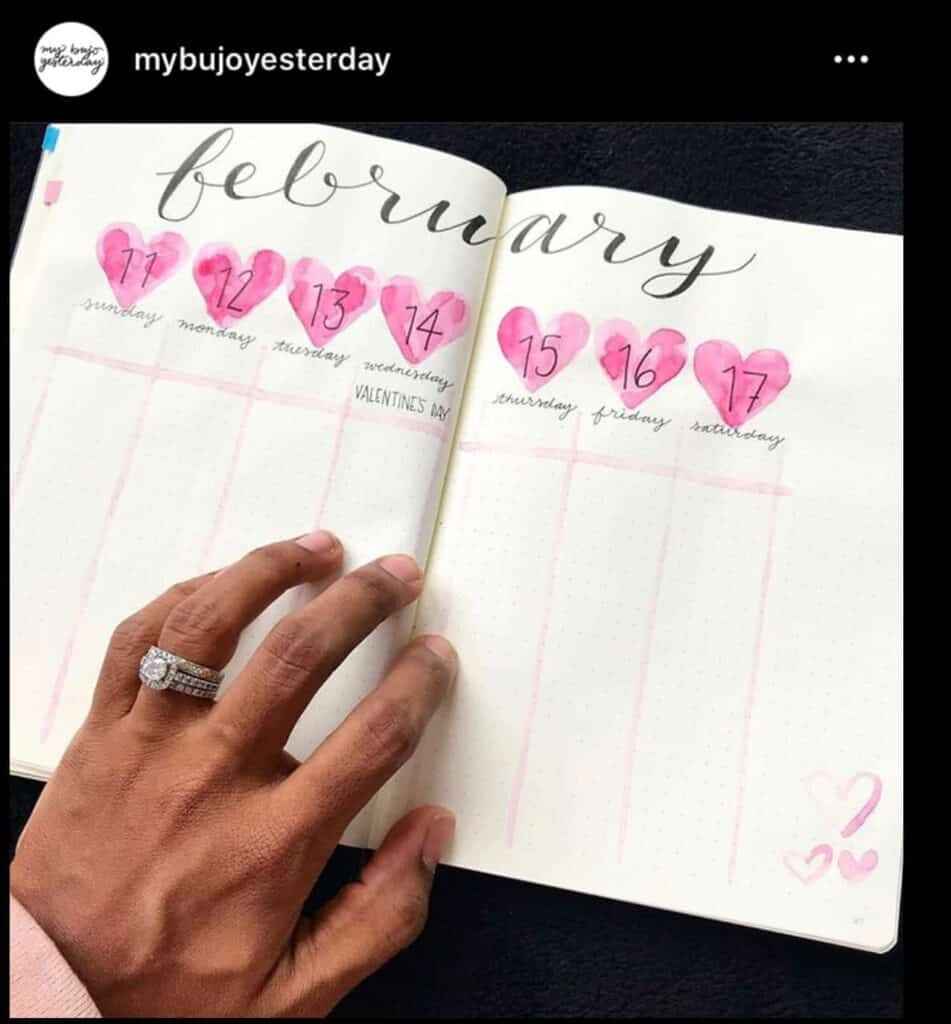 The Source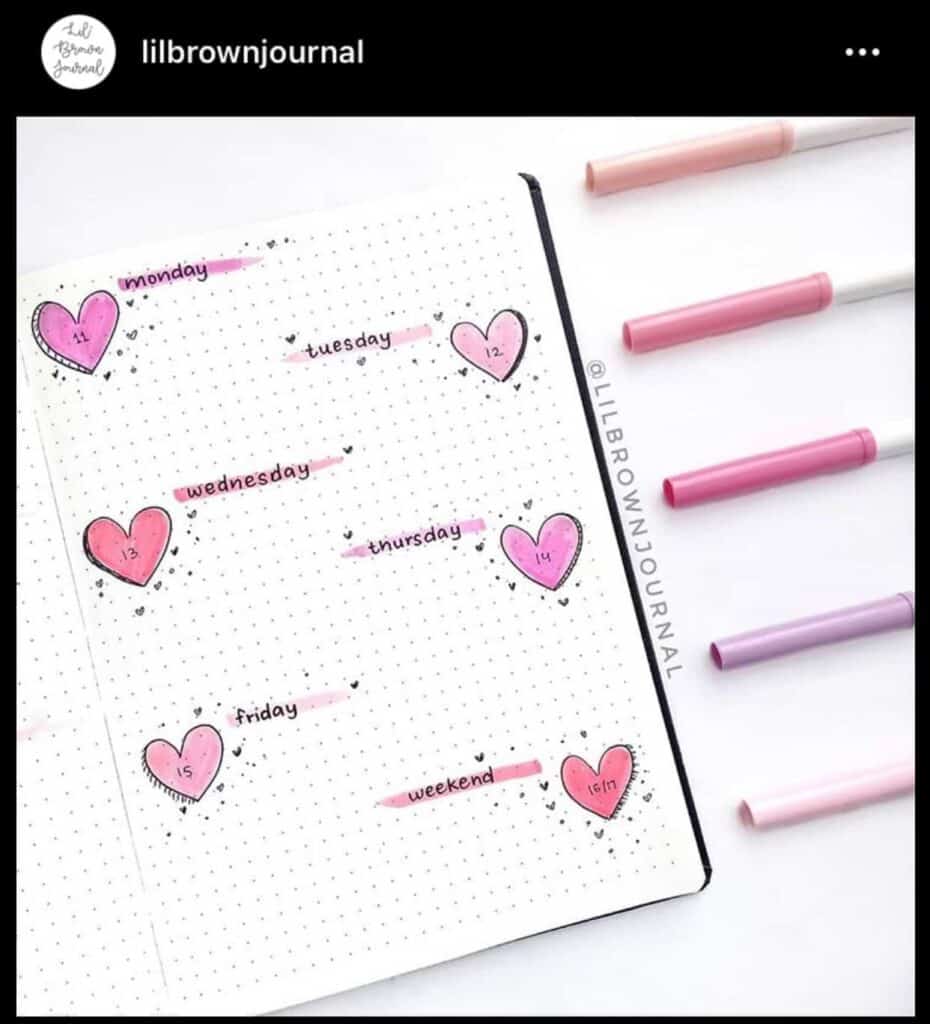 Our Source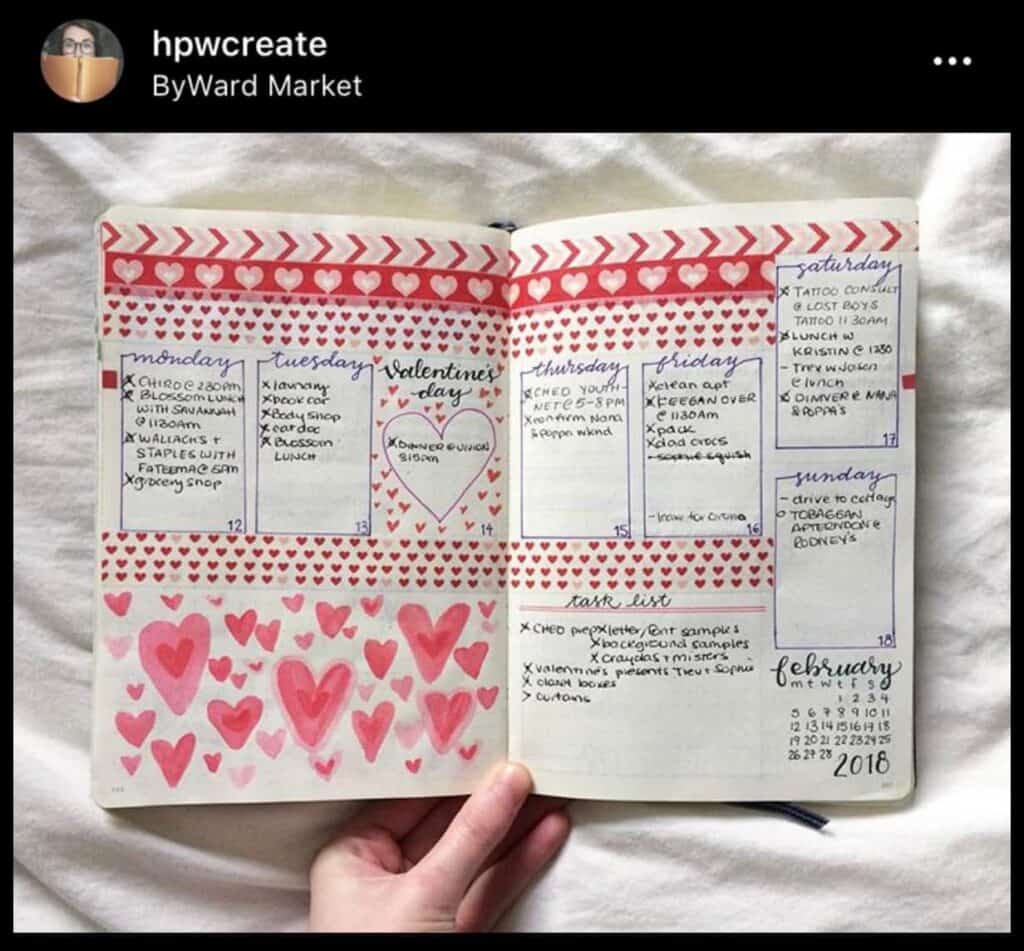 The Source
5. Doodles
Our Source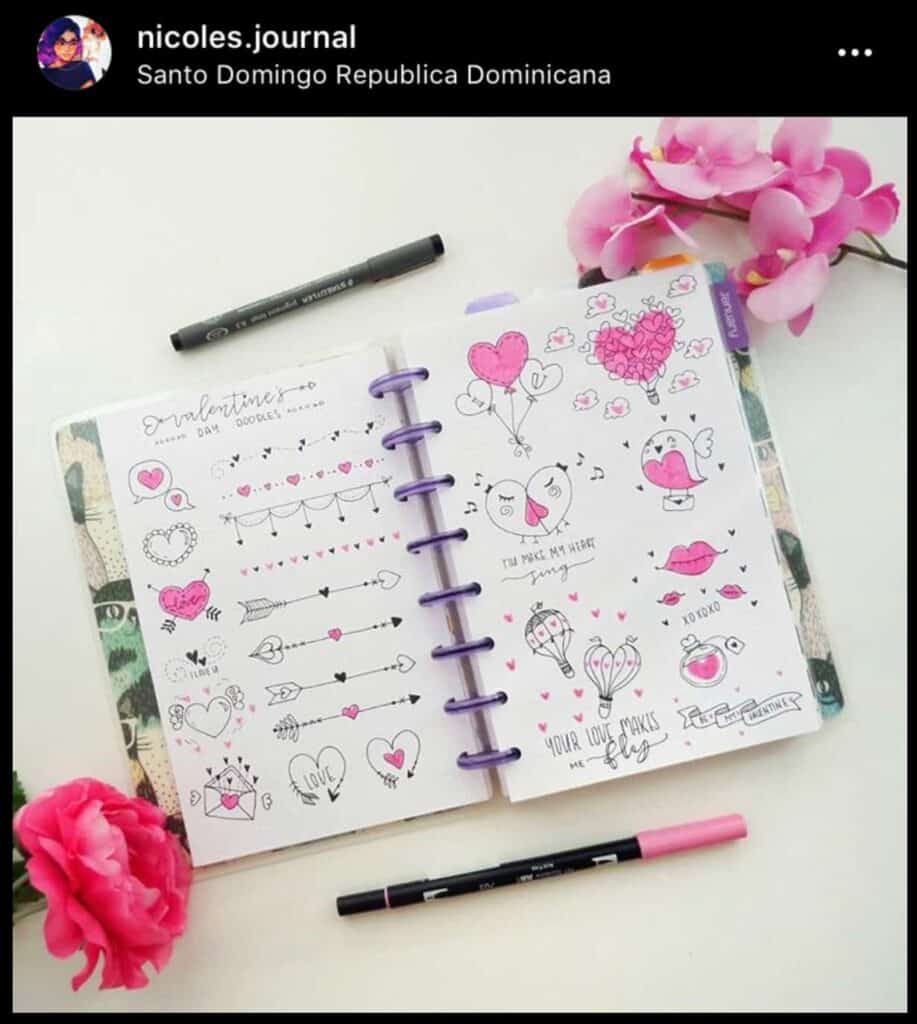 The Source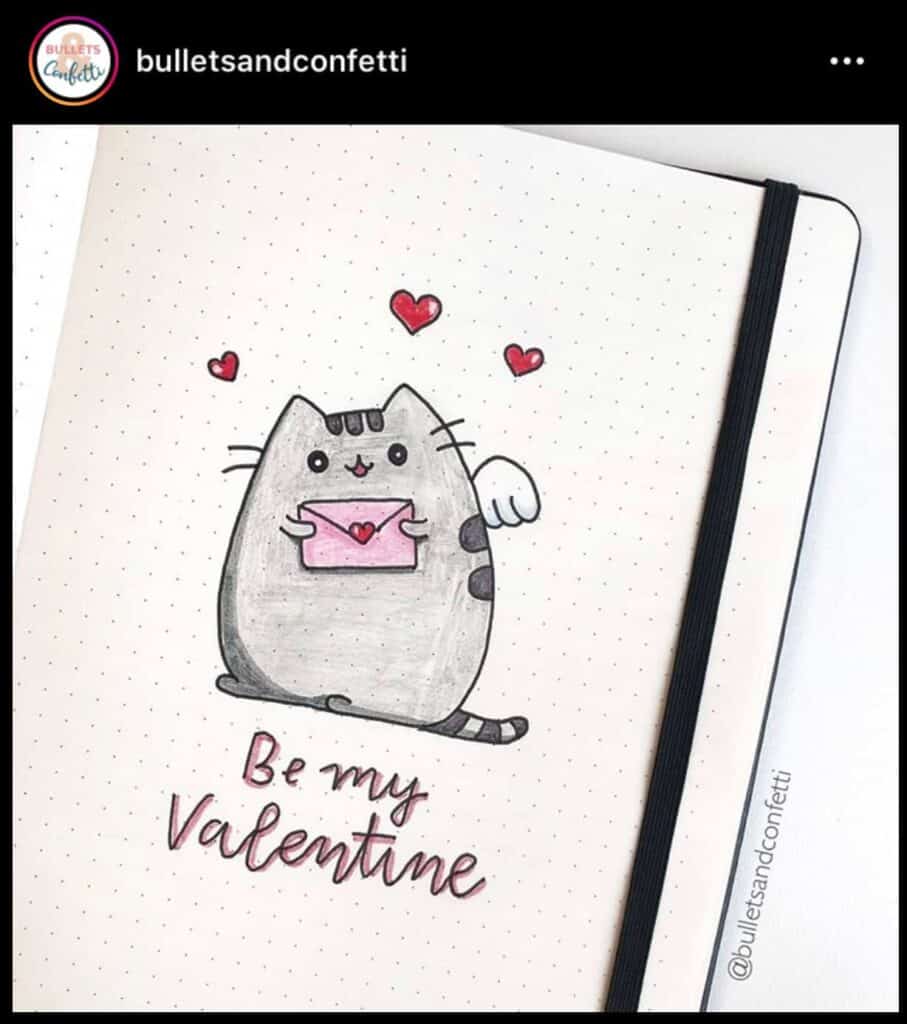 Our Source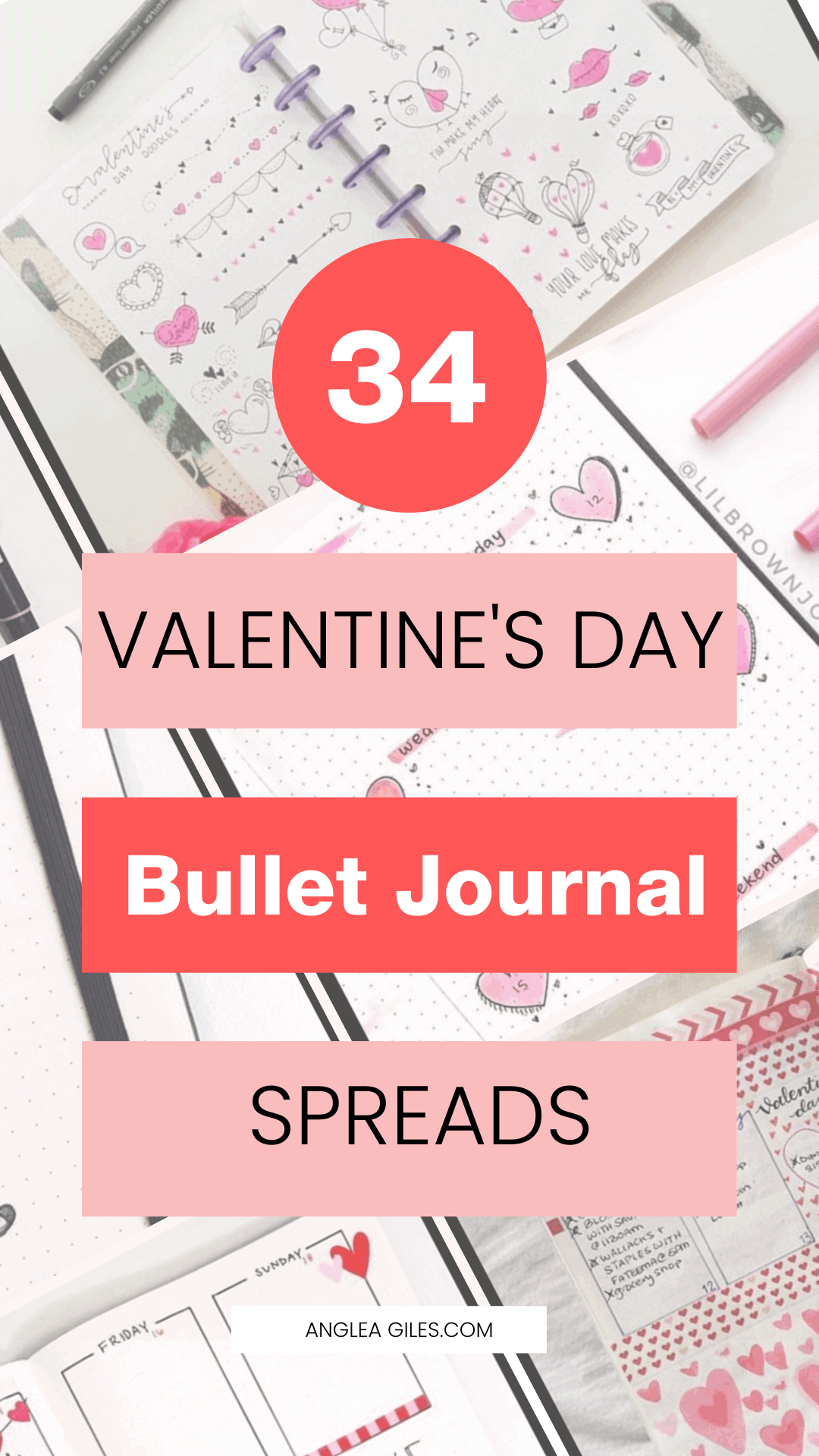 bullet journal, valentine bullet journal
Recommended Posts
Sours: https://www.angelagiles.com/valentines-day-bullet-journal
Similar news:
February Bullet Journal Page Spreads
REVISED for 2021
While getting my bullet journal ready for February, I took a look at other bullet journalist's spreads for inspiration. I've added some of my favorites to this post to give you page ideas as well.
This post may contain affiliate links. Please see my full disclosure for more information.
In addition, I took a look at holidays that you might want to make note of. Sure, Valentine's Day rules the month, but there are other holiday worth almost as much (or more) celebration. Why not use some of these holidays as inspiration for your monthly page spreads?
For example, who can live without celebrating National Pizza Day, Eat Ice Cream for Breakfast Day, or Love Your Pet Day?
There are several National holidays you'll want to add to your bullet journal monthly calendar.
February 2nd is Groundhog Day

February 12th is Lincoln's Birthday

February 14th is Valentine's Day

February 15th is President's Day and Washington's Birthday
Celebrate EVERY DAY!
In addition to the National holidays, there are lots of fun and little-known holidays you may want to celebrate. Here are the holidays for each day of this month.
Dark Chocolate Day

Crepe Day (seems better than Groundhog day to me!)

Women Physicians Day

Thank a Mailman Day

Bubble Gum Day

Ice Cream for Breakfast Day

Super Bowl Sunday

Clean Out Your Computer Day

National Pizza Day

Umbrella Day

White Shirt Day

Darwin Day

Galentine's Day

Valentine's Day

Gum Drop Day

Do a Grouch a Favor Day

Random Acts of Kindness Day

National Drink Wine Day

National Lash Day

Love Your Pet Day

Card Reading Day

National Margarita Day

International Dog Biscuit Appreciation Day

National Tortilla Chip Day

Pistol Patent Day

Tell a Fairy Tale Day

International Polar Bear Day

Public Sleeping Day
February 2021 is NOT a leap year. That means that February of this year is 28 days.
Now it's time to set up your bujo for the month. Setting up my monthly spreads is my favorite part of bullet journaling. I love having a fresh start with a new month and changing up my page themes. It also gives me a change to add or remove pages that are working/not for me.
Make a February cover page, calendar page, month at a glance, to do list, goals, monthly trackers, gratitude log, and weekly layouts.
Related Posts: 10 Fabulous February Cover Pages for your Bullet Journal
Sours: https://www.sweetplanit.com/home/february-bullet-journal-page-spreads
988
989
990
991
992